In a hurry to make dinner, but want a meal that will fill you up and also provide plenty of nutrients? This week Kristie Middleton brings us this awesome and easy recipe for soba noodles with peanut sauce from her book, MeatLess: Transform the Way You Eat and Live—One Meal at a Time. Nutty peanut butter and salty soy sauce combine with a little sweetness plus hot sauce for an explosion of flavor. Packed with protein and ridiculously easy, this dish is a hit with kids for the taste and with parents for its ease. Adjust spice as your family likes it. 
Sauce Ingredients:
1 cup crunchy peanut butter
4 tablespoons soy sauce or tamari
2 teaspoons agave or other sweetener
1 teaspoon hot pepper sauce like Sriracha, or more or less to taste
2 cloves garlic
1 to 1½ cups water
2 teaspoons toasted sesame oil
Vegetable & Noodle Ingredients:
4 carrots, chopped into coins
2 cups broccoli florets
2 cups frozen edamame
crushed peanuts or sesame seeds to garnish, optional
1 16-ounce package soba noodles, cooked according to package instructions
Add all sauce ingredients to a blender, food processor or use an immersion blender to combine well. If you like a thick sauce, use less water. Set aside.

Steam carrots, broccoli, and edamame for 4 minutes or until the broccoli is bright green.

Toss the vegetables with the noodles and pour the peanut sauce over it. Serve sprinkled with crushed peanuts or sesame seeds.
If you don't have soba noodles on hand, spaghetti, angel hair, soba, and udon all work great!
Calories: 558kcal | Carbohydrates: 38g | Protein: 26g | Fat: 37g | Saturated Fat: 5g | Polyunsaturated Fat: 10g | Monounsaturated Fat: 16g | Sodium: 1409mg | Potassium: 1200mg | Fiber: 11g | Sugar: 15g | Vitamin A: 10476IU | Vitamin C: 46mg | Calcium: 141mg | Iron: 4mg
How to Serve Up Your Soba Noodles With Peanut Sauce
The beautiful thing about noodles is that your possibilities for dressing up or down are endless! Here are just a few of the delicious things you can do:
Prep Some Protein – If you want to add some extra protein to your noodles, tofu, seitan, and tempeh all make excellent choices! Need some ideas? Check out our Garlicky-Ginger Marinated Tofu Triangles or Smoky Seitan Kebabs With Peanut Sauce.
Mmmm, Mushrooms – Mushrooms are an excellent way to add a boost of flavor and texture to your noodles! If you haven't given oyster mushrooms a try, you definitely should. They've got a naturally buttery and meaty texture and are a staple in Asian cooking.
Gluten-Free Goodness – If you can't do gluten, fret not! There are plenty of gluten-free noodle options available these days. Brown rice noodles have an excellent texture and flavor for this particular recipe. If zoodles or sweet potato noodles are more of your thing, then go wild! Both options are great with peanut sauce.
Storing Your Soba Noodles With Peanut Sauce
If you end up with leftovers, your noodles with peanut sauce will last about three days in the fridge when kept in an airtight container. If freezing, we would recommend separating the noodles from the veggies for easier re-heating. Since veggies cook quickly, it may taste best to make them when you're ready to reheat your noodles!
About the Book
Kristie Middleton's book MeatLess: Transform the Way You Eat and Live—One Meal at a Time provides an easy-to-follow tips and recipes for those looking to consume less meat. With over 60 recipes, scientific and nutritional research, and plenty of real-life examples written in a relatable style, Kristie's book is one to keep on your shelf!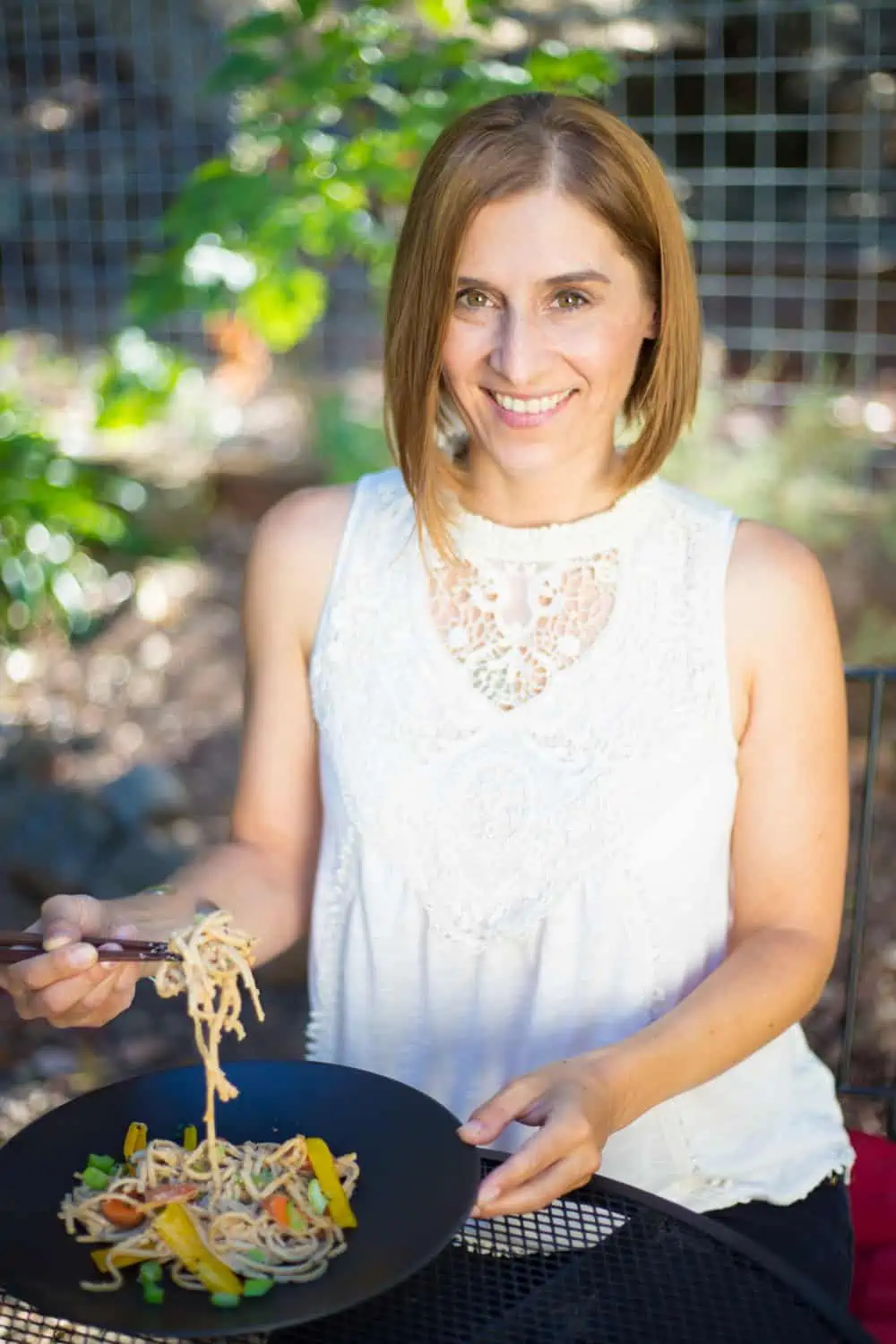 More Delicious Noodle Dishes to Try
Vegan Soba Noodes With Peanut Sauce recipe by Kristie Middleton from MeatLess: Transform the Way You Eat and Live—One Meal at a Time. Photos by Michelle Cehn. Article written by World of Vegan and edited by Amanda Meth. Please note that this article may contain affiliate links which supports our work at World of Vegan.