One food item that many vegans miss is seafood. At the moment, we aren't overloaded with vegan seafood options, which is why it's so exciting when national restaurant chains like Long John Silver's start to bring plant-based seafood to the table.
In 2021, Long John Silver's announced the launch of a vegan menu at select LJS locations (just four, to start, for a limited time). These new vegan options at Long John Silver's includes crab-less cakes and fish-less fillets, made with vegan crab and fish meat from Good Catch Foods. Fancy that!
They're not making these menu items available at all locations (yet!), but hopefully we'll see these vegan options become a permanent option on their menu nationwide soon. If you've been able to catch a crab-less cake or find a fish-less fillet, you'll have to let us know.
Ordering vegan at Long John Silver's is simple because there are so few options, much like McDonald's. Until this seafood restaurant starts adding more options, here are some quick suggestions on how to order as quickly and painlessly as possible:
Seriously Sides Only – Because most of the locations are not offering plant-based fish options yet (we hope they will soon!), you'll be having a mini meal with only a few starchy sides. Pretty much, it's just fries, corn and green beans with some sauces. If you're lucky, you'll have an option for steamed broccoli. It's always worth asking!
Make the Call First – If you don't want to be disappointed, call first to make sure that they offer the new plant-based fish options mentioned below. There's not enough food to keep you satisfied if they don't have what you're hoping for. Even the drink options are lackluster.
Prepare Your Own Plant-Based Protein – When there's no hope of another restaurant choice (especially if you're going along with non-vegan friends and family), make the best of it by bringing your own protein with you. You can bake a batch of Good Catch or Gardein seafood selections at home and then smuggle them in for your supper. Add some sides and a drink and you're all set.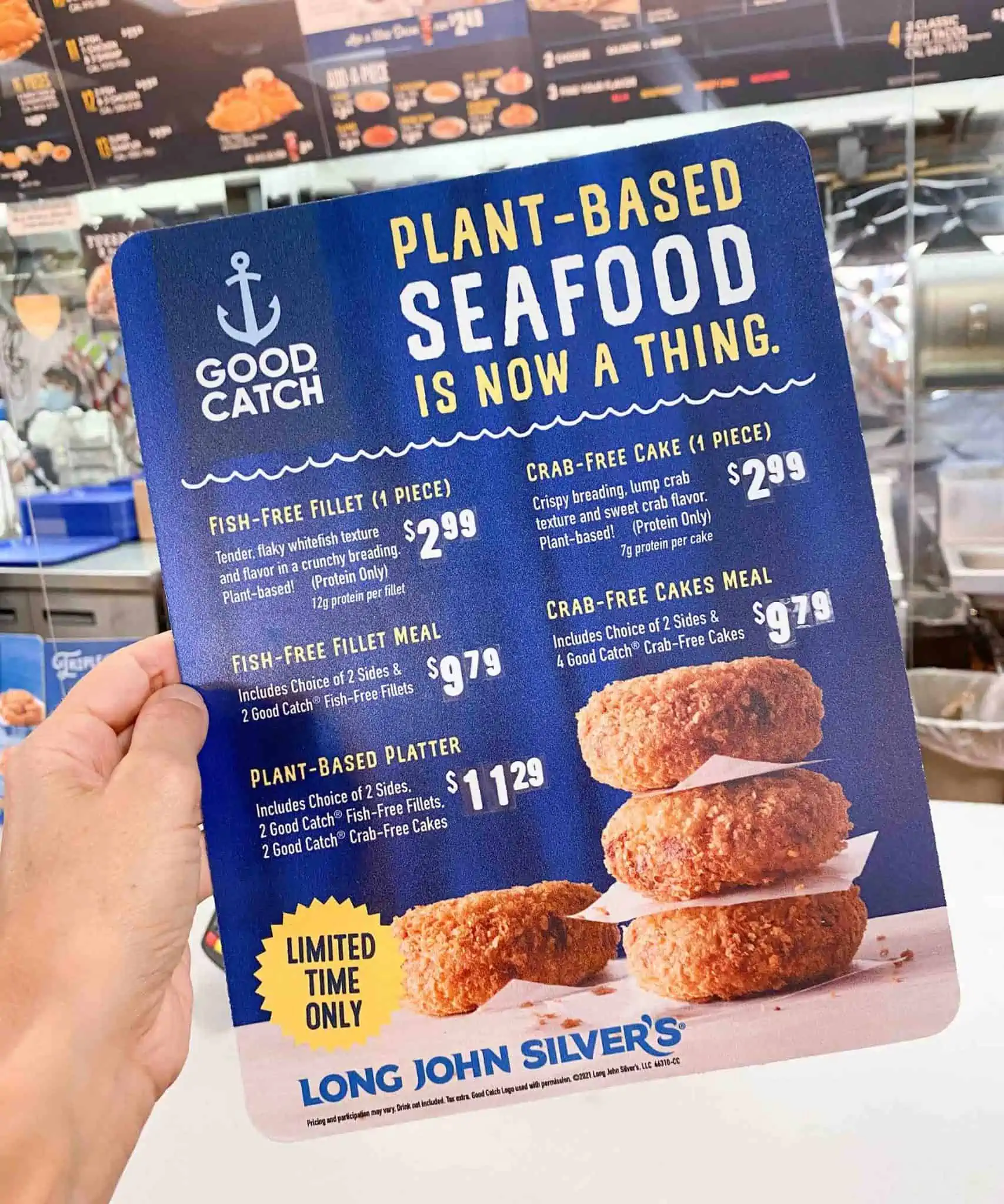 What's Vegan at Long John Silver's?
Plant-Based Menu Items (testing for a limited time at select locations):
Vegan Crab Cakes: Good Catch Crab-Free Cakes
Vegan Fish Fillets: Good Catch Fish-Free Fillets
Sides:
Fries/Natural Cut Fries (contains wheat, but no dairy)
Cut Corn (made with margarine, not butter)
Fire Roasted Southwest Corn Blend
Seasoned Green Beans
Sauces:
BBQ Sauce
Ketchup
Louisiana Hot Sauce
Malt Vinegar
Sweet Chili Sauce
NOTE: The batter and "crumblies" are both vegan-friendly, though they contain wheat and MSG. If you're not sensitive to either of those items, feel free to have them on your food. They are also deep-fried (as with the french fries) in common oil that has also cooked fish and other seafood. It's up to you whether you feel okay with this.
Veganize These Items for More Options:
(ask for no butter for all items below)
Baked Potato
Sweet Potato Fries
Steamed Broccoli
NOTE: These items are also not available at all locations, so please call ahead if you know you'll be visiting a certain location at a future date.
Vegan-Friendly Beverages:
Ice Flow Lemonade
Water
Lemon Juice
NOT Vegan at Long John Silver's:
The Baja sauce, Ranch sauce, Tartar sauce, and coleslaw all contain eggs.
Cocktail sauce includes both worcestershire sauce and anchovies.
Rice is made with chicken broth, gelatin, and milk solids.
Sweet and Zesty Asian sauce contains lactic acid, which is sometimes vegan, but it's not specified in the ingredients list if it's from plant or animal sources.
Hushpuppies are made with wheat, soy, milk and eggs.
We had to check out the new vegan options at Long John Silver's in person. We headed to the nearest locations and took you along for this food adventure below! Unfortunately they were out of the vegan fish sticks, but we got to try the crab-less cakes, which you can see in this video.
Subscribe on YouTube for more vegan videos!
Helpful Hints When Ordering Vegan at Long John Silver's
Browse the Long John Silver's menu before ordering.
If ordering Long John Silver's online or through a delivery service, make sure you clearly specify any substitutions you would like. Especially concerning cheese and meats. If you're worried that your request may not be honored (or seen by the server at Long John Silver's), it might be a better idea to go there directly to order.
Check out the Nutrition PDF and Ingredients Master List PDF to make sure that you are purchasing a vegan-friendly item. The menu items offered at Long John Silver's do change and the informational charts seem to be updated regularly.
From past experience, it seems that most (if not all) seasonal drinks or foods are not vegan because of added dairy milk or milk derivatives. Be careful when new and exciting seasonal products are offered at Long John Silver's. Double check the allergens and ingredients PDFs to make sure the item is vegan before purchasing.
Creating a Kinder and More Accessible Long John Silver's
It's only a matter of time before more vegan options land on the menu or they give the go-ahead for the Good Catch crab-less cakes and fish-less fillets. That's the direction all the big fast food chains are heading, and Long John Silver's knows that the heat is on and they can add a few more items that are vegan-friendly, such as additional vegan seafood options. But meanwhile, we can always write to, call, or contact the managers of any location to make our requests.
What are your favorite items on the new vegan menu at Long John Silver's? Let us know on Facebook, Twitter, and Instagram!
How to Order Vegan at Other Chains:
Have you found any other options to be veganizable? Did you find something amazing that we missed? Let us know by tagging #worldofvegan and sharing your favorite vegan-at-Long-John-Silvers creations with all of us!
This article is not sponsored and we are in no way affiliated with Long John Silver's. At the time of this article, the foods mentioned above are vegan. Since restaurants constantly update their menus and add or take away items, please keep this in mind when ordering your food. There may be new items that are vegan at Long John Silver's and not listed or items listed here as vegan, which are no longer vegan. Take care to double-check.
Article written by Gina House and edited by Amanda Meth. Please note that this article contains affiliate links which means shopping through them really helps to support World of Vegan!