Our recipe for kelp noodles will have you wiggling and giggling with glee while slurping them down. Not only do these noodles give you a chance to experiment with a little kitchen science (woo!), but they're just as fun to make as they are to eat. You can't beat that for a healthy plant-based meal!
After just a few minutes of soaking, rinsing, and veggie chopping, you'll have a big bowl full of ood-ly, nood-ly noodles that are absolutely delicious. You'll also be doing something good for your body by giving it the fiber, iodine, vitamins, minerals, and calcium it needs for the day.
The best thing is that you'll never get bored because you can vary your veggies every time and switch up the type of sauce you use. How great is that?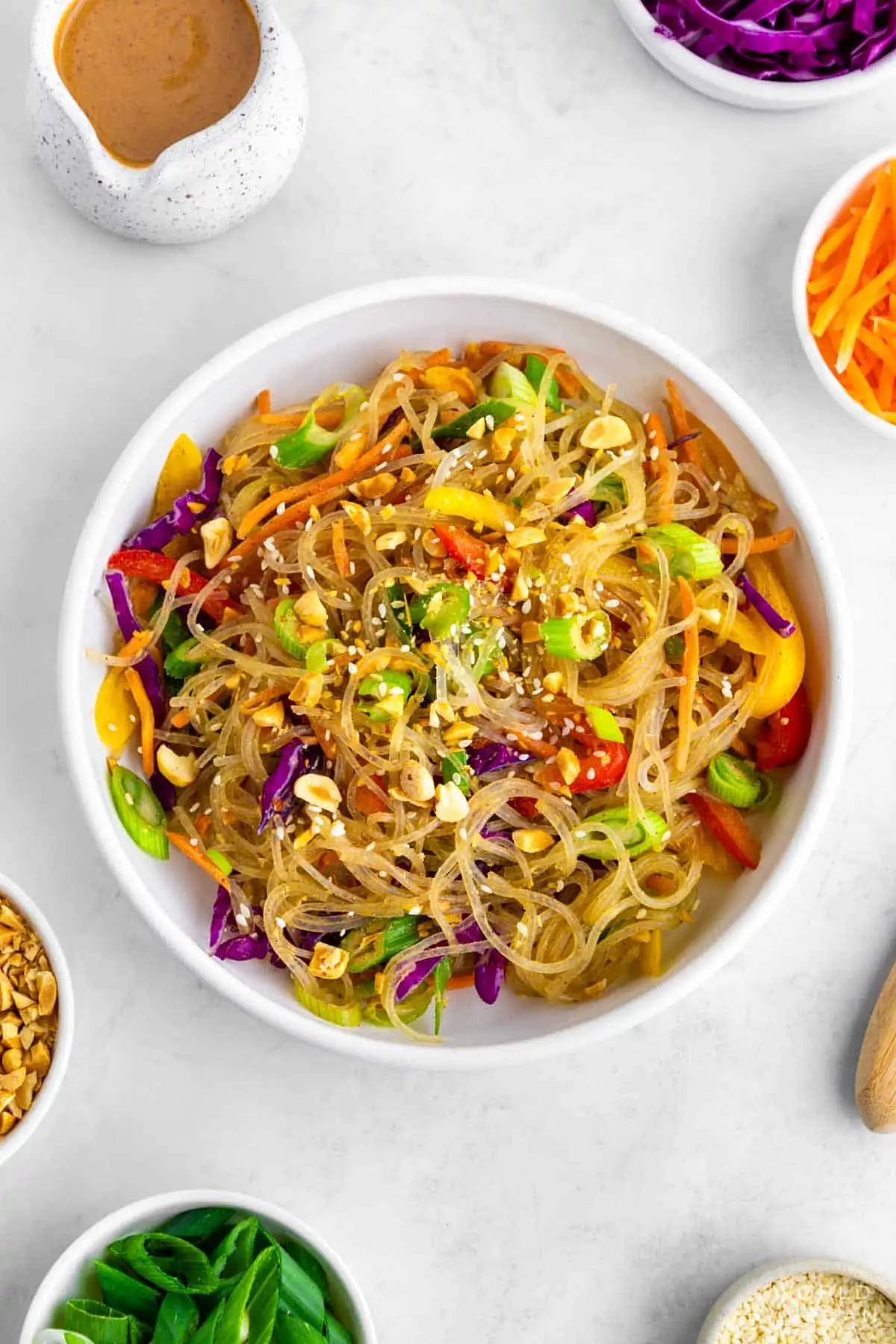 Why We Love This Recipe
Delicious
Fun to make and eat
Can be eaten cold or warm
Easy to take on-the-go
Very versatile (use any veggies or sauce you like)
Rich in necessary iodine
Soy-free (if using tamari or coconut aminos instead of soy sauce)
Gluten-free
Dairy-free
More Plant-Based Noodle Recipes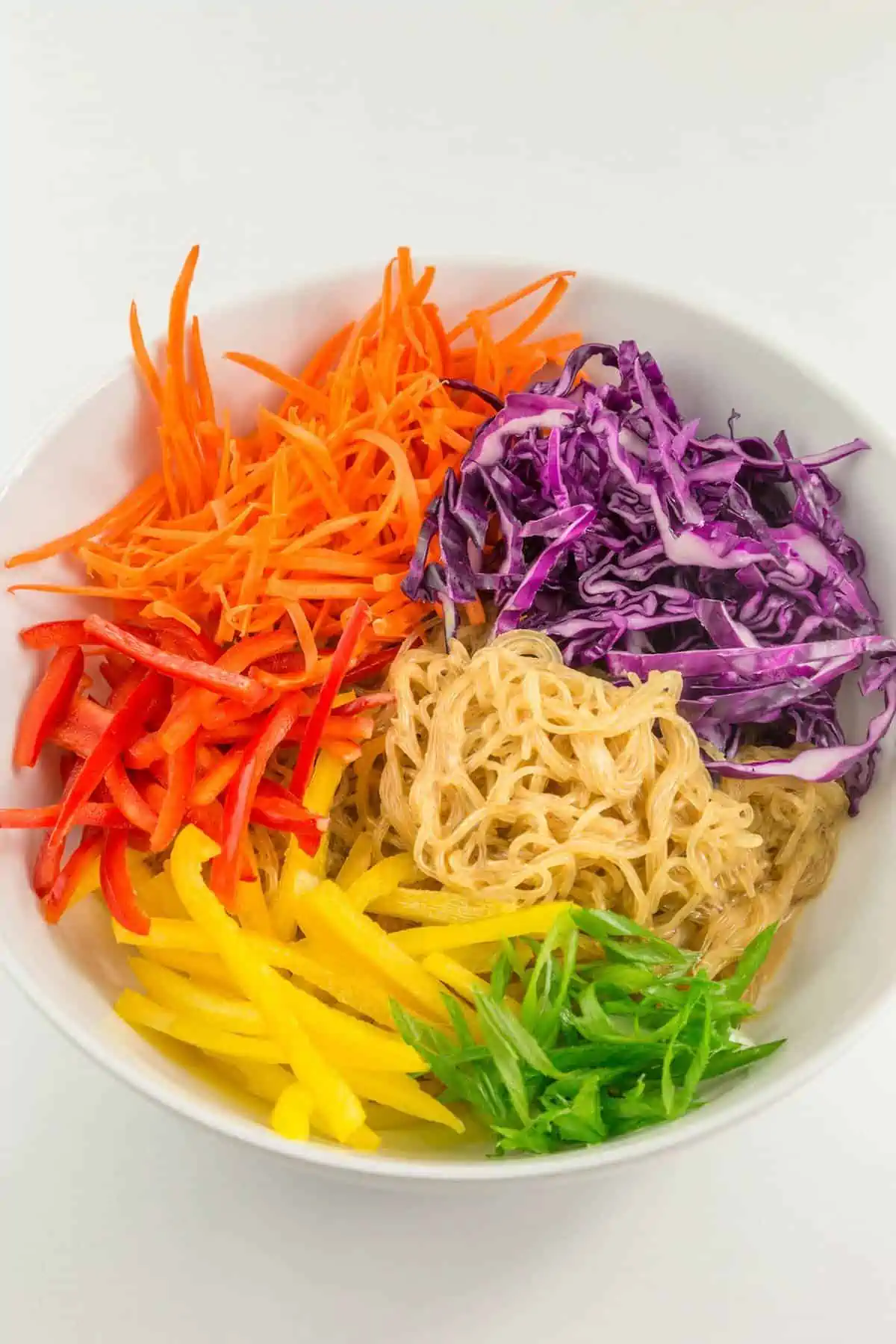 What Are Kelp Noodles?
Kelp are large, brown algae seaweed (not to be confused with plants) and are part of the Protista family. Normally, protists are single-celled organisms, but large kelp are actually considered a complex species and are the largest Protist in the world. Isn't that cool? They're usually found in cool, shallow sections of coastal seawater areas.
Here is how kelp noodles are made:
Collect raw kelp.
Dissolve the kelp by taking off the outer layer to get at the gel-like substance inside.
Process the resulting substance with sodium carbonate (soda ash or washing soda), water, and table salt.
Heat the mixture to 140°F while stirring.
Pass the finished, cooled mixture through an extruder to form the noodles.
It almost sounds like an interesting science experiment, doesn't it? While they are processed, the noodles are slightly less processed than traditionally made pasta. If you are gluten-free and are searching for a nutrient-rich noodle option, this might be a great choice for you.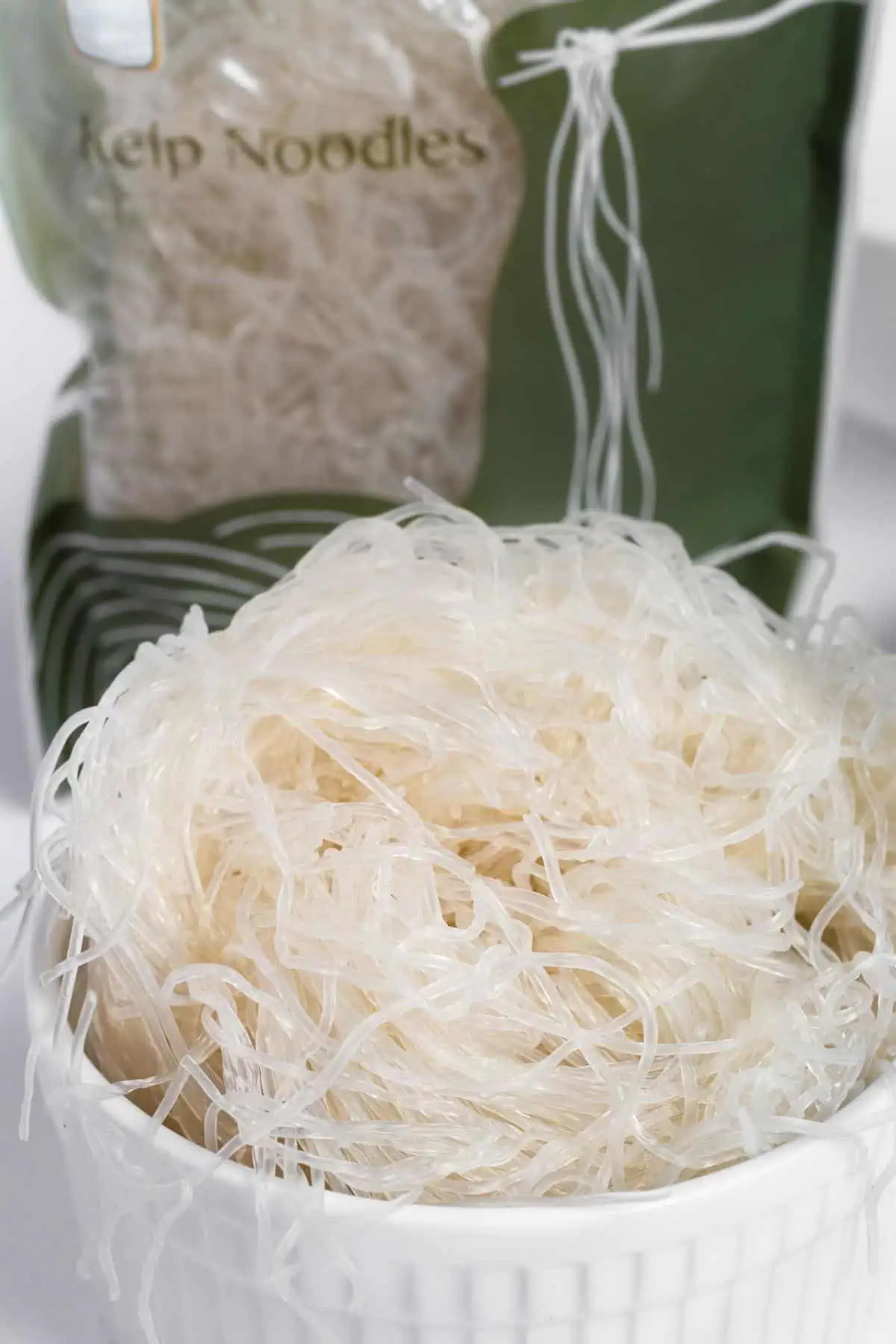 Health Benefits of Kelp Noodles
Kelp noodle nutrition is hard to beat. They're super low in calories and chock-full of necessary iodine for your daily diet. They have a neutral taste and soft texture so they're very easy to digest.
Other awesome reasons to try kelp noodles:
Cholesterol-free
Gluten-free
Fat-free
Sugar-free
Rich in calcium, iron, and vitamin K
These healthy noodles are definitely one worth trying and adding to your noodle rotation!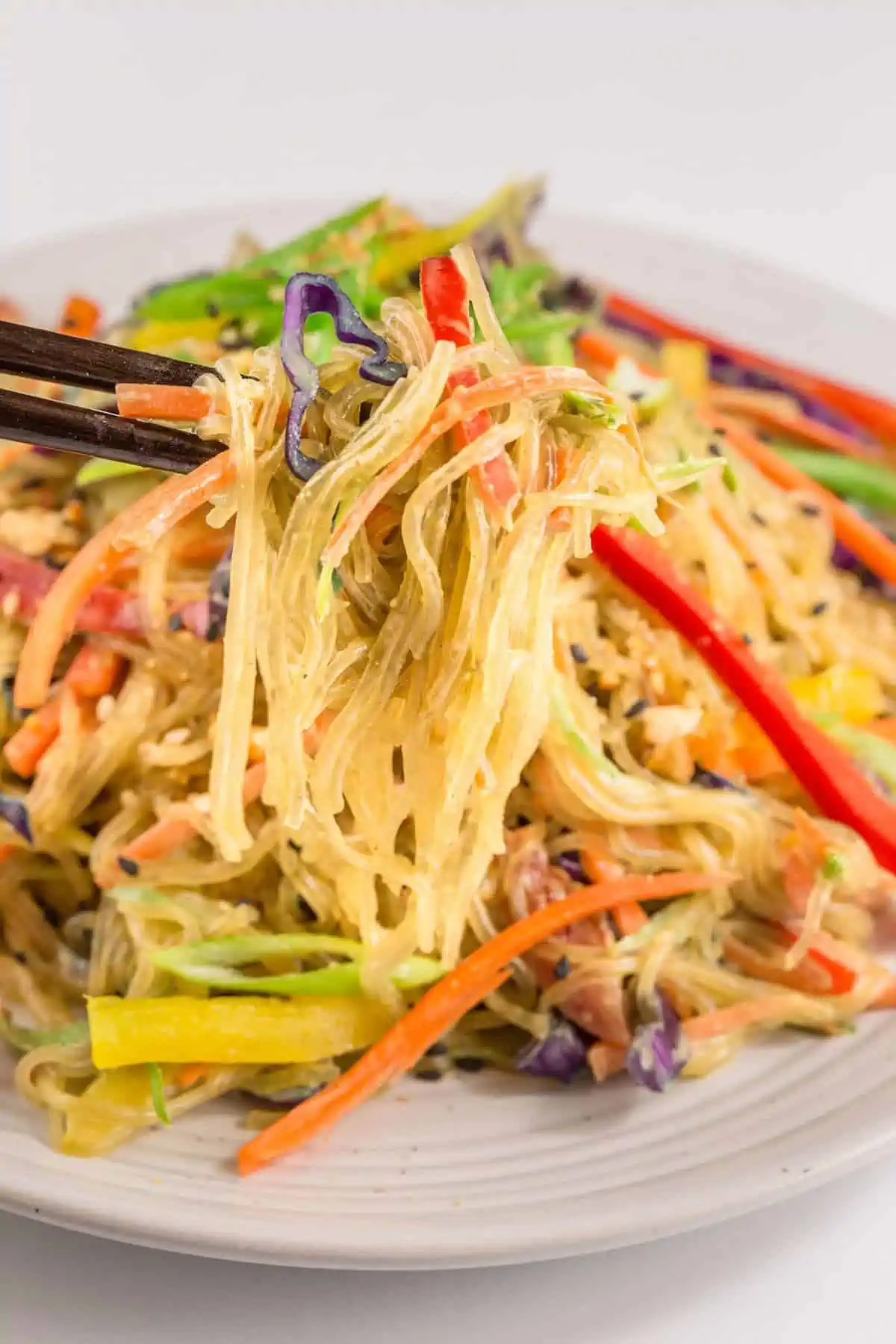 How To Prepare Kelp Noodles
Don't feel intimidated by this process. Once you give it a try, it's super easy and you won't have to spend a lot of time figuring it out. It's actually very magical to see and feel the noodles when they're done. They're so silky and soft!
This is how to soften kelp noodles:
Open the package of noodles and drain out the excess water. Set aside for a minute.
Pour the lemon juice into a bowl and add in the baking soda. It will fizz for a few seconds. Mix well.
Add the noodles to the liquid mixture and, using clean hands, massage the lemon/baking soda mixture all through the noodles. You will start to feel them softening.
When you've massaged them with the mixture for about 1 minute, allow them to sit in the bowl with the liquid for at least 5 minutes.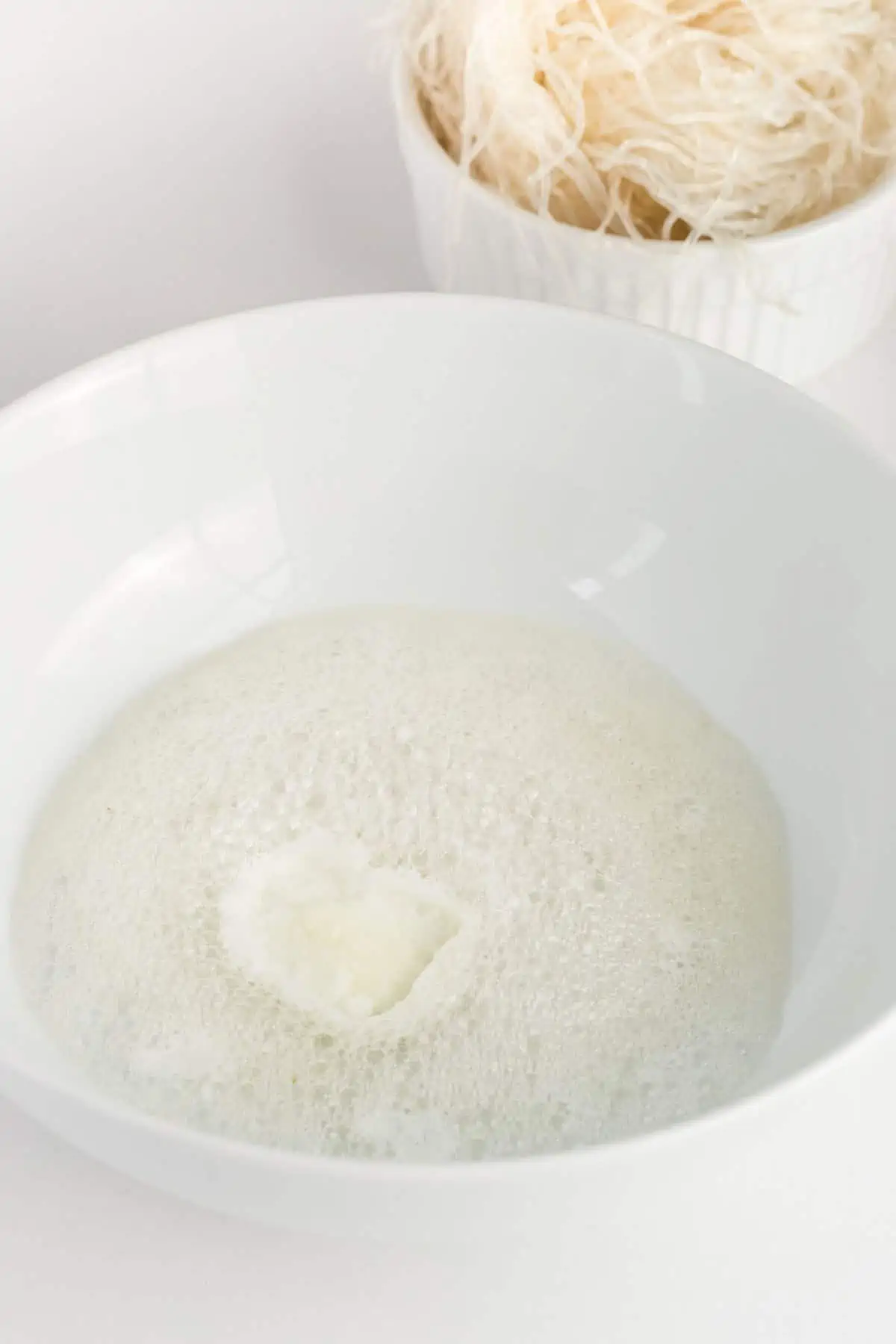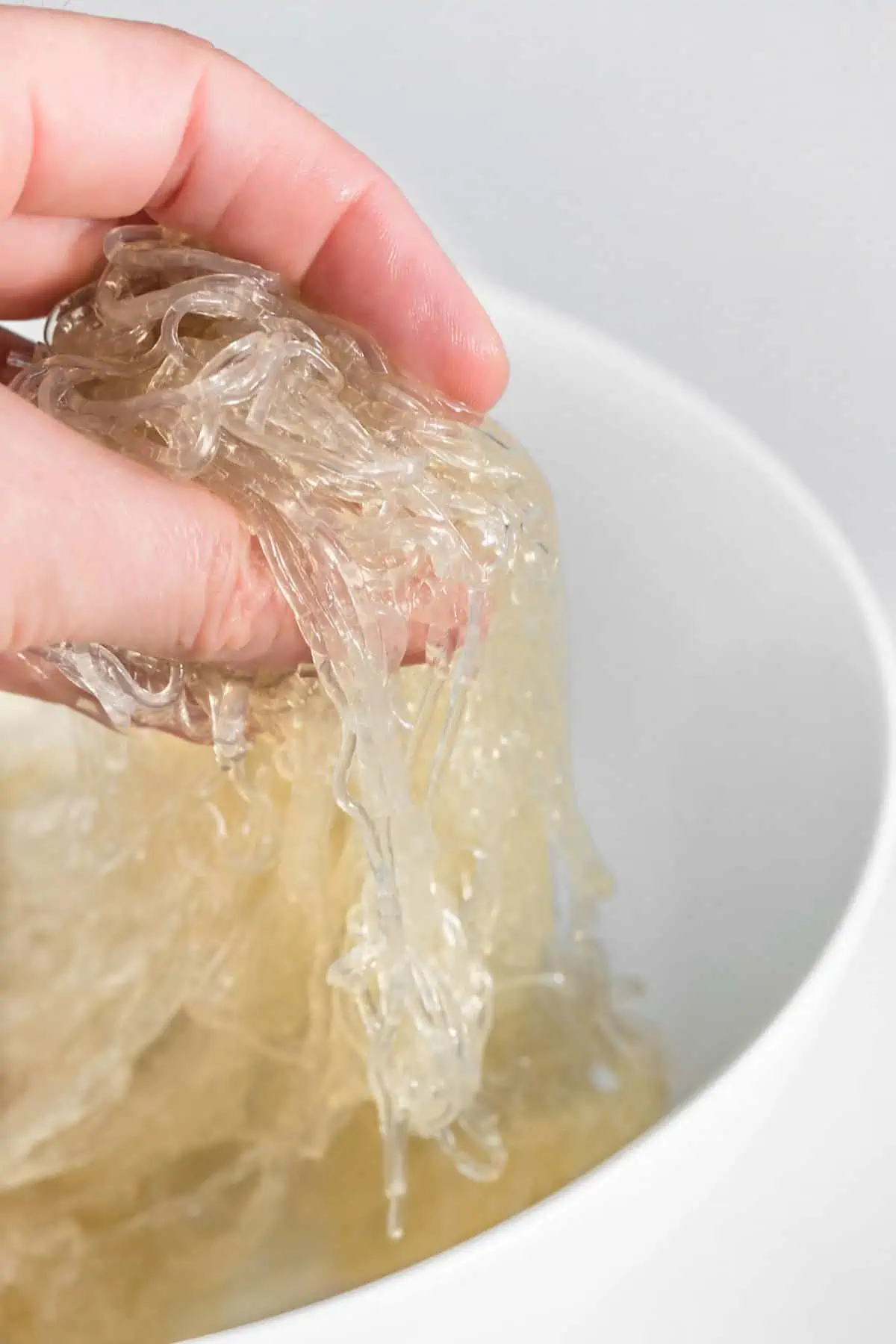 Where Can I Get Kelp Noodles?
Kelp noodles usually come packaged in a partially clear, sturdy plastic pouch and can be found in the Asian section of the grocery store. We've found them easily at Whole Foods, Amazon, and in other online food stores.
Unopened, they are shelf stable for a while. Once opened, you can store the remainder in a container of cool water in the fridge for 3-4 days.
Popular Kelp Noodle Brands
At the moment, there seems to be only a couple of kelp noodle brands available. Even though Sea Tangle does not mention preparing the noodles like we did, we found that soaking them in a lemon juice and baking soda bath made them much softer and more enjoyable to eat.
Other Gluten-Free, Plant-Based Noodle Options: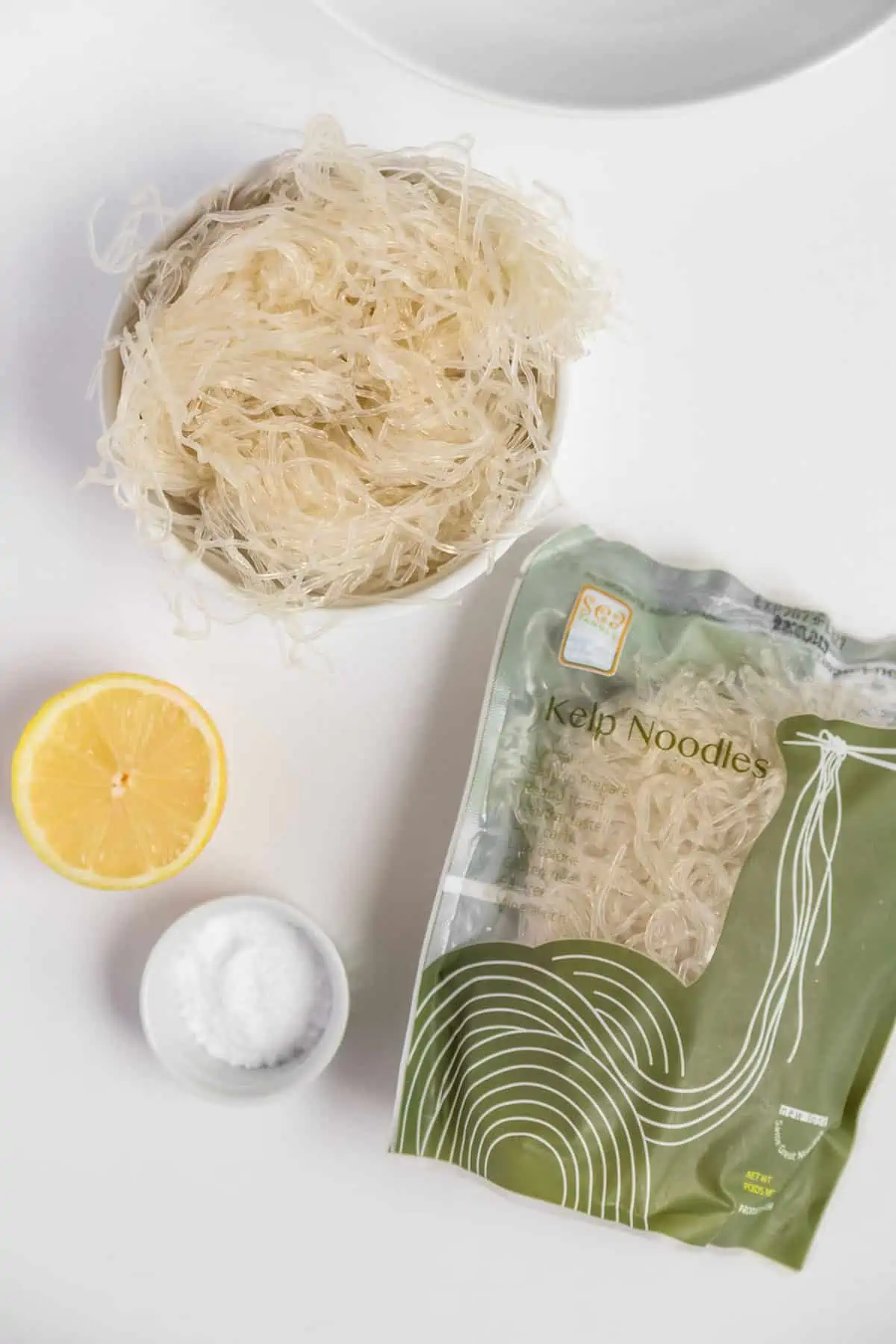 Rainbow Veggies and Simple Swaps
Because kelp noodles have such a neutral flavor (and color), it's very easy to mix and match ingredients in this recipe. When an element doesn't work for you, just exchange it for another. Easy, peasy!
Seasoning Swaps
Adjust the seasonings to your liking. Add more or less cayenne to get the level of spiciness that you wish. Increase the smoked paprika for a smokier flavor. Include a touch of sesame oil if you're searching for a more indulgent noodle bowl.
Store-Bought Dressing
Speed up this recipe by using a store-bought dressing like this Almond No-Peanut Sauce from Yai's Thai!
Veggie Variations
Not in love with the veggies we used? No problem! Make this recipe entirely your own by adding in all of your favorite veggies. How about mushrooms, sugar snap peas, kale, snow peas, or broccoli? Anything goes!
Serving Suggestions
Add cubes of marinated tofu, slices of baked tempeh, or even throw in some roasted edamame for extra protein and satisfaction.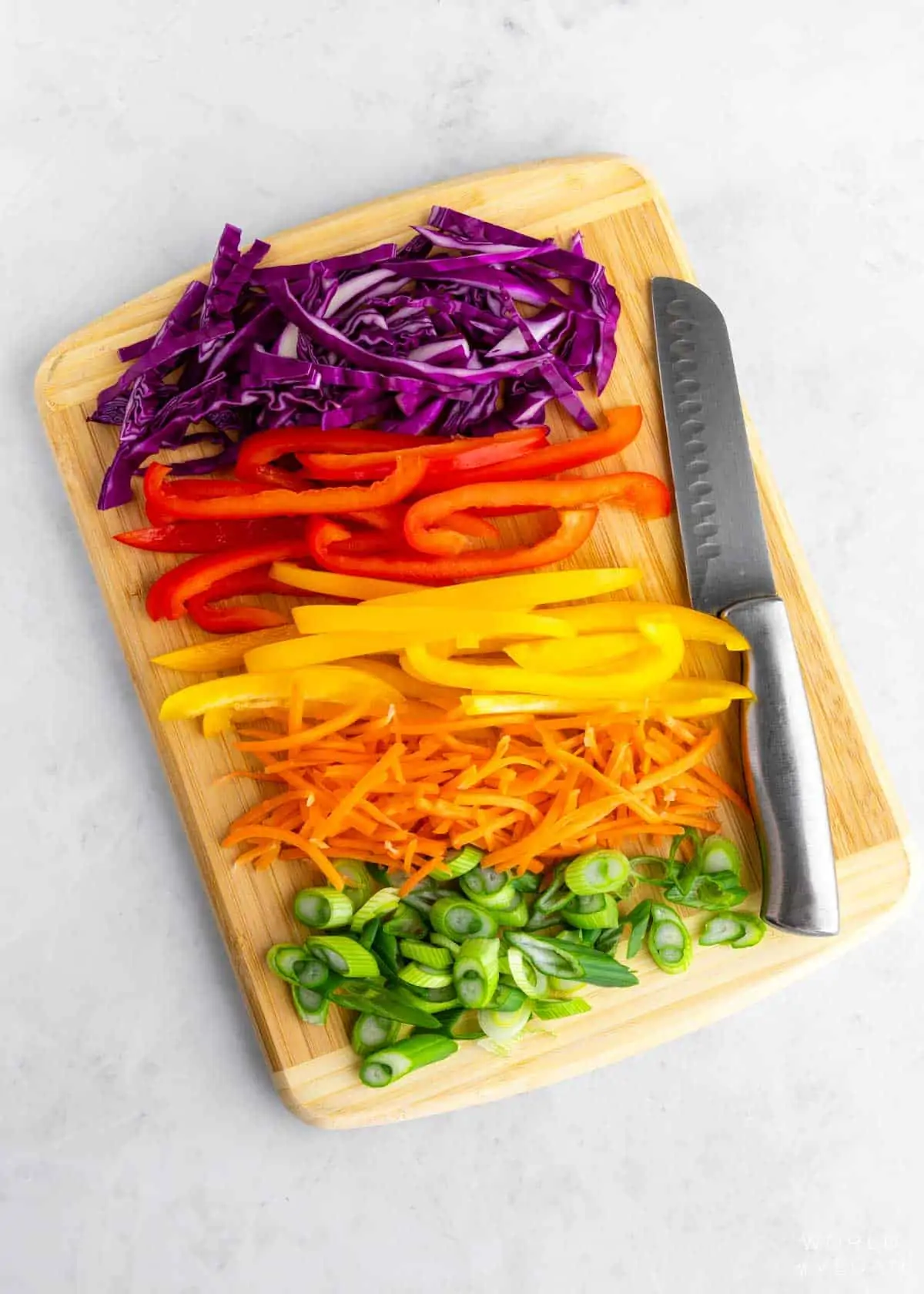 Recipe FAQs
What are the kelp noodles nutrition facts?
The Sea Tangle Kelp noodles that we used have 6 calories per serving, 0 g fat, O g cholesterol, 1 gram of fiber and 0 g of protein per serving (and only 3 servings for the entire bag)! Other brands may differ slightly, so if there's something specific you're searching for, make sure to check carefully.
Can I substitute another type of noodle for kelp noodles?
If you don't mind boiling noodles ahead of time, there are tons of options for noodles. You could use bean-based, wheat noodles, rice noodles, or even packaged ramen-type noodles if that's what you like. Just make sure that you let the noodles cool before adding the sauce for this recipe.
Is it possible to use another dressing when making this kelp noodle salad?
Great question! If you'd prefer not to use a nut-based sauce, you can use whatever you like. Even bottled, vegan-friendly salad dressing! Anything that goes well in a veggie based salad will fit this recipe because the kelp noodles have such a neutral taste. Go ahead and try a different sauce or dressing each time. We'd love to know what you come up with!
Are Kelp Noodles Raw?
The process of creating the kelp noodles involves heating them in 140°F water after processing them, so the noodles are technically not considered raw. Food is usually classified as raw if it has not been heated above 104–118°F. If you aren't too worried about the exact temperature, these noodles are pretty close to being raw, but not quite as good as cucumber or zucchini noodles would be. It's totally up to you.
Servings 4 1 cup servings
12 oz kelp noodles, I used Sea Tangle Noodle Company
1 tablespoon lemon juice, or the juice of ½ lemon
2 teaspoons baking soda
¼ cup red cabbage, thinly sliced
½ cup red and yellow bell pepper, thinly sliced, about a half of a pepper of each color
½ cup shredded carrots, about 1 large carrot
¼ cup green onions, thinly sliced, about 1-2 stalks
Peanut Sauce Ingredients
¼ cup natural peanut butter, the runnier the better
2 tablespoons coconut aminos, or soy sauce
½ teaspoon garlic powder, or to your liking
1 tablespoon nutritional yeast
½ teaspoon seasoned rice wine vinegar, or light vinegar of choice
¼ teaspoon salt and sugar, each; if not using a seasoned vinegar
¼ teaspoon smoked paprika, optional
¼ teaspoon cayenne pepper, optional
1 teaspoon black or white sesame seeds, optional
2 tablespoons chopped peanuts or cashews, optional
Fresh lemon or orange wedges, optional
Soaking Instructions:
Open the package of noodles and drain out the excess water. Set aside for a minute.

Pour the lemon juice into a medium sized bowl and add in the baking soda. It will fizz for a few seconds. Mix well.

Add the noodles to the liquid mixture and, using clean hands, massage the lemon/baking soda mixture all through the noodles. You will start to feel them softening.

When you've massaged them with the mixture for about 1 minute, allow them to sit in the bowl with the liquid for at least 5 minutes. Use this time to cut up your veggies.
Recipe Instructions:
Wash and rinse all of your veggies well.

Slice the cabbage, bell peppers, and green onions thinly. Shred the carrots finely. Put them aside until the noodles are ready.

Once the noodles are done soaking, place them back into the colander and rinse them very well under cool water for at least 2 minutes. If they're not rinsed well, they will be very salty from the baking soda left behind.

Once the noodles are rinsed and drained, place them into the large mixing bowl.

Next, make the peanut sauce by mixing the peanut butter, nutritional yeast, coconut aminos (or soy sauce), garlic powder, cayenne pepper, and smoked paprika in a small bowl or large glass measuring cup. Add an additional tablespoon of water if the mixture is too thick. (This depends on the texture of your nut butter.)

Add the sauce to the noodles in the bowl and mix well. Toss in the sliced and shredded veggies and combine.

Sprinkle with sesame seeds and chopped nuts. Serve immediately. Perfect if served in pretty bowls and eaten with chopsticks. Garnish with lemon wedges, if desired.
Storage: The noodles will keep fresh in a covered container for around 3 days. Add a little bit more sauce (if you have extra) or a splash of water if the noodles seem a little dry. This is the perfect time to add in different vegetables, too.
Nut Butter Substitutions – Feel free to swap out any nut or seed butter for this recipe. Cashew, almond, and tahini would work the best for flavor, but it's entirely up to you.
Calories: 164kcal | Carbohydrates: 11g | Protein: 6g | Fat: 11g | Saturated Fat: 2g | Polyunsaturated Fat: 3g | Monounsaturated Fat: 5g | Sodium: 761mg | Potassium: 298mg | Fiber: 4g | Sugar: 4g | Vitamin A: 3494IU | Vitamin C: 31mg | Calcium: 145mg | Iron: 2mg
This kelp noodle slaw recipe and guide written by Gina House and edited by Rachel Lessenden. This seaweed noodles content is copyright of World of Vegan, all rights reserved. Photos by Kaylie Grace and J.J. Steele.