Sure, you can easily find vegan butter in stores—look for Earth Balance or Miyoko's Kitchen Butter. But if you want to step up your game and make delicious butter at home, this recipe by Allison Rivers Samson from The Dairy Detox makes it easy!
Print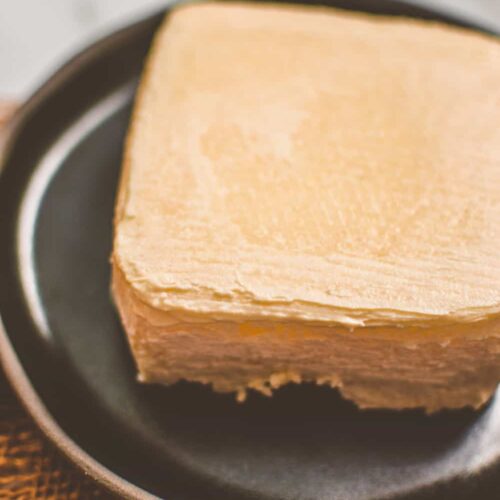 Better Vegan Butter Spread
Author:

Prep Time:

3

Total Time:

3
---
Description
Ready to venture beyond the land of store-bought butter and unflavored coconut oil? Once you've got the ingredients, making this easy-to-spread vegan butter is a snap. Slather it up!
---
Scale
Ingredients
1 cup

of unflavored coconut oil (refined, not virgin)

3⁄4 cup

of sunflower (or safflower oil)

1⁄4 cup

of unsweetened, plain non-dairy milk

1 tablespoon

of lecithin powder

3⁄4 teaspoon

of salt (optional)
---
Instructions
Place a glass container in the freezer to chill while preparing the Better Butter.
In a blender, process all ingredients together at medium speed for 30-60 seconds, until completely combined. Be careful not to over-process or the oils may separate.
Transfer quickly to the chilled container, cover, and store in the refrigerator for up to two weeks.
Notes
Unflavored coconut oil is also called "refined coconut oil," and is sold in a jar in most health food stores. The most common brand is Spectrum. "Virgin" will taste like coconut, which is best to use for coconut-flavored dishes.
Lecithin is used to emulsify or combine the ingredients. Although lecithin is most commonly made from soy, sunflower lecithin is becoming more popular. Look for it in the supplement section of health food stores, or online (see link below).
How much is a pinch? Not much! It's approximately half of 1⁄8 teaspoon.
This is a soft, spreadable butter. If you'd like something harder, decrease the sunflower or safflower oil and increase the coconut oil. You can start with 3⁄4 cup sunflower or safflower and 1 cup coconut oil, and adjust by the tablespoon until you get your preferred texture. Just make sure that the total of both oils always equals 1 3⁄4 cup.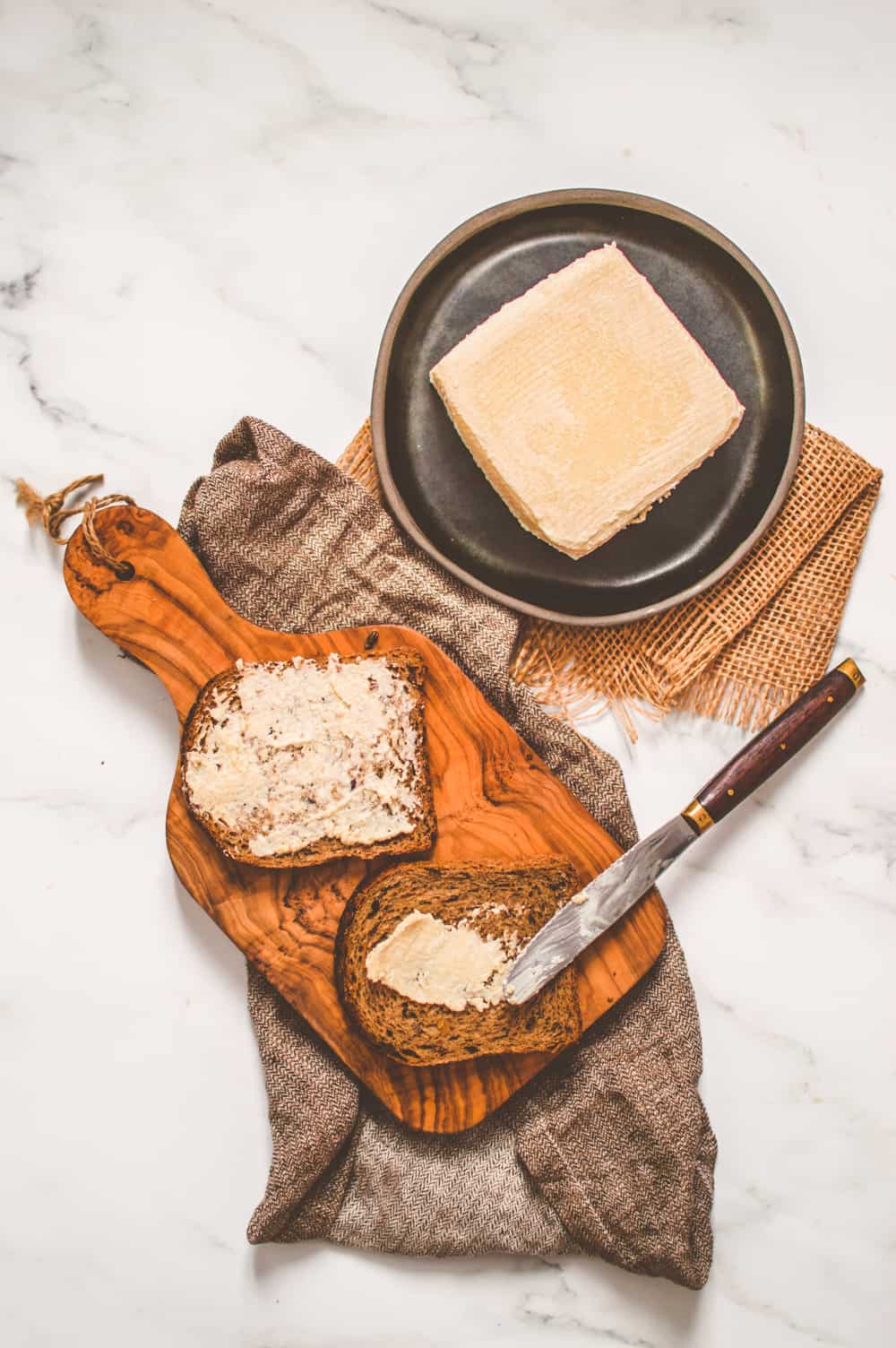 How to Make Vegan Butter?
Easy peasy! In your blender (can be handheld too!) process the coconut oil, sunflower oil, plant milk, lecithin powder, and salt for a maximum of 60 seconds. Be careful with overdoing this step. Then transfer to a chilled container and enjoy! It couldn't be easier, right?
How Long Does it Keep For?
2 to 4 weeks depending on how often you leave out and how much you let it melt.
Can You Freeze Homemade Vegan Butter?
Absolutely! You could have vegan butter ready for a couple of months and you'd only need to thaw it in order to reuse. it would be a great idea to make a few batches so you use one batch at a time and always have homemade vegan buttery spread ready for you warm toast in the morning.
Why Should I Make Vegan Butter at Home?
Why not? For many reasons but here are a few:
It doesn't have all the additives store-bought margarine has
You can skip the overly processed product while saving money
No need for a plastic container or any waste
You can regulate the amount of salt
You can add any flavors you like fresh herbs or black pepper
Where Can I Find Those Strange Ingredients?
You can find sunflower lecithin powder here, and refined coconut oil here!
Are you ready to upgrade your simple butter toast? Tip: place a square of this homemade butter on your warm fresh pancakes! Thank us later…
More Amazing Vegan Spreads?
This recipe was shared with permission from The Dairy Detox. You can find more dairy-free recipes like this in the Dairy Detox Cookbook.
Vegan Butter recipe by Allison Rivers Samson. Photos by Zhoro Apostolov for World of Vegan. Recipe and photographs copyright of World of Vegan™, all rights reserved. Please note that this article contains affiliate links which support our work at World of Vegan!