Have you been hankering for a plant-based hamburger and frantically fantasizing about fries? We sure can sympathize, salivating friends. You're absolutely in luck because our guide to ordering a delicious vegan Red Robin meal is finally here!
Although we know that oven-baked potatoes and handmade, whole food veggie patties are pretty healthy, sometimes we just want to unbuckle our belts, buy a fast food feast, and share it with our favorite friends.
If you know that feeling (or are experiencing it right now), this guide will be a great reference for you. After going through all of the vegan menu options at Red Robin, you'll have a good idea of what you want to order and how to go about making savvy substitutions.
Thanks for trusting us on your plant-based, burger-bound journey. You're bun in a million!
Psst! Don't miss our other vegan fast food guides that show how to order vegan at any fast food restaurant.
How to Navigate the Red Robin Menu
Ordering vegan at Red Robin doesn't have to be a stressful experience. Even though we have a long list of plant-powered particulars, you might feel pretty overwhelmed at first. For an super-streamlined, easy overview of how to order, here's what we suggest:
Choose a Red Robin Veggie Burger (Impossible Burger, Veggie Burger, or Vegan Burger)
Select a Side (apples, broccoli, carrots, chips, fries, or salad)
Boost with a Beverage
Always ask for no cheese or mayo and change the type of bun (if necessary). Now that you have a general idea of which items to consider, scroll down and note any non-vegan items you want to avoid and which ones you can enjoyably add (like sauces or condiments).
Does Red Robin Have Any Vegan Options?
We were wondering that, too! After a bunch of research (and many minutes of wandering around their not-quite-user-friendly website), we found a few Red Robin menu choices for you. If you don't mind taking the time to make special requests, you can surely satisfy the occasional craving for fast food burgers and fries.
Build Your Own Red Robin Veggie Burger:
This option is your best bet because you can create whichever burger you're craving most and add all of the most appetizing toppings. You also have the choice to choose a specialty burger and swap the protein for either the Impossible or Veggie patty. Don't forget to leave out the cheese, mayo, or other non-vegan friendly toppings.
Impossible Gourmet Burger (ask for no cheese or mayo)
Keep It Simple Veggie Burger (with no cheese or aioli)
Vegan Burger (Same as veggie burger, but served on lettuce instead of a bun.)
Vegan Breads and Buns:
Ciabatta
Sesame
Tavern
Wedgie (Lettuce)
Note: There are gluten-free buns at Red Robin, but sadly they contain egg and are not vegan-friendly. Sorry, gluten-free friends!
Burger Toppings:
Arugula
Avocado
Basil
Black Beans
Cabbage
Carrots
Cilantro
Corn
Cucumber
Jalapeño (fresh, not the fried coins)
Lettuce
Red Onion
Parsley
Pickles
Red Pepper
Roasted Garlic
Pineapple Rings
Shredded Romaine
Tomato
Note: Some of these toppings might not be available at your location. Ask if you don't see an item listed. They might be able to get it for you. Load up on these burger toppings since they're the most healthy Red Robin options on the menu!
Which Sides Are Vegan-Friendly at Red Robin?
Sides are usually the most sneaky foods at fast food restaurants. The ones you generally think of as being free of animal products are sometimes laden with added milk, egg, or strange animal-derived additives. Eek! We did some digging for you and, at the moment of this article, these were the safest sides we could share.
Appetizers:
Guacamole, Salsa, and Chips
Salad:
Side House Salad (ask for no cheese or croutons)
Note: Vegan-friendly salad dressing options include oil & vinegar or soybean oil dressing.
Sides:
Apple Slices
Carrot Sticks
Steamed Broccoli
Steak Fries
Sweet Potato Fries
Yukon Gold Chips
Dipping Sauces and Condiments:
A-1 Steak Sauce
Cayenne Seasoning
Ghost Chili Ketchup
Guacamole
Heinz 57 Sauce
House Salsa
Island Heat Sauce
Ketchup
Red's Relish
Red Robin Seasoning
Scorpion Sauce
Yellow Mustard
NOT Vegan at Red Robin:
Desserts
Fried Jalapeño Coins
Onion Rings
Pretzel Bites (even though you could leave out the cheese sauce, they are brushed with butter)
Shakes
NOTE: Please keep in mind that the food items listed above vary by location, even within the same state. Please call ahead of time to find out for sure and remember to keep that in mind when ordering online.
Vegan-Friendly Drinks at Red Robin:
Dasani Bottled Water
Fountain Drinks
Freckled Lemonade
Flavored Iced Tea
Fresh Brew Iced Tea
Note: They also offer vegan alcoholic beverages at most locations. Check Barnivore.com to make sure the option you're choosing is vegan-friendly.
What's in the Red Robin Veggie Burger?
If you're curious about the Red Robin veggie burger ingredients, read on. You have three burgers to choose from with different ingredients and nutrition profiles.
The Impossible Burger is a plant-based burger made with soy and potato protein. The sandwich includes Red's pickle relish, onions, pickles, lettuce, and tomatoes. Hold the mayo and cheese
The Veggie Burger is vegetable and grain based, featuring a mixture of ancient grains and cooked quinoa. It's topped with their house-made salsa, fresh avocado slices, and you can choose your own bun
The Vegan Burger is pretty much the exact same as the Veggie Burger except they use lettuce leaves instead of a bun. This choice also includes unlimited steamed broccoli, which we think is pretty awesome. (Would be more awesome if they offered bottomless fries, though, right?)
Note: In Canada, a Lightlife burger patty is offered instead of the Impossible Burger.
More Tips for Veganizing Red Robin Food Options:
Besides building your very own vegan burger, there are a couple of other ways to wiggle past the animal products and provide yourself with a tasty meal.
Vegan Salads:
Southwest Chicken Salad: Ask for no fried jalapeño coins, ancho sauce, cheese, chicken, or dressing. Ask if you can have a veggie burger included instead and request salsa, guacamole, oil & vinegar, or the soybean dressing, if available.
Bottomless House Salad: Order with no cheese, croutons or dressing. Consider salsa, guacamole, oil & vinegar, or the soybean dressing for dressing options. You can keep ordering more salad at no extra cost.
Kid's Meals (Red Robin Kids Menu):
Swap the burger in Red's Cheeseburger for either an Impossible or Veggie burger, as well as requesting no cheese. Add a side salad (no cheese, croutons, or dressing), steamed broccoli, carrots sticks, and apple slices.
Are the French Fries at Red Robin Vegan?
While the fries themselves do not contain milk, eggs, or dairy, they are fried in the same oil as other foods, including animal-based products. So, technically, they are not vegan. But, Red Robin does give you a choice––if you request your fries to be made in a "designated fryer" that is only for fries, they will do this for you. Isn't that a super step forward? If you forget, choose not to ask for this alternative, or if this option is just not available at your location, don't worry. There's no judgement here whatever you decide and it's not the end of the world if you can't get the animal-free fryer. Our hope is that a vegan-friendly fryer will be an option at all fast food restaurants in the future.
Historic Moments in Red Robin's Vegan History
January 2018 – The new Red Robin "Keeping It Simple Veggie Burger" is now on the menu.
April 1, 2019 – Red Robin introduces the Impossible Burger at more than 570 locations.
Helpful Hints When Ordering Vegan at Red Robin
Browse the Red Robin menu before ordering.
If ordering Red Robin online or through a delivery service, make sure you clearly specify any substitutions you would like. Especially concerning meat and butter. If you're worried that your request may not be honored (or seen by the server at Red Robin), it might be a better idea to go there directly to order.
Check out their Nutrition, Red Robin Allergen Menu, and Allergen and Diet pages to make sure that you are purchasing a vegan-friendly item. The menu items offered at Red Robin do change and the informational charts seem to be updated regularly.
Be careful when new and exciting seasonal products are offered at Red Robin. Double check the allergens and ingredients to make sure the item is vegan before purchasing.
4 Fascinating Facts About Red Robin
Burgers and fries weren't added to the menu until 1973! Before that, they offered signature diner dishes, as well as popcorn and wrapped sandwiches.
Bottomless steak fries have been offered for over 20 years!
The Red Robin restaurant tries its best to help the environment by recycling their frying oil for alternative fuel, installing solar panels, and using energy-efficient equipment in the kitchens.
They also opened a simpler, lower priced restaurant called Burger Works in 2011 in 6 locations, including Colorado, Washington, D.C. and Chicago.
Creating a Kinder and More Accessible Red Robin Menu
Keep your fingers crossed that this busy burger restaurant will offer many more plant-based choices in the future. We're hoping for more veggie burger options, at least one delicious dessert, and some vegan cheese, please! In the meantime, we can always write to, call, or contact the managers of any location to make our requests.
What are your favorite items on the Red Robin menu? Let us know on Facebook, Twitter, and Instagram!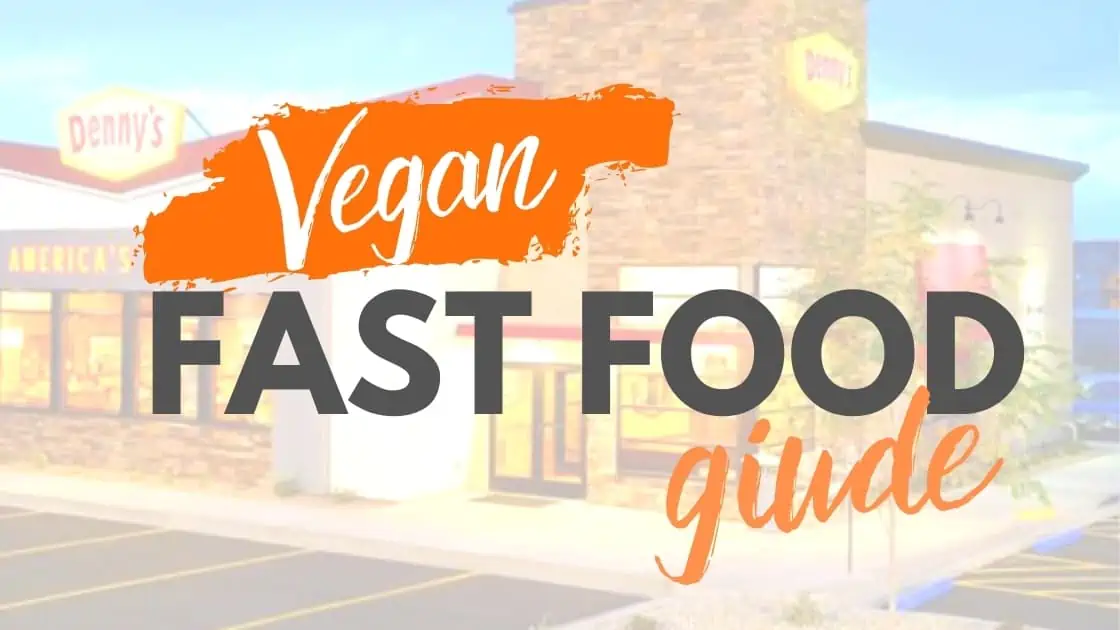 How to Order Vegan at Other Fast Food Chains:
We have a whole series of vegan fast food guides to help you find the best options at each location. Take a peek if you're in need of a quick vegan meal on a road trip or with fast food-loving friends!
Have you found any other options to be veganizable? Did you find something amazing that we missed? Let us know by tagging #worldofvegan and sharing your favorite vegan-at-Red-Robin creations with all of us!
This article is not sponsored and we are in no way affiliated with Red Robin. At the time of this article, the foods mentioned above are vegan. Since restaurants constantly update their vegetarian menus and add or take away items, please keep this in mind when ordering your food. There may be new items that are vegan at Red Robin and not listed or items listed here as vegan, which are no longer vegan. Take care to double-check.
This vegan Red Robin menu guide written by Gina House and edited by Michelle Cehn and Amanda Meth. Please note that this article may contain affiliate links which means shopping through them really helps to support World of Vegan!