Sweet, creamy, and velvety like rich vanilla custard, vegan white chocolate is having a renaissance, after years of bad press. While you may have been lucky to find one waxy confection through specialty stores a few years ago, artisan chocolate makers are now turning out gourmet cacao creations in all colors. None of this would be possible without dairy free white chocolate, a true game-changer in the chocolate industry.
What Is White Chocolate?
Purists may argue that white chocolate isn't "real" chocolate because it doesn't any contain cocoa solids, which are responsible for the distinctive flavor and brown color of dark chocolate. However, cocoa butter, the key element creating the richness and smooth melting sensation is allowed to come to the forefront instead. Lacking that characteristic bitterness, white chocolate is typically sweeter and more vanilla-forward, making it more popular amongst kids and supertasters.
Is White Chocolate Vegan?
Conventional white chocolate is not vegan, swapping expensive cocoa butter for more affordable tropical oils and then stabilizing the mixture with milk solids. These dairy products come in a wide range of formats, including:
Milkfat
Powdered milk
Dry milk solids
Lactose
Whole milk
Skimmed milk powder
Buttermilk
Butterfat
Butter oil
How Is Vegan White Chocolate Made?
It's possible to make vegan-friendly white chocolate with even better flavor and texture these days. Vegan white chocolate features cocoa butter as the primary base ingredient, along with soymilk, coconut milk, oat milk, or rice milk powder. Conventional white sugar may be used as a sweetener, while high-end chocolatiers are likely to opt for less processed sources such as agave syrup or maple syrup.
Health-conscious brands may use stevia or monk fruit extract to create a sugar-free treat instead. These ingredients are blended together and then tempered to create a smooth and creamy confection.
Best Vegan White Chocolate Bars
You can find several appealing vegan white chocolate brands available online and in stores that offer a delicious dairy-free alternative to traditional white chocolate. Each brand offers a unique flavor and texture profile, so it's worth trying a few to find your favorite. And, isn't that half the fun?
This European white chocolate bar is sweetened with rice syrup instead of refined sugar. It has a creamy texture and a subtle vanilla flavor.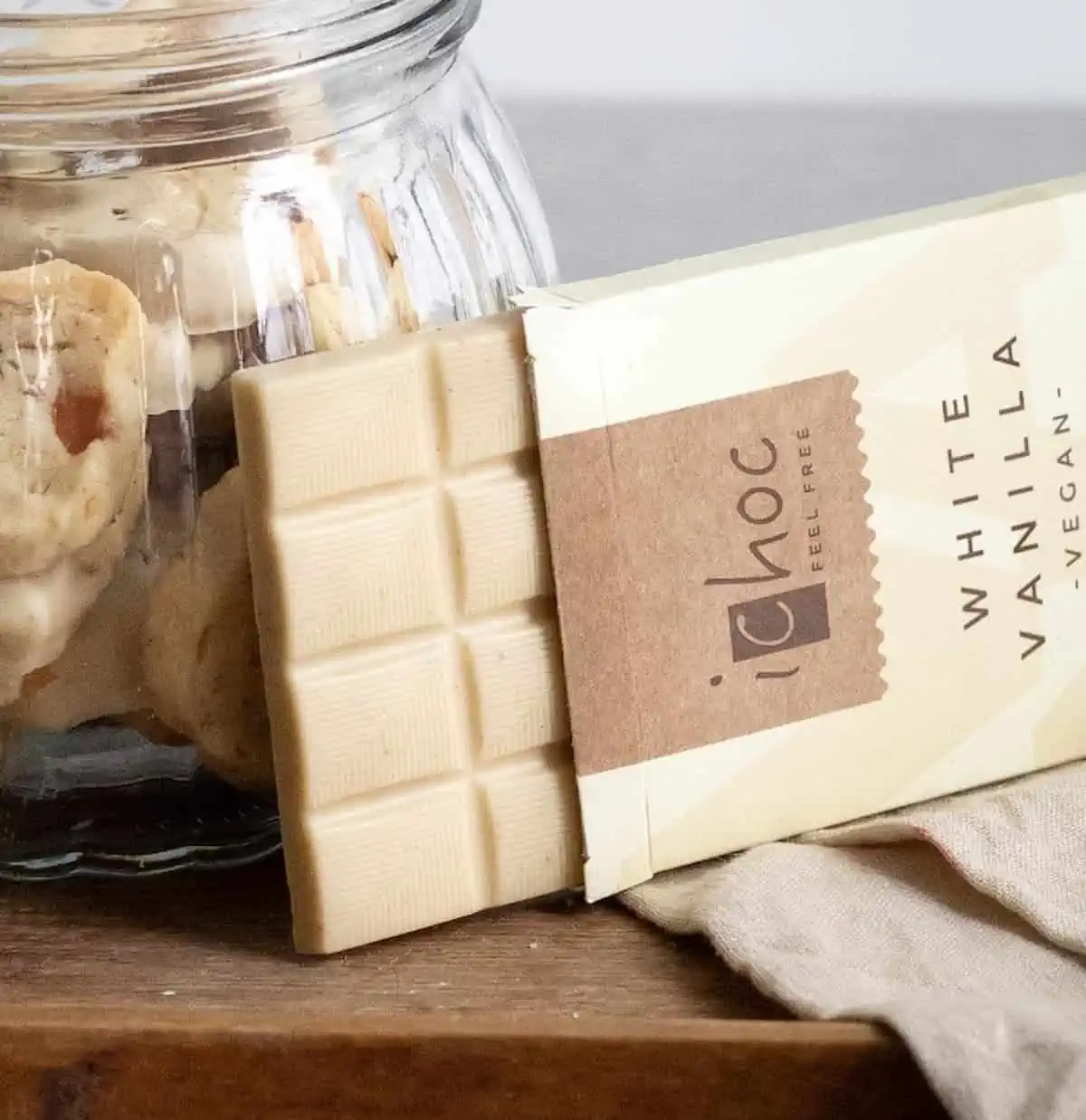 Loving Earth makes a white chocolate bar that is made with coconut milk powder and coconut nectar for a tropical, floral vanilla taste and rounded creamy texture.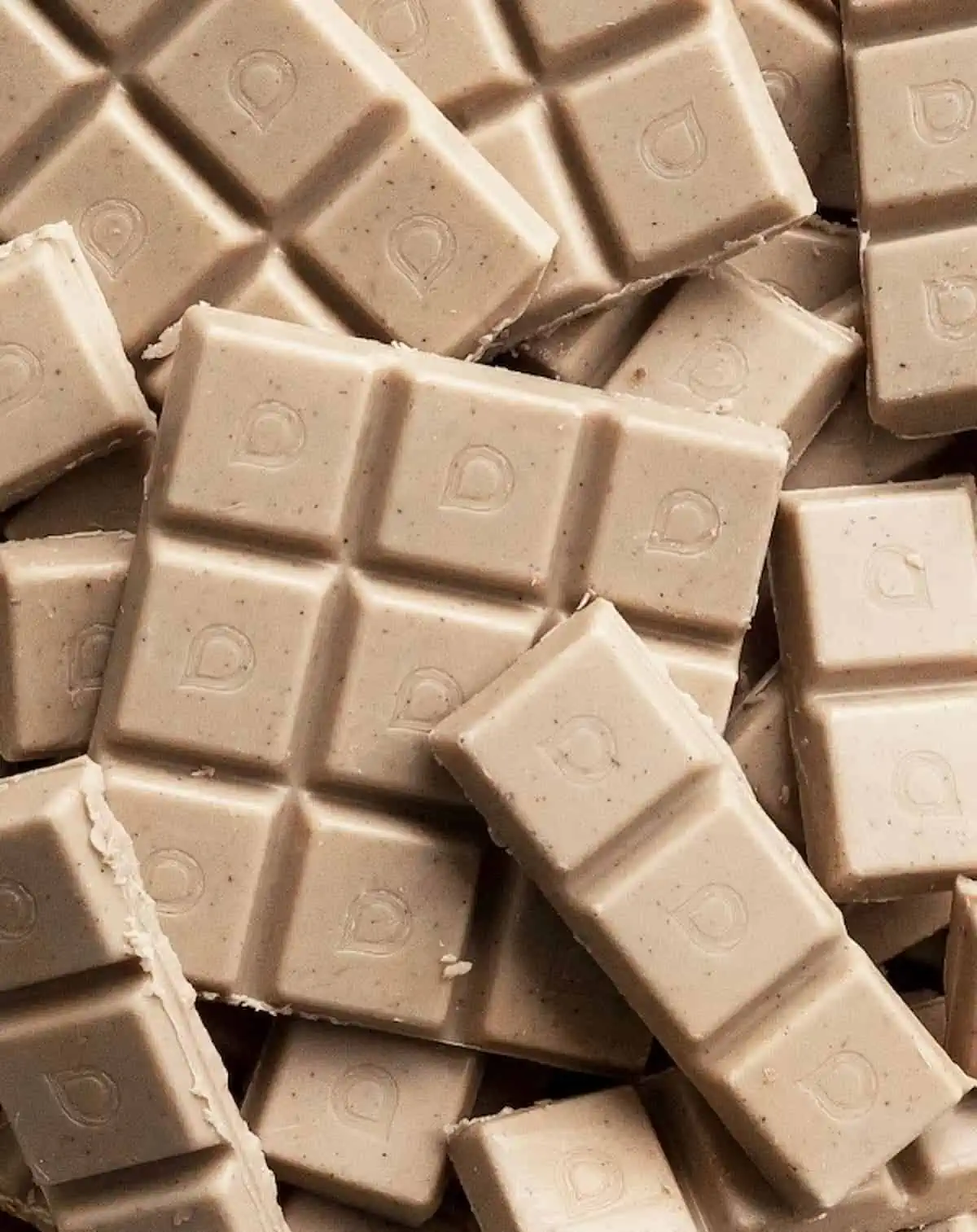 Sweet, milky, and almost indistinguishable from dairy, you'd never know it was vegan from the taste!
Serving the United Kingdom, these vegan treats are sometimes imported overseas to hungry fans in the US, too. Moo Free makes white chocolate bars and buttons with rice milk instead of dairy milk, giving them a smooth and creamy texture with a sweet vanilla taste.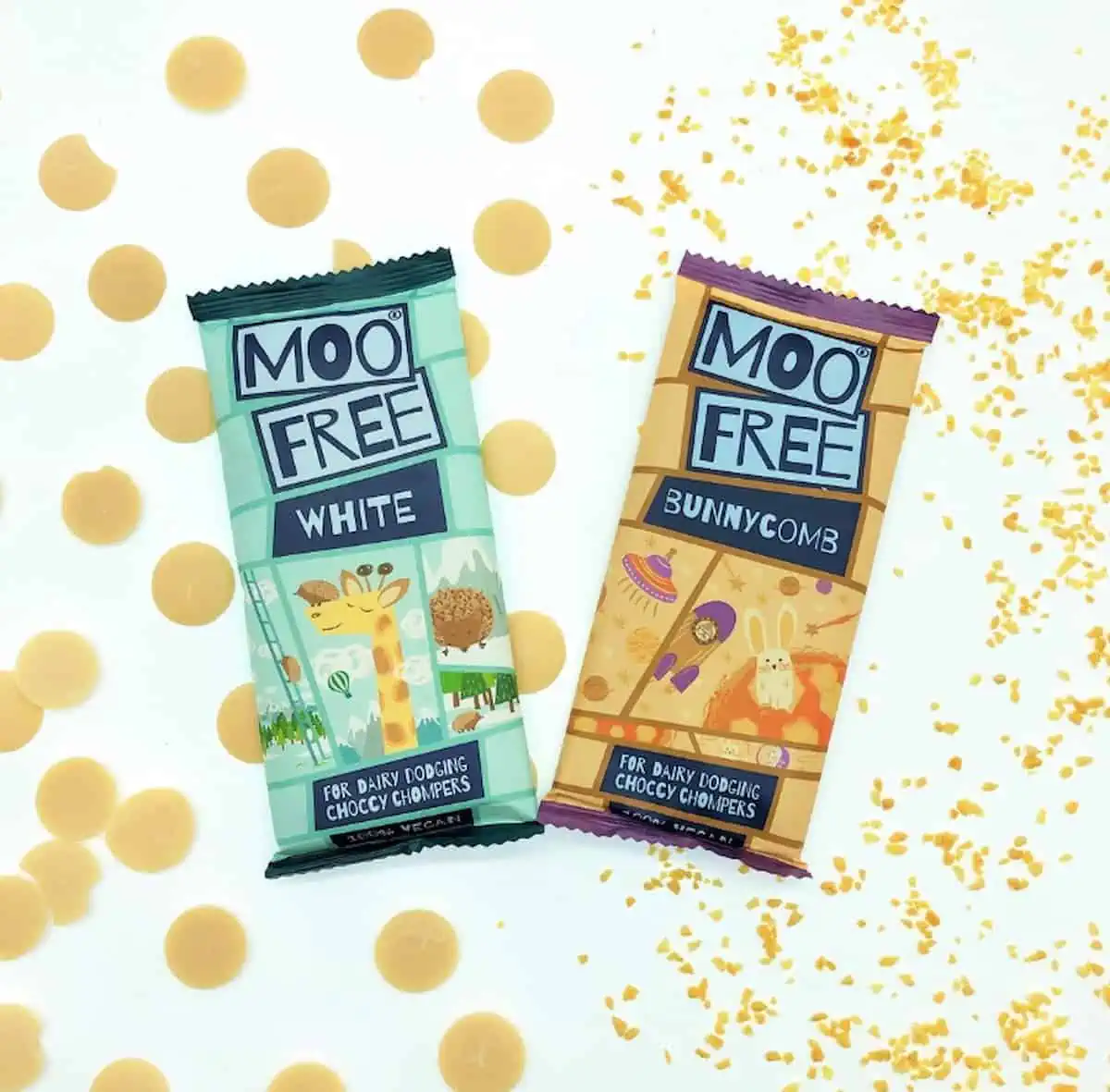 Carefully named to reflect the caramel-kissed tone of this unique confection sweetened with coconut palm sugar, it's the only completely raw white chocolate bar on the market that is also vegan. This unprocessed approach allows the fruity notes of lightly fermented raw cacao beans to really shine through.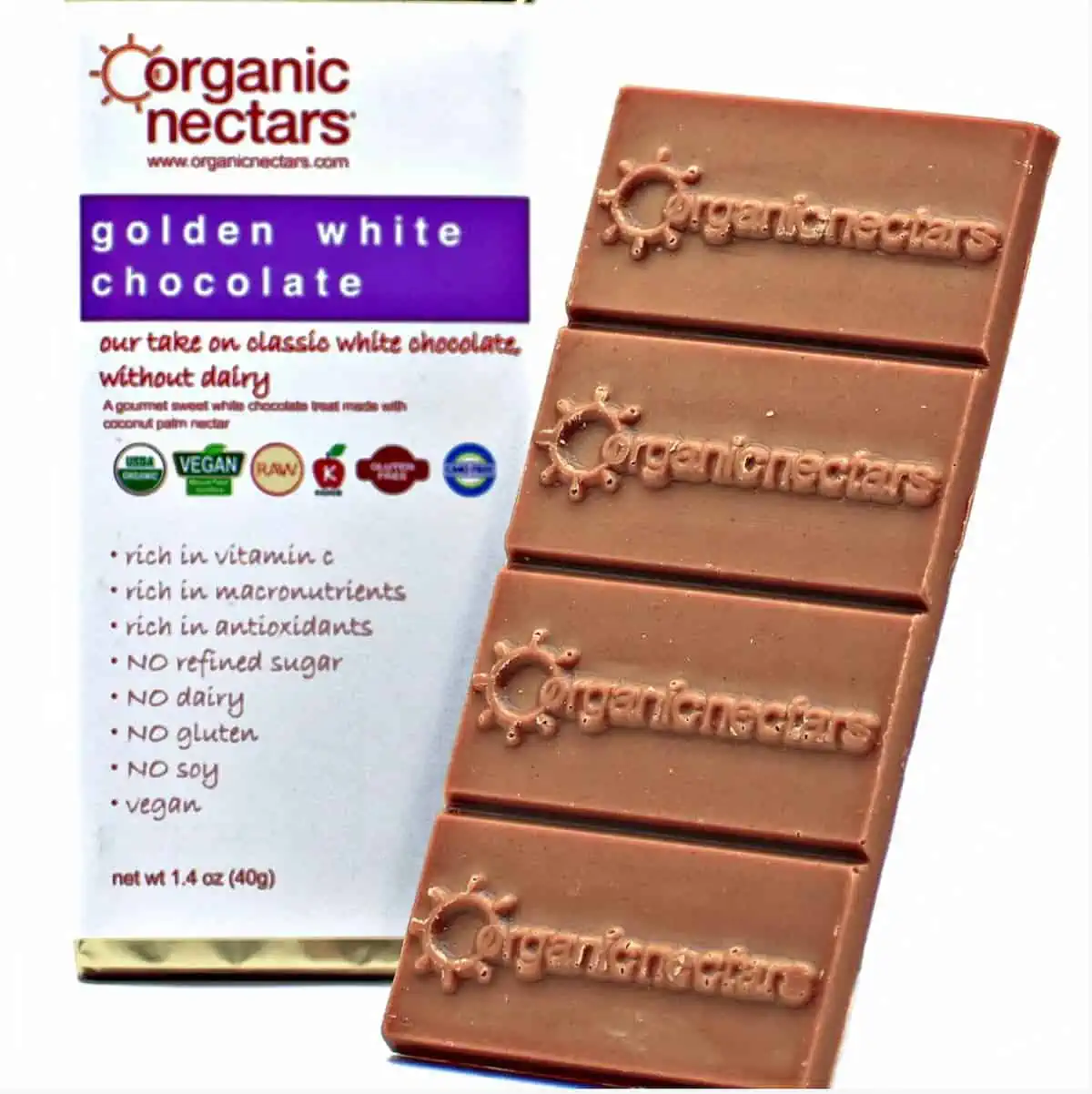 The cacao itself is ethically sourced from Peru and is Rainforest Alliance Certified. Pascha also makes white chocolate chips, made with organic cocoa butter and using rice milk instead of dairy milk.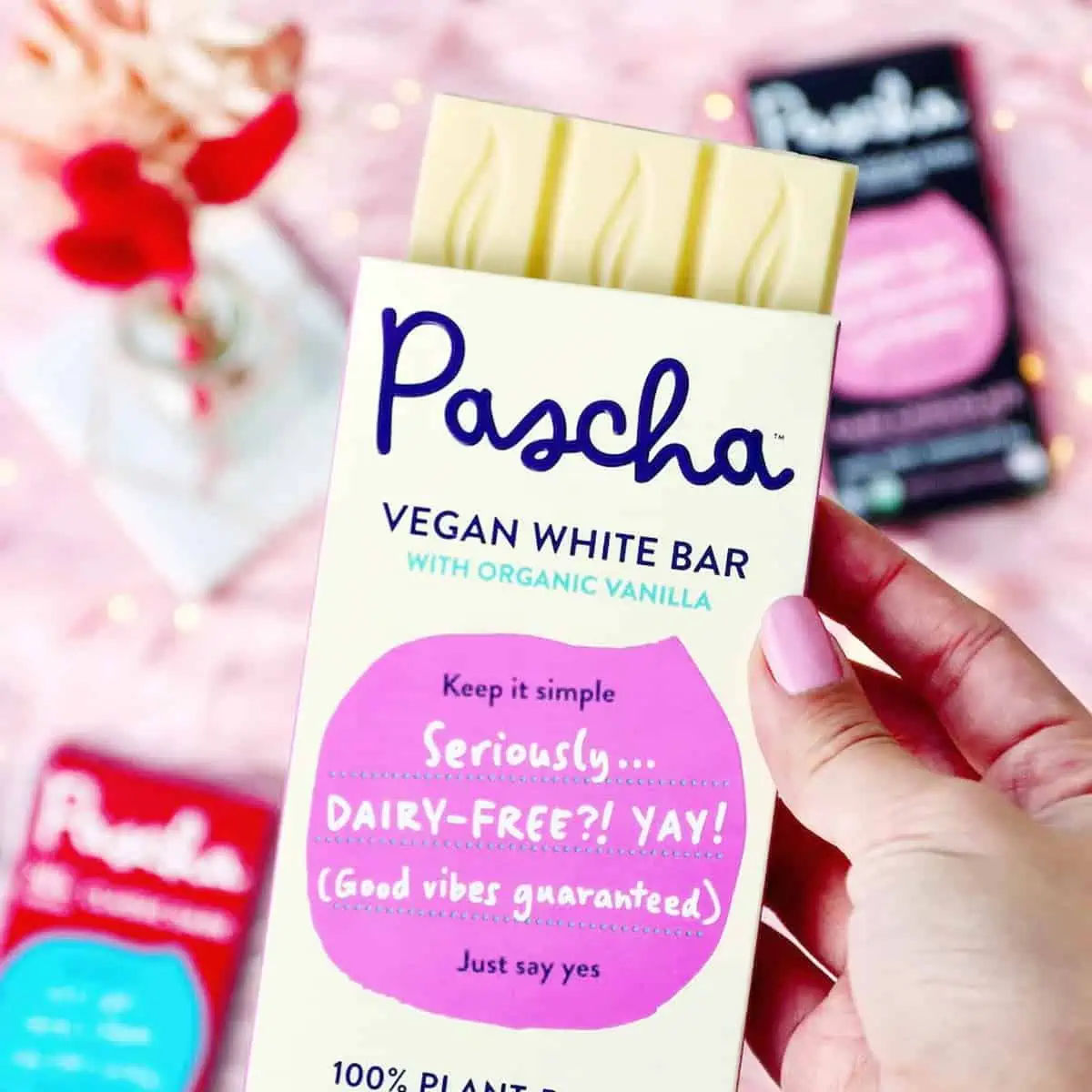 Organic cashews create a rounded, subtly nutty flavor in this pale beige bar. Schmilk is made in Vermont and offers free local pickup if you're lucky enough to live nearby.
A rich and decadent treat, this confection gets a crunchy addition of toasted almonds that sets it apart from the pack. Like all their products, this Vego vegan chocolate bar is organic, fair-trade, gluten- and palm oil-free and comes with environmentally friendly packaging.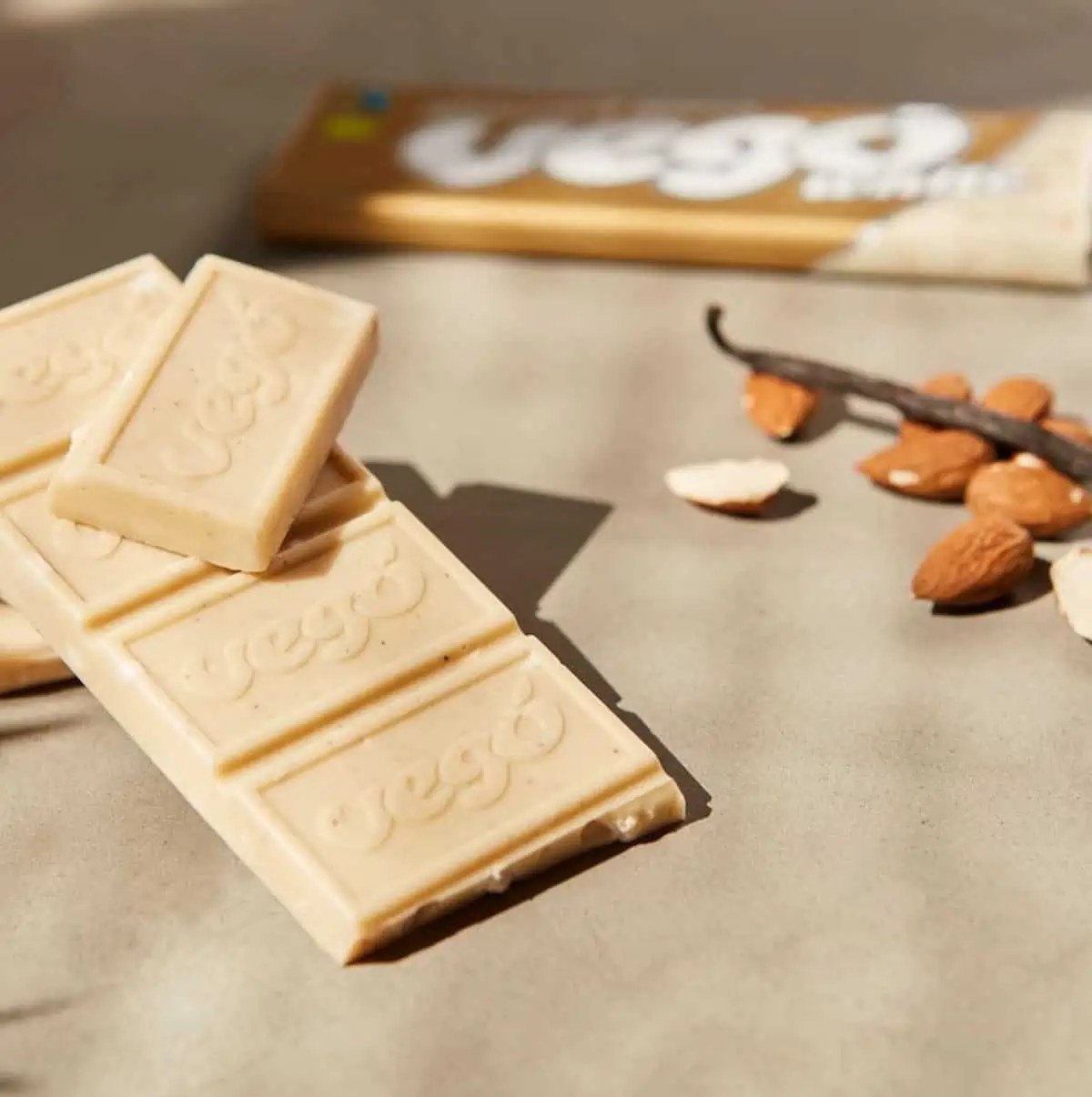 Best Brands of Vegan White Chocolate Chips
If baking is where you do your best work, this list of dairy-free white chocolate chips is for you! Branching out into the white chocolate realm may be easier than you think, thanks to many up-and-coming (or tried-and-true), open-minded brands.
An excellent price per pound for these dairy-free gems! These wonderful white chocolate chips are gluten-free, kosher, dairy-free, and vegan. A super, soy-based brand for baking!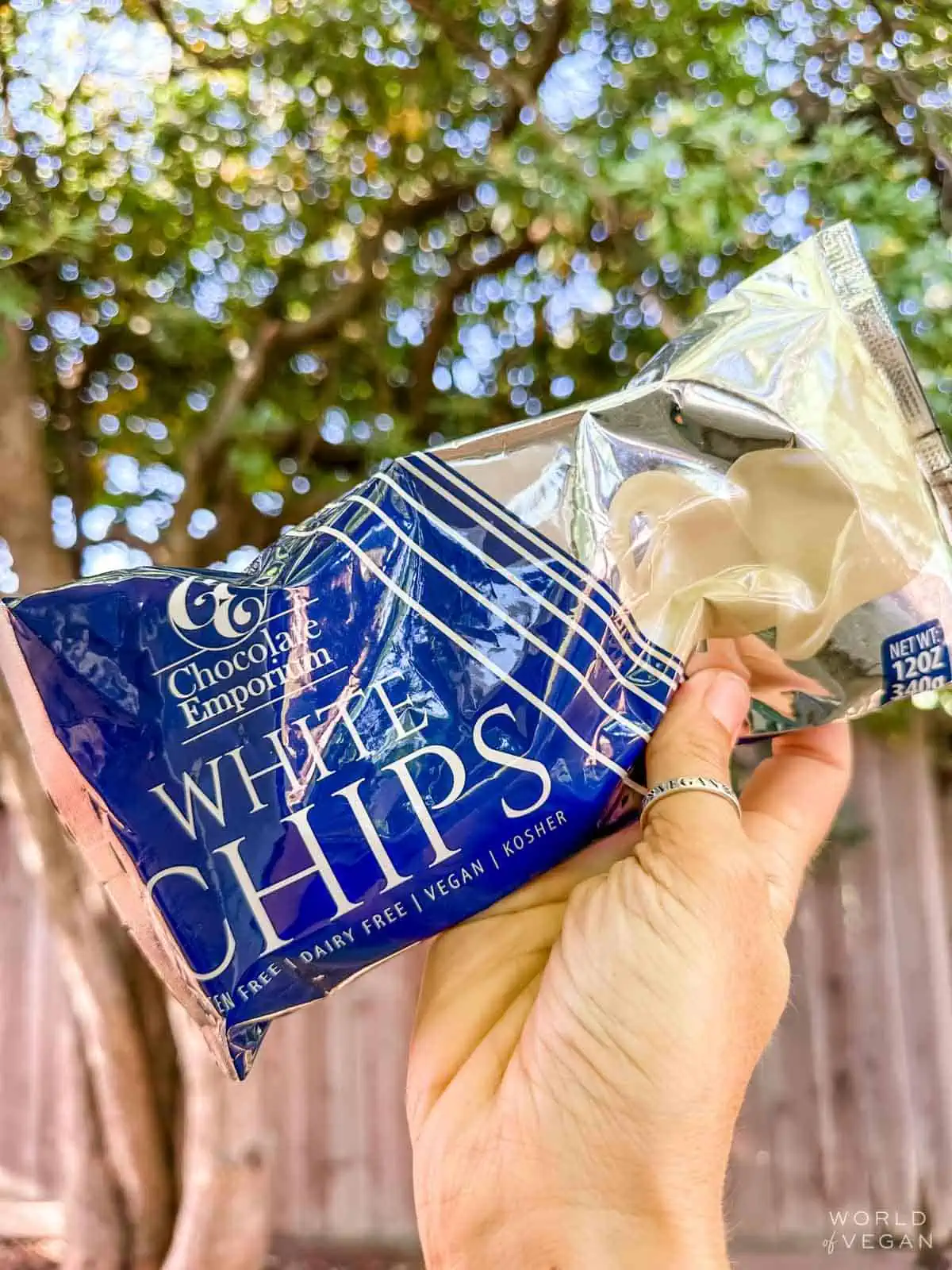 With only six ingredients, this vegan-friendly brand offers another alternative to dairy-laden white chocolate chips. They have a smooth and silky texture and deep flavor. This company's various baking chips flavors are also gluten-free and kosher.
One of our favorite brands for baking! Not only are these mini white baking chips vegan, but they're also made in a gluten-free and nut-free facility. Enjoy Life's adorable little white chocolate chips are perfect for cookies, cakes, and snacking! Their allergen-friendly line makes baking so much better.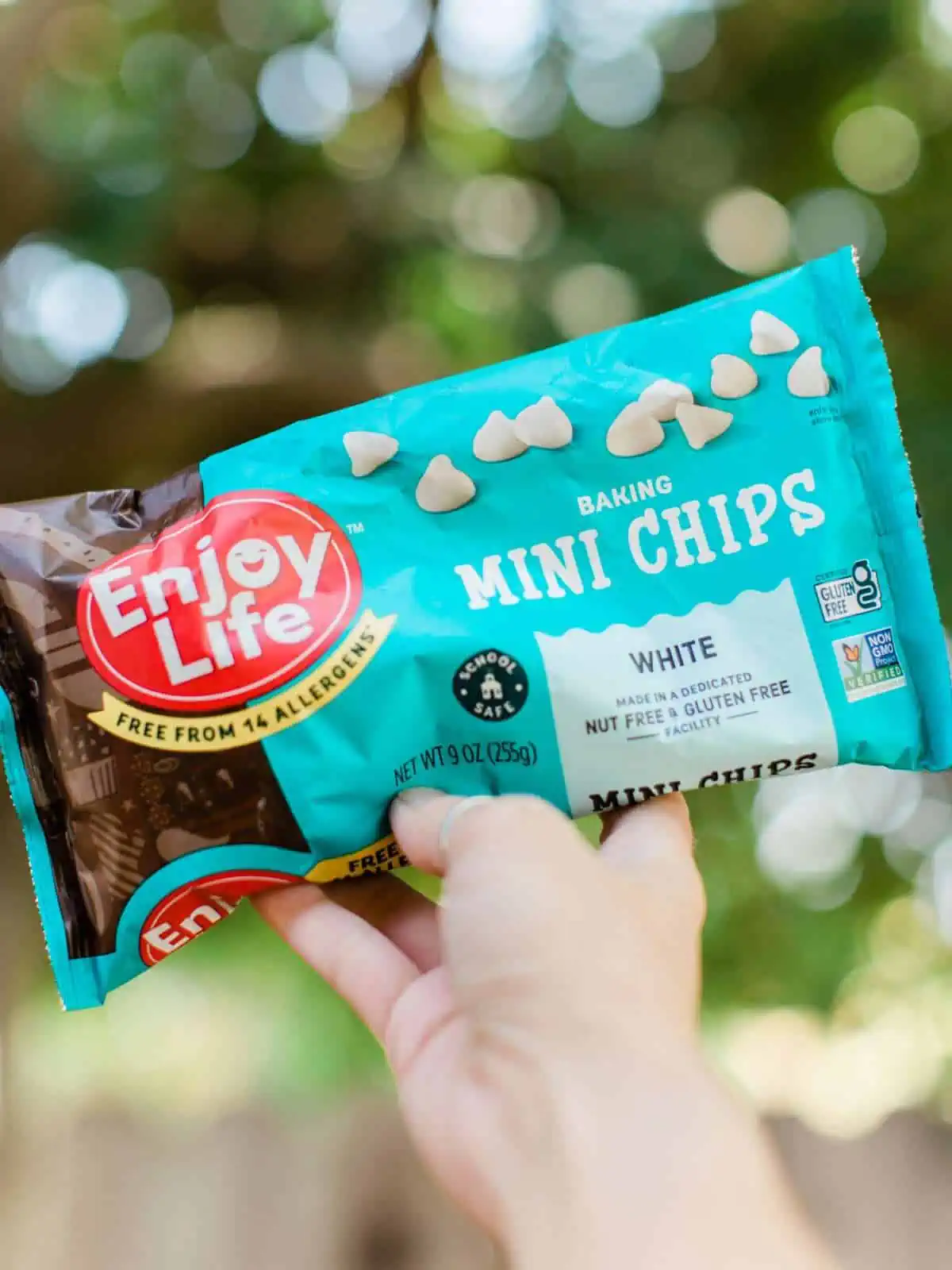 A fantastic find for white chocolate chip lovers! The flavor of these dairy-free chips is spot-on and super for melting. If you are partial to peppermint bark or are tempted by truffles, this is the brand of chips to choose!
Creamy and perfectly sweet with a good amount of rich cocoa butter. These lovely, white chocolate chips have no artificial colors and no preservatives and are also dairy free, gluten free and vegan. Lieber's is also certified kosher, too!
Pascha's rich and velvety white chocolate chips are made with mainly cocoa butter, organic rice powder and cane sugar. They're gluten-free, non-GMO, and vegan. Although they taste much better in baked goods, you can also add them to trail mix for a fun treat.
Vegan White Chocolate Recipes
The only thing better than snapping off a piece of luscious light chocolate and eating it plain is turning that treat into a decadent dessert! Make the most of your cocoa-loving chocolate stash with these luscious vegan recipes.
FAQs
Where can I buy vegan, dairy-free white chocolate?
White chocolate that is dairy-free and vegan can be found in some gourmet grocers and natural grocery stores, such as Whole Foods Markets. For the greatest selection, shop online, direct from manufacturers.
Is vegan white chocolate healthy?
While it's a better choice over conventional white chocolate which is high in cholesterol, dairy-free white chocolate is still a treat containing sugar and saturated fats. It's best enjoyed in moderation.
What's the best way to store vegan white chocolate?
Since all chocolate melts at high heat, it's best to keep vegan-friendly white chocolate in a dark, cool place, and always out of the direct sunlight. Keep them fully wrapped, when possible, for the longest shelf life. Once opened, store it in an airtight container or zip top bag for up to 6 months.
Is white chocolate flavoring vegan?
White chocolate extracts and flavorings, used for baking and candy making, are typically derived from artificial sources which makes them vegan-friendly. However, some brands add dairy into the base to make them creamier, so always check labels to be sure. When in doubt, contact the manufacturers since it's not always explicitly clear, especially in cases of cross contamination when severe food allergies are a concern.