What's for dinner? How about this nostalgic vegan hamburger helper recipe? It's quick, kid-approved, adult-adored, and can be enjoyed at the dining table with a side of veggies or in front of the television TV-dinner style. We won't judge. In fact, we may be doing the same tonight. This dairy-free vegetarian hamburger helper dinner is a must-try for everyone who enjoys comfort food!
Whether you grew up with it as an essential dinnertime staple or never tried making your own, hamburger helper always hits the spot. This deeply comforting entrée transcends all ages, lighting up the faces of young and old eaters alike. This meatless hamburger helper recipe is plant-based, dairy-free, cholesterol-free, and super-easy to make.
Even picky kids will revel in a bowl of creamy, cheesy noodles graced with protein-packed meatless grounds. Such a universal crowd-pleaser is an essential dish that everyone should have in their cooking repertoire. If you've been looking for the very best recipe, consider this recipe by vegan beauty guru Jessica Ourisman the end of your search. Nothing beats the ease and speed of such a fool-proof formula that can get dinner on the table in 25 minutes, from start to finish.
Why This Is the Best Hamburger Helper Recipe Around
The appeal of both mac and cheese and a juicy hamburger needs no explanation. Combine the two and you'll create something even greater than the sum of its parts. Even more than that obvious attraction, there are plenty of reasons why you'll never need to hunt for a new formula again.
Super speedy.
If you're in a time crunch between after school activities and evening Zoom meetings, there's no time to fuss with a complicated meal. You don't need to resort to takeout or frozen entrees, though! In less than half an hour, you can have a complete homemade dinner.
No experience (or skill) required.
Not all that confident in the kitchen? Want to teach the kids to cook? Whatever the case may be, this is an excellent introduction to food prep that goes beyond the basics but is still easy enough for anyone to pull off, no problem.
A balanced vegan meal in one bowl.
You've got a satisfying serving of fiber from the pasta and a complete protein from the meatless grounds. No need to make separate sides or go through tons of dishes to get the full package.
Allergy-friendly.
Since this recipe is vegan, it's naturally dairy-free, eggless, and meatless. Additionally, you can effortlessly make it gluten-free to accommodate those with celiac disease by simply using your favorite gluten-free mac and cheese. Depending on the brands of mac and cheese and meatless grounds you choose, it can be suitable for nut-free, seed-free, and soy-free diets as well. Always read the labels of every package carefully to make sure they're safe. Additionally, if you're avoiding added sugar, substitute a tiny pinch of sugar for the brown sugar, or simply omit it.
Omnivore and picky eater approved.
If you have just one chance to convince a staunch omnivore that vegan alternatives should be the first and only choice, this is your secret weapon that will finally win the war. Victory will be yours after the first bite; this is a classic example of such convincingly authentic flavors that everyone will ask, are you SURE this is vegan? This recipe is widely loved by vegan parents and vegan kids too!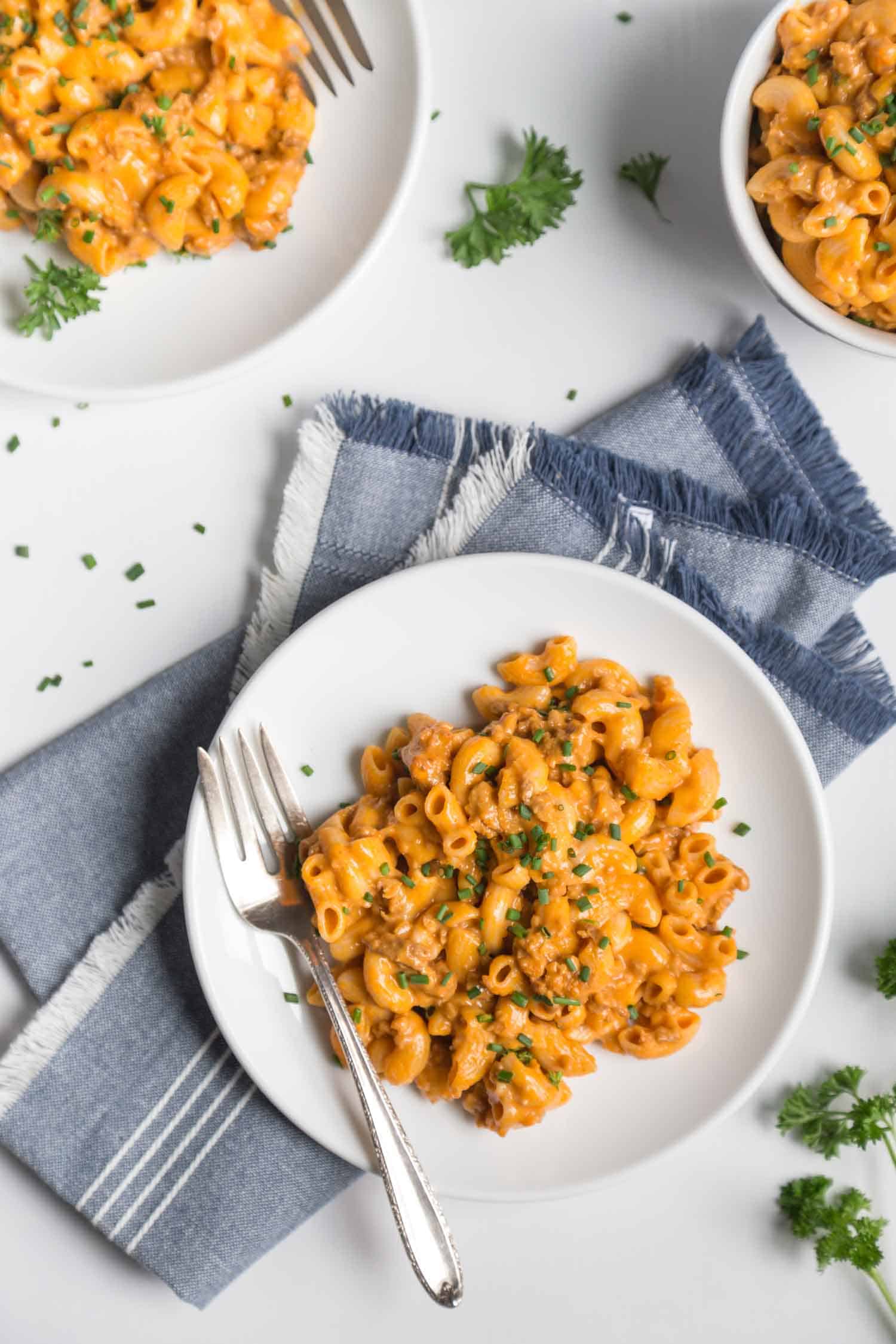 Key Ingredients in This Vegan Hamburger Helper
It doesn't take much to whip up a heaping helping of comfort food. With a well-stocked spice rack and prepared pantry, any night could turn into a special occasion; it always feels like a celebration when you can pull out an oversized pot of ooey, gooey, beefy noodles.
Vegan ground "beef" crumbles: Yes, you can (and should) make hamburger helper without meat! No one will miss it when you use amazingly authentic vegan "beef" instead. Beyond Meat hamburger helper is a guaranteed hit and no one will be able to tell the difference. Feel free to use any similar sort of plant-based crumble as you see fit.
Vegan mac and cheese: Start from scratch to make your own or take it easy by getting a head start with a packaged version. You'll need either two (6-ounce) boxes of store-bought boxed vegan mac and cheese, or 5 cups fully prepared mac.
Tomato sauce: The most basic sort of tomato sauce is perfect here, since you have plenty of bold spices added into the mix later. Look for cans that boast only tomatoes, maybe with salt or oil added at the most. The veggies are simply stewed until they fall apart to make a thick puree that makes an ideal base for many recipes.
Vegetable broth: Layer subtle, savory flavor into every step with this instant umami enhancer. For a richer, meatier flavor, try using mushroom broth or even vegan beef-style broth, which you can find at many health food stores or online.
Chili powder: Whether you like yours mild or wild, chili powder adds a world of powerful seasons in just one pinch. If you're not such a fan of the heat, start by using half as much and then adding more to taste.
How to Make This Vegan Dinner Recipe Your Own
The beauty of homemade hamburger helper is that you can fine-tune the ingredients to perfectly fulfill your cravings. It also means it's a snap to make every batch a little bit different, so no one ever gets bored.
Veg out!
Veggie hamburger helper is the stuff of vegetable-lovers' dreams. Swap out the meatless crumbles for riced cauliflower, minced mushrooms, chopped walnuts, or a combination of all three. You can also keep the "meat" and simply add more of your favorite veggies, like diced zucchini, green peas, or fresh tomatoes.
Eat your greens.
Never struggle to get dark, leafy greens into your daily diet again. Simply add a handful or two of chopped kale, collard greens, spinach, or arugula into the pot during the last minute of cooking, stirring until it's lightly wilted.
Switch up the sauce.
If you like it creamy but not always cheesy, try using pasta tossed with your favorite vegan alfredo sauce, ranch dressing, or dairy-free sour cream.
Herb your enthusiasm.
Incorporate a fresh infusion of seasonal flavor by mixing in minced basil (or prepared pesto,) cilantro, or oregano.
Hot stuff!
Instead of chili, there are plenty of other fiery spice blend to light up your night, such as curry powder, garam masala, Ethiopian berbere, Cajun or Creole seasoning, or Jamaican jerk.
Kitchen Equipment You'll Need
1 tablespoon of vegetable oil, avocado oil, canola oil, olive oil, etc.
1 medium yellow onion, finely chopped
3 garlic of cloves, minced
2 tablespoons of chili powder
1 teaspoon of ground cumin
1 teaspoon of ground coriander
1 teaspoon of salt
½ teaspoon of dried oregano
¼ teaspoon of cayenne pepper
1 pound of vegan ground "beef" crumbles
½ cup of canned tomato sauce
½ cup of vegetable broth
2 teaspoons of apple cider vinegar
1 teaspoon of packed light brown sugar
2 boxes of vegan mac and cheese, prepared according to package instructions
Garnish of chopped chives, green onions, or cilantro, to taste (optional)
In a medium saute pan, add vegetable oil and warm over medium heat. Once hot, add onion and garlic and cook until translucent.

In a small bowl, add the chili powder, cumin, coriander, salt, oregano, and cayenne and mix together. Add to the sautéed onions and mix together with a spatula.

After thirty seconds, add the vegan ground beef crumbles to the pan and separate with the spoon, mixing with the onion and seasoning mixture.

Stir in tomato sauce, vegetable broth, vinegar, and sugar and simmer for about ten minutes.

Prepare the vegan mac and cheese according to package instructions.

In a serving bowl, add the mac and cheese and the ground "beef" mixture, mix together, garnish with chopped chives, green onion, or cilantro, and enjoy!

Plant-Based Mac 'N CheeseFor this step, you can reach for your preferred brand or homemade iteration of plant-based mac 'n cheese.
Have a chance to try this tasty vegetarian hamburger helper recipe? Let us know what you think by leaving a comment and rating below! Be sure to follow along on Pinterest, Instagram and Facebook for even more vegan recipe inspiration.
More Quick-Fix Pasta Recipes To Try:
This delicious vegan hamburger helper recipe was created by Jessica Ourisman. Article written by Michelle Cehn and edited by Amanda Meth. Please note that this article may contain affiliate links which supports our work at World of Vegan.