Simple yet elegant mushroom ravioli like this one from You Can Cook This! can transport you to Italy in springtime with just one bite. Plump pasta pillows are stuffed with a rich, earthy mixture of sautéed mushrooms and fresh herbs, nestled in a pool of creamy asparagus sauce. Al dente homemade pasta creates a satisfying chew that gives way to the subtly cheesy, buttery filling at the center. Before you even indulge in your first taste, the aroma alone is enough to knock you off your feet! It's like walking through a forest after a fresh rain, with notes of woodsy mushrooms and fragrant fresh thyme filling the air.
Of course, a dish like this is all about balance. The richness of the filling is complemented by the tangy brightness of lemon-parsley oil, taking each plate from merely delicious to truly spectacular. Celebrate seasonal produce, simple pleasures, and healthy plant-based ingredients to craft an unforgettable meal that's guaranteed to leave you feeling nourished and satisfied.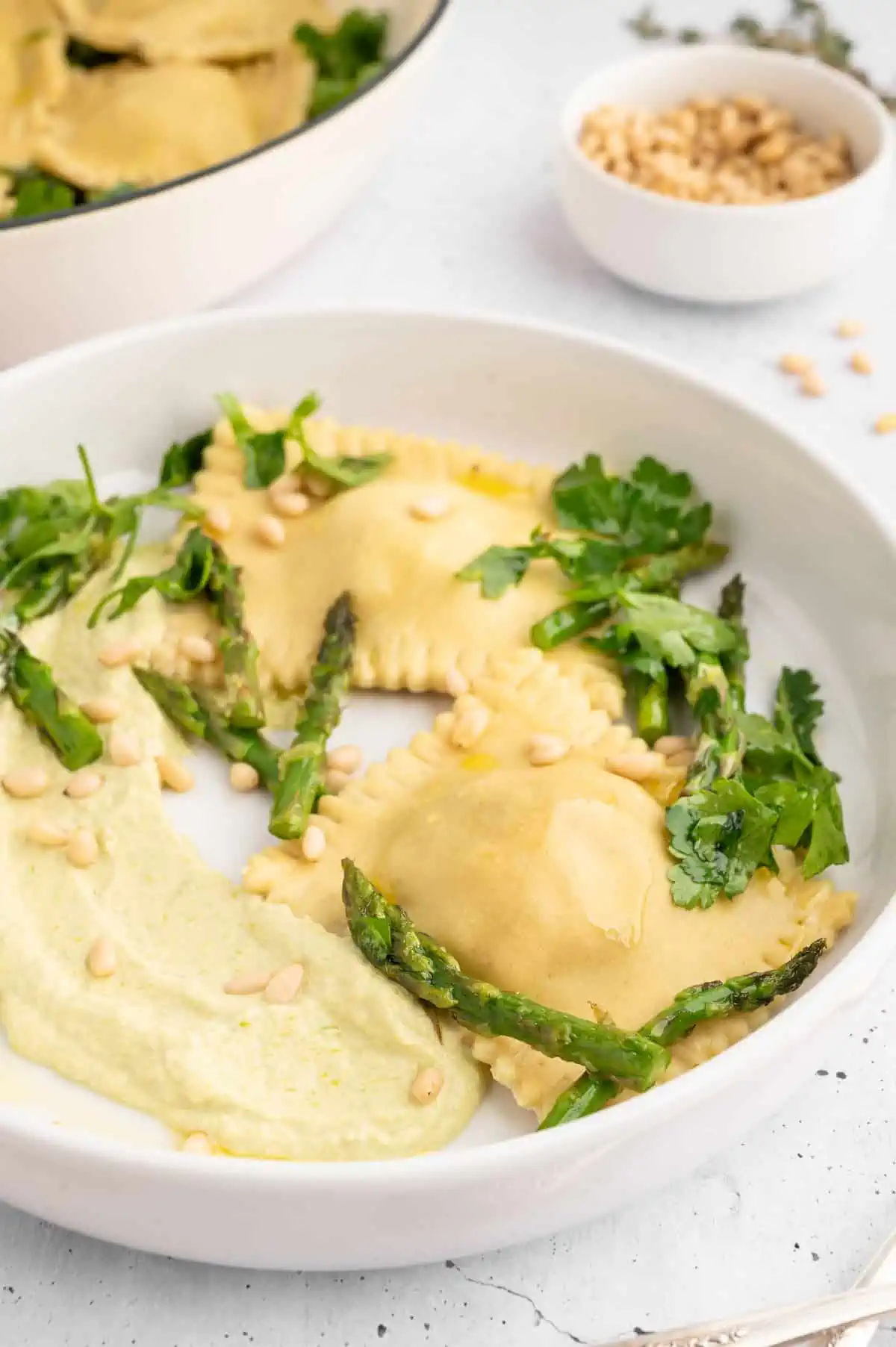 Why You'll Love This Homemade Vegan Ravioli
Ravioli seems like the ultimate form of pasta, elevated beyond the average flat strands or tiny tubes. What exactly makes this mushroom ravioli particularly compelling? Let's break it down:
Accommodating and inclusive. Most traditional ravioli is filled with dairy-based cheese, meat, or both, but these are meatless, dairy-free, vegan, and of course vegetarian by default. Omnivores, plant-based people, and even picky kids alike are not only welcome at this table, but they'll also ask for seconds!
Healthy comfort food. Rich, warm, filling, and satisfying yet high in protein and free from cholesterol, you can have the best of all worlds in one meal.
Fun for all. More than just fuel, ravioli is a project that lets you work with your hands, play with your food, and get the kids involved, too! It's almost like an edible sculpture at the end of the day. Once you've mastered the basic shape, you can experiment with other creative presentations too.
Key Ingredients
Do you have what it takes to make amazing vegan ravioli from scratch? Everyone can after a quick shopping trip!
00 flour: Commonly used in Italian pasta and pizza dough recipes, this is the most finely ground version of wheat flour you can find. It creates a softer, more supple dough that's still substantial and toothsome.
Aquafaba: Otherwise known as chickpea brine, this is the liquid you'll find in a can of beans. You'll need two cans to have enough aquafaba for this recipe, with a little bit leftover.
Turmeric: Add a sunny yellow glow to your dough without egg yolks! Just a pinch makes a big visual impact.
Mixed mushrooms: Any mushrooms will do, such as button, cremini, shiitake, enoki, oyster, trumpet, maitake; go mushroom crazy! It's even better if you mix a couple of types for a more nuanced umami flavor.
Fresh thyme: In a pinch, you can use a third as much dried thyme instead of fresh. That means for every tablespoon fresh, substitute a teaspoon dried.
Vegan cream cheese: Whether it's made from nuts, soy, or coconut, there's a schmear out there for everyone! Use your favorite brand or homemade alternative.
Silken tofu: You'd never know there's high-protein tofu making the sauce so creamy. Aseptic silken tofu is best for blending perfectly smooth for this application.
Nutritional yeast: Add rich cheesy flavor with this entirely natural plant-based secret ingredient! It's great on its own for topping popcorn, baked potatoes, and pretty much anything else you want to have a touch of savory flavor.
Tahini: This silky-smooth sesame paste adds richness and body instead of relying on butter or cream.
Pine nuts: Add a crunchy contrast for textural satisfaction with a handful of toasted pine nuts. These can be a bit pricey, so you could always use slivered almonds as a more affordable alternative.
How To Make Vegan Ravioli
To make this recipe, you'll need a little experience on using a pasta machine or attachment. Making ravioli takes some practice, but it's not difficult once you get the hang of it! Follow these steps to make this delicious ravioli dish.
Step One: Prep Your Pasta Dough
Add your flour, turmeric and salt to bowl. Form a well in the center and add in your aquafaba, using a fork to combine it. Transfer to a floured work surface and knead until the dough is supple and forms a ball. Use some of the reserved aquafaba if you find your dough to still be a little dry and flaky.
This should take about 5 minutes. Cover the bowl with a damp kitchen towel and allow to rest for about 30 minutes.
Step Two: Prep Your Mushrooms
Add your chopped mushrooms to a preheated and oiled sauté pan. Fry until golden. Add your garlic and thyme and cook until fragrant. Add in the vegan cream cheese and zest, and gently stir to combine. Allow the mixture to completely cool before filling your ravioli.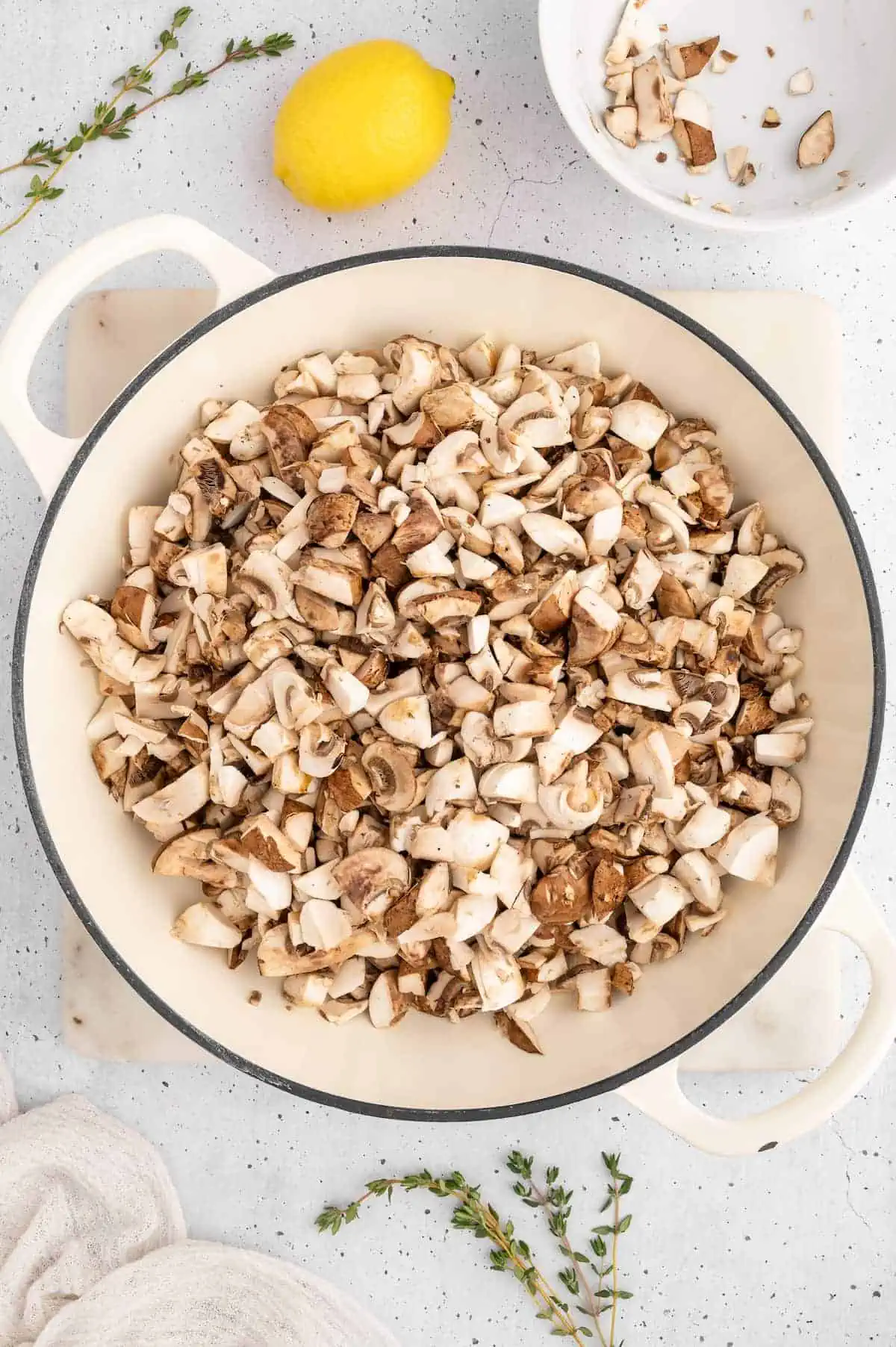 Step Three: Prep Your Asparagus Cream
Trim your asparagus and boil for a few minutes. Add them to a blender along with the tofu, parsley stems, lemon juice, nutritional yeast, tahini, and mustard. Blend until smooth and silky.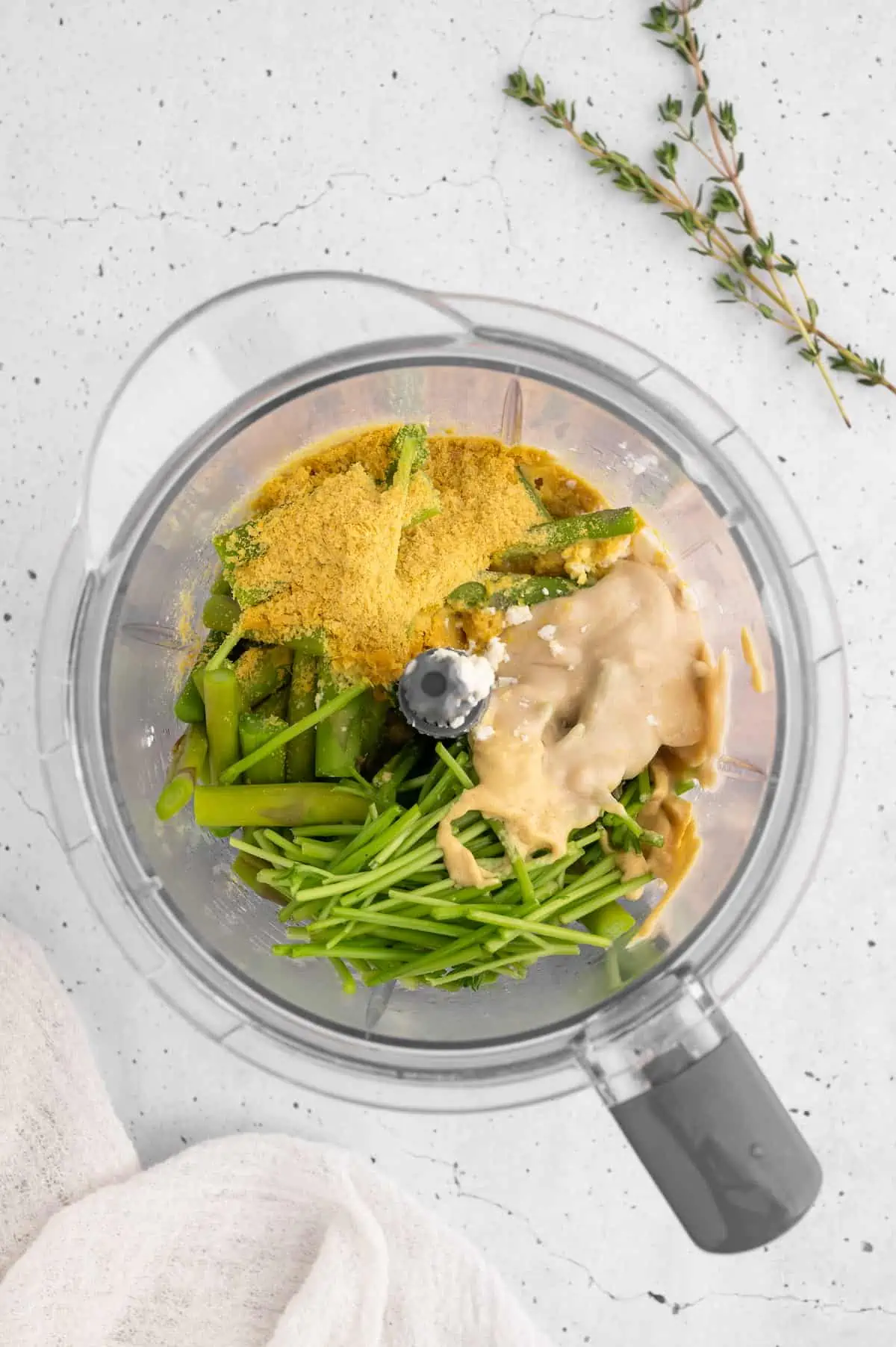 Step Four: Roll Out Your Pasta Dough
Once your pasta has rested, prepare your workspace. Lightly flour your countertop. Cut the ball of dough into quarters.
Take one piece of the dough and flatten it slightly with your hands. Feed it through a machine or pasta attachment on its widest setting. Then, folding the dough in half, feed it through the machine again. Repeat this process until the dough is smooth and elastic. If you find your dough is sticky, dust it with a little flour.
Once your dough is smooth, you can begin to gradually increase the thinness of the pasta. Adjust the machine or attachment accordingly, feeding the dough through each setting once. When the dough is 1⁄16-inch thick and approximately 16 inches long, it's ready. Cut the sheet into 3 rectangles on the work surface.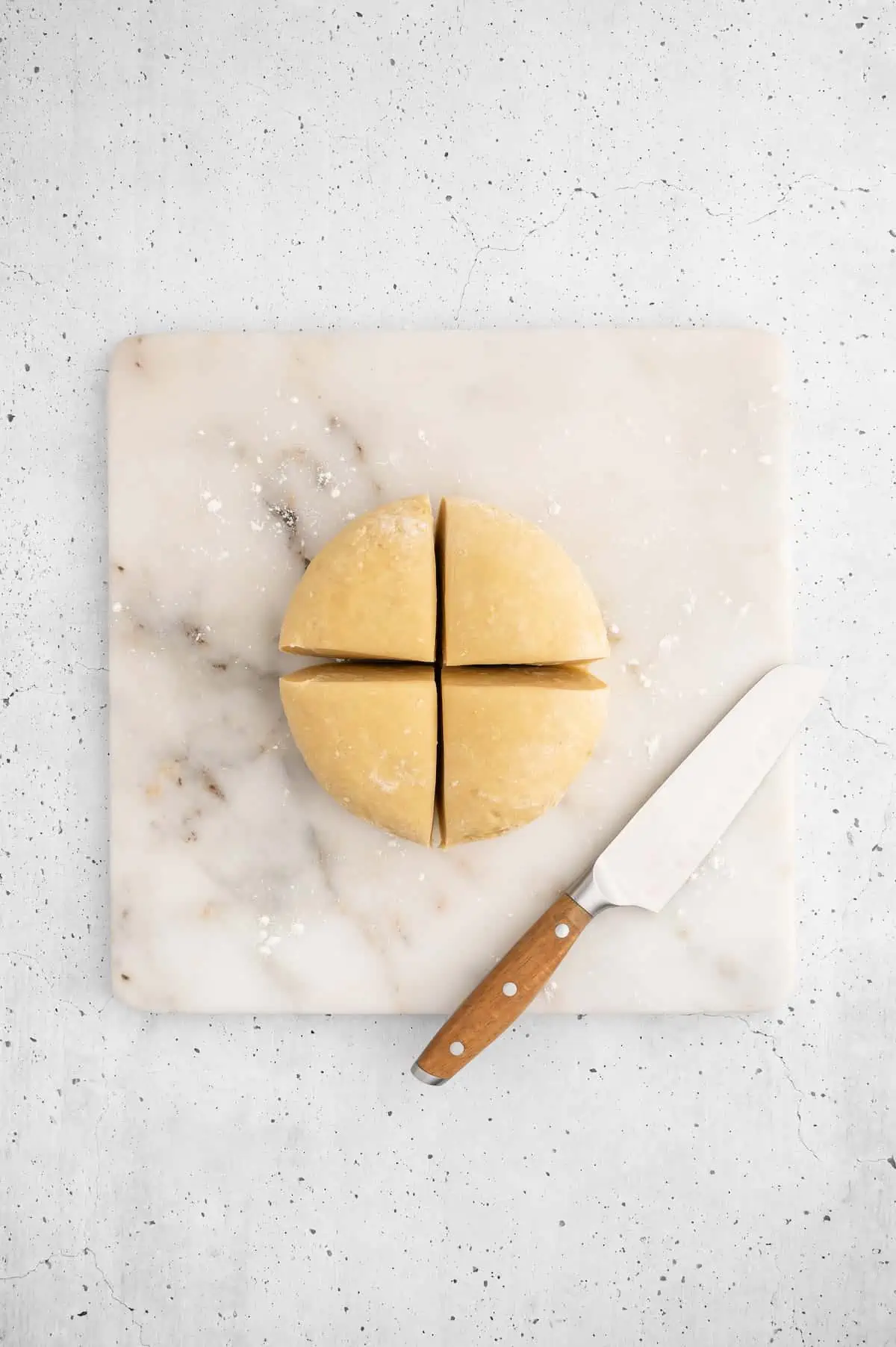 Step Five: Fill, Cut, And Seal Your Ravioli
Divide the mushroom filling into 12 portions. Add one portion per rectangle, leaving a generous border around the edges. Fold the dough over and press to seal it. Use a ravioli cutter to form an even shape. Use a fork to press around the edges to help create a seal.
Transfer the assembled ravioli onto a floured baking sheet while you complete the rest of the assembly.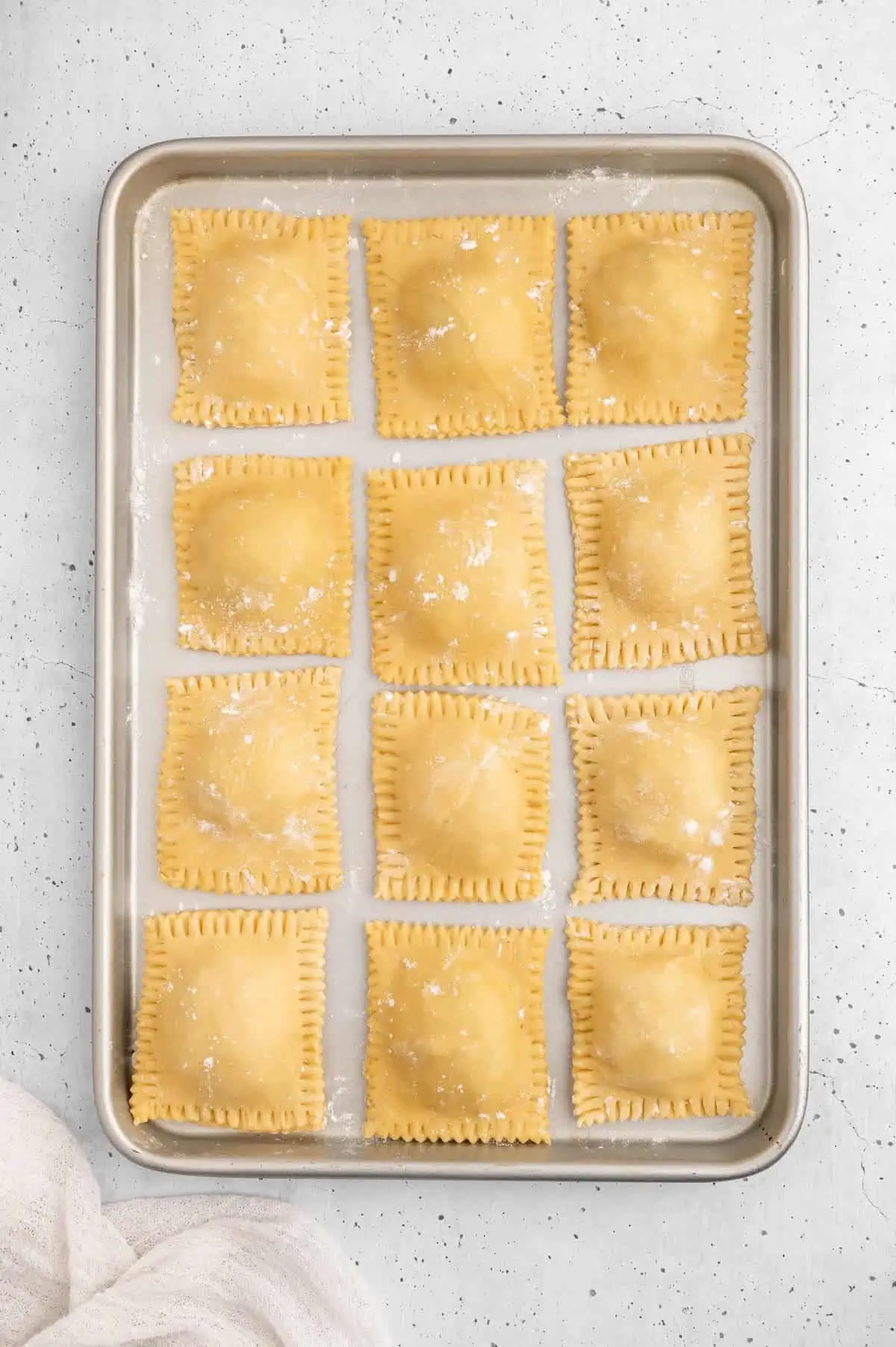 Step Six: Prep Your Asparagus And Garlic
Add the asparagus tips to an oiled sauté pan for a couple of minutes. Sprinkle in the garlic and fry for a minute more. Add the parsley leaves and lemon zest. Toast your pine nuts in a separate, dry pan for about a minute and remove from the heat.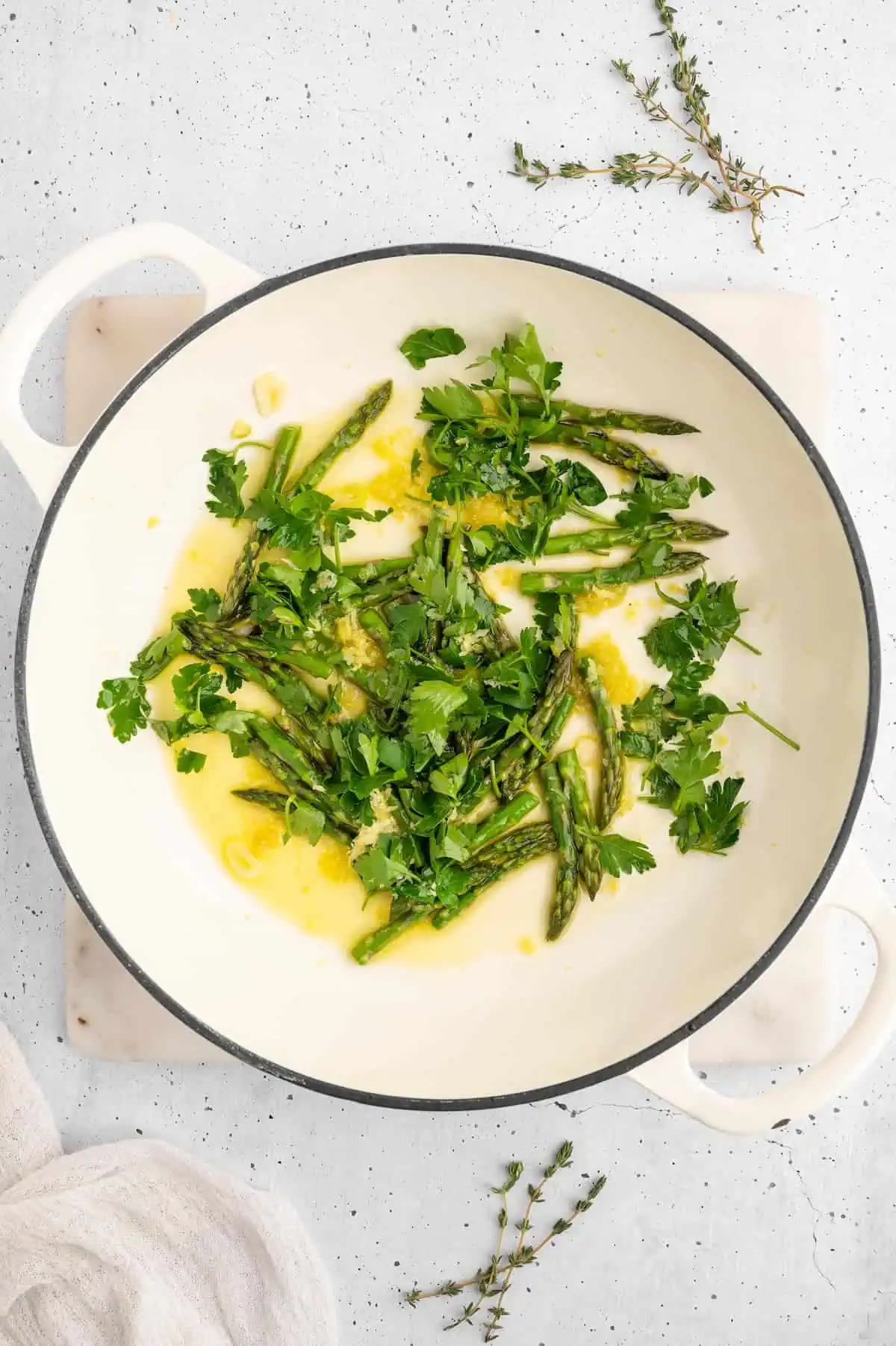 Step Seven: Boil The Vegan Ravioli
Transfer the ravioli to a large pot of salted water for a few minutes, then transfer them into the pan with the asparagus and garlic.
Step Eight: Plate And Serve The Ravioli
To plate the vegan ravioli, spread the asparagus cream onto a serving bowl or plate. Top it with the ravioli and distribute the asparagus tips and parsley-lemon oil over the top. Garnish with the toasted pine nuts.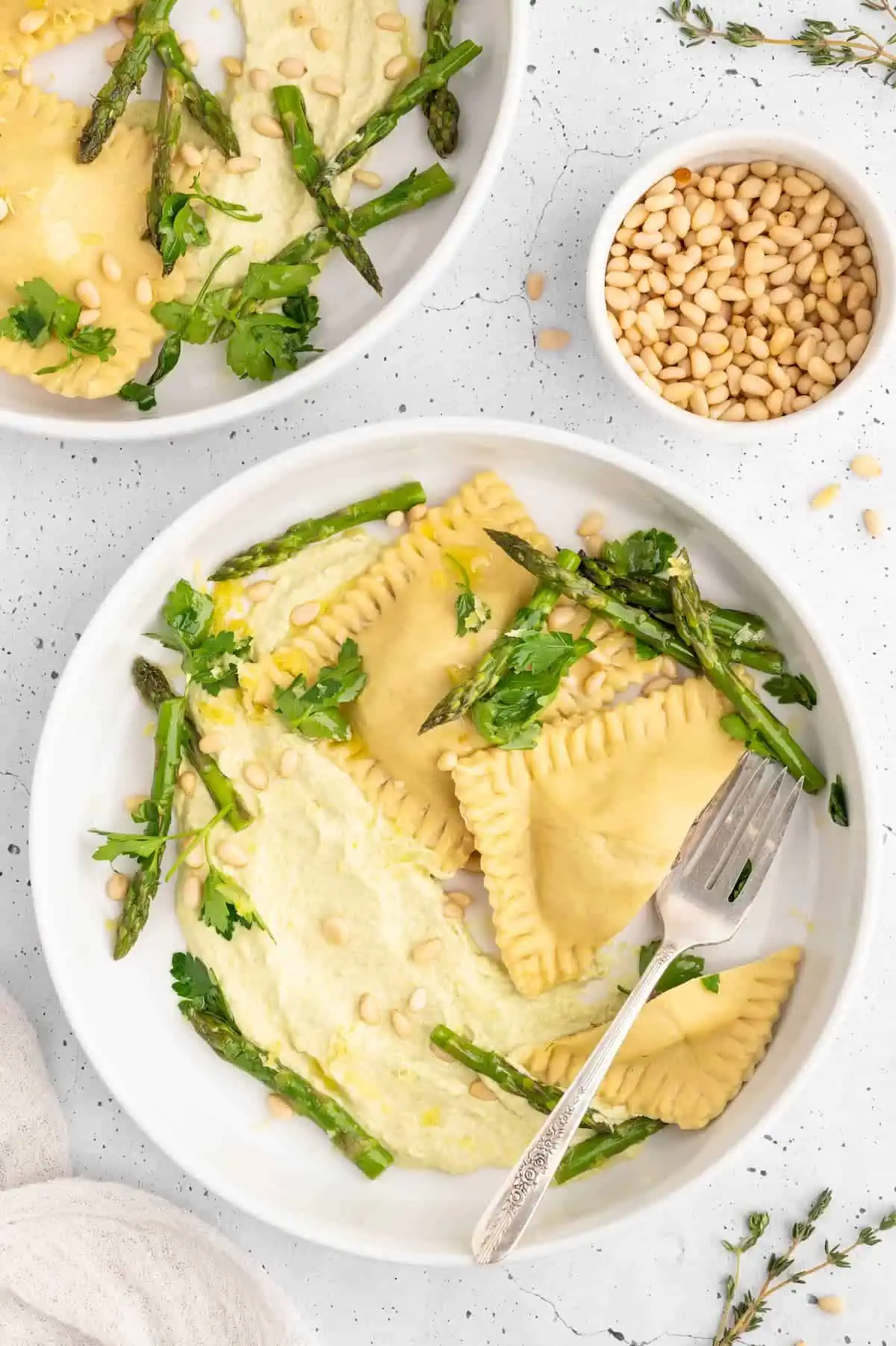 Tips For Success
If this is your first experiment with homemade ravioli, don't stress! Just follow the steps and you'll be impressed with just how easily they come together. For the best results, keep these tips and tricks in mind:
Don't start on a big dinner project when you're already tired and hungry. Break it down into smaller steps in advance so you can get food on the table when you want it. Prep the vegan ravioli filling up to a week in advance and store it in the fridge in an airtight container. The sauce won't be as vibrantly green if it sits, but you can freeze it in cubes to help preserve that freshness, for up to 3 months.
Keep your work surface, hands, and all tools lightly floured to prevent the fresh pasta from sticking. If you're having a hard time cleaning the pasta out of the machine afterwards, don't just plunge it into hot water. Instead, it's more effective to let it rest in a bowl of flour to dry out the remaining pieces, which can then be shaken and brushed loose first.
For getting the dough to the right thickness and size, start by running it through on the thickest setting, then folding the edges to make it more rectangular and running it through again. Then slowly lower the setting before each pass until you get the desired thinness.
To prevent the pasta from opening while it cooks, be sure to press firmly around the filling, pushing any air bubbles out the sides and completely sealing the perimeter.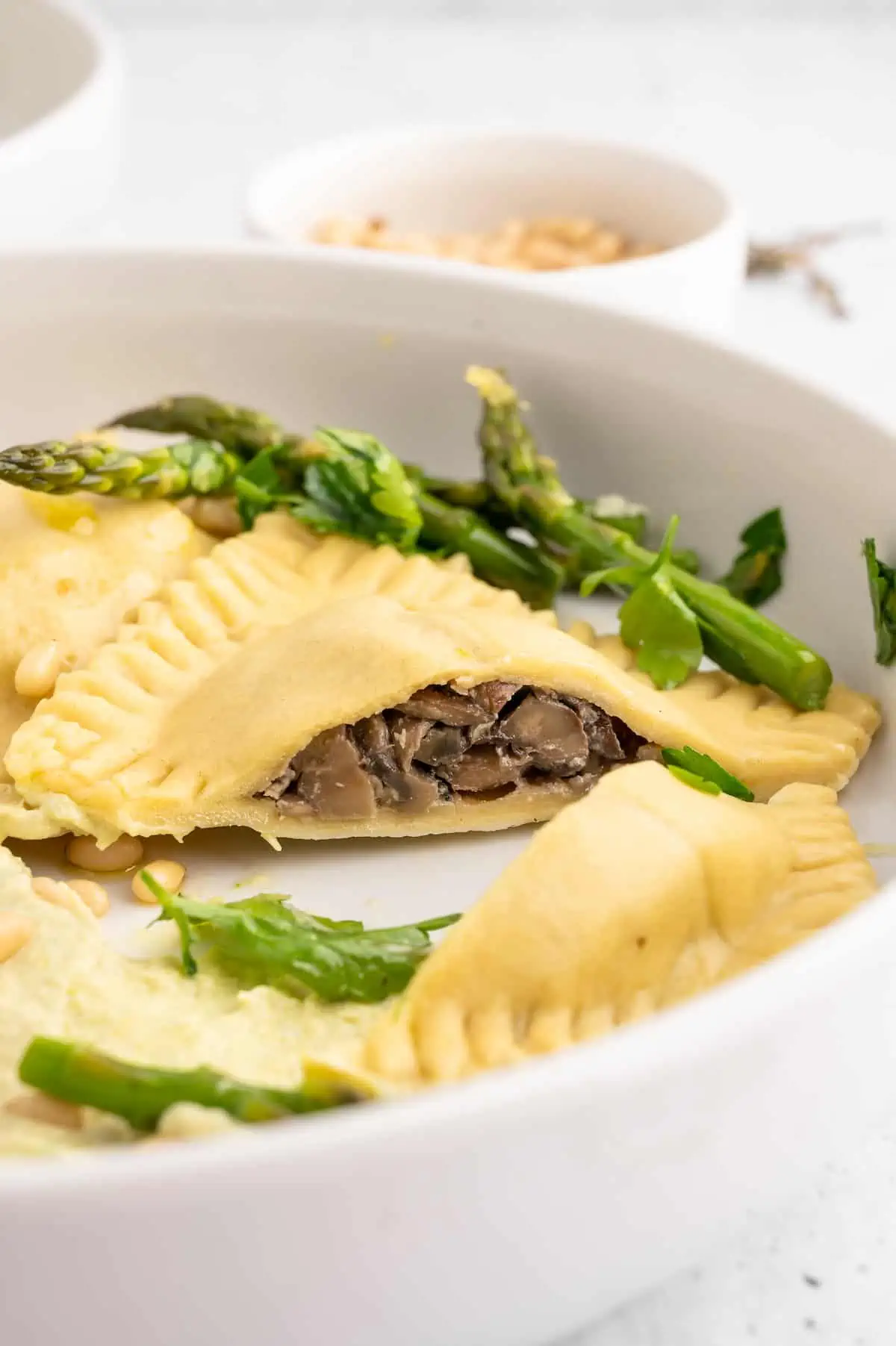 Frequently Asked Questions
Is there dairy-free ravioli?
Yes! There's a wide range of prepared vegan ravioli that you can use as a backup plan without anyone being the wiser. Kite Hill is the brand most widely available at Whole Foods Markets nationwide, stuffed with almond-based ricotta and typically in the deli section. Even Trader Joe's has their own version that's filled with spinach and creamy cashews.
What is the filling inside of ravioli?
Traditional Italian ravioli may be filled with ricotta cheese, meat, and/or vegetables, but there's no limit to what you can seal inside these pasta pillows. As such, plant-based alternatives are perfect for making your own cruelty-free and flavor-full creations! Other popular additions include butternut squash in the fall, eggplant in the summer, spinach in the spring, or sweet potatoes in the winter, just for starters. Ultimately, the filling can be customized to suit individual tastes and dietary restrictions.
Can you make ravioli without a pasta machine?
It will take more time and effort, but little old Italian Nonnas have been doing it by hand for centuries, so you totally can, too! The dough is simply kneaded like especially thick, stiff bread dough, which is then rolled out very, very thinly. Embrace rusticity if you take this approach.
More Vegan Pasta Recipes To Try
If you don't want to make your own pasta but still love eating it, there's a wealth of recipe options for you to enjoy, too.
Don't lose your cool! Make this Super-Easy Pasta Salad on hot days for a refreshing entrée, perfect for picnics, potlucks, or simply family dinner.
TikTok's trendy baked tomato pasta went viral for a good reason: It's freaking delicious! Now, you can make it even better with the plant-based version of Vegan Feta Pasta.
Set it and forget it with this all-in-one Instant Pot Pasta with Vegan Meatballs. Both cooking and cleanup are a breeze!
Pasta-making machine

High Speed Blender

Ravioli cutter
For The Pasta Dough
3¼ cups 00 flour, plus more for dusting (or semolina for dusting)
pinch ground turmeric
pinch salt
1 cup aquafaba, The brine from 2, 15.5-ounce cans of chickpeas. You'll have a little brine left over, but save it in case you need to need it to help moisten the dough during kneading.
plant-based milk, optional, to help seal the ravioli
For The Filling
3 tablespoons olive oil
24 ounces mixed mushrooms, roughly chopped
4 garlic cloves, grated
2 tablespoons fresh thyme leaves
3 ounces vegan cream cheese, softened at room temperature
zest of 1 lemon
For The Asparagus Cream
12 ounces green asparagus, (Woody ends removed, and the rest cut in half, keeping the stems and tips separated. Reserve tips for use at the end of the recipe.)
12 ounces silken tofu
½ cup fresh parsley, (Stems chopped and divided from the leaves. Reserve the leaves for use at the end of the recipe.)
the juice of 1 lemon, (Zest it first, then reserve the zest for use at the end of the recipe.)
2 tablespoons nutritional yeast
2 tablespoons tahini
2 teaspoons Dijon mustard
For The Asparagus And Garlic (to finish)
4 tablespoons olive oil
reserved asparagus tips
2 cloves garlic, finely sliced
reserved chopped parsley leaves
reserved lemon zest
4 tablespoons toasted pine nuts
To Make The Pasta Dough
Add the flour to a bowl or a stand mixer, along with the turmeric and a pinch of salt, and mix well. Make a well in the middle of the flour and pour in the aquafaba. Use a fork to draw it together. Don't worry if it looks a little dry, it'll come together.

Use your hands to knead the mixture, then tip it out onto a lightly floured work surface and knead for about 5 minutes, dusting with just a touch more flour as needed if it gets too sticky. It's done when you have a soft and supple ball of dough. Place in a bowl, cover with a damp clean kitchen towel. Set aside to rest for at least 30 minutes at room temperature.
To Make The Mushroom Filling
Heat the oil in a frying pan over high heat. Add the mushrooms and a generous pinch of salt, and fry for 5–10 minutes, until the mushrooms are golden and all their liquid has evaporated from the pan. Add the garlic and thyme leaves, cook for 1 minute, then remove from the heat and combine in a bowl with the cream cheese and lemon zest, stirring to combine. Set aside to cool or pop it in the fridge until you're ready to fill your pasta.
To Make The Asparagus Cream
Bring a pan of salted water to a boil. Remove any very woody ends from the asparagus (save them for stock or blend them to make a soup). Cut the asparagus stems in half, separating the stems from the tips; set the tips aside for later. Cook the stems in the boiling water for 3–5 minutes, until a knife slides through them easily. Drain and add to a high-speed blender along with the tofu, parsley stems, the lemon juice, nutritional yeast, tahini, and Dijon mustard. Blend until smooth, set aside, and keep warm.
To Roll Your Pasta Dough
Line a tray with a little flour or semolina and lightly flour the work surface. Cut the pasta dough into quarters. First, flatten a piece of dough slightly with your hands. Next, feed the dough through the machine or attachment on the widest setting. Fold the dough in half and feed it through again. Keep doing this until the dough becomes smooth and elastic. If needed, dust the dough with flour as you roll it out to prevent sticking.Once your dough is smooth, start gradually decreasing the thickness of the pasta by adjusting the machine or attachment. Feed the dough through each setting once, until it is 1⁄16-inch thick and approximately 16 inches long. Then, cut the sheet into 3 rectangles on the work surface.
To Fill Your Ravioli
Divide your filling into 12 portions. For each rectangle, add a portion (approximately 1 heaped tablespoons) of the filling on one side, leaving a generous border, then fold the other side over and press to seal* (see note below) with your fingers. Use a knife or ravioli cutter to cut the edges, and use a little plant-based milk to help them stick if you think it needs it. Press around the edges with a fork to help seal them.

Set aside on the lined tray and repeat with the other rectangles, making 3 large ravioli out of each piece of dough. Repeat with the rest of the three dough pieces to make 12 ravioli.
To Sauté The Asparagus And Garlic
Meanwhile, add the 4 tablespoons of olive oil to a large frying pan over a high heat. Add the reserved asparagus tips and fry for 2 minutes, then add the garlic, fry for 1 minute, then remove from the heat. Add the parsley leaves to the pan along with the lemon zest. Season well.

Toast the pine nuts in a preheated clean, dry pan over medium-low heat, occasionally shaking the pan for a minute or so.
To Cook The Pasta
Bring a large pan of salted water to a boil for your ravioli. Drop the pasta into the boiling water and cook for 3–4 minutes, until soft, then use a slotted spoon to transfer them into the asparagus pan.
Tip: When you seal the pasta, make sure to press around the filling to release any air otherwise it could burst open as it cooks. You can, of course, use store-bought pasta and serve it with the mushroom and asparagus cream sauce. If you have any leftover mushroom filling, it's tasty slathered over toasted baguette slices!
Calories: 919kcal | Carbohydrates: 106g | Protein: 28g | Fat: 46g | Saturated Fat: 7g | Polyunsaturated Fat: 10g | Monounsaturated Fat: 22g | Sodium: 147mg | Potassium: 1291mg | Fiber: 14g | Sugar: 9g | Vitamin A: 1451IU | Vitamin C: 22mg | Calcium: 128mg | Iron: 11mg
About The Author
Max La Manna, an award-winning author, low-waste chef, and digital creator, creates simple and affordable dishes that maximize each ingredient. His easy-to-follow recipe videos have garnered over 1 billion views! His debut cookbook, More Plants Less Waste, won Most Sustainable Cookbook at the 2020 Gourmand World Cookbook Awards.
Now his second cookbook, You Can Cook This!, helps you turn the 30 most commonly wasted foods into incredible plant-based meals!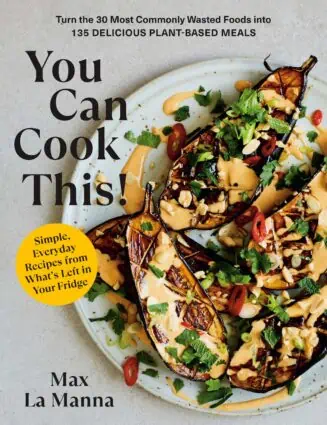 Photos by Amanda McGillicuddy for World of Vegan, all rights reserved. Thanks to our amazing recipe testers Elana Segal and Maria Estela Highet for helping test this recipe!
This vegan ravioli recipe has been slightly adapted from YOU CAN COOK THIS! Copyright © 2023 by Max La Manna. Published by Rodale Books, an imprint of Penguin Random House.