Are you ready to elevate your baking game and tantalize your taste buds with this irresistible pesto bread recipe? We're so excited to share this incredible recipe from Fantastic Vegan Recipes for The Teen Cook by Elaine Skiadas. From its aromatic blend of basil, garlic, and rich olive oil to the culinary combination of warm, freshly baked bread and zesty pesto, this homemade delight is a must-try for all bread enthusiasts and flavor seekers.
Discover the joy of creating a homemade loaf of pesto bread that surpasses anything you can find in a store. From the satisfaction of kneading the dough to the heavenly aroma that fills your kitchen, this recipe for pesto bread promises a rewarding baking adventure and a delicious end result.
We promise that this pesto bread is the best o' bread you can make. There's no time for rest-o, let's make some pesto!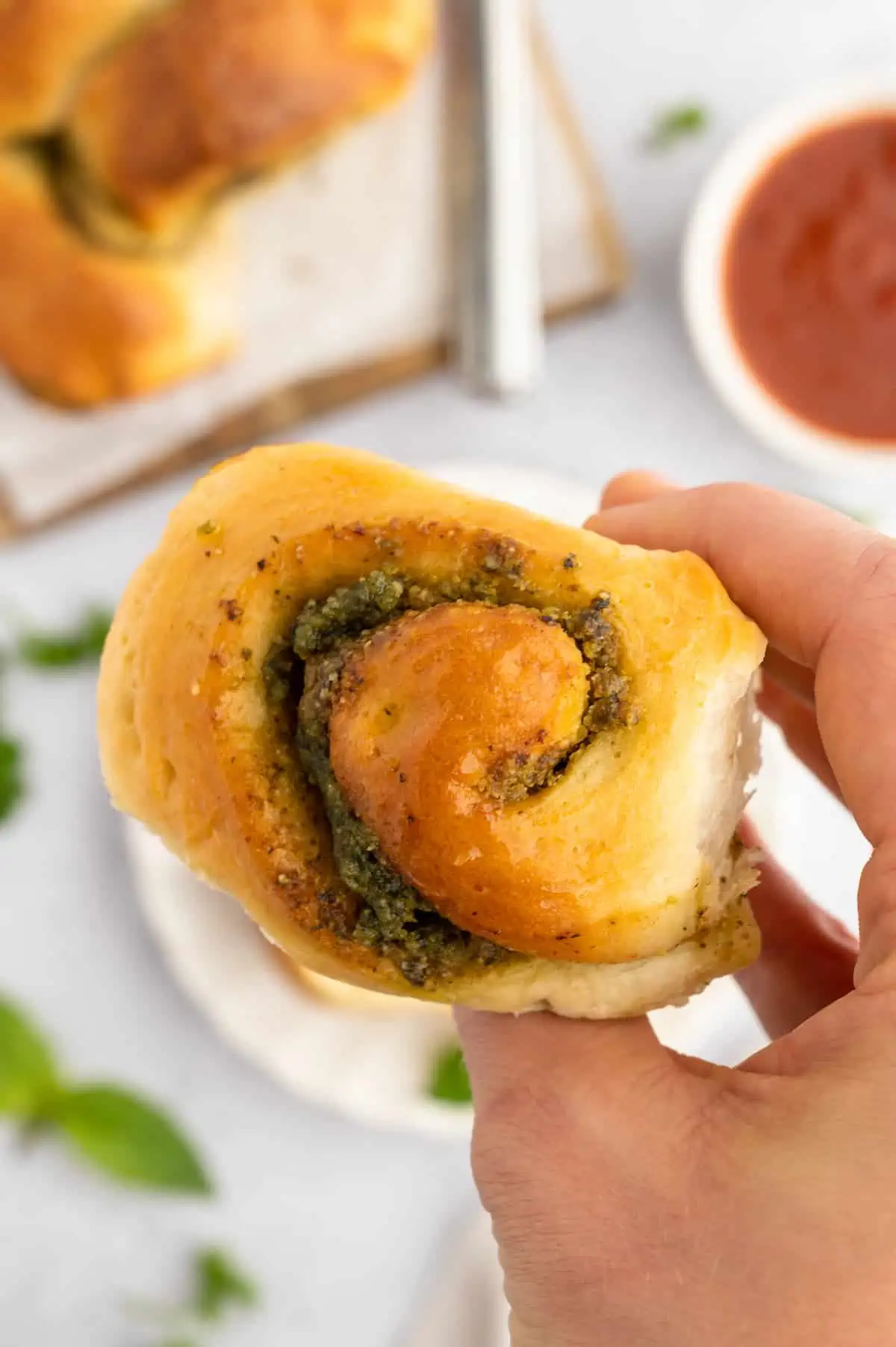 Why You Must Make This Vegan Pesto Bread
You'll love making your own pesto bread with this easy-to-follow recipe. With its fragrant herb-infused dough and burst of pesto flavor, this homemade creation will become a centerpiece of your baking repertoire. Not convinced yet? Here are more reasons why this pesto bread is so amazing:
Super Fresh and Fragrant. You can't get any better than the smell and taste of freshly baked bread made in your very own kitchen.
From Ordinary to Extraordinary. This recipe transforms an ordinary loaf of vegan bread into a gourmet delight with just a few simple ingredients.
Adds More Greens into Your Life. Pesto adds a burst of freshness and flavor and is especially delicious if the herbs are freshly picked from your garden or local farmer's market.
Essential Ingredients For The Walnut Pesto
Discover the essential building blocks of a delightful pesto bread that add depth and flavor to this beloved baked treat. From the vibrant freshness of basil to the savory notes of nutritional yeast, each element plays a crucial role in crafting a perfectly balanced and satisfying loaf.
Basil: The glorious green of fresh herbs is what makes this recipe extra special.
Walnuts: Although pine nuts are traditionally used in making pesto, walnuts are a more affordable choice. Most nuts or seeds would work in this recipe, but we find walnuts to have a fantastic taste and texture.
Garlic: Pesto wouldn't be pesto without this aromatic addition. If you can't abide garlic, consider choosing leeks, shallots, sun-dried tomatoes, fennel, or chives instead.
Olive Oil: Although you can use practically any oil in this recipe, olive is the classic. It has the best aroma and lends a more balanced flavor to this fresh sauce.
Nutritional Yeast: An excellent swap for parmesan cheese. Nutritional yeast is cheezy, tangy, and has just the right flavor for this pesto.
How To Make Walnut Pesto For This Recipe
Making the pesto for this bread is so easy. Don't be tempted to use store-bought pesto here. Using fresh, homemade pesto will add so much more flavor to the bread!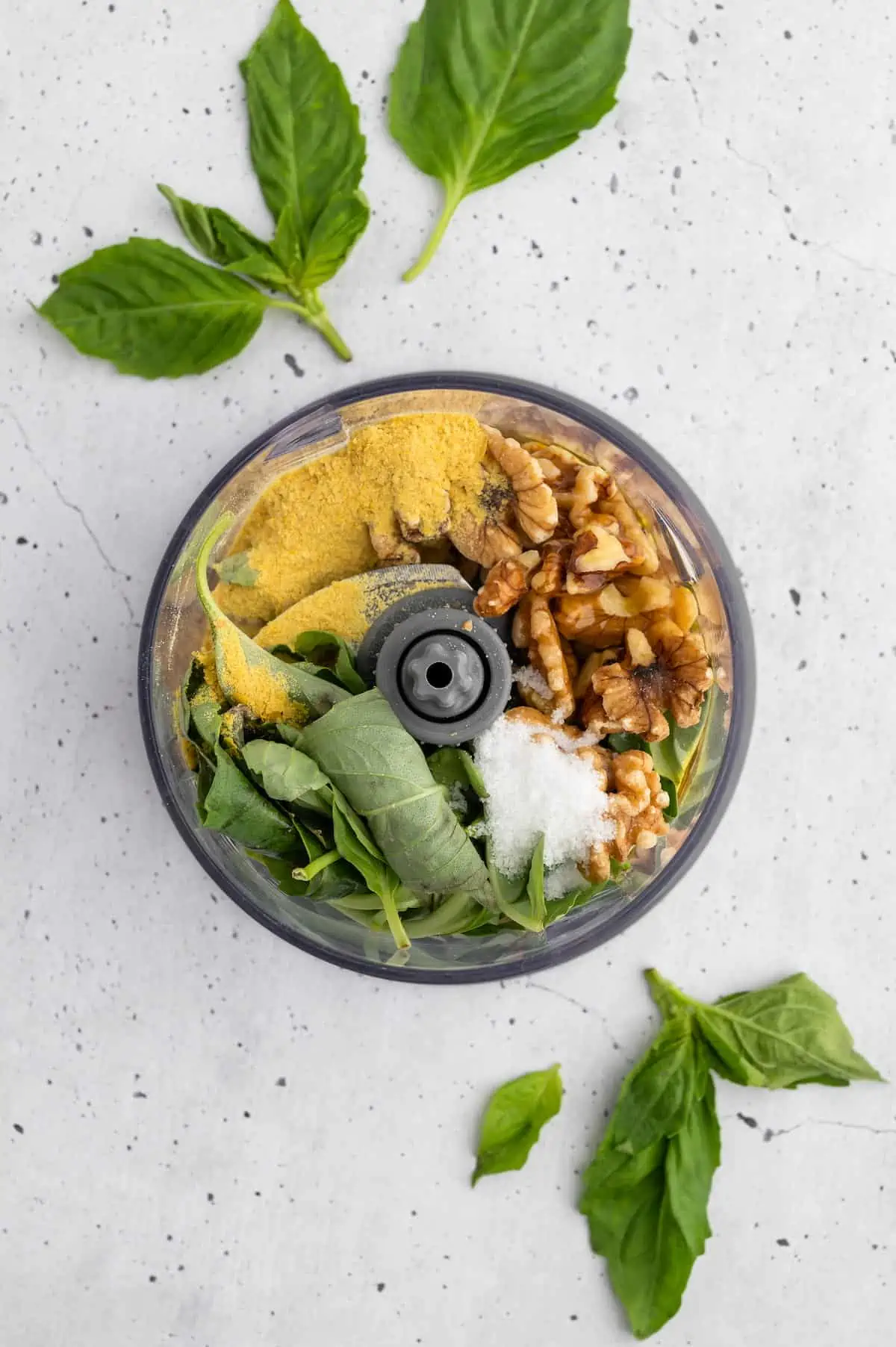 To make the pesto, add all pesto ingredients to a food processor and blend until smooth.
Essential Ingredients For Making The Dough
Start with these few simple and essential ingredients! Water, sugar, yeast, flour, olive oil, vegan butter, and salt.
How To Make The Dough For This Pesto Bread Recipe
Follow these simple steps to make this pesto bread. The hardest part about this recipe is waiting for the dough to rise, but trust us…it's worth the wait!
Prepare the Dough
Step One: Place the water, sugar, and yeast into a bowl and allow it to stand for about 5 minutes until foamy. In a separate bowl, whisk the flour and salt together. Add the yeast mixture and olive oil. Mix with a wooden spoon until a shaggy dough starts to form.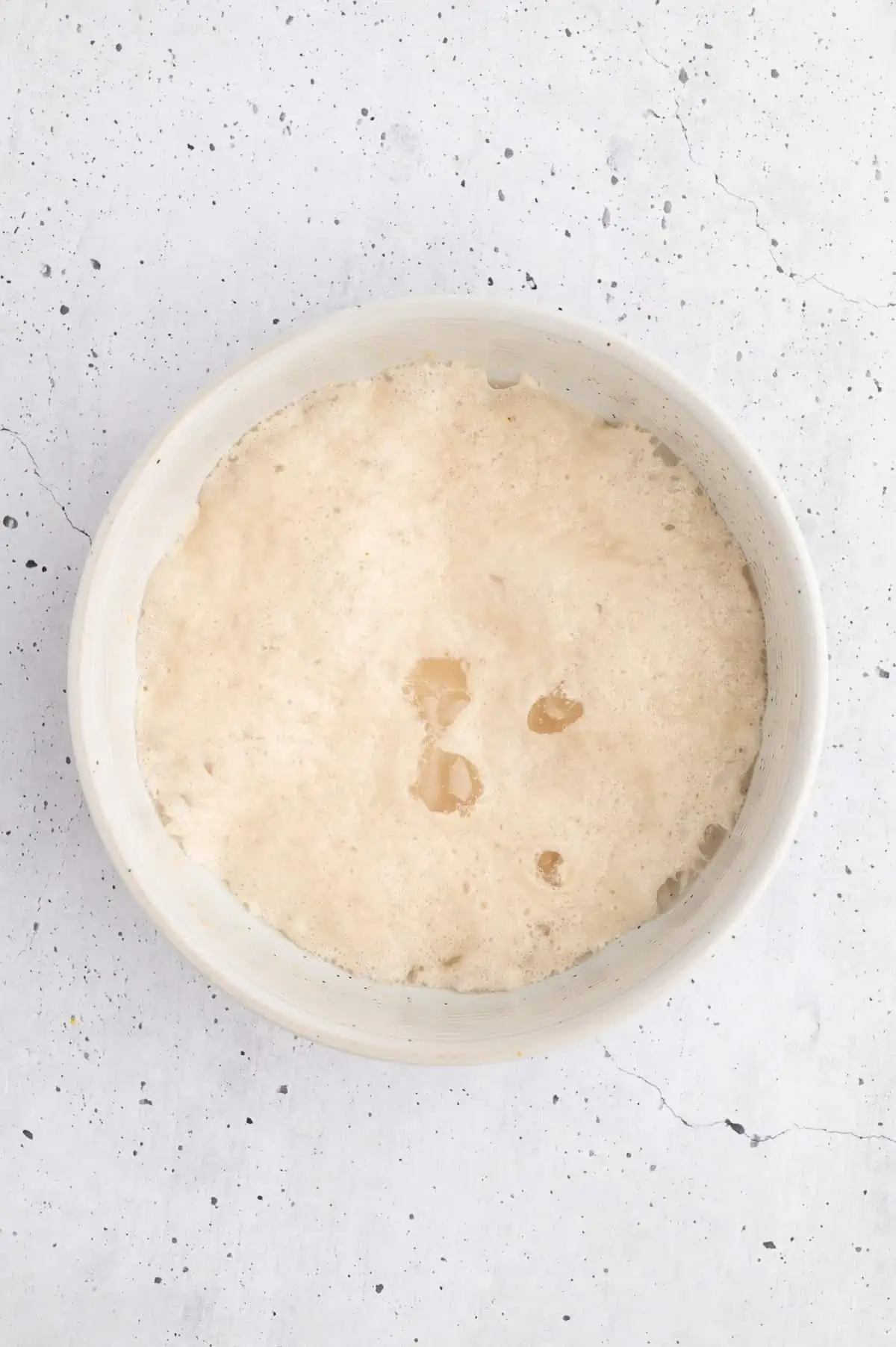 Step Two: Knead the dough for about 5 minutes on a clean work surface. For this recipe, you want the dough to be a little on the stickier side.
Step Three: Oil a large bowl and place the dough inside. Turn it a few times so the dough is coated in oil. Cover it with a damp towel and leave it in a warm spot for about 1½ hours. During this time, the dough will double in size.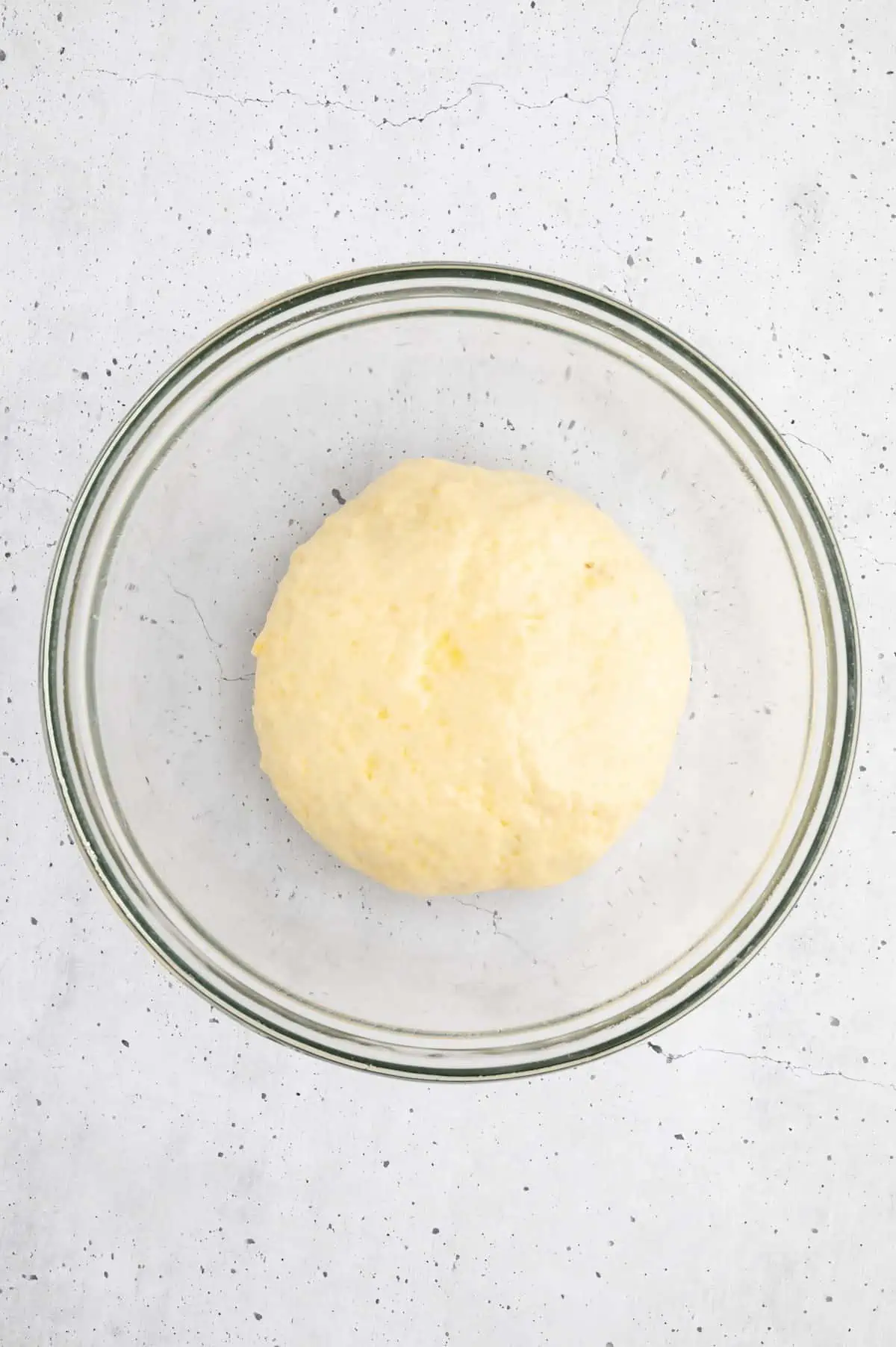 Step Four: Punch the dough down. This is an essential step when making dough. This releases any gas bubbles formed during rising and allows you to knead and form it. Now we're ready to move on to the next step!
Prep the Bread
Step One: Using a rolling pin, roll the dough out into a 12 x 18–inch shape. Spread the freshly made walnut pesto over the surface of the dough.
Step Two: Roll the dough up lengthwise, forming a log shape. Cut the dough into 9 or 10 equal-sized pieces with a sharp knife or dental floss.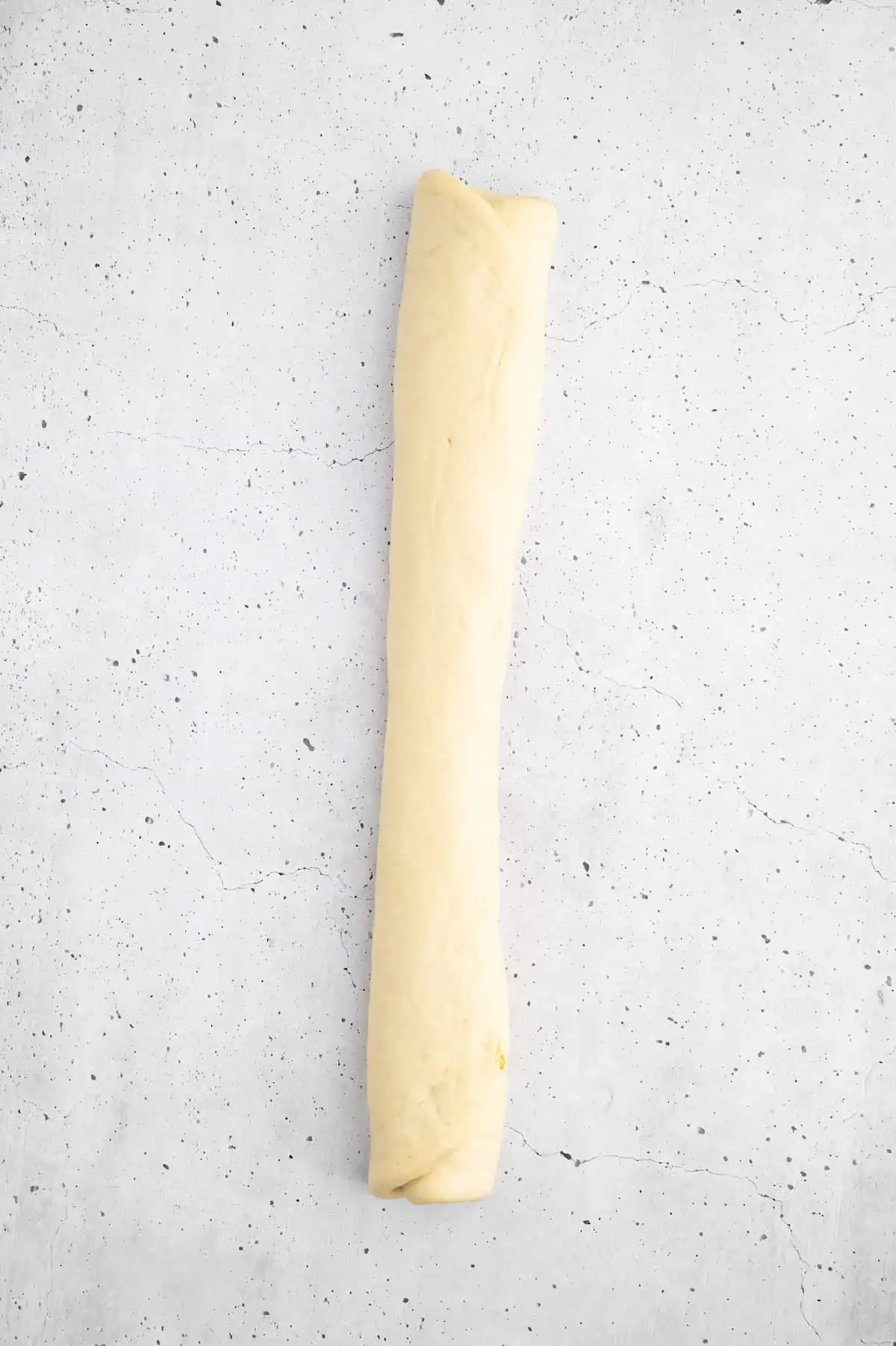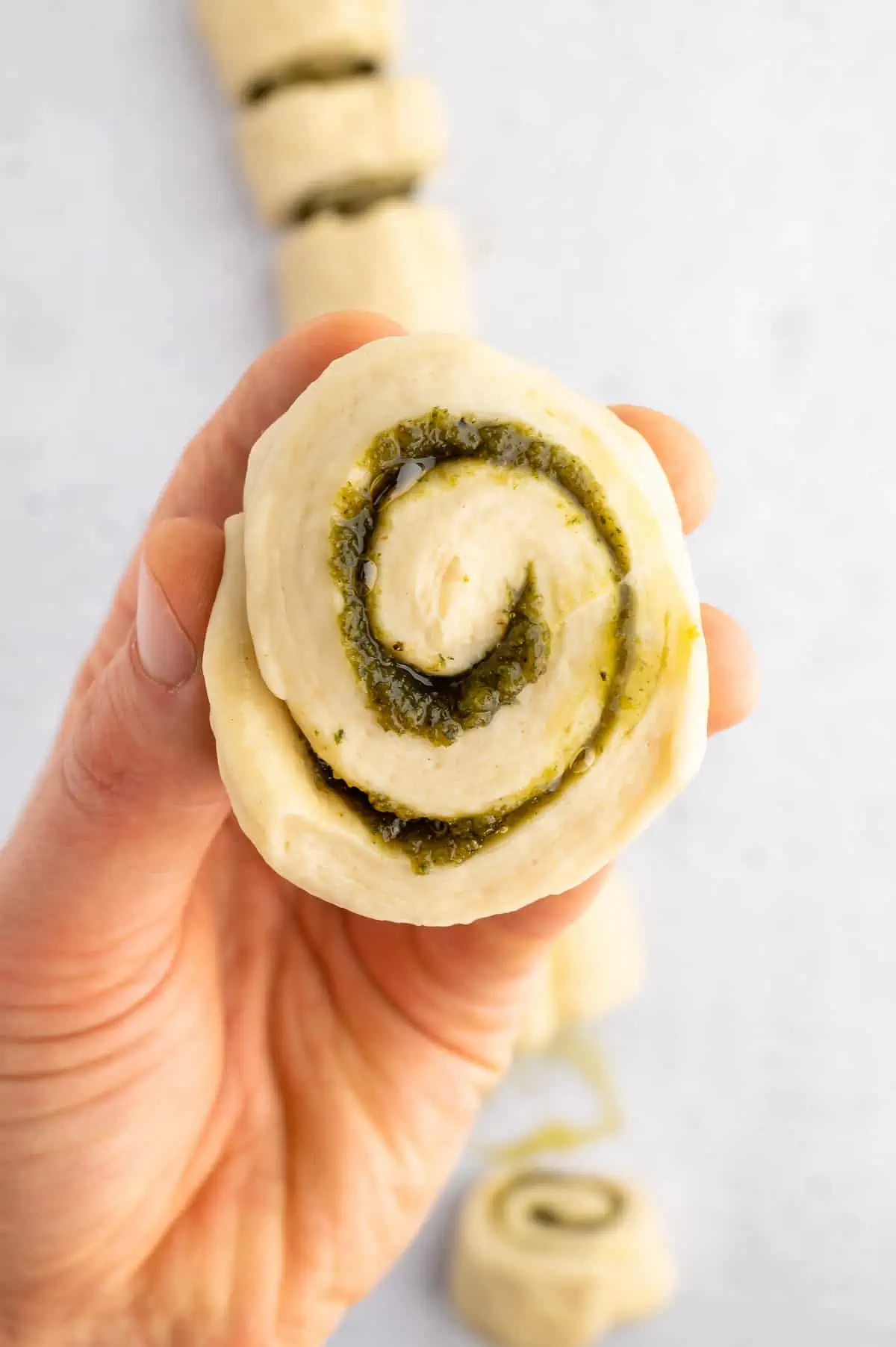 Step Three: Grease an 8 x 4–inch loaf pan with vegan butter. Line with parchment paper, leaving a slight overhang on two opposite sides. This will allow for easy removal once the bread is baked. Place the pieces into the loaf pan to create a zigzag pattern and cover with plastic wrap. Place in a warm spot for about 45 minutes to slightly rise again.
Step Four: To bake, preheat your oven to 350°F (180°C). Remove the plastic wrap and brush the tops all over with olive oil. Bake for 30 to 35 minutes. Cover with aluminum foil halfway through the baking time. This will prevent the tops from getting too dark. Test the readiness by inserting a toothpick to ensure the center is no longer doughy.
Step Five: Remove from the oven and let cool in the pan for at least 15 minutes. Allow it to cool completely before serving.
Savory Swaps and Substitutions
Looking to put a creative spin on your pesto bread recipe? Whether you're accommodating dietary restrictions or experimenting with new flavors, we've got you covered with alternative ingredients that will elevate your pesto bread experience to new heights.
Don't Curb Those Herbs! Don't worry if you're not bowled over by basil. There are so many other herbs that you can use instead. How about oregano, cilantro, parsley, sage, tarragon, or even mint?
No Need to Futz Over the Nuts. Sure, walnuts are a great choice. But, feel free to swap them out for traditional pine nuts, almonds, pistachios, macadamia nuts, pecans, or peanuts. If nuts are out-of-bounds for you, try seeds like sunflower, sesame, or pumpkin seeds.
Vampires Getting Too Close? You'd better add more garlic! Garlic is one of those things that's very subjective. You might think that this recipe is too low on the pungent power, but others may run away from the sulphuric scent.
Gluten Getting You Down? No worries. You can absolutely make this recipe using a gluten-free, vegan bread dough recipe. Here's one that we like by Allergy Awesomeness.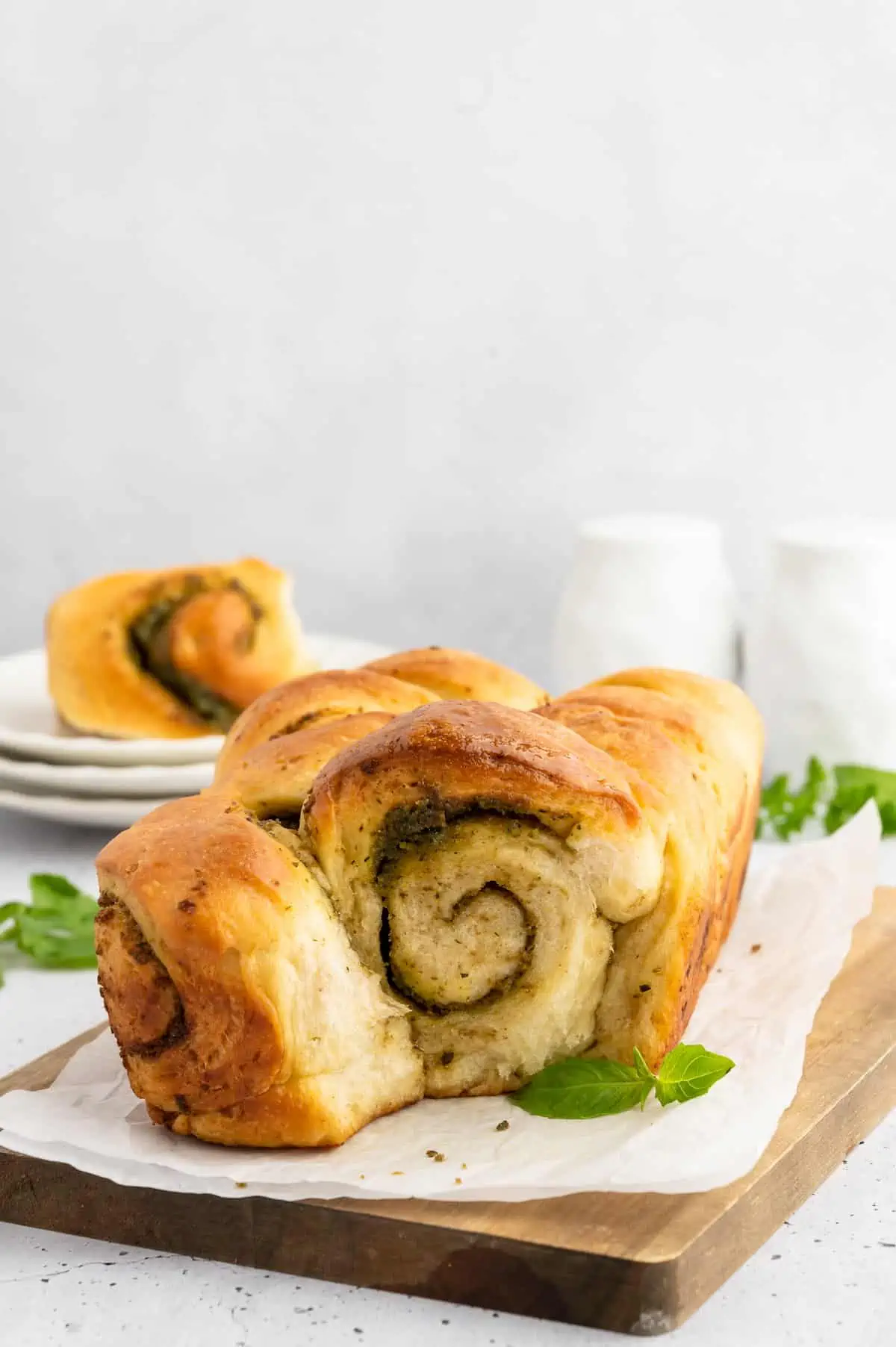 More Easy Pesto Recipes
Calling all pesto lovers! Get ready to take your obsession to the next level with these irresistible pesto-infused recipes that will leave you craving more of that vibrant and flavorful green goodness. If you're more than partial to pesto, you're going to love these recipes:
Pesto Monkey Bread FAQs
I'm gluten-free. Can I still make this bread?
Yes! Simply use your favorite gluten-free dough and follow the rest of the recipe as usual.
Does pesto bread need to be refrigerated?
Yup. Because this pesto pull apart bread is homemade without preservatives, it needs to be stored in the refrigerator. Or, if you'd prefer, you can leave it on the counter. But, it will only last a couple of days this way.
What does pesto taste like?
Pesto has a nutty, herby, and garlicky flavor. The herbs (basil, parsley, oregano, etc.) and nuts (walnuts, pine nuts, pistachios) you choose will also change the flavor slightly. Use the herbs and nuts you love best for the most delicious homemade pesto.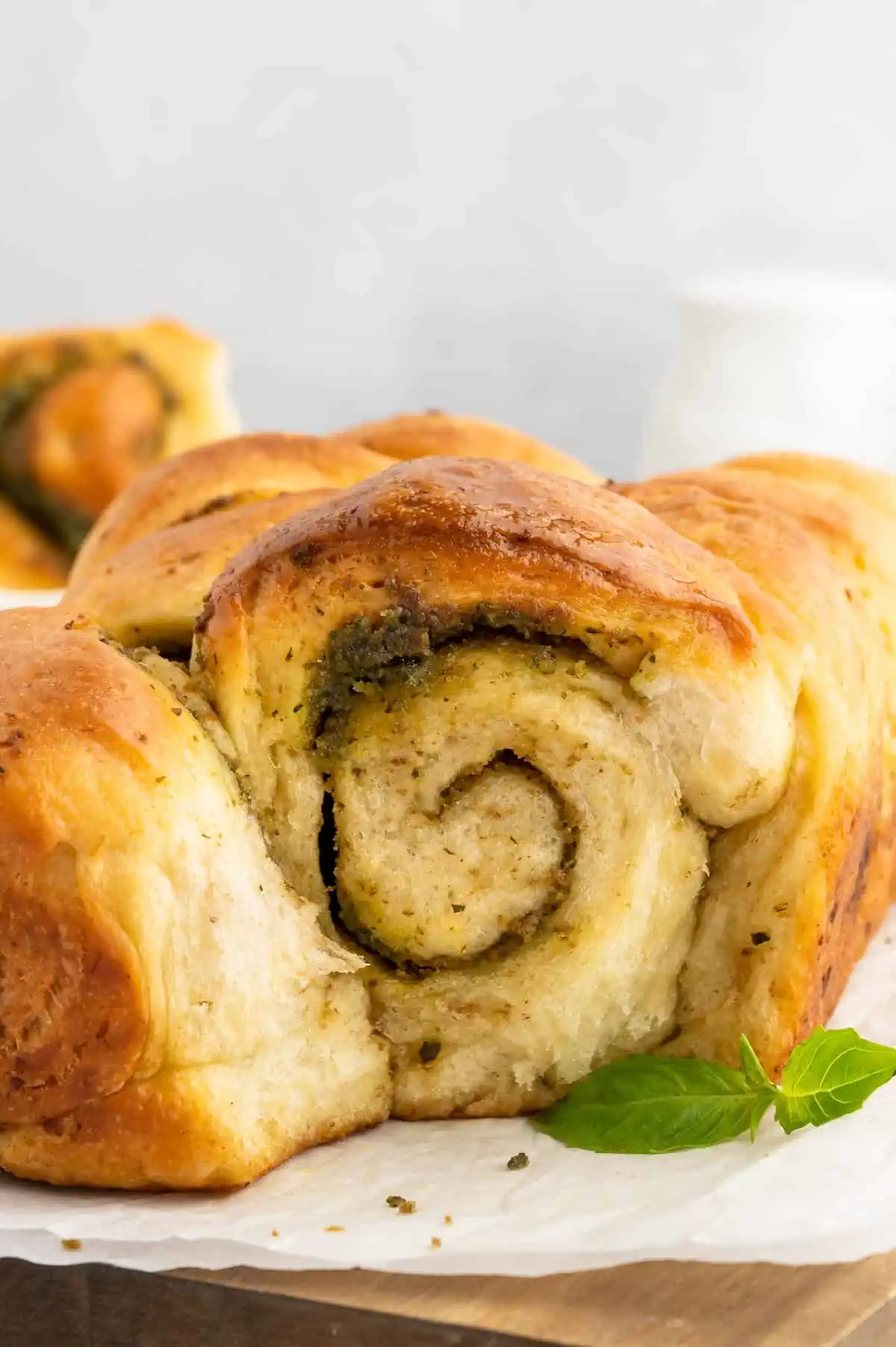 More Sensational Baked Goods To Try
Homemade pesto bread offers a delightful combination of fresh basil, walnuts, and garlic, adding a burst of flavor to your supper table. Its simplicity and versatility will make it an appetizing addition to your recipe repertoire. So, grab your apron and give yourself a few minutes of fun creating this mouthwatering pesto-infused bread in your very own kitchen.
For The Bread
¾ cup water, 175 ml
2 tablespoons organic cane sugar, 24 grams
1½ teaspoons active dry yeast, 4.5 grams
2½ cups all-purpose flour, 300 grams
1 teaspoon kosher salt
3 tablespoons olive oil, plus more as needed, 45 ml
Vegan butter, for pan
For The Pesto
½ cup tightly packed fresh basil leaves
1 cup raw walnuts
1 teaspoon minced garlic, about 2 small cloves
½ cup olive oil
2 tablespoons nutritional yeast
1 teaspoon salt
Optional, For Serving
Marinara sauce, for serving
To Prep The Dough
Heat the water in a microwave-safe bowl in a microwave or in a small saucepan over the stove until it's lukewarm but not yet hot (110 to 115°F[43 to 46°C]). Stir in the sugar and yeast. Let the mixture stand for 5 minutes, or until the yeast foams. (See notes below).

In a large bowl, whisk together the flour and salt. Pour in the olive oil and the yeast mixture and mix with a wooden spoon until a shaggy dough forms. Turn out the dough onto a clean work surface and knead for 5 to 6 minutes, or until soft and springy. If the dough feels too dry, wet your hands with a little warm water and continue kneading. If it's sticking to your fingers, add a dusting of flour, but err on the side of a stickier dough.

Place the dough in a well-oiled bowl and turn the dough over a couple of times so it's coated. Cover the bowl with a clean, damp towel and place it in a warm spot to rise for 1½ hours, or until the dough has doubled in size.
To Make The Pesto (see note below)
To Prep The Bread
Grease an 8 x 4–inch(20 x 10–cm) loaf pan with vegan butter and line with parchment paper, leaving a slight overhang on two opposite sides, for easy removal.

Once the dough has risen, punch it down.

Roll the dough out into a 12 x 18–inch (30 x 45–cm) rectangle.

Spread the pesto over the surface of the dough, then roll it up lengthwise into a tight log.

Cut the dough into nine or ten equal-sized pieces, using a sharp knife or a clean length of dental floss.

Press each roll into the loaf pan, alternating sides to create a zigzag pattern. Cover the pan with plastic wrap and place in a warm spot to rise for another 45 minutes.

When ready to bake, preheat the oven to 350°F (180°C). Uncover the bread and brush the top with olive oil.

Bake for 30 to 35 minutes, or until the top turns a deep golden brown. Halfway through the bake time, cover with aluminum foil to prevent the top from getting too dark.

Use a toothpick to test that the center is no longer doughy. Remove from the oven and let cool in the pan for at least 15 minutes before transferring to a wire rack to cool completely.
To make sure your active dry yeast is indeed active, it's important to "bloom" it before adding the rest of the ingredients. The key is to make sure the water is warm but not hot enough to kill the yeast. If you're new to bread baking, I recommend using a thermometer just to be safe. This is usually not the case, but if your yeast doesn't begin to foam within the first 5  to 10 minutes, it means it's dead and you'll have to use a new package.
A note about the pesto:
The World of Vegan walnut pesto recipe may make a little extra. Any leftovers can be used in pasta or as a sandwich spread.
Calories: 378kcal | Carbohydrates: 32g | Protein: 7g | Fat: 26g | Saturated Fat: 3g | Polyunsaturated Fat: 8g | Monounsaturated Fat: 13g | Sodium: 519mg | Potassium: 138mg | Fiber: 2g | Sugar: 3g | Vitamin A: 74IU | Vitamin C: 1mg | Calcium: 22mg | Iron: 2mg
About The Author
Elaine Skiadas is the teenage recipe developer and food photographer behind her popular blog Wandering Chickpea. Elaine's passion for environmentally-conscious cooking and promoting healthy habits shines through in her creations, proving that vegan cooking can be both exciting and delicious. From mouthwatering Zucchini Bread Pancakes to satisfying Spinach Artichoke Quesadillas and innovative dishes like Roasted Red Pepper Pasta and Indian Butter Tofu, Elaine's recipes are designed to inspire and delight. Whether you're a seasoned chef or just starting out, Elaine's guidance will make vegan cooking easy, enjoyable, and full of flavor. Embrace the joy of cooking and discover a whole new world of plant-based possibilities with Elaine's new cookbook Fantastic Vegan Recipes for The teen Cook.
This Pesto Pull-Apart Bread recipe is from the Fantastic Vegan Recipes for The Teen Cook by Elaine Skiadas. Page Street Publishing Co. 2023. Thanks to Jessica Sabbagh and María Estela Highet, our amazing Word of Vegan recipe testers for their feedback on this recipe! Photos by Amanda McGillicuddy for World of Vegan, all rights reserved.