Perk up your standard morning brew with the aromatic spices that transform every pumpkin spice latte into a little sip of autumnal magic. When there's a chill in the air and the leaves begin to fall, cozy up to a warm mug of this crowd-pleasing classic. Even if you're not crazy about coffee, there's a lot to love about this sweet and simple latte.
Skip the coffee shop because it's a snap to make at home. Starbucks may have popularized the PSL, but their version isn't even vegan! Be your own barista; it may be hard to go back to any ready-made mix again.
This vegan pumpkin spice latte recipe comes from The Friendly Vegan Cookbook and has been meticulously perfected, rigorously tested, and is widely loved by our World of Vegan community. Enjoy!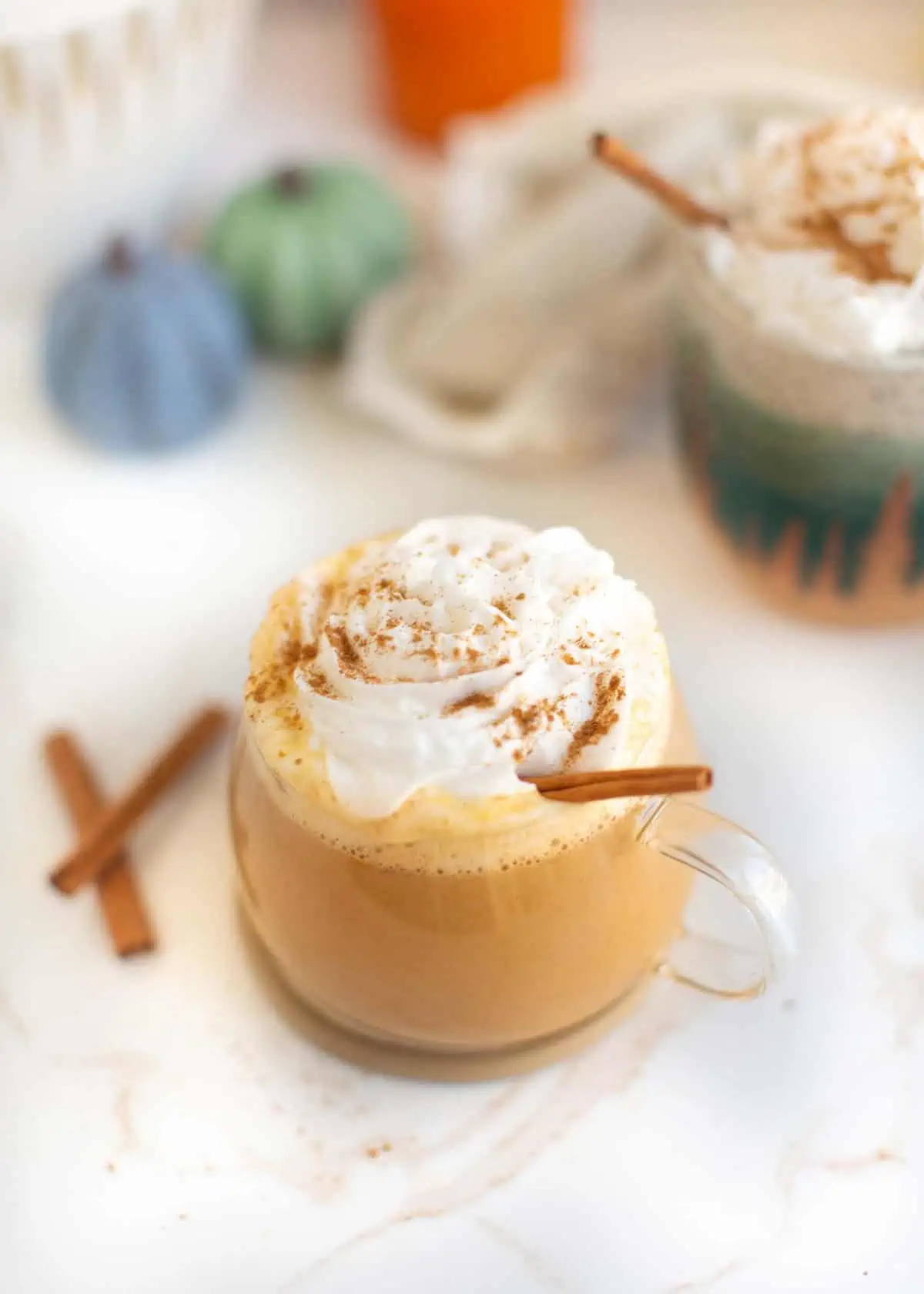 Why You'll Love This Recipe
Dairy-free and allergen-friendly. Ditch the dairy and use high-protein soy milk for a seamless swap. Any non-dairy milk alternative can work instead, such as almond milk, cashew milk, or coconut milk, just to name a few, in case of dietary restrictions or personal preference.
Thrifty indulgence. You can still treat yourself without spending a fortune. Pricey lattes add up quickly when you're stopping by the café every day, but they cost less than a dollar apiece if you take matters into your own hands.
No experience required. Forget the fancy foam creations; if you can use a drip coffee maker, you can make an Instagram-worthy latte anyway.
Delicious in any season. Who says you need to wait for cold weather to raise a mug and celebrate? Turn this recipe into an iced pumpkin spice latte mid-summer by simply pouring it over ice!
Key Ingredients
Basic pantry staples are the foundation of your new favorite pick-me-up.
Vanilla soy milk: Thick and creamy soy milk is ideal for making lattes because it won't curdle in hot coffee, and if you want to go the extra mile, can froth beautifully for a foamy finish.
Pumpkin puree: Unlike the original that features only spices for flavoring, this pumpkin latte uses actual pumpkin puree, giving you added nutrition along with a richer flavor. If you're wondering if a pumpkin spice latte is healthy, this is the best version you can find to fit into any diet.
Brown sugar: A touch of warm molasses sweetens this blend with a taste perfectly aligned with a full slice of pumpkin pie. If sugar is a concern, you can swap in your favorite natural substitute, like a pinch of stevia or monk fruit.
Pumpkin pie spice: Cinnamon, nutmeg, cloves, and ginger are the key components to this indispensable blend. You can find it in the baking aisle of most grocery stores or you can make your own from scratch.
Coffee: Use your favorite roast; light, medium, or dark, it's all good when paired with this complimentary sweet seasoning.
Freeze Your Leftover Pumpkin Puree
One can of pumpkin puree will make 10 mugs of pumpkin spice lattes. Assuming you're just making one batch of this recipe (two PSLs), you'll have lots of pumpkin puree leftover. Here is your chance to do some simple prep to make your life easier the next time you want a pumpkin spice latte!
Pre-measure the remaining pumpkin puree into ice cube trays or silicone molds and freeze.
Once frozen, you can pop the frozen pumpkin cubes into a bag or storage container that you can keep in the freezer.
Use the frozen pumpkin cubes for your vegan pumpkin spice lattes all season long!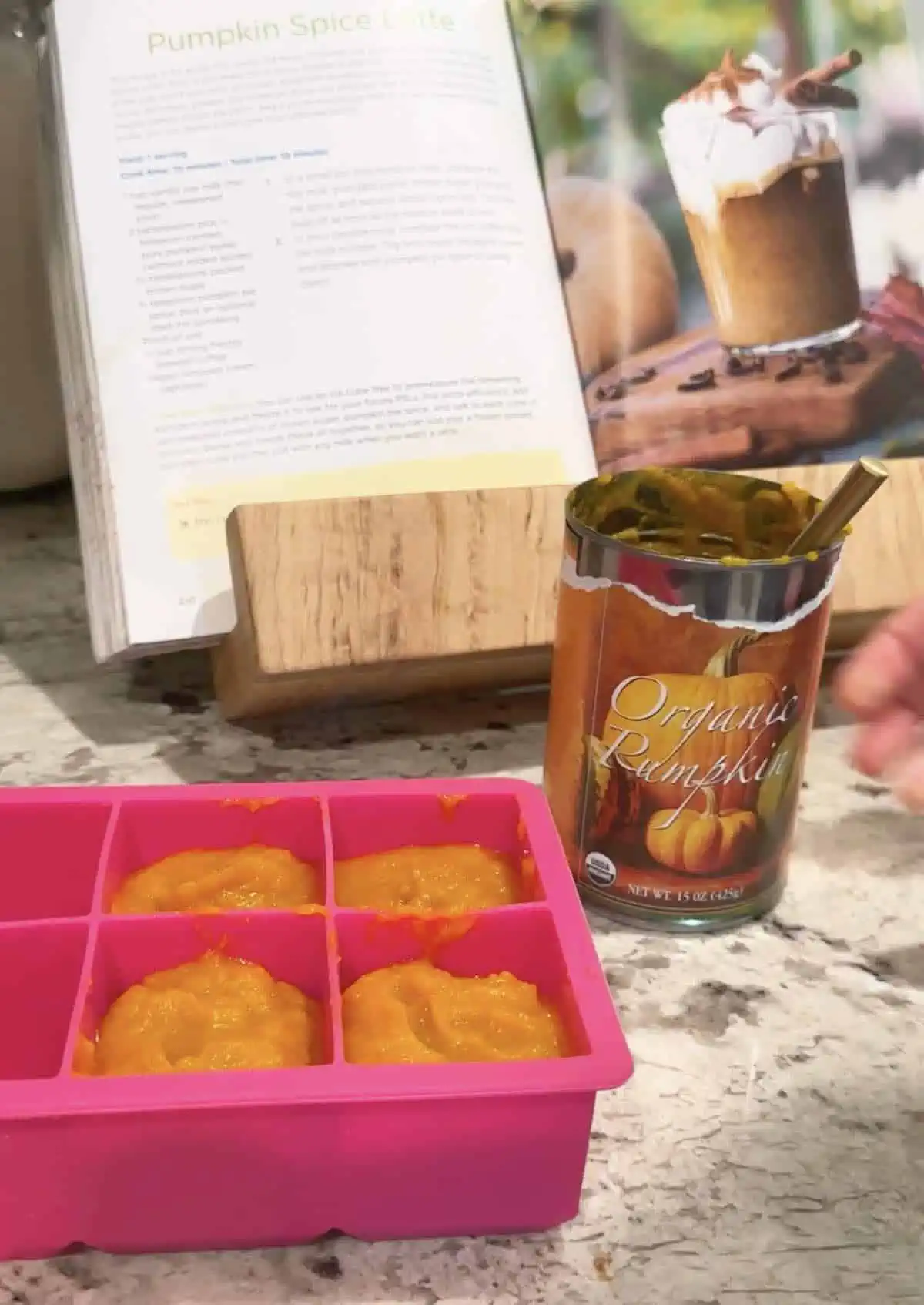 More Pumpkin Spiced Recipes You'll Love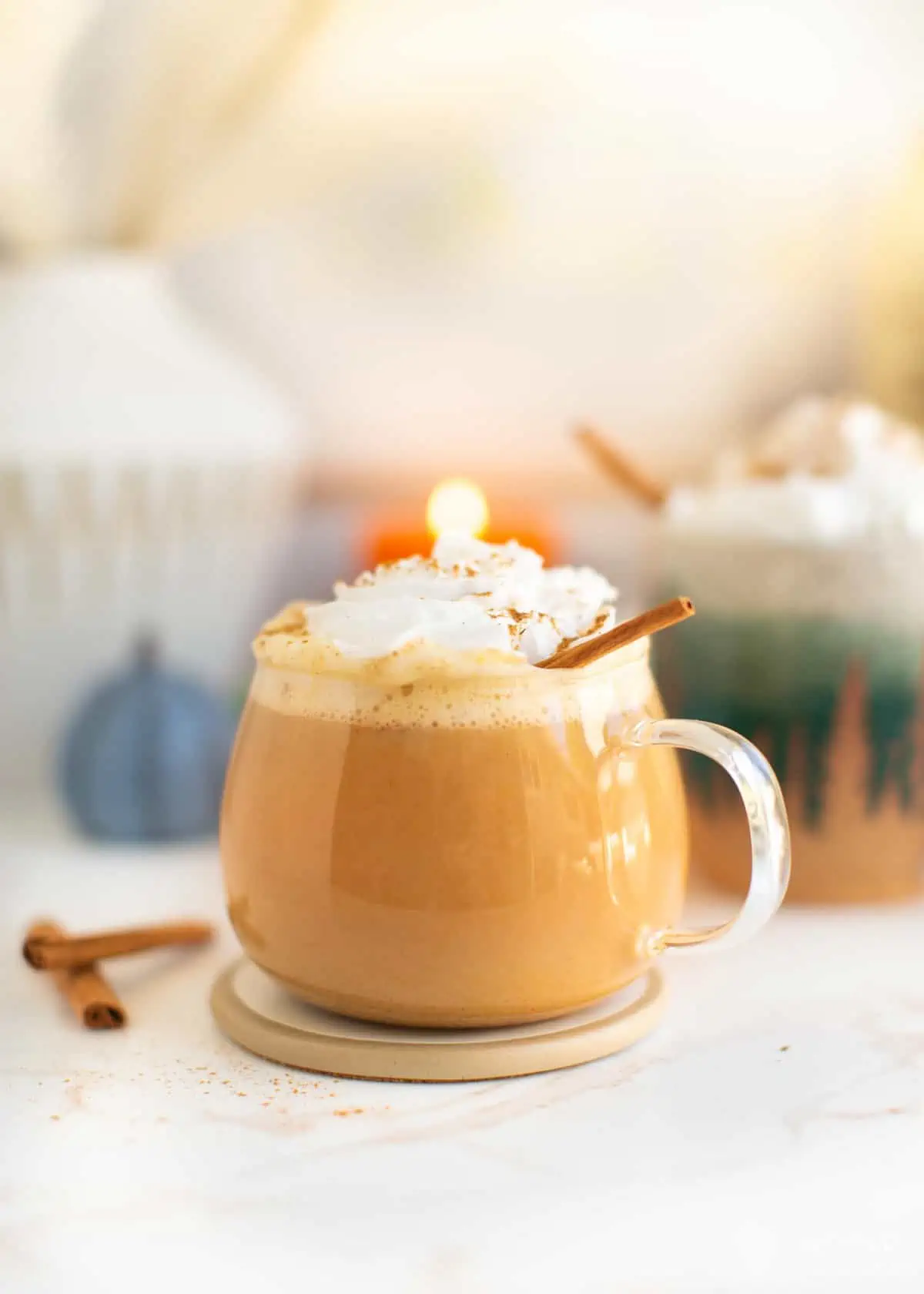 2 cups vanilla soy milk, the regular, sweetened kind
¼ cup plus 1 teaspoon canned pure pumpkin purée, without added spices
3 tablespoons packed brown sugar
1 ½ teaspoon pumpkin pie spice, plus an optional dash for sprinkling
Pinch of salt
½ cup strong freshly brewed coffee
Vegan whipped cream, to taste
In a small pot over medium heat, combine the soy milk, pumpkin purée, brown sugar, pumpkin pie spice, and salt and whisk vigorously. Turn the heat off as soon as the mixture starts to boil.

In your favorite mug, combine the hot coffee and the milk mixture. Top with vegan whipped cream and sprinkle with pumpkin pie spice (if using them).
Love Your Leftovers: You can use an ice cube tray to premeasure the remaining pumpkin purée and freeze it to use for your future PSLs. For extra efficiency, add premeasured amounts of brown sugar and pumpkin pie spice to each cube of pumpkin purée and freeze these all together, so you can just pop a frozen spiced pumpkin cube into the pot with soy milk when you want a latte.
Calories: 191kcal | Carbohydrates: 29g | Protein: 7g | Fat: 5g | Saturated Fat: 1g | Polyunsaturated Fat: 3g | Monounsaturated Fat: 1g | Sodium: 127mg | Potassium: 459mg | Fiber: 2g | Sugar: 25g | Vitamin A: 5698IU | Vitamin C: 19mg | Calcium: 365mg | Iron: 2mg