Flaky puff pastry makes quick work of these fun hand pies. Each savory pocket is stuffed with a plant-based meat filling for a hearty, healthy bite. The simple and savory flavors have universal appeal so everyone will feel like a winner at the end of the game.
Finger food is always your best bet when it comes to party starters. Forget the forks and fall in love with this catch!
Meant for a crowd. Each batch easily makes 15 – 20 mini football pastries, depending on the size of your cookie cutter. It's a great way to stretch your ingredients and make sure no one walks away hungry.
Fast and easy. They only take 20 minutes to bake and come together in a flash. You can even enlist the kids to help with the assembly process to speed things along.
High in protein. Vegan ground meat tastes just like conventional beef and is an equally rich source of complete protein. That means you could turn these appetizers into a meal with some veggies to round out your plate!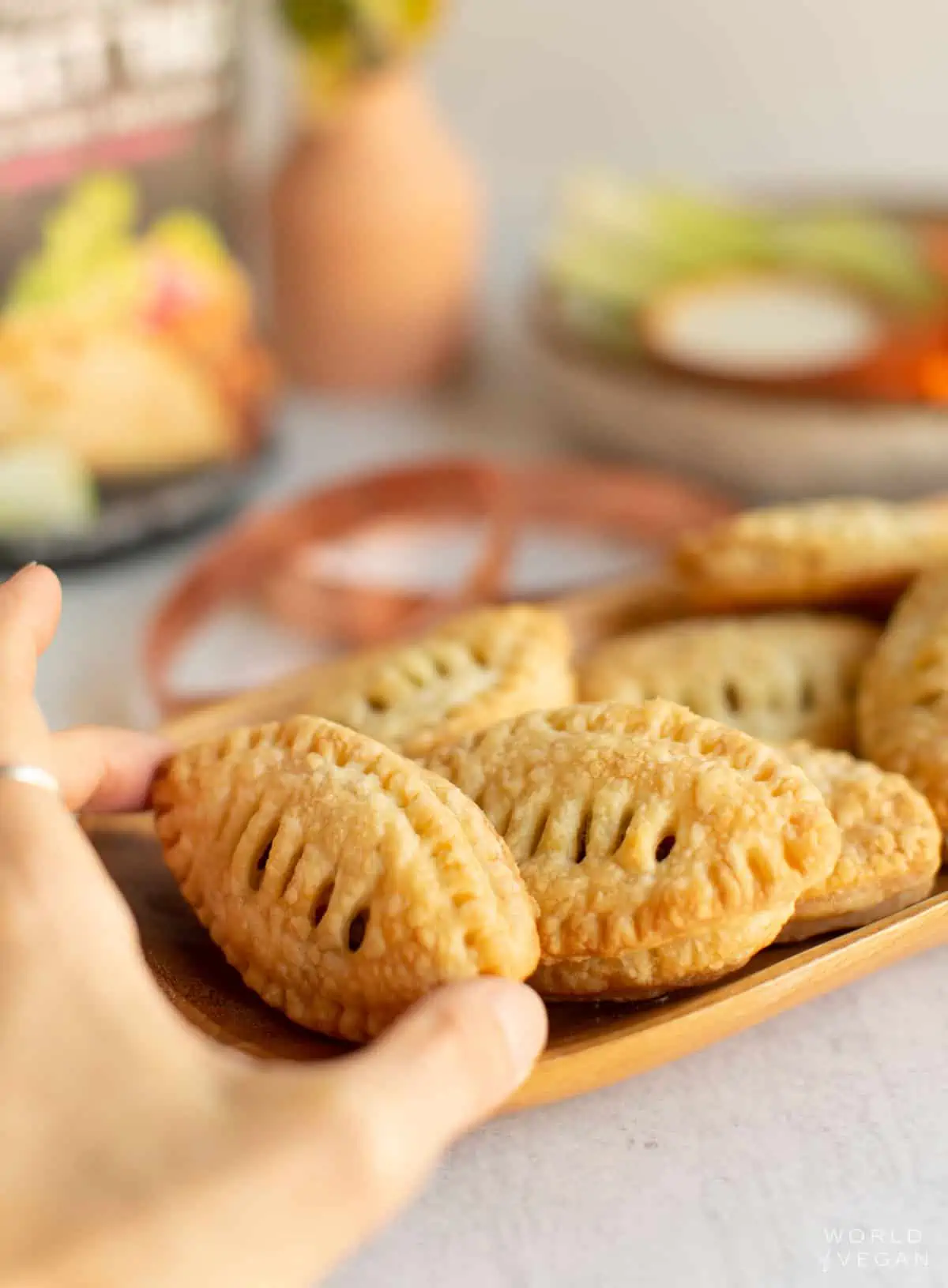 Key Ingredients
Just eight ingredients, not counting water, stand between you and snacking satisfaction. Here are the essentials you need to stock up on:
Vegan ground meat: One of the most popular meat alternatives on the market, there's no end to vegan options for ground beef! Use any brand you prefer, fresh or frozen and thawed, or make your own from TVP, crumbled tempeh, seitan, lentils, and/or nuts.
Onion: Start by sautéing an onion and your kitchen will instantly smell amazing. Yellow is fine here, but you can use white or red, or switch things up with shallots or leeks for a change of pace.
Garlic: There's no thing as too much garlic. Consider the two cloves listed here as a starting suggestion; add to taste.
Green peas: For a pop of color and vegetable infusion, frozen peas are the perfect mix-in. Kids won't even know they're eating their veggies hidden inside these vegan super bowl snacks!
Puff pastry: The real star of the show, frozen puff pastry takes all the hassle out of prep work. Read on to learn more about this essential staple.
Flour: Regular all-purpose will do the trick here unless you need a gluten-free option. You can use white rice flour or potato starch in that case, since it only takes a small amount to prevent the pastry from getting too sticky.
Coconut oil: Add richness and shine with just a little dab! You could substitute melted vegan butter or simply olive oil if you'd prefer.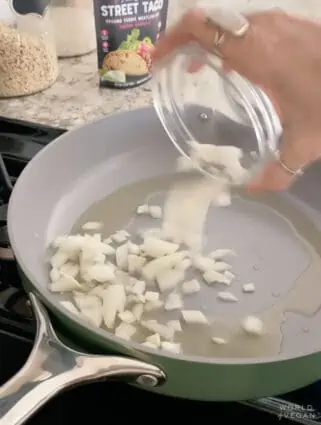 Is Puff Pastry Vegan?
Traditionally, puff pastry is a type of laminated dough, made with many thin layers of butter. This is still true for some high-end bakeries and gourmet grocers, but many more storebought options are now "accidentally" vegan! Always read labels to verify, since formulas are liable to change at any time.
Brands Of Vegan Puff Pastry
Availability will vary depending on your location and the season, since some view puff pastry as a holiday item only. Here are the best vegan choices found in the US:
Where to Buy Vegan Puff Pastry
Most mainstream grocery stores should have at least one option readily available in the freezer section, while more specialized varieties and brands can be purchased online. When in doubt, start your hunt here:
Target
Walmart
Whole Foods
Sprouts Farmers Market
Safeway/Randall's
Albertson's
HEB
Amazon Fresh
Tips For Success
Puff pastry is the Swiss army knife of appetizers and desserts, savory and sweet. You don't need any baking experience to transform it into impressive treats! If this is your first time working with it, here's how to use puff pastry like a pro:
Let the package of frozen puff pastry thaw completely before working with it; either in the fridge overnight, or on the counter for 1 – 2 hours. If it's still partially frozen when you unfold it, it's more likely to crack or tear.
Lightly flour both the counter and the top of the dough so it doesn't stick to either your working surface or the rolling pin. You may need to reapply as you work.
Be careful not to over-stuff each football hand pie. Make sure the edges are sealed with a fork all the way around to prevent the filling from leaking out.
Brush the tops with coconut oil right before baking to ensure a brilliant golden-brown finish.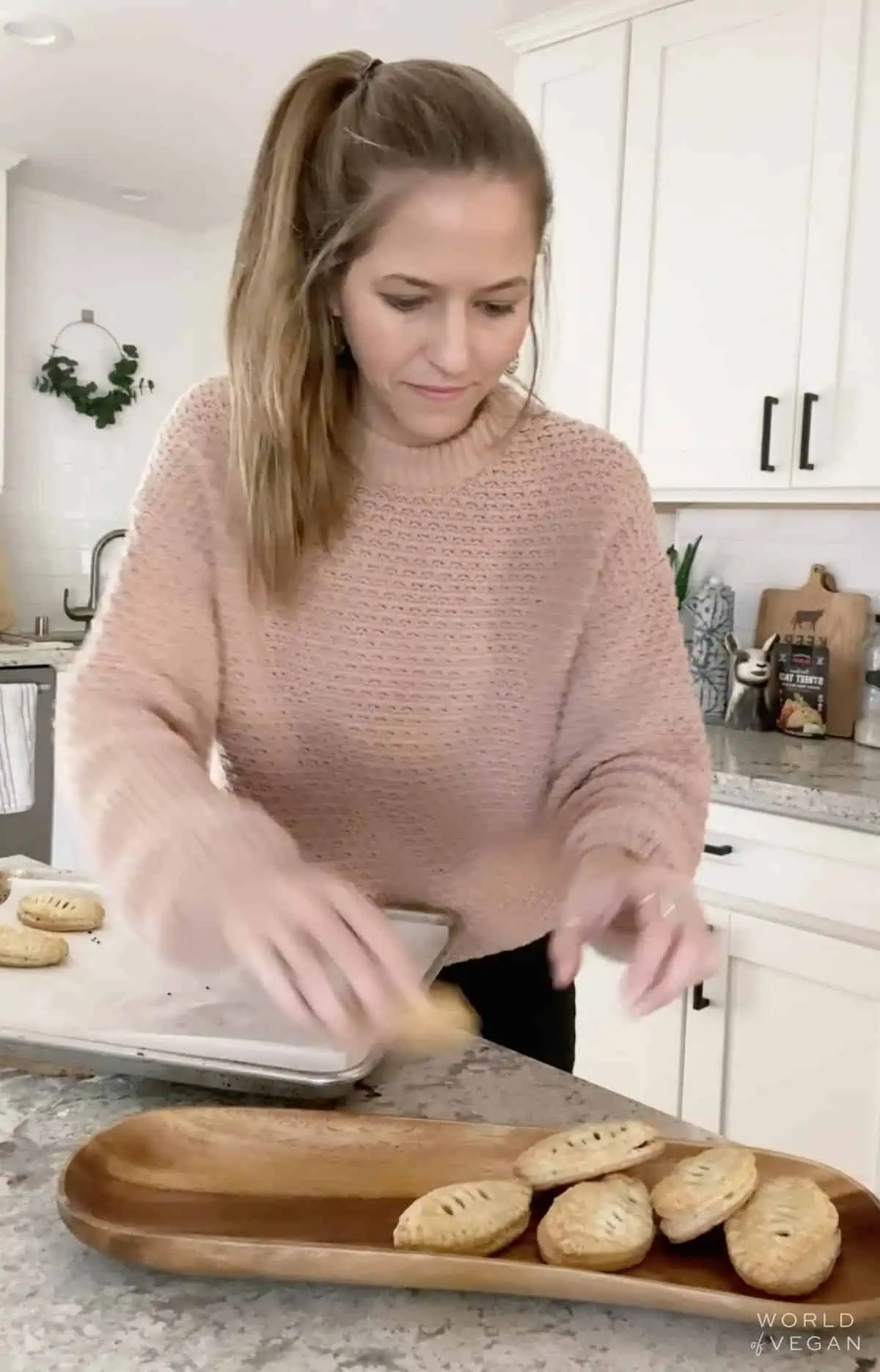 Flavor Ideas And Adaptations
The real beauty of such a simple, foolproof formula is that it's ideal for putting your own unique spin on. Here are a few winning ideas to pump up the flavor:
Cheese pizza: Add shredded vegan mozzarella and marinara sauce or sundried tomatoes.
Smoky BBQ: Add smoked paprika and your favorite BBQ sauce.
Yellow curry: Add madras curry powder and cayenne pepper for an extra kick.
Breakfast bites: Swap the vegan ground meat for crumbled or chopped vegan breakfast sausage and use diced potatoes or shredded hash browns instead of peas.
Alternate Shapes
If it's not game day, you can use any cookie cutter shape you like, not just footballs! In fact, you don't need cookie cutters at all. You can simply cut squares with your knife or use a drinking glass as a template to make circles. For more festive ideas, consider:
More Vegan Super Bowl Snacks You'll Love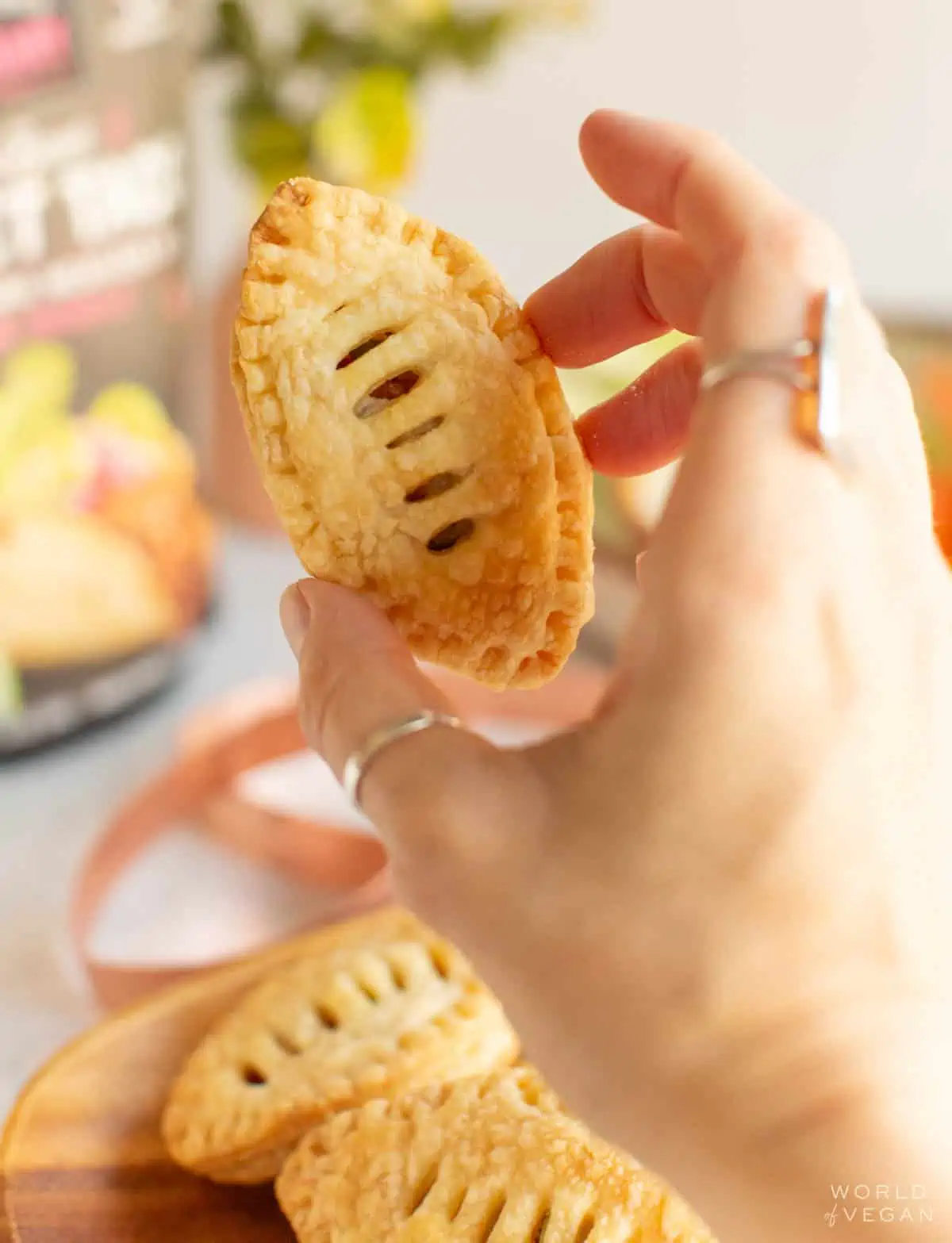 1 package vegan ground meat, any brand will work
1 cup hot water
2 tablespoons oil
½ yellow onion, diced
2 cloves garlic, minced
½ cup frozen peas
2 sheets puff pastry, one standard package (most are accidentally vegan), thawed according to package instructions
Flour, for dusting surface
1 tablespoon coconut oil, melted
Prepare vegan ground meat per package instructions.

In a saute pan, heat oil, add onion and garlic, and cook until translucent. Add frozen peas and cook until warm. Add vegan ground meat and cook for 4 minutes, remove from heat, and set aside.

Preheat oven to 400F. Sprinkle flour over a flat surface. Using a rolling pin, roll out puff pastry sheets until they're 2x as large as its original size. Cut football shapes (any size as long as they're uniform) out of the dough and lay half of the footballs on a lined or greased baking sheet.

Using your finger, rub a very thin layer of melted coconut oil along the edges of the dough on the baking sheet. Add taco meat to the center of each piece of pastry dough leaving 1/2 inch clear for sealing the bottom dough to the top.

Slice football lace marks into the remaining football-shaped pastry dough pieces (these will be the tops). Place on top of the bottom pastry dough, covering the plant meat filling, and seal tightly using a fork. Push down hard with the fork prongs to crimp or the dough may not stay closed. Brush top with coconut oil and bake for 20 minutes until golden. Remove from the oven and enjoy as soon as they cool!
This recipe makes about 15-20 football puff pastries depending on your football cookie cutter and how thin you roll the puff pastry. We used the big and medium size of these cookie cutters.
Calories: 210kcal | Carbohydrates: 16g | Protein: 3g | Fat: 15g | Saturated Fat: 4g | Polyunsaturated Fat: 2g | Monounsaturated Fat: 8g | Sodium: 83mg | Potassium: 39mg | Fiber: 1g | Sugar: 1g | Vitamin A: 37IU | Vitamin C: 2mg | Calcium: 7mg | Iron: 1mg
This puff pastry recipe was created by Michelle Cehn. Article written with support from Hannah Kaminsky and edited by Rachel Lessenden. Photos by Michelle Cehn, all rights reserved.