We're always working hard to bring you more simple and delicious vegan dessert recipes! Well, these gorgeous and flavorful mini vegan fruit tarts are quite a discovery. With minimal ingredients (store-bought vegan puff pastry and whatever fruit is in season), we can make them in no time. They are a favorite already. Come along!
Customizing Your Mini Vegan Fruit Tarts
These cute little vegan fruit tarts are super customizable! You can use whatever fruits you love the most or whichever ones are in season, and bake away! These are filled with strawberries, nectarines, and kiwi fruits, but there are so many other fruits that would be amazing for baking. So what changes could make?
Sliced cherries! It would be a match made in heaven topped with the dark chocolate shavings.
Sliced bananas on top of some date caramel. You could bake the tart and then add the date caramel and top with the sliced bananas.
Sliced mango for a more tropical-themed tart. Super summer-friendly!
Sliced apple with some cinnamon on top? Spread some of that date caramel on top, and you have a perfect fall-themed tart!
You can also add jam or jelly in place of fresh fruit if you're having trouble finding fresh fruit out-of-season.
Easy Life With Puff-Pastry
What would our life be without the favors of puff pastry? This ready-made dough is such an excellent solution for those of us who are short on time or who don't have the patience to make the dough from scratch. This incredible invention can help you bake the most amazing sweet tarts, pot pies, apple pies, and beyond.
Which puff pastry should look for? Luckily for us, most of the ready-made puff pastries on the supermarket shelves are accidentally vegan, but not all! Make sure you always read the label and watch out for ingredients like butter.
When you find a brand you love, and that's vegan-friendly, you're set! (On the rare occasions, brands who have unintentionally vegan products might change their formula and add animal products, so check every now and then.)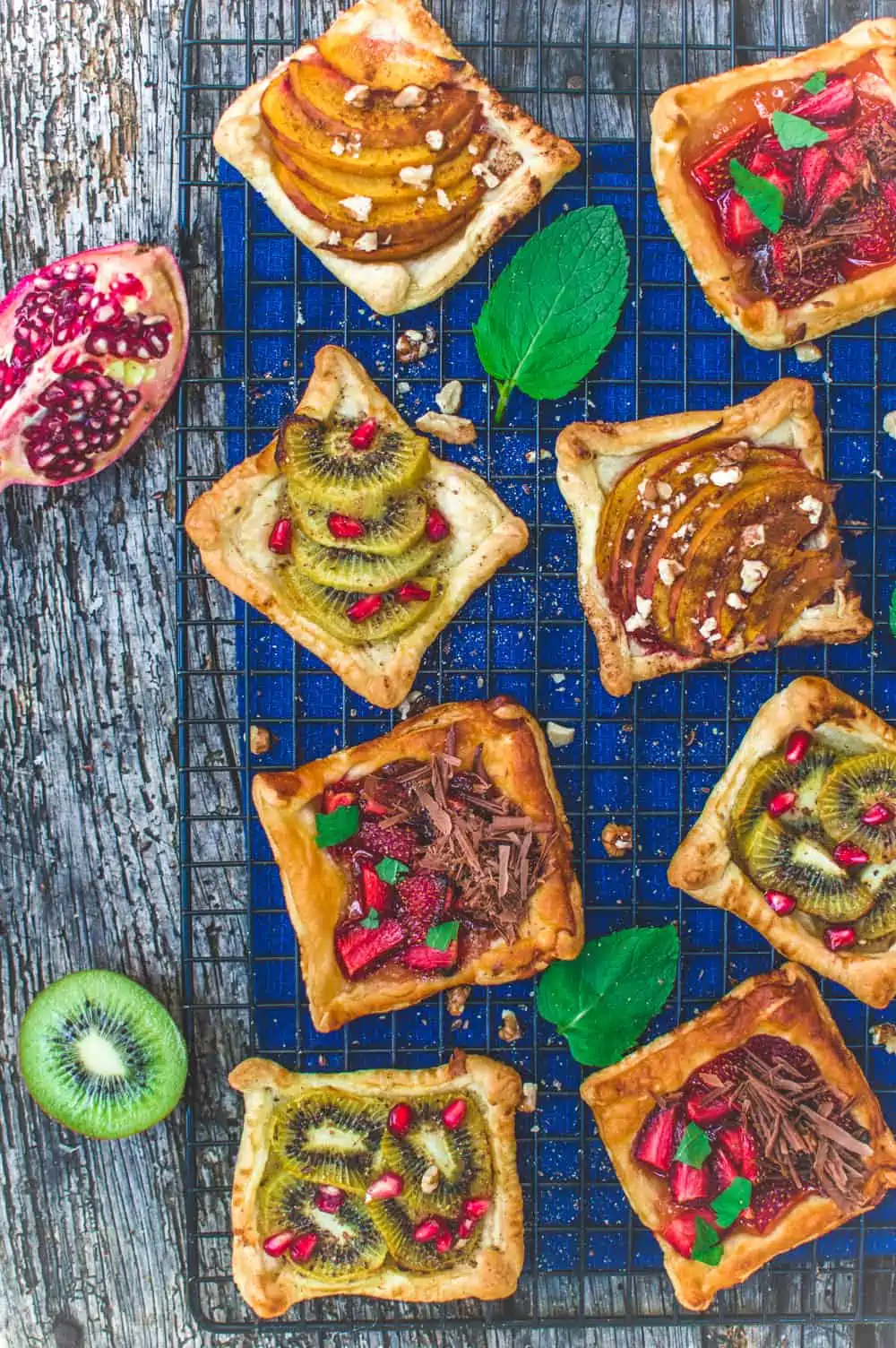 More Toppings Please!
We already talked about how we could customize our tarts with different fruit fillings, but what about adding different toppings? I'm sure you've noticed by now it's a topic we are slightly obsessed with. Toppings for the win! Ok, so these already the classic toppings of crushed walnuts, dar chocolate shavings, pomegranate seeds, and mint leaves, so what else could we top them with?
Since we are on the date train why not make a date sauce (if you're not making the caramel!) Can you see the beauty of drizzling it all over? Yum! Want more crunch? Try our candied walnuts recipe!
Add Some Whipped Cream (Or Powdered Sugar)
I strongly believe that a tart is not a proper tart until it has a substantial amount of cream on top. Don't you agree? If you're part of cream-on-top club, then try this recipe or buy some delicious vegan whipped cream from the grocery store. More and more stores are carrying soy whip, coconut whip, and other vegan whipped creams—especially around the holidays.
If you want to keep it simple, sprinkle some powdered sugar on top and voila!
The Perfect Party Dessert!
I can tell you're already pretty stoked to try these beautiful tarts! When first making these, you'll realize what a great party addition they could be! Since they are so simple and you can make endless variations of them, they will take the stress away from trying to make a stellar dessert.
They have the perfect single portion size, and they look gorgeous!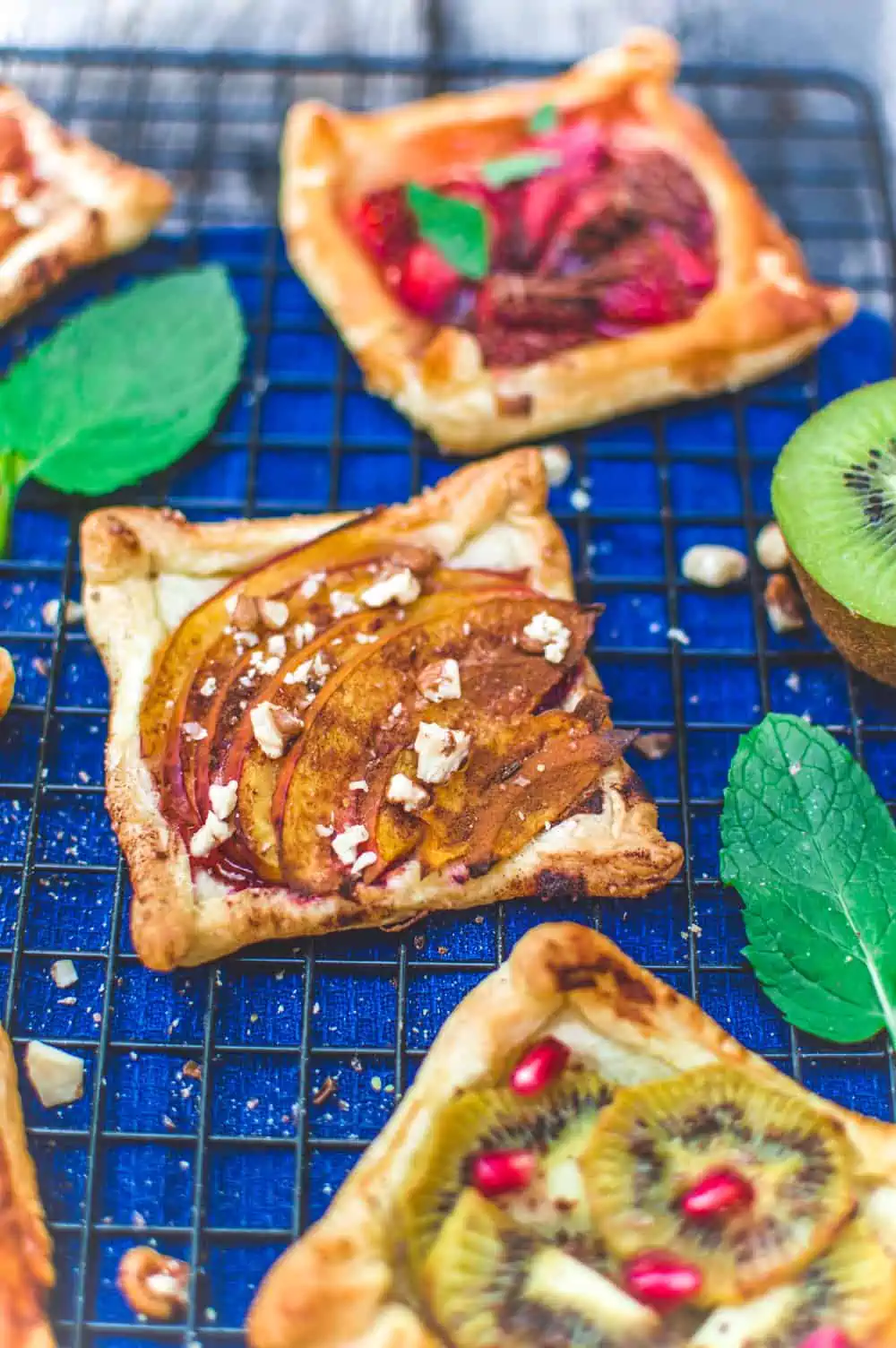 1 pack puff pastry sheets
1 kiwi
5-6 strawberries
1 nectarine
2 tablespoons maple syrup
¼ cup walnuts
1 teaspoon cinnamon, to taste
2 tablespoons pomegranate seeds
dark chocolate shavings, to taste
Heat the oven to 375 degrees F.

Cut the puff pastry sheet into squares, about 2 inches x 2 inches (but you can make them as big as you'd like—and in any shape your desire). Cut as many squares as tarts you want to prepare. This amount of ingredients will make approximately 8-10 tarts depending on their size, in three different flavors.

Flavor 1: Slice the strawberries and place them in a bowl with one tablespoon of maple syrup. Let them sit for about 10 mins. Place the maple syrup soaked strawberries on top of the pastry dough squares, centered in the middle of the tart.

Flavor 2: Peel and slice the kiwis into rounds or half-rounds (about 1/4 inch thick) and arrange them on top of the pastry dough.

Flavor 3: Slice the nectarine and fan them out on top of the pastry dough. Sprinkle cinnamon on top.

Bake the tarts for 15 mins.

When you take them out of the oven, let them cool for a few minutes and then sprinkle the nectarine tart with chopped walnuts, the strawberry one with chocolate shavings, and the kiwi ones with pomegranate seeds.

Serve and enjoy!
Calories: 317kcal | Carbohydrates: 29g | Protein: 4g | Fat: 21g | Saturated Fat: 5g | Polyunsaturated Fat: 4g | Monounsaturated Fat: 11g | Trans Fat: 0.01g | Sodium: 128mg | Potassium: 105mg | Fiber: 2g | Sugar: 6g | Vitamin A: 57IU | Vitamin C: 11mg | Calcium: 17mg | Iron: 1mg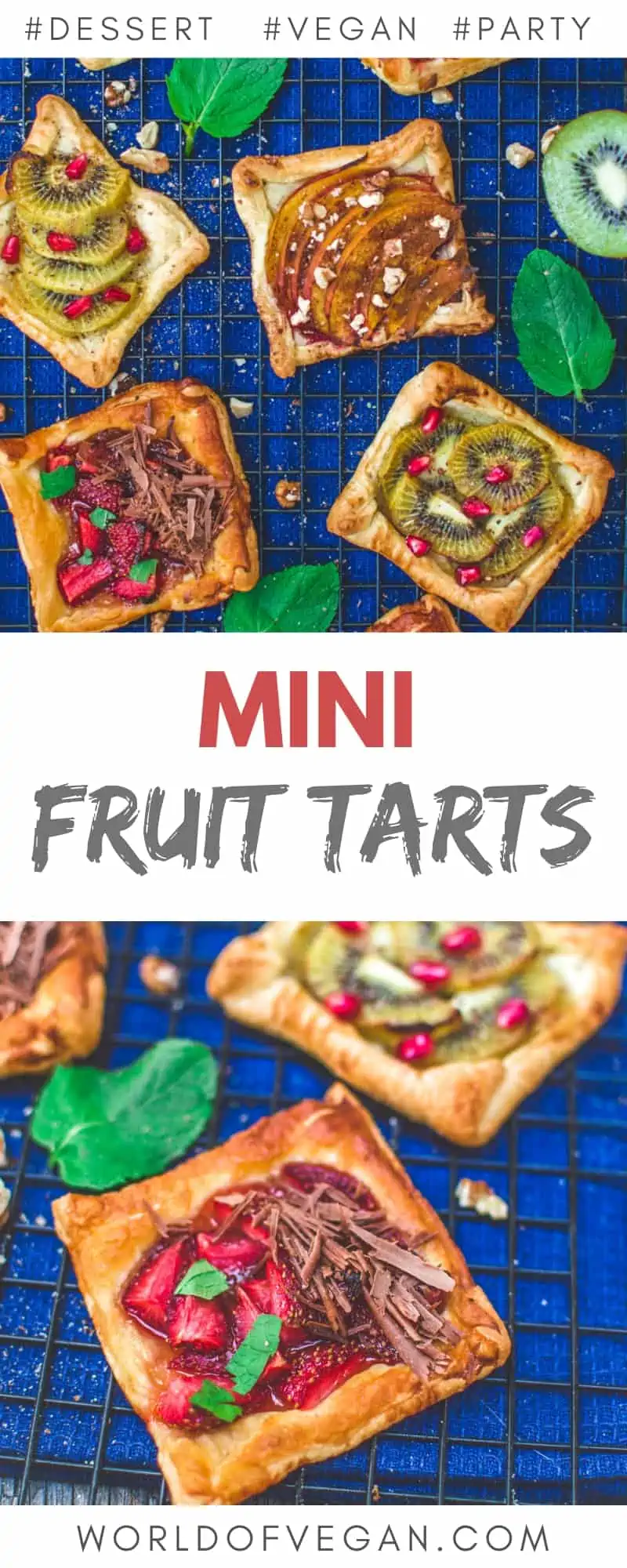 Mini Vegan Fruit Tarts photos and recipe by Zhoro Apostolov for World of Vegan. Recipe and photographs copyright of World of Vegan™, all rights reserved. This article contains affiliate links, and shopping through these links supports World of Vegan. Thank you, and happy cooking!