Very few dishes strike the perfect balance between health and flavor quite like this arugula quinoa salad. A recipe that is a heavenly blend of peppery arugula, nutty quinoa, and a combination of multi-colored ingredients like roasted butternut squash, Brussels sprouts, and cranberries.
If you've never thought of mixing roasted sweet squash with cooked grains and dark leafy greens, you're in for a treat! You'll be dazzled by the bright colors and varying textures from the very first bite. And the silky smooth tahini cashew garlic dressing is packed with an entire bunch of parsley and other whole foods that boost both the nutrition and flavor. This is a first-class recipe for food prep, especially if there's a holiday party, Thanksgiving dinner, or other festive celebration on the horizon.
Are you ready to assemble the most sensational savory vegan salad you've ever made? Let's rock, roast, and roll!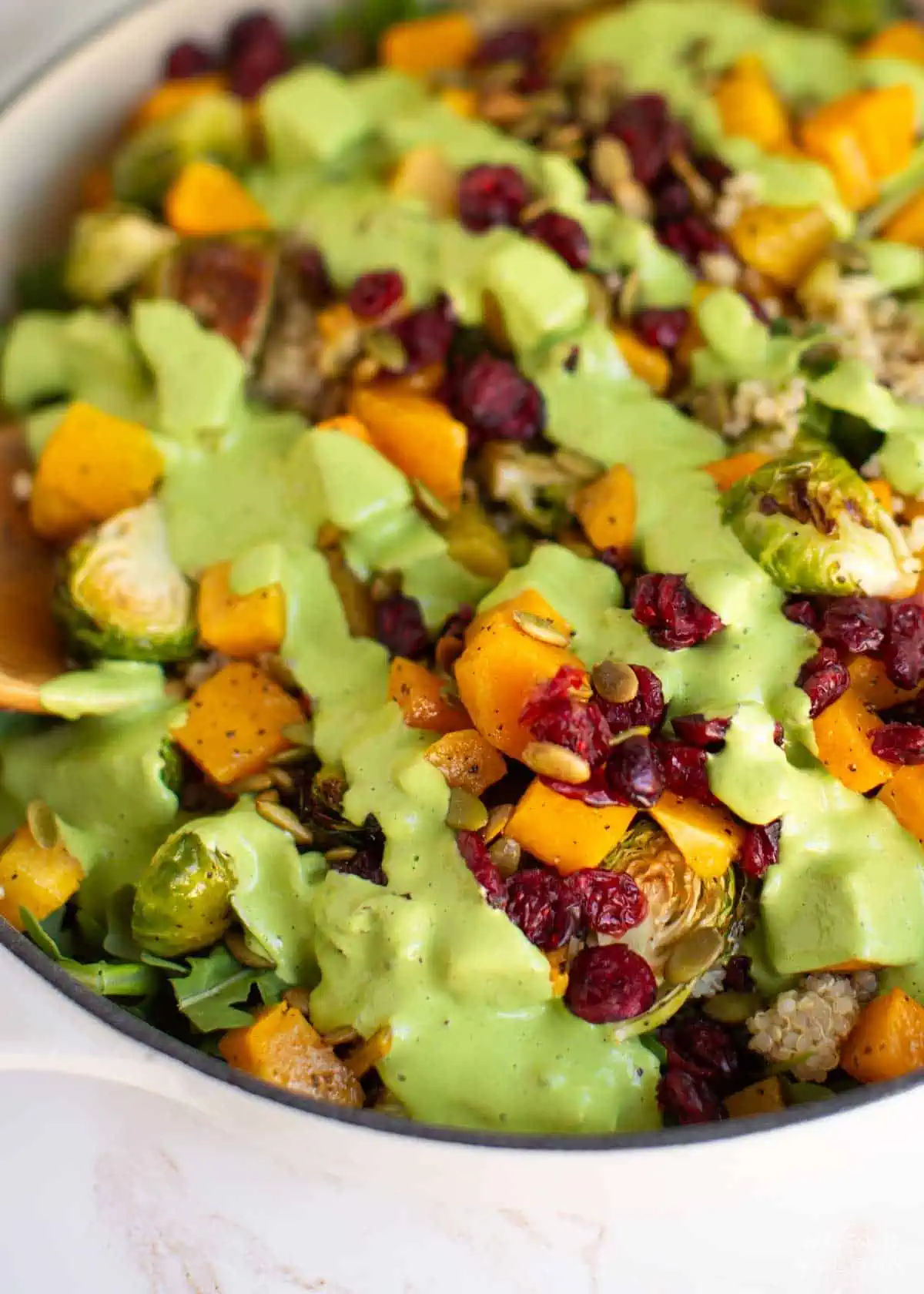 Why You'll Fall in Love With This Quinoa Arugula Salad
Who ever said that salads are boring? Salads like this are not only incredibly healthy and filled with fiber, but also serve many purposes. You can offer a salad as a first course, side dish, or even a full lunch (with a lot of leftovers!). Here are even more reasons why you need to try this first-rate recipe:
Bright and Colorful: Gorgeous red, orange, and green shades fill this bowl like shining gems. Each ingredient brings its own unique mix of vitamins and minerals to create a powerful punch. Attractive and appealing!
Deliciously Satisfying: The richness of the green goddess dressing combined with the high fiber of greens, grains, and veggies makes this salad stand out above the rest. Sweet and savory all in one!
Gluten-Free and Soy Free: A great option for anyone who is sensitive to gluten or soy. High in protein and healthy grains, without having to worry about digestive issues. A win, win!
Fantastic for Food Prep: You can easily make any of the recipe elements ahead of time, especially the quinoa, roasted vegetables, and salad dressing. When you're ready, all you need to do is mix and serve! Excellent for holiday meals when there is a lot to do ahead of time.
Key Ingredients
While it might seem like this recipe has a lot going on, they're all super simple to prepare. You can make some of the parts a day or two before. If you're pressed for time, buy frozen, cooked quinoa and just heat it up when it's time to make the salad. These star ingredients make this recipe sparkle!
Arugula: Although this little leafy green is a little bitter, it also has the best tart and peppery bite. If you're not a fan of arugula, you can substitute baby kale, watercress, dandelion greens, frisee, or even baby spinach.
Quinoa: This tasty grain-like seed is a wonderful edition to this salad. It's light, fluffy, and flavorful. Even a half cup gives you an additional 4 grams of protein for the day.
Butternut Squash: Any squash will work in this salad, but butternut squash is particularly yummy. It is most similar in flavor and texture to a sweet potato. If you can't get your hands on a butternut squash, try using a delicata or acorn squash. A sugar pumpkin would also work well.
Brussels Sprouts: A love-it-or-hate-it veggie for sure. We love using these rounded wonders when roasting, but feel free to substitute for broccoli, cauliflower, or cabbage.
Dried Cranberries: These little ruby jeweled fruit are fabulous in salads! They add a sweet and tart combination that is totally addictive. Cranberries are also a good source of vitamin C. If you don't have any dried cranberries on hand, you can always use dried currants, tart cherries, or raspberries.
Pumpkin Seeds: Savory and nutty, these little nuggets lend an awesome crunchy addition to any salad. If you haven't already made your own, make sure to try out our Sweet Spiced Roasted Pumpkin Seeds recipe! Other tantalizing nut and seed options include sunflower seeds, sesame seeds, hemp seeds, and pistachios.
How To Store this Vegan Quinoa Salad
The best approach to storing any leftover quinoa arugula salad is to separate the ingredients by type before combining into one large salad. This way, any remaining ingredient can be stored in its own container and stay fresher longer. Also, you're able to freeze any specific ingredient, if desired.
Store the cooked veggies together, the fresh greens in a separate container, as well as the quinoa and toppings. You may wish to use different toppings in your next salad meal, such as nuts, dried fruit, and/or dressing. Use a small glass mason jar or any jar with a tight lid for any creamy dressing that's left over.
Any of these recipe ingredients (except the dressing) may be safely frozen for up to 3 months. Even the nuts and dried fruit can be placed in the freezer. Although greens can be frozen from fresh, we do recommend using fresh leafy greens if you are planning to make another salad.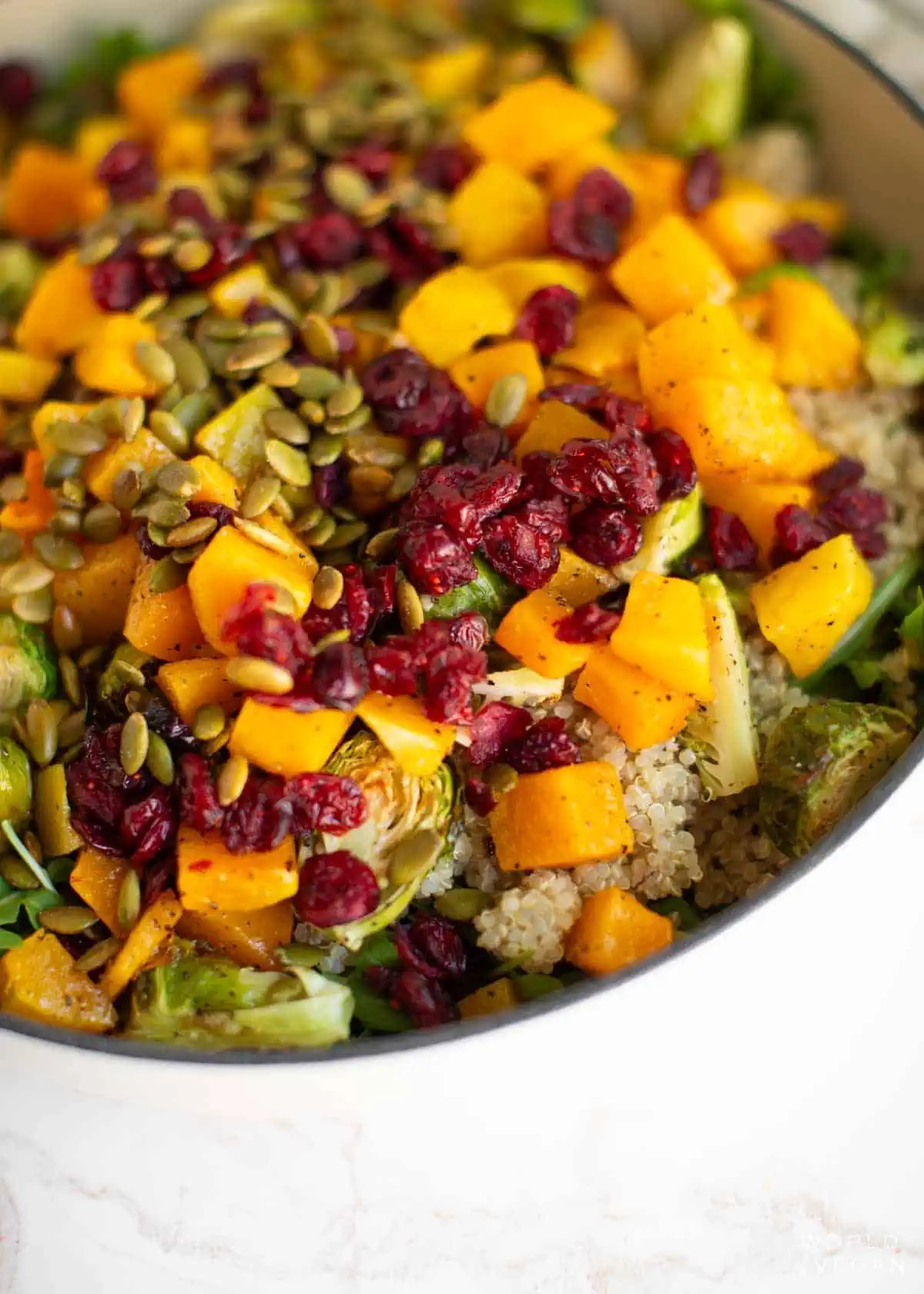 Tasty Tips and Suggestions
Crafting a savory salad is fun, as well as creative. If you're not a huge butternut squash or brussels sprouts fan, feel free to swap out these ingredients for family favorites. Though, we're pretty confident that you'll actually love how these roasted veggies taste in this salad. Here are some favorite swaps and recipe suggestions:
Roasted Veggies Rock: Next time around, how about giving Delicata squash, cauliflower, broccoli, or rainbow veggies a try?
Next Level Nuts: Pumpkins seeds are pretty perfect, but we also love to use macadamia nuts, pecans, slivered almonds, or candied walnuts in our salads.
A Dose of Dried Fruit: Colorful dried cranberries are certainly hard to beat, but how about chopped dates, golden raisins, red currants, or maybe even some freeze-dried berries for extra crunch?
Dive into Different Dressings: This Green Goddess dressing is a true favorite, but you may want to consider a creamy dill, tangy french, savory tahini, citrus turmeric, or even the always popular peanut sauce!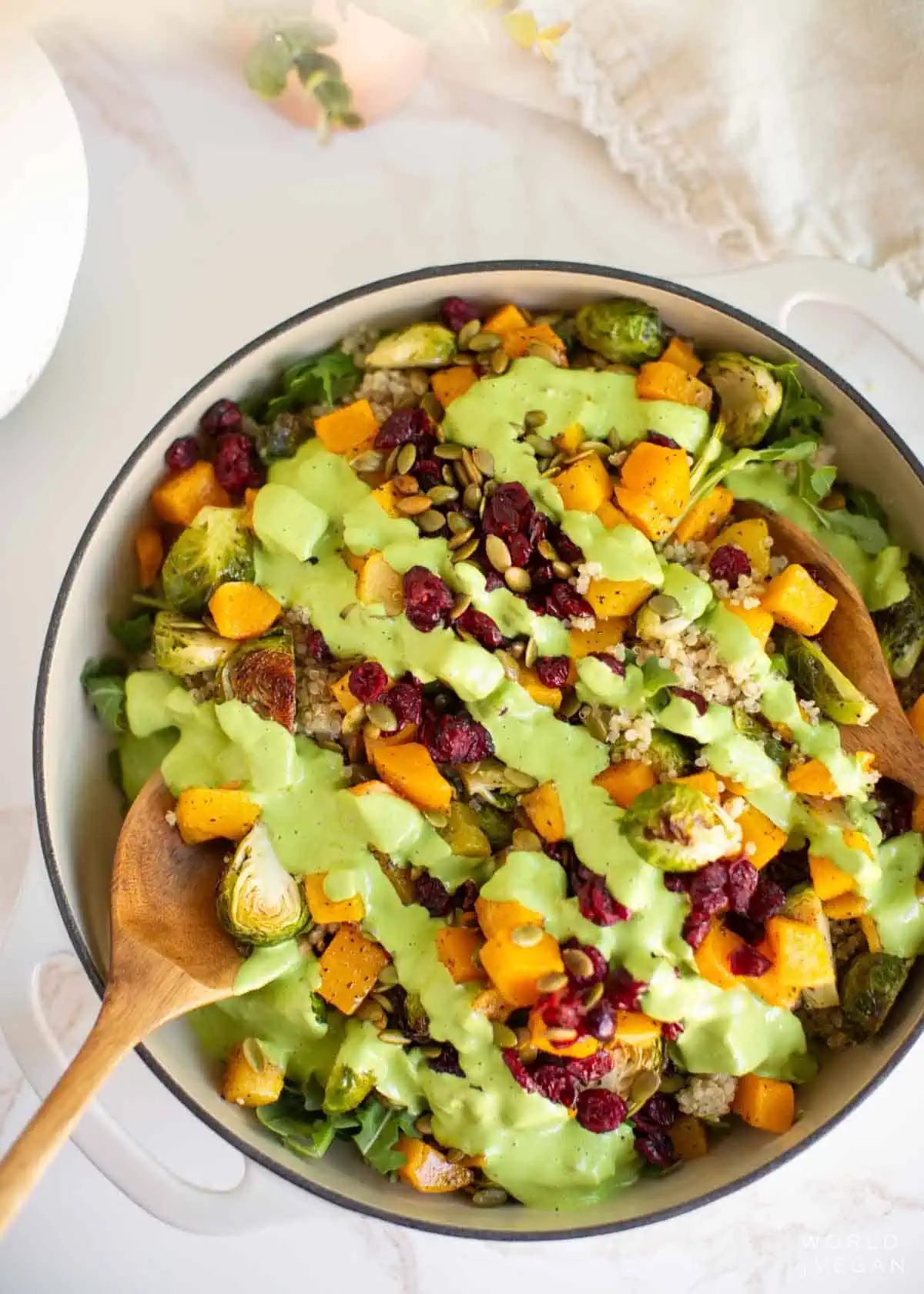 Frequently Asked Questions
Do I have to use both brussels sprouts and butternut squash in this salad?
Feel free to only use one of these roasted veggies in the salad…or, if you prefer, use an entirely different cooked veggie with the quinoa. This recipe is completely customizable to your taste!
Is it possible to make this quinoa salad with cranberry recipe if the cranberries are fresh instead of dried?
You can use fresh cranberries, but they will be very tart. Dried cranberries are very sweet, so they balance out the savory dressing in this dish. A better option (other than dried) is to use a scoop of homemade cranberry sauce or jarred cranberry sauce instead.
Can I swap out for brown rice in this butternut squash quinoa salad?
Yes! Any cooked grain would work well in this recipe, including steamed rice, buckwheat, millet, amaranth, polenta, or kamut.
More Sumptuous Salad Recipes to Try
1 cup quinoa, plus 1 ¾ cups water for cooking
3 cups butternut squash, cubed
2½ cups Brussels sprouts, halved or quartered
Olive oil, to taste
Salt and pepper, to taste
5 ounces arugula
⅓ cup dried cranberries
⅓ cup pumpkin seeds, or any other nuts or seeds
Green Dressing
½ cup cashews, soaked for at least 2 hours
1 large lemon
3 medium cloves garlic
¼ cup tahini
1 small bunch parsley
¼ cup dill, packed
½ cup olive oil
½ teaspoon salt
⅓ cup water, plus more as needed
Preheat oven to 400 degrees F.

Cook quinoa: In a medium saucepan, add 1 cup quinoa and 1 3/4 cups water and bring to a boil. Once boiling, cover the pot, reduce heat to low, and allow to simmer for 15 minutes. Then, without removing the lid, remove from heat and leave for 10 minutes before fluffing the quinoa with a spoon. Set aside to cool.

Roast the squash and Brussels sprouts: On a large baking sheet lined with parchment paper or a silicone mat, add the butternut squash and Brussels sprouts. Drizzle generously with olive oil and sprinkle with salt and pepper. Mix until coated and bake for 25-30 minutes at 400 degrees F until Brussels sprouts are slightly crispy and lightly browned. Set aside to cool.

Make the dressing: In a high-powered blender, add the cashews, juice of the lemon, garlic cloves, tahini, parsley, dill, olive oil, salt, and ⅓ cup of water, and blend on high until smooth and creamy. If needed, add up to an additional ¼ cup of water to achieve the desired dressing consistency.

Assemble the salad: In a large serving bowl, add the arugula, cooked and cooled quinoa, roasted and cooled butternut squash and Brussels sprouts, dried cranberries, and pumpkin seeds (or nuts of choice). Drizzle with dressing to serve; or serve dressing on the side if you'd like to show the salad's vibrant fall colors for a Thanksgiving table.
For an oil-free version of this salad dressing, replace ½ cup olive oil with and additional ½ cup soaked cashews, and add additional water and lemon juice as needed to achieve the perfect consistency and flavor. This salad is fantastic for meal prep and lasts 2-3 days in the refrigerator. If you store the dressing in the refrigerator, it may thicken, in which case you can simply add more water and stir or shake it up to create a pourable liquid dressing.
Calories: 420kcal | Carbohydrates: 33g | Protein: 9g | Fat: 31g | Saturated Fat: 5g | Polyunsaturated Fat: 6g | Monounsaturated Fat: 19g | Trans Fat: 0.002g | Sodium: 228mg | Potassium: 776mg | Fiber: 6g | Sugar: 9g | Vitamin A: 9242IU | Vitamin C: 74mg | Calcium: 138mg | Iron: 4mg