Satisfy your sweet tooth with this scrumptious, vegan almond milk strawberry smoothie. We also call this a "Strawberries 'n' Cream Smoothie" because it tastes like a creamy strawberry milkshake—but without using yogurt or ice cream! The nostalgic flavor and super thick texture will win your heart and have you going back for more. Once you try it, you'll want a mugful every morning to sip and savor before your shower. 
This almond milk and strawberry smoothie recipe couldn't be easier to blend together using just a handful of ingredients you likely have in your freezer and pantry already. And it's healthy, too! What are we waiting for? Let's get blending!
Superstar Smoothie Ingredients
Ever wonder why fruit smoothies are even better when you include plant milks and seeds? If you think about it, a simple smoothie can be a powerhouse of positive nutrition in a single glass.
Frozen Strawberries
Strawberries are the star of this smoothie show! Berries boost your vitamin C, fiber intake, and particularly polyphenols (known also as awesome antioxidants). You can use store bought frozen strawberries, or fresh strawberries that you freeze yourself! If you freeze the strawberries yourself, just make sure they are fully frozen before making this smoothie.
Ripe Spotty Bananas
A smoothie staple! Bananas help create a sweet, rich, thick, creamy, milkshake-like consistency in any smoothie. They also have fantastic levels of fiber, potassium, and vitamin B6. This is the ingredient that makes your smoothie s-m-o-o-t-h.
The perfect bananas for smoothies are very ripe and spotty. The more you allow bananas to ripen, the sweeter they get!
Ground Flaxseed Meal (Flaxmeal)
Ground flax is a vegan pantry staple. It can be used as an egg replacer in baking recipes, and added to numerous recipes! We add flax to this smoothie as a healthy source of omega-3 fats which are critical for brain health. If you don't have flaxmeal, you can simply leave it out!
Rolled Oats
Why add oats? Something magical happens when you mix rolled oats with soy milk. This plant-based milk mixture becomes extra creamy and even more delicious. The trick to this is that you do need a high-speed blender to make this happen. It's totally worth it!
If you have a high-powered blender, you can add the oats raw and they will blend smooth. If you're working with a lower power blender, add the milk and oats first, and allow them to rest in the blender for 15 minutes before adding your other ingredients and blending. This will soften the oats for easier blending and a creamier result!
As a whole grain, oats provide much needed soluble fiber (beta-glucan, the best kind!), B vitamins, and minerals.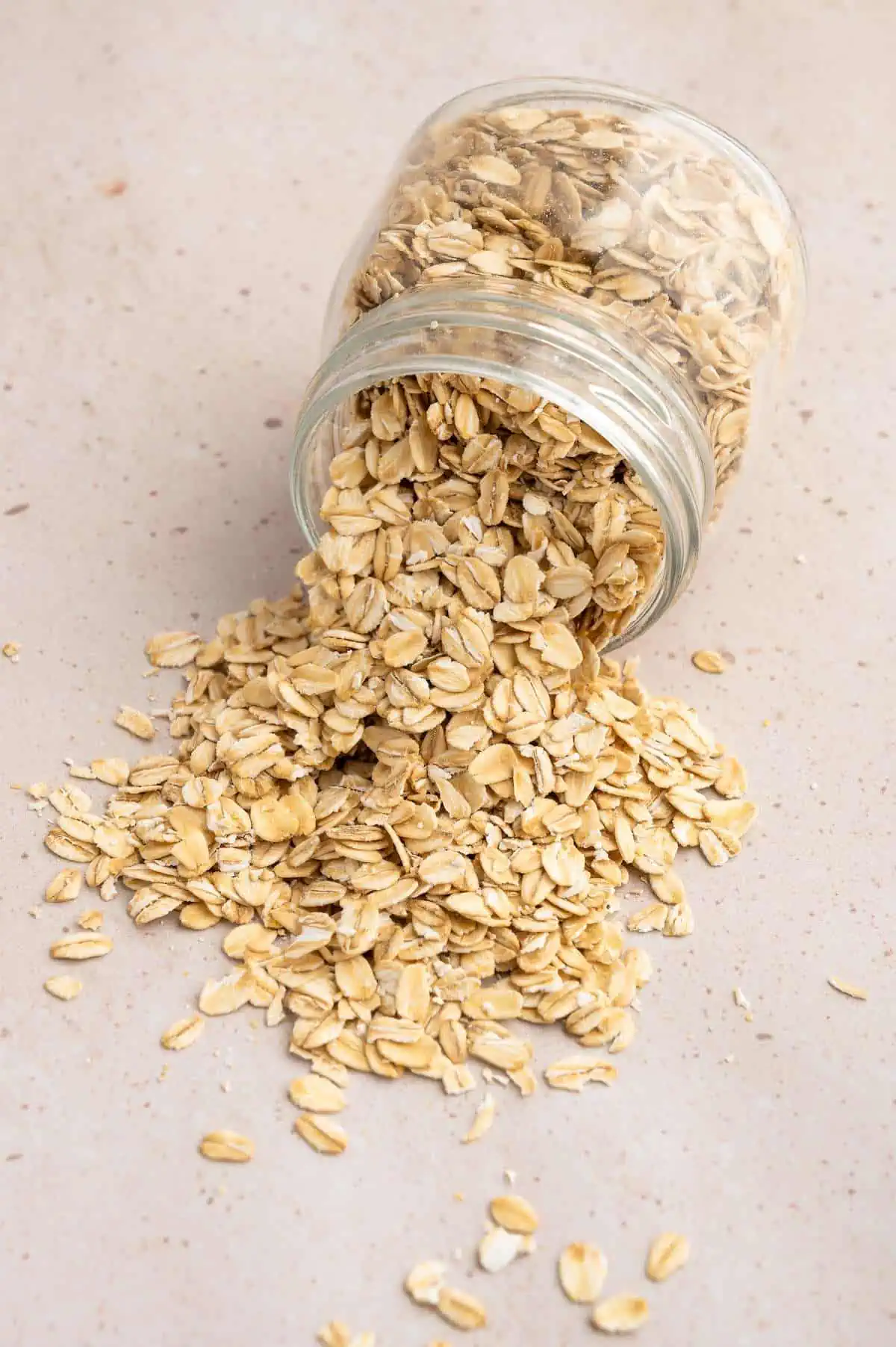 Almond Milk
Supercharged with vitamins and give your smoothie that lovely rich flavor with almond milk. This recipe calls for unsweetened almond milk, since the two ripe bananas bring plenty of sweetness to the smoothie already, but any type will work! If you don't have almond milk on hand, you can use any variety of plant-based milk in this recipe.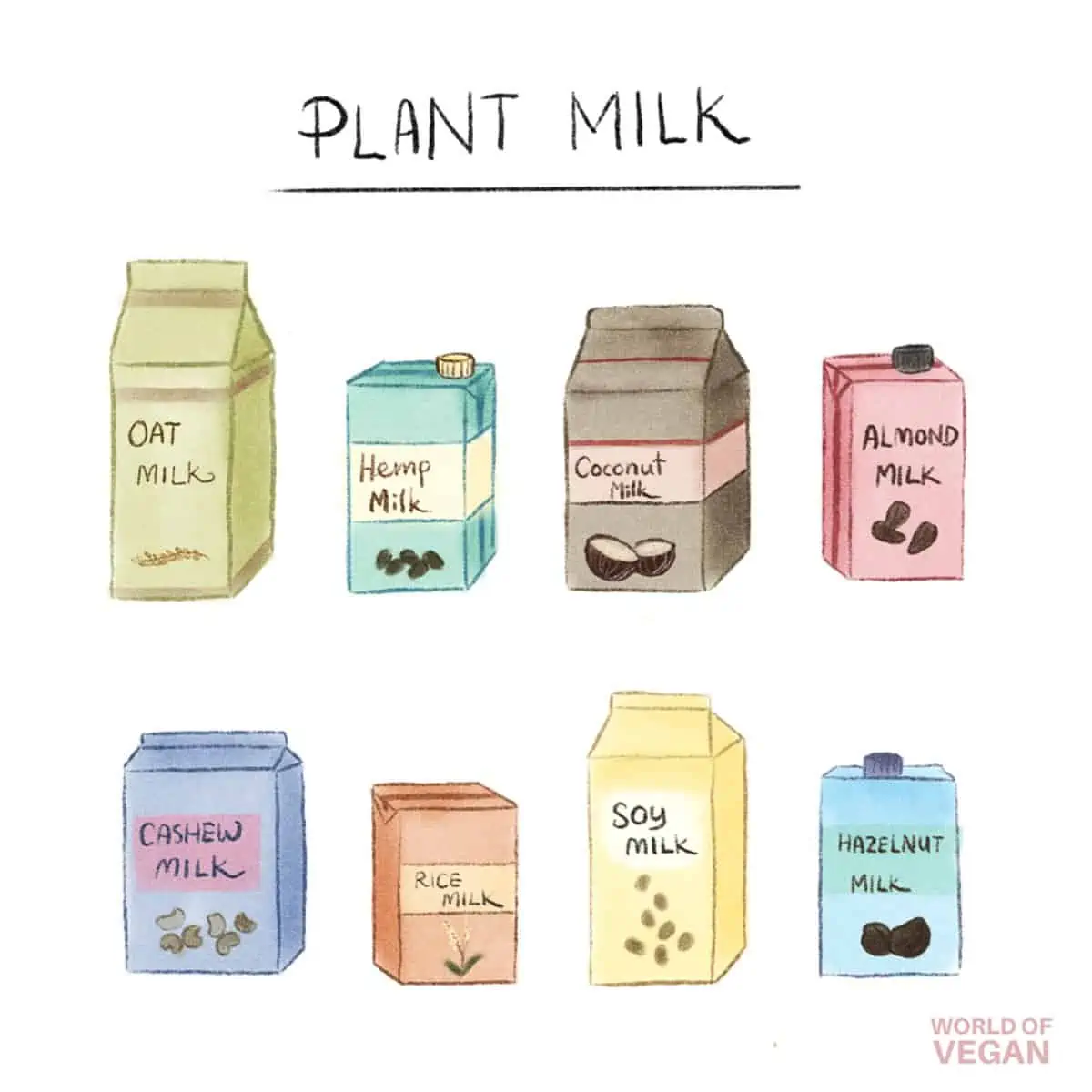 How to Serve Up This Strawberry Smoothie
Although smoothies are usually a solitary snack or single breakfast, you might be wanting to add a little something extra. Here are some suggestions for your Strawberries 'n' Cream Smoothie:
Always Okay to Add Berries – You can never go wrong by adding more berries to your breakfast. Sliced strawberries, blueberries, blackberries, or even cherries bring some sweetness, fiber, and vitamin C when sprinkled over the surface of your smoothie.
Power Up With Protein Powder – If you need this mixture to keep you full for most of the morning, try adding a scoop of vegan protein powder—like these brands.
A Nod to Chopped Nuts – Experiment with texture by topping with a few candied walnuts or your favorite nuts. This will add healthy fat, fiber, and protein to your smoothie and make it into more of a meal.
Blend It Into a Bowl – Add a little less liquid and you'll have the perfect creamy consistency for a smoothie bowl. Add some shredded coconut, a spoonful of chocolate hazelnut spread, and a few slices of fresh strawberries or banana. Beautiful!
Want Whipped Cream? No problem! If you have a can of coconut milk in your cupboard, you're all set to go. You can use the spray cans from the grocery store, but homemade coconut whipped cream is just heavenly!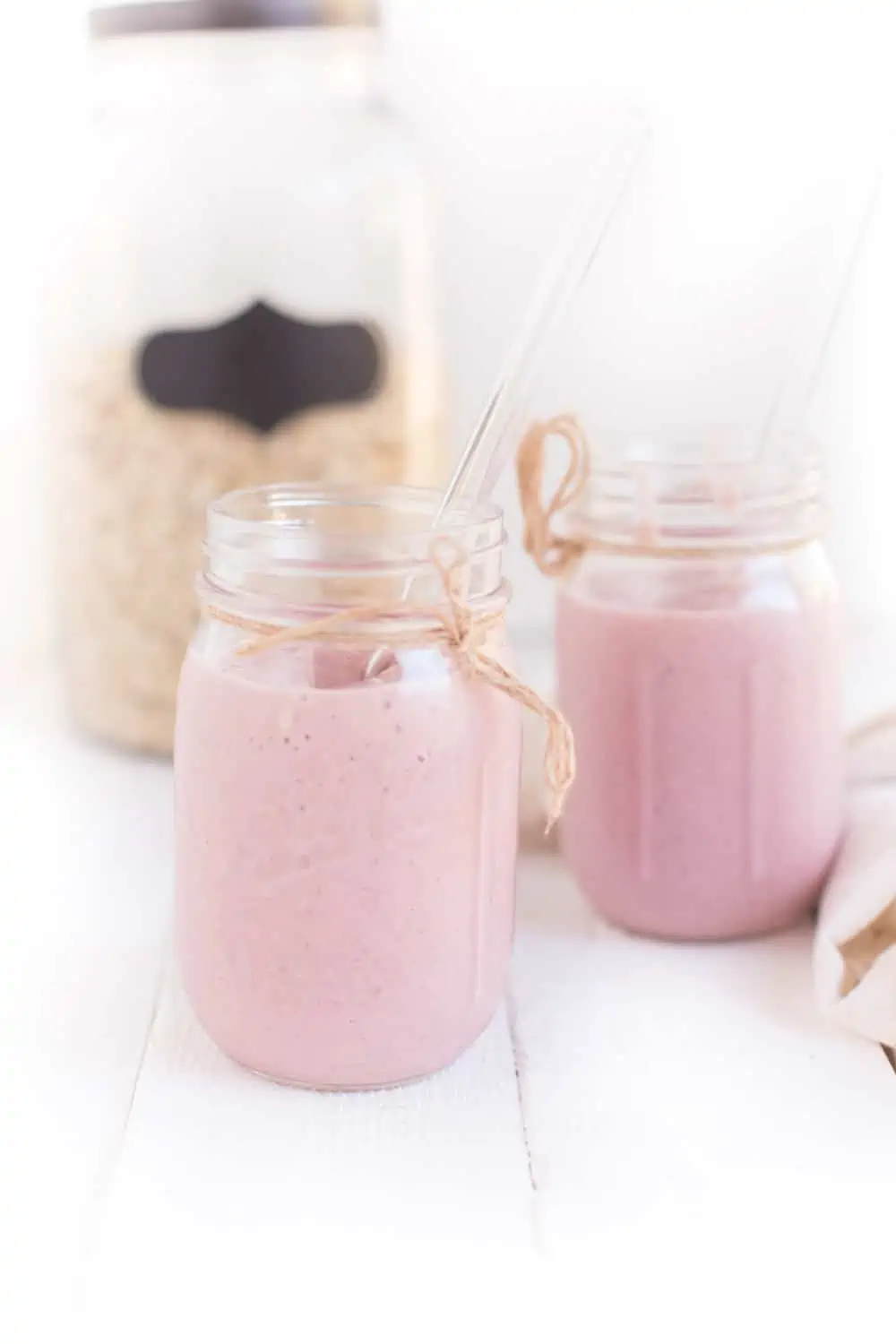 Simple Storing Options
Smoothies are best consumed fresh within the first 15 minutes of blending, and we highly recommend adjusting the recipe to fit your appetite so no smoothie goes to waste.
If you need to save your almond milk strawberry smoothie leftovers, they can be saved in the fridge for in a covered container, but the texture and flavor will change. If you have an insulated water bottle or thermos, that would be even better for keeping your remaining smoothie cool and fresh in the fridge.
When you're ready for the smoothie, a good idea is to blend your leftovers with a small handful of frozen fruit to get your smoothie thick and creamy again, especially if the consistency looks a little thin. Best to use the fruit already in your smoothie, but you can also branch out and try something new.
More Super Smoothies or Fresh Juices to Try
1 cup almond milk
¼ cup rolled oats
2 cups frozen strawberries
2 large ripe bananas, not frozen
1 tablespoon ground flaxseed meal
In a high-powered blender (such as a Vitamix) add the almond milk and rolled oats and blend on high until smooth.

Add the frozen strawberries, ripe bananas, and flaxseed meal, and blend on high until completely smooth and pale pink in color.
Want to add vegan protein powder? It will blend beautifully into this smoothie—although I'll usually add an additional splash of water to thin it out. This is also a very sweet smoothie, so sweetened protein powders can be a tad overpowering.
Calories: 529kcal | Carbohydrates: 104g | Protein: 16g | Fat: 10g | Saturated Fat: 1g | Polyunsaturated Fat: 6g | Monounsaturated Fat: 2g | Sodium: 99mg | Potassium: 1836mg | Fiber: 18g | Sugar: 49g | Vitamin A: 712IU | Vitamin C: 193mg | Calcium: 389mg | Iron: 4mg