Bite into the most meaty, tender tofu kebabs imaginable without breaking a sweat! Marinated with an umami blend of soy sauce, garlic, and sesame oil, this protein powerhouse teams up with a colorful array of fresh veggies for an unbeatable all-in-one meal.
When grilled, the mouthwatering aroma from these rainbow kebabs is enough to bring everyone running to the table. It's a perfect dish to share with family and friends at your summer gatherings and beyond. Fire up the grill and get ready for a healthy treat!
Why You'll Love This Recipe
If you're already a veggie-lover, you can tell at a glance that these grilled tofu kebabs are going to be great. In case you need a bit more convincing, however, consider just a few of the following points:
Always in season. No matter what's fresh at the farmers market, there's always something delicious to use. The options are infinite, whether it's spring, summer, fall, or winter.
Taste the rainbow. By eating a rainbow of colorful produce, you'll get to reap all the nutritional benefits of diverse whole foods diet. Go straight to the source for your daily recommended allowance of essential vitamins and minerals.
Fun for the whole family. Instead of seeing dinner prep as a chore, consider it a fun craft project that the kids can help with! Cut up the veggies for youngsters and let them assemble their own colorful combinations.
Key Ingredients
Only a few basic ingredients stand between you and this brilliantly easy kebab creation.
Super-Firm Tofu: As the premier protein here, it's important to get the right type of tofu that can stand up to being skewered without crumbling under pressure. "Super-firm" tofu is the most firm type sold in stores, usually refrigerated in vacuum sealed packages, which is ideal for kebabs. You don't even need to press it since most of the water has already been removed. Hodo's tofu works perfectly here too (it's called "Extra Firm" but acts like super firm tofu because it's already pressed).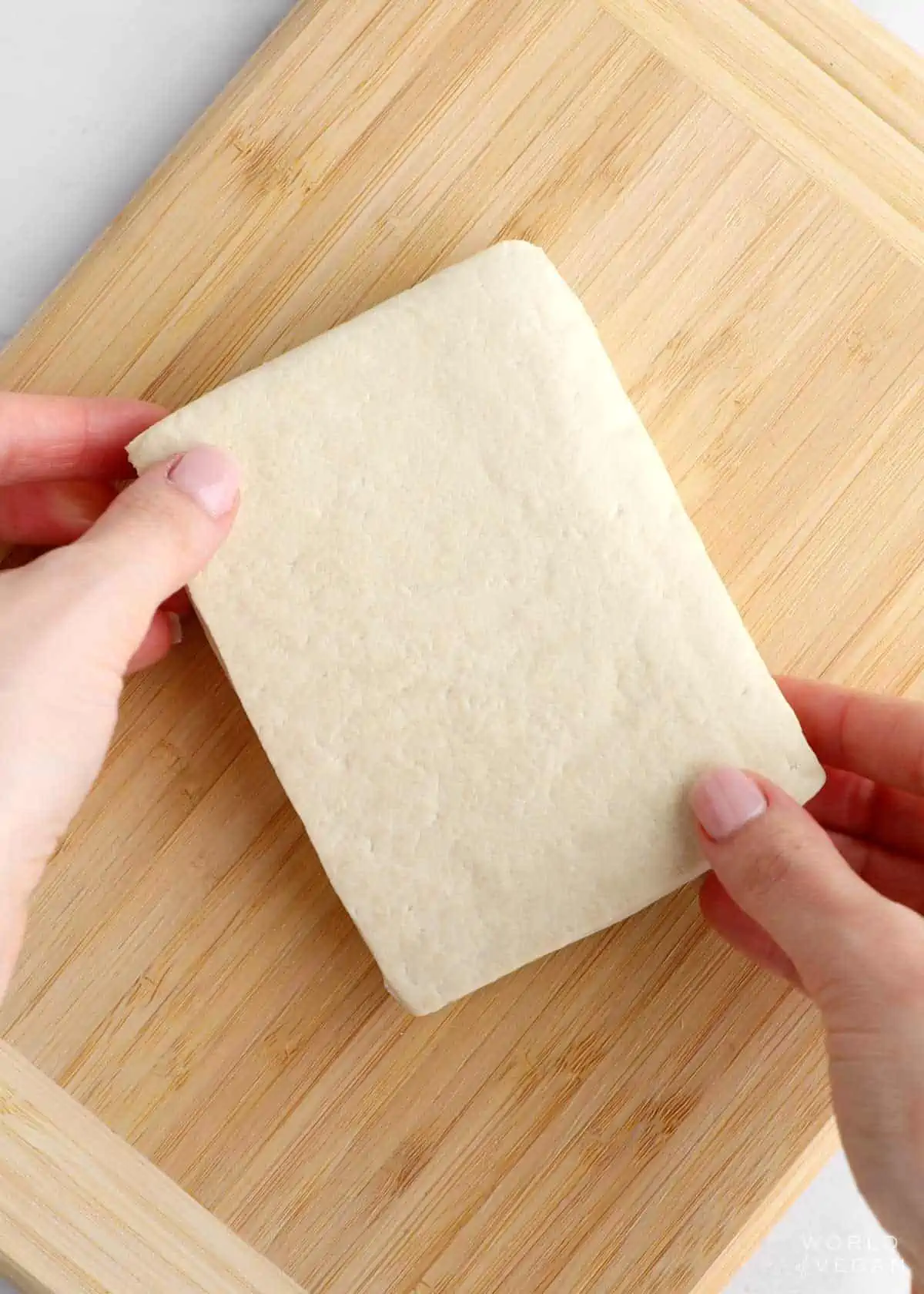 Veggies: Just about anything goes! Feel free to clean out the vegetable crisper and use whatever you've got. See below for more specific suggestions.
Soy sauce: Made from fermented soybeans, wheat, water, and a pinch of salt, this liquid umami is a must-have for any Asian cooking.
Sesame oil: Toasted sesame oil has an intense, nutty flavor that adds another dimension of richness to any dish. Just a little dab will do!
Vegan Worcestershire sauce: Made with vinegar, soy, sugar, mustard, garlic, and cinnamon, conventional options can also include anchovies or fish sauce, so be careful to read labels and select only plant-based blends.
Brown sugar: Just a touch of sweetness is enough to balance out all the savory, salty flavors. If you'd rather cut out the sugar, feel free to omit it or substitute a drop of stevia or monk fruit extract.
Colorful Rainbow Veggie Ideas
For the best balance of flavors—and an aesthetically appealing plate—consider all the colors of the rainbow when building your kebabs. Just a few of the many options to build your rainbow kebabs include:
RED: cherry tomatoes, red bell pepper
ORANGE: orange bell peppers, yams, butternut squash
YELLOW: yellow squash, yellow bell pepper
GREEN: bell peppers, zucchini, asparagus
PURPLE: red onion, purple potatoes, eggplant
How To Make Tofu Kebabs
Advanced Prep: Marinate the tofu for at least 12 hours (or up to three days) before grilling.
Prepare the Veggies: Microwave halved baby potatoes for 2 minutes, then chop veggies into kebab-sized pieces.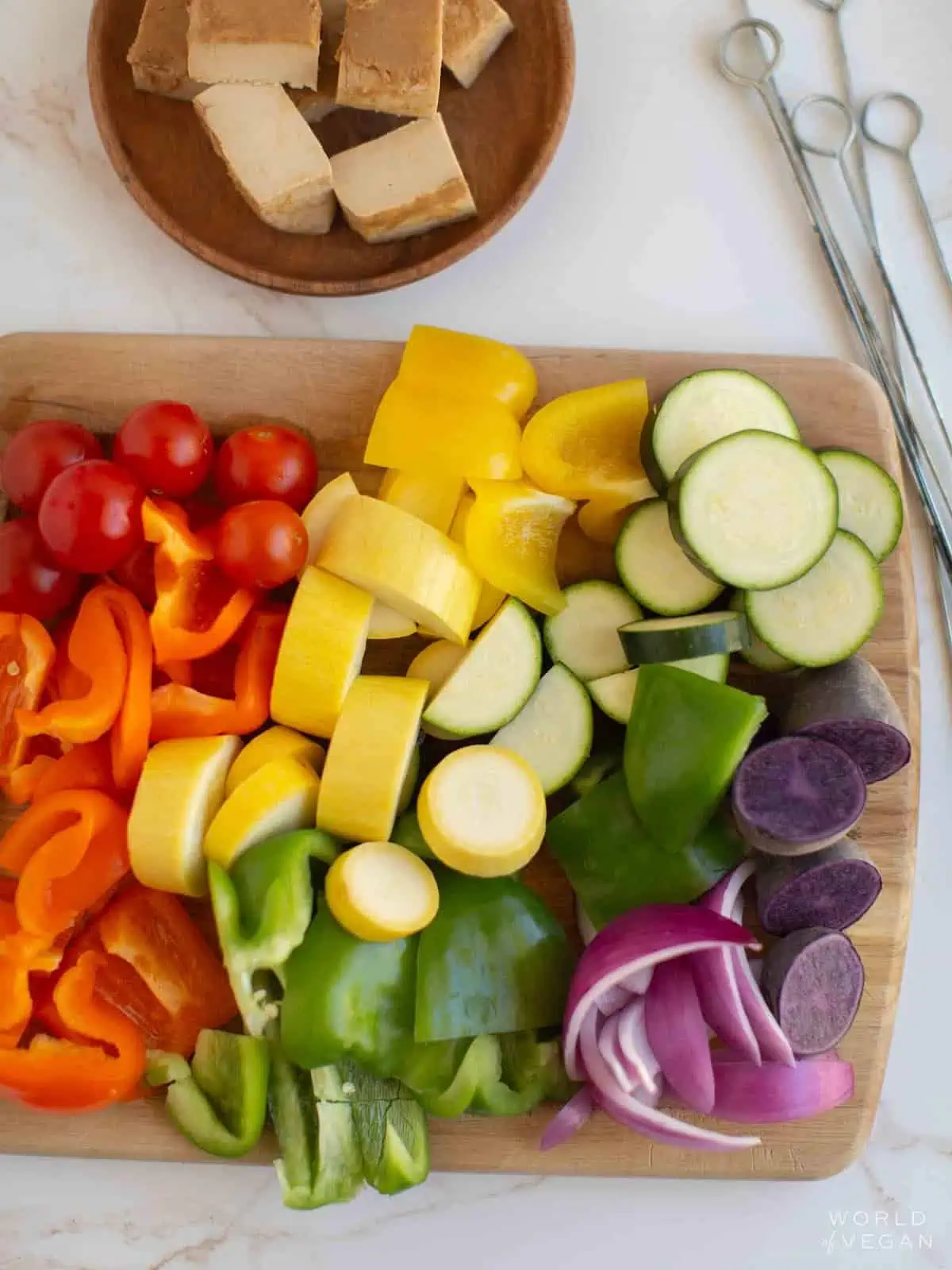 Assemble: Grab your skewers and start assembling the kebabs in order of color, while adding tofu cubes throughout.
Baste: Brush kebabs with the leftover marinade, covering thoroughly.
Grill: Place kebabs on a preheated grill, evenly spaced. Rotate and continue brushing on marinade every few minutes until the kebabs are grilled to your liking.
Try A Different Tofu Kebab Marinade
The beauty of cooking with tofu is that it can absorb any palate of herbs, spices, and sauces with ease. Switch up the flavors to suit your cravings du jour.
Balsamic herb: Grab your best balsamic vinaigrette and add in fresh chopped herbs, like basil, parsley, scallions, and cilantro.
BBQ: Thin out your favorite BBQ sauce with a touch of water, vegetable broth, or apple cider vinegar.
Fajita: Whisk together chili powder, onion powder, and smoked paprika, then add lime juice to make it into a bold liquid base.
Curry: Use mild yellow curry powder or your favorite red or green curry paste blended into full-fat coconut milk. This is especially tasty when served with peanut sauce for dipping!
Hot "honey": Mix agave nectar or maple syrup with sriracha, tabasco sauce, or chili oil, to taste. If you want it extra spicy, sprinkle some crushed red pepper flakes over the top after cooking, too.
Tips For Success
Whether you're an experienced grill master or new to the 'cue, you can pull off perfectly seared, sizzling kebabs every time with a few simple tips and tricks.
Soak it all in. If you're using wooden or bamboo skewers, soak them in water for at least 20 to 30 minutes before adding your tofu and veggies to prevent them from catching on fire.
Keep cuts consistent. Cut your produce into equally sized pieces so everything cooks at the same rate.
Fire it up. Preheat your grill just like you would preheat an oven, so it's hot and ready when the food hits the metal.
Space out your skewers. When laying out your kebabs on the grill, give yourself room to pick up and turn your skewers with metal tongs.
Don't forget to baste. Save your extra marinade and brush it over the entire kebab before, during, and after cooking to maximize its flavorful potential.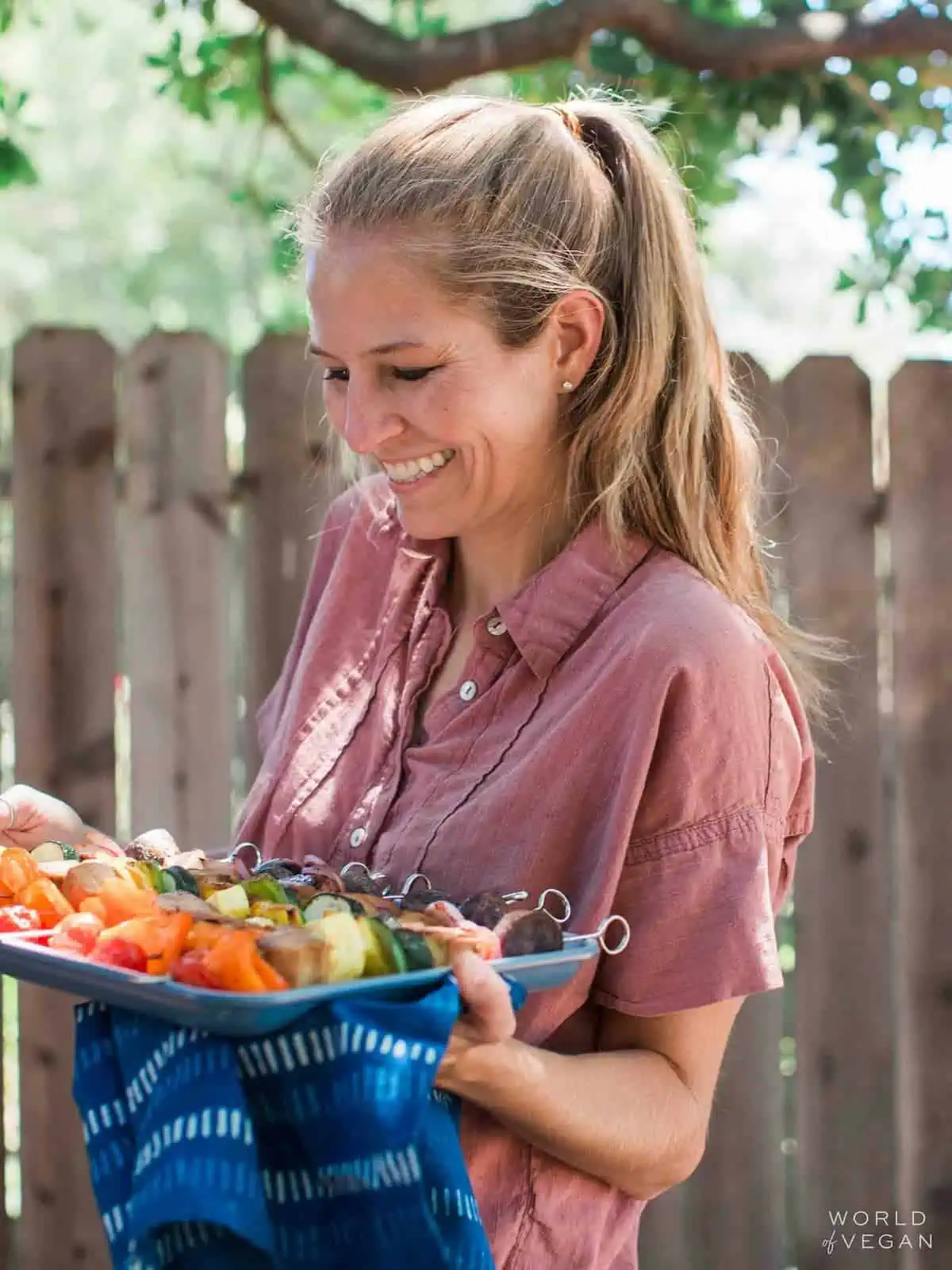 How To Serve Up Your Tofu Kebabs
Although these quick kebabs are already a complete meal by themselves, you can round out your plate with all sorts of other tasty sides and finishing touches.
Get your whole grains in with fluffy steamed jasmine rice or cooked quinoa to soak up all that yummy sauce.
There's no such thing as too many greens; you can also whip up a fresh and crisp Asian-inspired salad with greens, cucumber, carrots, and a tangy sesame ginger dressing.
For a complete feast, add some sesame garlic sautéed broccoli, bok choy, or sizzling Chinese green beans on the side.
Try topping it off with some pickled ginger and a sprinkle of toasted sesame seeds to add an extra pop of flavor.
More Rainbow-Colored Recipes You'll Love
Marinated Super-Firm Tofu, 16 oz – 20 oz, cubed into kabob-size pieces
8 cherry tomatoes
1 orange bell pepper
1 small yellow squash, or yellow bell pepper
1 small zucchini, and/or green bell pepper
½ red onion
4 small purple potatoes, sliced in half
Kabob Marinade Ingredients:
½ cup soy sauce
¼ cup water
2 teaspoons sesame oil
1 tablespoon vegan worcestershire sauce
1 tablespoon brown sugar
½ tablespoon garlic powder
⅛ teaspoon minced ginger
Advance prep: Marinate tofu at least 12 hours in advance of grilling (or up to three days).

Slice baby potatoes in half and place in a microwave safe bowl with 1 tablespoon of water. Cover with a paper towel and microwave for 2 minutes. Set aside and allow to cool.

Chop veggies into kebab-appropriate bite sized pieces.

Assemble kebabs in color order, interspersing tofu cubes throughout.

In a small bowl, add soy sauce, water, sesame oil, worcestershire sauce, brown sugar, garlic powder, and ginger and mix until combined into a marinade.

Brush kebabs with marinade, covering completely.

Place kebabs on a heated grill and cook, rotating and continuing to brush with marinade every few minutes as you grill until kabobs are grilled to your liking.
Calories: 48kcal | Carbohydrates: 8g | Protein: 3g | Fat: 1g | Saturated Fat: 0.2g | Polyunsaturated Fat: 0.5g | Monounsaturated Fat: 0.4g | Sodium: 843mg | Potassium: 251mg | Fiber: 1g | Sugar: 4g | Vitamin A: 610IU | Vitamin C: 31mg | Calcium: 17mg | Iron: 1mg