Nothing beets this bowl for vibrant color and delicious flavor! Your taste buds will be tingled and your heart will be happy with so much smoothie goodness. Our Heart Beet Smoothie Bowl promises a sweet and slightly sour, berry tang that is balanced out by earthy beets.
All it takes is a little peeling, a little chopping, and a minute of blending––and, voilà! You've got yourself a beautiful bowl for breakfast (or any time of day). Decorating the surface of your smoothie bowl can be so much fun. If you have little ones at home, ask for their help in adding all sorts of goodies to the top. Let your imagination run wild!
2 bananas, sliced and frozen
1 cup raspberries, frozen
1-inch cube raw beet 
¼ cup plant milk
your favorite toppings
Blend all ingredients together in a high-speed blender or food processor until smooth.

Dish it up and dress with your favorite toppings. Our favorites include: fresh fruit, granola, chopped nuts, chia seeds, and coconut flakes.
Calories: 281kcal | Carbohydrates: 68g | Protein: 4g | Fat: 2g | Saturated Fat: 0.3g | Polyunsaturated Fat: 1g | Monounsaturated Fat: 1g | Sodium: 85mg | Potassium: 1026mg | Fiber: 14g | Sugar: 34g | Vitamin A: 191IU | Vitamin C: 52mg | Calcium: 117mg | Iron: 1mg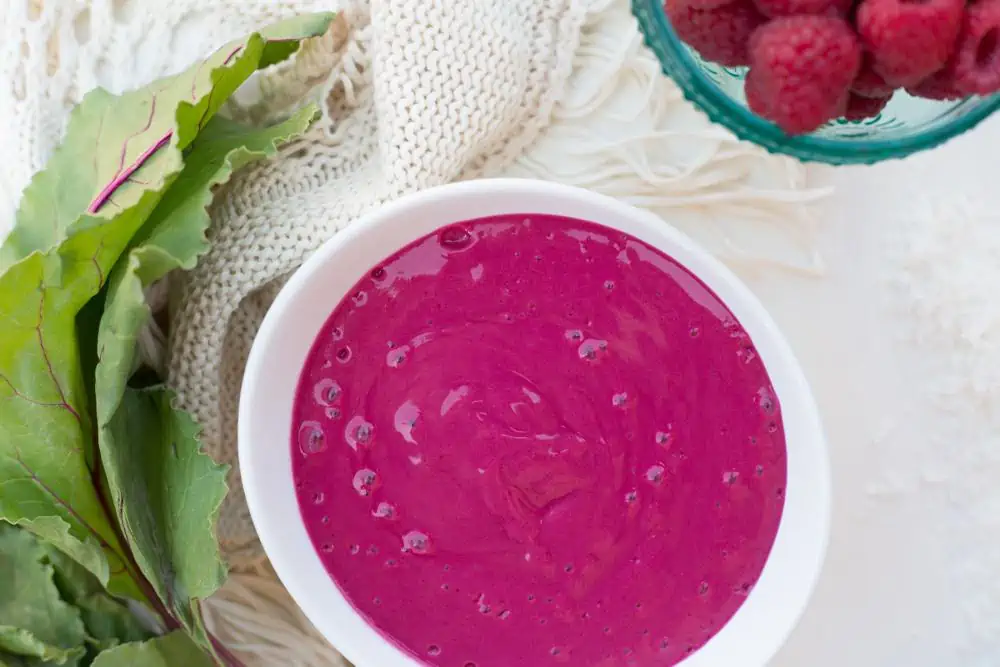 Spotlight Ingredients In This Heart Beet Smoothie Bowl: Special Smoothie Superfoods
Every single spoonful is full of flavor and positively packed with heart-healthy ingredients. With the addition of plant-based milk, the fruit-filled bowl becomes super creamy and also gets a boost of calcium, vitamin D, and at least a little bit of protein (depending on which type you use).
Bananas – Super healthy source of fiber, potassium, vitamin B6, vitamin C, antioxidants, and phytonutrients. These fabulous fruits bring sweetness and creaminess to your smoothie bowl.
Beets – Full of plant-based protein, fiber, folate, and manganese. Even a small chunk of this reddish, earthy root gives this smoothie its fantastic hot pink hue.
Raspberries – Low in calories, high in fiber, and packed with vitamin C. These beautiful little berries give this vegan smoothie bowl terrific texture and bold, vibrant color.
Fruit Freezing Tips
Have you ever found freezing fruit to be frustrating? Until I learned the right way to do this, I had bags full of banana blobs and solid spheres of strawberries haunting my freezer. No worries, though, because I'm here to show you how with a few simple steps.
Wash and dry your fruit first.
Peel, slice, and arrange in single layers on a parchment paper lined baking sheet or on a silicone mat.
Place the baking sheet in the freezer for about 3 hours or overnight.
Either use fruit immediately or store fruit in a freezer-safe container (like a super handy, silicone Stasher bag) in the freezer for up to 2 weeks.
If you're using fruit that's already been frozen, then you don't have to worry at all. But, it's always good to know for another time. Pre-packaged is convenient, easy, and sometimes less expensive when compared to fresh fruit.
I find that buying fresh and organic in season is my first choice, but that's not always possible. Especially with tropical fruit like bananas, mango, and pineapple. Find what works best for you and your family.
How to Serve It Up
Our brilliantly pink smoothie bowl is heavenly on its own, but here are some simple serving suggestions to make it even more mouthwatering, and even eye-catching!
Create Some Color – Add a bit of brightness to this marvelous magenta mix with a contrasting color. White (coconut flakes or banana), black (blackberries), or orange (sliced mango) would really make your smoothie sparkle!
Backup Berries – Switch it up with some wild blueberries, blackberries or strawberries if you're out of raspberries. All berries are high in fiber and antioxidants, so use whichever berry you like best.
Sassy Shapes – Use mini cookie cutters to make fantastic little shapes out of fruit. Fruits that work best with this technique: apples, pears, dragonfruit, melons, mango, and bananas.
Nutrition Boosters – Go for greater health benefits by sprinkling on some hemp seeds, ground flax, chopped nuts, or pumpkin seeds. They'll make your smoothie positively pretty while providing you with a powerhouse of essential fatty acids.
Call in the Crunch – Tinker with the texture by adding candied walnuts, cacao nibs, chocolate chips, or grab a little vegan baked granola for a crisp component.
Treat Yourself to Toppings – If you've chosen this ravishing recipe for a dessert, you could always add richness with our homemade vegan nutella. Add some diced almond joy bars or top with this luscious coconut whipped cream.

Simple Smoothie Storing
It's best to take off any toppings, pour the remaining smoothie into a glass jar, and place the toppings in a separate covered container. Your smoothie bowl leftovers can be saved in the fridge for a day or so.
If you have an insulated water bottle or thermos, that would be even better for keeping your remaining smoothie cool and fresh in the fridge. When you're ready for the smoothie, a good idea is to blend your leftovers with a small handful of frozen fruit to get your smoothie thick and creamy again, especially if the consistency looks a little thin.
More Super Smoothies to Try
We want to thank our amazing recipe testers J.J.Steele and Anna Sparks for helping us perfect this beet smoothie bowl recipe! This easy vegan breakfast recipe was developed by Michelle Cehn and Toni Okamoto from the earliest version of The Friendly Vegan Cookbook. Photos by Michelle Cehn, article by Gina House, editing by Amanda Meth.