UGG boots have taken the fashion world by storm, rising from obscurity to an obligatory inclusion for any reasonable shoe store. Rugged yet graceful, soft as plush slippers, and weather-proof to keep out the cold, aesthetics meet practicality in every pair. Everyone from celebrities to athletes can be seen wearing them proudly around town, proving their versatility and durability at once.
Unfortunately, it isn't everything it seems from the surface when you take ethics into account. Have you considered what goes into making this iconic line of footwear?
If you take a peek at the label, you'll quickly see that UGGs are not compatible with a cruelty-free lifestyle. Luckily, there are several alternative brands that make UGG-style vegan boots that are just as cozy, without the sheepskin or wool.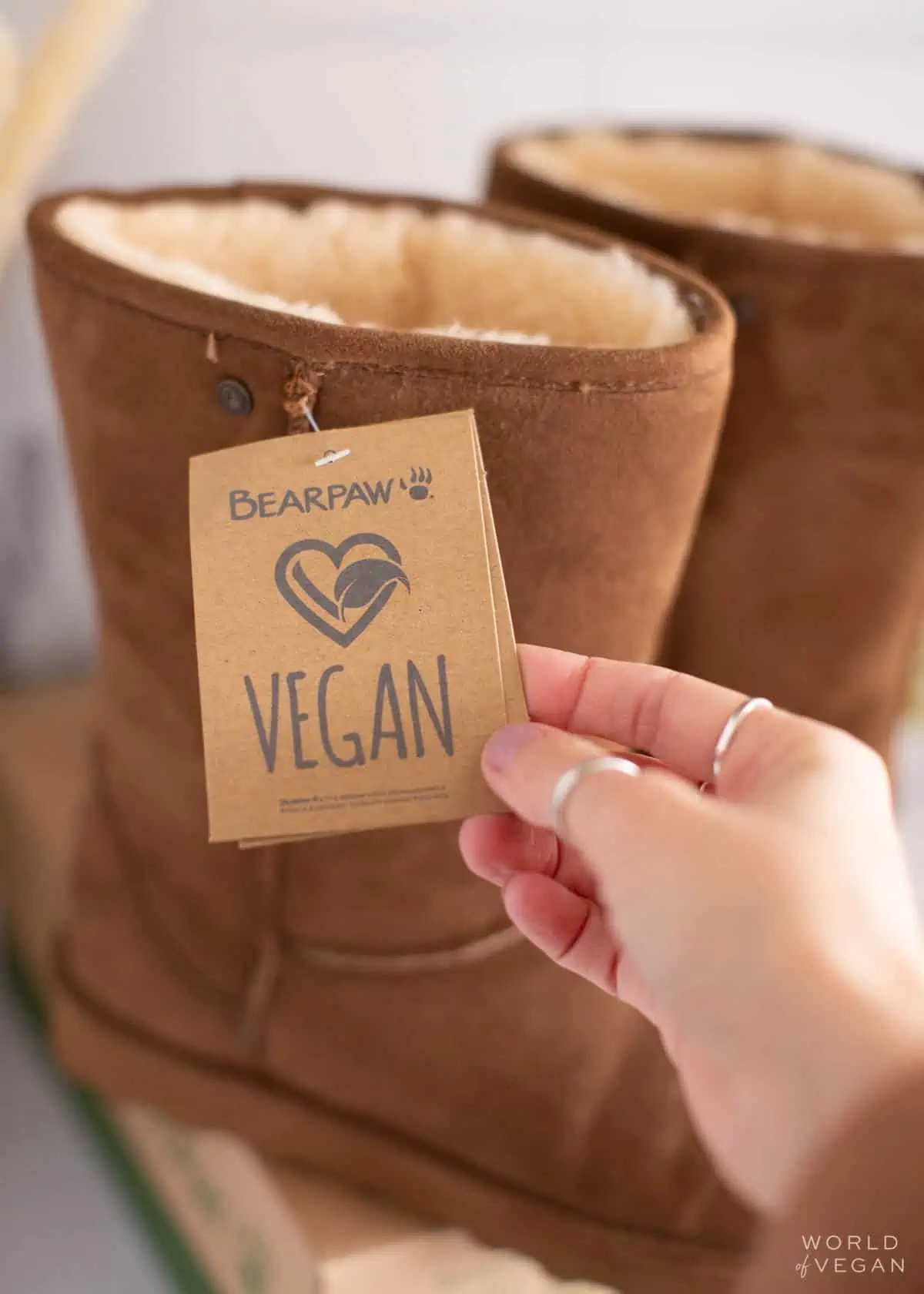 How Did UGGs Become So Popular?
Every movement starts with single step, and the fashion industry is no different. The UGG brand was founded in 1978 and got off to a very slow start. Only 28 pairs were sold in their debut season, but business escalated exponentially in 1994 when they were worn by the U.S. winter Olympic team.
Oprah Winfrey started the craze in earnest in 2003 when she included the boots in her holiday gift guide, "Oprah's Favorite Things." From there, many celebrities began to take notice, purchasing their own pairs and later being photographed wearing the boots around the world. Suddenly, UGGs were everywhere, and everyone wanted their own.
Are UGGs Vegan?
No, classic UGG brand boots are not vegan. Sheepskin is the primary material for each style, with finishes made from leather, fur, suede, and/or wool. All of which, of course, is not aligned with a compassionate vegan lifestyle.
While there is a line of "Responsible Styles" sourcing all recycled materials, including plastic bottles, polyester, and sugar cane, this sustainable approach doesn't extend to their traditional ankle boots. And sadly, the brand hasn't taken steps significant steps to consider animal welfare.
You should be equally wary of UGG home goods, ranging from blankets to bags, lounge wear to socks. Most are made with animal products and derivatives sourced from farms worldwide and treated with several chemical components for preservation.  
What's Wrong With Fake Uggs?
Counterfeit UGGs are even worse than the genuine articles. There's no regulation for the materials or production, which means it's much more likely that there's child or slave labor involved.
Additionally, the sheep may be skinned alive in a horrific practice known as mulesing. No veterinarians need to be present and there's never any anesthetic involved. For those with weak stomachs or tender hearts, I do NOT recommend Googling it.
While the price tags on knock off UGG boots made from leather or suede are cheaper, the ethical cost is staggering.
Vegan Alternatives To UGGs
It's easy to stay fashionable, cozy, and cruelty-free thanks to many recent advancements in technology and manufacturing. Here are the top brands making boots like UGGs with a clear conscience.
While the brand itself isn't entirely vegan (they do sell sheepskin and wool boots), Bearpaw also has clearly marked vegan options. And they are some of the comfortable and most high-quality out there. Bearpaw's vegan boots are made with vegan microsuede and faux fur, and look nearly identical to the originals.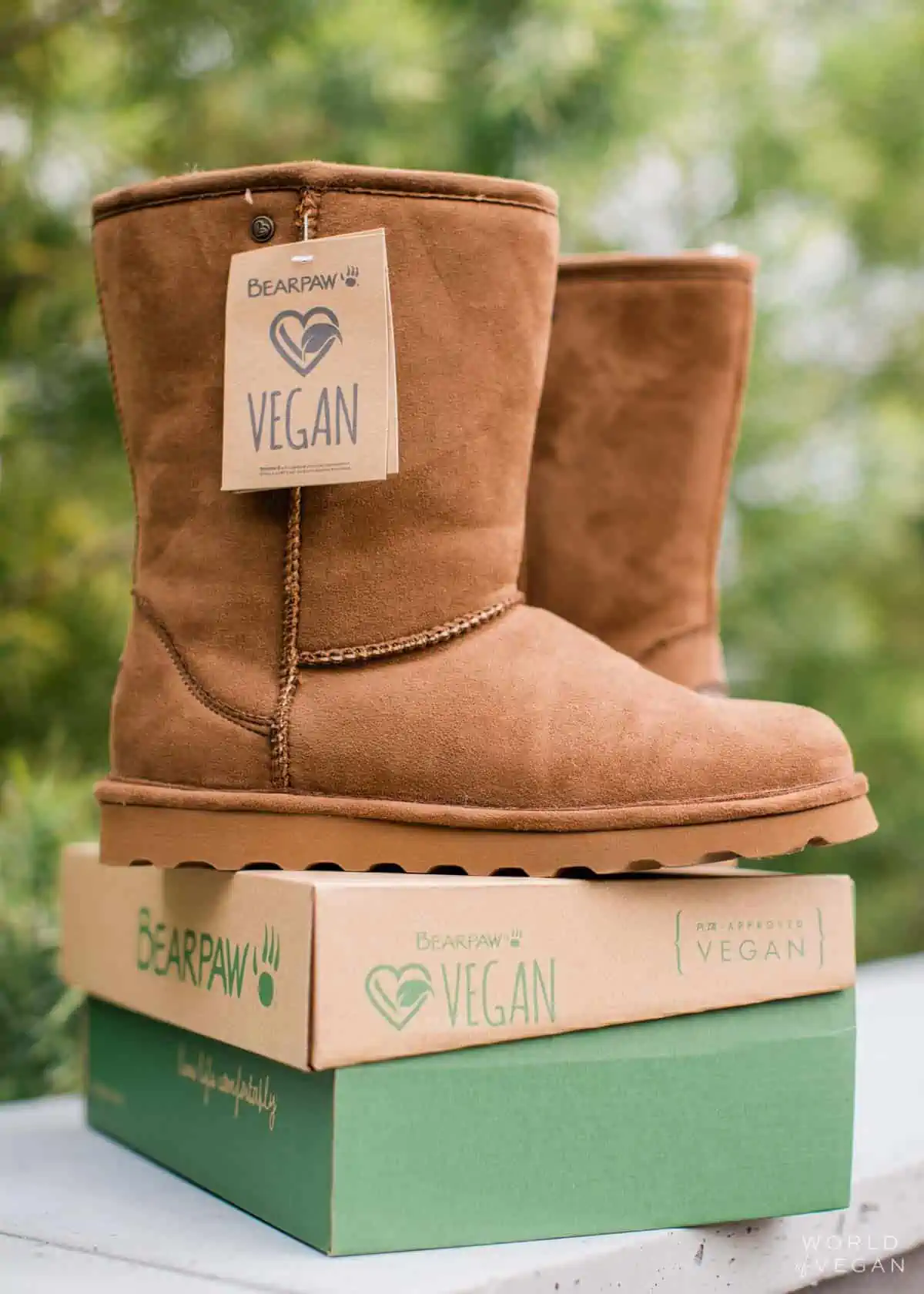 These are easily the most affordable option, ringing in between $55 and $90 each, depending on styles and sales. They offer several vegan styles, including:
Ugg-Style Boots (short, medium, and tall)
Buckled Ugg Boots
Ugg-Like Slippers
Fleece-Lined Chukka Boots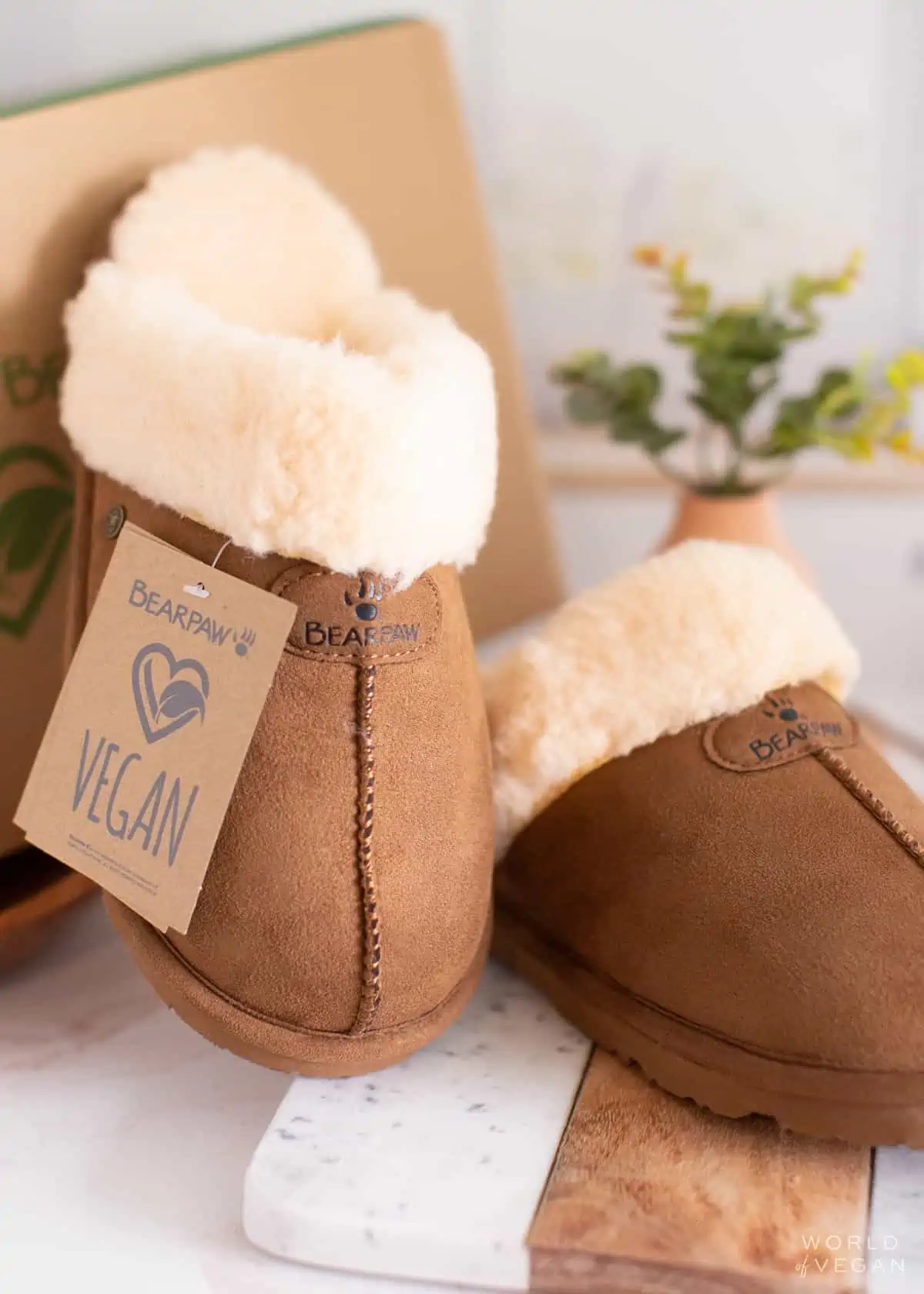 PAWJ (100% Vegan Brand)
Billing themselves as a luxury ethical footwear brand that emphasizes craftsmanship and comfort. Based in California, they offer an extensive line of colors and styles for boots that make UGGs look downright plain.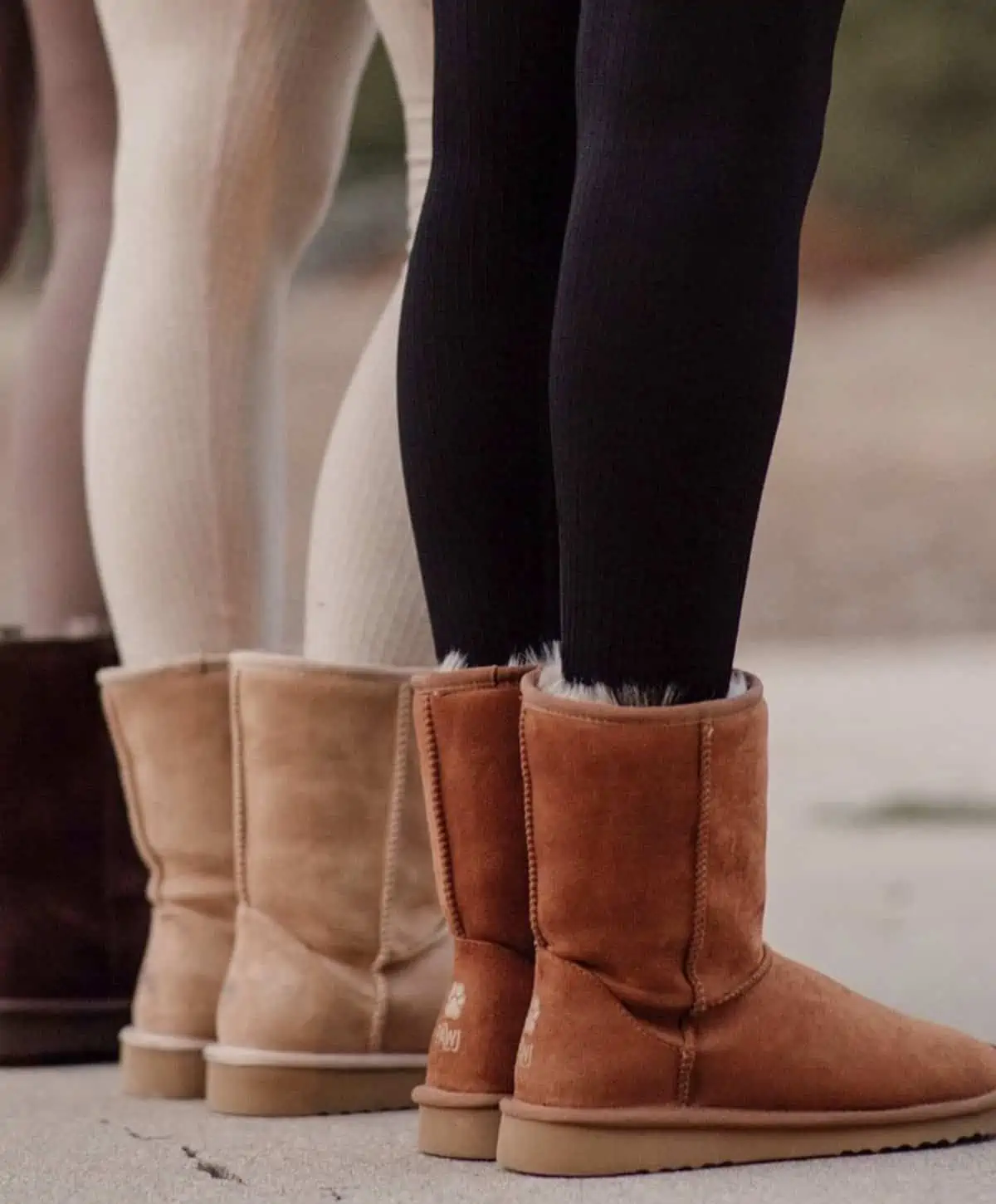 Zette Shoes
Produced by Vegan-Style from Melbourne, Australia, which makes all sorts of sustainable, environmentally conscious, and plant-based accessories.
The "Willow" slipper boot is a dead-ringer for the classic UGG styling, but made with microfiber and faux shearling (another word for lamb skin) instead of sheep. These boots cost $229 AUD.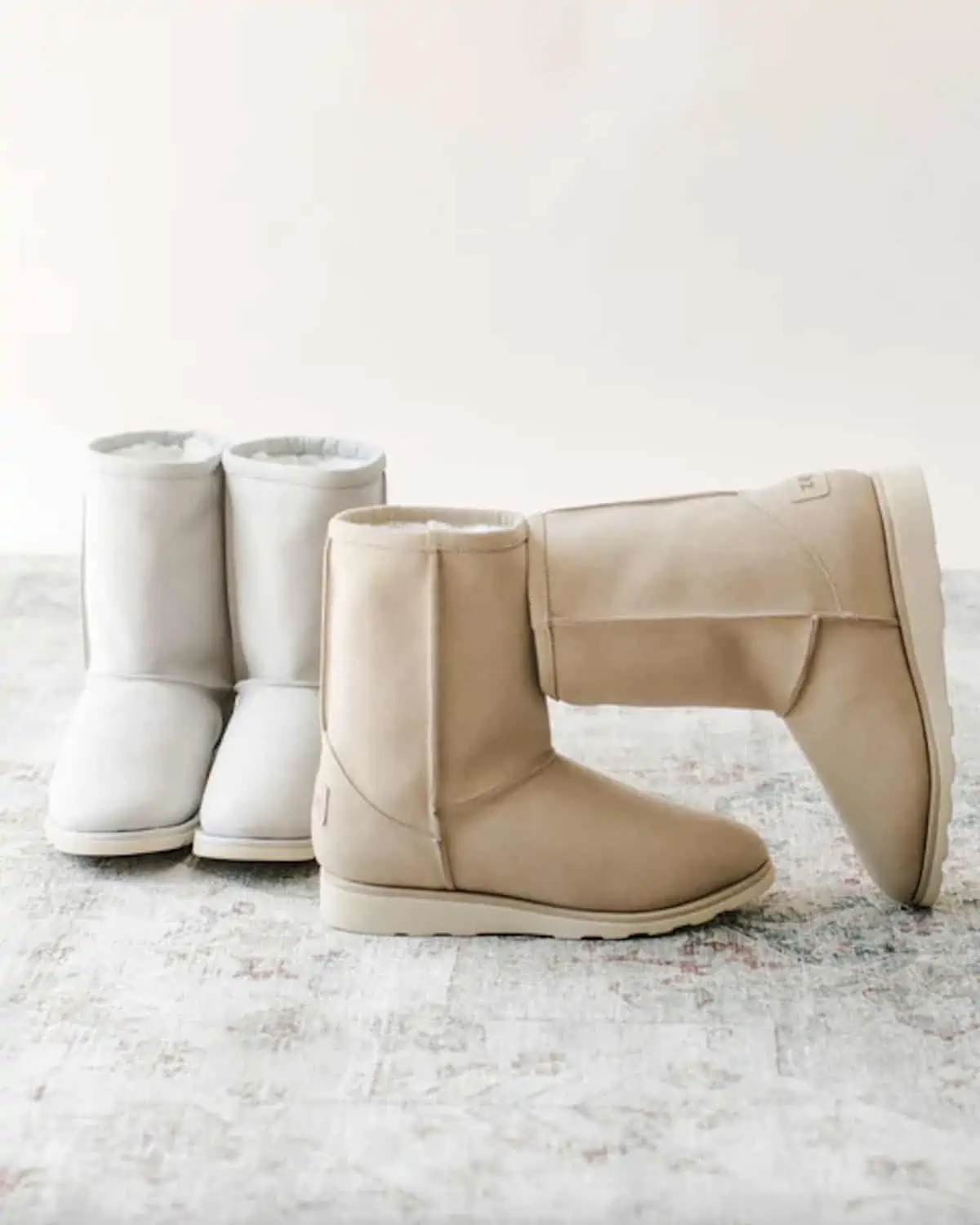 More accurately described as vegan, this UK company has Snugge Boots that can make you forge all about conventional UGGs. True to their name, they have a snug fit and grippy rubber and cork soles, so you won't miss a single step.
Muk Luks makes everything cozy—from socks, to cabin slippers, to ugg-style boots. And many of their boots are vegan! With their help, you can surround feet with soft faux fur, with a vegan suede upper that's water resistant and will keep your toes dry and warm all season long.
Most of their boots run in the $40 – $80 range, and they often have sales.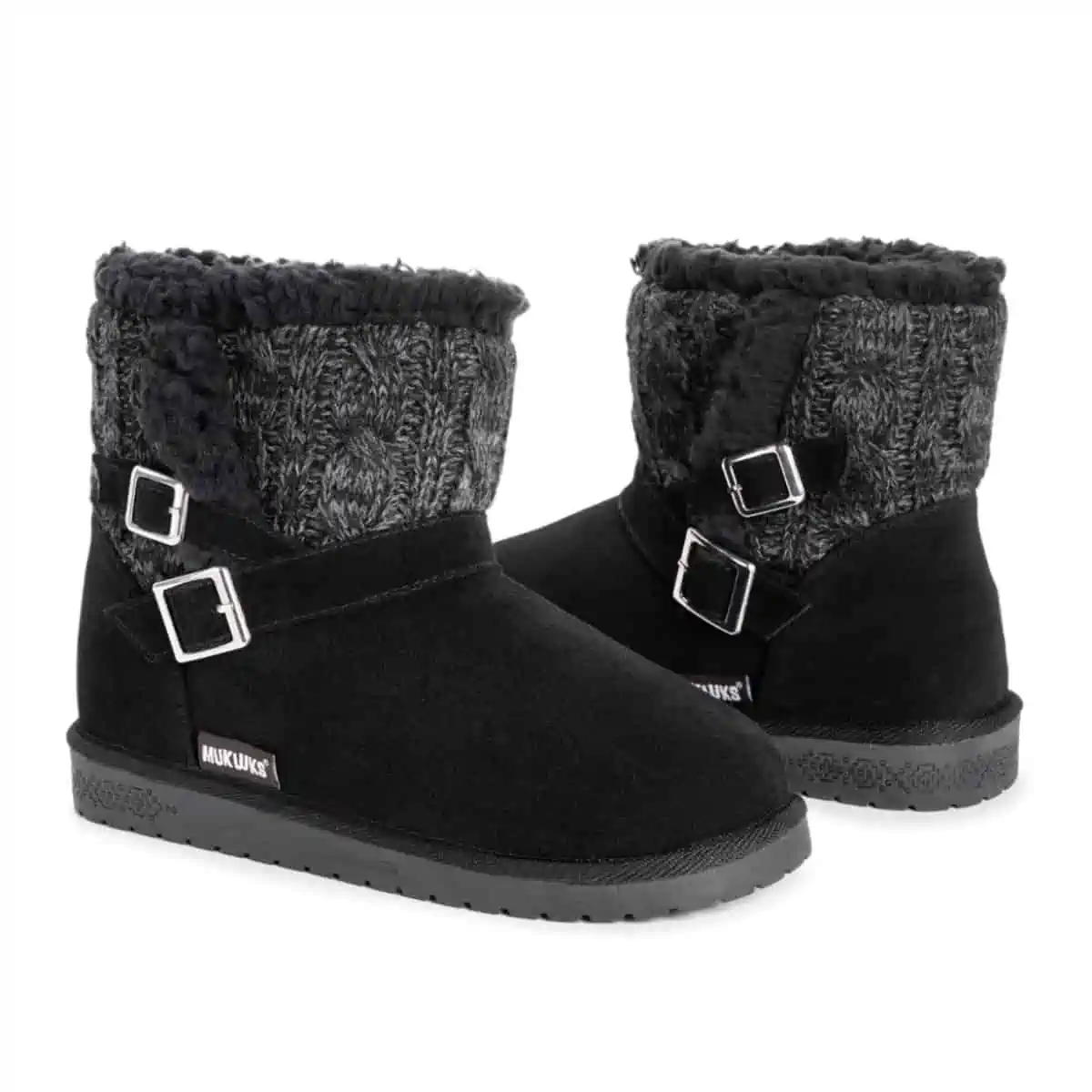 Big Box Stores
Many big box stores like Target, JCPenney's, DSW, and more have their own house brand footwear with similar styling at greatly discounted prices. Always read through the listed materials carefully before purchasing to make sure you're getting something that's both stylish and compassionate.
You can also find dozens of other cozy and faux-fur-lined boots from countless brands.
Frequently Asked Questions
Why Is Sheepskin So Bad?
If you love dogs, you'd love sheep, and you certainly wouldn't want them to wear on your feet. Sheep are smart, sensitive, and rational, capable of learning basic commands and understanding their names. That's better than many temperamental companion animals that struggle with house training, but still deserve just as much love!
What Are The Best Materials For Vegan Shoes?
There's a growing list of great vegan options for high-quality, durable, and stylish vegan shoes on the market. A few you can expect to find include:
 
·        Canvas
·        Microfiber
·        Polyurethane or PU leather
·        Hemp
·        Cotton
·        GORE-TEX
·        PIÑATEX
·        Cork
·        Natural rubber
·        Fleece
·        Faux suede
·        Polyester
·        Recycled plastic
Can Vegan UGG Boots Get Wet?
Most UGG-style vegan alternatives are designed to be weather-resistant, which means they can keep your toes dry and warm through rain and snow. Bear in mind that they're not fully waterproof, however, which means you shouldn't go splashing through deep puddles in them.
How Long Do The Best Vegan UGGs Last?
Everyone has different demands for their shoes so it's tough to predict the overall lifespan for any given material. With proper care, you can expect your boots to last anywhere from 2 to 5 years, on average. To enhance longevity, always keep them in a dry, cool place, and keep them clean by wiping with a damp cloth, rather than submerging them in water.
Where Can I Buy Vegan UGGs?
It might be tough to find vegan alternatives to UGG boots in stores since it's an unfortunately specialized request. Your best bet is to shop online, either directly through manufacturer's websites or through verified resellers. Be careful of no-name brands shipping from overseas; there's little oversight in terms of quality control. It's a gamble as to what you're actually getting most of the time.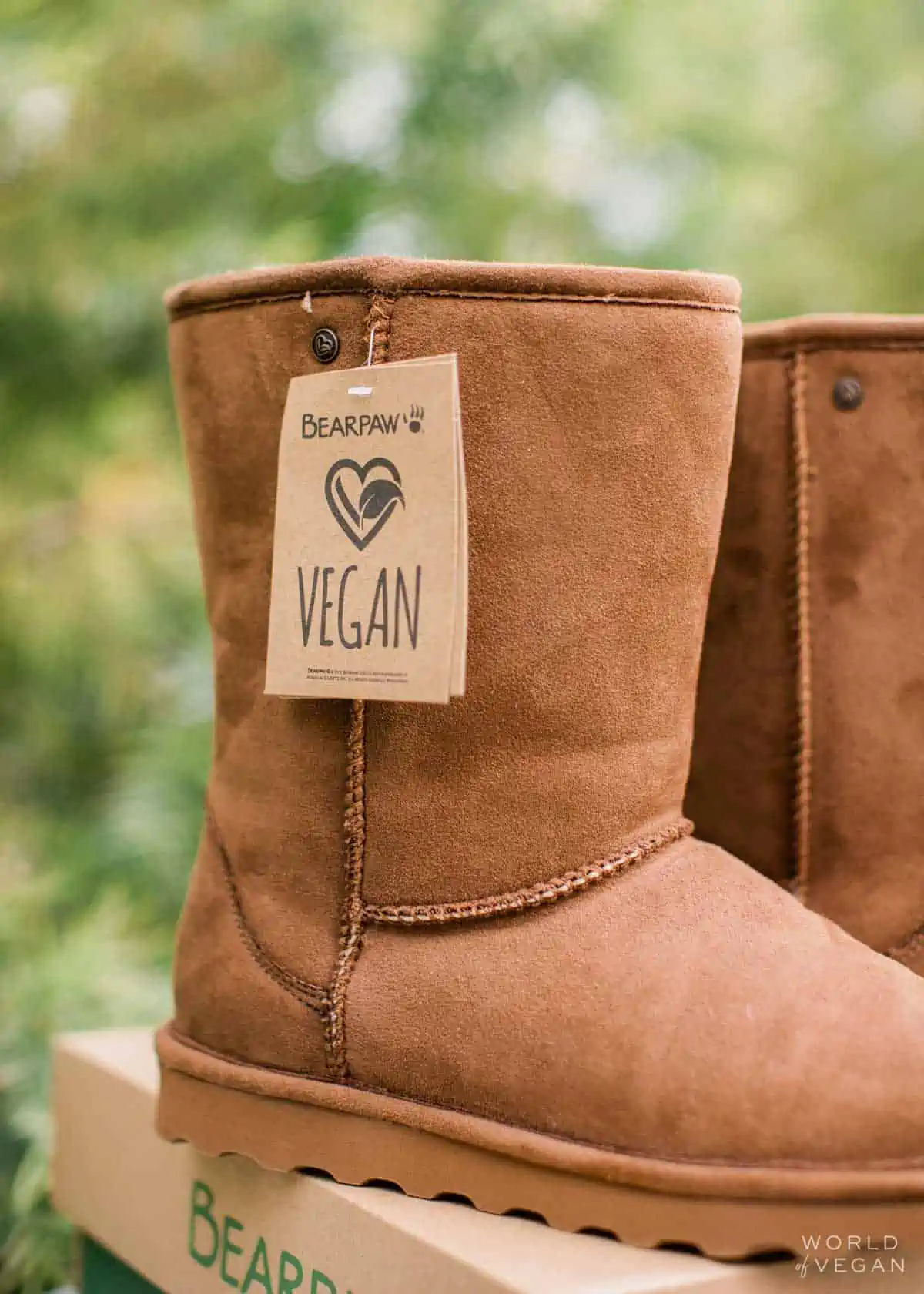 More Vegan Shoes & Cozy Winter Resources