What can you order that's vegan at Olive Garden? In this guide we outline everything on the Olive Garden menu that's vegan, vegetarian, plant-based, and dairy-free. Are the Olive Garden breadsticks vegan? Do they have a vegan soup? Which pastas and sauces are vegan? Read on to see the entire vegan menu!
With more than 900 Olive Garden locations across the US, Canada, Mexico, Italy, Brazil, Ecuador, and the Philippines, Italian food is never too far away. Bottomless breadsticks and mountains of pasta — what's not to love, right? But, is eating vegan at Olive Garden really an option? At first glance, you may be thinking that there are no plant-based alternatives for any meal. Are the pastas prepared with eggs, the breadsticks brushed with butter, and all of the sauces swimming with sausages?
Good news, dear friend! Not only is it possible, but pretty tasty and mostly plant-based, too! Though the pickings are slim and not exactly spectacular, you will certainly find enough to eat.
When ordering, just remember: SPSB—sauce, pasta, salad, breadsticks—and you're good to go! If you choose wisely, your dinner is sure to be both filling and delicious.
Mulling Over Your Main Meal
Lunch can be as simple as a sampling of starters. Choose the soup, salad, and breadsticks combo with no croutons or salad dressing (ask for oil and vinegar on the side) and you're sure to be satisfied until supper.
And dinner doesn't have to be daunting! Pair a vegan pasta with either marinara or tomato sauce and then bulk it up with breadsticks and a big bowl of salad (pass on the croutons and house dressing). Remember to ask for refills if you're ravenous!
Kiddies also have an option for ordering vegan at Olive Garden, which includes their choice of pasta, sauce, side, and a drink. Skip on the side and double up on the pasta if your child is particularly hungry. If you're lucky to have a veggie-lover, bring on the broccoli!
Helpful Hints When Ordering Vegan at Olive Garden:
Browse Olive Garden's website before ordering. Check out this information for identifying vegan or vegetarian options.
Download the Olive Garden Nutrition Guide for Vegetarians & Vegans to double-check that you're ordering a vegan-friendly item. The products offered at Olive Garden may change and the PDFs seem to be updated regularly. You might also find their Nutritional Information Guide helpful, too.
If ordering vegan at Olive Garden online through a delivery service, make sure you clearly specify any substitutions you would like, especially concerning eggs or cheese. If you're worried that your request may be overlooked, it wouldn't hurt to call or go there directly to order.
Vegan Options at Olive Garden
Vegan Starters:
Breadsticks (yes, they are vegan!)
House Salad (no croutons or dressing, add oil & vinegar)
Minestrone Soup
Plant-Based Kids Meal:
Pasta With Tomato Sauce – Fettuccine, shells, or spaghetti with a side (steamed broccoli, fries, grapes, or extra pasta) and a drink. Substitute tomato for marinara sauce, if you wish.
Vegan Pasta at Olive Garden:
(note: the gluten-free Rotini contains eggs)
Angel Hair
Fettuccine
Rigatoni
Small Shells
Spaghetti
Dairy-Free Sauces:
Marinara
Tomato
Olive Oil
Vinegar
Beverages:
Fountain Drinks
Lemonades
Flavored Iced Teas
Brewed Tea/Iced Tea
Coffee
NOTE: Olive Garden also offers an assortment of alcoholic beverages, but the options differ from one location to the next and also from state to state. Please double-check your options on Barnivore.com and in our vegan beer, wine, and liquor guide.
Vegan Sides:
Have you found any other options to be veganizable? Did you find something amazing that we missed? Let us know by tagging #worldofvegan and sharing your favorite vegan-at-Olive-Garden creations with all of us!
For People Who Love Pasta and Bask in Breadsticks
Did you also know that the breadsticks are vegan at Olive Garden? Yes! Did you also know that Olive Garden bakes around 700 million breadsticks per year? Even though that's a crazy amount, it basically boils down to only three breadsticks per person. Nowadays, they'll only bring extra if you ask (thank you, I will)!
If you're a primo pasta lover, you could also take advantage of their Never Ending Pasta Pass. You can eat as much pasta as you wish over an eight week period for only $100. Olive Garden offers this pass only once per year and it seems to sell out in less than a second—seriously! With only 24,000 passes available, you'll need to have super speedy fingers (their new Lifetime Pasta Pass is $500 with only 50 spots for people to grab).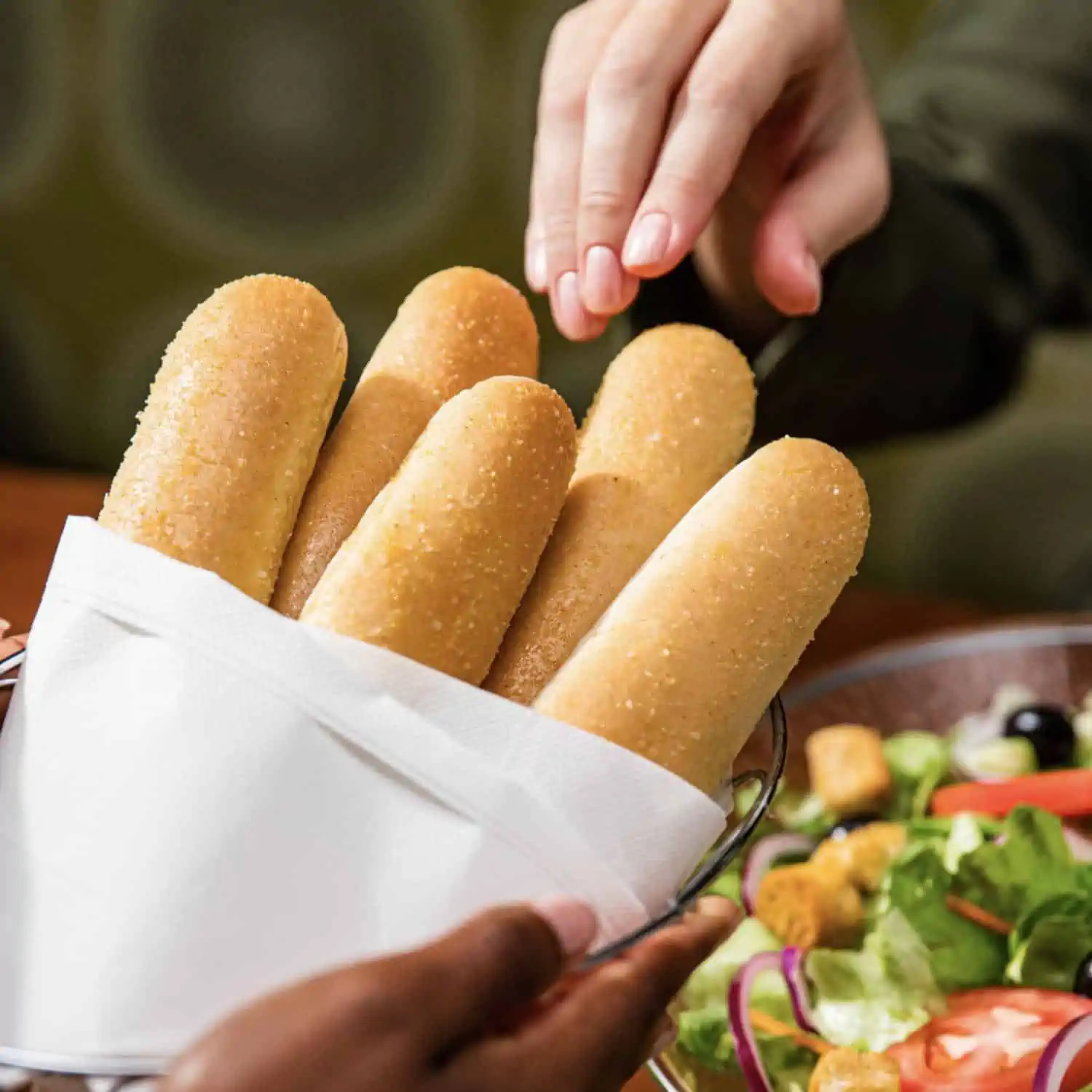 Savvy Vegan Suggestions (Bring Your Own!)
Pack on the Protein
Be bold and bring your own beans, vegan meatballs, or plant-based protein with you. Cook a portion beforehand and bag it up to have with your pasta meal—our Quinoa Meatball recipe would be perfect!
Come Ready With Your Own Vegan Dressing
If you don't vibe with olive oil and vinegar, bring your own dressing (like our creamy dill dressing, vegan french dressing, or Asian-Inspired Dressing) to dribble on your salad. Sadly, the house dressing is not vegan at Olive Garden.
Check-in With Vegan Cheese
Choose your favorite plant-based cheese to carry into the restaurant. Our Guide to Vegan Cheese is a huge help if you can't decide.
BYO Vegan Dessert
Unfortunately, none of the desserts at Olive Garden are vegan, aside from the raspberry sauce. If everyone else is planning on diving into dessert, definitely sneak in a snack for yourself. Try our No-Bake Caramel Squares and Super-Easy Chocolate Chip Cookies—they're small, so delicious, and easy to stash in your pocket!
How to Order Vegan at Other Restaurant Chains
This article is not sponsored and we are in no way affiliated with Olive Garden. At the time of this article, the foods mentioned above are vegan. Since restaurants constantly update their menus and add or take away items, please keep this in mind when ordering your food. There may be new items that are vegan and not listed or items listed here as vegan, which are no longer vegan. Take care to double-check.
Article written by Gina House and edited by Amanda Meth. Cover image from Canva.com designed by Michelle Cehn. Please note that this guide to ordering vegan at Olive Garden may contain affiliate links, and shopping through these links supports our work at World of Vegan.