Attention all veggie lovers and meatball enthusiasts! Who says meatballs have to be made with, well, meat? Enter the world of vegan meatballs, where plant-based ingredients come together to create mouthwatering balls of deliciousness.
Whether you're looking for a healthier alternative to classic Italian meatballs or simply love the taste of a savory sphere, vegan meatballs are the perfect way to indulge your cravings without sacrificing your dietary values. In this article, we'll take a deep dive into the exciting world of plant-based meatball brands, from homemade recipes to store-bought options that are sure to impress.
Get ready to break out meatless meatballs that are so good, even your carnivorous friends won't be able to resist!
Vegetarian Meatball Ingredients
Vegan meatballs are a motley crew of high-protein ingredients that are part of the plant world! These ingredients are then mashed, mixed, and melded into a mighty mixture that's shaped into balls and cooked to perfection. Whether you prefer your balls baked, fried, or simmered in sauce, these little plant-based powerhouses are sure to satisfy even the most discerning of palates.
Here are the most common bases of veggie meatballs:
Popular Vegan Meatball Brands
Meatballs, minus the meat? You bet! With these popular vegan meatball brands, you can satisfy your cravings for a classic comfort food without sacrificing your plant-based lifestyle. From savory to spicy, sweet to tangy, these hard-to-beat meatball brands offer a range of delicious flavors that will have you saying 'meat who?
Beyond Meat meatballs are made using a blend of pea protein, brown rice protein, and other natural ingredients to create a meaty texture and flavor. Unlike traditional meatballs, Beyond Meat vegan meatballs are cholesterol-free, lower in saturated fat, and provide a good source of protein.
Aldi's Earth Grown plant-based meatballs are a delicious alternative to classic meatballs, made from a blend of soy protein and natural ingredients. They're also gluten-free and contain no cholesterol or trans fats.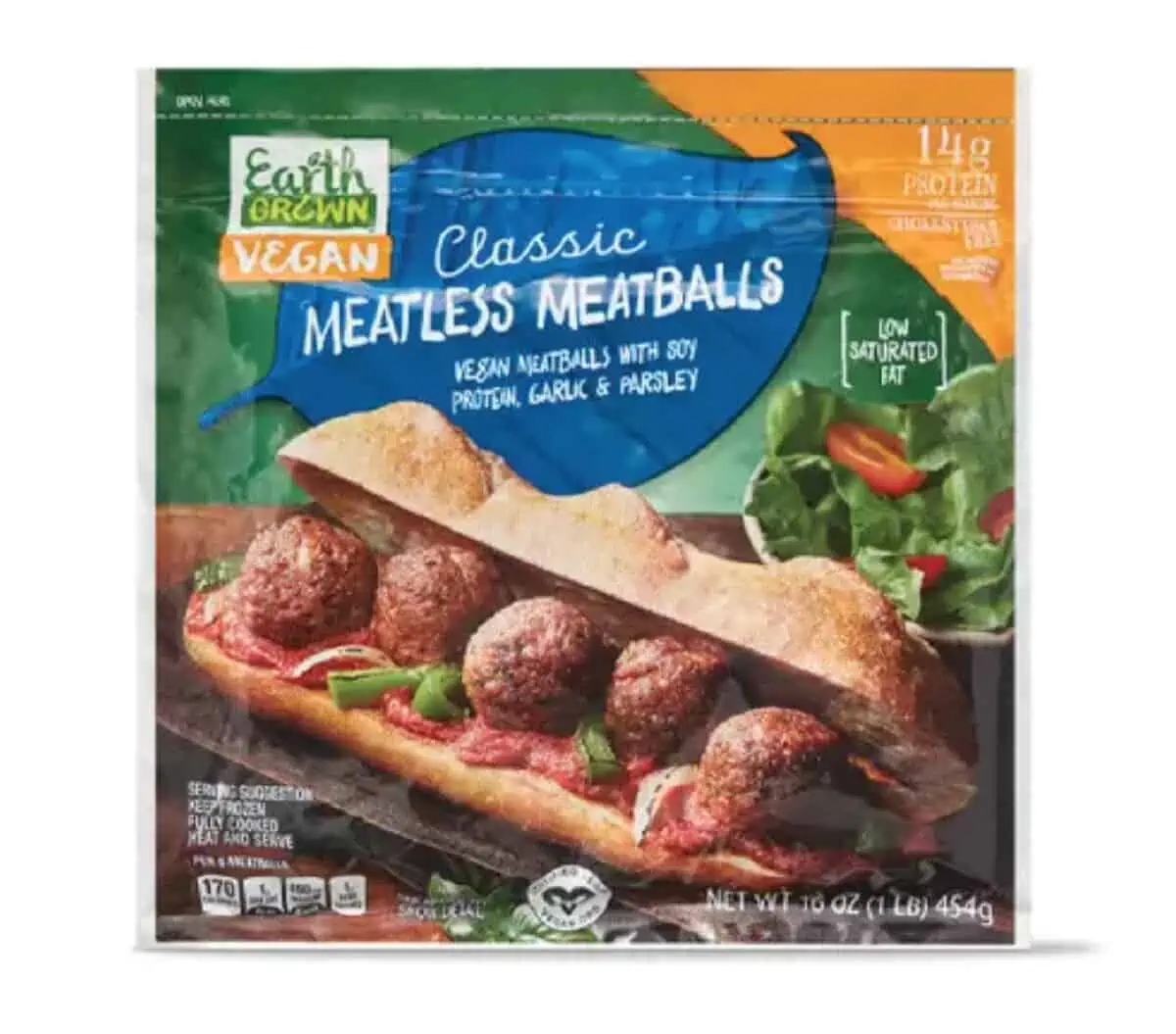 Made from a blend of soy and wheat protein, these Gardein meatballs are cholesterol-free and provide a good source of protein. With a savory, meaty flavor and a tender texture, this brand's vegan meatballs are a great choice for those looking to reduce their meat intake without sacrificing taste or texture.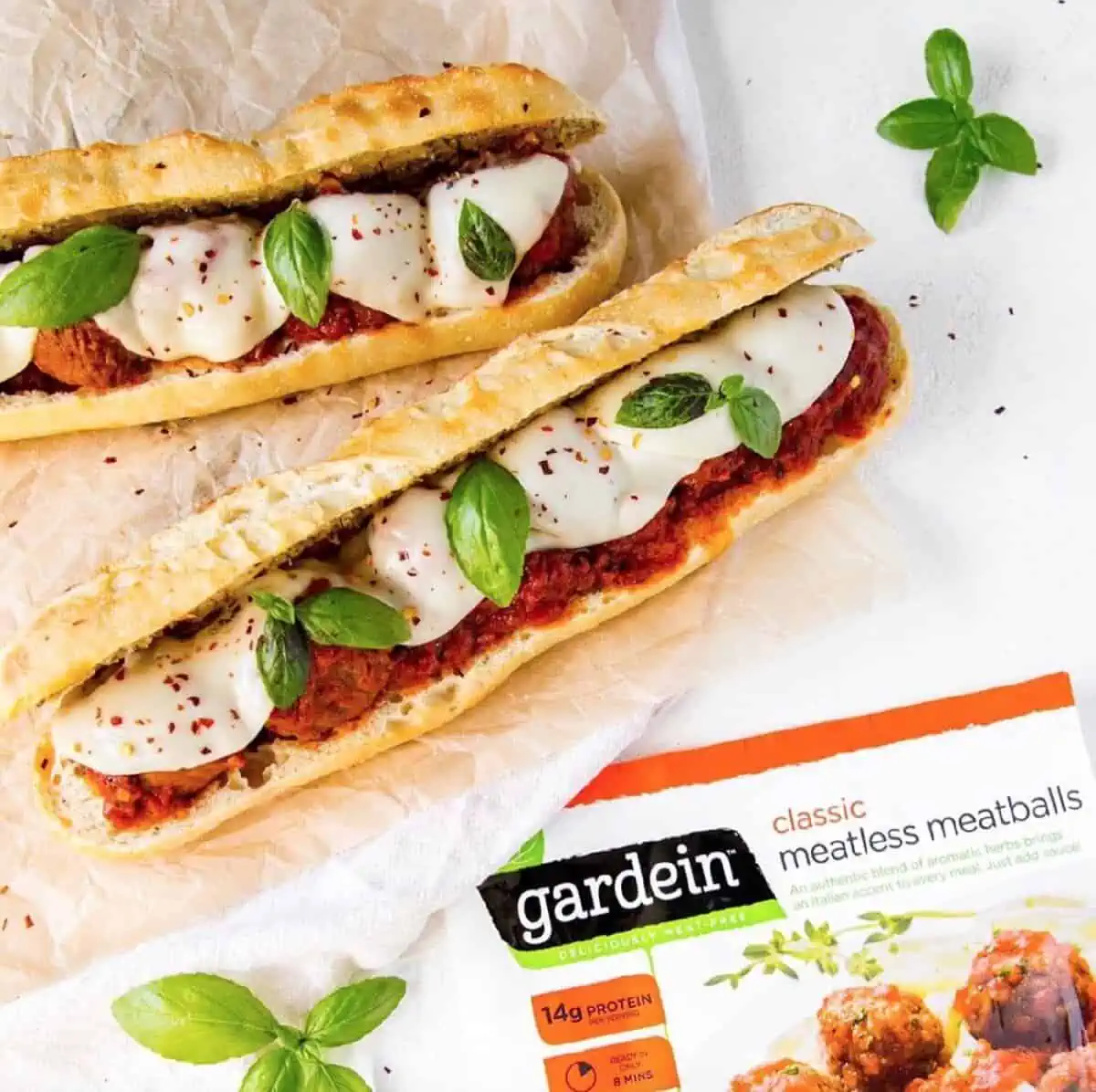 Impossible brand vegan meatballs are an innovative alternative to traditional meatballs, made entirely from plants. The key ingredient is heme, a molecule found in plants that gives meat its signature flavor and aroma. These juicy and meaty-textured meatballs are free from cholesterol, antibiotics, and hormones.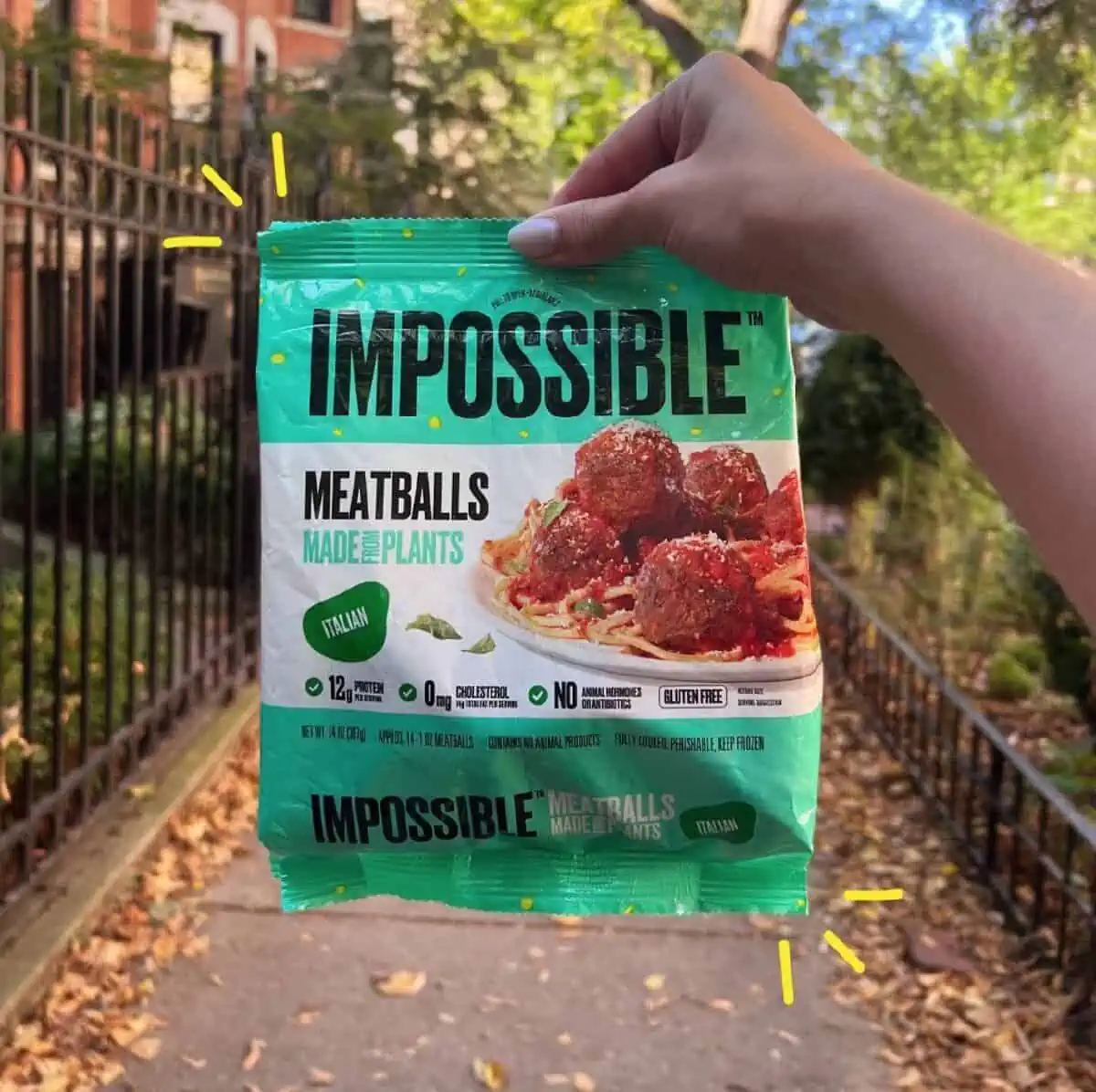 These unique veggie meatballs are a delicious and unique alternative to most store-bought brands, made from jackfruit. Jack & Annie's meatballs are free from cholesterol, trans fats, and artificial preservatives. With a hearty texture and savory seasoning, they are a great choice for adding to spaghetti or subs.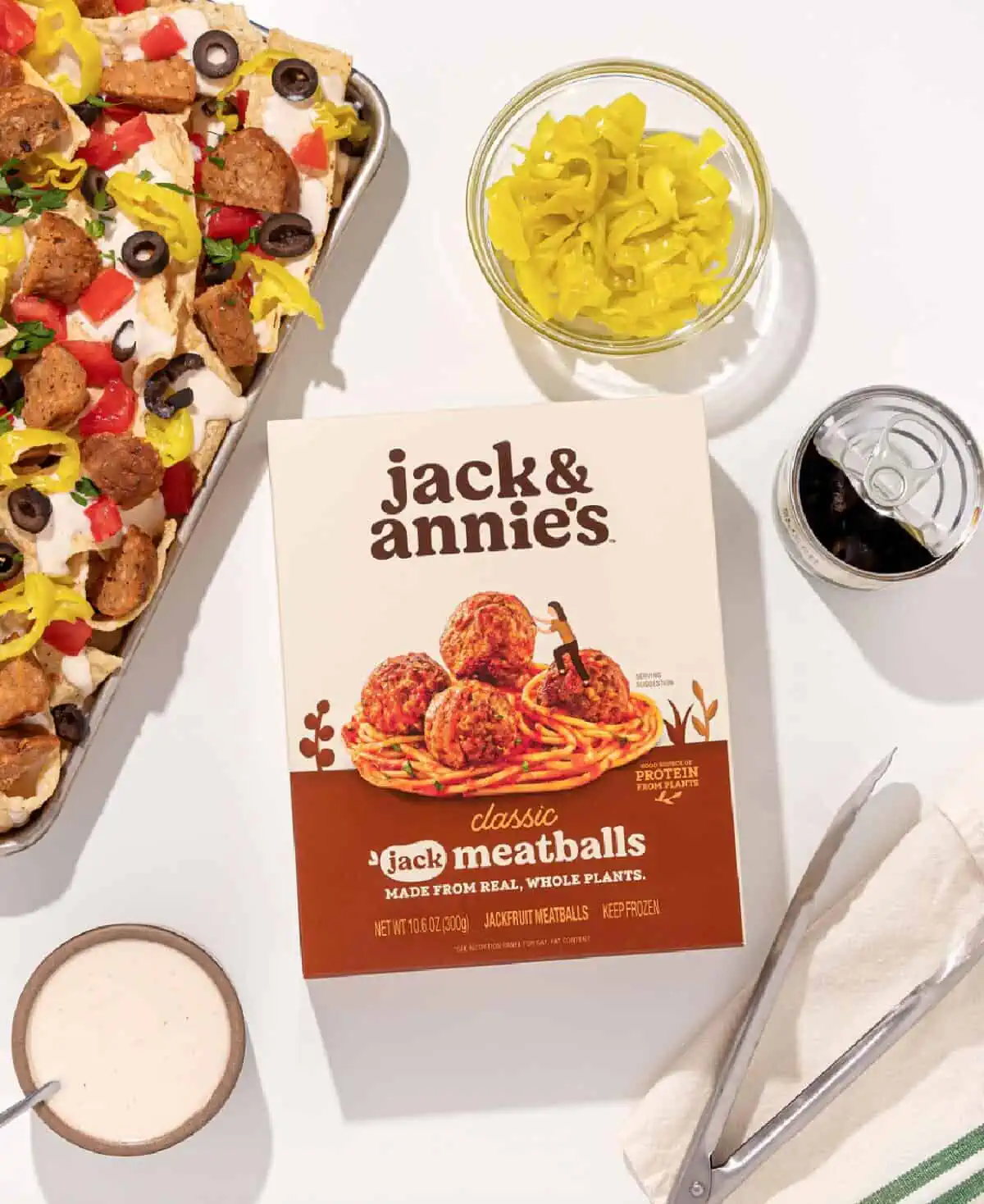 These Sicilian-style plant-based meatballs are a delectable and tasty option made with a blend of non-GMO soy protein, tapioca, and beet powder. This product is cholesterol-free, contains no saturated fat or artificial flavors.
Morningstar's popular veggie meatballs contain a blend of soy protein, wheat gluten, and natural flavors. These vegan meatballs are a good source of protein and fiber and contain 75% less fat than regular meatballs. With a savory taste and a satisfying texture, they're a versatile addition to pasta dishes or sandwiches.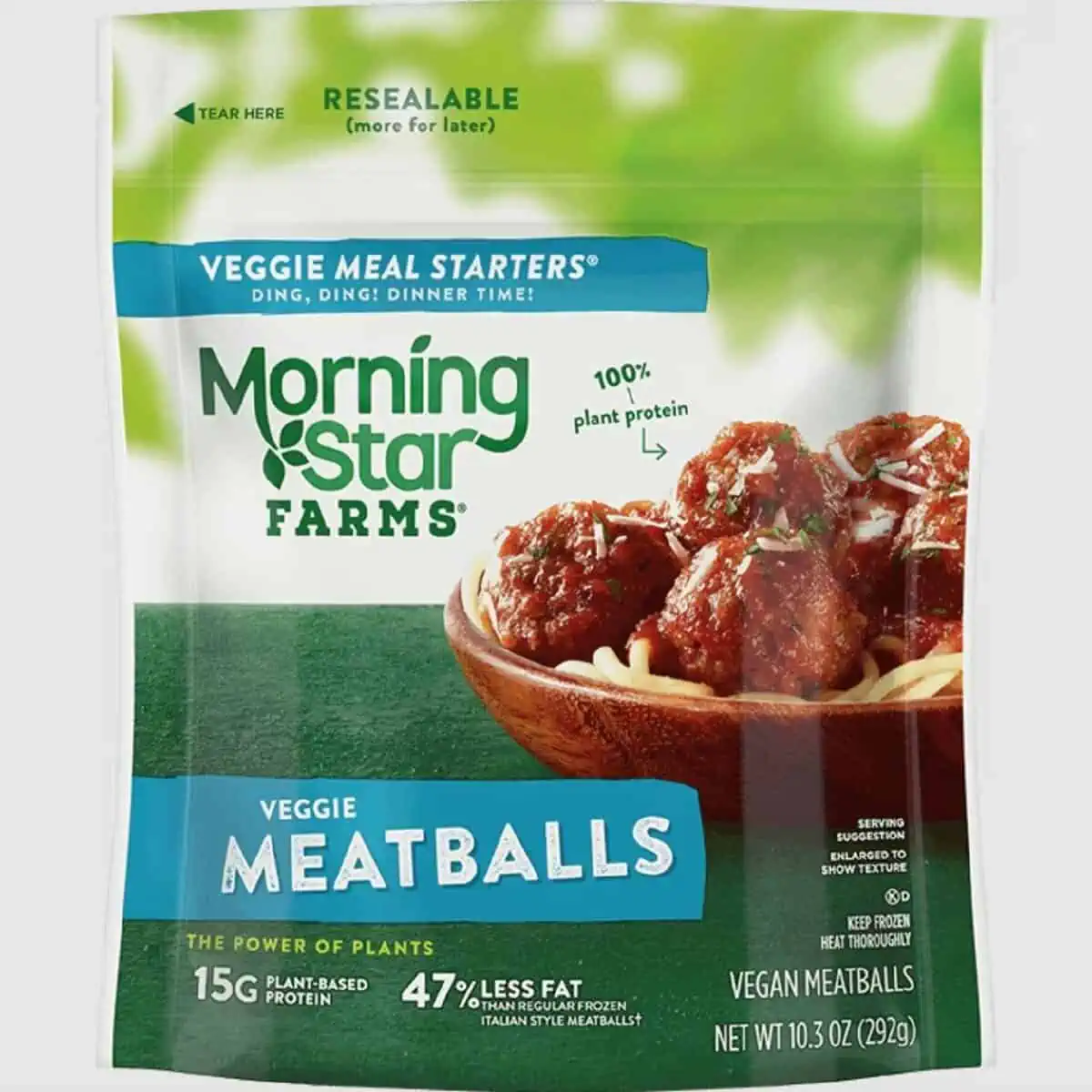 Honorable Mention: Trader Joe's Meatless Meatballs
If you're lucky enough to find these in the frozen section of Trader Joe's, grab them! They're a bit softer than the Gardein brand of vegan meatballs, but just as good. You get a decent amount for the price, too.
Homemade Vegan Meatballs
This luscious list provides the perfect way to get your protein fix while indulging in all kinds of tasty flavors. Whether you prefer them smothered in sauce, perched atop a pile of pasta, or served solo as a snack, vegan meatballs are versatile and oh-so-delicious.
These veggie meatballs are irresistible! In a base of mushrooms, veggies, spices, and beans, you can expect a hearty and satisfying meatball. Lastly, they're also quick, easy, and super tasty.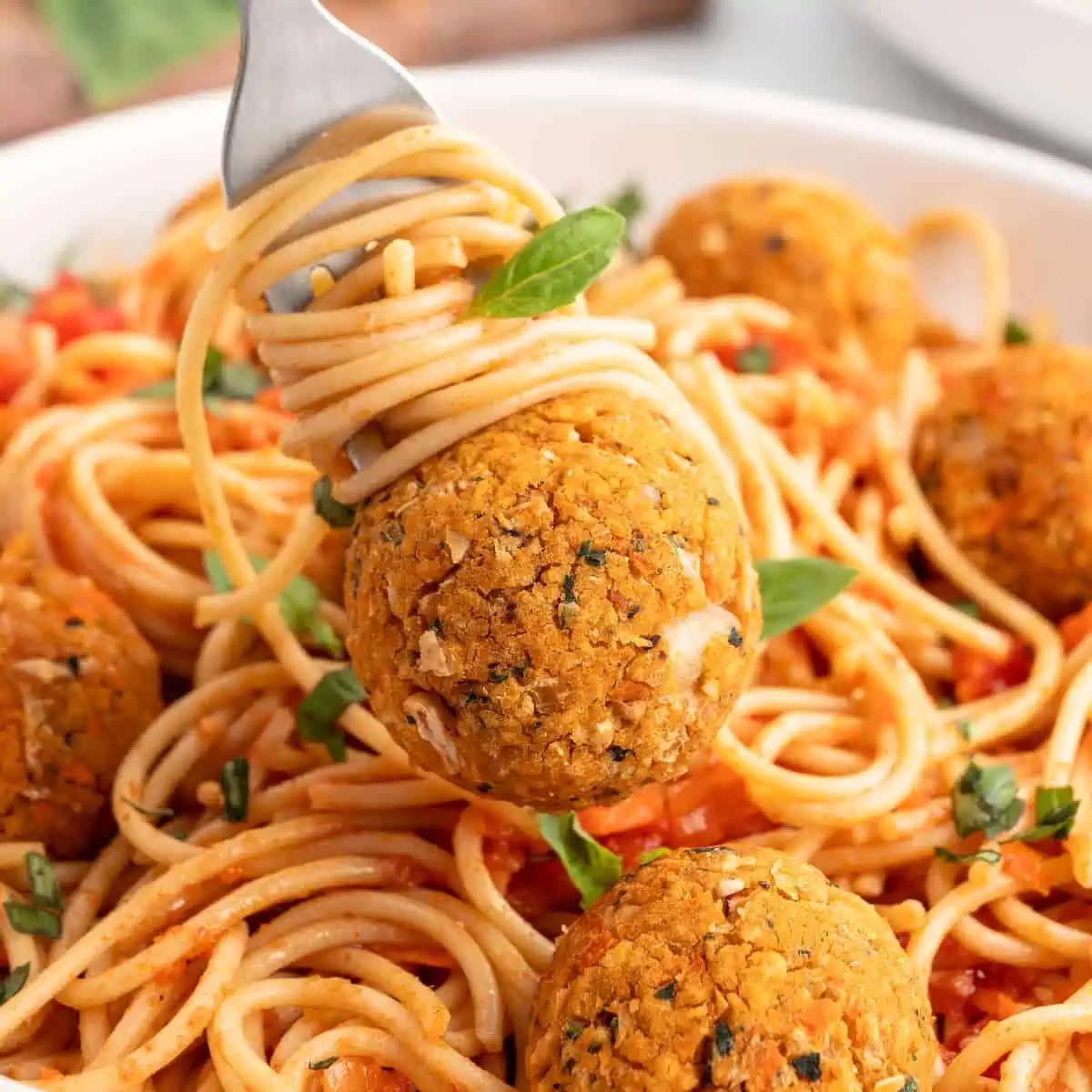 Made with a blend of cooked quinoa, flavorful herbs, and breadcrumbs, these meatballs are high in protein, gluten-free, and bursting with flavor. Whether you're a vegetarian, vegan, or simply looking to switch up your meatball game, quinoa meatballs are a hearty and satisfying option that won't disappoint.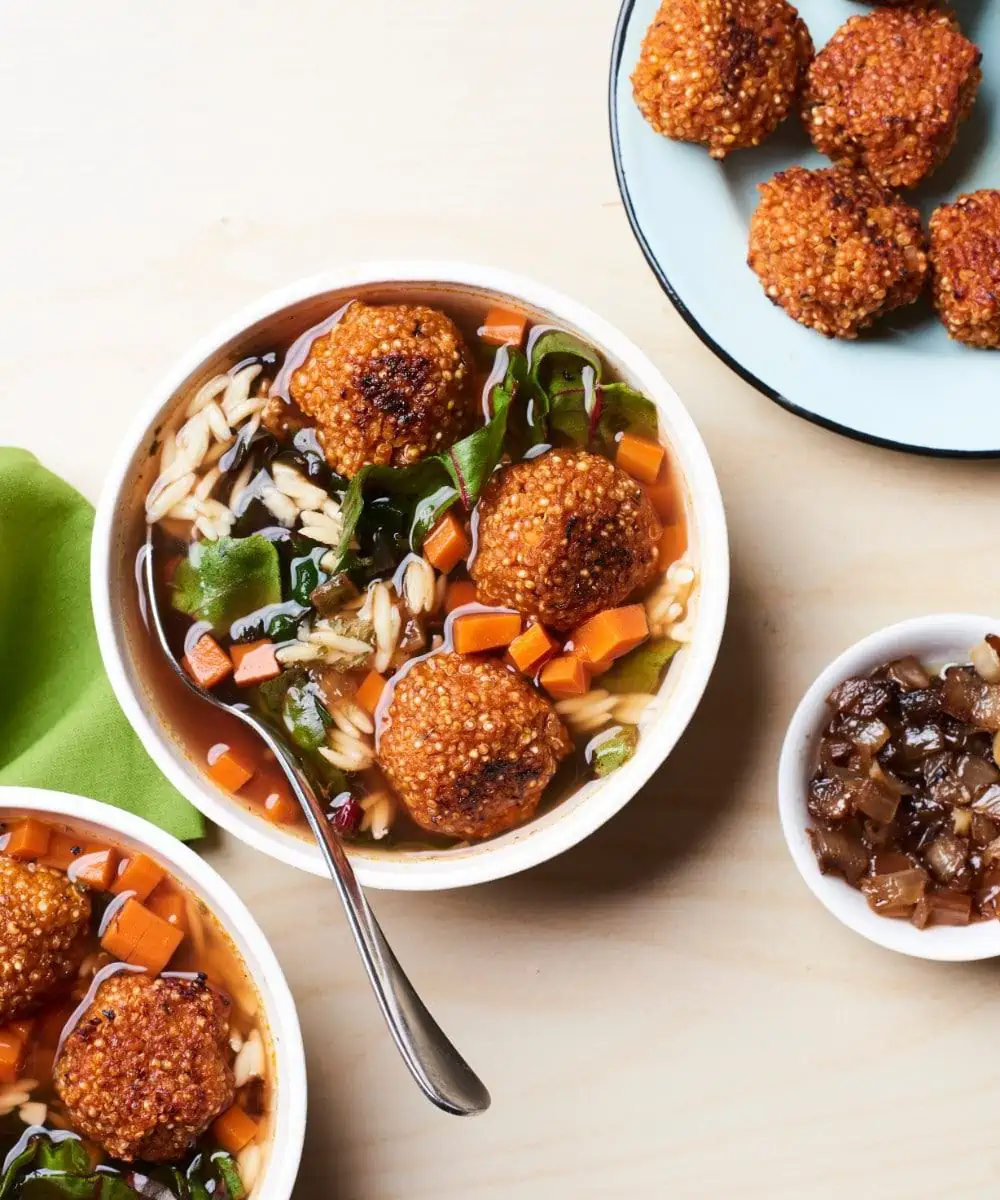 Our sweet & sour vegan kabob skewers are the best! The tangy sauce is easy to make and incredibly flavorful. It will make you think of sweet, delicately spiced, and fruity flavors. They can be grilled on a barbecue or baked in the oven all year round!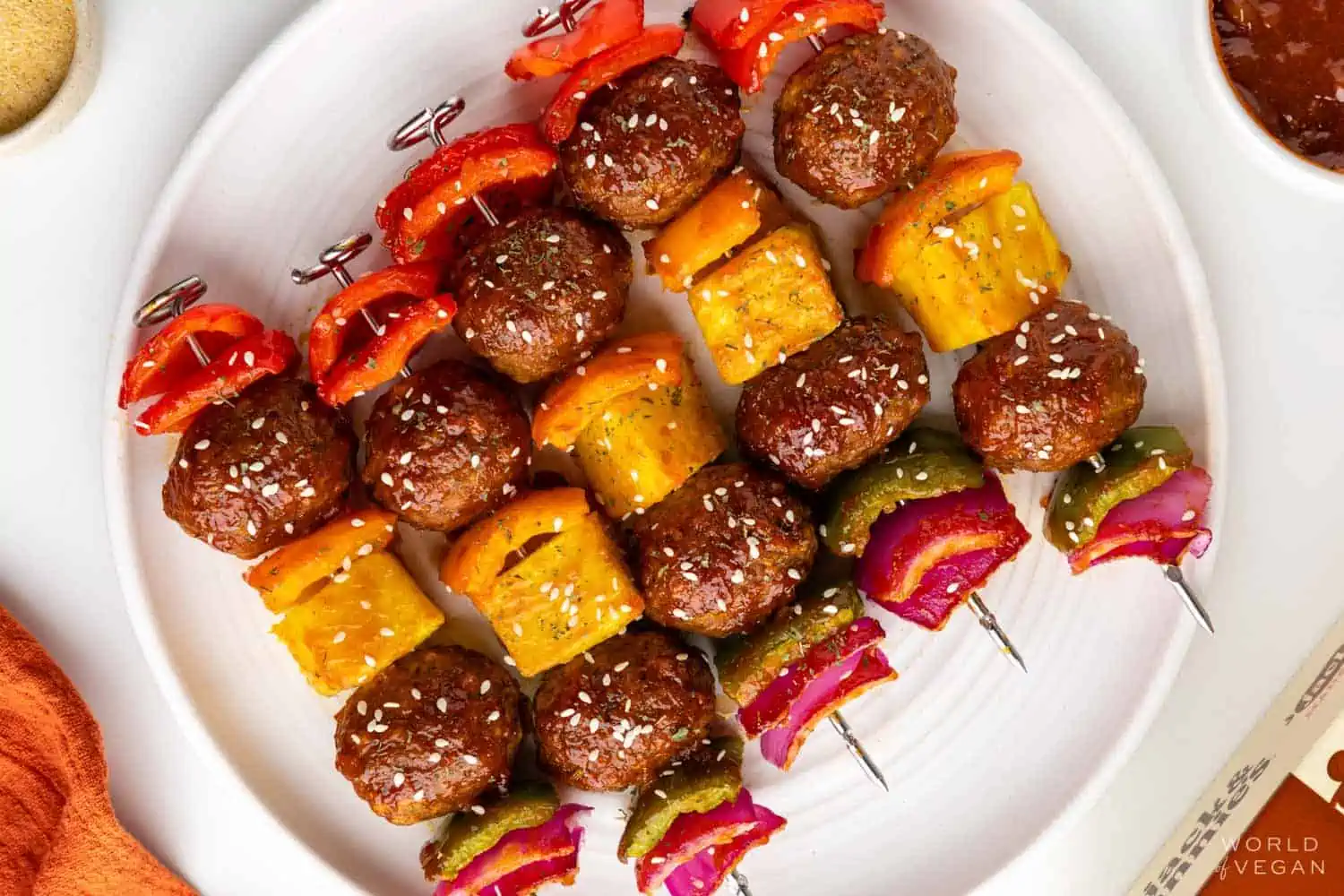 These superb vegan meatball subs are easy to make and will meet any meat-lover's cravings for a satisfying, savory sandwich. Simply choose your favorite plant-based meatballs, add a thick, rich sauce and your meal is made!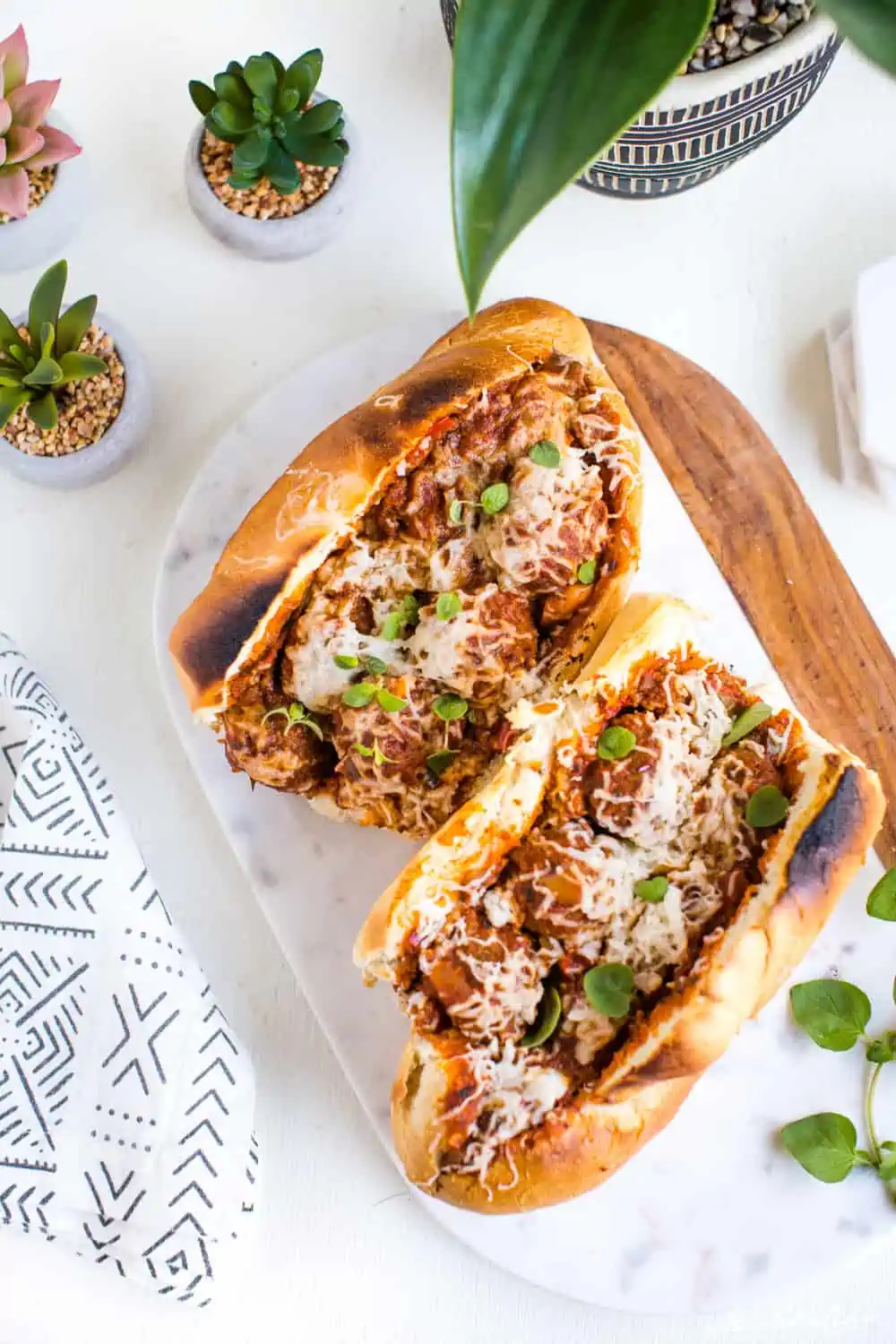 With just a box of pasta, a jar of sauce, a package of vegan meatballs, you'll soon have a perfectly cooked meatball dinner to serve your entire family. If you've been intimidated by the Instant Pot in the past, this recipe will quickly change your mind. Cozy and classic!
These mummy meatballs are the most fa-boo-lous, budget-friendly Halloween snack that comes together in a snap. All you need are your family's favorite vegan meatballs and a tube of Pillsbury crescent rolls. In no time, your mouth will be happily munching on these meatless mummies.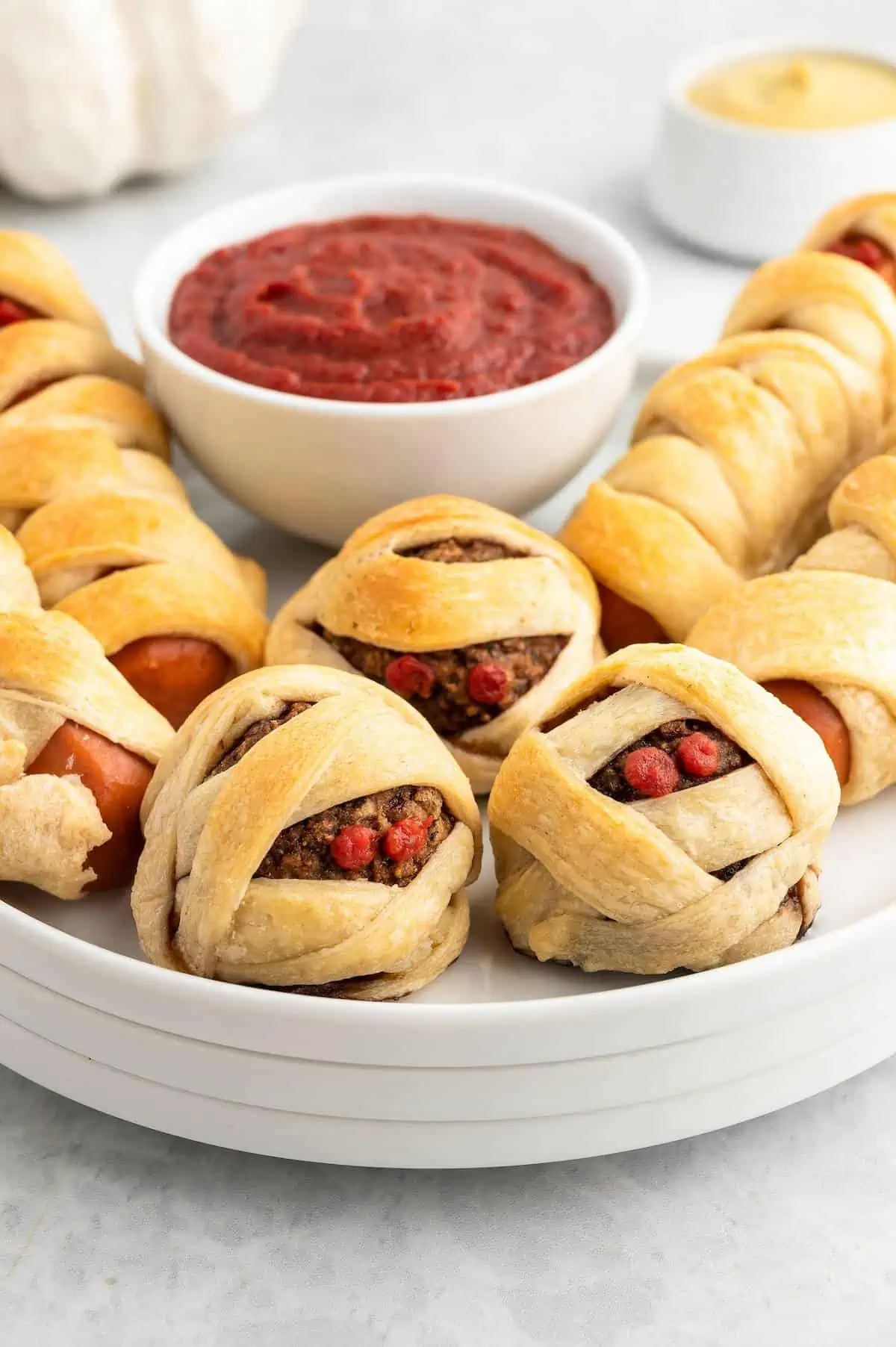 More Meaty Vegan Recipes to Fuel Your Day
So, friends, whether you're a seasoned vegan or a curious carnivore, there are plenty of options out there when it comes to vegan meatballs. From lentil and mushroom-based recipes to plant-based meatball brands that taste shockingly similar to the real deal, there's never been a better time to ditch the meat and try something new. Next time you're craving a hearty bowl of spaghetti and meatballs, don't be afraid to give the vegan version a try. Who knows, you might just end up falling in love with these plant-powered balls of goodness and becoming a "meatball-iever" yourself!