Did you know you can cook spaghetti squash in an air fryer? Oh yes, and this perfect air fryer spaghetti squash recipe will show just how simple it can be. In fact, you can make all kinds of air fryer squash, and it's faster and easier than cooking in the oven! Ready for the best spaghetti squash recipe of your life? Read on!
What is spaghetti squash? This yellow-orange gourd, when baked, has an interior that shreds just like traditional spaghetti. Don't believe it? Give our recipe for air fryer spaghetti squash a try! It's not only simple and easy, but incredibly tasty and fun to eat.
Once you cut this winter vine vegetable, cooking spaghetti squash in the air fryer is a breeze. Preheat your machine, add the seasoned squash halves, and cook for 20 minutes. Scrape out the scrumptious strands and cover with your favorite sauce or seasonings. It's that simple!
Select your squash and let's get our veggie spaghetti sizzling!
Why You Need To Make This Spaghetti Squash Air Fryer Recipe
If you've never given this silly squash a try, now is the time! Not only is it an amazing alternative to wheat-based pastas, it's also ranks right up there in nutrition and plant-based superpowers.
Easy to make and very satisfying
High fiber
Low calorie
Low carb
Gluten-free
Dairy-free
Sugar-free
Nut-free
Plus, it's tons of fun to scrape out the strands!
Star Ingredient – The Secretive Squash
Don't judge this simple squash by its unassuming appearance. Although it may look like an oversized yellow zucchini, it's got secret treasures hidden within. More specifically, succulent spaghetti strands! What else is this golden gourd hiding inside?
Nutrient dense
Low in calories, but high in fiber
Great source of vitamin C, manganese, and vitamin B6
Rich in antioxidants
Can be baked, roasted, fried, or microwaved
How To Serve Up Your Air Fryer Spaghetti
We're not sure why spaghetti is so fun to eat, but it really is. It's also very versatile when it comes to adding sauces, spices, and other scintillating, savory suggestions. While this recipe for cooking spaghetti squash is pretty basic, there are endless possibilities for creating a delicious dish. Here are our favorites:
Fresh-From-The-Garden Gourmet – If you don't already have tomatoes, garlic, onion, oregano, basil, and spaghetti squash growing in your garden, plan ahead for next year. You can make an entire plant-powered pasta meal right from your very own backyard. Cook up a batch of homemade Italian sauce and serve on top of steaming spaghetti squash noodles. Top with fresh basil, vegan parmesan cheese, and a slice of warm homemade bread for the most satisfying plate of pasta.
Switch Up The Spices – Season the squash before air frying with extra spices and flavors such as: basil, oregano, and garlic (with Italian pasta sauce); crushed red pepper, ginger, and garlic (with sesame oil or peanut sauce for an Asian flair); dill, lemon pepper, and onion powder (along with a hummus sauce or vegan tzatziki sauce for a Mediterranean twist); or curry powder, turmeric, and cumin (along with a creamy and spicy coconut sauce for an Indian-inspired meal).
A Brilliant Bowl – One of the best things about this gorgeous gourd is that it can serve as its very own bowl. After scraping out the spaghetti strands, leave them in each half, add more seasonings (if desired), and spoon over your favorite sauce. After you're done eating, you can just place the leftover shells into the compost.
Are Spaghetti Squash Seeds Good To Eat?
Surprisingly, yes! We all know that pumpkin seeds are super tasty, but it may not have occurred to us that most (if not all) gourd seeds are good. And, the best part is, you don't have to do anything different when preparing the spaghetti squash seeds. Just follow our roasted pumpkin seed recipe!
Scoop out the seeds, rinse them, boil with salted water, season, and bake. That's all. While you're waiting for your suppertime squash to cook, maybe you'd have time to whip up a batch of roasted seeds for a scrumptious snack later on. Yum!
How To Cut a Spaghetti Squash
Usually, the simplest way to cut a spaghetti squash in half is to use a serrated (or very sharp) knife and slice from top to bottom, down the center. It helps to cut a small piece off of the top and bottom so that the squash can lay flat on the cutting board. You can use your weight to press down on the knife as well. Sometimes, the pressure of the knife can help to crack the rest of the squash open once you get halfway through.
If cutting the squash is just too difficult for you, here's a trick that will soften it up enough to cut more easily:
Use a paring knife to score the line all the way around the squash where you'd like to make a future cut.
Place in the microwave for 3-4 minutes.
Let cool or wait until the squash is easier to handle before cutting into the scored line.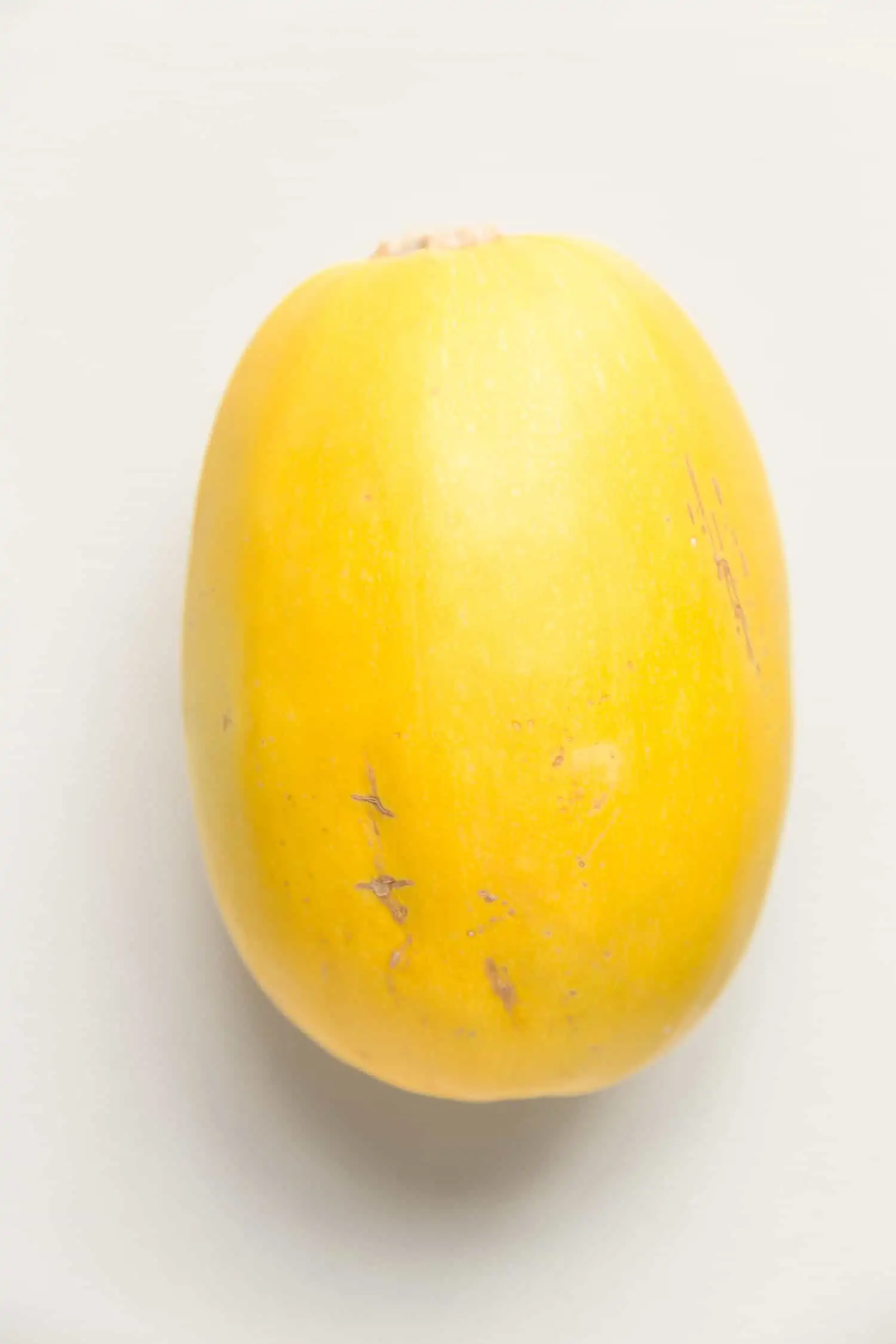 Equipment You'll Need
If you could break open a spaghetti squash with your bare hands, you would only need an air fryer to make this recipe. But, because we're not all superheros, we might want to use a knife and cutting board. Just in case.
Sharp Knife
Cutting Board
Serving Bowl or Plate
Fork (for scraping out spaghetti strands)
Air Fryer
Storing Leftover Squash
Let your remaining cooked spaghetti squash come to room temperature. Place in a sealed or covered container lined with a thin absorbent towel or paper towel. Add your squash and store in the fridge for up to a week. See the next section for freezer directions.
Also, check out our newest squash recipe, Vegan Stuffed Acorn Squash with Wild Rice Pilaf. If you love squash, it's a must try!
More Easy Vegan Air Fryer Recipes to Try
And don't miss our round-up of the best vegan air fryer recipes from all across the web! If you're not sure what to make in your air fryer, don't fret. Vegan food bloggers have your back.
1 whole spaghetti squash, 2-3 pounds
½ teaspoon salt
½ teaspoon ground black pepper
Spray Oil, I used avocado, but olive oil would also work.
Preheat the air fryer at 400 degrees for 5 minutes. Note: some air fryers don't require preheating, in which case skip this step. 

While the air fryer is heating up, rinse the outside of your squash and dry well. Cut the top and bottom off the spaghetti squash and carefully slice in half lengthwise.

Scoop out the seeds and either compost them or save them for later to make roasted squash seeds for a snack.

Spritz each inside half with a little bit of spray oil (optional) and sprinkle on the salt and black pepper.

When the air fryer is ready, arrange the two halves (outside skin side down) in the bottom of your air fryer basket.

Cook the spaghetti squash at 400 degrees for 15 – 25 minutes or until desired texture and temperature. Check and 15 minutes and add more time as needed in 5 minute increments from there. 

Let the squash sit in the air fryer until it's a comfortable temperature to handle. Using a fork, scoop out the spaghetti-like strands and place onto a plate or into a bowl for adding your sauce of choice. Best eaten right away. Enjoy!
Cooking Time – Because some air fryers are different, it might take you a little more or less time for your squash to be done. Check on the squash at around the 15 minute mark to see how it's doing. When the tops is slightly golden and crispy, it's probably done.
Calories: 3kcal | Carbohydrates: 1g | Protein: 0.1g | Fat: 0.04g | Saturated Fat: 0.01g | Polyunsaturated Fat: 0.01g | Monounsaturated Fat: 0.01g | Sodium: 1163mg | Potassium: 15mg | Fiber: 0.3g | Sugar: 0.04g | Vitamin A: 7IU | Vitamin C: 0.02mg | Calcium: 5mg | Iron: 0.1mg
If you try this vegan air fryer spaghetti squash recipe, let us know what you think by leaving a comment and rating below! Be sure to follow along on Pinterest, Instagram and Facebook for even more vegan recipe inspiration.
Frequently Asked Questions About Spaghetti Squash
Can dogs eat spaghetti squash?
Go and grab your best furry friend because dogs can eat spaghetti squash. And, it's actually good for them! It's a very good source of vitamin A, vitamin C, potassium, and fiber. So, go ahead and share your dinner. Though, you may want to leave off the sauce.
Can you freeze spaghetti squash?
Yes, you can. It's a little tricky and the squash might end up being a bit more wet once it's thawed, but it is possible. Make sure that your leftover squash is at room temperature before storing. Then, you can wrap it snugly in a plastic freezer-safe bag. Be careful to let all out all of the excess air and moisture from the bag before freezing. It should last for around 6-8 months in the freezer.
Is spaghetti squash low carb?
It certainly is! Approximately 75% less carbs. Traditional wheat-based pastas have around 40 grams per cup (gluten-free versions have about 44), while this vegetable pasta has only 10 grams of carbs per cup.
This article about cooking spaghetti squash in an air fryer was written by Gina House. Spaghetti squash air fryer photography by JJ Steele. Edited by Michelle Cehn. Please note that this article may contain affiliate links which supports our work at World of Vegan.