Welcome to a brave new world of flavors, textures, and culinary innovation — the universe of vegan shrimp. As our global community becomes increasingly conscious of our planet's health, the welfare of its inhabitants, and the sustainability of our diets, many are seeking alternatives to traditional seafood.
Crafted from a symphony of ingredients ranging from rice to tofu to the lesser-known konjac root, plant-based shrimp are tailored to recreate the taste and texture of their marine counterpart. Whether you're a seasoned vegan, a curious omnivore, or someone with an insatiable appetite for culinary exploration, this guide promises to help you navigate the sea of options.
Do you ever yearn for the day where you devour a huge tray of vegan shrimp with cocktail sauce, sitting poolside without a care in the world? Yes, you say? Great! While we can't guarantee that you'll get to enjoy these delicious vegetarian shrimp recipes by a pool on a sunny day, we can help make at least one part of that scenario a reality.
But first, why are so many people turning toward plant-based shrimp options?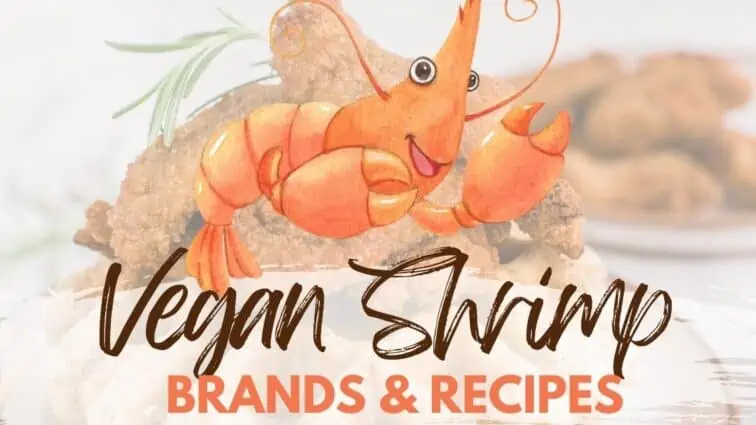 What's Wrong With Shrimp?
For many, the sizzling aroma and succulent bite of shrimp evoke fond memories of beach vacations or gourmet dinners. However, there's a hidden side to the shrimp industry that is worth considering, especially for those seeking to align their dietary choices with ethical and environmental values.
Environmental Concerns
Destructive Farming: Over 50% of the shrimp consumed worldwide is farmed, and the methods used can be ecologically damaging. Mangroves, which are vital coastal ecosystems, are often cleared to make way for shrimp ponds. These ecosystems act as buffers from storms, nurseries for young marine life, and carbon sinks.
Bycatch: Wild-caught shrimp often utilize trawling, where vast nets drag along the ocean floor, unintentionally capturing and killing various marine species in the process. For every pound of shrimp caught, multiple pounds of other marine life, including juvenile fish, marine sea turtles, seahorses, and sea birds may be discarded.
Human Rights Issues in the Shrimp Industry
Some shrimp industries, particularly in certain regions of Southeast Asia, have been linked to egregious human rights abuses. These include slavery, child labor, and other exploitative labor practices. Workers can face severe abuse, dangerous working conditions, and very low pay.
Human Health Risks
Antibiotics & Chemicals: In some shrimp farms, especially in countries with lax regulations, the use of antibiotics, pesticides, and other harmful chemicals is common. These can end up in the shrimp we consume and contribute to antibiotic resistance in humans.
Contaminants: Wild-caught shrimp can contain pollutants and contaminants, including polychlorinated biphenyls (PCBs), which can affect human health.
Animal Welfare
Like all animals, shrimp are sentient beings that can feel pain. Industrial farming and fishing practices subject them to stress, crowding, disease, and cruel harvesting methods.
Today, many plant-based and cell-based alternatives to shrimp are emerging in the market. These vegan shrimp options are not only cruelty-free but also come without the environmental baggage and health concerns associated with traditional shrimp.
Remember, the best way to make an informed choice is to stay educated. By understanding the broader implications of our food choices, we can better align our actions with our values and pave the way for a more compassionate and sustainable world.
What Is Vegan Shrimp Made Out Of?
But if they're not made from shrimp, what are these plant-based shrimp alternatives made from? Well, there can be many options for making animal-free shrimp!
Common vegan shrimp ingredients include: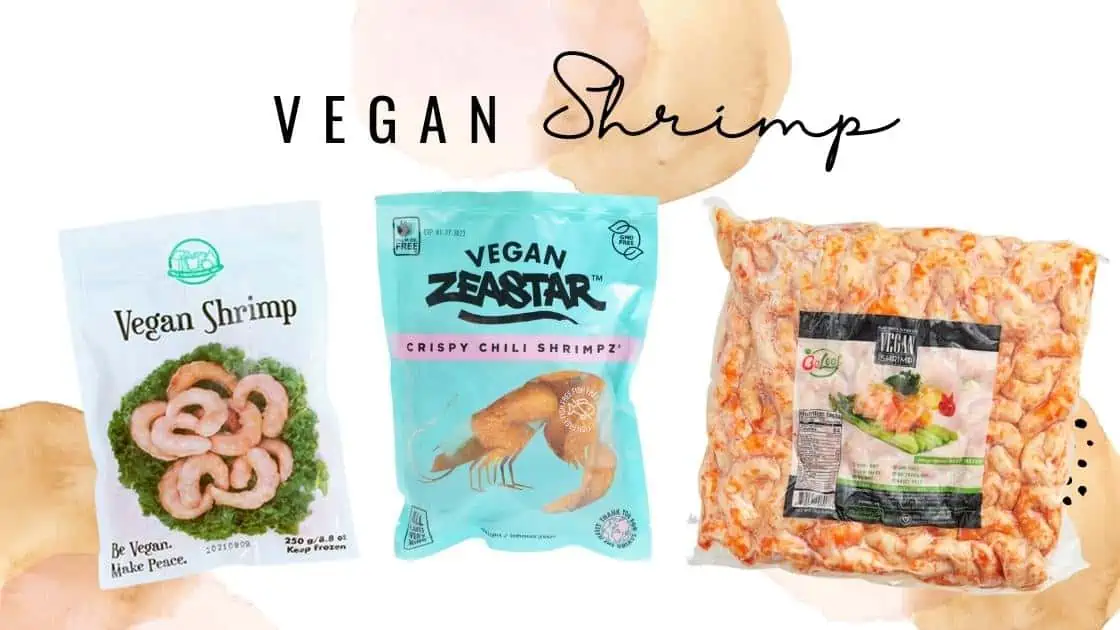 Best Vegan Shrimp Brands
We understand that it may be daunting to try and replicate the taste and texture of shrimp all on your own! If store-bought is more your thing, then we've got you covered! Every year, it seems there is a new product for vegan shrimp on the market. Don't live close by to a store with many vegan seafood options? Luckily many of these can be ordered online!
Meet the new kid on the block! Plant-based shrimp products used to look like they were made in the 70s and packaged in some hippie's garage. Until now. Vegan Zeaster came along to make vegan seafood cool. Modern. Trendy. The packaging is gorgeous and playful, enticing many more people to give this more sustainable and friendly option a try.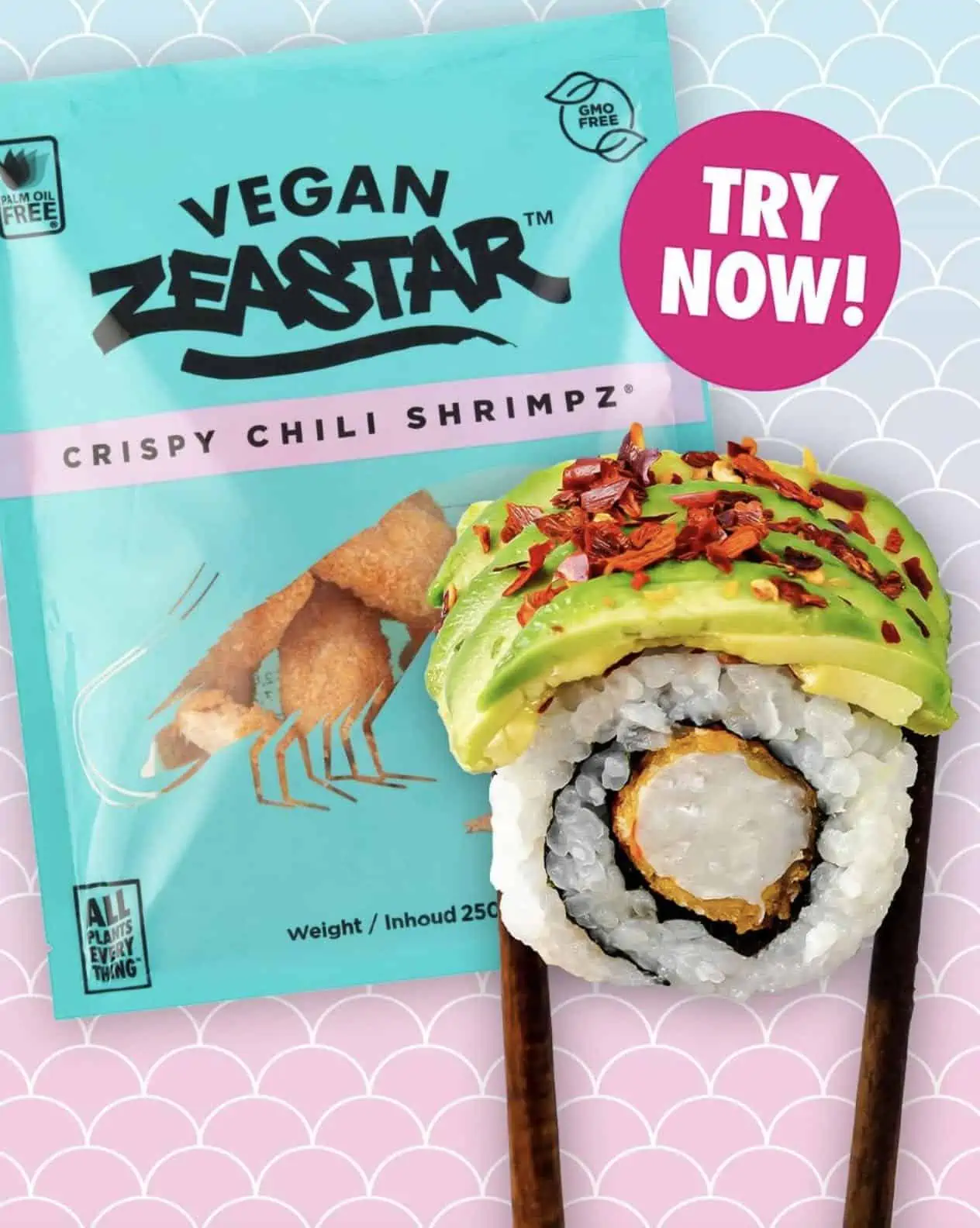 This brand has been making vegan meat substitutes since 1994. Their plant-based shrimp can be ordered online from there website, several vegan online shops, and you can also find it in select stores. They also make popular vegan drumsticks, vegan bacon, vegan turkey roast, and even vegan tuna.
Their shrimp ingredients include: Water, Modified Starch, Sunflower Oil, Glucomannan, Pea Extract, Sea Salt, Seaweed Extract, and Brown Sugar. That's it!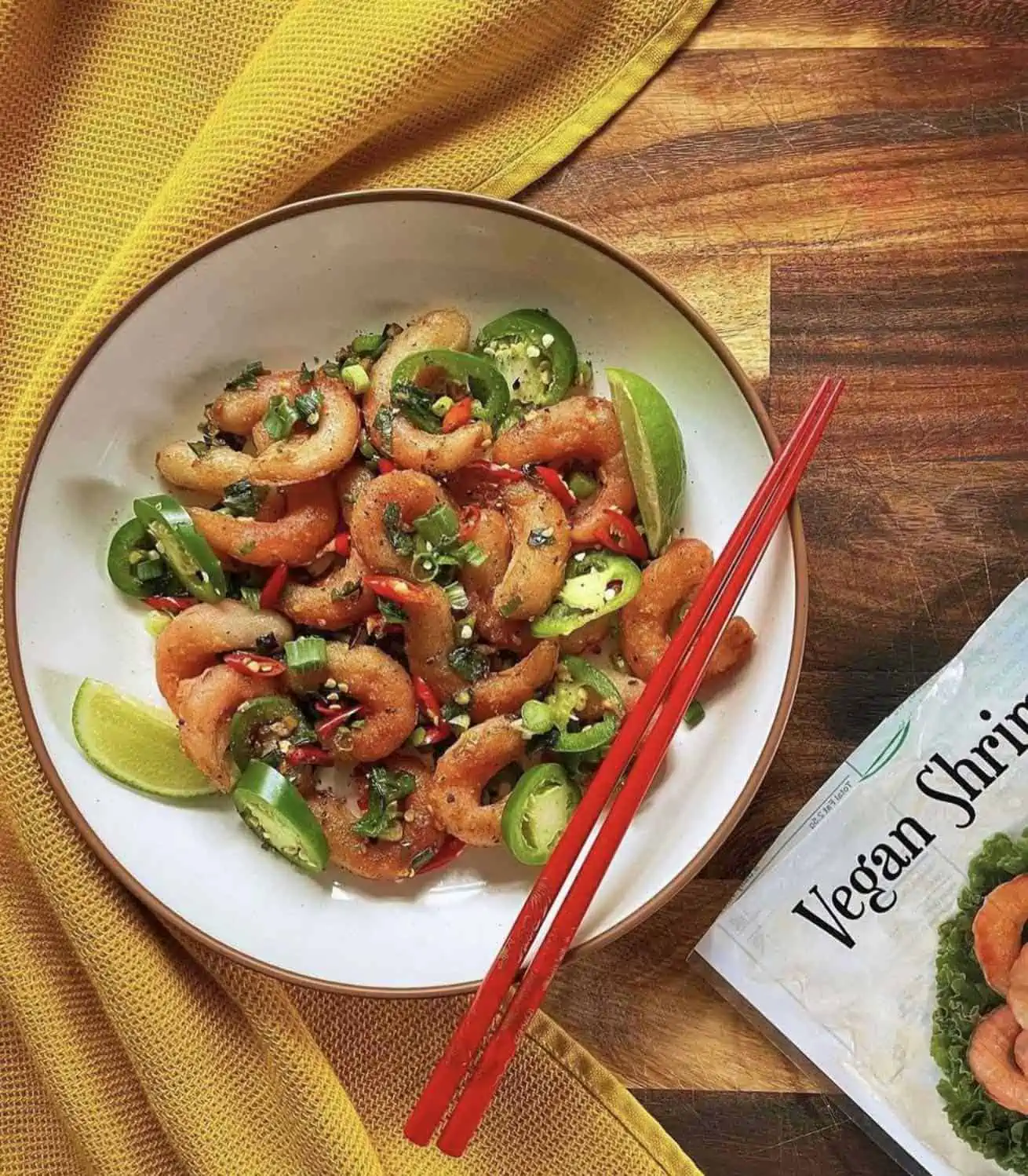 BeLeaf Plant-Based Shrimp
This healthy 7-ingredient shrimp looks just like the real thing. But it's made from plants, including the konjac root! The ingredients are so simple it's almost hard to believe: konjac powder, vegetable gum, vegetable root starch, paprika, brown sugar, sea salt, plant based vegan seasoning.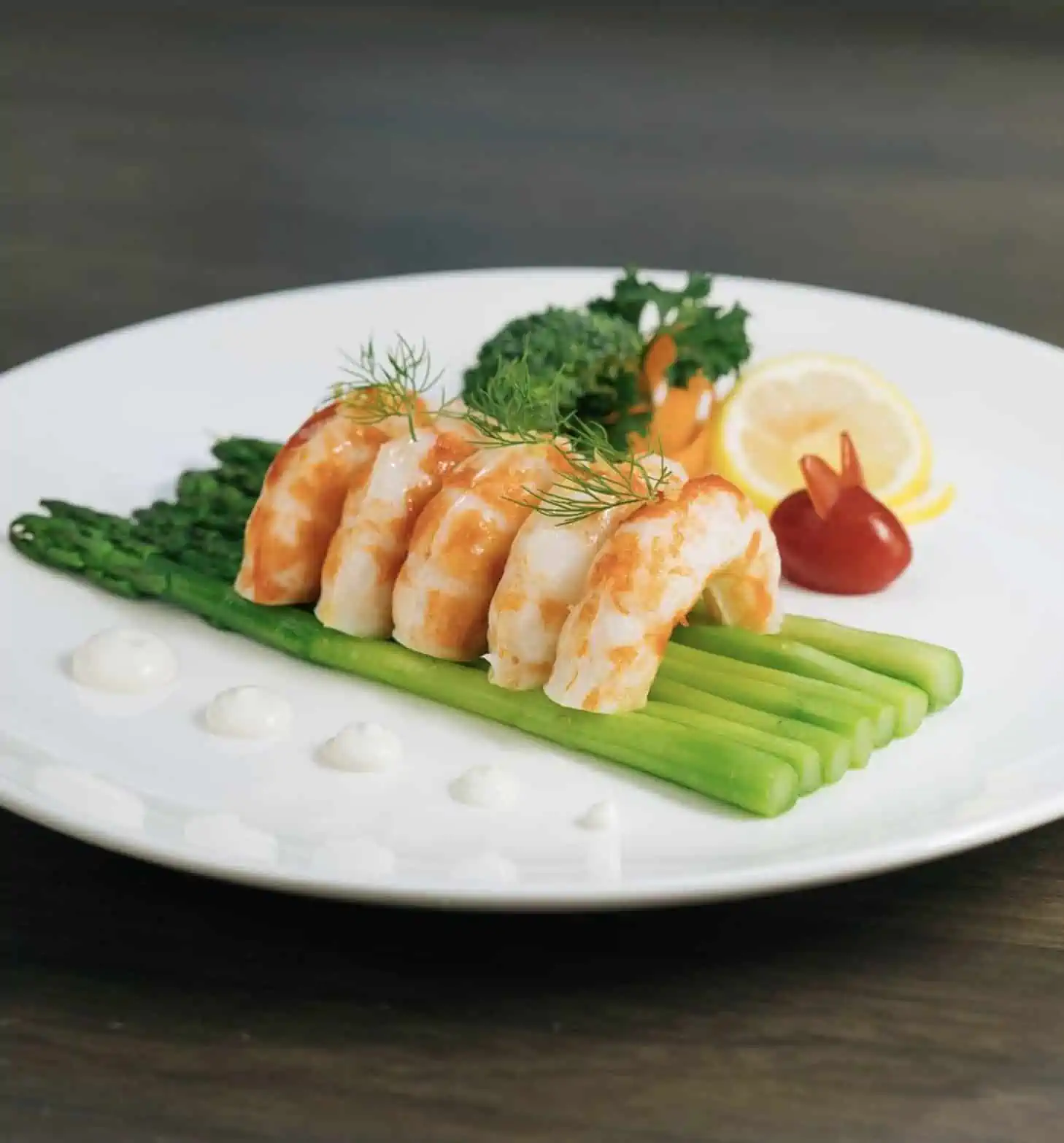 Another modern spin on plant-based shrimp comes from the Plant Based Seafood Co. Their Mind Blown shrimp comes in both "dusted shrimp" and "coconut shrimp." The coconut shrimp has actual coconut shreds for an extra element of crispy texture.
Their shrimp comes ready to fry, bake, or even air fry. It makes a great addition to your stir fry, pasta, tacos, and salads.
The ingredients in their shrimp include: konjac powder, vegetable gum, vegetable root starch, paprika, brown sugar, sea salt, plant based vegan seasoning. Hey wait — isn't that the same as the BeLeaf shrimp? Yup, identical. We noticed the same thing.
This comes with a coconut topping, however, which is made with: Water, Gluten Free All Purpose Flour Blend (Rice Flour, Potato Starch, Pea Fiber, Tapioca Starch, Xantham Gum), Unrefined Coconut Sugar, Grainless and Aluminum-Free Baking Powder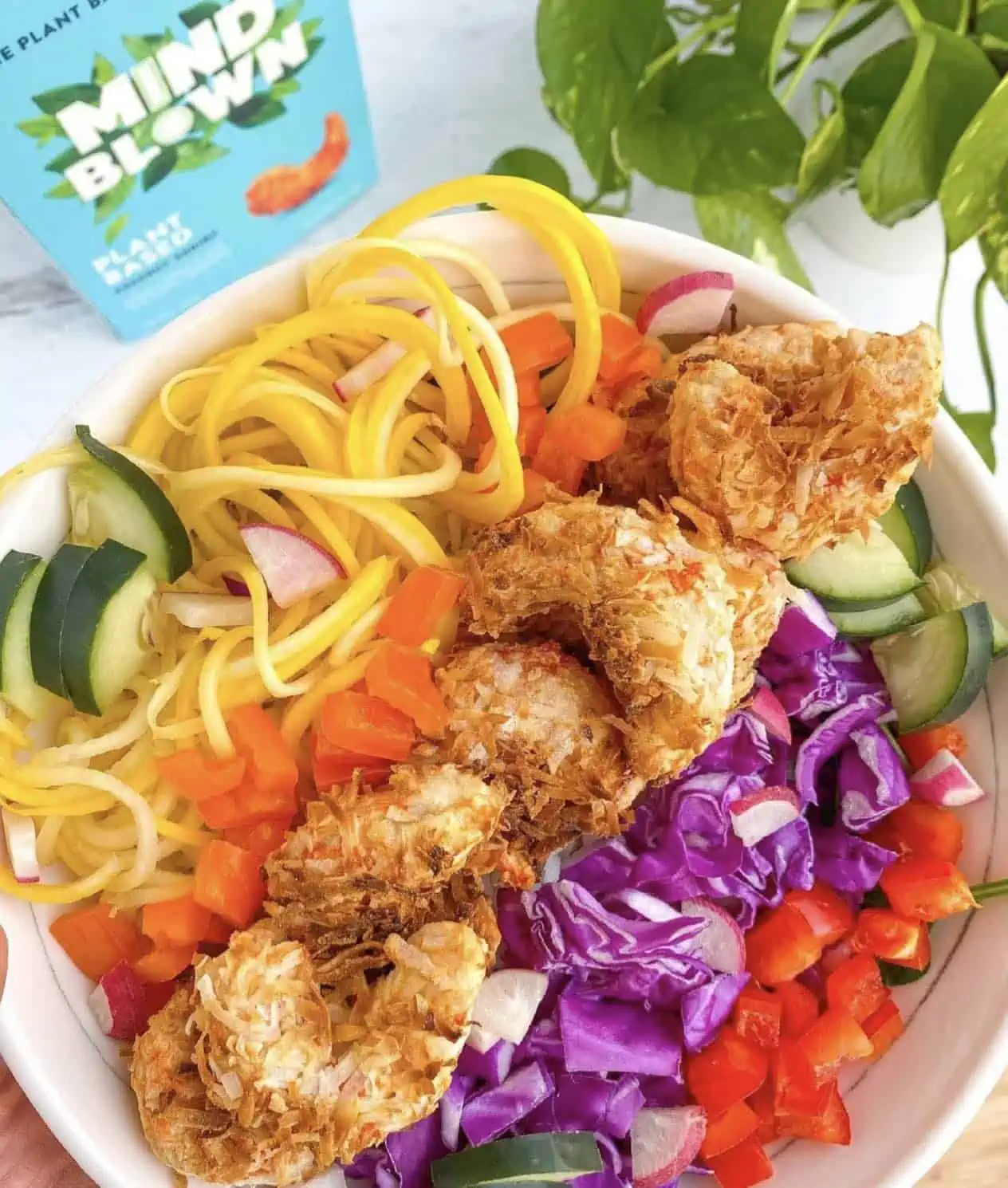 Sophie's Kitchen has been around for ages serving up vegan seafood products way before it was cool. Their branding and shrimp has gotten a facelift though, with a modernizing touch. Their soy-free, gluten-free, and non-gmo breaded shrimp is made with:
Water, rice flakes (from brown rice), canola oil, potato starch, konjac powder, pea starch, fenugreek, organic agave nectar, sea salt, alginate (from seaweed), paprika, white pepper, turmeric, calcium hydroxide.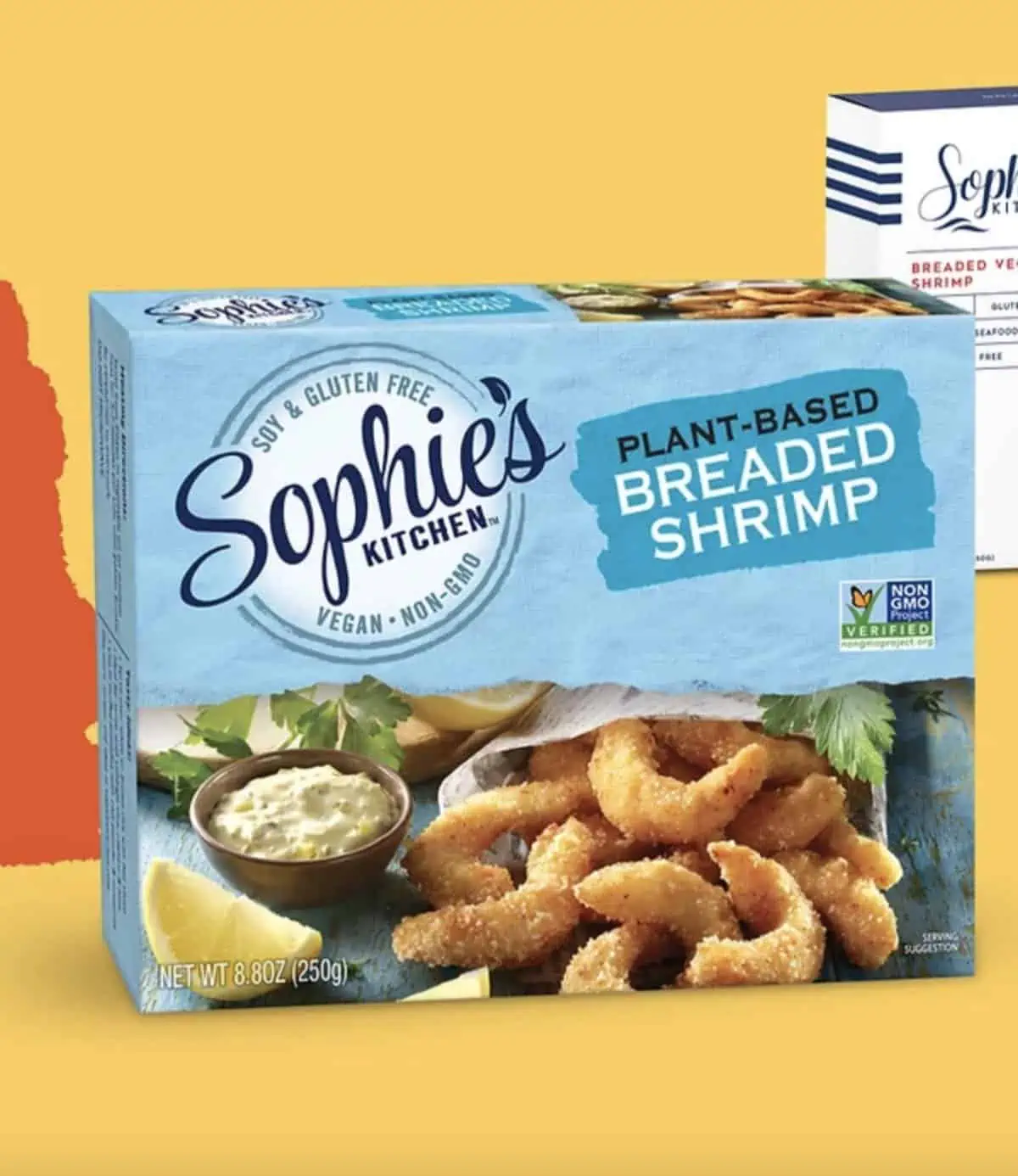 This unique brand offers vegan shrimp balls, shrimp rolls, shrimp dumplings, and more. If you live in New York City, Lily's Vegan Pantry is worth checking out. But if you live elsewhere, they also ship nationally!
This product may be hard to find, but if you're a fan of the Loving Hut restaurant chain, they did at one point sell their vegan shrimp!
This innovative brand is developing a new wave of seafood — including shrimp! Soon to be available at restaurants!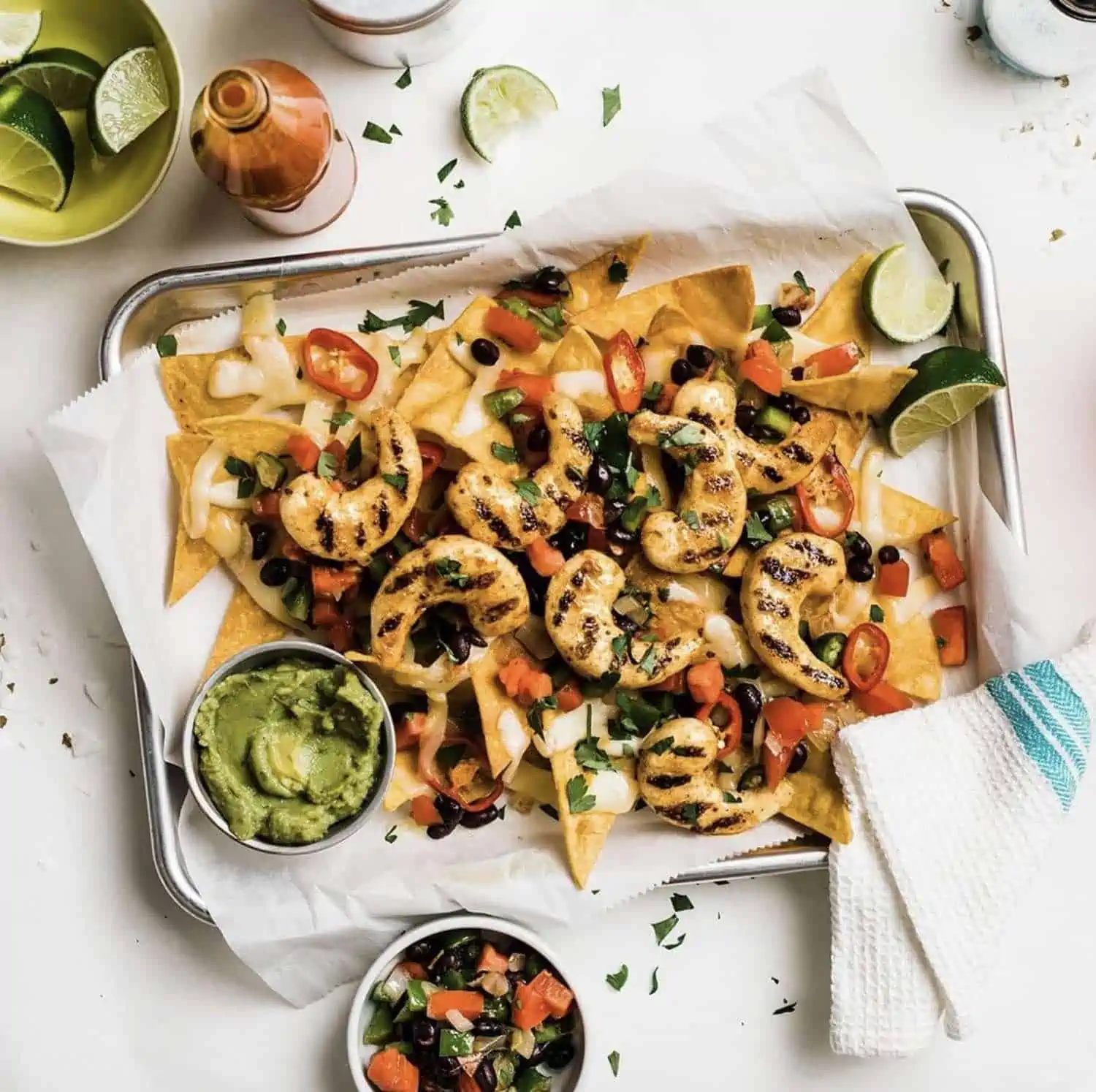 Best Vegan Shrimp Recipes
The lovely duo at Olives for Dinner has created what we think looks like the most delicious and most realistic shrimp—from king oyster mushrooms! It's almost hard to believe these are made from plants. Serve this up with your favorite tartar or bang bang sauce and listen for the glorious "crunch" as you bite into these savory nuggets.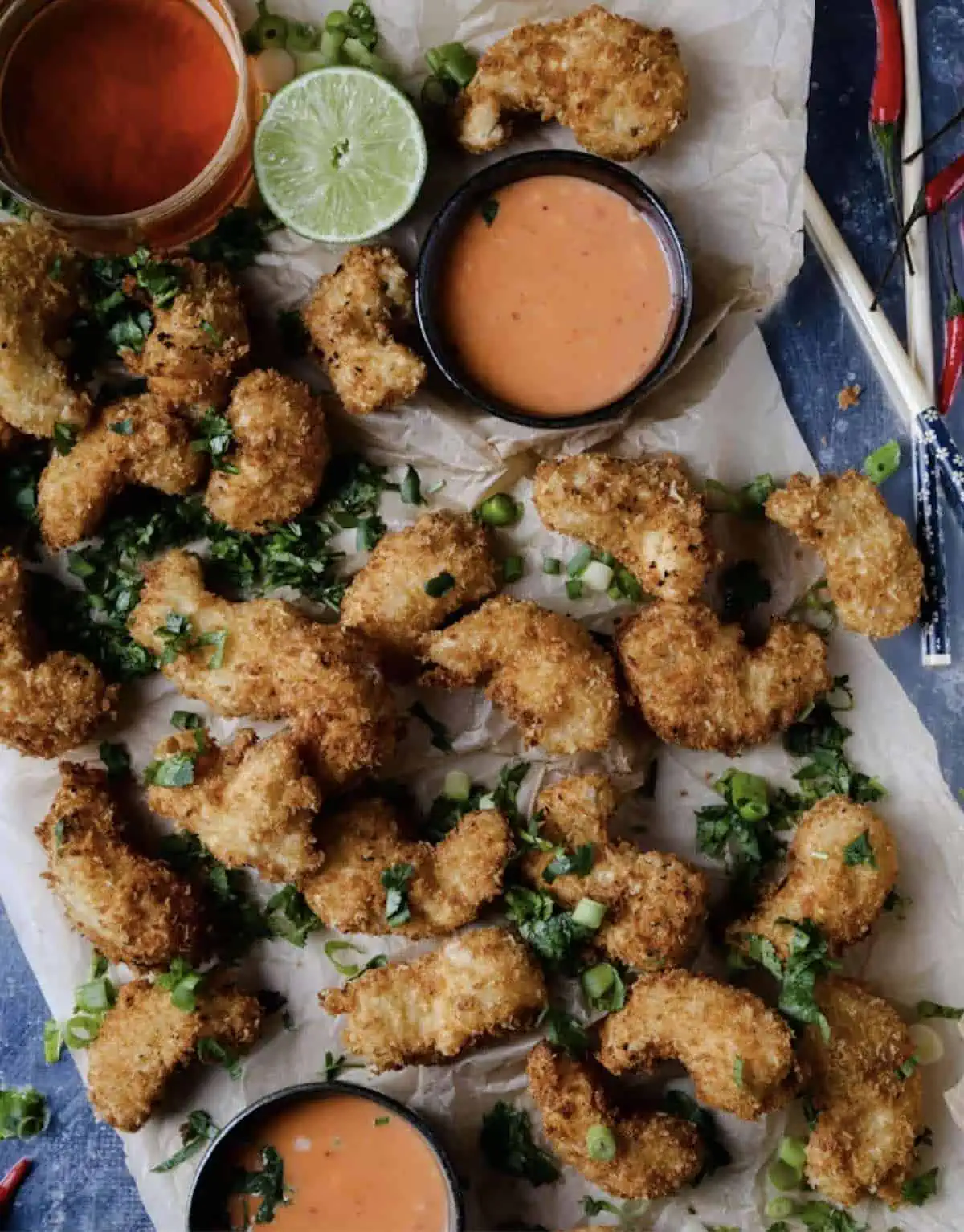 What's tasty and crunchy and good all over? Why, this vegan coconut shrimp from health my lifestyle! Made from ingredients such as vital wheat gluten, tofu, miso, and coconut shreds, all you need is some time and an air fryer to form this vegan shrimp!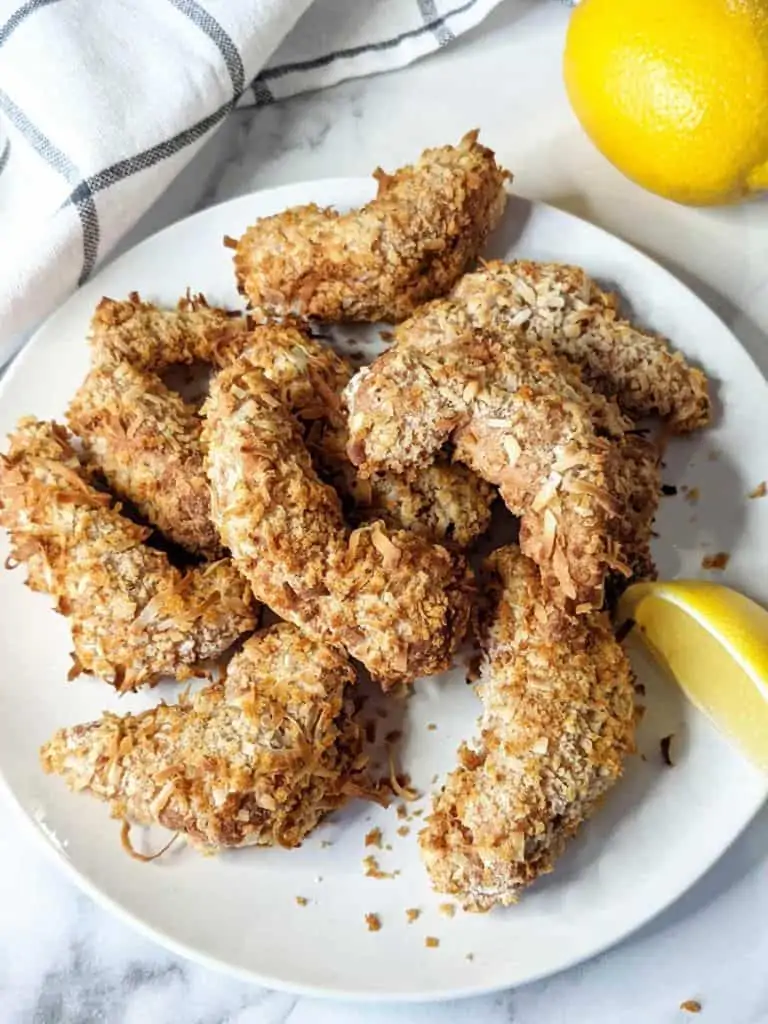 The not-so-secret ingredient to this vegan shrimp recipe by Very Vegan Val? Shrimp of the woods mushrooms! Some caution is to be taken when identifying these funky fungi but once you're in the clear, you'll love the sweet and savory flavors of this dish. And don't worry, this recipe uses vegan honey!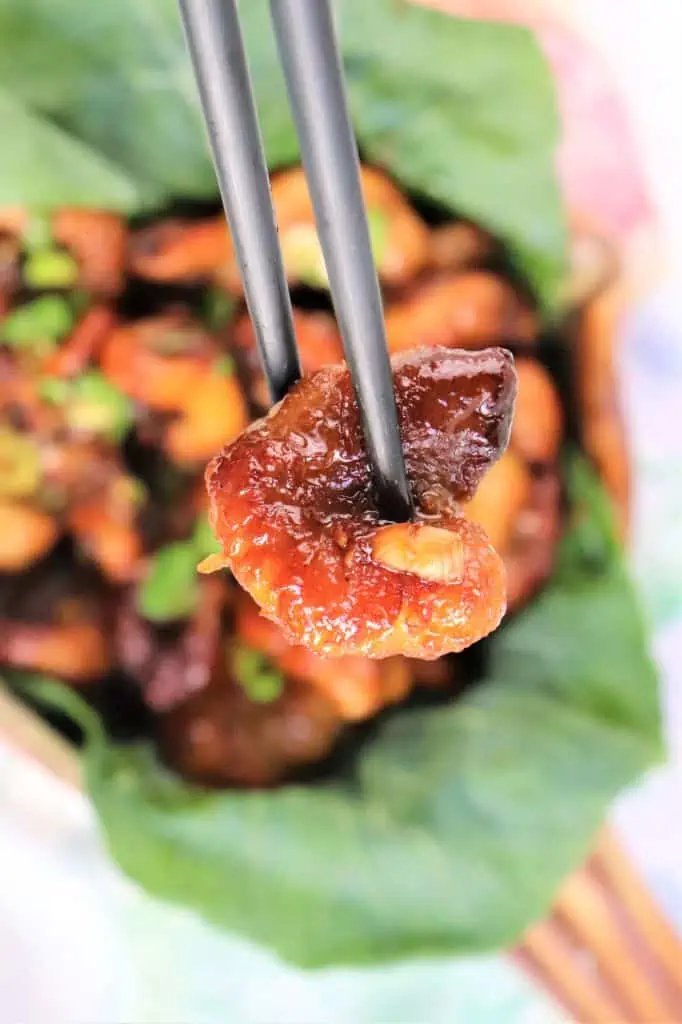 This recipe for a vegan shrimp is made from marvelous mushrooms—king oyster mushrooms! They are magical, aren't they? This shrimp also goes beautifully in this vegan Po' Boy recipe that will make all of your other sandwiches jealous! This vegan shrimp recipe calls for breadcrumbs and seasonings to get it nice and crunchy. Just add some sauce, lettuce, and tomato onto a roll and you'll be in vegan food heaven!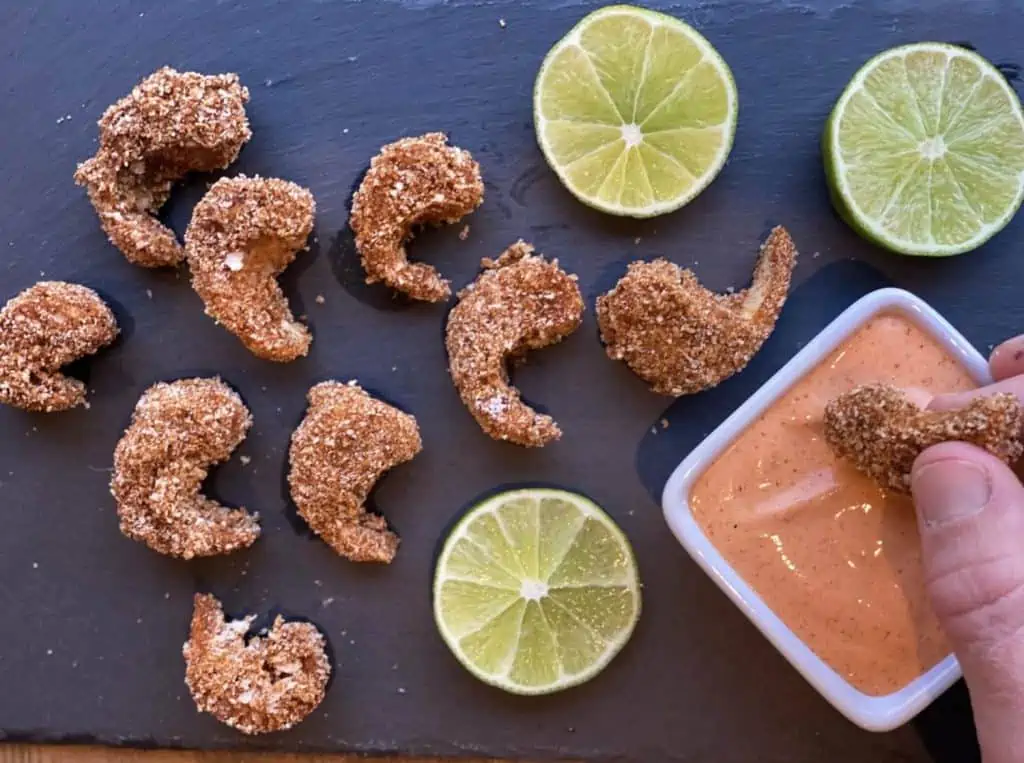 How to Serve Up Plant-Based Shrimp?
Plant-based shrimp can make a fun addition to your existing vegan meals as well as a snack or meal of it's own. Here are a few ways you can dish it up!
Add to pasta dishes (it's delicious with this creamy fettuccini alfredo)
In a sandwich (think beyond the classic vegan Po' boy)
Make vegetarian shrimp cocktail
Breaded shrimp served with tartar sauce
On a skewer with veggies like red bell peppers and zucchini
Chop and mix into a vegan jambalaya
There truly are plenty of vegan fish in the sea and we hope this guide has inspired you to give vegetarian shrimp options a try! Feel free to let us know some of your favorite plant-based seafood recipes or brands in the comments below.
More Vegan Seafood Resources
Photos by our vegan food blog contributors, shared with permission. Cover photo by Erin and Jeff Wysocarski.