As the foundation of many desserts and simple sweet treats alike, graham crackers are an indispensable staple in any pantry. These lightly sweetened, crisp rectangles pair perfectly with any additional flavors, while still having an alluring nutty, toasted taste all by themselves. From gooey s'mores to tender cheesecake crusts, good graham crackers can go a long way.
Typical ingredients for graham crackers include graham flour, vegetable oil, molasses, and salt. You'll never see eggs or dairy on the ingredient list, so they must be vegan, right? Not so fast!
Not All Graham Crackers Are Vegan
Unfortunately, it's very common to see honey included in graham crackers. Even discount store brands often have some amount of honey so they can make their product seem more "natural" or high-end. As we know, honey is not vegan, so these options are off the table for anyone who chooses to avoid it.
There is sweet news in the cookie aisle, though! There are still several mainstream brands that source cruelty-free ingredients. Shop carefully and your cravings will be satisfied!
"Accidental" Vegan Graham Cracker Brands
There are several vegan mainstream accidentally vegan brands to choose from! This includes options that are gluten-free, soy-free, palm oil-free, kosher, and beyond. We outline the most popular brands and their respective ingredients below. Get your vegan marshmallows ready—vegan s'mores, here we come!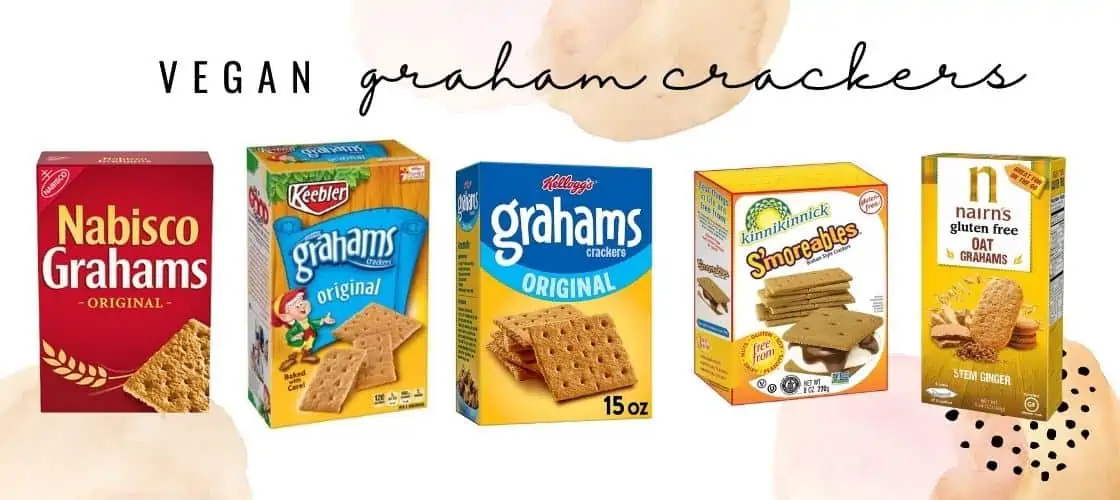 Nabisco Original Grahams
Packaged in that iconic red box, this is arguably the most popular and common option you'll find. They were also one of the first companies to commercially produce graham crackers in the early 1900's, so they know what they're doing!
Nabisco Graham Cracker Ingredients: Unbleached Enriched Flour, Graham Flour, Sugar, Canola Oil, Molasses, Palm Oil, Leavening (Baking Soda And/Or Calcium Phosphate), Salt.
Kellog's Brand – Original
The classic Kellogg's Grahams are sweetened with molasses and corn syrup, not honey, so they are safe for vegans!
Kellogg's Graham Cracker Ingredients: Enriched flour, sugar, graham flour, canola oil, molasses, corn syrup, leavening, salt, soy lecithin.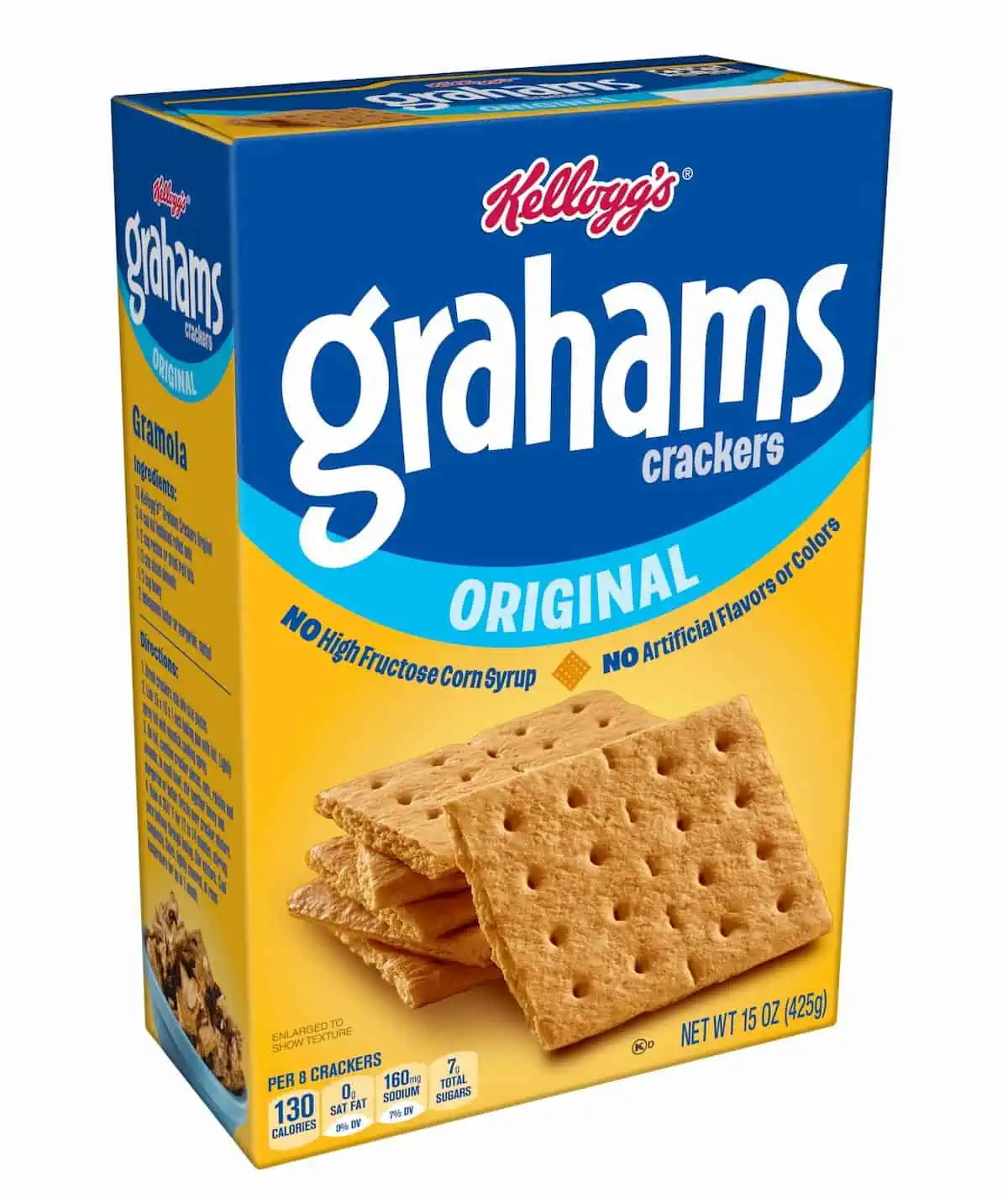 Nairn's Gluten Free Oat Grahams
Based in Scotland, these oat-based crackers come in four different flavors. The original is most like the classic graham cracker that we know and love, but you can spice things up with ginger, raisin, or chocolate chip instead.
Narin's Gluten-Free Oat Grahams Ingredients: Gluten-free whole grain oats, palm fruit oil (sustainably sourced), sugar, golden syrup, tapioca starch, baking soda, sea salt.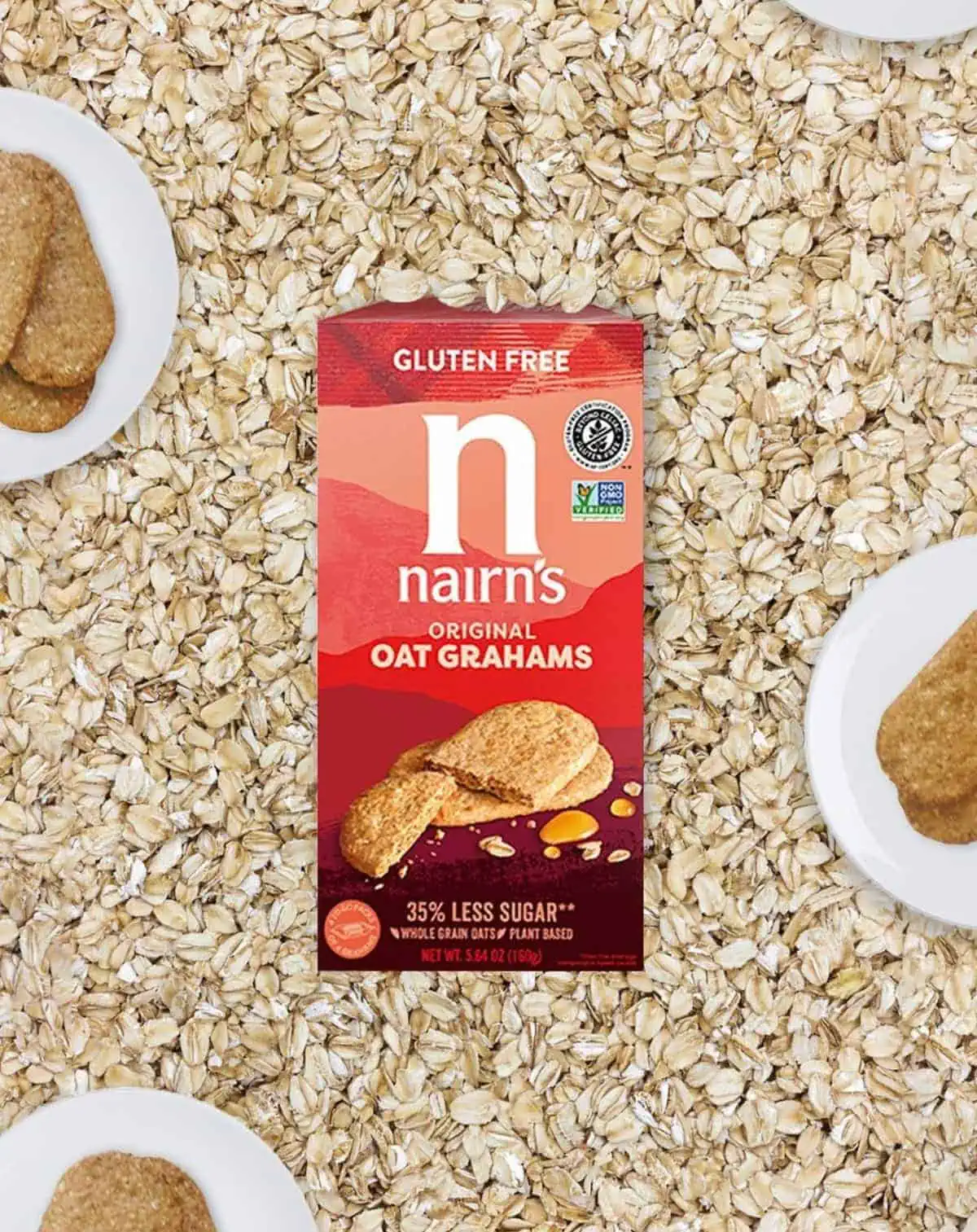 Kinnikinnick's Smoreables Graham Style Crackers
Best known for their wide array of gluten-free breads, baking mixes, and baked goods, Kinnikinnick products are all free of the top 8 most common allergens. These are thicker graham crackers with a different texture than original grahams, but they do the trick for our vegan celiac friends itching for a s'mores night around the campfire!
Kinnikinnick's Graham Cracker Ingredients: Pea starch, palm oil shortening (non-hydrogenated), brown rice flour, potato starch, brown sugar, sweet rice flour, tapioca starch, water, cane sugar, rice Bran, molasses, tapioca syrup, salt, sodium bicarbonate, pea protein, natural flavor, pea fiber, sunflower lecithin, inulin, mono calcium phosphate, cellulose, guar gum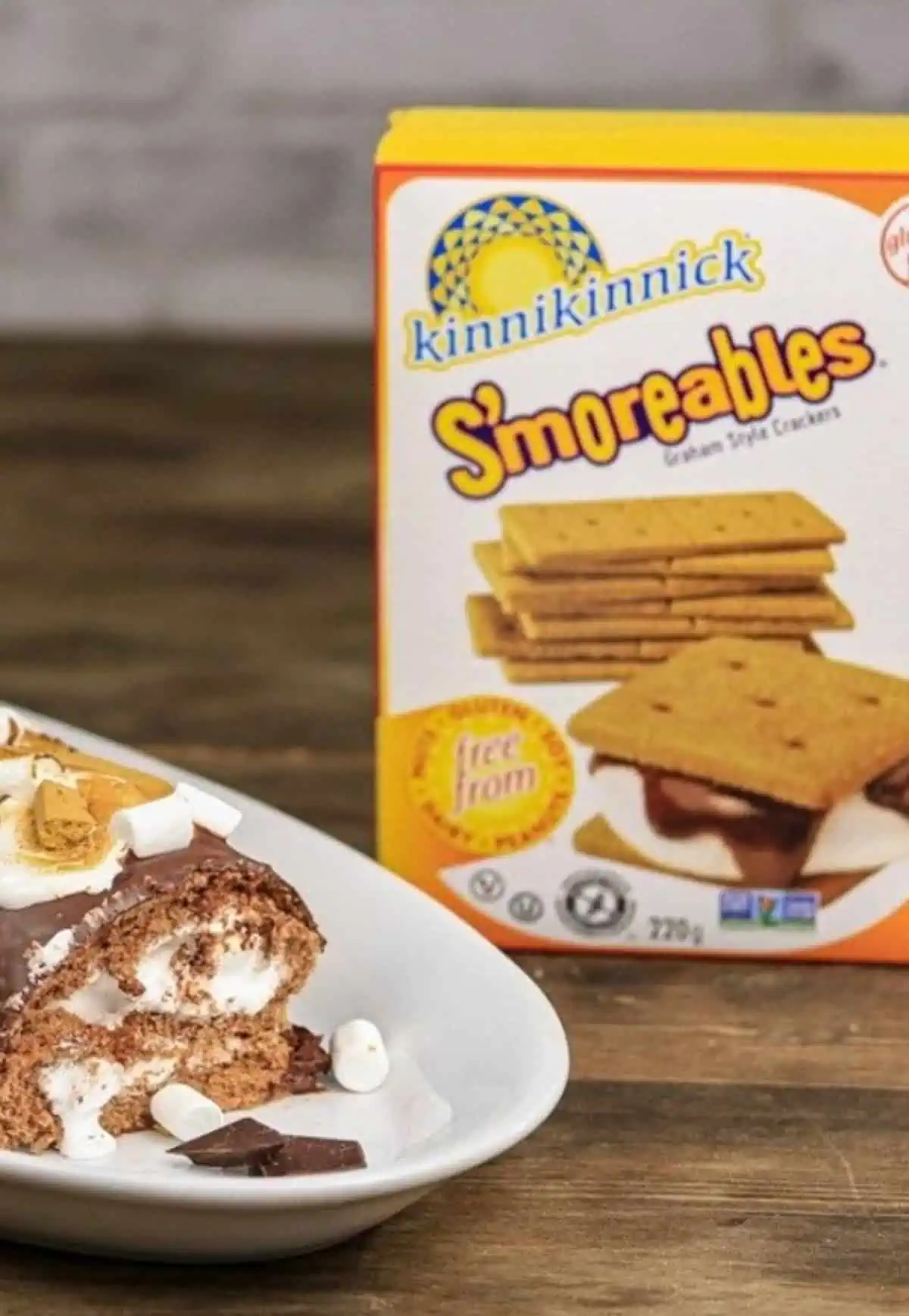 Partake Foods Classic Graham Crackers
Available at Target stores nationwide, these gluten-free, non-GMO, and vegan graham crackers have just a hint of cinnamon and a super satisfying crunch. Use them in s'mores, lunchboxes, pie crusts, and more!
Partake Foods Graham Cracker Ingredients: Gluten-free flour blend (sorghum flour, gluten-free oat flour), sunflower oil, organic cane sugar, organic light brown sugar (organic cane sugar, organic molasses), water, cane syrup, potato starch, vanilla extract, tapioca starch, sea salt, baking soda, monocalcium phosphate, cinnamon, rosemary extract, sunflower lecithin.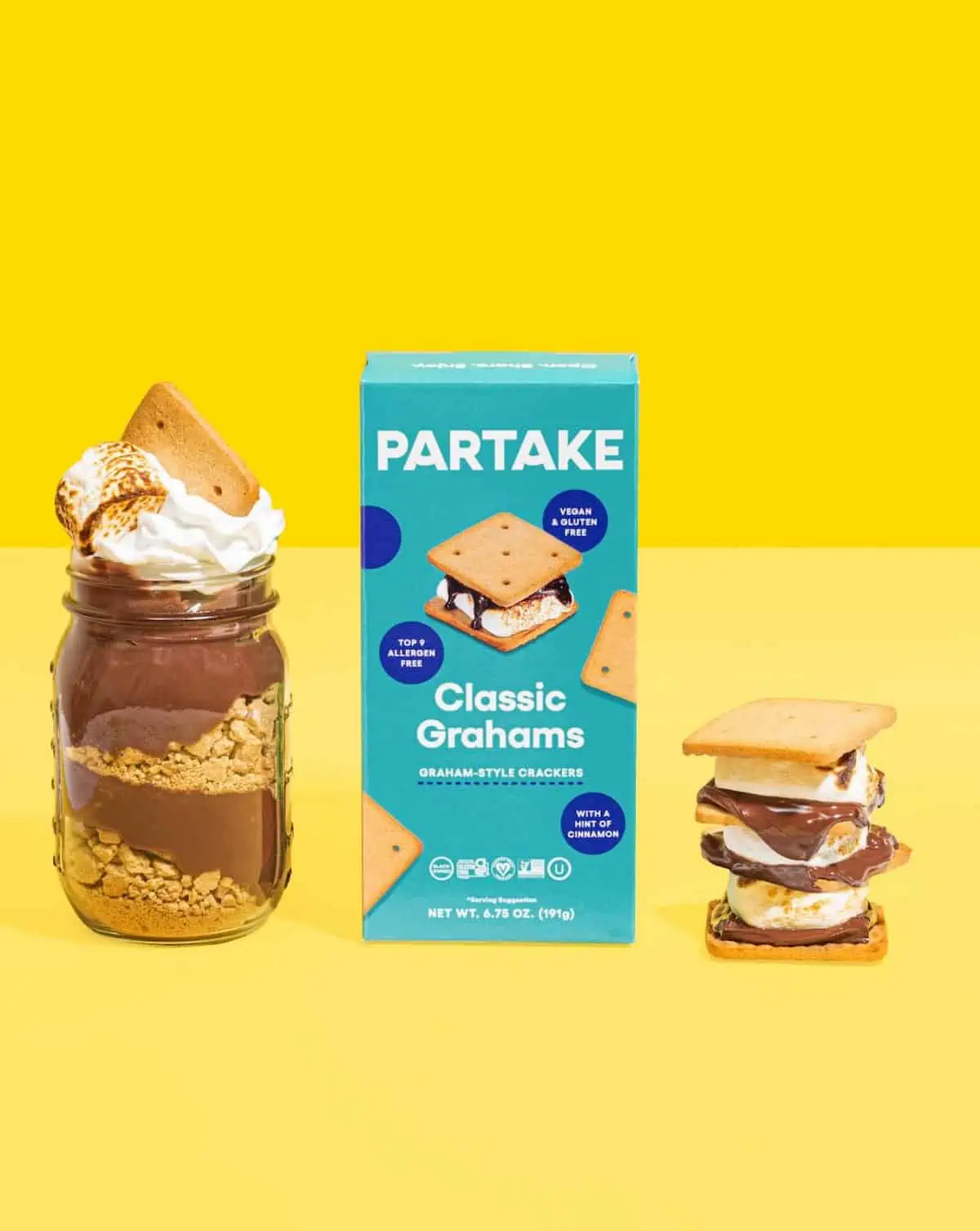 Non-Vegan Graham Cracker Brands
The following popular brands are not vegan:
Honey Maid Honey Grahams (not vegan)
Annie's Organic Honey Grahams (not vegan)
Are Teddy Grahams Vegan?
What about those adorable little teddy bear shaped Teddy Grahams? Are they vegan? The classic Honey Teddy Grahams aren't vegan, as they are made with honey. But the following Teddy Grahams are vegan.
Vegan Teddy Grahams:
Cinnamon Nabisco Teddy Grahams
Chocolate Nabisco Teddy Grahams
Chocolate Chip Nabisco Teddy Grahams
Annie's Birthday Cake Bunny Grahams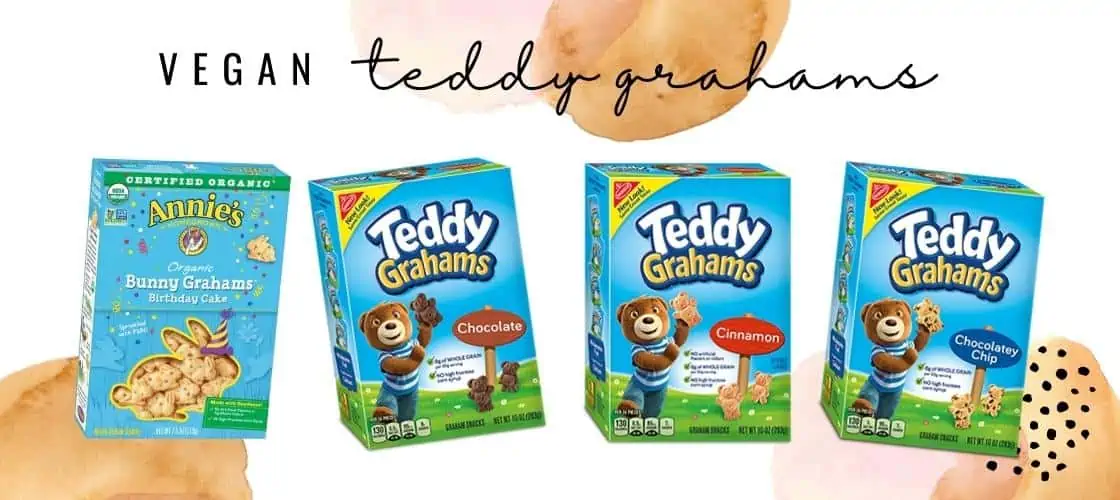 Homemade Graham Crackers
If store-bought options are out of reach, you're in luck! It's a snap to make your own vegan graham crackers from scratch. The key to baking up superlative graham crackers is sourcing graham flour, which gives these treats both their name and nostalgic taste.
Graham flour is a type of coarsely ground whole wheat flour that uses all three parts of the wheat: the germ, the endosperm, and the bran. The specific ratios that these components are combined give the flour its signature look with coarse flakes mixed into golden-brown flour. In a pinch, you can substitute regular whole wheat flour, but the resulting flavor will be slightly different.
Great Vegan Graham Cracker Recipes to Try
Vegan Graham Crackers – These iconic crackers are sweet but not too sweet, super crunchy with toasty, nutty, cinnamon flavor and they are so easy to make!
Crispy Gluten-Free Graham Crackers – These are the ultimate vegan gluten-free graham cracker that are easy to make, naturally sweetened, and tastes just like the real thing.
Oil-Free Vegan Graham Crackers – These Vegan Graham Crackers are made from whole wheat flour and contain no oil, so they're healthy but delicious.
The History of Graham Crackers
Did you know that the man often referred to as the "Father of Vegetarianism" in the United States of America is the reason graham crackers exist today?
Reverend Sylvester Graham was the evangelical minister who created the recipe in 1829. As an early adopter of the vegetarian diet, he promoted healthy foods to maintain physical, spiritual, and mental wellness. That meant eating fruits, vegetables, whole grains, and high fiber foods while eschewing animal products and alcohol. His crackers were an essential tool in fighting cravings.
Graham crackers as we know them today are sweet wafers that can be enjoyed as a snack or dessert. Ironically, they were originally designed as an austere addition to a highly restrictive regimen, intended to cut down on rampant desire and other excesses. Unsweetened, unrefined, and rather dense, the first biscuits were much more like "crackers" than the current cookies we enjoy today.
What to Make With Vegan Graham Crackers?
It doesn't take much work to transform graham crackers into a crave-worthy delight.
Vegan S'mores: Created by the Girl Scouts in 1927, sandwich toasted vegan marshmallows and chocolate between two squares of graham crackers make this classic treat.
Graham Cracker PB & J: No marshmallows or chocolate around? No problem! Make a different sort of sandwich by smearing peanut butter on one square, your favorite fruit jam or preserves on another, and put them together for an instant snack.
Carmelized Graham Cracker Toffee: English toffee is often made with sliced almonds, but some variations use saltine crackers as a base. Swap in graham crackers for a hearty, buttery, caramelized crunch. Don't forget to top with melted chocolate before breaking into chunks and enjoying.
Cheesecake Dippers: Don't have time to bake a whole cheesecake? Don't worry! You can just blend vegan cream cheese with confectioner's sugar and a splash of lemon juice to make a rich, creamy dip. Serve with graham crackers for the full dessert experience.
Ice Cream Sundae Topping: Skip the vegan sprinkles on top and try crushed graham crackers instead.
Yogurt Parfait Topping: Layer fresh fruits, vegan yogurt, and graham crackers to make a beautiful plant-based parfait that you could easily justify as a healthy lunch, too.
Vegan Recipes Using Graham Crackers
Start with a sleeve of fresh graham crackers as the gateway to a world of fresh recipe inspiration. Once you've stocked up, here are some recipes that you must try:
Fun Graham Cracker Trivia
National Graham Cracker Day is celebrated on July 5 of every year.
Graham crackers can be a good source of vitamins, since the flour is enriched with essential nutrients like niacin (Vitamin B3), reduced iron, thiamine mononitrate (Vitamin B1), and riboflavin (Vitamin B2).
Although it should only be used as a rare treat, graham crackers are safe for dogs to eat too.
The world's tallest s'more was built by Clint Cantwell on August 12th, 2009, in NYC. It measured 10.2″ in height and stood alone without the help of any support or underlying structure.
Graham cracker sales account for approximately $500 million in sales annually, as of 2021.
FAQs
What are the graham cracker ingredients?
The typical ingredients in graham crackers include: enriched flour, graham flour, oil, molasses, salt, and sweetener (which is sometimes honey).
Are graham crackers dairy-free?
Yes! Almost all graham cracker brands are dairy-free. The non-vegan ingredient to watch out for if you're vegan is honey.
Are graham crackers considered plant-based?
If by plant-based you mean containing only plant-derived ingredients, and no animal-derived ingredients, then they are sometimes plant-based! But if you are following an unprocessed whole foods plant-based diet, then graham crackers won't fit the bill.
Are graham crackers gluten-free?
No, unless you find a specifically gluten-free graham cracker brand (like Narin's Gluten-Free Grahams), classic graham crackers do contain wheat.
Are graham crackers safe for dogs?
If you're wondering, can dogs eat graham crackers? You're in luck! Yes, graham crackers are dog friendly. If your precious pup got into a box of Grahams while you weren't looking, that's okay. Just make sure there was no chocolate in the mix, as chocolate is toxic to dogs!
Are graham cracker pie crusts vegan?
Yes, quite often graham cracker pie crusts are vegan! The Keebler pie crust is vegan, and you can find it at mainstream grocery stores and even Walmart. Just read the ingredient label for other graham cracker crust brands to check and see if it's vegan-friendly!
Give a try to our Easy Almond Flour Crackers recipe, too. They're gluten-free, dairy-free, plant-based, and only require three ingredients (one of them being water!). So yummy.
Hope this guide helps you find the best vegan graham cracker options and recipes! This guide was written with support from Hannah Kaminsky. Please note that this article may contain affiliate links which supports our work at World of Vegan.