Ready to ditch dairy but can't imagine life without cheese? Don't worry! There's no reason you have to give up your favorite creamy delicacy when you decide to go vegan.
The Dairy Detox makes it easy to transition healthfully and happily to dairy-freedom without sacrificing cheese. And today, we've got a delicious recipe for some creamy, dreamy, vegan mac n' cheese.
Dip your toes into dairy freedom with Allison's recipe for healthy and compassionate dairy-free vegan mac and cheese without cashews below. Enjoy!
Why You'll Love This Recipe
Macaroni and cheese is a classic comfort food that needs no introduction. Dating back to at least the 14th century, this dish has been a staple of American and British cuisine for ages. And for good reason! It's perfect as a side dish during the holidays, delicious as a regular weeknight meal, and super easy to prepare and customize.
While non-vegan mac n' cheese can often be full of dairy products such as butter and cheese, this vegan version uses vegetables, legumes, and sunflower seeds, and mustard as the base for the sauce. How awesome is that?!
For those with nut allergies or dietary restrictions, our cashew-free recipe offers a safe and equally delectable alternative! Plus, you get the added benefit of protein, fiber, and essential vitamins, all while satisfying your mac and cheese cravings.
Key Ingredients
Pasta: Choose your favorite pasta variety for this recipe. Whether it's classic elbow macaroni, penne, or shells, any pasta shape works well! Need it to be gluten-free? Try chickpea pasta or red lentil pasta.
Refined Coconut Oil: Opt for refined coconut oil to ensure a neutral flavor. If unavailable, a light vegetable oil like canola can be used as a substitute.
Yellow onion: While yellow onions provide a balanced flavor, you can substitute with white onions if needed.
Carrots: For a pop of color and natural sweetness, carrots are key! If desired, you can swap them out for butternut squash or sweet potatoes.
Garbanzo beans: These beans contribute creaminess and protein. White beans like cannellini or navy beans can also be used. Avoid beans with too much color, like kidney beans and black beans which will throw off the look of the dish.
Raw Sunflower Seeds: The key to making this vegan mac and cheese without cashews is sunflower seeds! They provide the perfect rich texture to mimic other vegan macs without nuts! Plus, they make this dish more affordable!
Apple cider vinegar: Add tanginess to replicate the cheesy flavor. White vinegar or lemon juice offer a similar effect.
Mild Dijon Mustard: The mustard adds depth or flavor, so don't skip it! In a pinch, you can use regular Dijon mustard or whole grain mustard.
How To Make Vegan Mac and Cheese Without Cashews
There are countless ways to cook up a vegan version of macaroni and cheese. You could use vegan cheese, butter, and milk to melt together with pasta elbows for a delectable dinner.
You could stick with a simple boxed vegan mac if you're looking for a super simple meal. But what's great about this recipe is that you get the pleasure of mixing a variety of staple ingredients into something that's not only delicious but packed with a decent amount of nutrients.
From the protein-packed garbanzo beans to the mighty cool carrots, this sauce is popping with plant-based power!
Here's the easy step-by-step process to making this vegan mac and cheese without cashews:
In a large stockpot, cook the pasta according to the package instructions. Once cooked, drain, rinse, and set aside.
Meanwhile, heat the oil in a sauté pan over medium heat. Add the onion, carrots, garbanzo beans, garlic, salt, paprika, and pepper. Sauté for about 5 minutes until vegetables begin to soften.
Pour in the water, sunflower seeds, apple cider vinegar, and milk Dijon mustard. Bring the mixture to a boil, then reduce the heat to low-medium. Cover and let simmer for about 20 minutes, allowing the flavors to meld.
Transfer the contents to a blender. Process the mixture until it's completely smooth—this step is crucial.
Combine the blended sauce and cooked pasta in a large bowl, ensuring an even coating. Serve hot and savor the creamy goodness!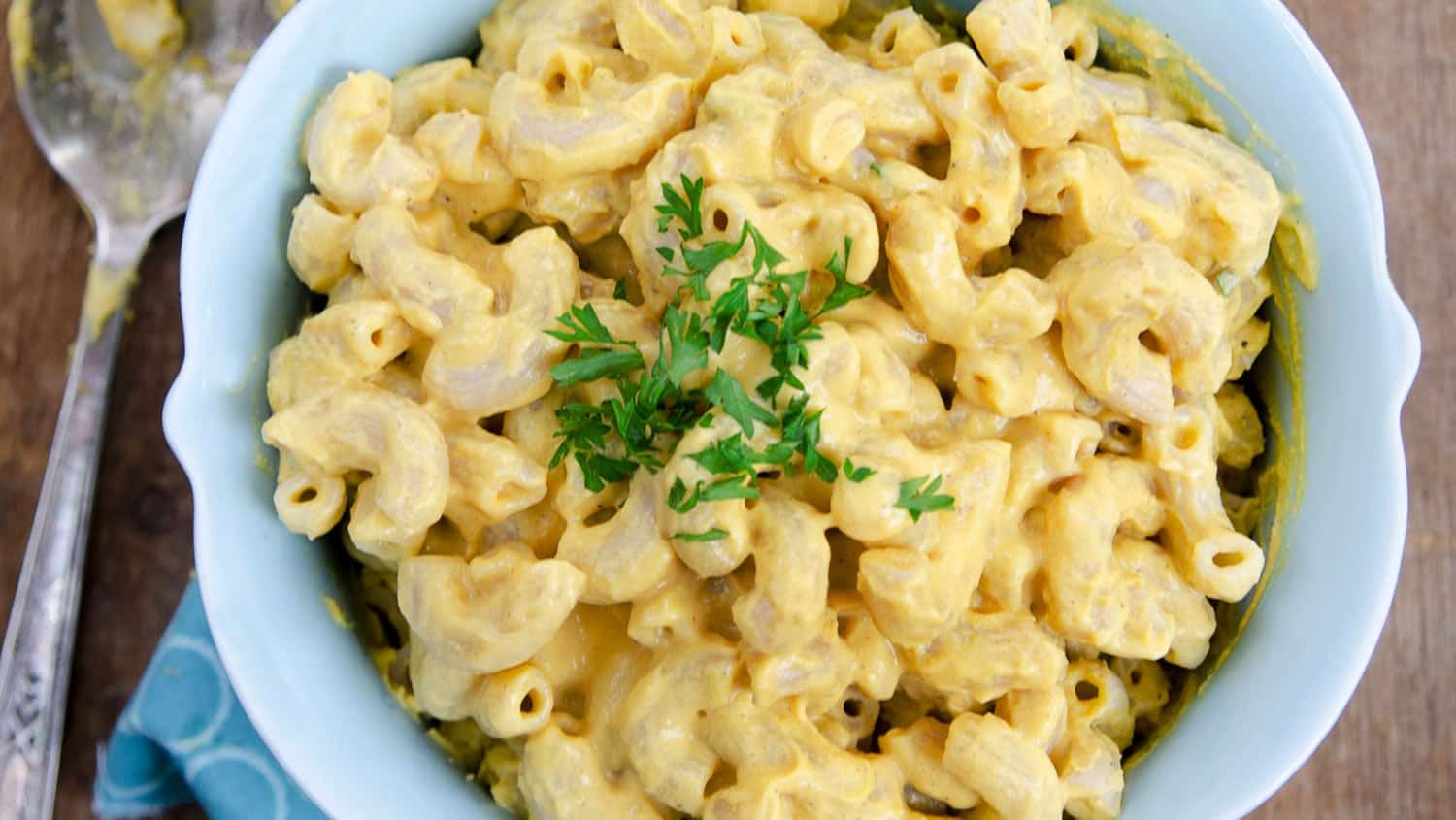 How To Store Leftovers
Pasta is wonderful for batch cooking so you have easy meals throughout the week! You can keep this vegan mac in an airtight container for three to four days in the fridge. If you're keen on freezing, we'd recommend keeping the pasta separate from the sauce so you have an easier time with reheating. Keep the pasta in a freezer-safe container and keep the sauce in a freezer-safe bag or canning jar.
How to Serve Up Your Vegan Mac n' Cheese
The wonderful thing about this dish is that it's perfect for serving as a side or sprucing up to be a main course. Need some tips for dressing up your vegan mac? We've got you covered!
Get a Little Green – Vegetables and greens go gorgeously alongside a huge bowl of creamy vegan mac! If a fresh salad strikes your fancy, then our How to Make A Vegan Superhero Salad guide is excellent for planting some serious seeds for fun and delicious ideas. If you're craving something on the warmer side, may we suggest some Roasted Asparagus, Spicy Sesame Sautéed Kale, or even Cheezy Kale Chips for some crunch?
Pile on the Protein – If you're wanting some more protein in your vegan mac n' cheese, look no further! You can fry up some tofu, sauté some tempeh, sizzle up some seitan, or throw in some crunchy chickpeas.
Mac Up Your Meal – Sure, vegan mac n' cheese makes a fantastic dish all on its own but have you ever piled it onto a sandwich or burger? No? Well, my friend, allow us to enlighten you. See, when you add vegan mac to any sandwich, burger, or savory wrap, you simply can never go back to eating them any other way. A bite of cheesy noodles mashed between the layers of a crunchy sandwich are what some would call divine. That's certainly our descriptor of choice. So, what are you waiting for? Cook up some burgers, whip up that sandwich, make a mac n' cheez burrito—your taste buds and belly are waiting!
More Delicious Dairy-free Recipes to Try
If you try this Vegan Mac and Cheese Without Cashews, let us know what you think by leaving a comment and rating below! Be sure to follow along on Pinterest, Instagram and Facebook for even more vegan recipe inspiration.
8 ounces dry pasta, cooked al dente
¼ cup refined coconut oil, not virgin coconut oil
⅓ cup yellow onion, chopped
¼ cup carrots, diced
¾ cup cooked garbanzo beans, drained and rinsed
1 clove garlic, minced
1 teaspoon salt
½ teaspoon paprika
¼ teaspoon black pepper
1½ cups water
¼ cup raw, unsalted sunflower seeds
1 tablespoon apple cider vinegar
¼ teaspoon mild Dijon mustard
In a large stockpot, cook the pasta according to package, drain, rinse, and set aside.

Meanwhile, in a sauté pan over medium heat, add oil, onion, carrots, garbanzo beans, garlic, salt, paprika, and pepper. Sauté for 5 minutes. Add water, sunflower seeds, vinegar, and Dijon. Bring to a boil. Reduce heat to low-medium, cover, and simmer for 20 minutes.

In a blender, process cooked contents of the sauté pan until completely smooth—this is important. Test for smoothness by removing a spoonful, allowing to cool for a minute, and then rubbing sauce between thumb and forefinger.

In a large bowl, toss together the sauce with cooked pasta and serve hot.
Unflavored coconut oil, also called "refined coconut oil," is sold in jars in most health food stores. The most common brand is Spectrum. The "virgin" variety tastes like coconut, and is best for coconut-flavored dishes. Other options are sunflower or safflower oil, as well as a homemade non-dairy butter/margarine or store-bought like Miyoko's Creamery or Earth Balance. Feel free to use less if you prefer.
Raw, unsalted cashews can be used instead of sunflower seeds, but will add a touch sweetness to the flavor.
Serving: 4g | Calories: 435kcal | Carbohydrates: 55g | Protein: 12g | Fat: 20g | Saturated Fat: 12g | Polyunsaturated Fat: 3g | Monounsaturated Fat: 3g | Sodium: 602mg | Potassium: 329mg | Fiber: 5g | Sugar: 4g | Vitamin A: 1473IU | Vitamin C: 2mg | Calcium: 45mg | Iron: 2mg
Vegan Mac n' Cheese Without Cashews recipe shared with permission from The Dairy Detox from The Dairy Freedom Cookbook. Photos by Nicole Axworthy.