Been dreaming of beautiful burritos bursting with beans or tantalizing tacos crammed with toppings? When it comes to Mexican-inspired fast food, most people seem to fall back on Chipotle or Taco Bell. But, did you know that ordering vegan at Del Taco can give you even more appetizing options?
At more than 600 locations nationwide, Del Taco now offers Beyond Meat crumbles as a plant-based protein option in their tacos and burritos. They even offer two positively perfect potato items that are completely free of animal products––crinkle-cut fries and hash brown sticks (I'll take 100, please!). Let's hear it for Beyond Tacos and Beyond Burritos! See how to order everything vegan-style in this vegan fast food guide below.
Vegan Menu at Del Taco
Vegan Burritos:
Epic Beyond Fresh Guacamole Burrito (it's vegan!)
8 Layer Veggie Burrito (order with no cheese or sour cream)
Beyond 8 Layer Burrito (order with no cheese or sour cream) 
Bean & Cheese Burrito Kid Loco Meal (order with no cheese)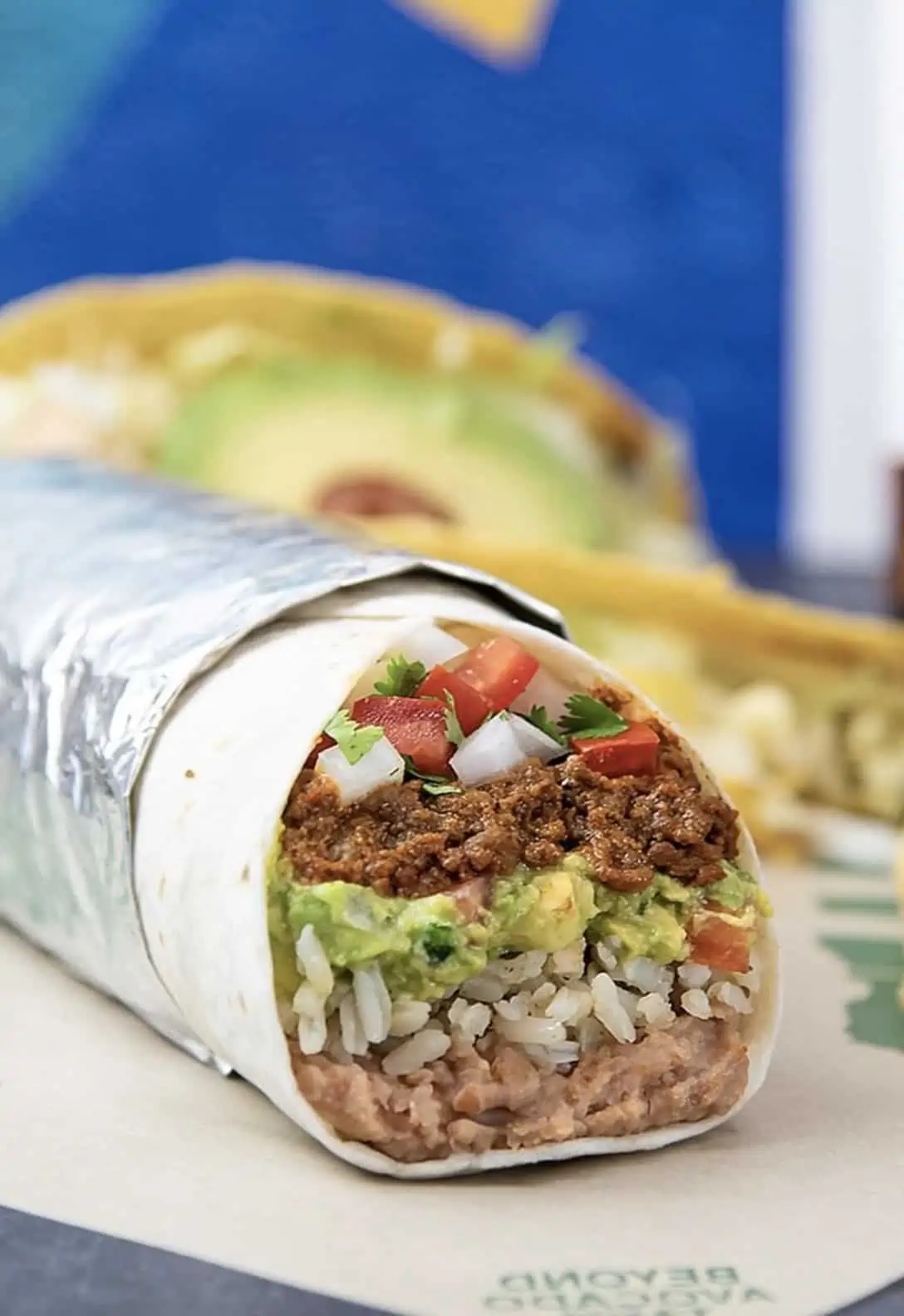 Vegan Tacos: 
Beyond Guacamole Taco (It's vegan! Just beware, the "Beyond Taco" has cheese on it, so be sure to specify the "Beyond Guacamole Taco" — previously the "Beyond Avocado Taco)
Beyond Taco (This is vegetarian but has cheese, so order with no cheese to make it vegan. Add guacamole for more flavor!)
Plant-Based Sides:
Avocado Slices
Crinkle Cut Fries
Fresh House-Made Guacamole 
Hashbrown Sticks
Homemade Tortilla Chips
Veganize These Meals for Even More Options:
For the items below, ask for no meat, cheese, or sour cream. Add extra beans, Beyond Meat crumbles, or avocado slices.
Avocado Veggie Bowl
CrunchTada Toastada
Del Taco Crunchy 
Del Taco Soft 
Freshly Made Bean & Cheese Cup
Signature Taco Salad 
Vegan-Friendly Beverages:
Bottled Water
Simply Orange
Fountain Drinks
Gold Peak Iced Tea
Prima Java Hot Coffee (The Iced Coffee contains milk)
Real Strawberry Lemonade
Lemonade Poppers (blueberry or peach)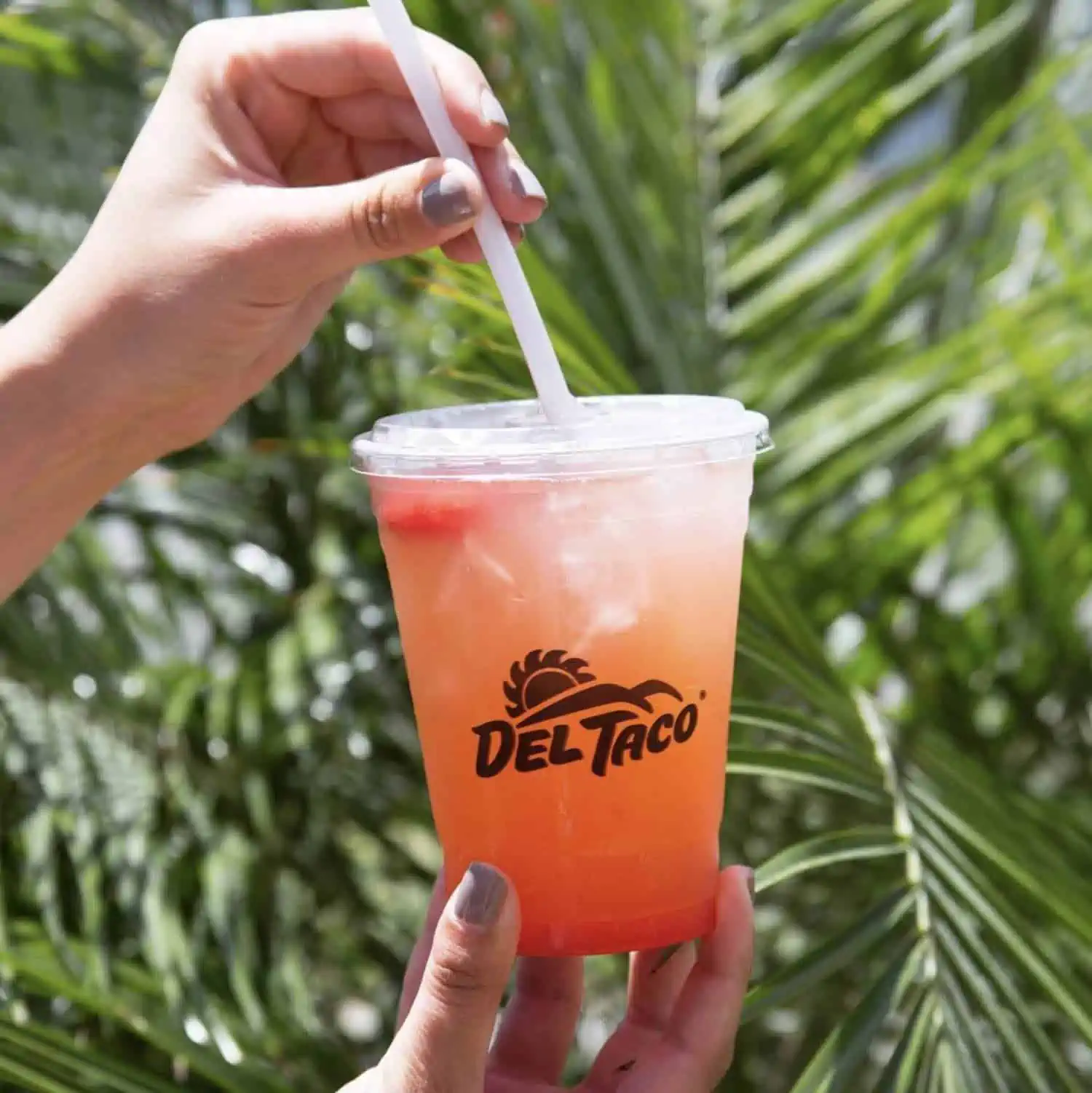 Note: If you or someone you know is vegetarian or vegan, this Vegetarian/Vegan List is super helpful. Keep in mind that the items on this list may vary depending on location.
Bring Your Own Fixin's
Luckily, ordering vegan at Del Taco isn't as difficult as it is at most fast food restaurants. They've made it easier by offering a few vegan-friendly sides and animal-free protein options. If you're searching to personalize your plant-based meal, here are a few suggestions:
Gluten-Free Goodies – Since all of the flour tortillas contain gluten, burritos are off the list. Your options aren't all bad, though. Choose an Avocado Veggie Bowl, any vegan or vegan-friendly corn taco, salad, any size fries, guacamole, hash brown sticks, homemade corn chips, and any beverage besides the iced coffee or shakes.
Spice It Up – Del Taco not only has amazing hot sauce (Mild, Del Inferno, Del Scorcho), but they also sell their hot sauces packets online. If their particular hot sauce is quite your taste (either too hot or not hot enough), consider bringing your own.
The Battle for Breakfast – Although there aren't any specific vegan breakfast options (they all contain meat, cheese and/or eggs), consider requesting a burrito filled only with beans, lettuce, tomato and avocado slices. Add an order (or two!) of hashbrown sticks, an orange juice, or coffee and you've got yourself a very satisfying morning meal!
Helpful Hints When Ordering Vegan at Del Taco
Browse the Del Taco website before ordering.
If ordering Del Taco online through a delivery service, make sure you clearly specify any substitutions you would like. Especially concerning cheese and meats. If you're worried that your request may not be honored (or seen by the server at Del Taco), it might be a better idea to go there directly to order.
Download both the Nutrition Information PDF and the Allergens & Ingredients PDF to make sure that you are purchasing a vegan-friendly item. The products offered at Del Taco do change and the PDFs seem to be updated regularly.
From past experience, it seems that most (if not all) seasonal drinks or foods are not vegan because of added dairy milk or milk derivatives. Be careful when new and exciting seasonal products are offered at Del Taco. Double check the allergens and ingredients PDF to make sure that the item is vegan before purchasing.
Ingredients in Beyond Tacos and Burritos
Beyond Guacamole Taco (Vegan + Dairy-Free): Beyond Meat vegan beefy crumbles, guacamole, lettuce, diced tomatoes, and a crunchy corn shell or soft flour tortilla.
Beyond Taco (Vegetarian): Seasoned Beyond Meat crumbles, cheddar cheese, lettuce, and diced tomatoes (choose a crunchy corn shell or soft flour tortilla).
Epic Beyond Fresh Guacamole Burrito (Vegan + Dairy-Free): Seasoned Beyond Meat crumbles, beans, cilantro lime rice, guacamole, pico de gallo, and a flour tortilla.
Beyond 8 Layer Burrito (Vegetarian): Seasoned Beyond Meat crumbles, beans, guacamole, cheddar cheese, lettuce, diced tomatoes, zesty red sauce, sour cream, and a flour tortilla.
Creating a Kinder and More Accessible Del Taco
It's only a matter of time before more vegan options land on the menu. That's the direction all the big fast food chains are heading, and Del Taco knows that they can add a few more items that are vegan-friendly. But meanwhile, we can always write to, call, or contact the managers of any location to make our requests.
Del Taco Facts
Del Taco was founded in the 1960s by Ed Hackbarth and tacos were selling for only 19 cents each. Each day, over 17,000 pounds of lard-free beans are slow-cooked and made fresh. Holy Beanoly! Their wholly addictive, crinkle-cut fries have been on the menu since 1964 and they are out-of-this-world crispy and delicious.
Did you know that Del Taco had a drive-thru almost 10 years before McDonald's had theirs? That's pretty impressive. Even the logo of this California-based fast food chain has significance: the yellow sun represents cheese (let's say it's vegan cheese), the green mountains are a symbol for lettuce (mmm…greens), and the color red stands for juicy tomatoes.
One more quick fact that was pretty shocking––their Epic Burrito weighs a whopping 16 ounces. A full pound! If you love beans and Beyond Meat, this is the way to go. Whoa!
How to Order Vegan At Other Chains:
Have you found any other options to be veganizable? Did you find something amazing that we missed? Let us know by tagging #worldofvegan and sharing your favorite vegan-at-Del-Taco creations with all of us!
This article is not sponsored and we are in no way affiliated with Del Taco. At the time of this article, the foods mentioned above are vegan. Since restaurants constantly update their menus and add or take away items, please keep this in mind when ordering your food. There may be new items that are vegan at Del Taco and not listed or items listed here as vegan, which are no longer vegan. Take care to double-check.