When it comes to burgers (plant-based or otherwise), you wouldn't think that we'd be overly partial to a particular patty shape. But, we seem to be deeply drawn to and ultimately attracted by the small, solitary squares of a certain burger building. If you're one of millions attracted to these sassy sliders, you'll be happy to know how to order vegan at White Castle.
On the other hand, if your first instinct is to positively pass by this burger place, you may want to reconsider. Though far from healthy and having only a few plant-based products, it's got much better options than either McDonald's, Burger King, or Subway for vegan versions of beef-based sandwiches.
What To Order At White Castle
Ordering vegan at White Castle is simple because you only have a two burger options and a couple of potato choices. Let's cross our fingers that they start offering vegan cheese at ALL locations and not just in two states. If you're unsure how to plan your plant-based, fast food meal, here are a few suggestions:
Basic Breakfast Ideas – Order two crispy slices of wheat toast with jelly (or jam) and include an order (or two!) of golden hash brown nibblers. Dunk into sweet Mrs. Butterworth's syrup and add an apple or orange juice on the side. You may want to grab a steaming cup of hot coffee or tea, too.
Burgers All the Way – Your best bet is to choose either (or both!) the Impossible Slider (with no cheese) or the Veggie Slider (with no ranch) and add on an order of crispy fries. If you're extra hungry, double your burger and fries and also include some appetizing onion rings (if you're lucky enough to be in the correct state). Since vegan cheese is only currently offered in NY and NJ, consider bringing some vegan slices of your own if you're not in these states!
Sustain Yourself With Snacks – When you're on the go and just slightly snack-y, strive to keep it simple. Buy a side order of fries with a selection of dipping sauces, a Crave Cooler (or other sweet liquid treat), or even better, a serving or two of applesauce. No need to overthink it.
Vegan Options at White Castle
While you certainly don't have to be a knight or lady-in-waiting to wander into White Castle, all customers are not afforded the luxury of a myriad of menu items. Are you ready to find out which White Castle vegan options are open to passionate plant-based eaters like us? Here's what you can expect!
Does White Castle Have Vegan Cheese?
Starting in March 2020, White Castle began offering dairy-free cheddar cheese by GoodPlanet Foods, but only at their NY and NJ locations in the US. Make sure to ask before ordering. If White Castle has expanded their menu to include more locations, it could be the one that you're at right now!
Vegan Bread and Buns
Signature Square Hamburger Bun
Wheat Toast
Vegan Sauces & Condiments
Barbecue
Everything Sauce
Fat Free Honey Mustard
Grape Jelly
Horseradish Sauce
Hot Sauce
Ketchup
Lemon Juice
Marinara Sauce
Mrs. Butterworth's Syrup
Mustard (all)
Seafood Cocktail Sauce
Strawberry Jam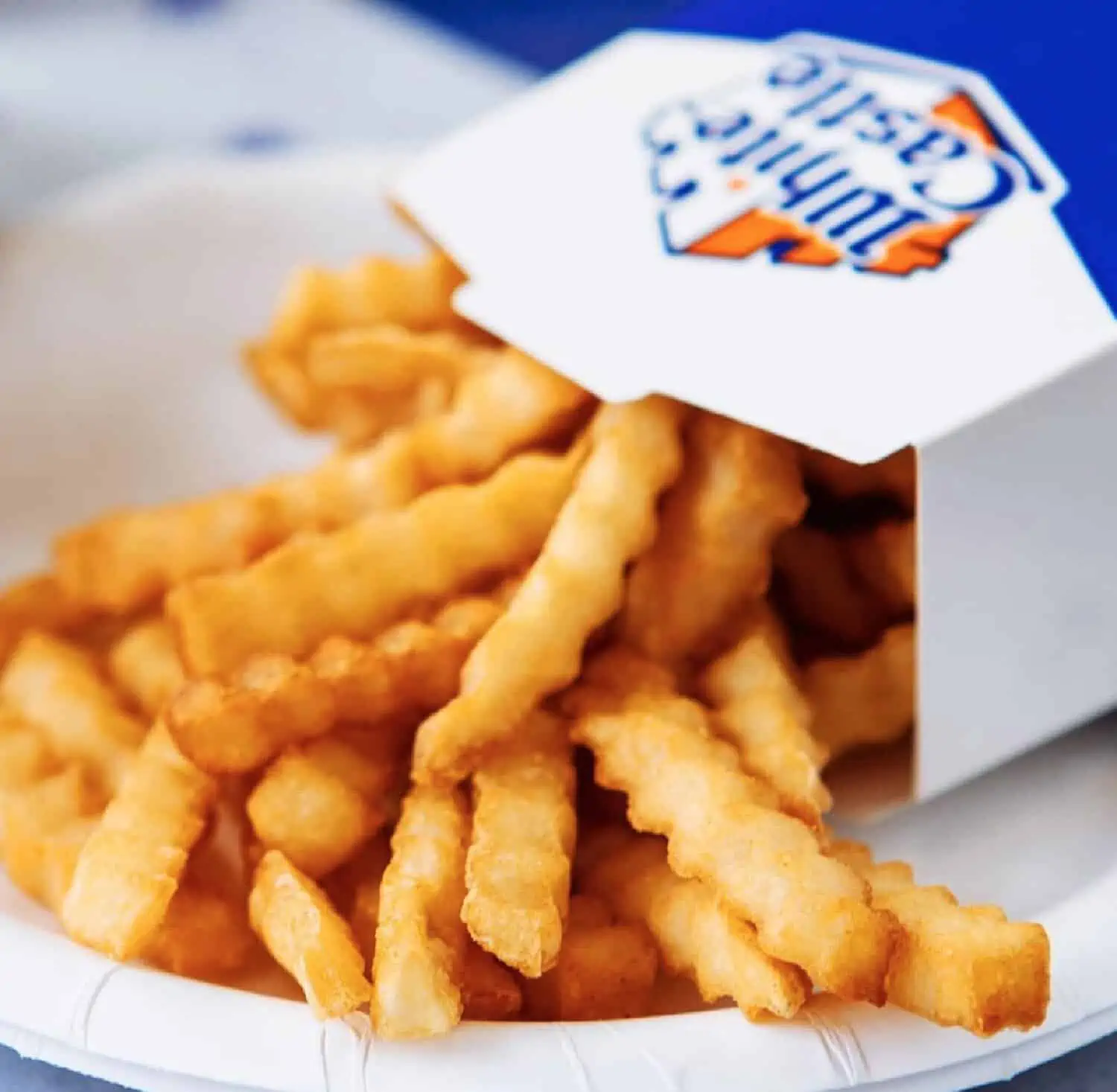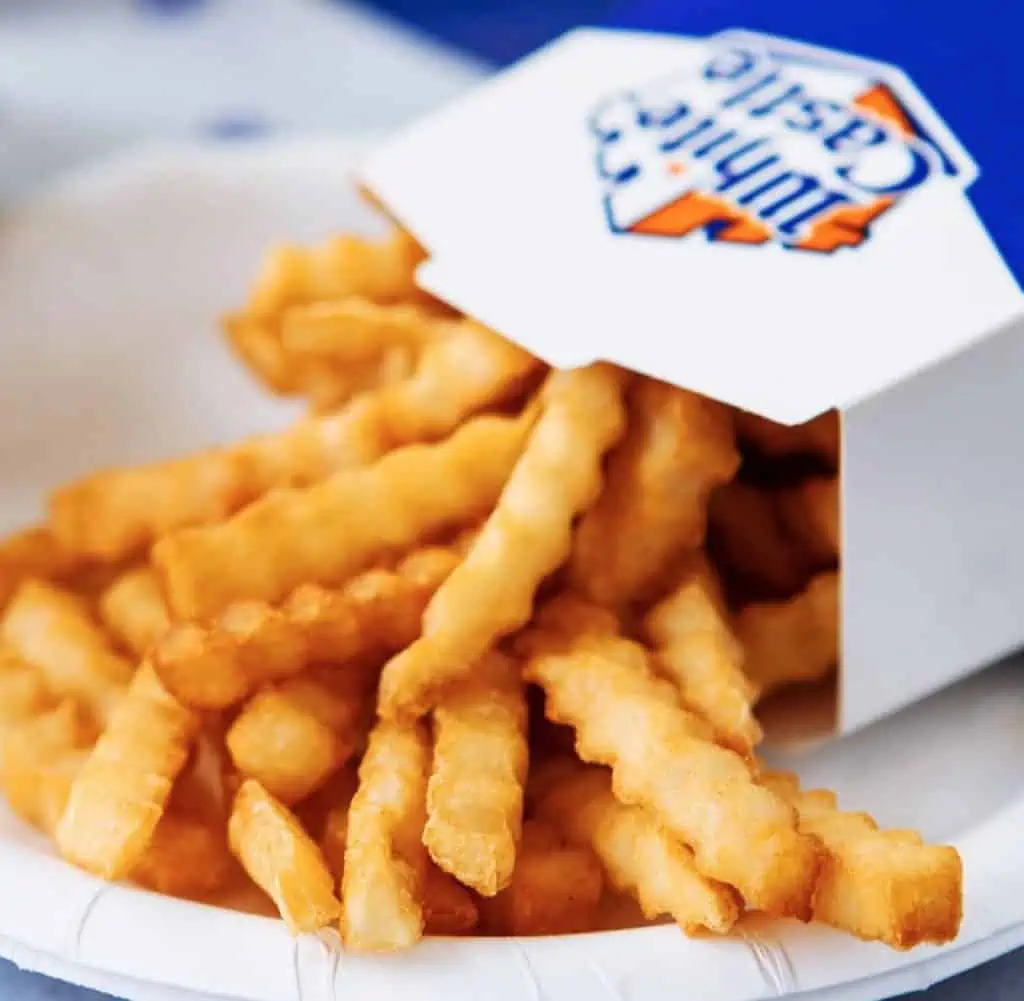 Vegan-Friendly Toppings
Fire Roasted Onions
Hamburger Onions
Pickles
Vegan Sides
French Fries
Hash Brown Nibblers
Mott's Applesauce
Onion Rings (not the ones in NY or NJ, which have milk in them)
Note: Fried Pickles and Sweet Potato Waffles Fries are two items that are only available for limited times and at limited locations. If you're craving either one, make sure to ask. You might get lucky!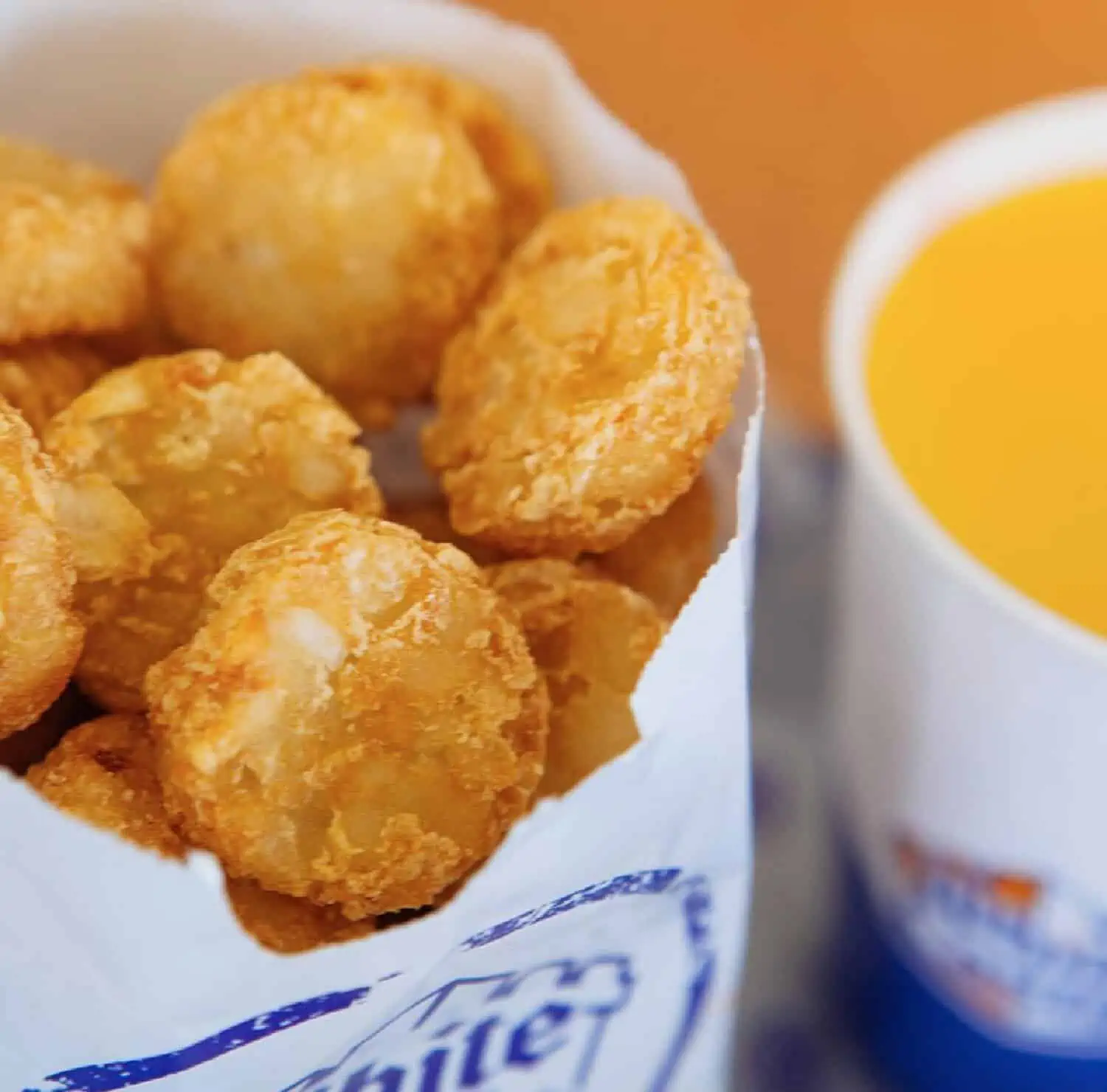 What Are My Options for Vegan White Castle Sliders?
You're in luck! Although not fully vegan, these White Caste sliders can be veganized and enjoyed by all plant-based people. For the items below, ask for no mayo, meat, egg, or dairy cheese. Add extra lettuce, tomato, onions, and/or pickles. Both are served on a dairy-free slider bun.
Impossible Slider (ask for no dairy cheese)
Veggie Slider (Dr. Praeger's veggie patty, order without ranch)
Vegan-Friendly Beverages
Bottled Water
Coca-Cola Fountain Drinks
Crave Coolers (Coke or Fanta Wild Cherry)
Hot Coffee (with no milk or cream)
Hot Tea (with no milk or cream)
Iced Sweet Tea
Monster Energy Drinks (note: some are not vegan, including Java Monster)
Orange and Apple Juice
Powerade (Mountain Berry Blast and Fruit Punch)
Vitamin Waters
NOT Vegan at White Castle
All of these options contain milk or an animal-based derived ingredients, so they are not vegan-friendly.
All Desserts
Hot Chocolate (contains dairy milk)
Onion Chips/Rings (these seem to vary from state to state, so check before ordering)
Smoothies (both flavors contain dairy yogurt)
Zesty Zing Sauce (contains eggs)
Helpful Hints When Ordering Vegan at White Castle
Browse the White Castle menu before ordering.
If ordering White Castle through a delivery service, make sure you clearly specify any substitutions you would like. Especially concerning cheese and meats. If you're worried that your request may not be honored (or seen by the server at White Castle), it might be a better idea to go there directly to order.
Download the Nutrition Information PDF and Ingredient List PDF to make sure that you are purchasing a vegan-friendly item. The menu items offered at White Castle do change and the PDFs seem to be updated regularly.
From past experience, it seems that most (if not all) seasonal drinks or foods are not vegan because of added dairy milk or milk derivatives. Be careful when new and exciting seasonal products are offered at White Castle. Double check the allergens and ingredients page to make sure that the item is vegan before purchasing.
Creating a Kinder and More Accessible White Castle
It's only a matter of time before more vegan options land on the menu. That's the direction all the big fast food chains are heading, and White Castle knows that they can add a few more items that are vegan-friendly, such as vegan cheese. But meanwhile, we can always write to, call, or contact the managers of any location to make our requests.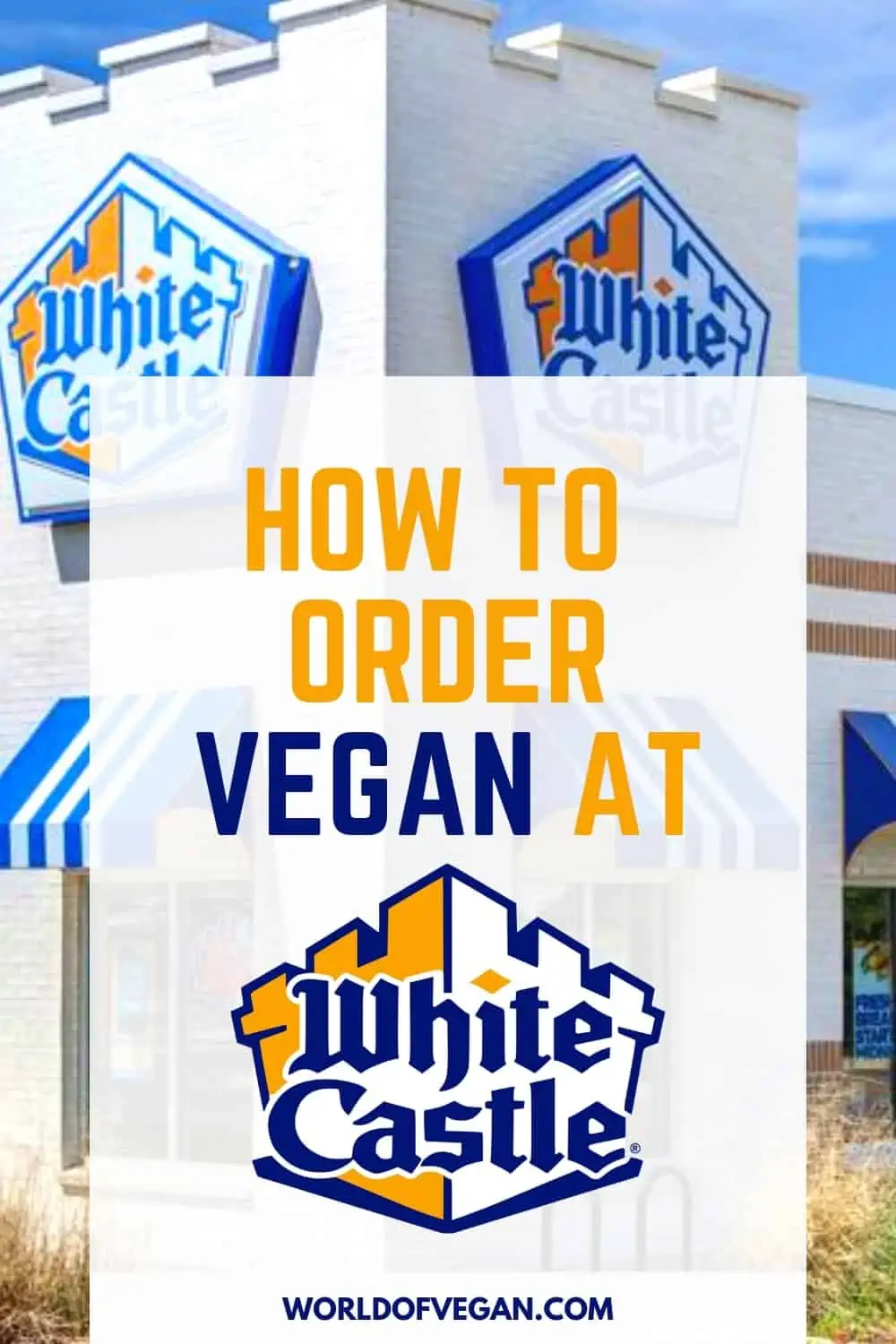 What Do We Know About White Castle?
Did you know that White Castle was the first American fast food chain? In 1921, Walt Anderson began flipping quick and inexpensive burgers back in Wichita, Kansas. The iconic white castle exterior that we all recognize today is actually only 28 feet square and, though it started off as location No. 8, now acts as a souvenir stand.
Ever wonder how White Castle got its unique name? After the 1906 novel, The Jungle, highlighted the harsh, cruel, and unsanitary conditions of the meat packing industry, not many people were as motivated to support the business of burgers. The owner decided to upgrade the reputation of the restaurant by using the castle motif as representing 'strength' and the color white for 'purity'. Apparently, it worked well for them.
Fun Facts About White Castle
Most sliders eaten in one sitting is 103 (at least so far!)
They sell a hamburger scented candle (what???)
The exclusive square shape was the result of trying to fry meatballs on a flat surface. In frustration, Anderson used his spatula to squash the patty, thus creating the classic boxy burger we all associate with White Castle.
How To Order Vegan At Other Fast Food Chains
Have you found any other options to be veganizable? Did you find something amazing that we missed? Let us know by tagging #worldofvegan and sharing your favorite vegan-at-White-Castle creations with all of us!
This vegan at White Castle fast food article is not sponsored and we are in no way affiliated with White Castle. At the time of this article, the foods mentioned above are vegan. Since restaurants constantly update their menus and add or take away items, please keep this in mind when ordering your food. There may be new items that are vegan at White Castle and not listed or items listed here as vegan, which are no longer vegan. Take care to double-check.