The craving for savory, salty, and alluringly addictive Chinese food can sometimes come up on you without warning. When that happens, we want to be there for you in your hour of need. Our guide on how to order vegan at Panda Express will come in handy at your hungriest moments.
When not only meat, but also animal broth and eggs are in the menu offerings, ordering can get a little tricky. When you're hangry or, even worse, raveganous (our new word for a ravenous vegan), making a conscious choice can be even more challenging. What can you do to satisfy your starved stomach?
First, take a deep breath. Second, read through this list and take our advice. Lastly, thank the people at Panda Express for offering an increasingly delicious array of plant-based provisions—finally! Scroll a little further and then order your food, my friend!
How to Navigate the Menu at Panda Express
Luckily, the options for ordering vegan at Panda Express are not as scarily scarce as they once were. Back in the day, there was chicken broth or eggs in nearly every menu except for white rice. But no longer! This Chinese kitchen restaurant started adding more fantastic plant-based meat options, and here are some solid suggestions on how to order as quickly and painlessly as possible.
Except for sides and beverages, there is pretty much only one option in each category on the menu. So, make it easy on yourself by ordering these items:
Appetizer: Vegetable Spring Rolls
Entree: Eggplant Tofu (available at select locations)
Vegetable: Super Greens
Side: Choose a rice or noodle bowl (or both, if you're really hungry)
Sauces: Any and all!
Beverage: Your choice
Dessert: Fortune Cookie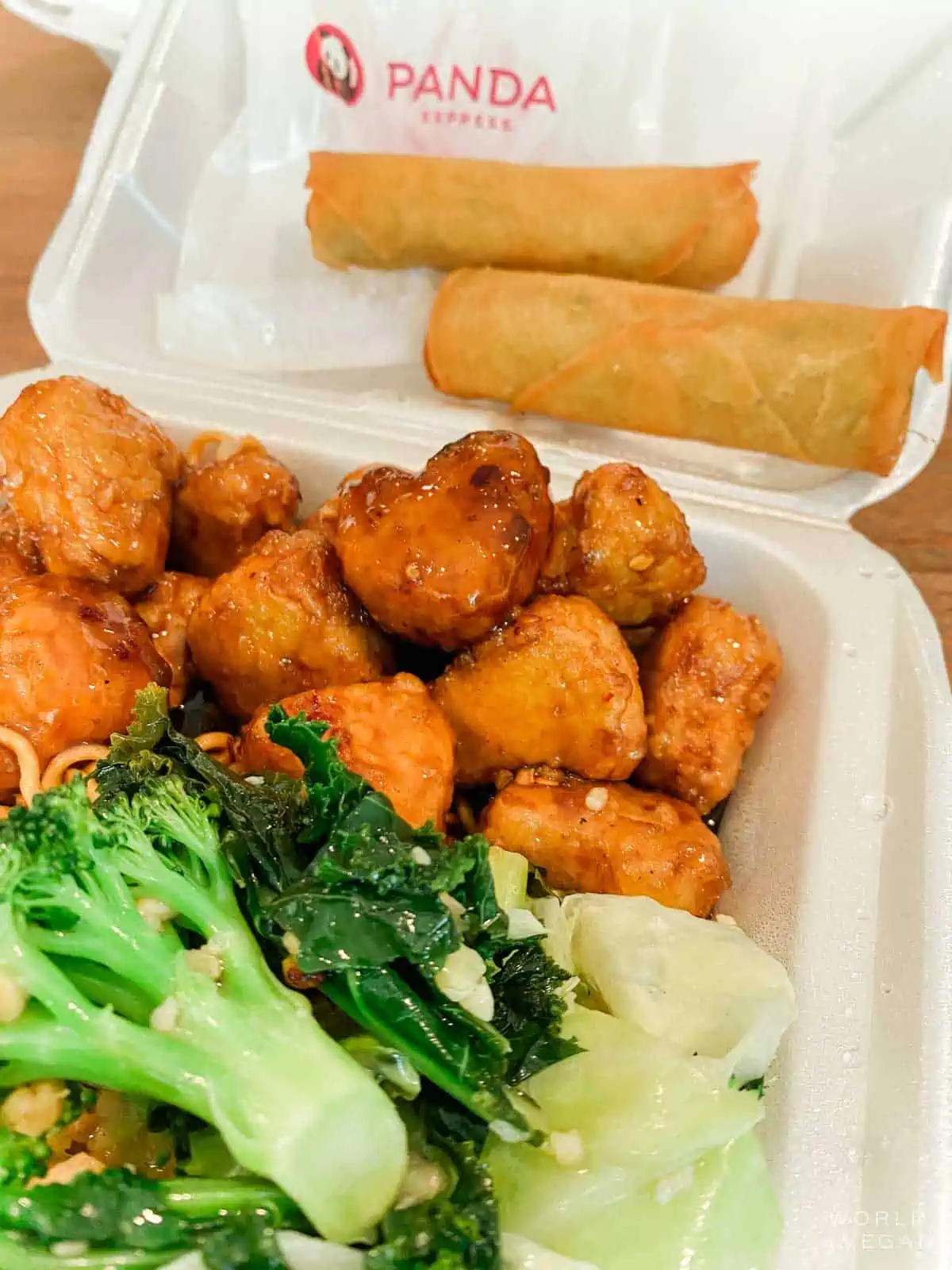 Panda Express Vegan options
Entrees
Eggplant Tofu (browned tofu, eggplant, and red bell peppers in a spicy sauce; only available at some locations)
Chow Mein (stir-fried noodles with cabbage, onions, and celery)
Chow Fun (available at select locations)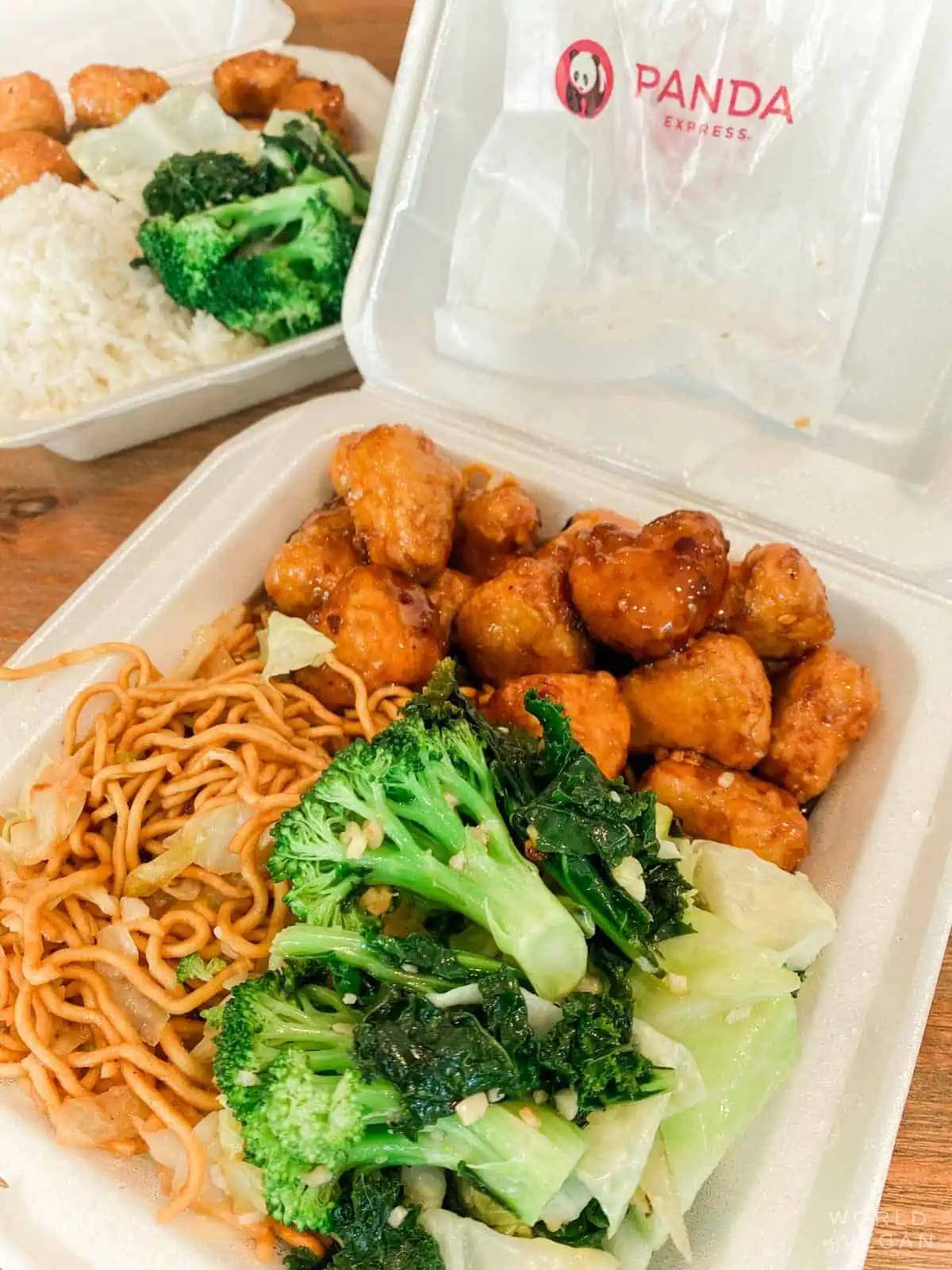 Appetizers
Vegetable Spring Rolls (cabbage, celery, carrots, green onions, and Chinese noodles in a wonton wrapper)
NOTE: At some locations, you can add mushrooms, green beans, tofu, or vegetable protein to the spring rolls. The wrappers do not contain eggs.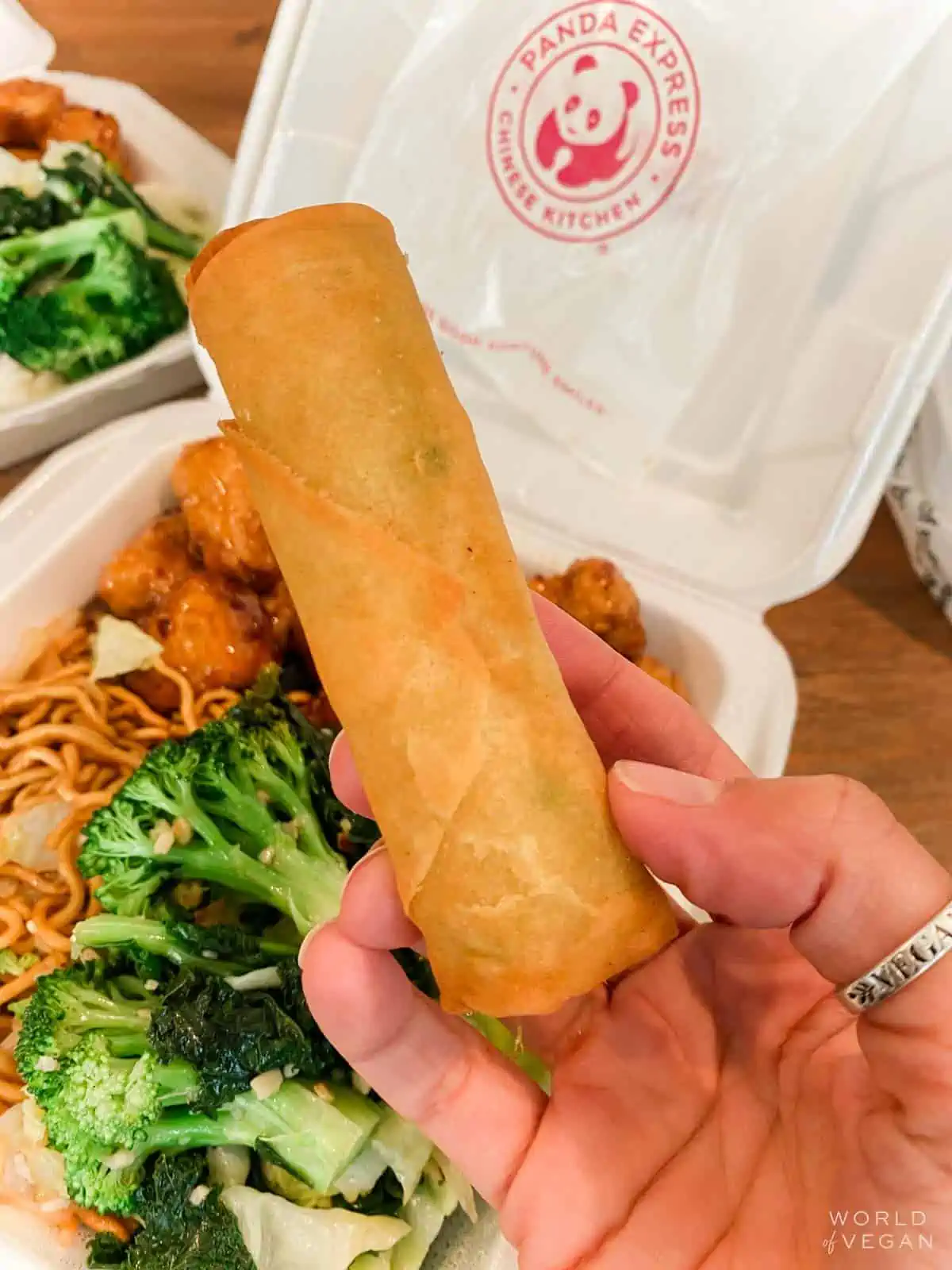 Sides
Super Greens (steamed broccoli, kale and cabbage)
Brown Steamed Rice
White Steamed Rice
Sauces
Chili Sauce
Hot Mustard
Plum Sauce
Potsticker Sauce
Soy Sauce
Sweet and Sour Sauce
Teriyaki Sauce
Dessert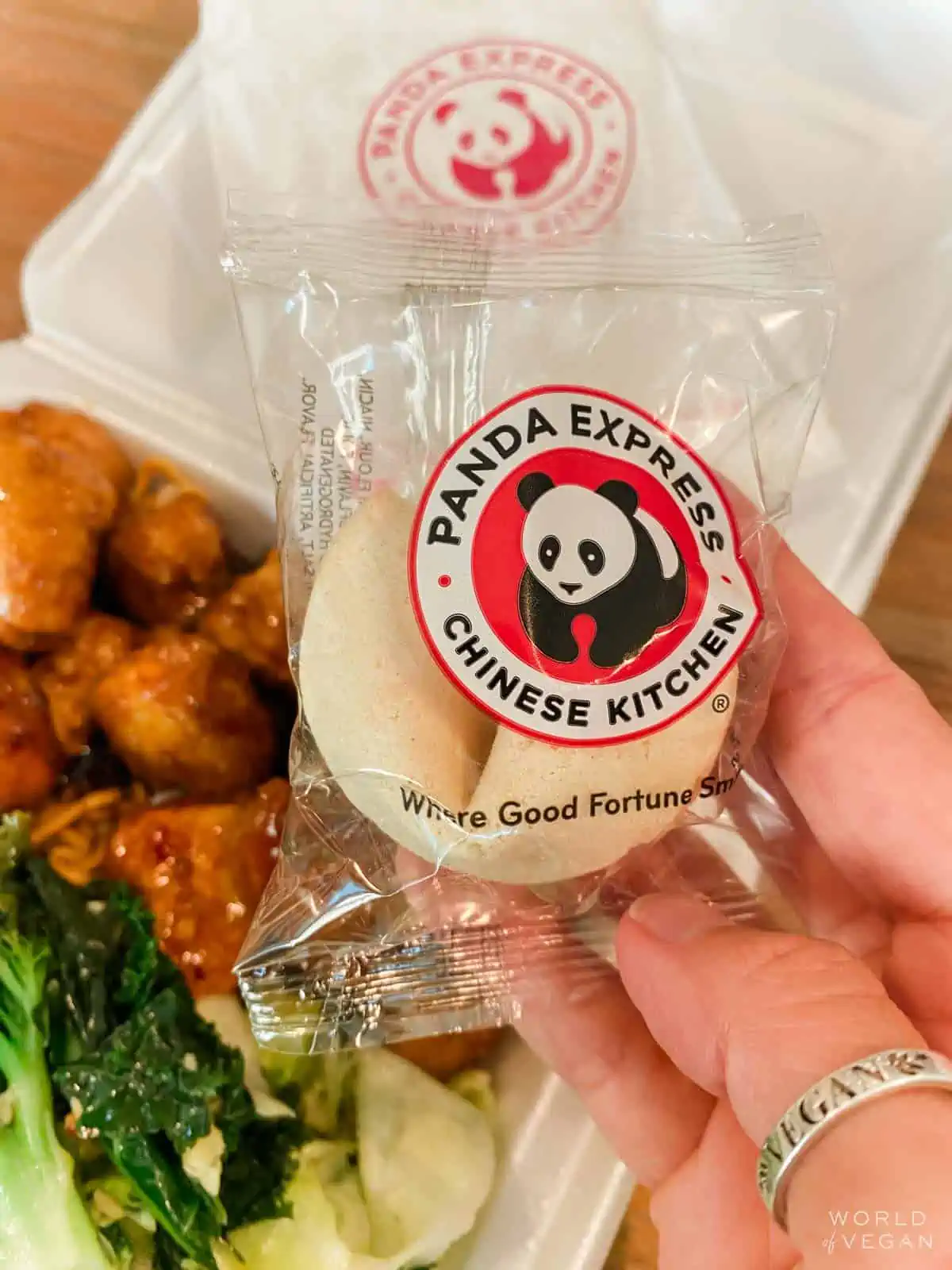 Vegan-Friendly Beverages
Barq's Root Beer
Black Tea
Fountain Drinks (Coca-Cola Brands)
Fuze Teas (Lemon and Raspberry)
Glaceau Vitaminwaters
Gold Peak Teas
Hi-C Fruit Punch
Minute Maid Lemonades
Powerade
Seagrams' Ginger Ale
Sweet Tea
What's Not Vegan at Panda Express?
Hot and Sour Soup – contains eggs
Fried Rice – contains eggs
Chocolate Chip Cookies – contains eggs, milk, and butter
NOTE: Most of the foods that are available at Panda Express contain wheat and soy. If you are sensitive or allergic to either of these elements, you might want to avoid visiting this fast food restaurant for now.
Vegan Orange Chicken at Panda Express (Limited Release)
The very limited options for vegans at Panda Express turned a corner with the launch of vegan orange chicken! Beyond the Original Orange Chicken was available at all locations starting September 7, 2022— but it was only available for a limited time.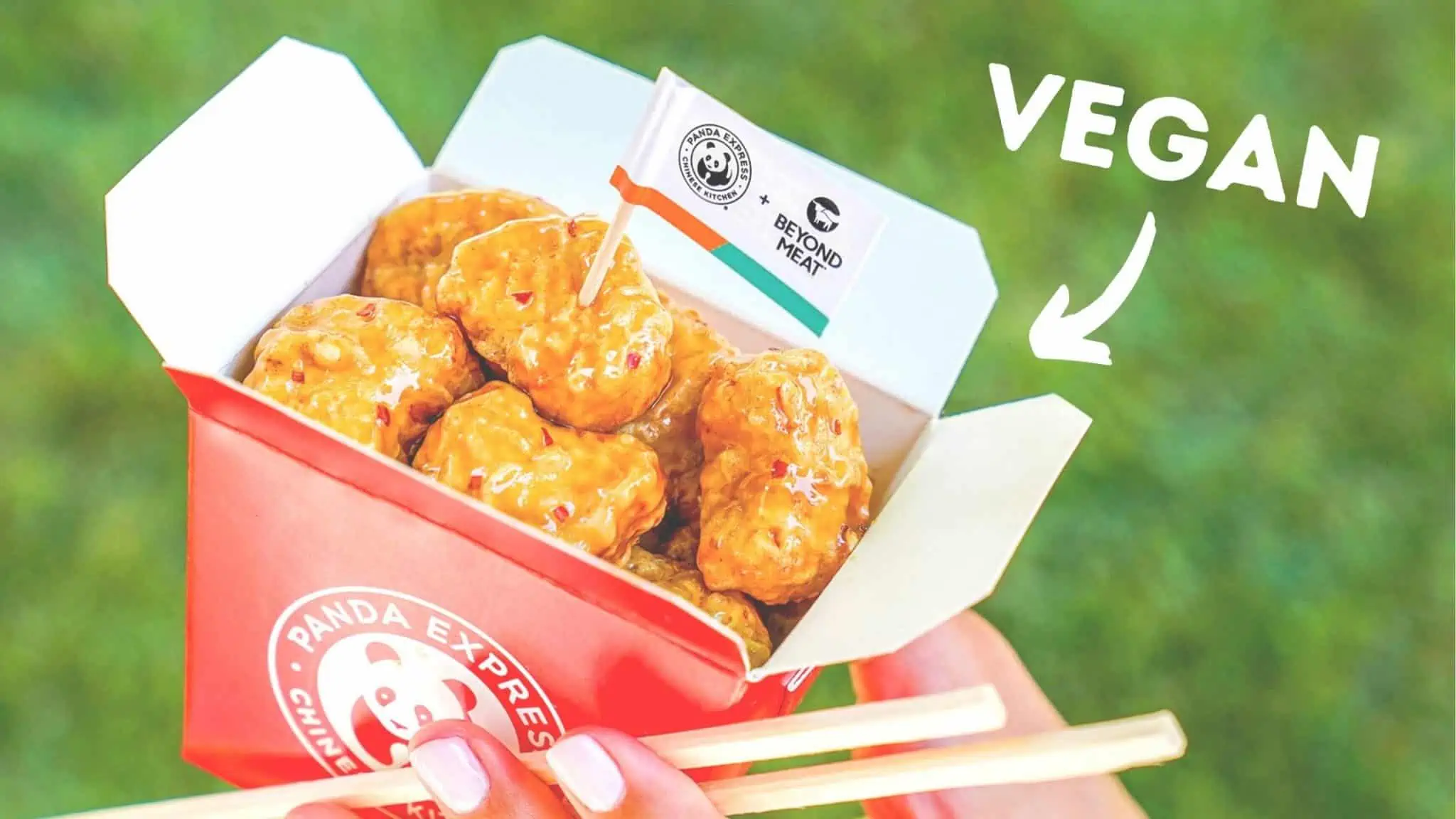 When Panda Express first tested their vegan orange chicken at a few locations, they sold out before most hungry herbivores had a chance to give it a try. We're eagerly waiting for them to catch up with the plant-based demand! It's made with Beyond Meat's Beyond Chicken Tenders and looked and tasted very similar to the Original Orange Chicken.
Does Panda Express Use Chicken Broth in Their Menu Items?
Nope! Thanks to years of campaigning from organizations like PETA and Vegan Outreach, Panda Express has not used chicken broth in their dishes since February 2021.
Are the Noodles at Panda Express Vegan?
Yes! The noodles contain no eggs or other animal products. But, be aware that all of the vegan-friendly food options are cooked in the same wok as foods that contain meat. Panda Express has mentioned that they wipe the woks out well between uses, but they do share the same surface. If you are not comfortable with the possible cross-contamination, it might be best to avoid this fast food restaurant all together.
Helpful Hints When Ordering Vegan at Panda Express
Browse the Panda Express menu before ordering.
If ordering Panda Express online or through a delivery service, make sure you clearly specify any substitutions you would like. Especially concerning sauces and meats. If you're worried that your request may not be honored (or seen by the server at Panda Express), it might be a better idea to go there directly to order.
Check out the Nutrition and Allergen Information page to make sure that you are purchasing a vegan-friendly item. The menu items offered at Panda Express do change and the informational charts seem to be updated regularly.
Be careful when new and exciting seasonal products are offered at Panda Express. Double check the allergens and ingredients PDFs to make sure the item is vegan before purchasing.
Creating a Kinder and More Accessible Panda Express
Panda Express is yet another great example that when we ask; companies listen. Vegetarians and vegans have been asking for vegan options on the menu for this quick-stop, Chinese takeout restaurant for over a decade. And finally we have them. Your voice matters, so we hope this inspires you to use your voice to make a difference!
You can always write to, call, or contact the managers of any location to make our requests.
What are your favorite items on the new vegan menu at Panda Express? Let us know on Facebook, Twitter, and Instagram!
How to Order Vegan at Other Fast Food Chains
We have a whole series of vegan fast food guides to help you find the best options at each location. Take a peek if you're in need of a quick vegan meal on a road trip or with fast food-loving friends!
Have you found any other options to be veganizable? Did you find something amazing that we missed? Let us know by tagging #worldofvegan and sharing your favorite vegan-at-Panda-Express creations with all of us!
This article is not sponsored and we are in no way affiliated with Panda Express. At the time of this article, the foods mentioned above are vegan. Since restaurants constantly update their menus and add or take away items, please keep this in mind when ordering your food. There may be new items that are vegan at Panda Express and not listed or items listed here as vegan, which are no longer vegan. Take care to double-check.