This restaurant has stolen a pizza my heart forever. I have such joyful memories growing up in the early 80s and visiting Pizza Hut with my mom, my grandma, and my sister once a month. We would load up on pepperoni pizza, sip Pepsi out of huge red plastic cups and (my personal favorite) eat salad on super small plates covered with spoonfuls of sticky, orange french dressing and as many sunflower seeds as the plate could handle.
When I got older and I had my own family, my youngest son loved Pizza Hut as much as I did and would always ask for Pizza Hut for his birthday dinner. At that time, I had no idea how much the dairy cheese and pepperoni were hindering our health and causing so much suffering to animals.
I didn't have to think about how to order vegan at Pizza Hut back then, but now I'm on a mission to fulfill my plant-based pizza cravings! While they don't have vegan cheese (yet), you can load up your pizza with Beyond Meat Italian sausage and all the sauce and veggies your heart desires.
Pile On the Plant-Based Meats
Huzzah! In November of 2020, Pizza Hut announced its debut of two new plant-based pizza options. This is the very first national pizza fast food restaurant in history to offer a vegan meat substitute. Although it's super exciting, you could almost say, "Finally! It's about freakin' time!"
Customers have the choice between the Beyond Italian Sausage Pizza and The Great Beyond Pizza (with original pan crust, marinara, tomatoes, red onions and banana peppers, as well as dairy cheese). Simply order without the cheese to make it vegan!
Both options include the Beyond Meat Italian Sausage. If you're not familiar with Beyond Meat's Italian Sausage, Pizza Hut has conveniently created an entire page with information for their customers.
Suggestions for a Super Slice
Here's how to order vegan at Pizza Hut and make your own mouth watering meal:
Choose a pizza crust (see vegan options below)
Select a sauce
Ask for "no cheese"
Pick your favorite veggie toppings
Consider a dipping sauce
Add a side of fries, breadsticks (with no parmesan or seasonings), or cinnamon sticks (with no icing)—maybe all three!
Or, you can buy one of the new Beyond Italian Sausage pizzas (with no cheese). We hope this guide will help you with how to order vegan at Pizza Hut!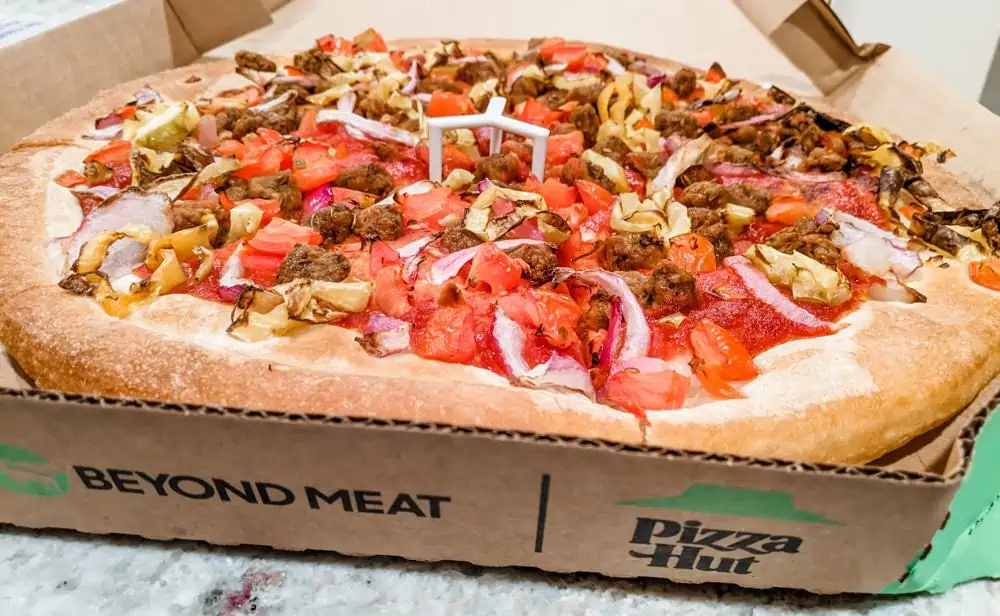 Vegan Options at Pizza Hut
Vegan Pizza Crusts:
Hand Tossed
Original Pan
Thin & Crispy
P'Zone Dough
Rectangular Crust
Vegan Crust Flavor:
No Crust Flavor (aka plain)
Buttery Blend (not the Garlic Buttery Blend—that one contains dairy)
Vegan Pizza Sauces:
Marinara
Buffalo
Bean (regional)
Vegan Meat Toppings:
Vegan Vegetable Toppings:
Diced Roma Tomatoes
Green Bell Pepper
Green Chili Peppers
Mushrooms
Red Onions
Mediterranean Black Olives
Roasted Spinach
Sliced Banana Peppers
Sliced Jalapeño Peppers
Sweet Pineapple
Vegan Sides:
Breadsticks (order with no parmesan cheese or seasonings)
Wing Street Fries
Vegan Dips:
Spicy BBQ
Buffalo
Lemon Pepper (regional)
Spicy Asian (regional)
Ketchup
Vegan Desserts:
Cinnamon Sticks (without icing)
Vegan Beverages:
Aquafina Water
Pepsi products (both diet and regular)
Sierra Mist
Mountain Dew
NOT Vegan at Pizza Hut: Flavored crusts (other than the Buttery Blend, which does not contain butter), any desserts (besides the cinnamon sticks, order without icing), pasta dishes or garlic knots (contain cheese).
Travel with Your Own Toppings
Power up your pizza order with your own toppings! If you're taking the pizza to go, you can spruce it up with your favorites at home. Here are a few ideas:
It goes without saying that if you want a cheesy pizza, you need to add your own cheese. Add some vegan cheese shreds or slices of Miyoko's mozzarella and pop the pizza back in the oven at home. You can broil it briefly to melt the added vegan cheese.
Although Pizza Hut has a sufficient selection of veggies, your favorite might have missed the menu. Arm yourself with marinated artichoke hearts, sun-dried tomatoes, or even grilled asparagus.
Fresh herbs and baby greens are fantastic for flavor and fundamental vitamins and minerals. If spinach doesn't do it for you, bring in some sweet basil, spicy arugula, mellow microgreens, curly kale, or opt for oregano.
Pretty Cool Facts about Pizza Hut
Pizza Hut was founded in 1958 by two brothers, Dan and Frank Carney, in Wichita, Kansas. With $600 borrowed from their mother, the brothers began their venture with pizza pies. Now, their business is the largest pizza chain on Earth. Whoa.
Can you believe that Pizza Hut even delivered a pizza to the top of Mount Kilimanjaro? This delivery set the record for the highest altitude delivery in the world. I wonder how long they had to wait for that delivery…?
At one time, they also had a mascot called "Pizza Pete", but he was replaced in the 1970s with a picture of their iconic red roof symbol. Poor Pizza Pete!
In 1999, they even tried to laser their logo on the moon. Sadly, it wasn't successful because the logo would have had to be the size of Texas to be seen from the moon.
The most impressive part of Pizza Hut's history was their introduction of the Book-It Program in 1984. This program aims to encourage children to read and continues to this day. Go, Pizza Hut!
Helpful Hints When Ordering Vegan at Pizza Hut
Browse the Pizza Hut website before ordering.
If ordering Pizza Hut online through a delivery service, make sure you clearly specify any substitutions you would like. Especially concerning cheese. If you're worried that your request may not be honored (or seen by the server at Pizza Hut), it might be a better idea to go there directly to order.
Check out both the Nutrition Information Calculator and the Food Allergy & Sensitivity Information to make sure that you are purchasing a vegan-friendly item. The products offered at Pizza Hut do change and the information seems to be updated regularly.
At the time of this article, Pizza Hut is not offering vegan cheese options. Any pizza you purchase must be ordered without cheese to be vegan.
If there is any kind of salad or salad bar option on the menu, make sure to add it to your meal. It will make your supper so much more satisfying with a punch of plant power and the fiber-y fullness.
Help Create a More Compassionate Pizza Hut
Now that Pizza Hut has added Beyond Meat's Italian Sausage to the menu, It's only a matter of time before vegan cheese is also chosen. That's the direction all the big fast food pizza chains are heading, and Pizza Hut will have to step up their game sooner rather than later to stay ahead. But meanwhile, we can always write to, call, or contact the managers of any location to make our requests.
Requesting not only vegan cheese (wouldn't Miyoko's be amazing?), but also a few sides other than fries would be fantastic. A side salad, a selection of plant-based dips, or even one dessert would be most welcome.
How to Order Vegan at Other Fast Food Chains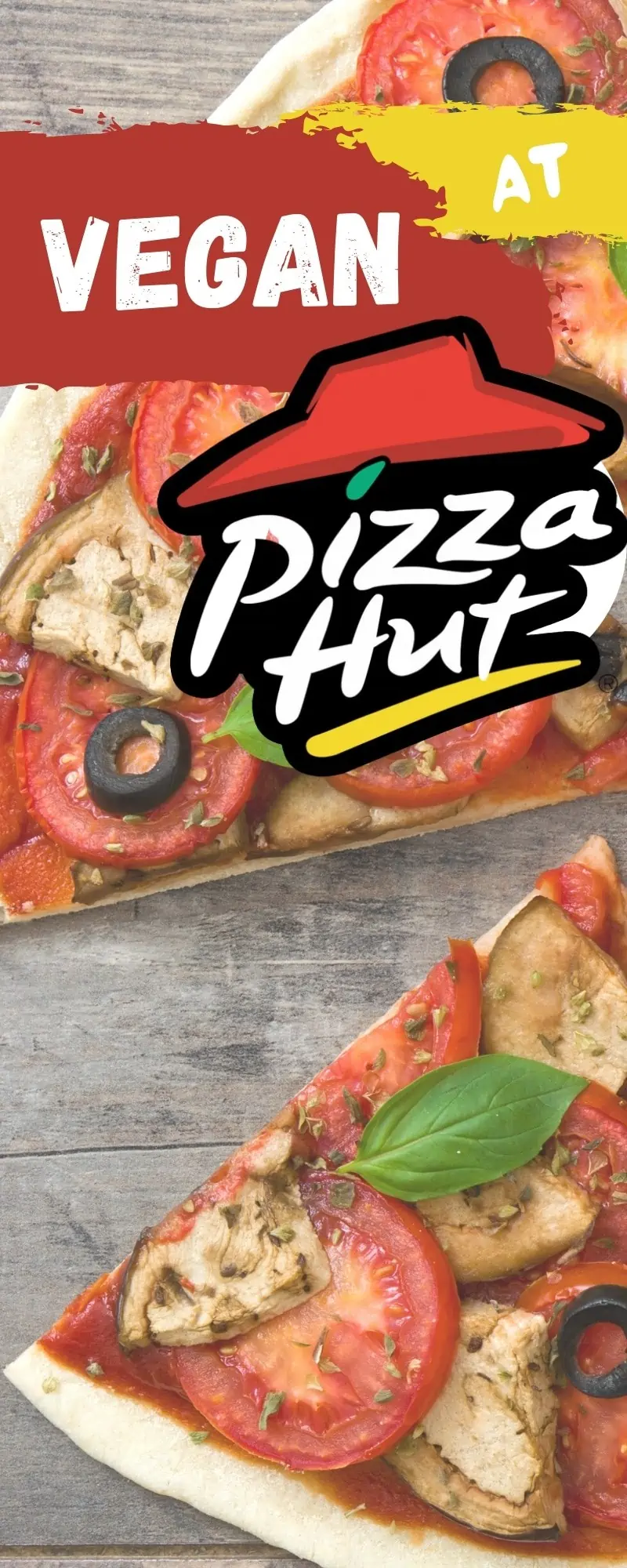 Have you found any other options to be veganizable? Did you find something amazing that we missed? Let us know by tagging #worldofvegan and sharing your favorite vegan-at-Pizza-Hut creations with all of us!
This article is not sponsored and we are in no way affiliated with Pizza Hut. At the time of this article, the foods mentioned above are vegan. Since restaurants constantly update their menus and add or take away items, please keep this in mind when ordering your food. There may be new items that are vegan at Pizza Hut and not listed or items listed here as vegan, which are no longer vegan. Take care to double-check.