Do you dream of dairy-free ice cream? We certainly do! Luckily, there are more and more vegan-friendly flavors and individual ice cream shops popping up every day. With that in mind, we hope our Ben and Jerry's vegan guide will inspire you to go out and grab a non-dairy cone (or pick up a pint) today!
When you think of this Vermont-based ice cream duo, you may have been deterred by all the dairy. But, since 2016, Ben & Jerry's has been serving up scoops of scrumptious ice cream completely free of dairy! With an alluring almond milk base, they've added gobs of gooey ingredients such as caramel, chocolate, cookies, crackers, and even candy that are plant-based and positively pleasure-inducing.
What are you waiting for? Start skimming this guide for all the dairy-free, ice cream goodness so you can go and get yourself a sweet snack. Vegan ice cream is our one and cone-ly.
About Ben & Jerry's Non-Dairy Ingredients
It's nice to know that Ben & Jerry's is not only interested in adding plant-based options, but is also thinking of other important-to-the-planet topics like these:
Fairtrade Certified – Including ingredients such as sugar cocoa, vanilla, coffee, and bananas.
Non-GMO Sourced – All ingredients are free of GMOs.
Certified Vegan – Their frozen desserts do not contain any eggs, honey, or dairy.
Made with Almond Milk and Sunflower Butter
Is the Ben & Jerry's Snackable Cookie Dough Vegan?
Yes! They sell vegan chocolate chip cookie dough chunks in sealable bags in the freezer section. Make sure you choose the ones clearly labeled "vegan". They also offer a non-vegan cookie dough, as well, so just be careful when you grab a bag. A gluten-free option might be a good option for Ben & Jerry's to offer in the future.
FAQs About Ben & Jerry's Vegan Ice Cream Options
Are any Ben and Jerry's cones vegan?
The sugar and cake (aka wafer) cones at Ben u0026 Jerry's are vegan. They are not able to 100% confirm that they are made sugar that is free of bone char, but they do claim that these cones are vegan-friendly. The waffle cones contain animal products, so they are not vegan.
Is the chocolate syrup at Ben and Jerry's vegan?
Yup! We're happy to say that you can add all of the chocolate syrup you want on your frozen dessert. Yay!
What is Ben and Jerry's vegan ice cream made of?
At the moment, the basis of their dairy-free ice cream is almond milk. They do not use honey, eggs, or dairy in any of their vegan-friendly flavors.
How many vegan flavors does Ben and Jerry's have?
As of December 2022, there are 18 dairy-free ice cream pint flavors. Yay! But, make sure to check here for more details. Ben & Jerry's tends to add or discontinue flavors at least once a year.
Is dairy-free Ben and Jerry's vegan?
It certainly is! Even their added chocolate chunks and nut butters are vegan-friendly. Woo!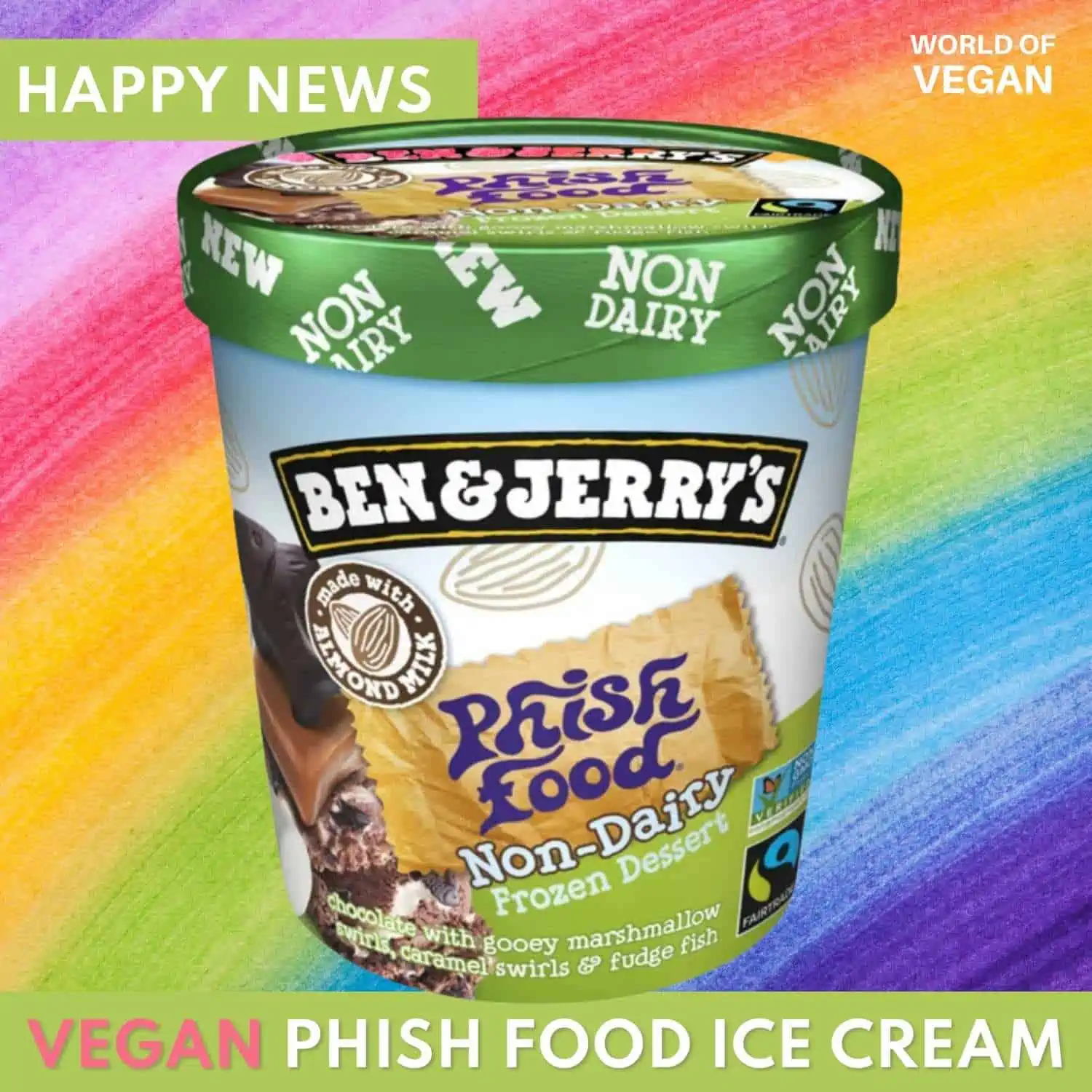 Ben & Jerry's Dairy-Free Pint Flavors
These are the updated 2022 Ben & Jerry's vegan-friendly pints. Some may stay and some may go, but there's so many delicious selections to decide upon – a dairy-free ice-cream dream! (GF = gluten free)
New Ben & Jerry's Flavors
Boom Chocolatta (GF) – mocha and caramel with fudge flakes and gluten-free chocolate cookies and cookie core
Bananas Foster (GF) – banana and cinnamon with almond toffee pieces and salted caramel core
Mint Chocolate Chance – mint with fudge brownie pieces
Sunflower Butter Ice Creams
Colin Kaepernick's Change the Whirled – caramel with fudge chips, graham cracker and chocolate cookie swirls
Creme Brulee Cookie – burnt caramel with brown sugar cookies and salted caramel swirls
"Milk" and Cookies – vanilla with chocolate chip cookies, chocolate sandwich cookies, and chocolate cookie swirls
Mint Chocolate Cookie – mint with chocolate sandwich cookies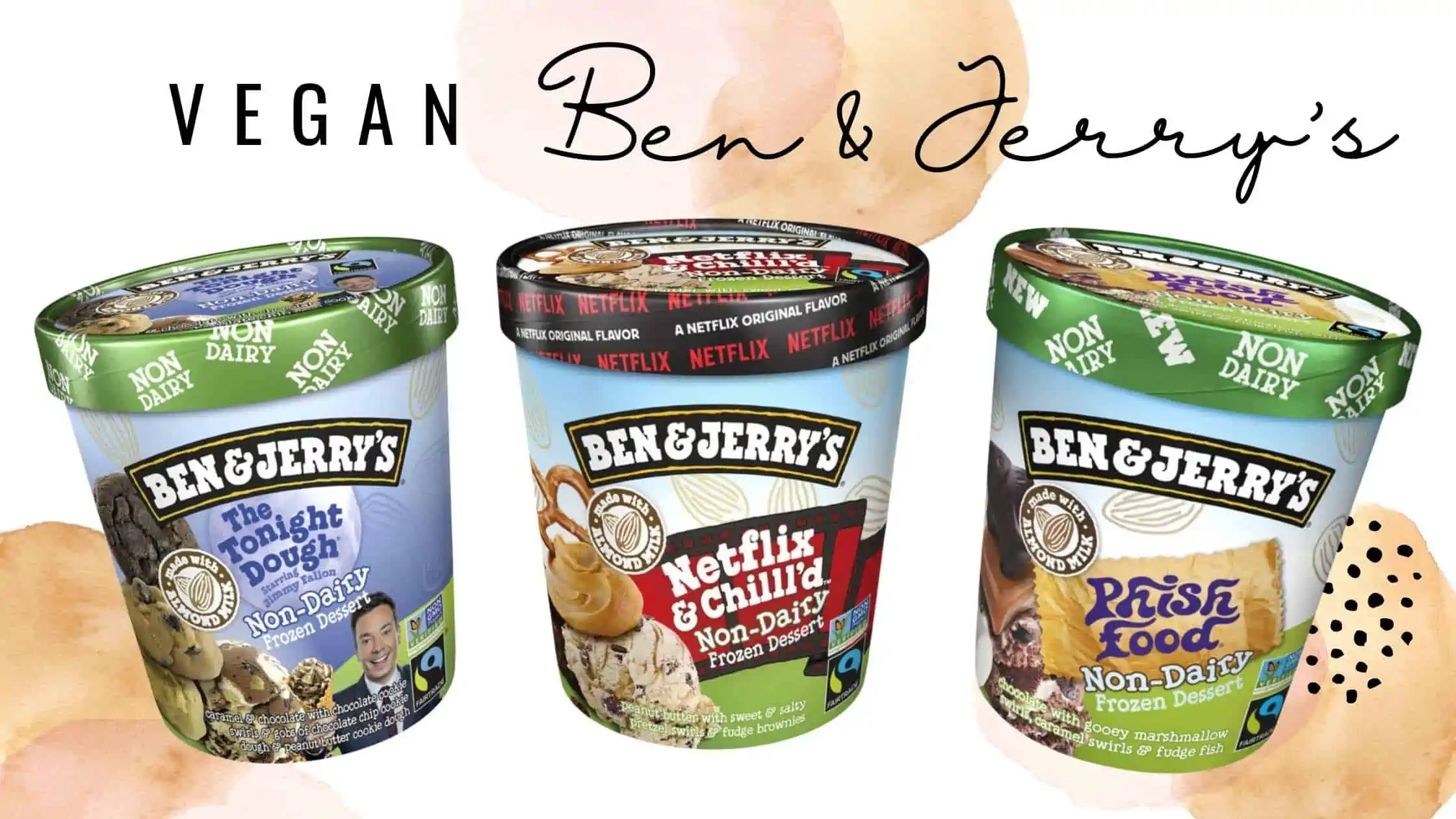 Ben and Jerry's Almond Milk Base Pints
Americone Dream – vanilla with fudge-covered waffle cone pieces and caramel swirl
Cherry Garcia (GF) – cherry with cherries and fudge flakes
Chocolate Chip Cookie Dough – vanilla with chocolate chip cookie dough and fudge flakes
Chocolate Fudge Brownie – chocolate with fudge brownies
Chunky Monkey – banana with walnuts and fudge chunks
Coconut Seven Layer Bar – coconut with fudge chunks, walnuts, and graham cracker and caramel swirls
Karamel Sutra Core (GF) – chocolate and caramel with fudge chips and a soft caramel core
Netflix & Chill'd – peanut butter with sweet & salty pretzel swirls and fudge brownies
P.B & Cookies – vanilla with chocolate sandwich cookies and crunchy peanut butter swirls
Peanut Butter Half Baked – chocolate and peanut butter with fudge brownies and peanut butter cookie dough
Phish Food (GF) – chocolate with marshmallow swirls, caramel swirls and fudge fish
The Tonight Dough – caramel and chocolate with chocolate cookie swirls, chocolate chip cookie dough and peanut butter cookie dough
Choices can be overwhelming when you first walk up to the ice cream counter, so reading through this guide first (and even having it open on your phone) will help a good deal. Before you head into line, think about what you're in the mood for––a small cone? a smoothie? a pint to take home? Be clear in your mind first so that ordering can be a breeze!
Here's what we suggest:
Scoop – Choose from the plant-based, scoop shop flavors below. You can choose at least 3 different flavors in one cone, if you wish.
Smoothie – Ask the server to blend up a bit of almond milk with a couple of scoops of dairy-free ice cream (or sorbet) for a simple and scrumptious smoothie.
Non-Dairy Pints – Head to the refrigerator and let your hunger decide which flavors will follow you home.
Note: If you're gluten-sensitive, here is a list of their Certified Gluten-Free Flavors. Gluten-free flavors are not necessarily dairy-free. Look at the label carefully before purchasing. We've indicated the gluten-free flavors (GF) below.
Ben & Jerry's Scoop Shop Specialty Flavors
When you visit a Ben & Jerry's Scoop Shop, here are a few of the dairy-free options to consider:
Berry Berry Extraordinary Sorbet – swirls of blueberry and raspberry fruit sorbet
Chocolate Chip Cookie Dough – vanilla with chocolate chip cookie dough and fudge flakes
Cold Brew Coffee Fudge Chip – cold brew with fudge flakes and fudge swirl
Colin Kaepernick's Change the Whirled – caramel with fudge chips, graham cracker and chocolate cookie swirls
Lemonade Sorbet – lemon fruit sorbet
Strawberry Marshmallow – strawberry with strawberry and marshmallow swirls (yup it's vegan!)
Note: Keep in mind that they vary by location and you should always call first to double check.
Dairy-Free Sweet Sorbet Smoothies
Along with their dairy-free ice cream choices, you can also select one of two sorbet flavors (Berry Berry Extraordinary or Lemonade) or a sorbet smoothie to savor. The sorbet smoothies are a scoop of sorbet and fresh or frozen fruit blended with a bit of juice. A refreshing option when you'd like something frosty and fabulous!
Berry Mango (berry berry extraordinary sorbet, white grape juice, mango)
Berry Nice (berry berry extraordinary sorbet, pomegranate-blueberry juice, strawberries, banana)
Mango Lemonade (lemonade sorbet, lemonade, mango)
Queen of Tarts (lemonade sorbet, cranberry juice, raspberries)
Strawberry Lemonade (lemonade sorbet, lemonade, strawberries)
Tips For Choosing Tasty Vegan Toppings at Ben and Jerry's
While there is not definitive list on what toppings each Scoop Shop offers and whether or not they are vegan, here are a few tips on how to choose plant-based toppings.
Quiz The Cashier – Simply ask which toppings are vegan-friendly for the day. The topping offering might actually change from day to day, so it always makes sense to ask.
Fresh Fruit First – It should be pretty easy to choose fruit to add to your dairy-free ice cream. They usually offer at least a few fruits to choose from such as berries or even dried fruit like bananas, pineapples, or apple bits.
Consult Our Candy Guide – If there are candy bits in the bunch, check out our vegan candy guide to see if that particular favorite is one of the safe suggestions.
Go Nuts Over Nuts – As long as the nuts are not roasted with honey (see our "Is Honey Vegan?" guide), you should be safe. Again, it makes sense to double check with the server. But, nuts (like peanuts, cashews, walnuts, and macadamias) are a good choice.
Be Careful Of Cookies – Not all cookies and snack-like toppings will be vegan. Marshmallows are usually not vegan (containing gelatin) and many cookies contain eggs and dairy. Do yourself a favor and ask first.
Almond Milk Shakes
If your local Ben & Jerry's Scoop Shop has almond milk on hand, ask them if they'll whip up a super creamy smoothie for you using almond milk and one of their dairy-free ice cream flavors. Simple, sweet, and satisfying!
Ben & Jerry's Vegan Ice Cream Cakes
Although not offered at all locations, many participating Scoop Shops offer vegan-friendly ice cream cakes using their dairy-free ice cream, vegan frosting, and ask for chocolate sandwich cookie crumbles. Make sure they leave out any dairy or egg-based fillings.
But don't worry, if you can't find one in the shop you can make your own easy vegan ice cream cake (this recipe is EPIC). Just pick up some pints of your favorite vegan ice cream, a bag of accidentally-vegan Oreos, some plant-based butter, peanuts, and a springform pan and you're in business. This will be the easiest (and best tasting) cake you've even made, we guarantee it!
Helpful Tips for Ordering at Ben & Jerrys
Here are a few things that might trip you up if you're ordering at Ben & Jerry's or buying a pint from the store to take home:
Be Sure You're Choosing Dairy-Free – Though the pints are labeled properly, it can be simple to accidentally choose the dairy-full instead of the dairy-free option. The logos for the flavors are very similar.
Careful of Candy and Toppings – When you're at a Scoop Shop, keep in mind that at least some of the options are not vegan (such as sprinkles). If you're not wanting to look it up on our candy guide, try to stick with fresh fruit, nuts, and chocolate sauce. Simply asking can make things easier, too.
Cone Conundrum – While the sugar and cake (or wafer) cones are vegan-friendly, the waffle cones are not. They are made with animal products, so stay clear.
When you're ordering at the Ben and Jerrys store:
Browse the Ben & Jerry's menu before ordering.
If ordering Ben & Jerry's online or through a delivery service, make sure you clearly specify any substitutions you would like. If you're worried that your request may not be honored (or seen by the server at Ben & Jerry's), it might be a better idea to go there directly to order.
Though this company does not have a specific Nutritional, Allergen or Ingredient Information pages to browse, you can click on whichever ice cream you are interested in and it will display the nutrition and ingredient information right under the photo. The menu items offered at Ben & Jerry's do seem to change pretty often, so you may want to double check before you visit.
Be careful when new and exciting seasonal products are offered at Ben & Jerry's. Double-check the allergens and ingredients to make sure the item is vegan before purchasing.
Historic Vegan Moments in Ben & Jerry's History
2016 – Ben & Jerry's starts offering dairy-free ice cream options using an almond milk base.
2018 – Select Ben & Jerry's Scoop Shops in the United States began offering non-dairy and vegan ice cream cakes upon request.
2021 – Ben & Jerry's released the popular Phish Food flavor as a dairy-free ice cream with little vegan chocolate fish inside and fans went wild!
2022 – Ben and Jerry's added two new dairy-free ice cream flavors to the menu, Boom Chocolatta and Bananas Foster (both gluten-free!)
Fascinating Facts About Ben & Jerry's
Free Cone Day – Since 1979, Ben & Jerry's has been giving out free ice cream cones to thank their friends around the world. This usually happens around April, at the beginning of Spring. Keep your eyes out for the next Free Cone Done, hopefully happening next year.
World Vegan Day Happy Hour Celebration – On November 1st, World Vegan Day, Ben & Jerry's celebrates with happy hours at participating Scoop Shops. From 4pm to 8pm, customers can visit and receive a FREE scoop of non-dairy ice cream. Best of all, there's no catch! (They have postponed this event during the pandemic, but we hope they will resume this tradition in the future.)
Ben and Jerry were childhood friends in Long Island and met while walking around their 7th grade gym track in 1963.
When they first started their business, they sold not only ice cream, but crepes, pottery, and soup!
They once sailed a Cherry Garcia air balloon, which was 10 stories high and about the size of 11.7 million scoops of ice cream!
Each employee gets 3 pints of ice cream per day – whoa!
The flavor, Dastardly Mash, was the one flavor that ever contained raisins.
The very first flavor was Vanilla. Not surprising.
Creating a Kinder and More Accessible Ben & Jerry's Vegan Experience
Even though Ben & Jerry's has a small selection of vegan-friendly ice cream options on their menu, we think they could add a few more flavors. Since there are aren't many fully vegan or dairy-free dessert spots to choose from, let's hope that they continue add more options and even using different plant-based milks. Imagine all of the tasty toppings they could include – like chocolate or rainbow sprinkles, vegan marshmallows, and dairy-free whipped cream. In the meantime, we can always write to, call, or contact the managers of any location to make our requests.
What are your favorite items on the Ben & Jerry's vegan menu? Let us know on Facebook, Twitter, and Instagram!
5 Reasons Why Ben & Jerry's Vegan Ice Cream is Incredible News for Animals
1. It's a sign that times are changing.
Vegan is no longer a foreign word most people pronounce "vegg-en" and think means health-food-with-no-flavor. The new Ben & Jerry's vegan ice cream line is helping to solidify veganism in today's world. It is obliterating the notion that being vegan is obscure and weird, and establishing it as both prevalent and normal.
2. Making it easier to be vegan
Right now there are still many areas where it's difficult (if not impossible) to find store bought or ready-made creamy and delicious dairy-free ice cream. While those of us lucky enough to live in San Francisco, New York, or Portland may have vegan ice cream options on every street corner, most people are not afforded that luxury. When existing major brands launch vegan product lines, it becomes more accessible to all, making it easier to be vegan even in the most remote areas.
3. Free vegan publicity
An omnivore walks up to the (ice cream) bar and looks at the menu. She sees lots of choices, including some "new" options labeled dairy-free! Interesting, she notes to herself—dairy-free options are everywhere these days.
The very presence of vegan options in familiar places will shift perceptions and will make it evident to people that it's not very difficult to be vegan. When our omnivore friend above watches a Mercy for Animals undercover video the following week (a friend-of-a-friend shared it on Facebook so it appeared in her feed), she considers going vegan. Her first though is: "I'd like to give vegan a try…but I could never give up my favorite foods like cheese and ice cream." But oh wait! She remembers seeing the dairy-free option at Ben & Jerry's. She decides in that moment to give it a shot. BOOM. New vegan.
4. It shows that companies listen and that advocacy works
Why did Ben & Jerry's launch this new line of vegan ice creams? Well, take a look at this, taken directly from the Ben & Jerry's website:
So, Why Non-Dairy?

We asked you. Lots of you. Some of you are committed to a vegan lifestyle, while others can't or would rather not eat dairy. And all of you are missing the indulgent frozen delights you once enjoyed. We knew that with some hard work and experimentation we could deliver the taste and creamy texture you've been craving. So we did.
They did this because people asked for it. People wrote letters, signed petitions, and sent countless tweets, emails, and Facebook messages. The takeaway here is that it is important to speak up for what you want. Companies exist to serve (because that's how they make money), so they really do listen.
5. Ben and Jerry's is paving the way for other ice cream companies
Last but not least, by launching a vegan line of ice cream, Ben & Jerry's is paving the way for other ice cream companies to do the same. It's only a matter of time before other major ice cream brands start developing new lines of creamy vegan desserts. But you can help make it happen faster! Write to your old favorite ice cream companies that don't offer vegan options, and ask them to start. Make your voice heard!
Have you found any other Ben & Jerry's options to be veganizable? Did you find something super delicious that we missed? Let us know by tagging #worldofvegan and sharing your favorite vegan-at-ben-and-jerrys creations with all of us!
Deliciously Dairy-Free Ice Cream Recipes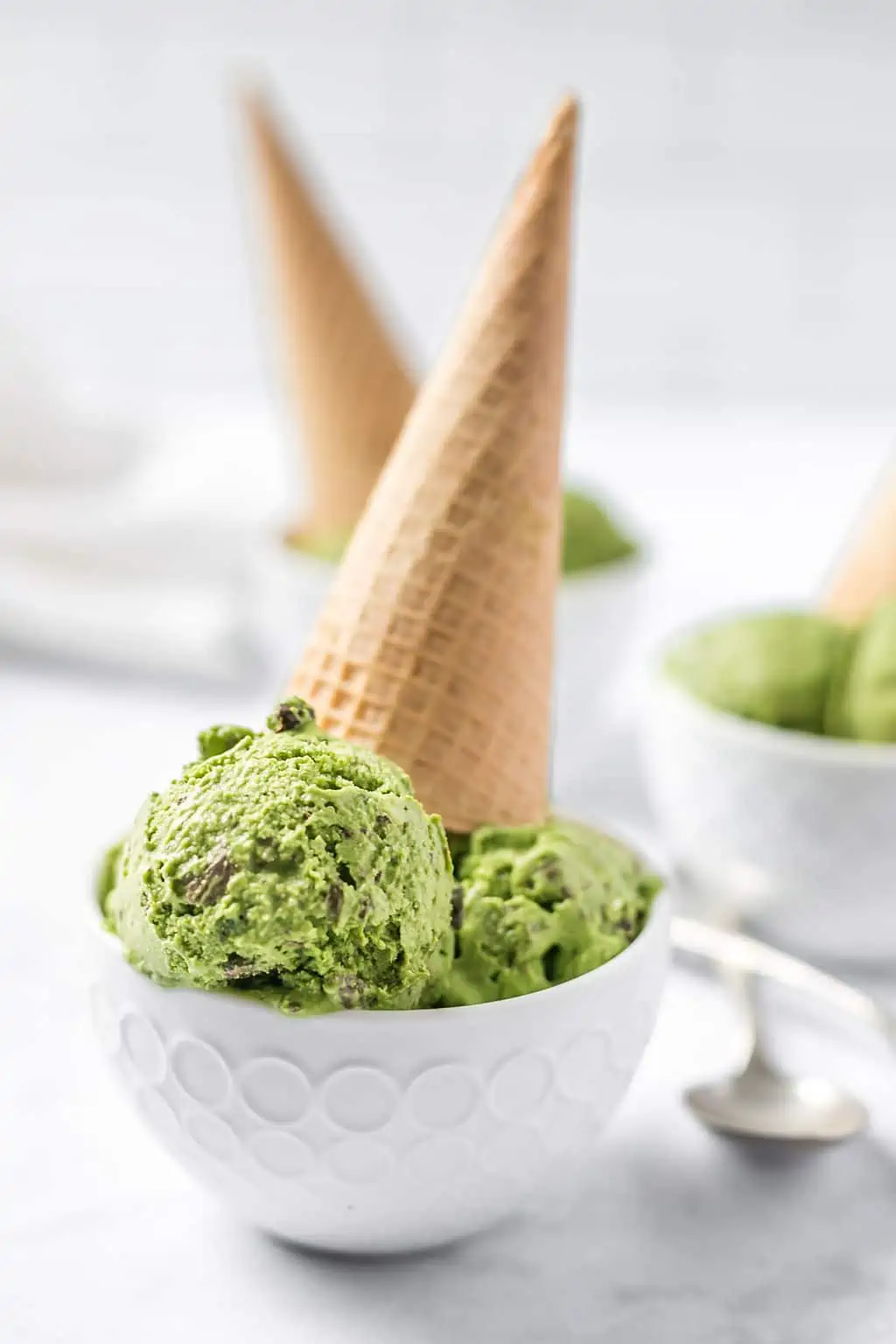 How To Order Vegan Desserts at Other Chains
This article is not sponsored and we are in no way affiliated with Ben & Jerry's. At the time of this article, the menu items mentioned above are vegan. Since restaurants constantly update their menus and add or take away items, please keep this in mind when ordering your food. There may be new items that are vegan at Ben & Jerry's and not listed or items listed here as vegan, which are no longer vegan. Take care to double-check.