Are you ready to rock out with some vegan drumsticks? No, not the musical kind or the chicken kind—the delicious ice cream cone kind!
Drumsticks are the perfect nostalgic treat for ice cream and chocolate lovers. But the official Drumstick brand is not vegan, nor do they have any dairy-free options. They snooze; they lose! Because many other ice cream brands have stepped up to the plate and released their own spin on vegan drumsticks.
And want to know a little secret? It's shockingly easy to make your own Drumsticks at home! And you can save money and have complete control over the ingredients.
Either way you scoop it, with so many great vegan options available, you don't have to miss out on this memorable frozen dessert.
In this guide, you'll find the best vegan drumstick brands, a recipe for making your own drumsticks, and some fun facts about this famous American treat. So please sit back, relax, and let's get ready to drum up some excitement!
Vegan Drumstick Brands That Are Totally Moo-velous!
When it comes to kindly crafted drumsticks made without dairy, there are plenty of great brands to choose from. Here are a few of the best brands you can find in stores.
Cool Haus offers a vegan versions of popular ice cream sandwiches and drumsticks! Their dairy-free drumsticks are made with almond milk and they have released several fun flavors including: Farmer's Market Strawberry, Cookies & Cream, and Cookie Dough Lyfe. Just beware, Cool Haus sells dairy ice cream too, so be sure to look for the dairy-free label!
So Delicious (100% Vegan Brand)
These vegan drumsticks are made with Wondermilk and come in delicious flavors like salted caramel sundae and vanilla peanut sundae.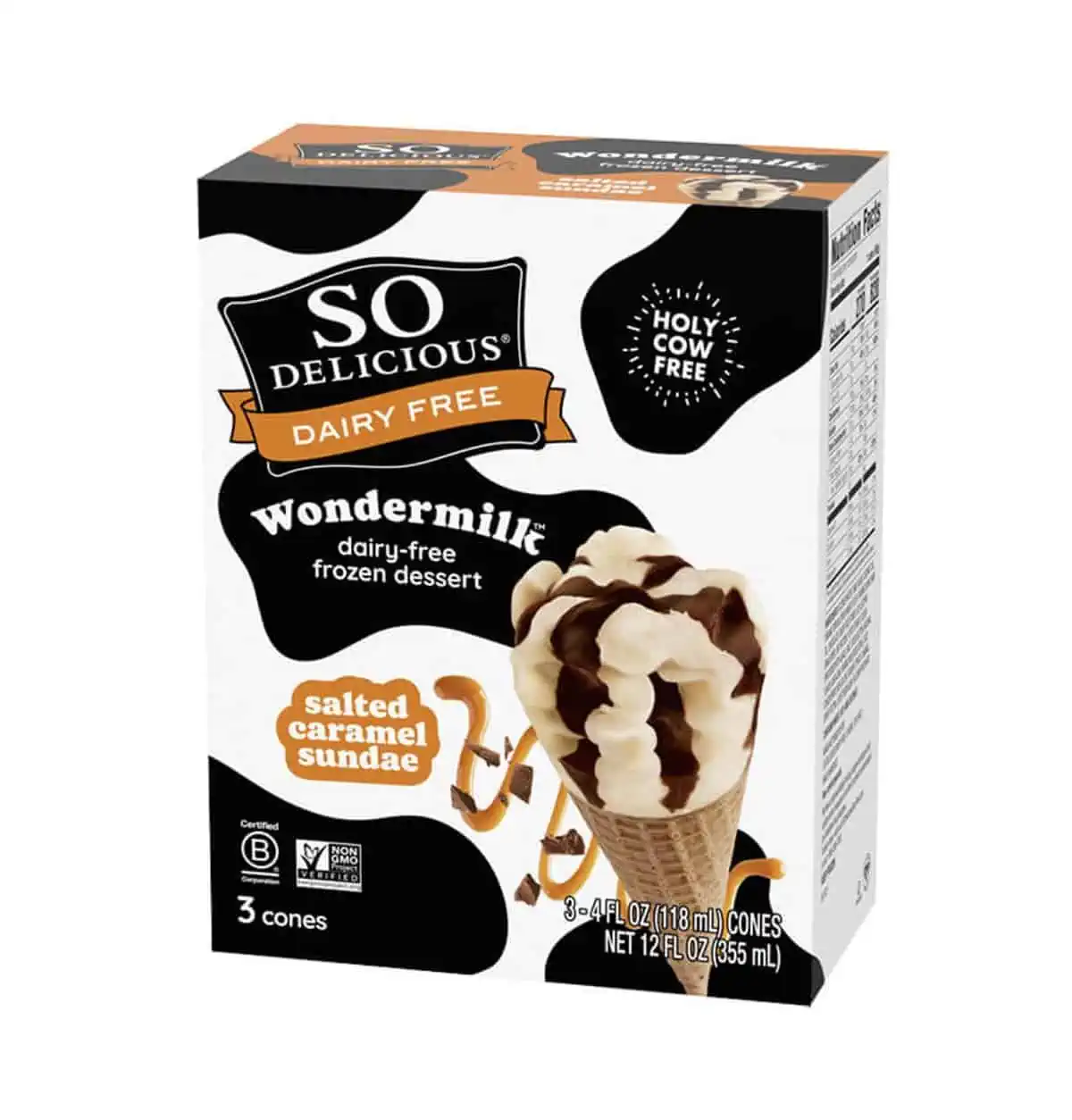 Jolly Llama's vegan drumsticks are made with coconut cream and come in a few flavors including: salted caramel and white mint chip. While these aren't coated in a crunchy chocolate shell like the most traditional drumsticks, they are quite similar and enormously delicious. Plus, they're gluten-free and made with all-natural ingredients.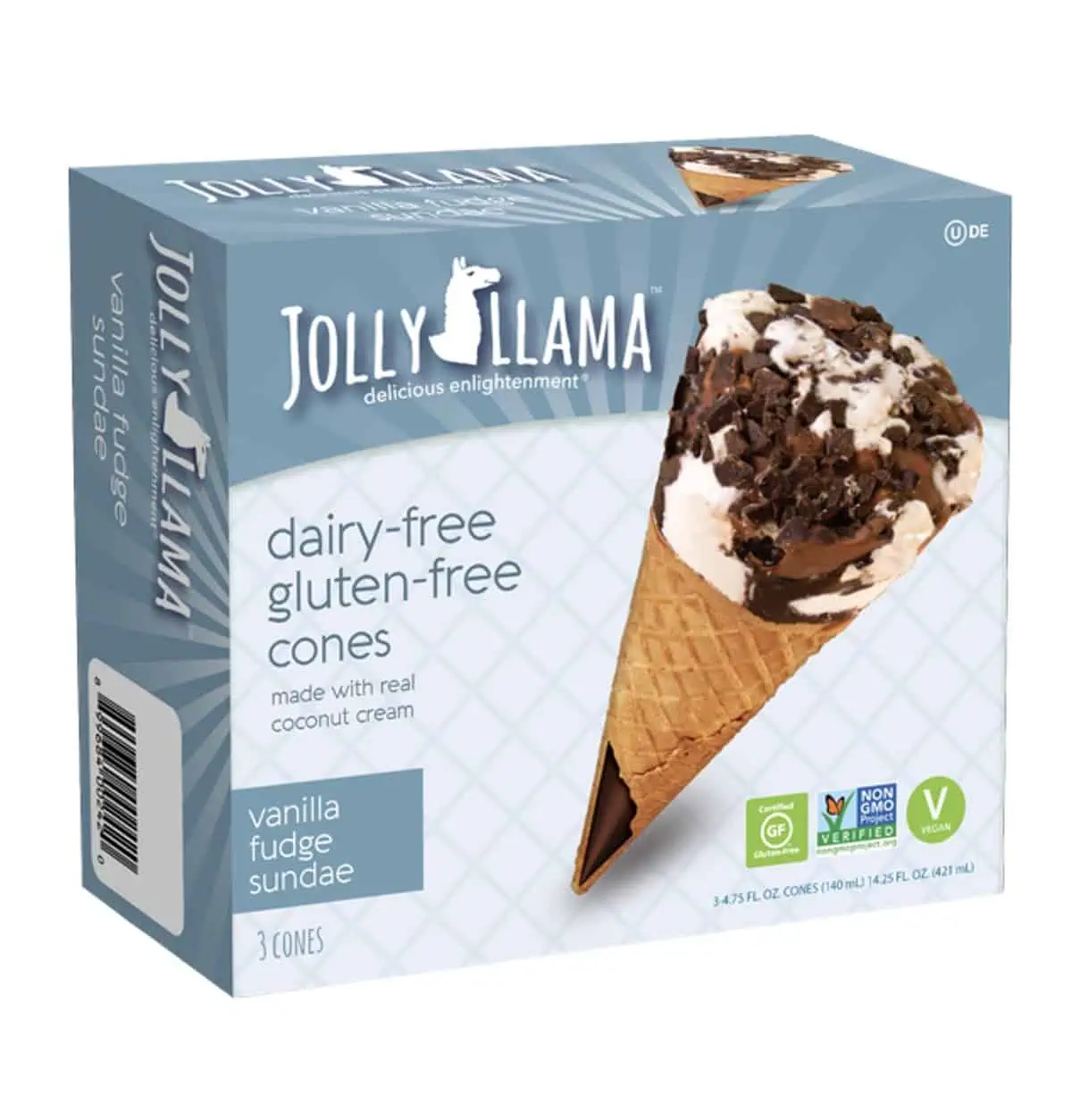 Tofutti (Discontinued)
We'd like to give a moment of silence for Tofutti's discontinued dairy-free Yours Truly drumsticks. They were around since way before most people knew how to pronounce the word "vegan." Tofutti is the OG of both vegan ice cream sandwiches (they call them "Tofutti Cuties") and drumsticks, and we hope they bring them back one day.
Fun Facts About Drumsticks
Did you know that the first ice cream cone was invented back in 1904 at the World's Fair event in St. Louis? Since then, the ice cream cone has become a beloved treat around the world. Here are some fun facts about drumsticks:
Drumsticks were first introduced in the 1920s by the Parker Brothers' Dairy.
The chocolate coating on drumsticks was invented in the 1930s by the Harry Burt Company.
The word "drumstick" comes from the shape of the ice cream cone, which is similar to a chicken drumstick. Hint: you can get vegan chicken drumsticks too!
Drumsticks are sometimes called "King Cones" in the United Kingdom.
How to Make Vegan Drumsticks at Home
Making your own drumsticks is easy and fun! Here's a simple recipe to get you started: Ingredients:
Vegan ice cream of your choice
Vegan chocolate chips or other chocolate chunks or bars
Your favorite toppings (such as chopped nuts, sprinkles, or crushed cookies)
Ice cream cones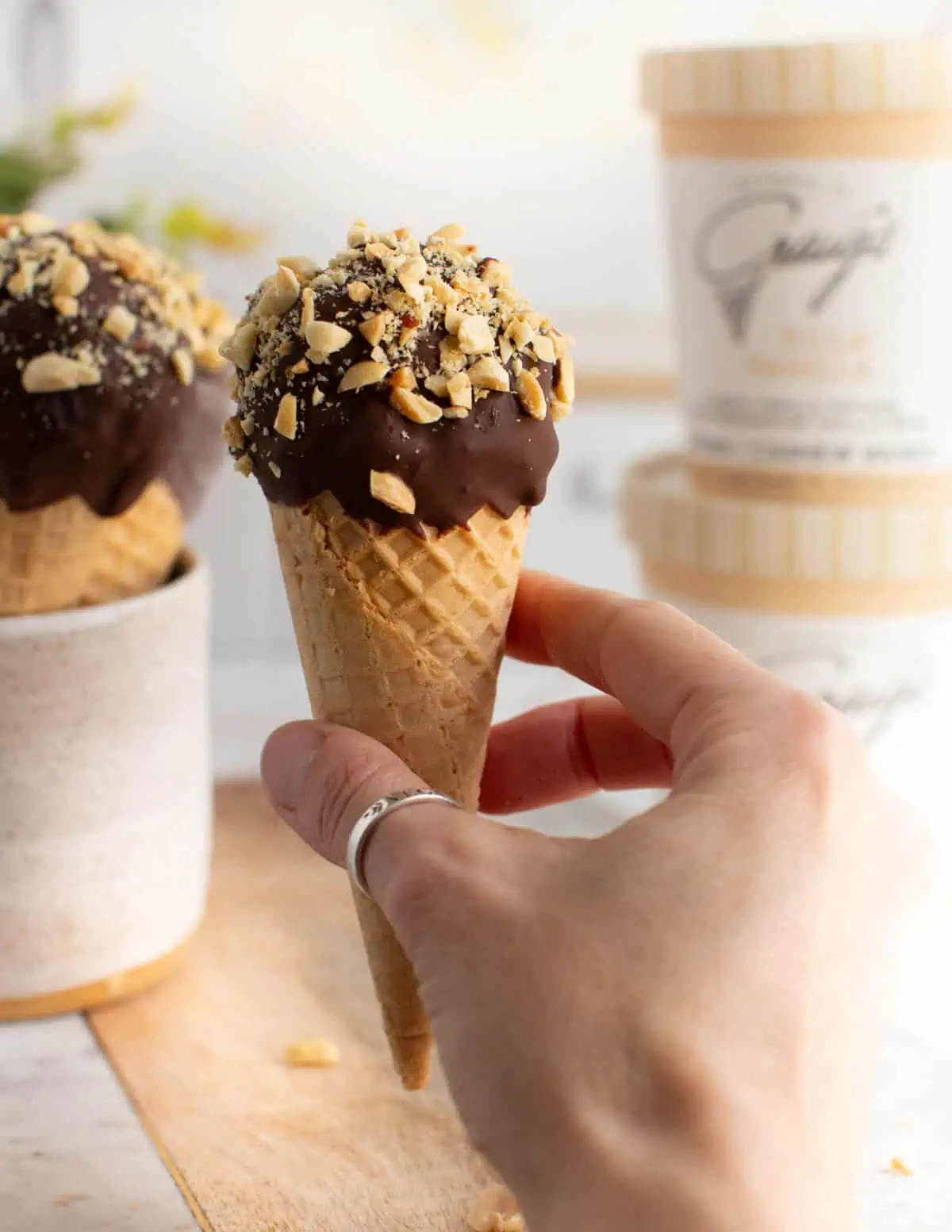 Get Creative With Toppings for Your Vegan Drumsticks
One of the great things about homemade drumsticks is that they're customizable to your taste buds! You can experiment with different ice cream flavors and coatings, but don't forget about the toppings. Here are some topping options to try on your drumsticks.
Chopped Nuts – Whether it's almonds, peanuts, or cashews, adding some chopped nuts to your drumsticks will give them a crunchy texture and a nutty flavor.
Vegan Sprinkles – Who doesn't love a little extra color on their desserts? Sprinkles are a fun and easy way to add some pizzazz to your drumsticks.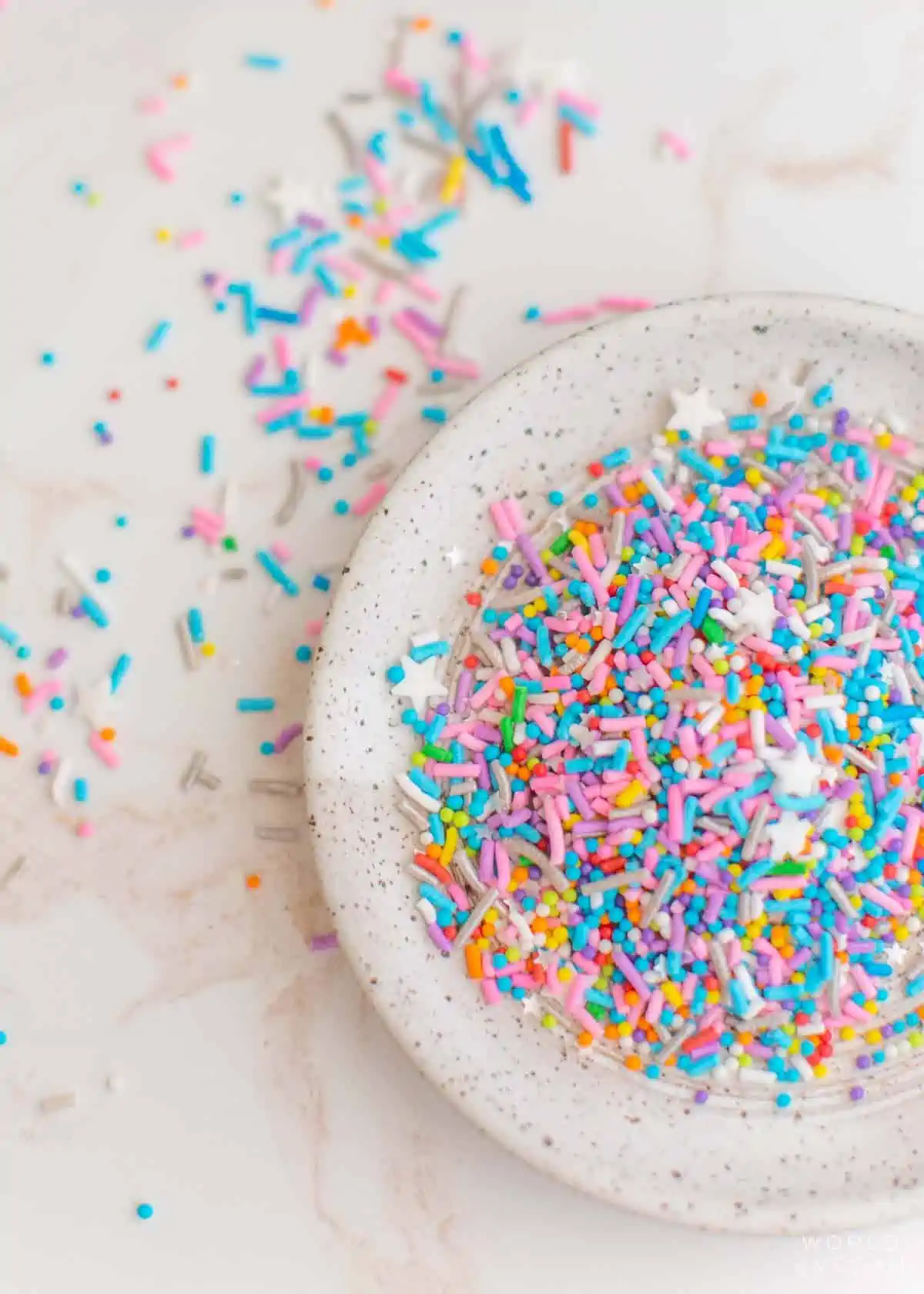 Crushed Cookies – For a cookies and cream flavor, try crushing up some vegan cookies and sprinkling them on top. Did you know even Nutter Butters and Oreos are vegan?
Coconut Shreds or Flakes – If you're a coconut lover, try adding some coconut flakes. They'll add a tropical flavor and a chewy texture.
Chocolate Chips – You can never have too much chocolate! Sprinkle some vegan chocolate chips for an extra indulgent treat. Or add an extra chocolate drizzle on top for a fun aesthetic effect!
Vegan Caramel Sauce – For a gooey, sweet topping, try drizzling some vegan caramel sauce.
Don't be afraid to mix and match these toppings to find your perfect vegan drumstick combination!
Have Fun With Different Ice Cream Flavors
You can also get creative with different ice cream flavors. Check out the Vegan Ice Cream Guide at World of Vegan, a comprehensive resource for all the best vegan ice cream brands and options out there. From classic flavors to unique and innovative options, this guide has everything you need to know to satisfy your sweet tooth without any animal products.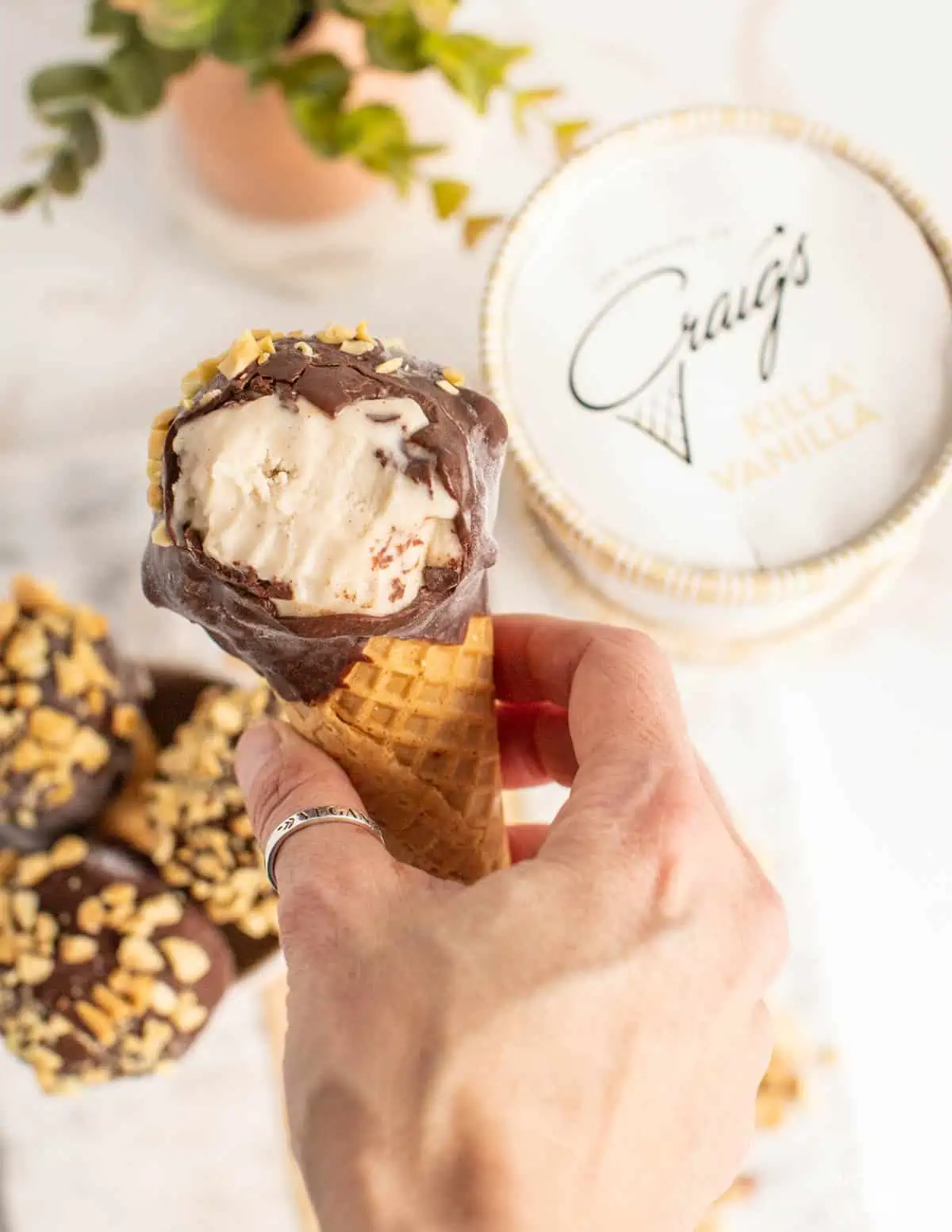 ½ cup chocolate chips
2 tablespoons coconut oil
6 sugar cones
2 pints vegan ice cream, vanilla (or your favorite flavor)
½ cup peanuts, chopped
In a small ramekin, melt chocolate chips and coconut oil and mix until smooth.

Using a spoon, drizzle a small amount of the melted chocolate into the bottom of each cone.

Allow ice cream to soften on the counter until it's easy enough to scoop and shape, but not so melty that it drips. One cone at a time, scoop and press ice cream into the basin of the cone, top with a scoop, and use your hand to quickly shape the ice cream into a sphere. Immediately place ice cream cone in a small jar (to keep it upright) and into the freezer to set (for at least 30 minutes). Repeat with each cone.

Dip each hardened ice cream cone into the melted chocolate to coat, allowing excess chocolate to drip off, and immediately sprinkle on chopped peanuts before the chocolate hardens.

Place chocolate dipped cones back into the freezer to harden. Store hardened drumsticks in airtight containers in the freezer until you're ready to enjoy.
Get creative with different toppings (like sprinkles), types of ice cream (so many flavors to choose from), and even the chocolate coating (white chocolate would be really fun). 
Calories: 552kcal | Carbohydrates: 57g | Protein: 10g | Fat: 33g | Saturated Fat: 19g | Polyunsaturated Fat: 2g | Monounsaturated Fat: 8g | Sodium: 157mg | Potassium: 406mg | Fiber: 3g | Sugar: 44g | Vitamin A: 664IU | Vitamin C: 1mg | Calcium: 233mg | Iron: 2mg
Vegan drumsticks are a delicious and cruelty-free alternative to traditional ice cream treats. With so many great brands to choose from, you're sure to find one that satisfies your sweet tooth. And if you're feeling creative, try making your own homemade drumsticks with your favorite flavors and toppings.
With vegan drumsticks, you can have your ice cream cone and eat it, too—without involving cows! So let's raise a cone to cruelty-free treats and happy cows!