Did you hear the scoop about the new vegan options at Cold Stone Creamery? You might be surprised at the answer. If you ever have a desperate need for a dairy-free dessert, stop and give them a try! With over 931 locations in the U.S., and new soy ice cream options made with Silk soymilk at all of them, there's sure to be delicious plant-based ice cream near you.
Sometimes, a vegan's first instinct towards popular chain restaurants (especially when it comes to ice cream) is to veer away and assume that there aren't any animal-free alternatives. But, in the case of Cold Stone Creamery, there are actually a number of tasty temptations to try.
Not only do they offer a chocolate almond milk option, but they also serve silky smooth sorbets, fresh fruit and perky pie fillings, nourishing nuts, and other appetizing add-ins. Lastly, if you're craving a cone, you have a choice of two crunchy cones––the cake or the sugar. We'd like to give a small cone-gratulations to Cold Stone Creamery for offering vegans a few plant-based picks.
Before you dive head first into the frozen desserts, let's give you an idea of what to expect. If you're hungry and feeling overwhelmed with choices, it'll be easier to scroll through our guide and get a good sense of what there is to offer. Here's what we suggest:
Find a Frozen Dessert – Choose the Silk Almondmilk Chocolate or a fruity sorbet flavor (or maybe both)!
Mull Over the Mix-Ins – Make a list of 3-5 munchies to put in for plant-based perfection. But, don't let us stop you if you want more.
Fill Up With Fresh Fruit – No need to skimp here! Select as many fruits as you fancy.
Carefully Choose a Topping – Whether it be a nut, sauce, pie filling, or syrup, we encourage you to pick for your pleasure.
NOTE: If you are worried about cross-contamination with dairy or non-vegan foods, you might want to ask that the mixing area (chilled granite countertop) be either cleaned well before your frozen dessert is created or that everything you order is mixed in a separate bowl instead.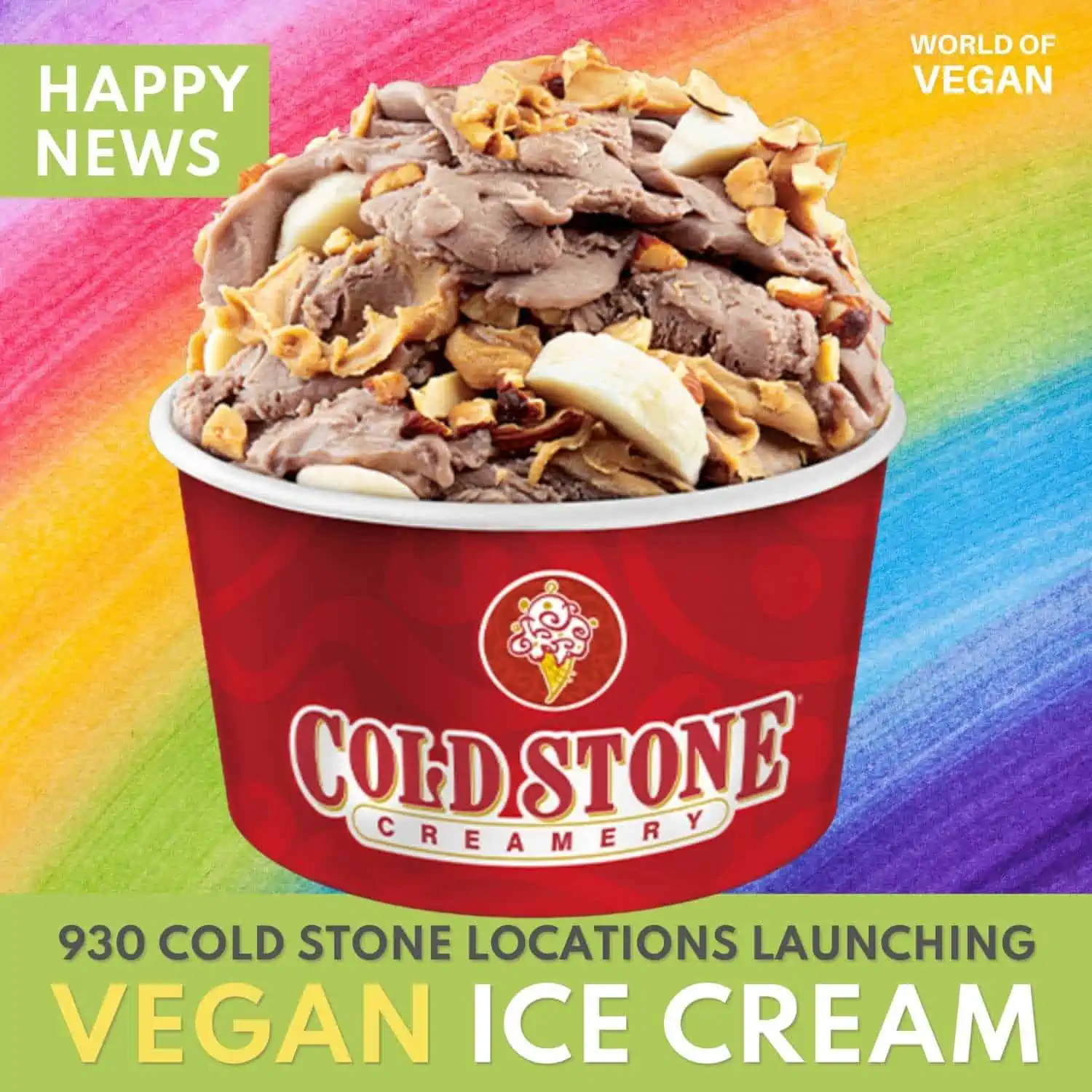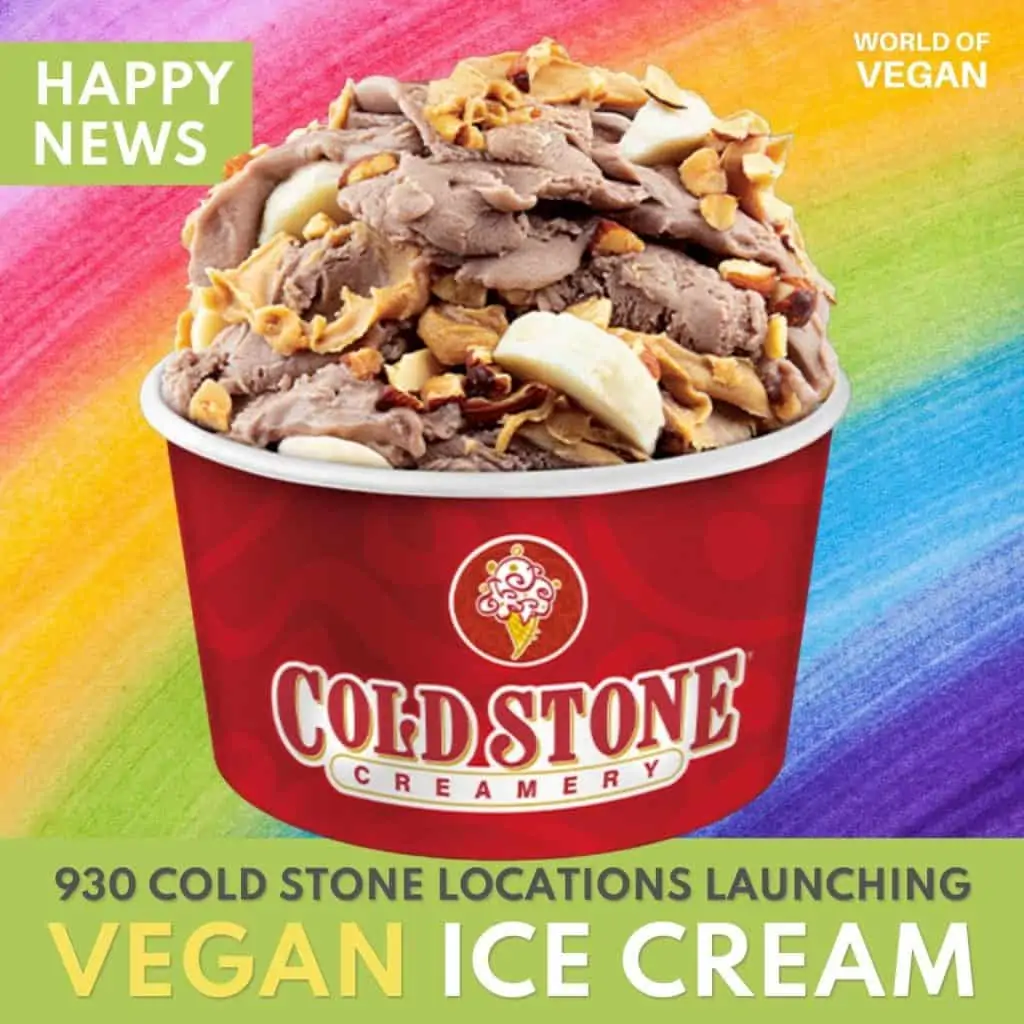 Does Cold Stone Creamery Have Anything Vegan?
It's incredibly surprising, but they do! They not only have a new, dairy-free ice cream option and a creamy shake, but also a fair number of fun and fruity sorbets. Sensational!
Vegan Ice Cream Options:
Both of these yummy Cold Stone vegan options use Silk Chocolate Almondmilk Frozen Dessert. We can't decide which one we want more!
Don't Cry Over Spilled Silk Creation – Including banana, peanut butter, and roasted almonds.
Chocolate Silk Shake – Blended with Silk Chocolate Almondmilk beverage.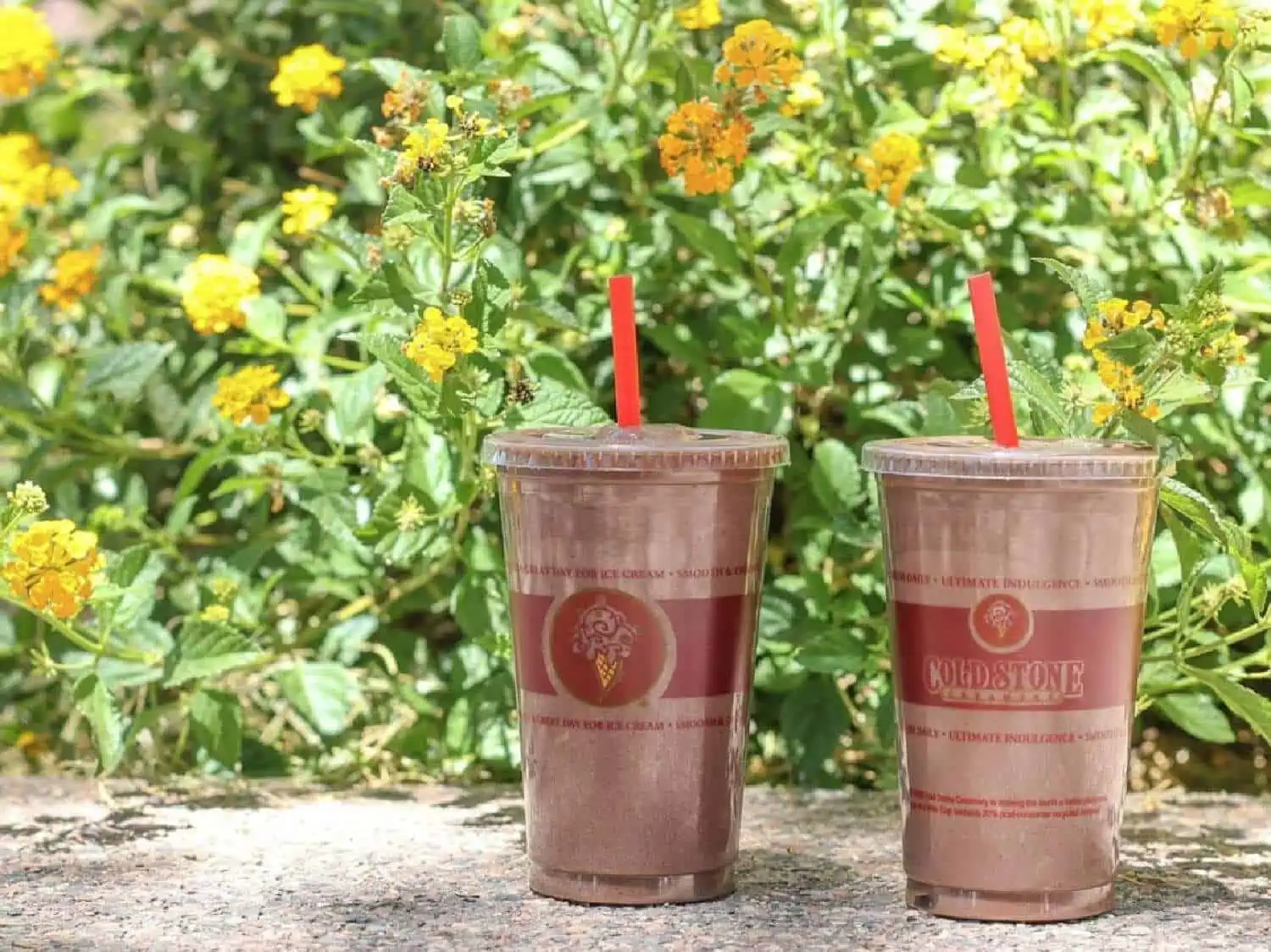 Accidentally Vegan Sorbets:
Though we wish there were more vegan ice cream flavors available, it's awesome that there are at least several chilly, sweet sorbet selections. We'd love to see a cherry, dragonfruit, or chocolate choice in the future! What about you?
Countrytime Pink Lemonade
Lemon
Mango Strawberry Banana
Mojito
Orange
Peach Mango
Pineapple
Pineapple Orange Banana
Raspberry
Strawberry
Strawberry Lemonade
Watermelon
Vegan-Friendly Cones:
Vegan Toppings at Cold Stone
Go wild and crazy with these tempting vegan-friendly toppings. If you don't mind a crunchy, munchy mouthful, you could add all of them in at the same time. Maybe that's madness, but it might be delicious!
Mix-Ins:
Cinnamon
Gold Glitter
Golden Oreos
Original Oreos
Peanut Butter
Pretzels
Sugar Crystals
Toppings:
Chocolate Syrup (check for availability)
Mango Sauce (check for availability)
Reese's Peanut Butter Sauce
Fruit Fillings:
Apple Pie
Cherry Pie
Peach Pie
Healthiest Toppings at Cold Stone Creamery
When going out for ice cream on the fly, we know that healthy foods are far from your first choice. But, keep in mind that fruits are high in fiber and can help keep hunger at bay. Plus, extra antioxidants, vitamins, and minerals are awesome to add to any snack.
Fruit:
Bananas
Blackberries
Black Cherries
Blueberries
Maraschino Cherries
Pineapple Tidbits
Raisins
Raspberries
Strawberries
Nuts:
Almonds (roasted and sliced)
Cashews
Coconut (not the toasted version)
Macadamia
Peanuts
Pecans
Pistachios
Walnuts
NOT Vegan At Cold Stone Creamery
If you leave out all of the dairy-full ice cream options, here are a few other foods that are not vegan-friendly to be careful of when you order.
Candy: None of the candies are vegan. They all contain either milk products, gelatin, or animal-based wax or shellac. Very sad.
Cones: The waffle cone is made with dairy. Wahhh!
Cookies: With the exception of the two Oreo flavors, none of the cookies are vegan-friendly.
Toppings: Caramel, frosting, fudge, honey, marshmallow creme, Nutella, rainbow sprinkles (contains shellac), chocolate sprinkles, toasted coconut, and whipped topping are all off-bounds for vegans. All of these options contain dairy, except for the rainbow sprinkles.
FAQs About Vegan Options at Cold Stone Creamery
Is the waffle cone at Cold Stone vegan?
Sorry! Only the cake cone and sugar cone are vegan-friendly at this ice cream parlor. The waffle cone contains dairy.
Do Cold Stone Creamy smoothies have dairy in them?
Sadly, yes. Their Smoothie Mix base contains milk and cannot be ordered with a plant-based milk substitute.
Are Cold Stone sorbets vegan?
Yes! All of their sorbets are dairy-free and vegan-friendly. Woo-hoo!
Does Cold Stone Creamery have a vegan ice cream cake?
Not at the moment. We're hoping that they will come up with a vegan ice cream cake option soon, now that they have the Silk Almondmilk base.
What are the Cold Stone dairy free options available?
Cold Stone has one Silk Chocolate Almondmilk frozen dessert, one Silk Chocolate Almondmilk shake, and a number of sorbets which are all free of dairy. See our list above!
Helpful Hints When Ordering Vegan at Cold Stone Creamery
Browse the Cold Stone Creamery menu before ordering.
If ordering vegan at Cold Stone Creamery online or through a delivery service, make sure you clearly specify any substitutions you would like. If you're worried that your request may not be honored (or seen by the server at Cold Stone Creamery), it might be a better idea to go there directly to order.
Check out their Ingredient Information, Food Allergen & Sensitivities, and Nutritional Information PDFs to make sure that you are purchasing a vegan-friendly item. The menu items offered at Cold Stone Creamery don't seem to change very often, but you may want to double check before you visit.
Be careful when new and exciting seasonal products are offered at Cold Stone Creamery. Double-check the allergens and ingredients to make sure the item is vegan before purchasing.
Historic Vegan Moments in Cold Stone Creamery History
2022 – Cold Stone Creamery teams up with Danone North America and the Silk brand for this first ever plant-based dessert using Silk's almondmilk base for its frozen desserts. (Yippee! Cheers to Cold Stone Creamery!)
Fascinating Facts About Cold Stone Creamery
All of their ice cream is made daily on site.
At one time, they sold chocolate-covered crickets (noooooooo!)
You can buy Jelly Belly jelly beans in Cold Stone Creamery flavors.
There's a Cold Stone video game called "Scoop It Up". (Have you played it?)
Creating a Kinder and More Accessible Cold Stone Creamery Vegan Experience
Even though Cold Stone Creamery has made a smart decision by adding a vegan-friendly option to their famous frozen dessert menu, we hope it's only the first step of many. Since there are so few mainstream ice cream chains that offer plant-based alternatives, they could totally take the lead and add even more cold, creamy, and cruelty-free menu items. In the meantime, we can always write to, call, or contact the managers of any location to make our requests.
What are your favorite items on the Cold Stone Creamery vegan menu? Let us know on Facebook, Twitter, and Instagram!
Have you found any other Cold Stone Creamery options to be veganizable? Did you find something amazing that we missed? Let us know by tagging #worldofvegan and sharing your favorite vegan-at-cold-stone-creamery creations with all of us!
Homemade Vegan Ice Cream
If you love ice cream as much as we do, go beyond the store bought kind and make your own! With a handy ice cream maker or even a high-powered blender, you can whip up these delicious recipes:
How To Order Vegan Desserts at Other Fast Food Chains:
This Cold Stone Creamery vegan article is not sponsored and we are in no way affiliated with Cold Stone Creamery. At the time of this article, the frozen desserts mentioned above are vegan. Since restaurants constantly update their menus and add or take away items, please keep this in mind when ordering your food. There may be new items that are vegan at Cold Stone Creamery and not listed or items listed here as vegan, which are no longer vegan. Take care to double-check.
This vegan Cold Stone Creamery guide was written by Gina House and edited by Michelle Cehn and Amanda Meth. Please note that this article may contain affiliate links which means shopping through them really helps to support World of Vegan!