With more than 250 fast food locations around the world, Shake Shack keeps us on our toes teasing us with vegan-friendly options. While none of them have landed a permanent place on this big-time burger and shake menu, we're hoping one day to see a Shake Shack vegan burger boldly on display.
We're sure that this fast-casual restaurant is not your first choice when it comes to dining out. But, we all know that (sooner or later) we're in a position where we have to figure out what the plant-based options are and make a decision with lightning speed. No worries, friends, we did all the work so you can relax and enjoy (what little there is) when in need.
Is there a veggie burger at Shake Shack? Any chance of dairy-free ice cream? Keep reading and we'll share all you need to know.
Because there are so few choices at this fast food restaurant, we'll just get down to the nitty-gritty. There are (at most) four options for edibles at this eatery. Here's what we suggest:
Appetizer – French fries…and possibly more french fries.
Main Meal – Order a gluten-free bun and fill it with all the veggies. If available, give the Veggie Stack a try.
Beverage – Fountain soda, iced tea, juice, lemonades, and water
Snack – Potato Chips
There is a vegetarian burger option on the permanent menu, the 'Shroom Burger, but it is not vegan-friendly. Although Shake Shack has had two variations of a vegan burger since 2018, neither is offered at all locations all of the time. Currently, the website does not show any veggie burger suitable for vegans, but you may wish to call the location you're considering and ask if they have the Veggie Stack burger available. In the future, we're hoping that a Shake Shack Impossible Burger will be on their everyday menu.
Does Shake Shack Have Dairy-Free Desserts?
If you're lucky enough to live in certain parts of New York or South Florida, you may be able to catch the temporary run of dairy-free frozen chocolate custard or dairy-free frozen chocolate shakes in collaboration with TheNotCompany.
Other than that, there's a definite lack of dairy-free desserts at Shake Shack.
Vegan Options at Shake Shack
What's vegan at Shake Shack? Unless you're at the right place at the right time, there's nothing specifically vegan on the menu. There are some vegan-friendly options, which consist mostly of drinks and a side of fries. Our suggestion is to eat before you leave the house knowing that you'll only be buying a cool beverage and perhaps a potato-based snack.
Buns
Gluten-Free Bun
Lettuce Wrap
Wheat Bun (where available)
Burgers
Sauces
BBQ Sauce
Dijon Mustard
Ketchup
Mustard
Vegan Mayo (where available)
Sides
Note: Keep in mind that Shake Shack cooks its fries in the same oil as other animal-based foods. It's a personal choice whether or not you feel comfortable with that.
Veggie Toppings
Go for the gold and all them all to a gluten-free bun or lettuce wrap!
Caramelized Onions
Celery Salt
Cherry Peppers
Lettuce
Mustard
Onion
Tomato
Coca-Cola Fountain Sodas
Half Lemonade/Half Iced Tea
Juices (Orange and Apple)
Organic Iced Tea (Unsweetened or Sweetened)
Shake20 Water (Original and Sparkling)
Shack-Made Lemonade (Original Lemon)
Shack-Made Fruit Lemonades (Cherry Hibiscus, Mango Passionade, Strawberry Lemonade, or half & half)
NOTE: Shake Shack also offers a small assortment of alcoholic beverages, but the options differ from one location to the next and also from state to state. Though some of the mainstream beer and wine brands are vegan (like Bud, Coors, Heineken, etc.), there are some varieties that are not vegan-friendly within each brand. Please double-check your options on Barnivore.com–the vegan beer, wine, and liquor guide.
Frozen Dessert Mix-Ins
If you find yourself at a Shake Shack that offers dairy-free frozen custard or shakes, take advantage of the delicious vegan toppings that you can add in for more appetizing flavor. All of the mix-ins below are vegan-friendly. Some are even healthy, too!
Fruit: Bananas, Cherries, Raspberries
Jam: Strawberry
Nuts: Almonds, Pecans, Pistachios, Walnuts
Purees: Strawberry and White Peach
Other: Cacao Nibs, Cinnamon Sugar, Coffee Beans, Graham Crackers, Matcha Green Tea Powder, Route 11 Potato Chips
NOT Vegan at Shake Shack
A couple of these menu items may be a surprise, so take a careful look before ordering.
Buns – The hot dog bun and potato buns both include milk and/or eggs in the ingredients.
Crispy Shallots – This topping is made with milk.
Floats – All floats contain dairy milk and eggs.
Frozen Custard – This frozen dessert is made with dairy and eggs.
Garden Dog – Sadly, this is made with milk.
Sauces – Buffalo (contains milk), mayo (has dairy and eggs in it), honey mustard (contains both honey and eggs)
Shack Sauce – Contains eggs.
Shakes – All flavors include milk and eggs.
Shake Shack Vegan Q&A
Is the Shake Shack Shroom Burger Vegan?
The Shroom Burger is not vegan. The patty is made with a mixture of two kinds of cheese and mushrooms before it is deep-fried. If you are vegetarian, this burger would be a good choice.
What are the Shake Shack Halal Options?
For non-vegans, there are no halal options in the United States. But, there are a couple of options if you live in the UK, Turkey, the Middle East, or South Korea.
Best Way To Find Out Shake Shack Menu Prices?
If you'd rather know the prices of Shake Shack's menu items before taking a visit, there are a number of blogs that publish the most recent pricing information, such as Real Menu Prices. Another option is to call the location you'd like to visit and ask the manager or start an online menu order to get an idea how much it would cost for the meal you are considering.
Historic Vegan Moments in Shake Shack's History
April 2018 – Introduced their very first Veggie Shack burger made with black beans, brown rice, roasted beets, lettuce, tomatoes, onions, pickles, and vegan mustard mayo. Unfortunately, it was also topped with cheese and did not have a vegan-friendly bun. This trial lasted for a limited time and only included a few locations in New York.
November 2020 – Switched up its veggie burger recipe for a new version consisting of green, grains, herbs, roasted tomatoes, lettuce, avocado and a tangy vegan mayo. In addition, it switched out the old, non-vegan bun for a wheat bun.
Early April 2021 – For one day, Shake Shack collaborated with SluttyVegan's Pink Cole to sell a SluttyShack vegan burger in Harlem and Atlanta.
Late April 2021 – Launched a Vegan Crispy Shallot Burger (created by UK Chef Neil Rankin) at all locations in the UK for a limited time. This vegan patty, made of mushrooms, featured vegan cheddar cheese, fried shallots marinated in beer, and vegan Shack sauce was served on a vegan-friendly toasted bun.
May 2022 – Partnered with TheNotCompany to create their first dairy-free frozen desserts: Non-Dairy Chocolate Custard and Non-Dairy Chocolate Shake. The very first test run included New York and South Florida locations during the summer months. We'll be hoping they'll branch out with locations and also add it to their permanent menu.
Fascinating Facts About Shake Shack
Shake Shack originally started out as a hot dog stand in New York's Madison Square Park between 2001 and 2003.
It once offered a veggie burger that was made using stale rye bread and recycled vegetable pulp.
CEO Randy Garutti says that they "will never do a drive-thru."
Thinking of getting married? Shake Shack will cater your wedding reception.
Founder, Danny Meyer, named the restaurant Shake Shack after the amusement park scene in Grease which featured the iconic song, "You're The One That I Want."
Helpful Hints When Ordering Vegan at Shake Shack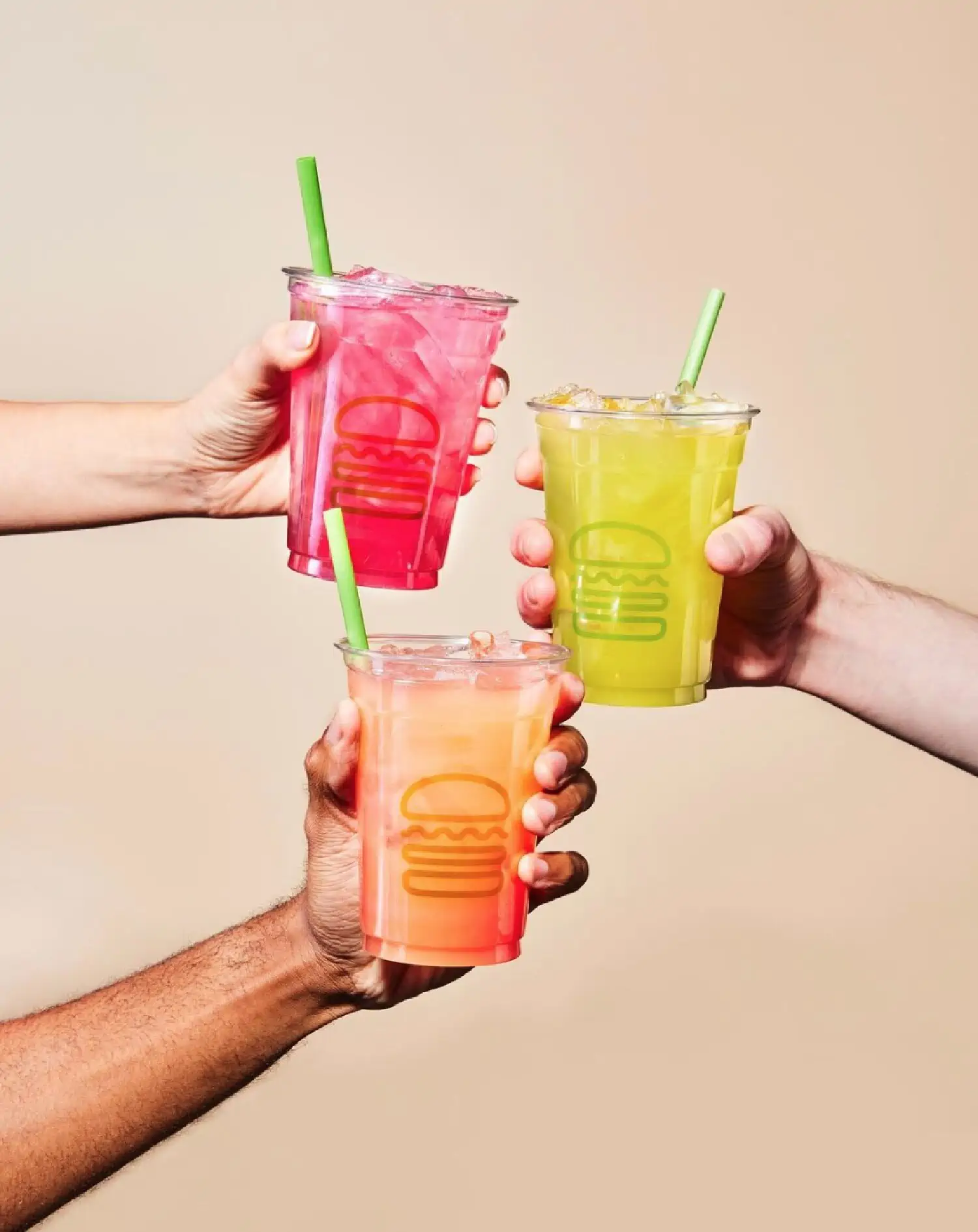 Creating a Kinder and More Accessible Shake Shack
Shake Shack has been making strides to offer vegan options such as veggie burgers and dairy-free shakes to its menu. Will they ever become full-time food items? We'll have to wait and see.
Since more and more popular fast food restaurants are bringing out plant-based foods, the competition is getting hotter. It's high time that all restaurants have at least one vegan-friendly meal offered that's not just french fries. You may not think it's true, but your voice matters! We hope this inspires you to use your voice to make a difference!
You can always write to, call, or contact the managers of any location to make our requests.
What are your favorite items on the new vegan menu at Shake Shack? Let us know on Facebook, Twitter, and Instagram!
How to Order Vegan at Other Fast Food Chains
We have a whole series of fantastic vegan fast food guides to help you find the best (and most appealing) options at each location. Take a peek if you're in need of a quick vegan meal on a road trip or with fast food-loving friends!
Have you found any other options to be veganizable? Did you find something amazing that we missed? Let us know by tagging #worldofvegan and sharing your favorite vegan-at-Shake-Shack creations with all of us!
This Shake Shack vegan menu article is not sponsored and we are in no way affiliated with Shake Shack. At the time of this Shake Shack vegetarian article, the foods mentioned above are vegan. Since restaurants constantly update their menus and add or take away items, please keep this in mind when ordering your food. There may be new items that are vegan at Shake Shack and not listed or items listed here as vegan, which are no longer vegan. Take care to double-check.