Panera Bread can be the perfect place to visit when you have family members or friends with differing tastes and varying hunger levels. You can easily satisfy the picky kiddies, as well as the hangry grown-ups. The meal options are healthier and more wholesome than fast food, with fresh ingredients and more plant-based options than many other restaurant chains. But how hard is it to order vegan at Panera Bread?
With a few miner adjustments, several menu items at Panera can be made vegan! We've included a comprehensive list of vegan menu options below.
It's clear that Panera Bread is trying to create a vegan-friendly environment for its customers. They offer a couple of tempting breakfast options and more than a few fantastic lunch and dinner choices. At the very least, you'll would be able to order a hearty sandwich or bowl, a fresh green salad, and even a sweet or savory snack on the side.
Big Vegan Wins at Panera Bread!
Panera has also included a green leaf icon on the bottom left-hand corner of online menu items as an indication that they're vegan. Though helpful, the icons are sometimes inconsistent with the vegan items on Panera's "Eating Vegan" food list. Be cautious when ordering, and if you're unsure, you can easily call and ask an employee or manager. The way in which the food is prepared might differ from one location to another.
Recently, Panera became one of the first major chain restaurants to drop the up-charge for plant-based milks. This kind gesture is meaningful to plant-based peeps, especially as coffee giant Starbucks has long refused to remove their vegan milk upcharge in the United States. 
Vegan Options at Panera Bread
Vegan Breakfast Options
Apple, banana or fruit cup
Better than Avocado Toast (see substitution ideas below)
Peach & Blueberry Smoothie (with almond milk)
Steel Cut Oatmeal with Strawberries & Pecans (with almond milk)
Toasted Bagel with strawberry spread
Vegan Sandwiches
Mediterranean Veggie (no feta)
Veggie Bowls
Baja Grain Bowl (no yogurt or feta, ask for extra avocado)
Mediterranean Grain Bowl (no feta or yogurt, add avocado & veggies)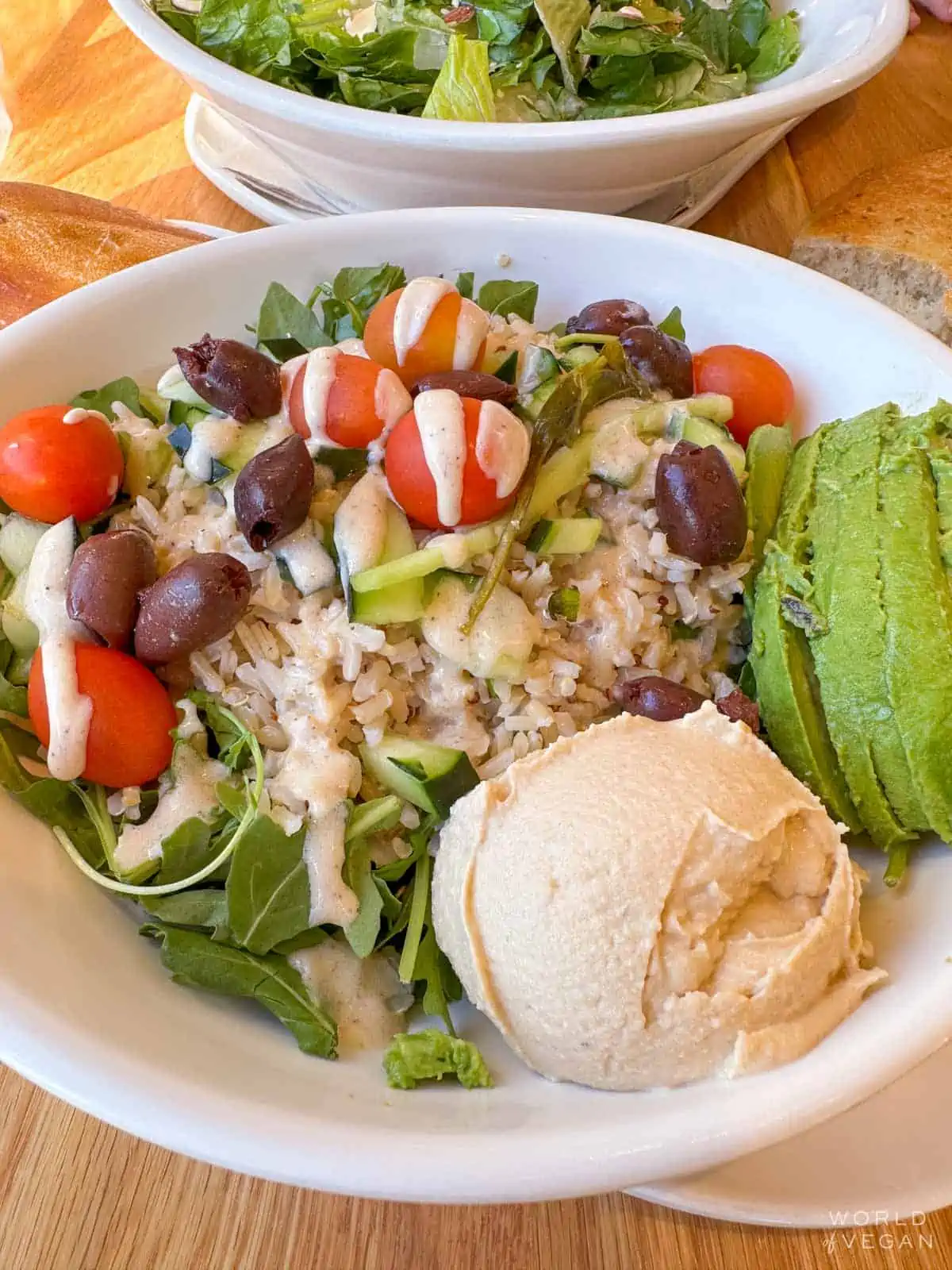 Plant-Based Salads
Asian Sesame (no chicken or wontons; add avocado and veggies)
Fuji Apple (no chicken or gorgonzola)
Greek (no feta or dressing)
Modern Greek with Quinoa (no feta or dressing)
Seasonal Greens
Spicy Thai (no chicken or wontons)
Strawberry Poppyseed (no chicken)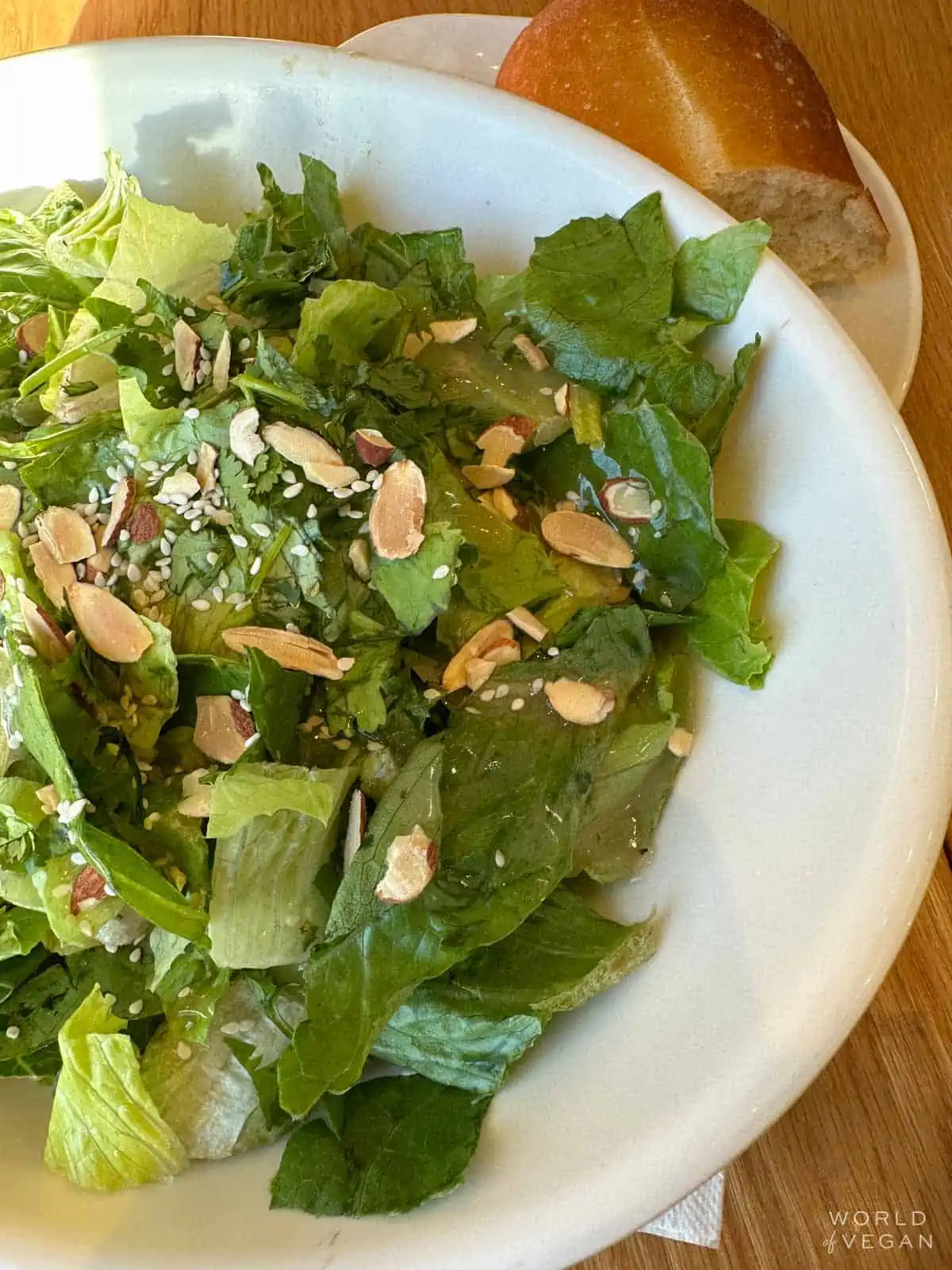 Vegan Soups
Vegan Sides & Snacks
Apple
Banana
Chips
Fruit Cup
French Baguette
Pickle
Bread at Panera That's Vegan
Unfortunately, one of the most beloved items at this fast-casual chain of restaurants—the bread—is not entirely vegan-friendly. Some of the specialty breads include ingredients such as milk, eggs, honey, and/or cheese.
But don't worry, there are still plenty of breads to choose from that are vegan. We appreciate the "Eating Vegan" article on Panera's website that includes some suitable food suggestions and substitutions that you can make for a mouthwatering meal.
Artisan Ciabatta
Classic Sourdough (including bowl)
Country Rustic Sourdough
Black Pepper Focaccia
French Baguette
Sea Salt Focaccia
Whole Grain Sourdough
Bagels (four of their bagels are vegan, see below)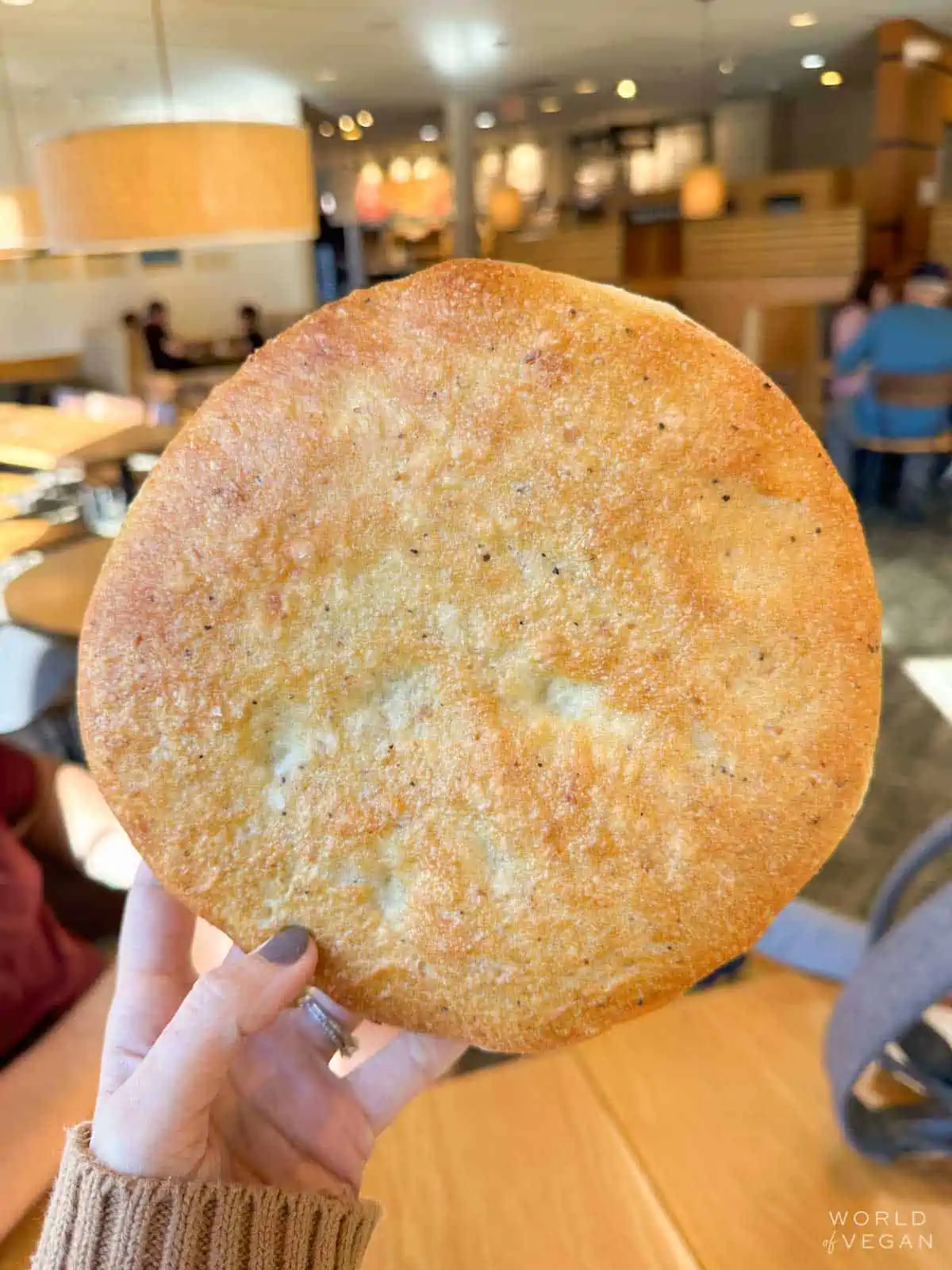 Bagels (Vegan)
Blueberry
Everything
Plain
Sesame
Check out our vegan bagel guide for everything you need to know about bagels (plus a recipe to make your own).
Vegan Spreads
Dairy-Free Smoothies
Vegan Espresso Bar
You may be able to order a cappuccino, latte, or mocha if you specifically ask for no whipped cream, caramel drizzle, or honey. These drinks can be made with almond milk if requested.
It's unclear whether the chocolate syrup is vegan friendly. Some brands are vegan, but some are not. Ask an employee or manager if you can look at the syrup ingredients to confirm.
Vegan Beverages
Agave Lemonade
Bottled Water
Fountain Sodas
Freshly Brewed Tea (iced or hot, including herbal)
Hot Coffee (almond milk options)
Passion Papaya Green Tea
San Pellegrino Sparkling Water (in bottle or cans)
Spindrift Sparkling Water
Substitution Ideas
Design your own amazing ALT by ordering the Kids' Roasted Turkey & Avocado BLT with no bacon, turkey, or mayo and ask for extra avocado, lettuce, and tomato.
Build a "Better than Avocado Toast" breakfast by asking for a toasted bagel with avocado on the side. Slather that savory goodness on top and season with some sea salt and black pepper.
Create your own "Seasonal Crunch" sandwich by ordering a french baguette (toasted, if possible), a seasonal greens salad, a side of awesome avocado, and a bag of chips. Spread the avocado on the bottom half of the bread, add as many greens as you can on top and sprinkle with a vegan-friendly dressing or salt & pepper.
Although there are many more options for vegans at Panera Bread than you may have imagined, the website isn't as helpful as you might hope. They have plenty of full-color photos and a pdf and small pop-up box for nutritional information on each item, but there is no list of specific ingredient information for any of the food options on their menu. Unless you are able to ask for clarification or confirmation, you might want to steer clear of those menu items.
Helpful Hints When Ordering at Panera Bread
Browse the restaurant's website before ordering.
Look carefully at the menu and search for plant-based options (or look for the green leaf in the bottom left corner of the picture)
Call the restaurant and ask if they can tell you what their vegan options are for the day.
Ordering online may be optimal. For most of the items, you can press the "customize" button on the bottom center of the food photo and choose which options you wish. You can also add any special instructions you have – such as "toasted" or "no dressing".
Add the seasonal greens salad to any other vegan item for a more satisfying supper.
Bring a nifty nut butter packet with you, just in case you want to buy a bagel and add this tasty topping.
Consider carrying a sealed vinaigrette packet with you (Newman's Own has a number of vegan options) for extra salad satisfaction!
FAQs
Is the bread at Panera vegan?
Many of the bread options at Panera are vegan! Vegan options include the classic, rustic, and whole grain sourdough breads, black pepper and sea salt focaccia breads, ciabatta, french baguette, and some of their bagels.
Which bagels at Panera are vegan?
The plain, everything, sesame, and blueberry bagels at Panera are vegan!
Do they have vegan pizza at Panera?
Sadly, at this time they do not offer vegan pizza at Panera. Please take a moment to write to Panera on social media and request a vegan pizza option! That can make a big difference.
What are Panera's gluten-free vegan options?
While the breads at Panera aren't gluten-free, you can still get a filling gluten-free vegan meal by choosing their plant-based soup and salad options!
Does Panera Have Vegan Mac and Cheese?
No, Panera does not currently have vegan mac u0026 cheese. We encourage you to request a vegan mac option though! You can send them a message on social media or suggest it next time you visit.
How Can I Make Panera's Broccoli Cheddar Soup Vegan?
There is no way to order the Broccoli Cheddar Soup vegan, but you can make your own copycat recipe at home! Here is a delicious Panera copycat vegan broccoli cheddar soup recipe.
Does Panera Have Vegan Smoothies?
You're in luck! Panera has three vegan smoothie options: the Frozen Strawberry Lemonade, the Green Passion Papaya, and the Peach u0026 Blueberry with almond milk. Cheers!
How to Order at Other Chains
Have you found any other options to be veganizable? Did you find something amazing that we missed? Let us know by tagging #worldofvegan and sharing your favorite vegan-at-Panera-Bread creations with all of us!
Disclaimer: At the time of this article, the foods mentioned above are vegan. Since restaurants constantly update their menus and add or take away items, please keep this in mind when ordering your food. There may be new items that are vegan and not listed or items listed here as vegan, which are no longer vegan. Take care to double-check.