The bright red DQ sign can instantly signal your brain to stop for ice cream. Does it work? We'd say, almost certainly! In the past, if you were looking for vegan or dairy-free options, you'd have stopped and been sadly disappointed. But, now, you can order a few items without any struggle to assuage your appetite.
We wouldn't recommend a visit if your heart is set on a vegan-friendly burger or a crisp cone of soft-serve dairy-free ice cream. Neither of those is to be found on the daunting DQ menu. But, if you follow our lead, you can select a few snacks and sides to tide you over until dinnertime. Want to know what's vegan-friendly for Dairy Queen cuisine?
Fewer choices make fewer decisions, though we do wish that there was a veggie burger or at least one plant-based sandwich to savor. If you find yourself at a DQ location feeling completely confused, this is what you can choose for a stress-free and semi-satisfying experience.
Appetizer: Pretzel (request without cheese or dipped in butter)
Side: Salad, french fries, and/or hash browns
Beverage: Coca-Cola drink, coffee, slushie, or light fruit smoothie (made with water or juice instead of dairy yogurt)
Snack: Lay's Potato Chips (Baked, BBQ, or Original)
Dessert: Non-Dairy Dilly Bar or Star Kiss Frozen Treat
While there is no specific vegan-friendly breakfast section on the DQ menu, you can get a solid (though small) breakfast in a pinch. Here's what to order:
Applesauce
Banana
Coffee
Hash Browns
Orange Juice (if available)
Dairy Queen's Dairy-Free Desserts
If we were sharing this article at any other time, this section would be totally blank. But, thankfully, Dairy Queen recently added at least one dairy-free (and delicious) dessert option to the menu. Yay!
The delightful, chocolate-dipped Dairy Queen Dilly Bar is available at most locations and, if you're lucky, you can find the cool and colorful Star Kiss Frozen Treat, too.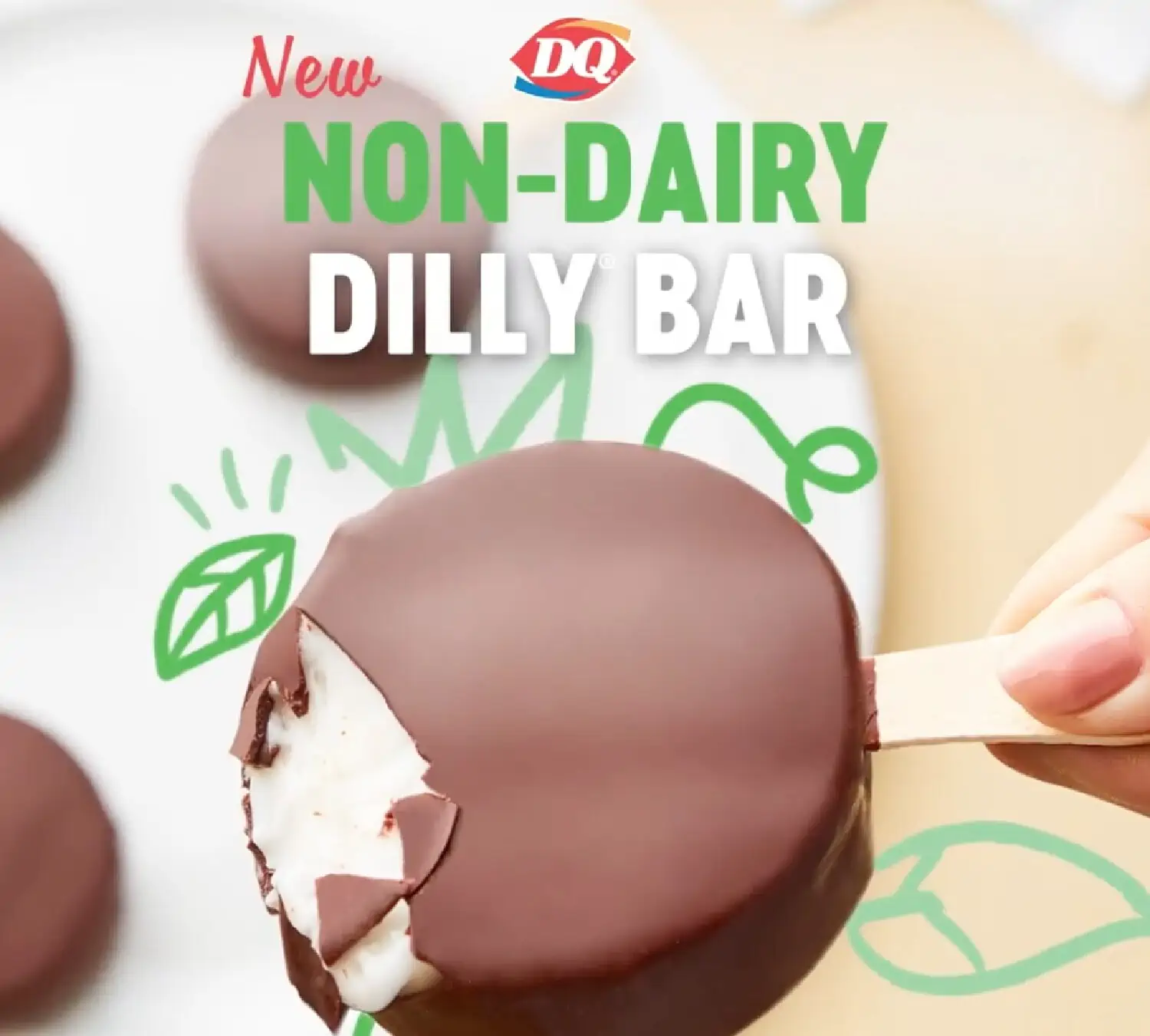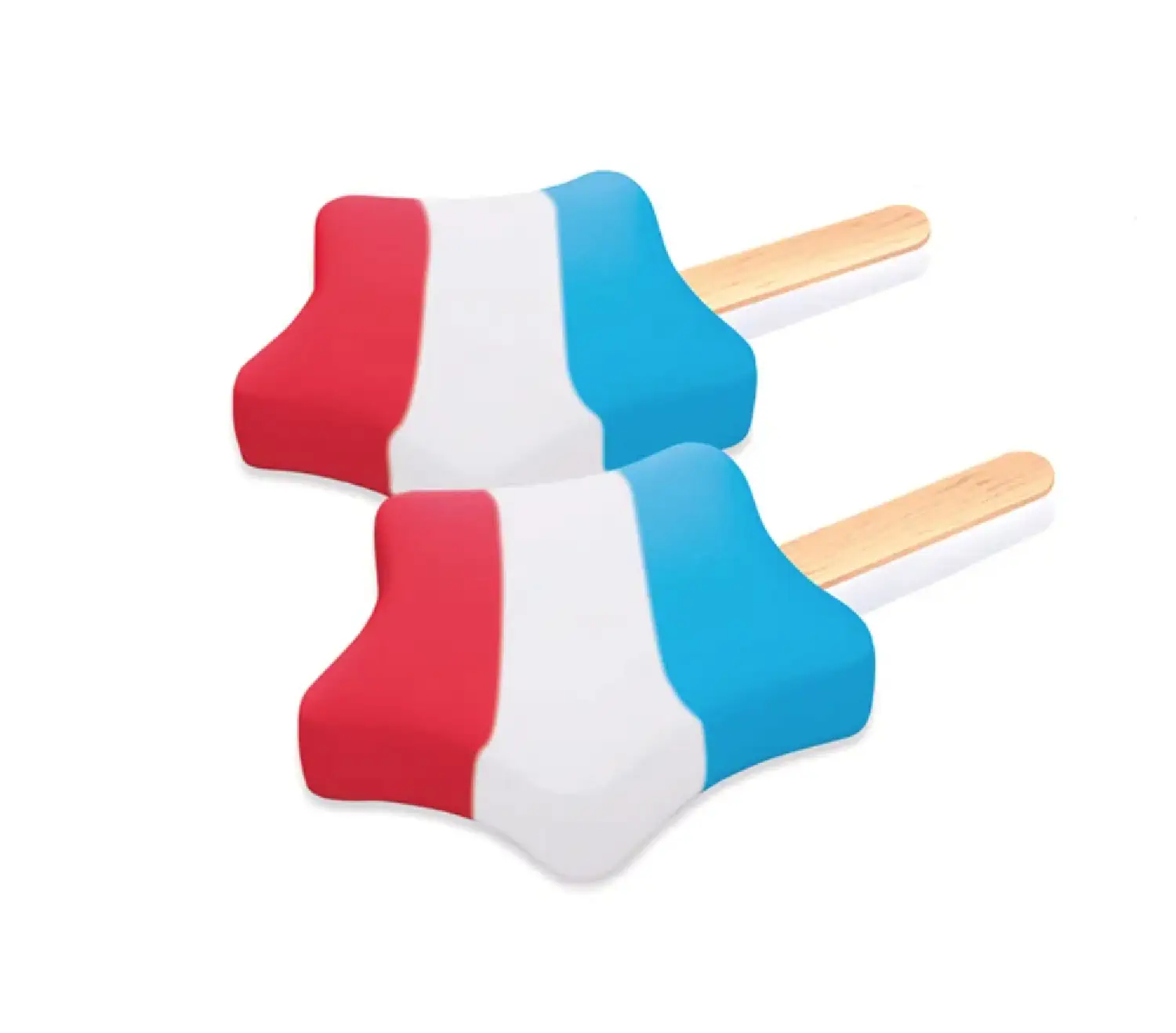 Dairy Queen Vegan Options (Complete List)
While this snack shack seems to have fewer options than many fast food restaurants, DQ has one advantage over them at the moment. The Dairy Queen vegan Dilly Bar! Except for dessert-focused franchises like Cold Stone Creamery and Ben & Jerry's, other one-stop eateries only offer savory items and not sweet ones. What can you order that's vegan at Dairy Queen?
Savory Food
Hashbrowns
Pretzel Sticks (request no queso and no butter)
Side Salad
Note: Keep in mind that Dairy Queen cooks its fries in the same oil as animal-based foods. It's a personal choice whether or not you feel comfortable with cross-contamination with animal products. There's no judgment here.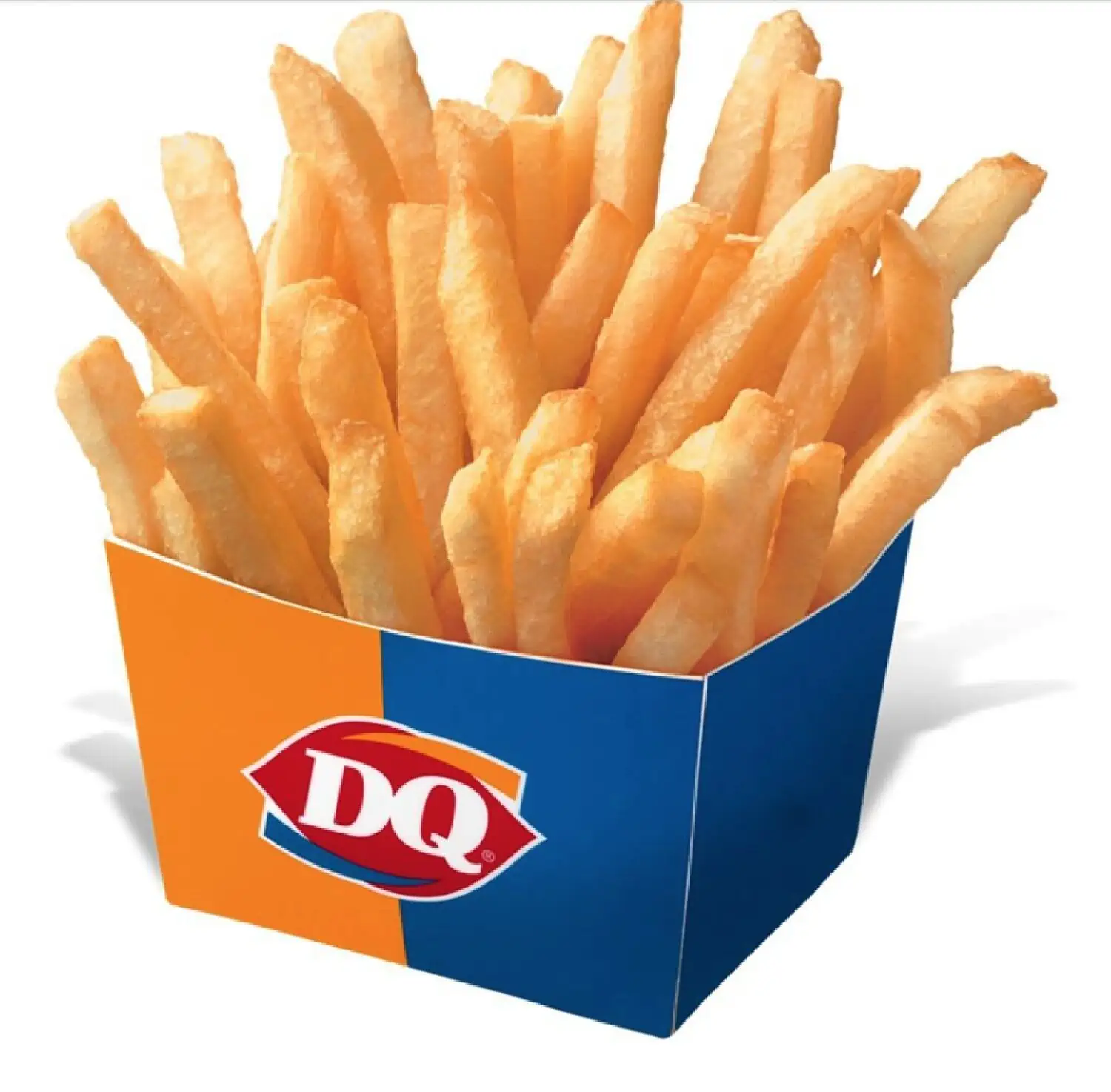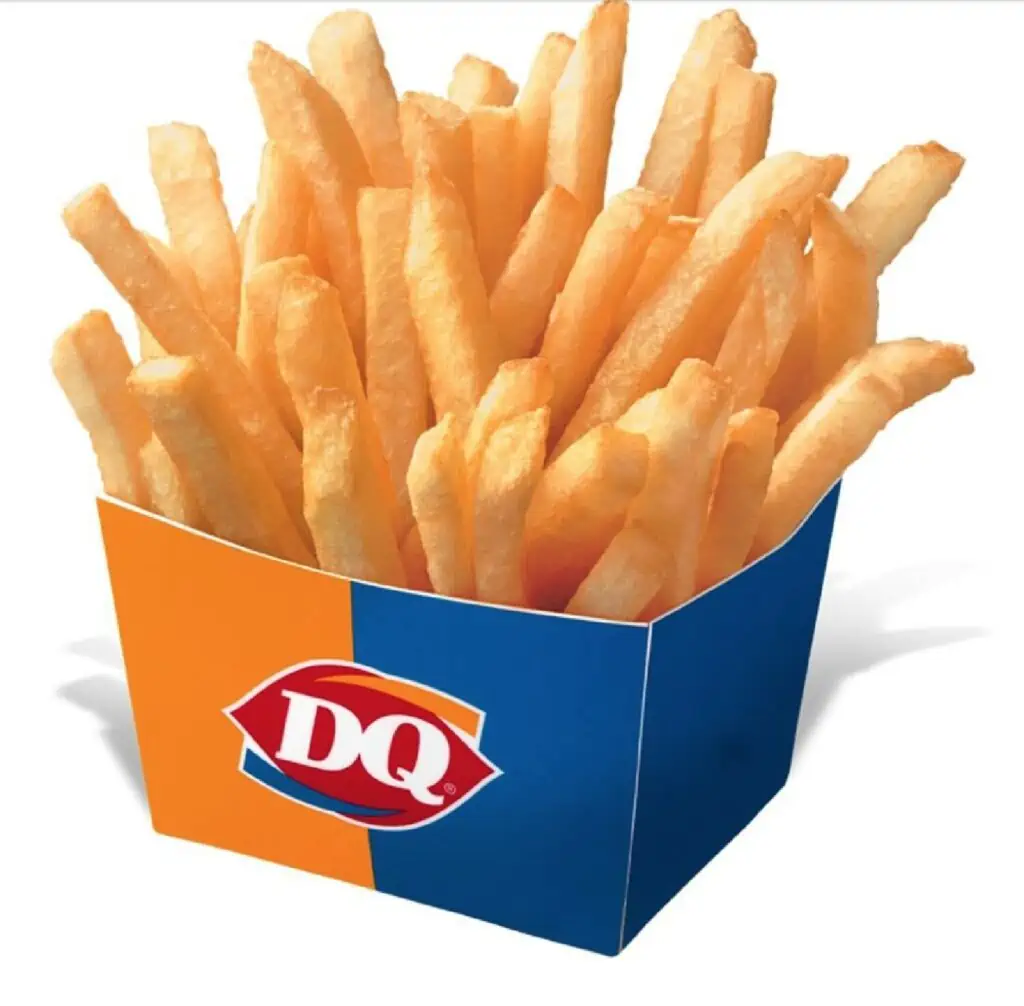 Dairy Queen Dairy-Free Ice Cream Desserts
These delightful desserts are available at most locations, with the Star Kiss being the less likely of the two. You can also buy them both online, as well. If you're visiting a location just to try the non-dairy Dilly Bar, you may want to call ahead of time to make sure they're on the menu.
Dairy Queen Non Dairy Dilly Bar
Star Kiss Frozen Confection
Dips and Dressings
BBQ Dipping Sauce Cup
Chili Dog Sauce
Ketchup
Marzetti Light Italian Dressing
Mustard
Wild Buffalo Dipping Sauce
Note: At some locations, other dressings are available such as Marzetti Asian Sesame, Balsamic Vinaigrette, and Fat-Free California French.
Snacks
Applesauce (Musselman's Unsweetened)
Banana
Lay's Potato Chips (Original, BBQ, and Baked)
Savory Toppings
Diced Tomato
Lettuce
Onion
Pickles
Sweet Toppings
Banana
Chocolate Topping
Peanut Butter Topping
Pineapple Topping
Strawberry Topping
Beverages & Slushies
Coca-Cola Brand Beverages
Coffee (Hot or iced coffee without milk or cream)
Light Smoothies (Ask for them to be made with water or fruit juice instead of dairy yogurt.)
Orange Juice
Slushes (The Mango Misty and Original Misty slushes (not Freezes which contain dairy) are vegan-friendly. Other flavors include: blue raspberry, cherry, kiwi strawberry, and lemon lime.)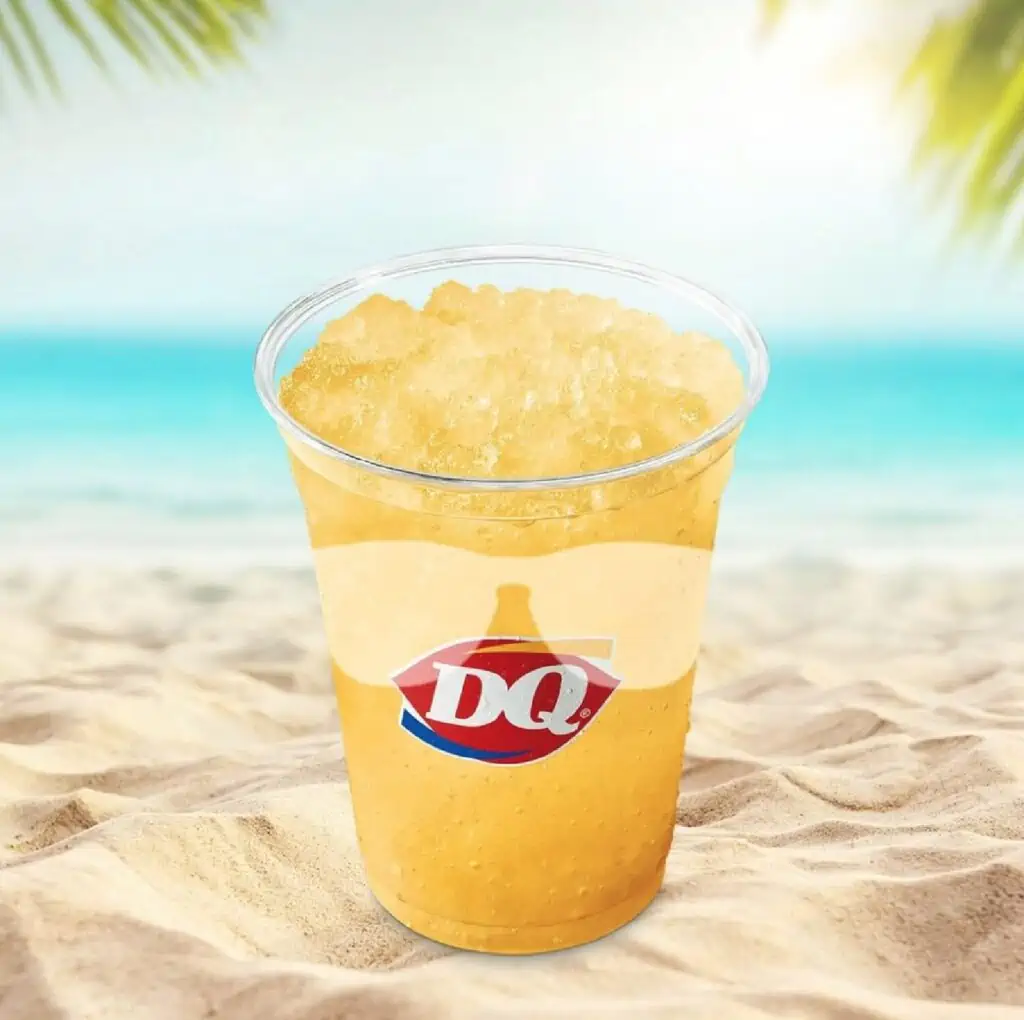 Boosts
Antioxidant
Energy
Vitamin C
Ordering Vegan and Gluten-Free At Dairy Queen
While you can't find a specific gluten-free list on the Dairy Queen menu, we've found that a number of vegan-friendly options are also free of gluten. That's pretty convenient! These are the food items that we found to be both vegan and gluten-free:
Applesauce
Bananas
Dips & Dressings (BBQ dipping sauce cup, Marzetti Light Italian dressing, Wild Buffalo dipping sauce)
Fountain Beverages (all)
Lay's Potato Chips (Original, BBQ, and Baked)
Non-Dairy Dilly Bar and Star Kiss Frozen Treat
French Fries (though they are fried in the same oil as foods with gluten)
Slushes (all flavors, but not the freezes)
Toppings (veggies)
What About Dairy Queen Cakes and Dairy Queen Blizzards?
We're sad to say that Dairy Queen has neither dairy-free ice cream cakes nor Blizzards on the menu at the moment. While it seems (to us) pretty simple to add almond milk or coconut milk ice cream option, we haven't heard any hints that these ideas are on the horizon.
While you're patiently waiting for more menu items to appear, how about giving our perfect vegan ice cream cake or decadent dragonfruit smoothie a try? They're even better than commercial ice cream cakes or shakes because you can use exactly which individual ingredients and fantastic flavors you like. How cool is that?
To make a copycat Dairy Queen banana split, fill a large dish with three scoops of dairy-free ice cream (the traditional flavors are chocolate, vanilla, and strawberry), chocolate syrup, crushed pineapple, sliced strawberries, sweet cherries, and whipped cream. Yum!
FAQs
Does Dairy Queen have vegan options?
Yes! There are vegan-friendly options at Dairy Queen. Choose from fries, hash browns, pretzels sticks (without cheese), side salad, juices, slushes, and possibly up to two dairy-free desserts: The Non-Dairy Dilly Bar and the Star Kiss Frozen Treat.
Is there a Dairy Queen veggie burger? Is it vegan-friendly?
At the time of this article, there were no veggie burger options at Dairy Queen. But, please write to the company and let them know that you would like this option. Any requests to the company help everyone in the vegan community.
What are the non-dairy dilly bar ingredients?
The exact ingredients that we found on the Dairy Queen website state: Water, Sugar, Corn Syrup, Maltodextrin, Coconut Oil, Coconut Cream, Contains 2% Or Less Of Vanilla Extract, Xanthan Gum, Guar Gum, Carrageenan, Carob Bean Gum, Mono & Diglycerides), Coating (Coconut Oil, Sugar, Cocoa Processes With Alkali, Corn Starch, Soy Lecithin, Salt, and Natural Flavor.
Check out the Dairy Queen allergy menu and nutritional information page to make sure that you are purchasing a vegan-friendly item. The menu items offered at Dairy Queen don't seem to change very often, but you may want to double-check before you visit.
Browse the Dairy Queen menu before ordering.
If ordering Dairy Queen online or through a delivery service, make sure you clearly specify any substitutions you would like. If you're worried that your request may not be honored (or seen by the server at Dairy Queen, it might be a better idea to go there directly to order.
Be careful when new and exciting seasonal products are offered at Dairy Queen. Double-check the allergens and ingredients to make sure the item is vegan before purchasing.
NOT Vegan at Dairy Queen
Blizzards, Shakes, and Frozen Beverages – These drinks and liquid desserts all contain dairy.
Dipped Cones – Any dipped or chocolate covered cone will contain milk products, so they are not vegan.
Dressings & Dips – Honey Mustard Dipping Sauce, Kraft Free Italian Dressing, Kraft Honey Mustard Dressing, Marzetti Honey Dijon Mustard Dressing, along with the queso, ranch, and gravy are all made with animal products.
Freezes – The Mango Misty and Original Misty freezes both contain dairy.
Novelties – The Buster Bar, Dilly Bar, and DQ Sandwiches are all dairy-based.
Onion Rings – These contain milk in the batter.
Orange Julius Drinks – All flavors contain dairy and egg whites. These include the ones that are labeled "OJ only".
Premium Fruit Smoothies – All flavors contain dairy.
Sprinkles – Their sprinkles contain confectioner's glaze, which comes from insects.
Toppings – The candies, add-ons, and other sauces (such as the fudge and hot fudge) are not vegan-friendly. Except those specifically listed above.
Make Your Own Homemade Ice Cream Desserts
You don't have to leave the house to enjoy the most heavenly ice cream! With any of these at-home recipes, you can recreate pretty much any flavor you desire and add all of the toppings that tempt you. We even have two recipes that require no ice cream maker at all! Save your spare change and scoop up your own any time you like!
Historic Vegan Moments in Dairy Queen History
April 2020 – Dairy Queen announces they will be adding a non-dairy Dilly Bar (with coconut cream base and chocolate coating) and a Star Kiss bar to their menu.
Fascinating Facts About Dairy Queen
The first official Dairy Queen stand opened in 1940 in Joliet, Illinois.
Dairy Queen is owned by Berkshire Hathaway, a multinational conglomerate company.
The largest location is in Saudi Arabia, while the busiest location is on Prince Edward Island.
Dairy Queen has locations in at least 30 different countries.
In Springfield, Ma in 2005, the biggest Blizzard ever made weighed in at 8,224.85 lbs and was an amazing 22 feet tall!
Creating a Kinder and More Accessible Dairy Queen Vegan Menu Experience
Although Dairy Queen has not yet included any plant-based burger or dairy-free ice cream to the menu, we can still hope that our earnest vegan requests will be heard. Since there are more and more vegan-friendly burger and ice cream restaurants on the fast food front, we have high hopes that Dairy Queen will soon come up with at least one tasty vegan burger and a couple of sweet, dairy-free shakes to dive into. Wouldn't it be amazing if the chain offered a fully vegan-friendly section on the menu? In the meantime, we can always write, call, or contact the managers of any location to make our requests.
Share your preferred plant-based burger, decadent frozen dessert, and bountiful breakfast wishlist for a vegan Dairy Queen menu. Let us know on Facebook, Twitter, and Instagram!
Have you found any other vegan options at Dairy Queen? Did you find something amazing that we missed? Let us know by tagging #worldofvegan and sharing your favorite vegan-at-dairy-queen creations with all of us!
How To Order Vegan Ice Cream at Other Fast Food Chains
This article is not sponsored and we are in no way affiliated with Dairy Queen. At the time of this article, the menu items mentioned above are vegan. Since restaurants constantly update their menus and add or take away items, please keep this in mind when ordering your food. There may be new Dairy Queen vegan ice cream options that are not listed or items listed here as vegan, which are no longer vegan. Take care to double-check.