Imagine a drive-thru in which you don't have to (politely) demand 'no cheese' or 'no meat'. Picture a mouthwatering menu that offers everything you could ever want, without any animal cruelty or damaging dairy. Fancy a restaurant where they finally care about the details of decor, swap wood for bamboo, and won't push plastic for packaging.
When you're craving plant-based fast food, there are usually very few options on any particular menu. Have you ever dreamed of a veritable vegan haven that would assuage all of your hankering hunger for burgers and fries? Finally, there is such a place.
If any of this sounds good to you, keep reading!
Plant Power Origins
The very first location of Plant Power Fast Food opened in January 2016 at Ocean Beach, California and, almost overnight, became the top spot for anyone searching for a healthier, plant-based version of conventional fast food options.
The business began with Mitch Wallis, who is also the founder of Hillcrest's Evolution Fast Food. Along with Jeffrey Harris and Zach Vouga, these three men pioneered the Plant Power partnership. Their drive-thru is quickly becoming one of the most popular vegan food destinations in the country.
From juicy burgers and crispy fries to creamy shakes and swirling soft-serve, Plant Power Fast Food has it all. They even have extras that we never knew we wanted, like a fantastic Kombucha Float! It's still hard to believe they're all 100% plant-based because the perfect presentation and tantalizing taste are just so spot on.
Here's what you can expect to find when you're mulling over the Plant Power Fast Food menu: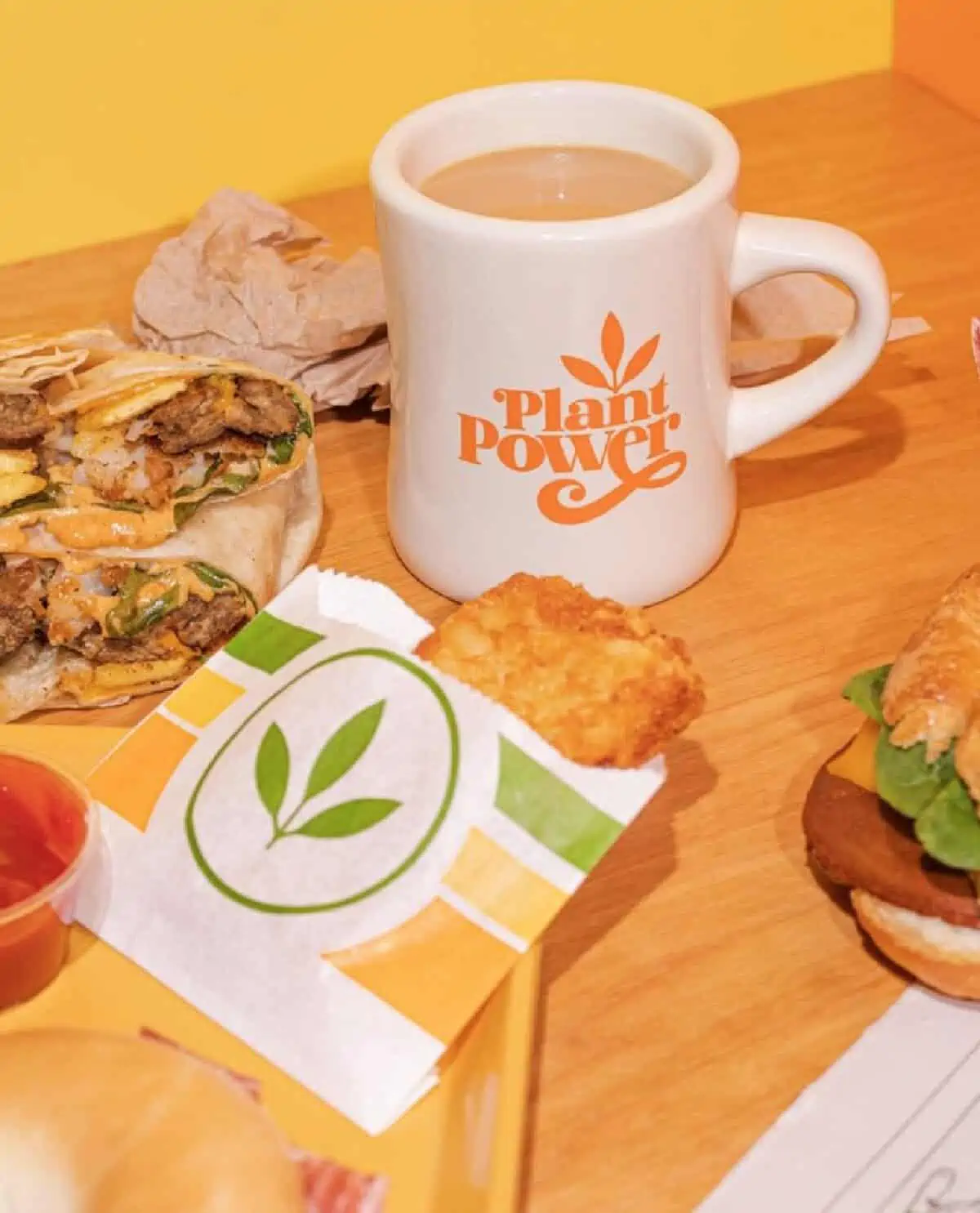 Breakfast Sandwiches
'Egg and Cheese' (English muffin or croissant)
'Bacon, Egg, and Cheese' (English muffin or croissant)
'Sausage and Cheese' (English muffin or croissant)
'Sausage, Egg, and Cheese' (English muffin or croissant)
'Fried Egg and Bacon' (bagel)
Breakfast Burrito
Hash Brown Patty
'Beefy' Burgers
Hamburger
Cheeseburger
Double Cheeseburger
The Big Zac
Specialty Burgers
Quarter Pound Cheeseburger
The 'Iconic' Burger
The Holy Guacamole
The Western
Handheld Sandwiches
The Buffalo 66
'Chicken' Sandwich
'Chicken' Wrap
Southwest Avocado Wrap
'Fish' Fillet Sandwich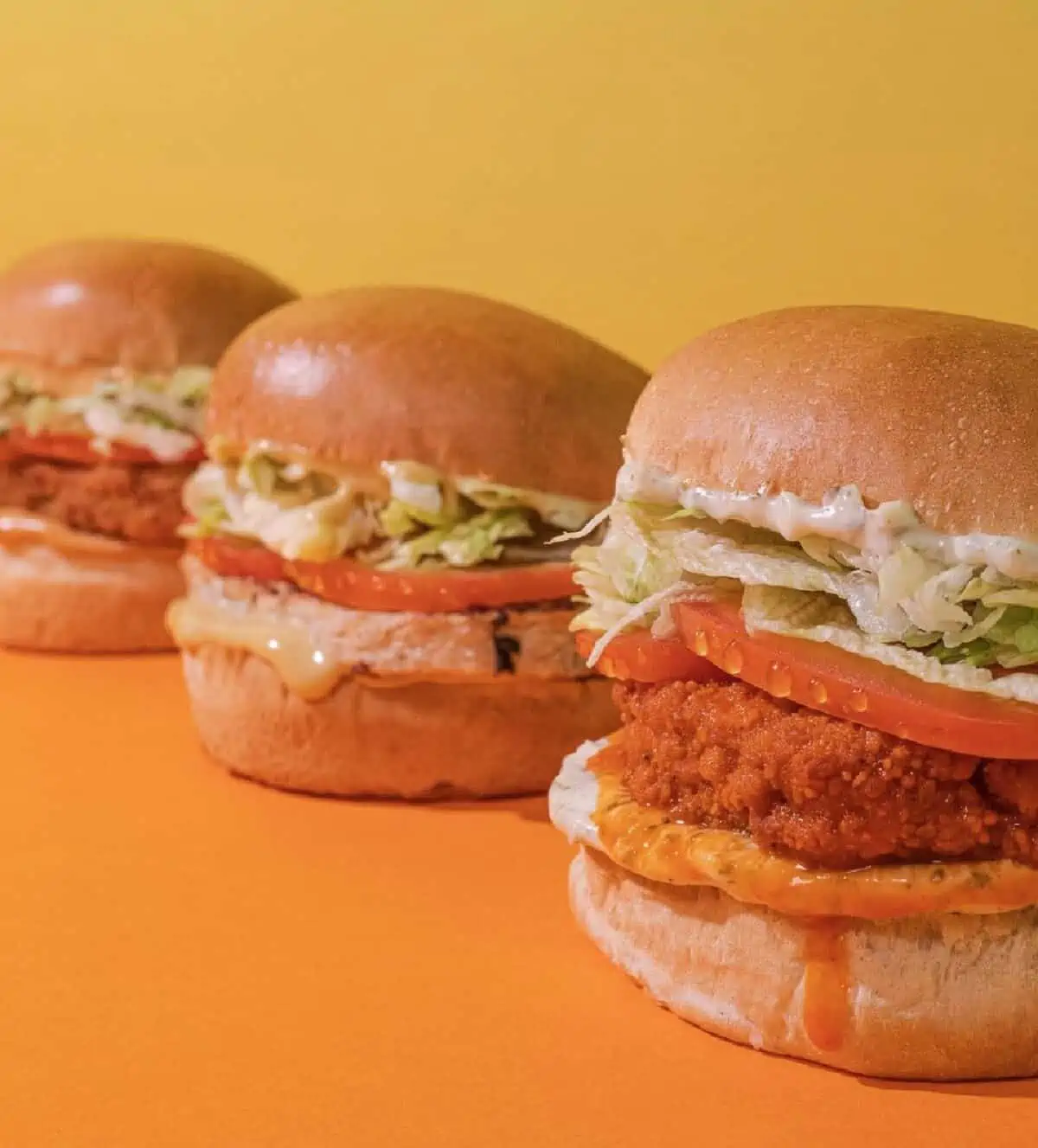 Small Meals and Sides
Buffalo Wings
'Chicken' Tenders
'Chicken' Nuggets
Iconic Fries
Regular Fries
Side Salad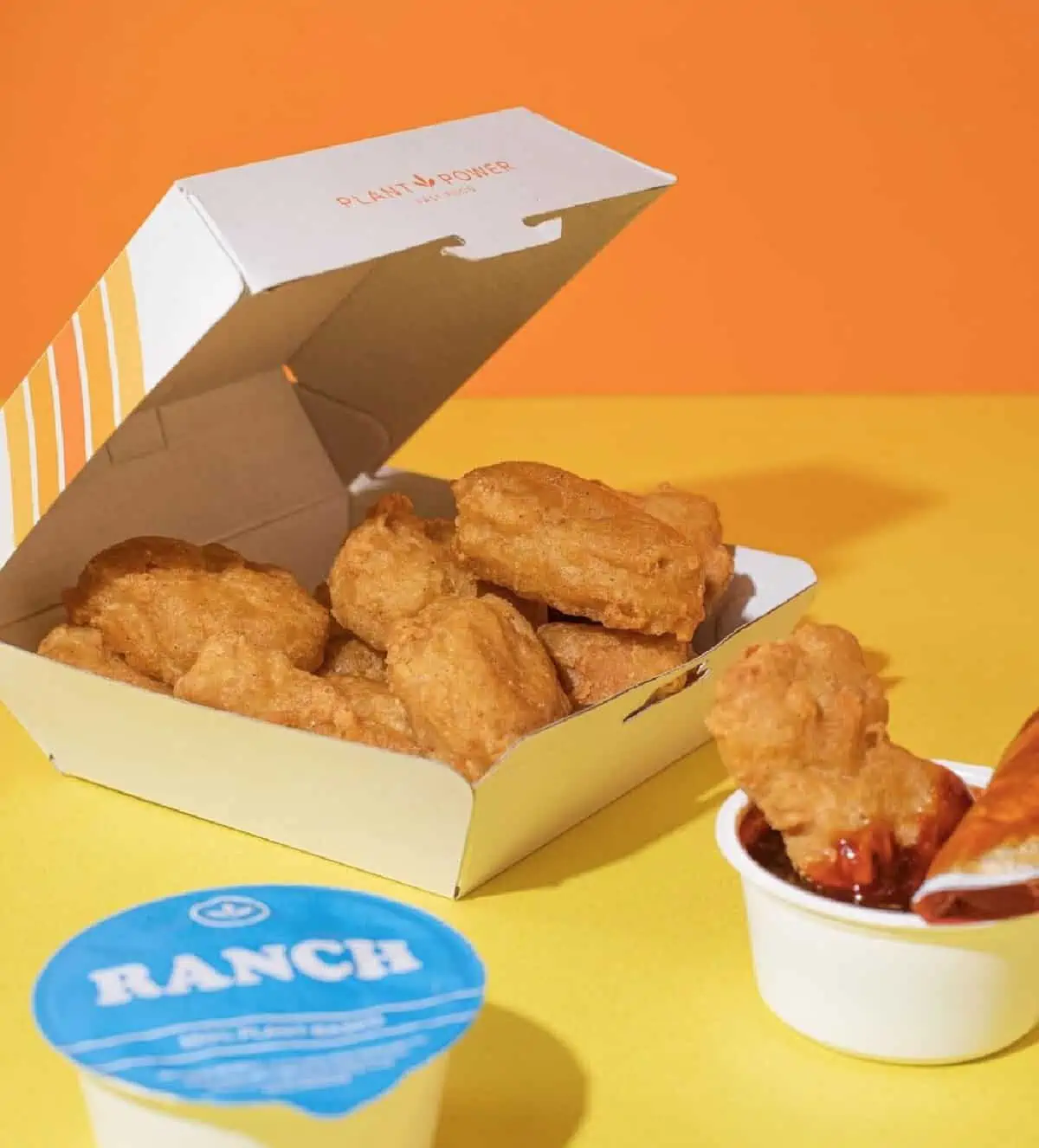 Fresh Salads
BBQ 'Chicken' Salad
'Chicken' Ceasar
Superfood
Desserts
Brownie
'Cheese'cake
Chocolate Chip Cookie
Sundaes (Strawberry or Chocolate)
Vanilla Soft Serve 'Ice Cream'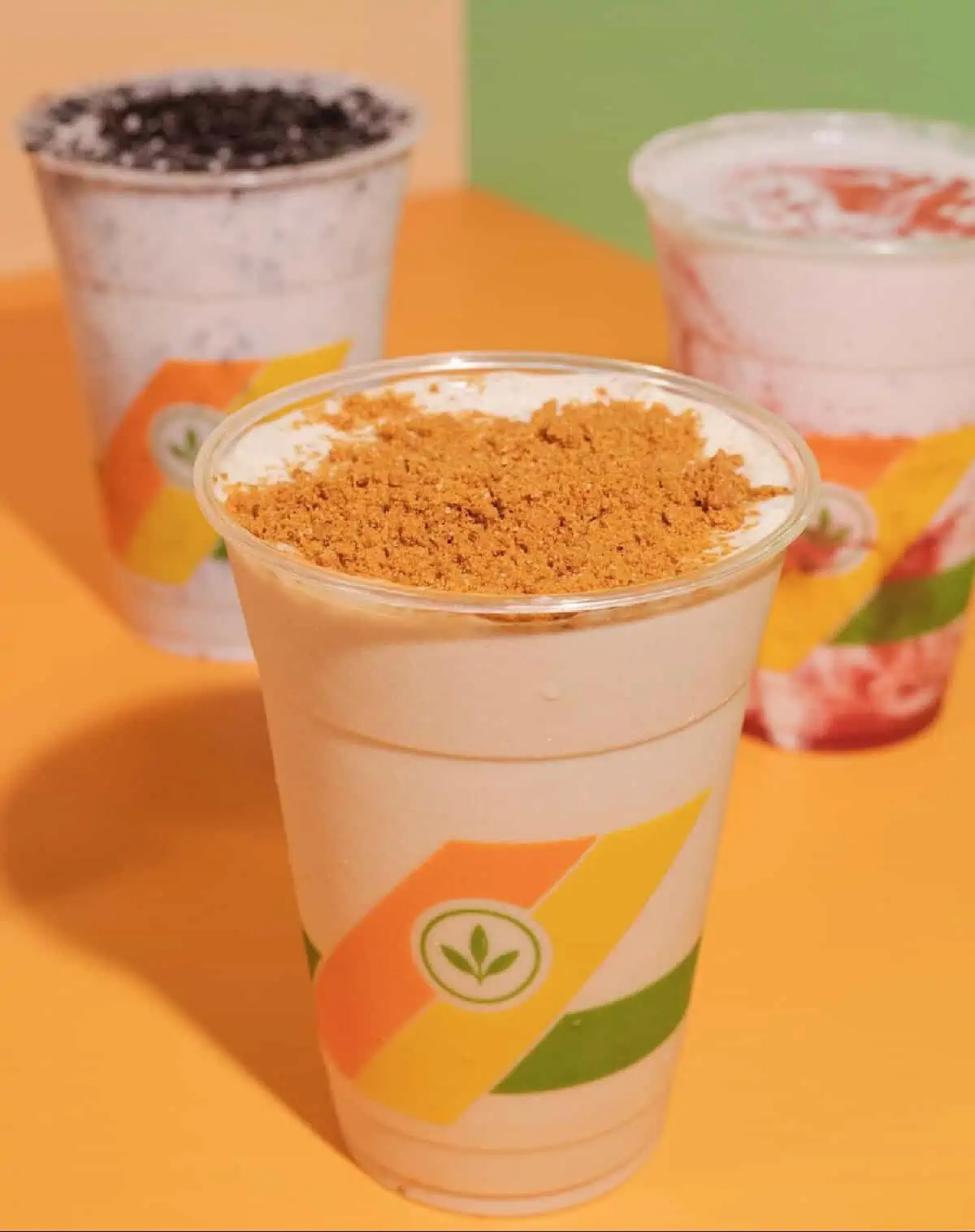 Shakes & Beverages
Old Fashioned 'Milkshake' (Vanilla, Chocolate, Strawberry, Cookies & Cream, Horchata, Peanut Butter, Coffee, Cookie Butter, or Seasonal)
Rootbeer Float
Blueberry Float
Orange Juice
Cold Pressed Juice
Fair Trade Coffee
Fair Trade Ice Cold Brew (Black, Original, Caramel, Vanilla)
Fountain Drinks
Snow Days (ask Blizzards in Cookie Dough, Chocolate Brownie, Cookies & Cream, and Betterfinger)
Organic Kombucha
Star Dishes, Beverages, and Desserts
Since every single option looks incredible and it might be hard to choose a favorite, we've come up with a short list of the extra special, "must-have" (reminiscent of McDonald's) menu items for you to try.
The Big Zac (Like a vegan Big Mac!)
'Chicken' Nuggets (Remember those?)
Old Fashioned 'Milkshake' (Drooling over the strawberry!)
Buffalo Wings (With plant-based ranch dressing.)
'Sausage Egg and Cheese' Muffin (oh, brings back lots of childhood memories!)
Vegan Soft Serve 'Ice Cream' (Vanilla flavor with options of Strawberry or Chocolate syrup.)
Kombucha Float (How brilliant is that?!)
It's important to note that not all locations offer the same food items. Listed below are a few of the classic-turned-plant-based options that are (at this time) exclusive only to Sacramento (see video below).
Breakfast Sandwich on a Buttery Croissant
Vegan Egg McMuffin
'Chicken' & Waffles
Makes it pretty motivating to visit multiple locations to see what's on their menus!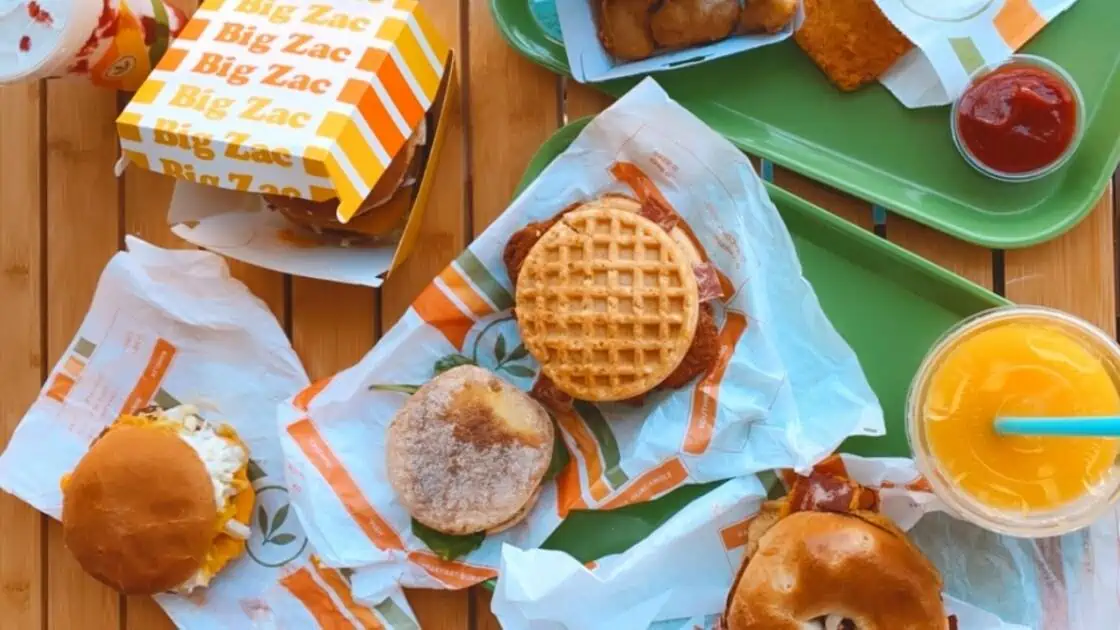 Plant Power Fast Food Locations
This super fun and fast growing restaurant has at least eleven locations (as of Dec 2022) and one on the way in Carmel Mountain (San Diego, CA). They have plans to open up at least two more locations in Hollywood, CA and Las Vegas, NV in the near future, as well as expanding to New York City and Miami. As you can probably tell, Plant Power has gained a huge following with impressive growth, even during the pandemic of 2020. 
Here is a list of their current fast food locations in California:
Ocean Beach
Encinitas
Redlands
San Diego State University
Long Beach
Riverside
Fountain Valley
Sacramento
La Jolla
Las Vegas
Hollywood
San Diego (coming soon!)
Need To Know About Nutrition?
Plant Power was kind enough to share an in-depth nutrition guide and calculator for every item on their menu. Just click on the item that you want and all of the information for that particular food will be displayed. This handy tool not only offers the usual macro nutrients like calories, fat, fiber, carbs, etc., but also suggests ways in which you can personalize your order. How nifty is that?
Sustainability Matters
The philosophy for this fast food restaurant is truly powerful and positive. Their main goal is this – 'seek to expose millions of customers to new cruelty-free and environmentally sustainable choices'. Wouldn't it be wonderful if more restaurants would have such a deep-rooted, dedicated "why" for making the world a better place!
Plant Power offers 100% plant-based food that is:
100% cholesterol free
Free of artificial colors and flavors
Free of hydrogenated oils and high fructose corn syrup
At each location, the decor and packaging is important. They offer:
Tables and booths made of renewable bamboo, not wood
Chairs are made of recycled waste and reclaimed wood fiber
Most of their takeout packaging is compostable and made from plants, not petroleum
Serving Meat-Free Merch, Too!
Who doesn't love merch, especially when you're visiting a place that caters to vegans and plant-based bellies? After you've enjoyed an excellent meat-free meal (100% cruelty-free), you can take time to shop and bring home a few burger-themed mementos, as well as some super cool clothing.
Plant Power also sells online gift cards to encourage more visits from vegans, vegetarians, and omnivores alike. What a great way to support a local business and introduce a friend to vegan-friendly fast food!
Finally, download their phone-friendly app to earn rewards each time you visit. They give you 50 points and a free milkshake just for signing up – wooo! Plus, an extra something special on your birthday. Party at your place, Plant Power Fast Food!
More Vegan-Friendly Fast Food Chains
Have you visited Plant Power Fast Food? Let us know by tagging #worldofvegan and @vegan on Instagram and sharing your favorite Plant Power Fast Food choices with all of us!
This article is not sponsored and we are in no way affiliated with Plant Power Fast Food. At the time of this article, the foods mentioned above are available at the Sacramento location. Since restaurants constantly update their menus and add or take away items, please keep this in mind when ordering your food. There may be new items on the menu at this location or at other locations. Take care to double-check if you are planning a visit.