Craving a vegan tuna salad? Or maybe you can't get enough of a chunky chickpea salad sandwich. However you decide to enjoy it, this vegan chickpea tuna salad is versatile, easy to make, and a wonderful alternative to seafood.
Have you ever tried chickpea tuna salad? It's a delicious vegan tuna salad option that's fish-free, vegetarian, and dairy-free.
This chickpea salad is a healthier spin on traditional tuna salad. As people are learning that tuna fish can be loaded with toxic mercury that has built up in their flesh from our polluted oceans, many people are looking for better alternatives. Enter: the chickpea!
Our easy vegan chickpea "tuna" salad has the flavor and feel of tuna fish salad, minus the mercury. It's packed with plant protein and it is easy to whip up for lunch throughout the week. I often double the recipe as it stores beautifully in the fridge for several days.
You can serve this vegan tuna salad on a sandwich, on open-faced toast, in lettuce cups, or just dive in with a spoon. It really is that good.
The Perfect Lunch!
This insanely easy vegan chickpea tuna salad is one of our favorite go-to lunches! Apart from the fact that the ingredients are super easy to already find in your pantry, it takes 10 minutes and can be served in many different ways. Why not prepare this salad and leave it in the fridge to be eaten in the next couple of days? Psst! This 'tuna' salad tastes way better after being in your refrigerator overnight.
The usual way to eat it is as a sandwich, but it would be great as a wrap filling or with some iceberg lettuce cups. A quick, delicious, healthy, and light lunch! We love it, and we think you'll love it too!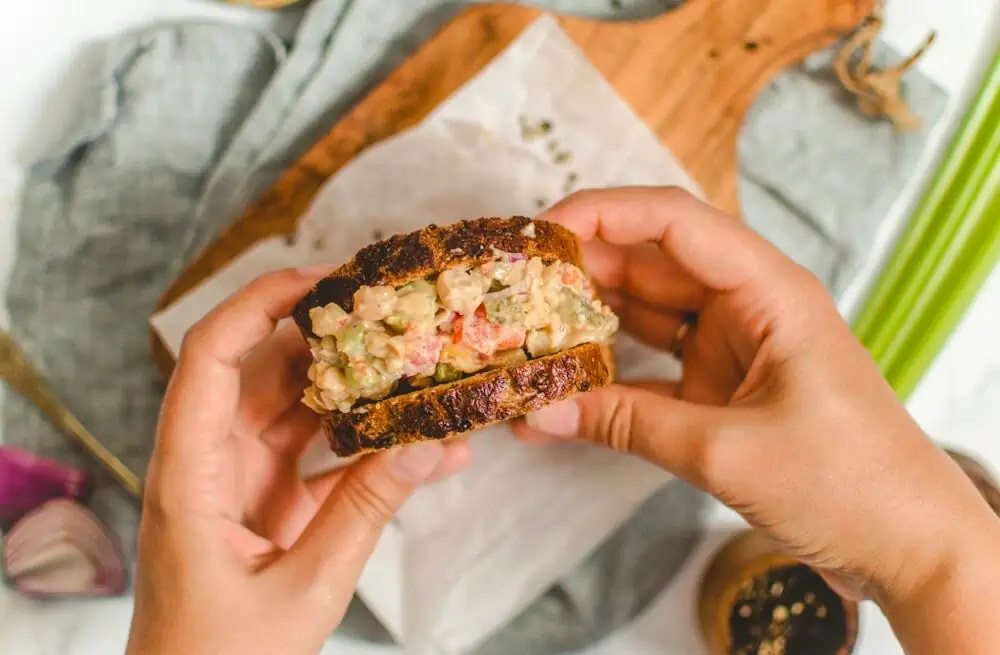 The Great Garbanzo Bean
Garbanzo beans (aka "chickpeas") are a wonderfully delicious, nutritious, and versatile little legume! Loaded with plenty of protein, vitamins, minerals, and fiber, they're an economical choice for a filling and nourishing meal. They're especially great for this vegan tuna salad since they take on a fishy flavor when combined with various seasonings and especially nori! Naturally gluten-free and soy-free, they're great for those who can't tolerate wheat or soy products as well.
So what's with the two names, you ask? Well, the name chickpea is derived from the Latin word cicer, referring to the plant family of legumes, Fabaceae. Garbanzo beans come from the Spanish-derived word for the legume. Both words are perfectly acceptable to use! Just know that if you're in a Spanish-speaking region, you may want to default to using garbanzo beans instead of chickpeas!
How to Serve This Chickpea Tuna Salad
This vegan tuna salad can be enjoyed in a variety of ways! Check them out below:
Is Chickpea Salad Good for Health?
This chickpea salad is loaded with essential nutrients! You can rest assured that you're getting a hefty dose of your daily recommended amount of protein, fiber, and more. Here's just a sampling of what you'll get in one cup of chickpeas:
Protein – 14.4 grams
Fat – 4.2 grams
Carbohydrates – 44.7 grams
Fiber – 12.5 grams
Calcium – 80.4 grams
Iron – 4.7 grams
With the addition of tomatoes, garlic, celery, and Dijon mustard, you get even more nutrients such as Vitamin C, antioxidants, and beta carotene!
What is Vegan Tuna Salad Made Of?
In addition to using chickpeas, vegan tuna salad can be made from a variety of other plant-based ingredients! Some other versions of vegan tuna salad include:
Jackfruit – Due to its meat-like texture, jackfruit can make an excellent vegan tuna salad recipe. Just make sure to sauté it for a few minutes before tossing with the other ingredients! Try our jackfruit tuna and see for yourself just how delicious it can be!
Artichokes – Simple yet delicious, artichokes make a great gluten-free and soy-free tuna substitution! This artichoke tuna salad sandwich recipe comes together in just a few minutes with essentials such as vegan mayo and chopped veggies.
Tofu – You can do basically anything with tofu, which includes making a vegan tuna salad! Just chop it into small chunks, add your favorite veggies like celery, red bell pepper, and red onion, add a little vegan mayo, some seasoning, and a dash of seaweed for fish-like flavor!
How to Store Your Chickpea Tuna
Good news! This fantastic vegan chickpea tuna salad will keep for about 2 to 3 days inside your refrigerator! You could prepare it on Sunday night and have lunch sorted for a few days. Pretty awesome, right?
It actually may taste even better the day after making it once the flavors have a chance to mix together! Freezing is not recommended.
More Delightful Chickpea Recipes
1 can chickpeas, drained and rinsed
¼ cup vegan mayo
¼ cup tomatoes, diced
2 stalks celery, diced
⅓ cup diced dill pickles
2 cloves garlic, minced
2 tablespoons diced red onion
1 tablespoon dijon mustard
¼ teaspoon salt
¼ teaspoon black pepper
1 pinch cayenne pepper
Drain and rinse one can of chickpeas (or two if you're doubling the recipe).

In a large bowl, roughly smash chickpeas using a potato masher or fork. Leave them a little chunky for optimal texture.

Add all remaining ingredients and mix until thoroughly combined.

Serve on a sandwich, in lettuce cups, or eat it right out of the bowl.
Calories: 138kcal | Carbohydrates: 5g | Protein: 1g | Fat: 12g | Saturated Fat: 1g | Polyunsaturated Fat: 0.1g | Monounsaturated Fat: 0.1g | Sodium: 506mg | Potassium: 146mg | Fiber: 1g | Sugar: 1g | Vitamin A: 271IU | Vitamin C: 4mg | Calcium: 30mg | Iron: 0.3mg
If you try this recipe for vegan chickpea tuna salad, let us know what you think by leaving a comment and rating below! Be sure to follow along on Pinterest, Instagram and Facebook for even more vegan recipe inspiration.
How to Enjoy Your Chickpea Tuna Salad
There are many ways you can enjoy a vegan tuna salad! Whether you want to enjoy it between two slabs of bread or on its own, here are a few ideas to get your mouth watering:
Let There Be Lettuce – Whether you're gluten-free or just munching on lettuce, eating chickpea tuna atop a bed of fresh, green salad is a super refreshing way to have a meal! You can also use greens such as kale, spinach, or arugula.
Serve Up A Sandwich – Simple and straightforward, you can't go wrong with making yourself a chickpea tuna sandwich! You could even turn up the heat by making a chickpea tuna melt with some your favorite vegan sliced cheese!
World of Wraps – Grab your favorite tortilla or collard wrap, toss some chickpea salad into it, and bam! You've got a delicious, nutritious, and easy lunch. Enjoy with a side of zucchini fries for an A+ lunch.
Vegan Chickpea Tuna Salad recipe by Michelle Cehn. Photos by Zhoro Apostolov for World of Vegan. Article edited by Amanda Meth. Recipe and photographs copyright of World of Vegan™, all rights reserved. Please note that this article contains affiliate links which support our work at World of Vegan!