Create a cool and comforting oasis on a warm summer day with our refreshing Cucumber Watermelon Salad. When your hair is sticky on the back of your neck and all you want is a big blast of air conditioning, you can count on this sweet and slightly zesty recipe to come to the rescue.
The melodious mix of two fresh fruits such as these replenishes your body with much-needed water and energizing electrolytes. Each bright, beautiful bite brings you closer to Chillville, Population: You!
You won't believe how simple and easy it is to make. Five ingredients and probably only five minutes total from start to finish. Come on, let's get cutting!
What Are the Benefits of Eating Watermelon?
We're glad you asked! Not only is this crisp and colorful melon delicious to dive into, but it's also super full of vitamins and minerals. How can you resist such a glorious globe of fresh fruit?
Incredibly Hydrating – 92% water content in every melon
Vitamin Rich – High in vitamins A and C, with smaller amounts of B1, B5, and B6
Low in Calories – Only 46 calories per cup
Multi-Mineral Content – Excellent amounts of potassium and magnesium, as well as beta-carotene and lycopene
Additional Amino Acid – Contains citrulline, an important amino acid that aids in blood pressure regulation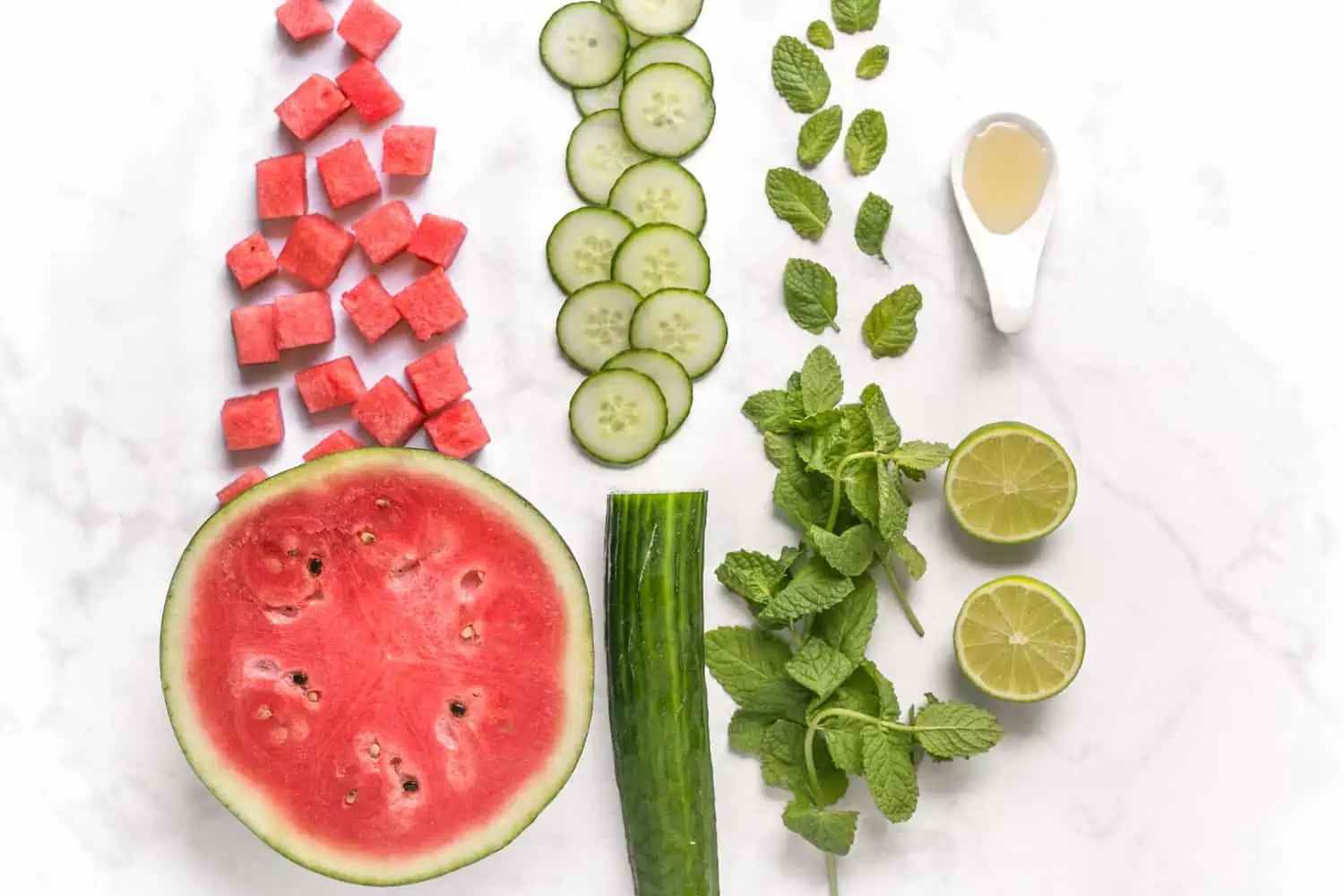 Is Cucumber a Fruit or a Vegetable?
If you guessed fruit, you're absolutely right. The definition of a fruit, according to the Merriam-Webster Dictionary, is "a product of plant growth (such as grain, vegetables, or cotton)." What this really means is that a fruit has at least one seed and grows from the flower of a plant. Cucumbers have many seeds and do indeed grow from a cucumber flower. They're actually very pretty, too.
What Health Benefits Do Cucumbers Have?
Similar to the ruby red watermelon, cucumbers are low in calories, high in water content (96% compared to watermelon's 92%), and high in vitamins C and K. They also have a good amount of fiber (2 grams with skin), protein (2 grams), and also rich in potassium, manganese, and magnesium.
Pondering the Cucumber Peel
Peel on or peel off? It's actually totally up to you. For maximum nutritional benefits, we suggest that you keep it on. Most of the fiber and minerals are found in the peel itself. If possible, buy an organic cucumber, since this fruit is usually on the Dirty Dozen list.
You can always compromise and take off only half of the peel. To do this in pretty way, use a vegetable peeler to slice off ½" strips lengthwise from the top to the bottom of the cucumber before cutting into half moon shapes. This way, you get half of the fiber/nutrients and it will also have a lovely, striped design when eating.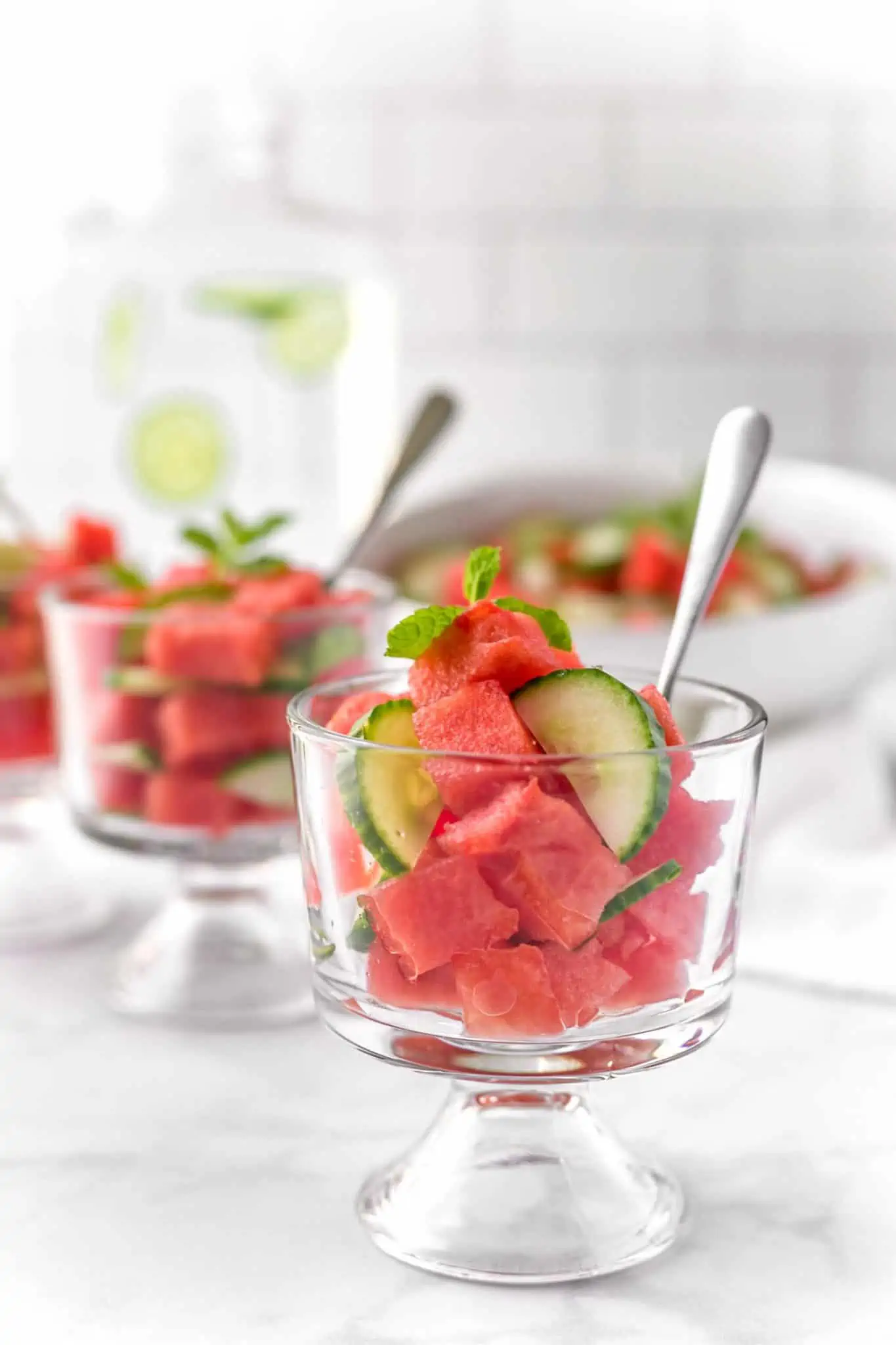 How to Serve Up Your Cucumber Watermelon Salad
Salad is such a fast and flexible meal to make, which is especially helpful on a warm summer day. This recipe is so quick and easily served up in any way that you like. Here are a few suggestions for creating a little variation and extra pizazz:
Pump Up the Portions – If you feel like you can eat this entire salad on your own and worried about whether or not you'll have enough to share, no problem. Just double (or triple) the amounts in the recipe so that you can have one big bowl for you and extra for everyone else. Be as greedy as you want with the watermelon salad!
Sensitive To Certain Fruits? – Sometimes, people can be sensitive to fruits and get a funny feeling in their mouths (or bellies) from either cucumber or watermelon. Don't worry because we have a solution for you. Switch cantaloupe or honeydew for watermelon and jicama or green papaya for the cucumber. Also, if citrus isn't something you can have, use a little bit of fruit-flavored vinegar instead or omit this addition altogether.
Give a Little Sass to Your Seltzer – Wondering what to do with the leftover juice at the bottom of your salad? Keep it! Pour some sizzly seltzer into a frosty glass and add a tablespoon or two to your drink. Adds just the right amount of fresh fruit flavor!
Simple Storage
This cool and slightly crunchy salad is best eaten fresh, but if there are any leftovers, it's easy to store. Just pop the remaining salad into the fridge in a covered container and it should be okay until the next day. Both watermelon and cucumber contain high percentages of water, so they tend to get sad and soggy quickly.
It's not the best recipe for a future food prep, but you can still save yourself a little time and effort with these two tips. One, rinse and dry your fruits and mint (did you know that cucumber is actually a fruit?) a couple of days before you want to eat your salad. The day (or night) before, you can cube your watermelon and slice up your cucumbers. Keep them in separate containers in the refrigerator until ready to mix together.
Not recommended for freezing.
Equipment You'll Need
½ mini personal watermelon 
½ english cucumber
¼ cup fresh mint
1 tablespoon lime juice, about 1 small lime
1 tablespoon agave nectar 
Using a large cutting board, cut the watermelon into bite-sized cubes, discarding the rind. Place in a serving bowl.

On the same cutting board, slice the cucumber in half lengthwise and then sliced into little half-moons. Add the sliced cucumber to the serving bowl.

Gently remove the mint leaves and either add them to the serving bowl whole, or roughly chop them into smaller slices before adding to the bowl.

In a small ramekin, add the lime juice and agave nectar and stir vigorously until fully combined. Pour over the fruit salad and mix everything together to coat.
This recipe can easily be doubled and the ratios are quite flexible, so don't worry about the exact size fo your watermelon.
There will be some sweet juice at the bottom of the serving bowl—that's okay! In fact, it's the best part. You can take a spoon to it after the fruit salad is eaten, or add it to a drink (it's delicious in LaCroix and various mix drinks).
Calories: 129kcal | Carbohydrates: 32g | Protein: 3g | Fat: 1g | Saturated Fat: 0.1g | Polyunsaturated Fat: 0.2g | Monounsaturated Fat: 0.1g | Sodium: 5mg | Potassium: 470mg | Fiber: 2g | Sugar: 26g | Vitamin A: 2241IU | Vitamin C: 33mg | Calcium: 35mg | Iron: 1mg
More Sensational Salads to Try:
Fresh Cucumber Watermelon Salad recipe by Michelle Cehn and photos by JJ Steele. Article written by Gina House and edited by Amanda Meth. Please note that this article may contain affiliate links which supports our work at World of Vegan.