Pickling, devised thousands of years ago as a humble method of food preservation, is an art and a craft found in cuisines all around the world, and for good reason. One bite of these crisp, tangy, salty, and subtly sour Japanese pickled cucumbers makes a compelling case to add pickles to every meal.
There's just something about the combination of cucumbers, vinegar, salt, and spices that creates a flavor explosion in your mouth. Pickles are a perfect condiment for sandwiches, burgers, and hot dogs. They add a zing to salads and make a great snack on their own.
Best of all, when you make your own pickles, you get complete control over the process to create fresher flavors perfectly tailored to your tastes. With just a few simple ingredients and some patience, you can create your own delicious pickles at home.
Whether you're a pickle aficionado or just dipping your toes into the world of pickling, this take on Asian pickled cucumbers from the new cookbook Plantbased by Alexander Gershberg should be a staple in your kitchen! They're the perfect addition to any meal or snack, and they're sure to add a little zing to your day.
Why You'll Love This Japanese Pickled Cucumber Recipe
If you've ever craved the crunch of a juicy pickle, you'll instantly understand the universal appeal of this foolproof formula.
Quick and easy. The beauty of a quick pickled cucumber is that you'll never get stuck without a condiment on the table. Even if you wait until the last minute, your fresh pickles will be ready to enjoy within an hour.
Minimal ingredients. Take a few fresh ingredients and a handful of pantry staples, and you've got everything you need!
Goes with everything. Though these bold flavors are inspired by Japanese cuisine, they taste fantastic with pretty much everything. Top tacos, Bloody Mary's, and so much more with equal success.
Versatile. Cucumbers aren't the only veggies that can shine in this brine. Scroll down for more ideas on what to pickle next.
Key Ingredients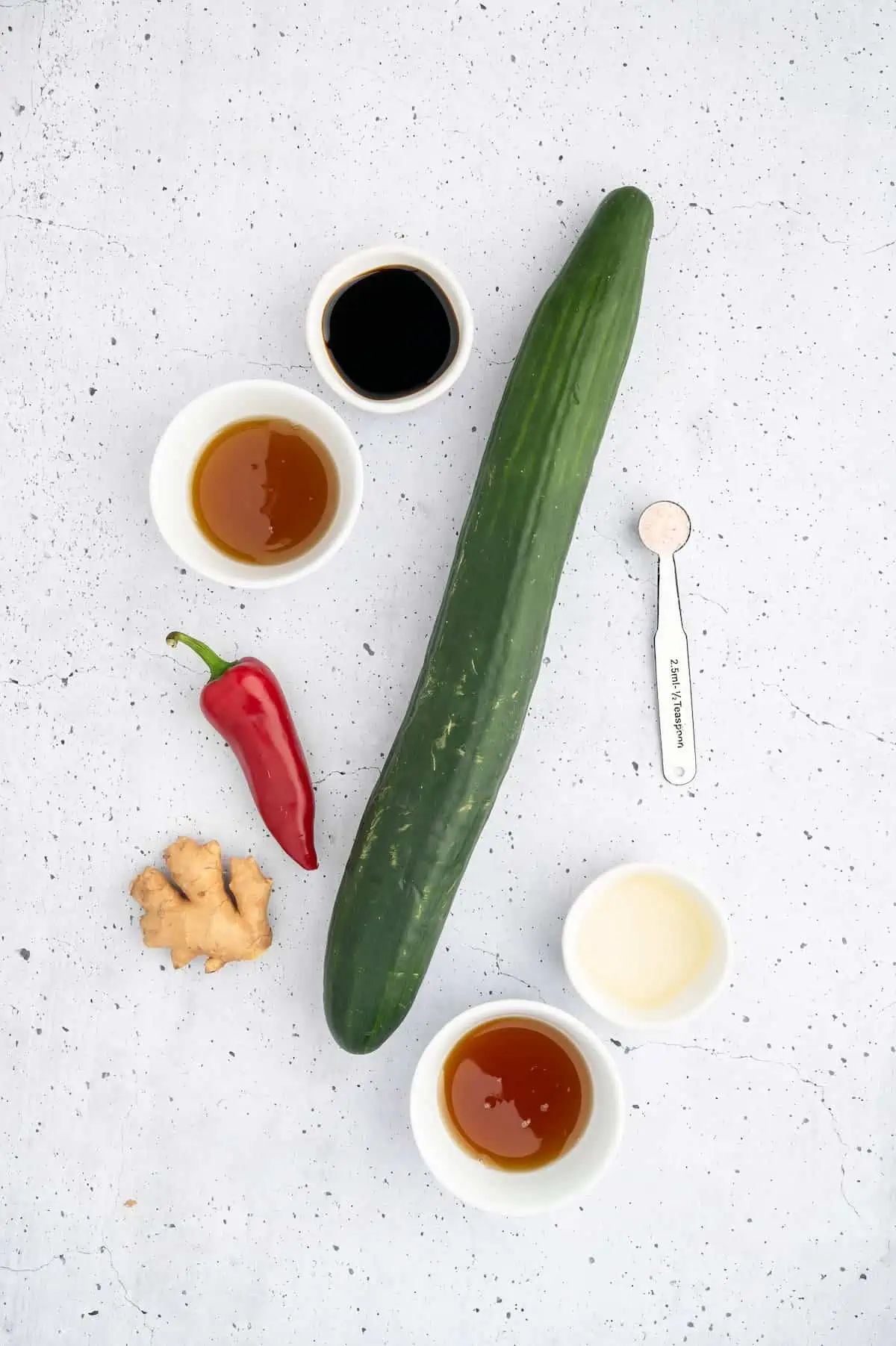 Cucumber: Since it's the star of the show, it's essential to get the freshest, firmest cucumber to ensure the best results. Select a long, seedless English cucumber, since the standard garden variety tend to be waterier and softer.
Sea salt: It's important to get plain, non-iodized sea salt when making pickles at home. To keep iodized salt free flowing, there are added anti-caking agents which can make the pickling liquid cloudy.
Ginger: Mature fresh ginger like you'd find in most conventional American grocery stores needs to be peeled, since the skin is very thick. Young Japanese ginger, known as miyoga, has a much thinner skin that is fully edible and can remain intact.
Soy sauce: Salt is critical to any pickle, but you can use "lite" soy sauce to keep sodium levels in check.
Rice vinegar: Mild and gently acidic, rice vinegar adds a subtle tangy bite without overwhelming the more delicate flavors of the vegetable itself.
Maple syrup: Add sweetness without refined sugar when you invite woodsy maple syrup to the party. This can be omitted or replaced with a drop of stevia extract if you need to cut out sugars entirely.
Red chili: These are similar to fresh cayenne peppers and can be used in any recipe for adding heat without changing the original flavor. If you can't find any, jalapenos make a fine substitute.
Sesame oil: It only takes a tiny touch of toasted sesame oil to add incredible depth and richness to any recipe. The nutty, earthy flavor rounds out the spicy and salty flavors perfectly.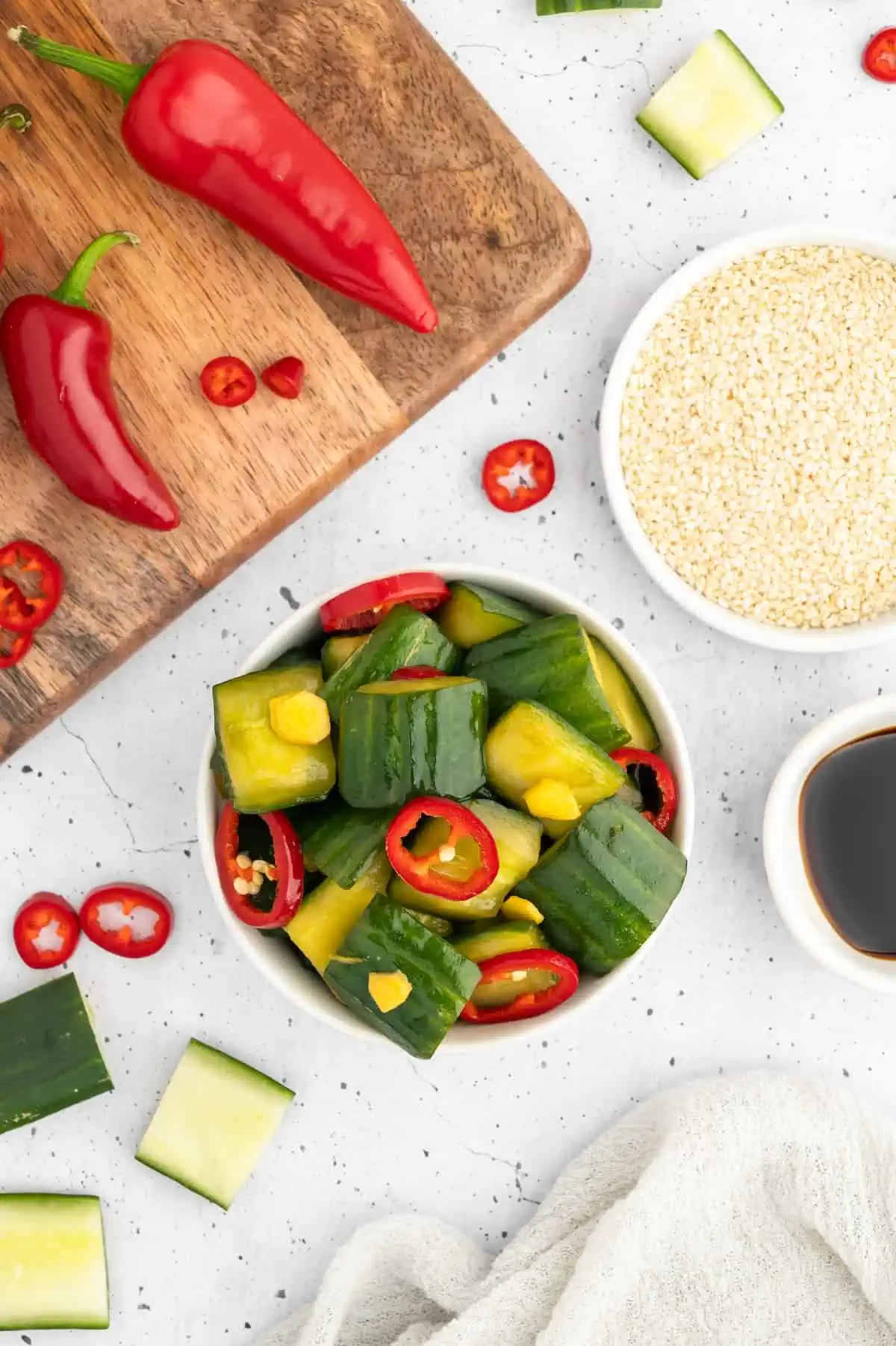 Ideas For More Japanese Pickled Vegetables
Eat with the seasons and adapt your pickles to follow suit. Pretty much anything can be pickled, but here are a few of my favorites:
Sliced daikon or radishes
Cauliflower florets
Green beans
Asparagus
Sliced beets
Carrot sticks
Okra
How To Make Pickled Cucumber
Cucumbers are the easiest vegetables to pickle. If you've never pickled before, don't panic! Here's how you would go about it:
First, slice the cucumber in half lengthwise and use a spoon to scrape out any large, watery seeds. Once it's de-seeded, cut the cucumber into bite-sized pieces, about 1-inch in size, keeping them as consistent and even as possible.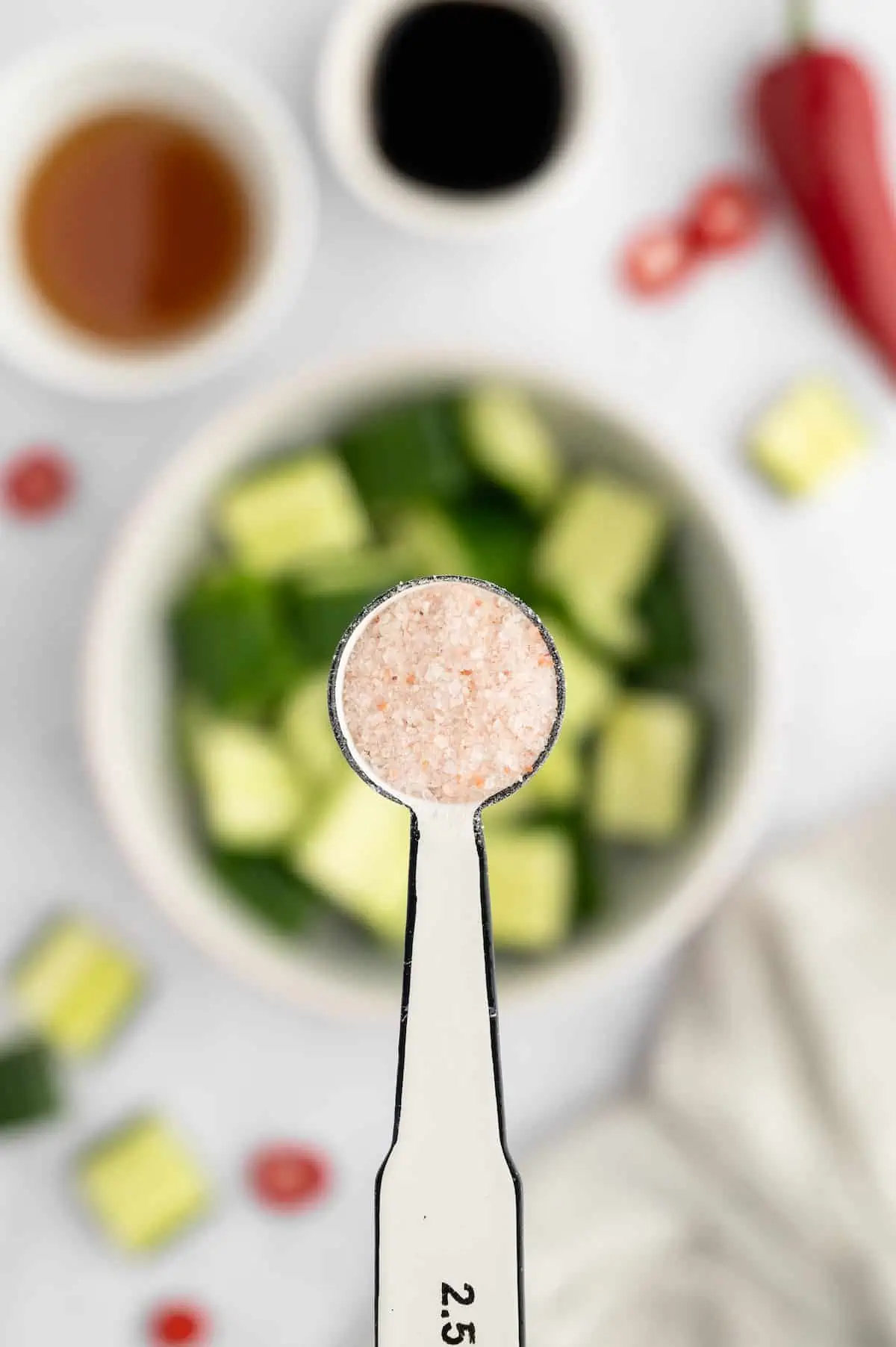 Now, in a bowl, mix the cucumber with some salt and let it sit for about 30 minutes. This will draw out any excess moisture and give the cucumber a nice crunch. Afterwards, give the cucumber a firm squeeze to release any water and discard the excess liquid.
Next, we'll move on to the fun part—the marinade. In a glass container with a lid, add the cucumber slices, ginger, soy sauce, rice vinegar, maple syrup, chili (or jalapeno, depending on how spicy you're feeling), and sesame oil. Give the jar a good shake to thoroughly coat everything and leave it on the countertop at room temperature to marinate for at least 30 minutes, or overnight if you can wait that long.
Once your cucumbers have marinated to perfection, store them in the fridge, where they will keep well for up to one week. Serve them up as a tasty snack or add them to your favorite sandwich for a burst of flavor. Enjoy!
Frequently Asked Questions
How long do Japanese pickles last?
Since these are quick pickled cucumbers and not canned for further preservation, they need to be kept refrigerated in an airtight glass jar for up to one week.
What are the health benefits of Japanese pickled cucumbers?
Cucumbers themselves have tons of vitamins and minerals to offer, including vitamins K, A, and C, folic acid, potassium, and silica. Altogether, these contribute to strengthening skin, hair, nails, and bones.
What makes Japanese pickles different?
Known as "tsukemono" (literally "pickled things"), Japanese pickles often feature naturally salty ingredients such as miso, soy sauce, seaweed, or koji (the spores used for making sake) to add both flavor and their naturally preservative properties.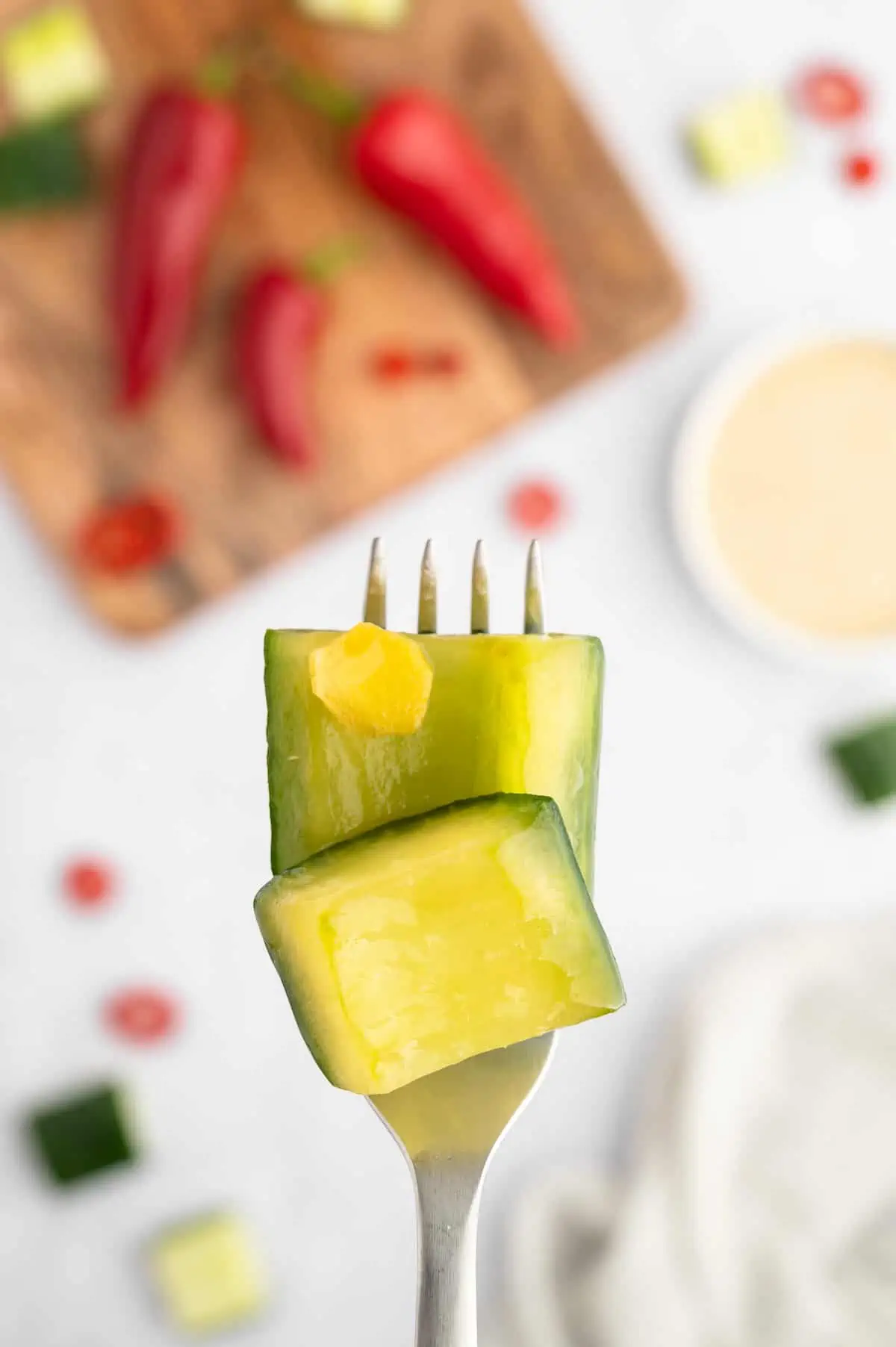 More Easy Cucumber Recipes
Did you stock up on too many cucumbers at the farmers market? Never! It's impossible to have too much on hand when you have these fantastic recipes at your disposal.
1 long cucumber
½ teaspoon sea salt
1½-inch piece ginger, peeled and thinly sliced
2 tablespoons soy sauce, or shoyu
2 tablespoons rice vinegar
2 tablespoons pure maple syrup
3¼-inch long red chili, thinly sliced (or substitute jalapeno)
2 tablespoons toasted sesame oil
Slice the cucumber in half lengthwise. Using a spoon, scrape out the seeds and core. Once deseeded, slice cucumber into ½-1 inch bite-sized pieces.

In a bowl, mix the cucumber with the salt and set aside for 30 minutes. After 30 minutes, use your hands to firmly squeeze the water out of the cucumber and discard the water.

In a glass container with a lid (such as a 16 oz mason jar), add the cucumber slices, ginger, soy sauce, rice vinegar, maple syrup, chili (or jalapeno), and sesame oil. Screw on the lid, shake to mix and thoroughly coat, and leave on the countertop at room temperature to marinate for at least 30 minutes (or overnight).

After marinating, store the cucumbers in the fridge, where they will keep well for up to one week.
Tip: You can slice these into pickle spears, or any shape you'd like! You can also use any leftover marinade to make additional batches.
Calories: 48kcal | Carbohydrates: 4g | Protein: 1g | Fat: 3g | Saturated Fat: 0.4g | Polyunsaturated Fat: 1g | Monounsaturated Fat: 1g | Sodium: 354mg | Potassium: 72mg | Fiber: 0.3g | Sugar: 3g | Vitamin A: 33IU | Vitamin C: 2mg | Calcium: 11mg | Iron: 0.2mg
About The Cookbook
Ferment like a pro and make scrumptious and straightforward meals with the Plantbased: 80 nourishing, umami-rich recipes from the kitchen of a passionate chef cookbook. Thanks to vegan chef and author Alexander Gershberg, you'll learn how to explore the versatility of plant-based cooking with a blend of Japanese and Israeli techniques. Forget about boring old recipes—Plantbased will you show you how to use veggies like parsnips, celeriac, kohlrabi, Jerusalem artichokes, and other often overlooked ingredients to create dishes that are bursting with flavor and without any complicated methods or equipment needed.
This Japanese Pickled Cucumber recipe is from the Plantbased: 80 nourishing, umami-rich recipes from the kitchen of a passionate chef cookbook by Alexander Gershberg. Smith Street Books, 2023.
Photos by Amanda McGillicuddy for World of Vegan, all rights reserved.