Hungry for the most delicious vegan food Sacramento has to offer? We're here for you! Below you'll find the best vegan and vegetarian restaurants in Sacramento, as well as some non-vegan restaurants with stellar vegan options. Whether you're vegetarian, plant-based, dairy-free, gluten-free, pescatarian, or a die hard meat loving omnivore who will be dining with an herbivore, there is plenty for you to choose from!
Just over one hour away from San Francisco, Oakland, and Berkeley but seemingly worlds apart, California's capitol city is a gem hidden in plain sight. Sacramento has a rich history that helped contribute to the Golden State's nickname, drawing early settlers from all corners of the country with the promise of buried treasure. That initial rush has subsided, but now people are flocking to this once small town in droves for an entirely different reason. A wealth of wineries, breweries, and innovative restaurants are even more highly valued today, bringing with them little luxuries that everyone can afford.
Regularly voted as one of the best places to live in US, it's also a prime vacation destination. Surrounded by nature with ample opportunities to go hiking, biking, and even white-water rafting, you're sure to work up an appetite as you explore. No matter how far you explore, you're always near tons of promising plant-based options.
100% Vegan Restaurants, Cafes, and Bakeries in Sacramento
Cruelty-free is the way to be! Enjoy a full menu of completely plant-based options at these eateries committed to making veganism more accessible and delicious.
Get your vegan fast food fix in record time with two convenient quick-serve Burger Patch outposts, and more opening outside of Sacramento (Davis and beyond). Beyond the classic vegan burgers and fries, get spicy by loading up any entrée with a scoop of chili or just be super cheesy by smothering your meal in gooey cheese. Speaking of which, the mac and cheese is a real staple here, available as naked noodles or topped with a wide variety of proteins to make it a meal. The milkshakes are a must, with fun seasonal varieties, and we love seeing burger patch support local events and nonprofit organizations all the time!
This plant-based chain of comforting fast food favorites got its start in San Diego, but is poised to take over the whole nation. Growing rapidly due to the wide appeal of its meaty burgers, crispy fries, chick'n tenders, and creamy milkshakes, it's no surprise that everyone, vegan or not, is eating this up. But the absolute best item on the menu is their vegan soft serve, swirled up right out of their soft serve machine!
Move over, chicken soup: THIS food is truly good for the soul! Meatless comfort foods and brunch favorites offer a deeply satisfying, soul-soothing experience at every meal. A long list of tacos, burgers, wraps, and sandwiches make it hard to pick just one entrée. Take a peek at one of their epic sandwiches and battered fried cauliflower below!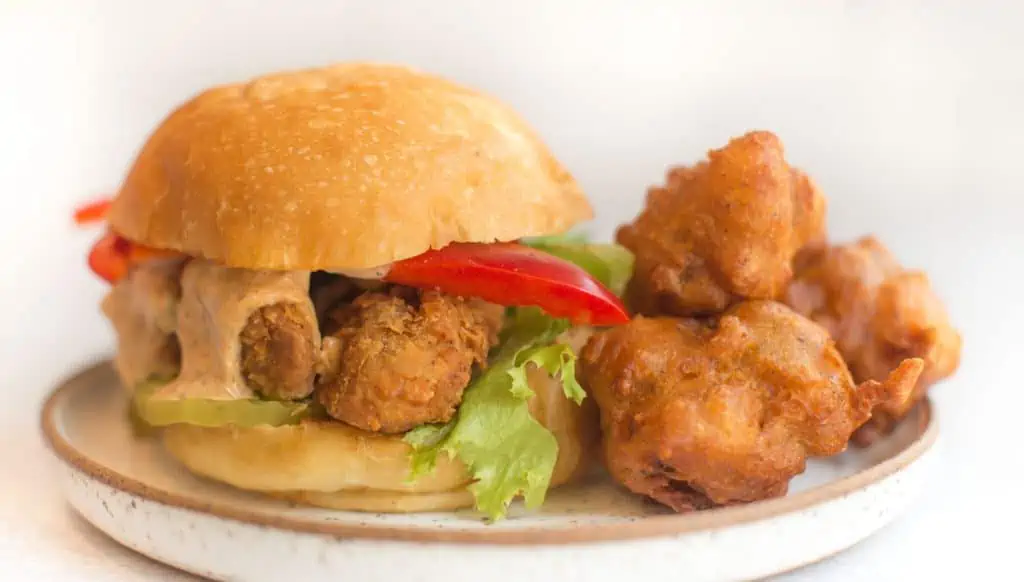 Hidden in plain sight, this Midtown enclave is located on the second floor above Thai Basil restaurant, offering worldly cuisine that knows no boundaries. Although the food is clearly a draw, with tender crepes and hearty curries as noted stand-outs, the drink menu is no slouch either. Everyone will want a sip of the alluringly blue butterfly iced tea for that brilliant color alone.
Originally a cozy café as the name might suggest, this homegrown shop has transitioned into more meal delivery since the onset of the pandemic. After suffering several additional setbacks, it's unclear if orders are still going through, but we really hope we can get our hands on the soy-based ribs, baked beans, and yummy sides again soon.
It's unclear exactly who Anna is, but there's no debating the fact that she knows how to cook! This cozy family-run eatery makes some of the best bites of Pan-Asian fare, from soups to stir-fries, with a few western comfort foods to round out the menu. This is one of the most affordable vegan restaurant options around. You can get a full meal for around $6, and a multi-course dining experience with lots of leftovers for under $15. Thai iced tea cheers to that!
Nothing on this vegan Chinese restaurant menu will make you want to repent for any wrongdoings, but it certainly tastes sinful. This plant-based Chinese food is pricey but flat-out delicious, and absolutely worth it if you can swing the bill. Gluten-free options are also clearly labeled!
Living up to their namesake, the tacos, served both soft and crispy, are absolutely on point. Beginning life as a humble pop-up, these tortilla-swaddled treats now how their own sit-down space to better appreciate their artistry. Everything is made from scratch, including the cider-battered cauliflower and cremini "beef".
Who says rabbits only eat carrots? Proving that point wrong with every loaded burger and artisan flatbread they sling, the cooks here KNOW how to feed a vegan right. Start your meal with some sizzling street bites like the "resistance balls," otherwise known as arancini, which are rice balls stuffed with cashew cheese, battered and fried to crispy perfection. Whether you enjoy their food truck at concerts in the park, brew fests, or at the most fun vegan weddings, you're sure to fall in love.
Proudly staking up epic vegan sandwiches, filling salads, mini pies, and so much more, this crowd favorite recently transitioned to an ENTIRELY vegan menu! Let's raise a glass to that, with plenty of zero proof cocktails, kombucha, and housemade sodas to choose from. Update: they're putting the restaurant concept on hold for the next year or so, but Burly Beverages continues and will include "grab and go favorites"—which may include vegan desserts—along with their subs and other liquid offerings.
Conveniently located near ARC College, this pan-Asian eatery is a favorite among hungry students. Anyone familiar with the standard Loving Hut menu might recognize a few favorite dishes, but there's plenty of unique eats to explore, too.
Churning out super deluxe gelato and novelties like choco tacos, ice cream sandwiches, and towering frozen cakes fit for a celebration, every scoop, lick, and bite will have you asking, "are you sure this is vegan?!" Order on their website for delivery straight to your door and keep an eye out for their vintage pushcart at special events.
A match made in sugary heaven, nothing goes better than tender fried cakes and cool, creamy scoops. Enjoy them separately or together in one sweet sundae every day of the week, from 8am – 9pm.
This fully plant-based pop-up in Sacramento serves up an ever-changing menu featuring items like vegan gumbo, jackfruit ribs, thacos (their fun spin on tacos), horchata, and nachos. Meals can be pre-ordered through Instagram DM (direct message) for pickup or delivery.
All Vegetarian with Vegan Options
Rest assured that there's no meat in these kitchens. While you do have to read the menu a bit more carefully to avoid all animal products, it's easy to get everything you're craving without any sacrifices here.
Established in 1984, this Sacramento institution has stood the test of time. Andy, the son of the owner and the restaurant's namesake, still works there today and is one of the sweetest human beings you'll ever meet. Their menu offerings are extensive, almost overwhelming menu of vegan Vietnamese staples. The whimsical names add a bit of extra enjoyment to the meal. After all, who wouldn't feel happier after digging into a generous bowlful of "Love of Life Noodles?"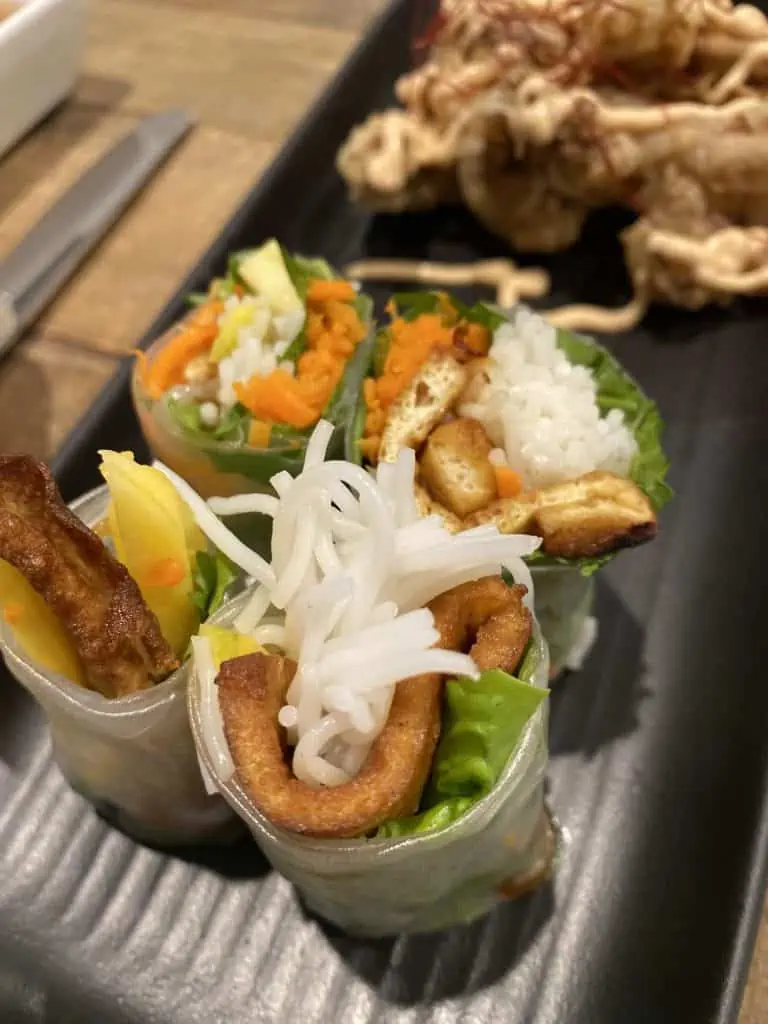 Fill up on a plethora of Vietnamese Buddhist specialties served up cafeteria-style. Mix and match dishes from the hot bar, but don't miss the soft tofu made fresh in house. Some of the packaged goods do contain eggs or dairy, so remain vigilant when reading labels.
You'll be bowled over by these abundant dishes filled to the brim with hot, fresh, and healthy Vietnamese flavors. Almost all dishes can be made vegan, so don't be afraid to ask!
100% Vegan & Vegetarian Restaurants Not Far From Sacramento
Best Restaurants in Sacramento With Great Vegan Options
The good news is that even without a dedicated vegan menu, most mainstream restaurants can still create a reasonably tasty meal for plant-based patrons. These hot spots have chefs that go above and beyond that standard set of simple options to craft truly memorable vegan eats, worth going out of your way to try.
You'll wish you were related to the Pushkin family given their talent for creating an entirely gluten-free environment with so many stunning vegan hits. Upscale brunch fare mixes with SoCal flavor, all rendered beautifully in a bright, colorful, and incredibly fresh ingredients. The separate vegan menu includes savories like eggless shakshuka and portobello benedicts but make sure you leave room for dessert; their linage began with a bakery for good reason.
All-you-can-eat Ethiopian lunch buffet? Say no more! We're already there every weekday to take advantage of this bottomless shiro wat, gomen, kik wot, and so much more, all scooped up on handfuls of springy injera flatbread. You really can eat like a Queen (or King) on any budget.
A wholly separate vegan menu lays out plenty of plant-based meat options to make your own masterpiece on top of a thin-crust pie. To get the most bang for your buck, take advantage of the lunch special which includes a mini one-topping pizza, salad, drink, breadsticks AND cinnamon sticks for under $14.
If you're looking for a healthy meal, a delicious smoothie or green juice, or a chill meeting place with modern eco-chic decor and plants on the wall, Vibe Health Bar has you covered. With a couple locations in Sacramento as well as Folsom, this is a perfect vegan coffee date spot. You can load up on their trendy avocado toast, pesto sandwiches, and grain bowls, wraps, and sandwiches. Cheers!
If you enjoy sipping a beer in a city beer garden environment, Golden Road is a must visit. They've got some of the most delicious vegan options on their menu, including fried avocado tacos, buffalo cauliflower wings, soyrizo asada fries, street corn, and more. The tacos are next-level, and an absolute must. Check out our vegan alcohol guide to see which drink options are vegan.
If you're looking for a more gourmet foodie experience, stop by Revolution Wines for brunch, happy hour, dinner, or romantic date night. While the menu isn't vegan or vegetarian, they do have several vegan options including a tasteful vegan charcuterie board with house made plant-based cheeses, smoked carrot lox, and other accoutrements. They have a patio as well as indoor dining options.
Even More Vegan-Friendly Spots…
I wish we could include all the vegan-friendly restaurants here, but there are far too many! We asked the Sacramento Area Vegans group on Facebook and here are other vegan-friendly locations locals recommended:
Abyssinia Ethiopian
BAWK
Beast & Bounty
Bernardo
Broderick
Buffalo Pizza & Ice Cream
Cafe Capricho
Capital Garage
Chaat Paradise
Coconut
Curry Up Now
Delta Hand Pies
El Papagayo
Federalist Public House (vegan pizza)
Fox & Goose
Hook & Ladder
Kabash
KC Kombucha
Kru Japanese
Mas Taco
Mayadoon
Mendocino Farms
Paisley Cafe
Pizzasaurus Rex
Sellands
Saigon Alley
Sweet Flour Bakery
Thai Basil
Todo un poco
Wild Rooster
Yard House
Sacramento Natural Foods Co-Op
Sacramento is home to a vibrant natural foods store with a huge array of vegan grocery items, produce, ethically made goods, and fresh-made deli foods, sushi, a hot bar, a mini cafe and smoothie bar, and more. The natural foods store is a fantastic spot to load up on groceries or a quick on-the-go breakfast, lunch, or dinner. They have indoor seating if you'd like to have a wholesome meal before jumping back in the car.
More Vegan Restaurant Guides
If you're hungry on the road or in a city that isn't particularly vegan-friendly, check out our Vegan Fast Food Restaurants Guide. These days you can find vegan options literally everywhere if you look!
Vegan Restaurants Around The World
Sacramento is a gold star on the map of California, alive with sights, sounds, and tastes to take in at all times of the day. Make sure you come hungry to try the incredible range of vegan eats the city has to offer.
We hope you enjoyed this guide sharing the best vegan restaurants in Sacramento, California! If we missed any of your favorite Sacramento vegan restaurants, please do show them some love in the comments below. Many thanks to Hannah Kaminsky for her help with this article. This article may contain affiliate links that support our work at World of Vegan.