Looking for the perfect French dressing that's vegan and dairy-free? This classic vegan French dressing recipe will quench your desire for something sweet, smoky, and tangy to top your favorite salad. It's incredibly easy to make, using basic kitchen tools and ingredients. Just soak, blend, and serve. You may find that this French dressing disappears pretty quickly, so be sure to have extra on hand. We've also listed the most popular vegan French dressing brands below.
What Exactly Is French Dressing?
Did you know that French dressing is an entirely American invention? The first instance of this so-called French dressing was included in a 1900 edition of The Ladies Home Journal. The recipe was titled 'French' because it was based on what the people in France were drizzling over their salads. Nowadays, we could call this type of recipe a 'vinaigrette', consisting of a mixture of oil, vinegar, salt and pepper.
The creamy, reddish-orange version that we think of now as French dressing was actually based on a concoction on the side of a Campbell's Soup label. It was called 'Campbell Tomato French Dressing' and, instead of using ketchup, they listed their tomato soup as an ingredient. When you visit the grocery store, you'll see French dressing under various names including: Russian, Catalina, or even Zesty Tomato.
No matter what the origin, we know it's got a huge fan base for favorite salad dressings and we wanted to create a vegan version just for you. We'd love to know what you think!
But First…Is Store-Bought French Dressing Vegan?
That's a good question! After checking the ingredient list on many brands of French dressing, most of them (but not all) seem to be vegan-friendly. A few things to watch out for: honey, worcestershire sauce, and whey.
Vegan French Dressing Brands
Here are some vegan French dressing brands that we found to be fully vegan:
It's Easy to Make Your Own Vegan French Dressing!
Here's why this oil-free French dressing recipe is so awesome. It's…
Really easy to make
Bright and tangy
Uses easy-to-find ingredients
Free of artificial preservatives
Healthy
We also love it because it's vegetarian, vegan, plant-based, and dairy free. Plus, it can be adapted to fit various food sensitivities, such as:
Gluten-free
Dairy-free
Oil-free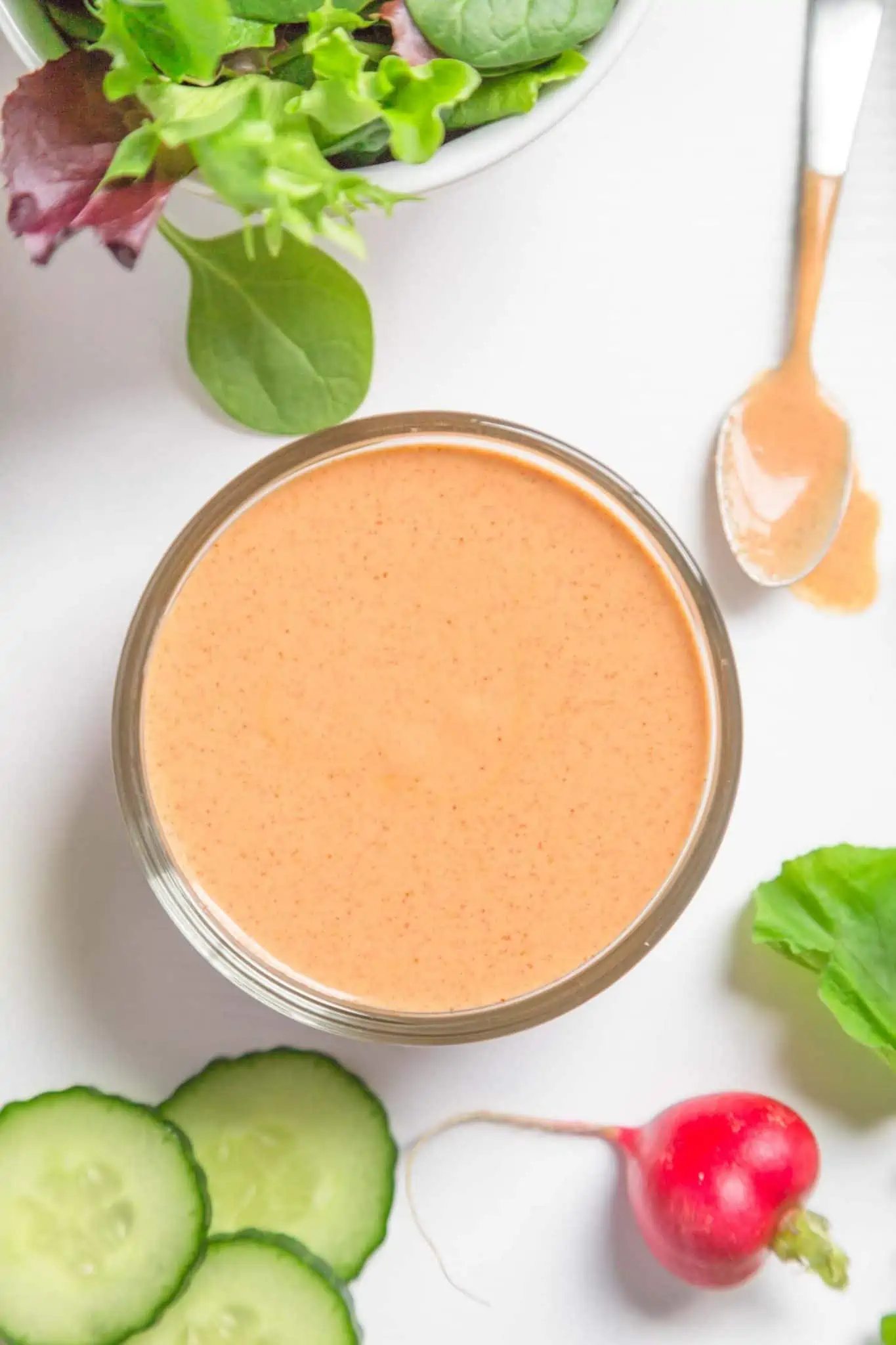 Star Ingredients in This Vegan French Dressing
Once you make your own dressing, you'll wonder why you ever bought it bottled. The magic of the mixing comes right out of your crafty kitchen, instead of sitting on the shelves for several months (or years!). When you know what goes into a DIY salad dressing, you'll have the power to prepare your own anytime you want. Isn't that awesome?
Cashews – Rich in fiber, protein, and healthy fats. These nifty little nuts have almost the same amount of protein per serving as the equivalent of animal protein. They also have a significant amount of copper and are a good source of magnesium and manganese.
Apple Cider Vinegar – Contains vitamin C, B-vitamins, a little potassium, and also polyphenols. It's also a natural food preserver and anti-bacterial agent.
Paprika – A spice made from dried peppers that can be sweet, smoked, or spicy. Full of antioxidants such as beta carotene, zeaxanthin, capsanthin, and lutein. In addition, has small amounts of vitamins and minerals such as A, E, B6, and iron.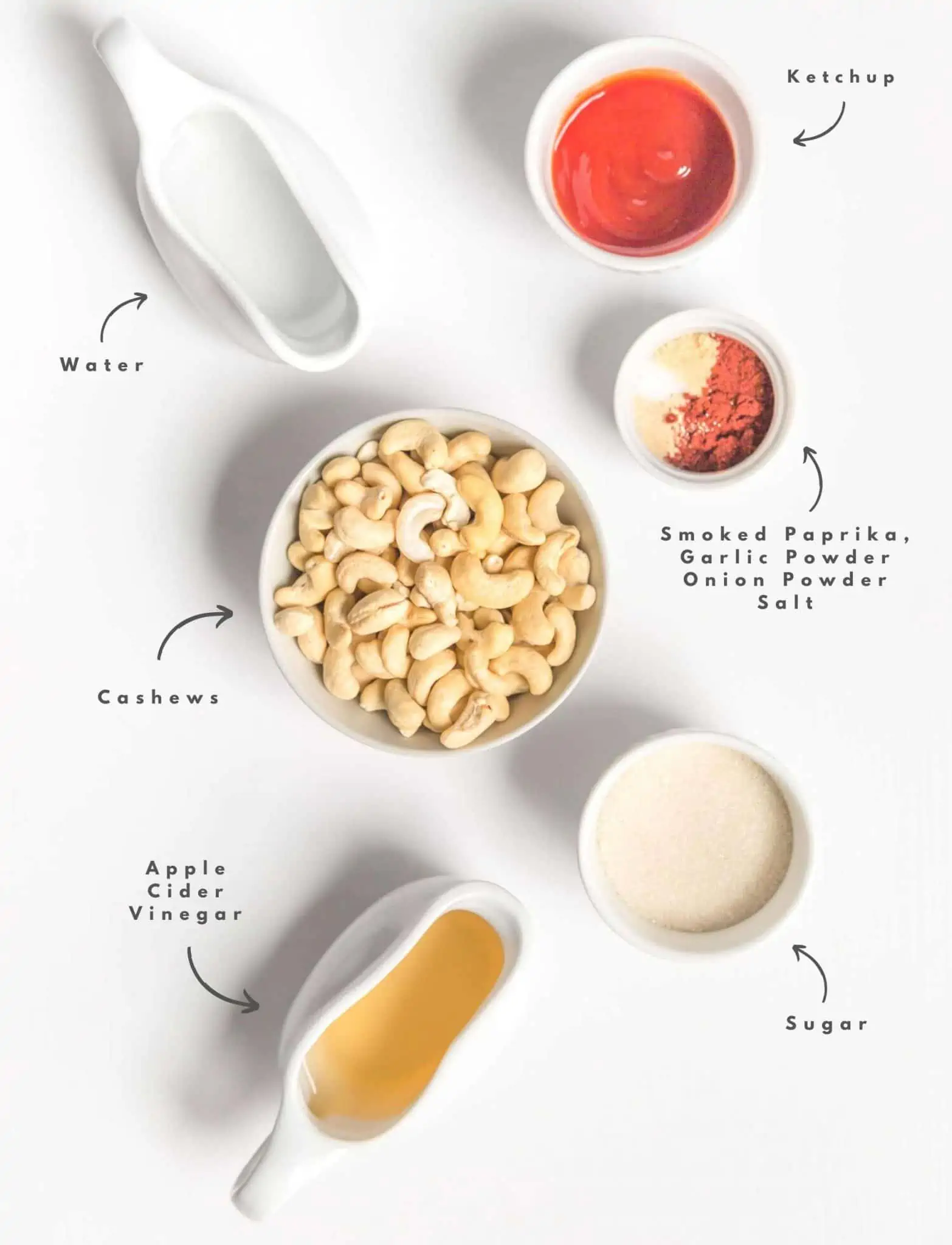 Easy Ingredient Swaps
Homemade dressing is such a treat because you can make it to your own taste and flavor preferences. Make it more savory, spicy, or sweet. Control the consistency by including extra (or less) water or ramp up the acidity by adding more vinegar. It's all up to you!
Vary the Vinegar – Feel free to swap the apple cider vinegar to add a fun new flavor to your French dressing. Try red wine, balsamic, white distilled, champagne, rice wine, or any fruit-filled infusion.
Seasoning Reasoning – If you'd rather not have that smoky flavor, you can easily use sweet or plain paprika instead. If you like it spicy, feel free to add ¼ -½ teaspoon of cayenne pepper (or to your taste).
Start With a Savory Boost – If you like a more umami flavor, consider adding in a dash of vegan Worcestershire sauce (Annie's Homegrown has a good one!) to the dressing before blending.
How Do I Soak Cashews?
Good question! Soaking cashews is super simple and as easy as you think it is. No need to overthink it. Place one cup of raw cashews into a large bowl and cover with one and a half cups of warm water. Allow the cashews to soak overnight (5-8 hours maximum). If they are soaked too long, they tend to get an unpleasant taste and also become slimy in texture. Drain and allow them to sit for around 10 minutes to get rid of the excess liquid.
What if I Forget To Soak My Cashews Overnight?
No worries. If you forget to soak the cashews the night before, it's totally okay. Place the cup of raw cashews into a large bowl. Boil one and half cups of water. Pour the water over the cashews. Let the cashews soak for 30 minutes. No need to cover. Drain and allow them to sit for around 10 minutes to get rid of the excess liquid.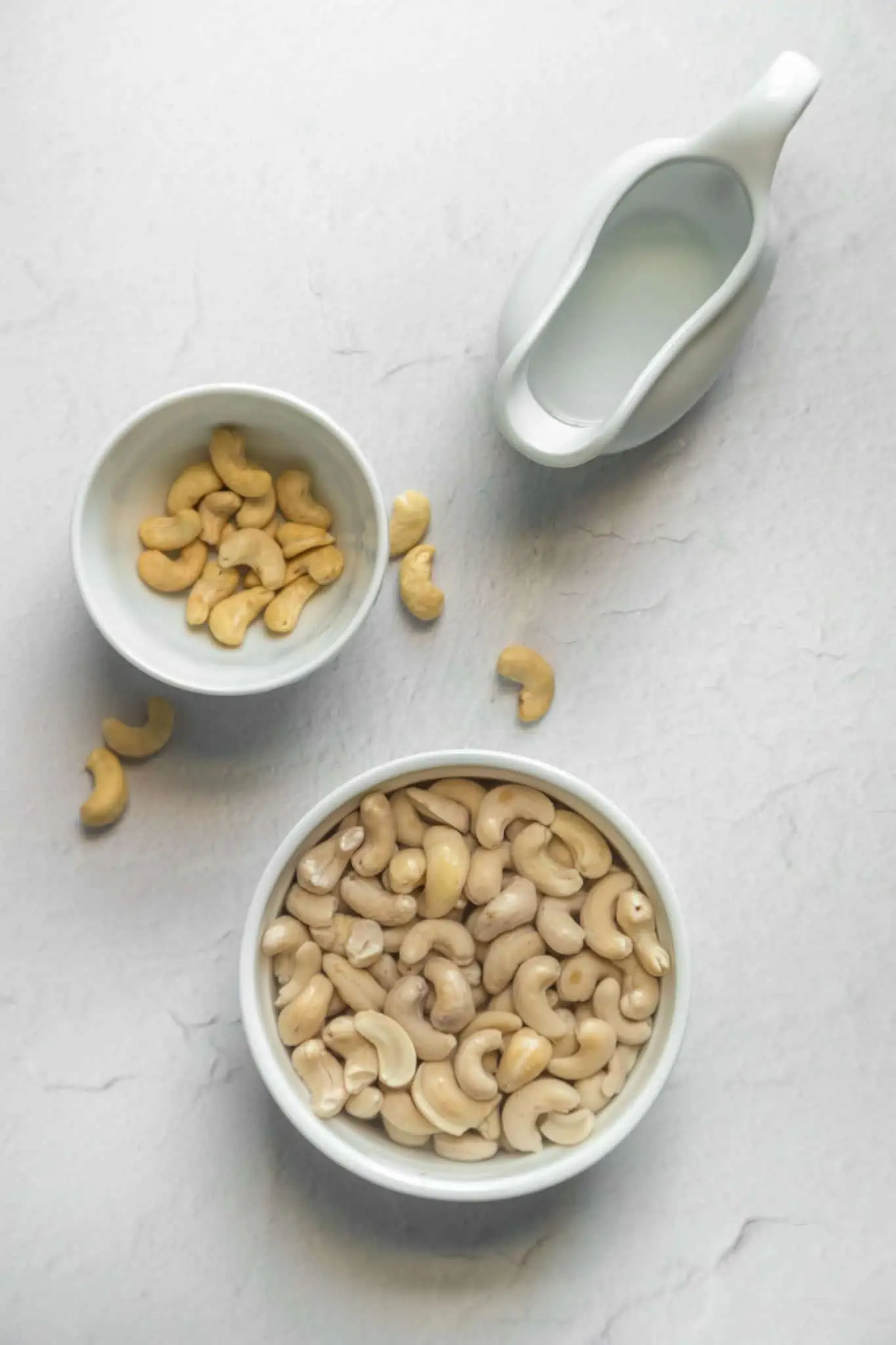 Low-Carb French Dressing Option
The carbs in French dressing entirely rest on the amount of sugar you add and the sugar content of the ketchup you use. For a low carb version, simply swap out the sugar for a low-sugar substitute and take advantage of no sugar added ketchup. You could even consider making your own ketchup! That way, you have full control over the carbs.
How Long Does Homemade Dressing Last?
Our dressing is made fresh and with without preservatives, so it's a little more delicate than bottled dressings at the grocery store. You can easily store any leftovers in a sealed plastic or glass container (like a mason jar) for up to 4 days. After that, it's a good idea to make a new batch. Trust us on this, we don't think you'll have much leftover. It's that good.
More Delicious Vegan Dressing Recipes To Try:
Super quick and easy, this delightful dressing can be made in a matter of minutes. You can always use a standard high-speed blender, but the smaller one will work just as well or better. You can even double (or triple) the amount if you have a lot of hungry salad munchers at your upcoming meal.
Helpful Hint: If you whip up this dressing the day before, the flavors will be even more concentrated and the texture is creamier and thicker. Totally worth making ahead of time!
Soaking Ingredients:
½ cup raw cashews
Water for soaking
Dressing Ingredients:
½ cup soaked cashews
¼ cup water
¼ cup apple cider vinegar
¼ cup ketchup
⅓ cup cane sugar
1 teaspoon smoked paprika, plain or sweet can be used instead
¼ teaspoon garlic powder
½ teaspoon onion powder
¼ teaspoon salt
Soaking Instructions:
The night before (or at least 30 minutes before you'd like your dressing to be done), soak your cashews in a bowl with warm water (or boiling for the shorter soak) so that the water covers the nuts by ½ inch or so. Once the cashews have soaked, drain the excess water and place in a covered container in the fridge until ready to use.
Dressing Instructions:
Add the soaked cashews and the rest of the ingredients to a small blender. Cover and shake well.

Blend on high for about 1 minute, or until creamy smooth.

For the best flavor, refrigerate the dressing for an hour (or, even better, overnight) so that the flavors have time to infuse. Enjoy!
Too Thick? - If your dressing seems a little too thick after a while, add a tablespoon each of water and apple cider vinegar to thin it out. If you want less tang, just use water.
Salt Sensitive? - If you are salt-free or trying to reduce your salt, feel free to omit the salt all together. You could even use a salt-free ketchup. Substituting with a salt alternative would work as well.
Gluten-free, dairy-free, oil-free, and soy-free
Calories: 116kcal | Carbohydrates: 18g | Protein: 2g | Fat: 5g | Saturated Fat: 1g | Polyunsaturated Fat: 1g | Monounsaturated Fat: 3g | Sodium: 190mg | Potassium: 117mg | Fiber: 1g | Sugar: 14g | Vitamin A: 215IU | Vitamin C: 1mg | Calcium: 8mg | Iron: 1mg
If you're interested in making this creamy french dressing for a special occasion and you're not sure which salad would be the perfect fit, please check out our Making the Best Vegan Salad guide. We have tons of sweet and savory salad recipes for you to try, both fruit and veggie!
Vegan French Dressing Recipe FAQs
My dressing seems too thick. What can I do to make it a thinner consistency?
If your dressing seems a little too thick after a while, add a tablespoon each of water and apple cider vinegar to thin it out. If you want less tang, just use water.
I'm sensitive to salt. Can I still make this recipe?
If you are salt-free or trying to reduce your salt, feel free to omit the salt all together. You could even use a salt-free ketchup. Substituting with a salt-alternative would work as well
Is this French dressing gluten-free?
Yes, it is! You just want to make sure that you use a ketchup and vinegar that is free of wheat gluten ingredients. Most ketchup and vinegar do not contain wheat-derived vinegars, but make sure to double check if you are gluten-sensitive, gluten-intolerant, or you have a celiac disease.
What Are the Calories in French Dressing?
umbers. Your best bet would be to visit Cronometer (or similar food data base), add in your amounts of specific ingredients, and get your calories there. We don't want to steer you wrong.
This vegan salad dressing recipe was developed and written by Gina House and edited by Michelle Cehn and Amanda Meth. This Dairy-free French dressing content is copyright of World of Vegan, all rights reserved. Photos by J.J. Steele. This whole food plant based salad dressing recipe includes affiliate links when available and shopping through these links supports World of Vegan.