Who's ready for the best vegan pumpkin recipes on the internet today? If this is you, keep on reading! We absolutely love this time of year and we are notoriously impatient for all of the perfect pumpkin pleasures that await us.
After much searching (through the vegan pumpkin patch), we've gathered up a gourd-geous list of our favorite fall recipes that are sure to bring a jack-o-lantern grin to your face. Included are recipes for not only desserts, but also for breakfast, lunch, dinner, and snacks. We've collected only the finest, pun-KING recipes just for you.
If your taste buds are tingling and your pumpkin passion is ready to pop, let's get started on this luscious list. That'll do spice-ly, don't you think?
Our newest autumn-inspired recipe is particularly awesome, if we can be so bold. Warm, flavorful, and filled with decadent little bits of chocolate-y goodness. Each slightly-sweet and spice-filled bite is a delightful dream. Absolutely essential for any fall event, Halloween party, breakfast, brunch, or dessert. Simple and oh-so-satisfying, you really have to give this recipe a try!
One of our most popular recipes, this vegan pumpkin baked oatmeal is now a staple breakfast in so many households! In this recipe, instead of cooking it on the stovetop, we baked it! The oatmeal comes out wonderfully firm and almost chewy. Excellent for meal prepping, super easy to make a week's worth, and take on-the-go. A sweet and perfectly spiced baked oatmeal!
You'll fall in love with this pumpkin spiced bread at first bite! With its super moist and tender texture, this recipe uses simple ingredients, a homemade pumpkin spice blend, and two different, super tempting toppings. Nisha Vora, from Rainbow Plant Life, has outdone herself in deliciousness!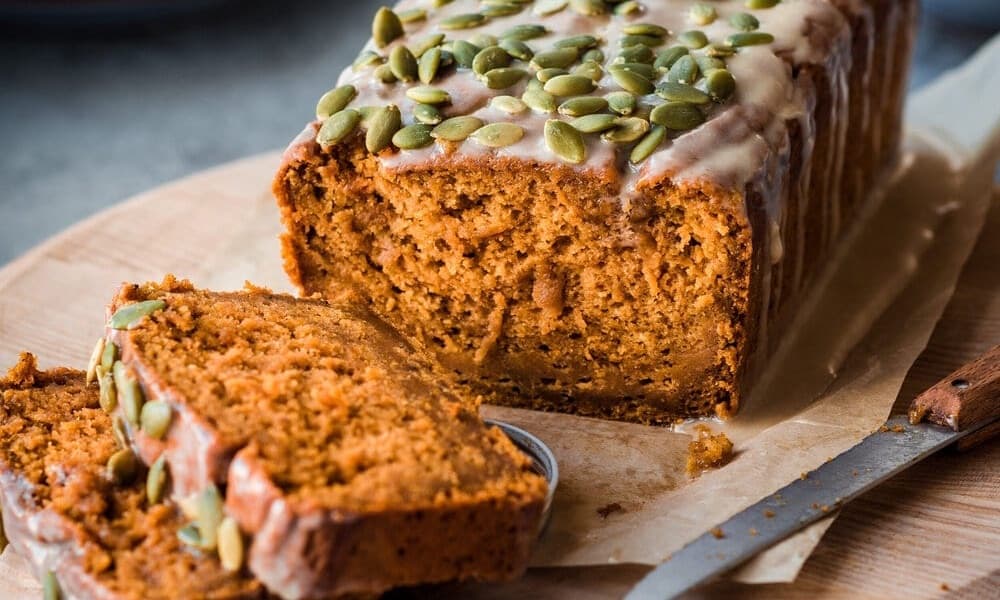 If you have the time and energy this autumn, this recipe will be the most scrumptious snack the of the season. Guaranteed! These spiced pumpkin seeds are not only eco-friendly (the perfect way to use up the ooey-gooey guts from Halloween pumpkin carving), but incredibly addictive. Gloriously crispy and satisfyingly sweet, you'll wish you'd made a double batch so you wouldn't have to share!
Jessica in the Kitchen's recipe for a pumpkin sheet cake makes us jump for joy! Moist, fluffy, and incredibly flavorful, Jessica truly hits the mark for the most delectable dessert. When you serve this colorful cake with homemade cream cheese frosting (to die for!), no one will believe that it's vegan. A remarkable recipe like this deserves to be the highlight of any holiday dinner. Don't delay, make it today!
Plant-Based on a Budget's Toni is tops for turning out the most tempting soups and savory stews. This ravishing pumpkin curry recipe is no exception. With only a few ingredients and a super fast cooking time of fifteen minutes, this rich and creamy pumpkin tofu curry is sure to become a never-fail fall favorite!
Searching for a more substantial, seasonal supper recipe? Look no further than this primo pumpkin pasta by Anna Rios of Healthy Simple Yum. Cozy, comforting, and a little bit cheesy––the best of all possible worlds! Helped along by hints of garlic, onion, and olive oil, this plate full of pasta will entice any and all family and friends during the fall season (or any time of year). A must make!
Bring on all of the sweet, pumpkin-spiced beverages! Liv of the healthy and wholesome Liv B. blog, shares her fast, four-step, four-ingredient recipe for the most luscious latte ever. Once you concoct her special spicy pumpkin sauce, everything else is super quick and easy. In just a few minutes, you'll be sipping and savoring every last lingering drop.
We're slightly cheating by adding this super cute smoothie recipe, but you've really got to try it. It's a fantastically fun shade of bright orange and totally thrilling to taste! Using only a few fruity ingredients, you can whip up this wonderful (and highly nutritious) snack and enjoy without any of the guilt of gorging on carry-out candy. You can't beat this pumpkin-themed treat!
Six Vegan Sisters share their finest concoction of chocolate-filled pumpkin cookies. Even the raw dough is edible and can be enjoyed without fear (quite unlike the dreaded dairy version!). The addition of pumpkin puree gives the dough a velvety texture and fabulous flavor. Once you add in the sugar, spice, and everything nice, you'll soon be on your way to savoring these bite-sized snacks. This heavenly recipe makes our hearts happy.
The harvest holiday season isn't complete without the perfect pumpkin pie. We're really grateful for Rae Aflatooni's excellent eggless recipe and we want you to give it a try, too! On her food blog, Raepublic, she shares the silkiest and most well-prepared pie we've ever had the pleasure to make. We love her topping tips and glossy garnishes, such as candied pecans, stewed apples, and coconut cream. Simply divine!
Thanks to Jackie Sobon of Vegan Yak Attack, you'll soon be captivated by the charm of this cheery vegan pumpkin chia pudding! Chock full of whole, plant-based ingredients, you seriously can't go wrong with this dessert choice. Thick, creamy, and carefully spiced, this plump pudding is like a mouthful of mini pumpkin pie paradise. Delish!
Sophia DeSantis, of the Veggies Don't Bite blog, brings us her famous, super-easy, seven ingredient snack recipe. (Try saying that three times fast!) Not only do they take only 5 minutes to make, but they're fun for the whole family and use pea powder to pump up the protein. How cool is that? All you need to do is gather ingredients, mix, and chill. Her pumpkin pie protein snacks really fit the bill!
We hope that you love these vegan pumpkin recipes as much as we do. Take advantage of the pumpkin season and cook up as much as you can! We'd love to know in the comments below which recipe has become your new favorite. Have a gourd time with your pumpkins!
More Pleasant Pumpkin and Savory Squash Recipes to Try:
This round-up of the best vegan pumpkin recipes come from some of our favorite vegan food blogs on the web. Photos are from our recipe contributors as well as J.J. Steele and Michelle Cehn. Cover photo food photography by Nisha Vora. Article written by Gina House. Please note that this article may contain affiliate links which helps support our work at World of Vegan.