Vegan options at Arby's are few and far between. Though, not as bad as some fast food restaurants. We must admit that there are a few tempting treats that we would probably try, like the potato cakes, french toast sticks, and curly fries. Also, the Arby's sauce sounds intriguing. For a restaurant with over 3,300 locations, you would think they'd be fighting for a chance to be on top of the plant-based fast food chain.
Because an Arby's veggie burger is essentially non-existent, we have to wait patiently for a plant-based protein to appear on the menu. Or, more importantly, a kick-butt Arby's vegan burger! Although Arby's has clearly stated there they won't be adding any animal-free burger in the future, but we can't give up hope. Right?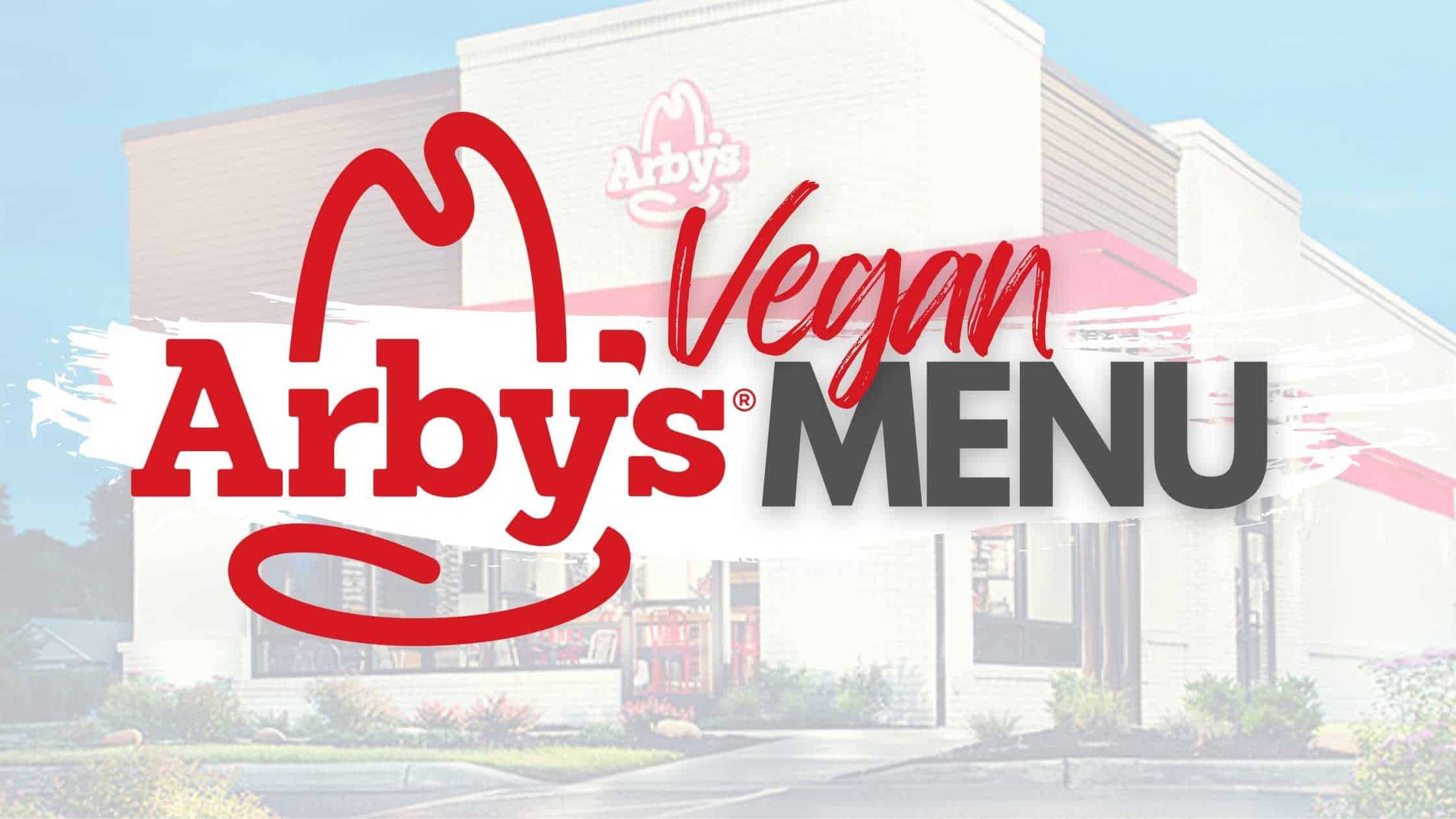 There are a small number of edible items on the menu, but this is one of the many non-vegan restaurants where ordering can be somewhat simple because there almost no options. Take our lead and you'll find yourself enjoying a very light lunch or quick snack in no time! This is what to do:
Main Meal – Sesame bun filled with veggies and choice of sauce
Sides – Fries (Crinkle, Curly, or Traditional), side salad (no cheese), dressing (see list below), and extra veggies.
Dessert – Apple (or cherry) turnover or applesauce
Beverage – Juice (Apple or Orange), Coca-Cola products, lemonade, coffee, tea, or bottled water.
Example of an Arby's Breakfast
It was very disappointing that Arby's recently removed their most popular (and vegan-friendly!) menu items – potato cakes and french toast sticks. Since these were your best bet for any sort of breakfast, it's really too bad. You can do better than that, Arby's! Until faithful fans can convince this restaurant chain to bring back its breakfast options, we'll have to make due with these slender selections.
Orange or Apple juice, Coffee and/or Tea
Treetop Applesauce
Arby's Vegan Options
While there are several small suggestions for vegan food at Arby's, our whole food, plant-based friends will have even less options. If you're strictly WFPB vegan, Arby's has very little for you. The only items on the menu to choose are the applesauce and the side salad (with no cheese).
Buns:
It's pretty hard to be tempted by a bun with nothing in it. You can fill either of these buns with lots of lettuce, tomato, onions, and peppers, but we feel like it wouldn't really do the trick. For the very brave, bring in your own plant-based patty to plop in the middle of this muddle.
Mini Slider Bun
Sesame Seed
Salads:
Arby's salad is on the small size, but at least there is an option for extra veggies to be added to your meal. If you buy two, you can ask for extra vegetable toppings and enjoy with a side (or two!) of your favorite shaped fries.
Side Salad – Order without cheese.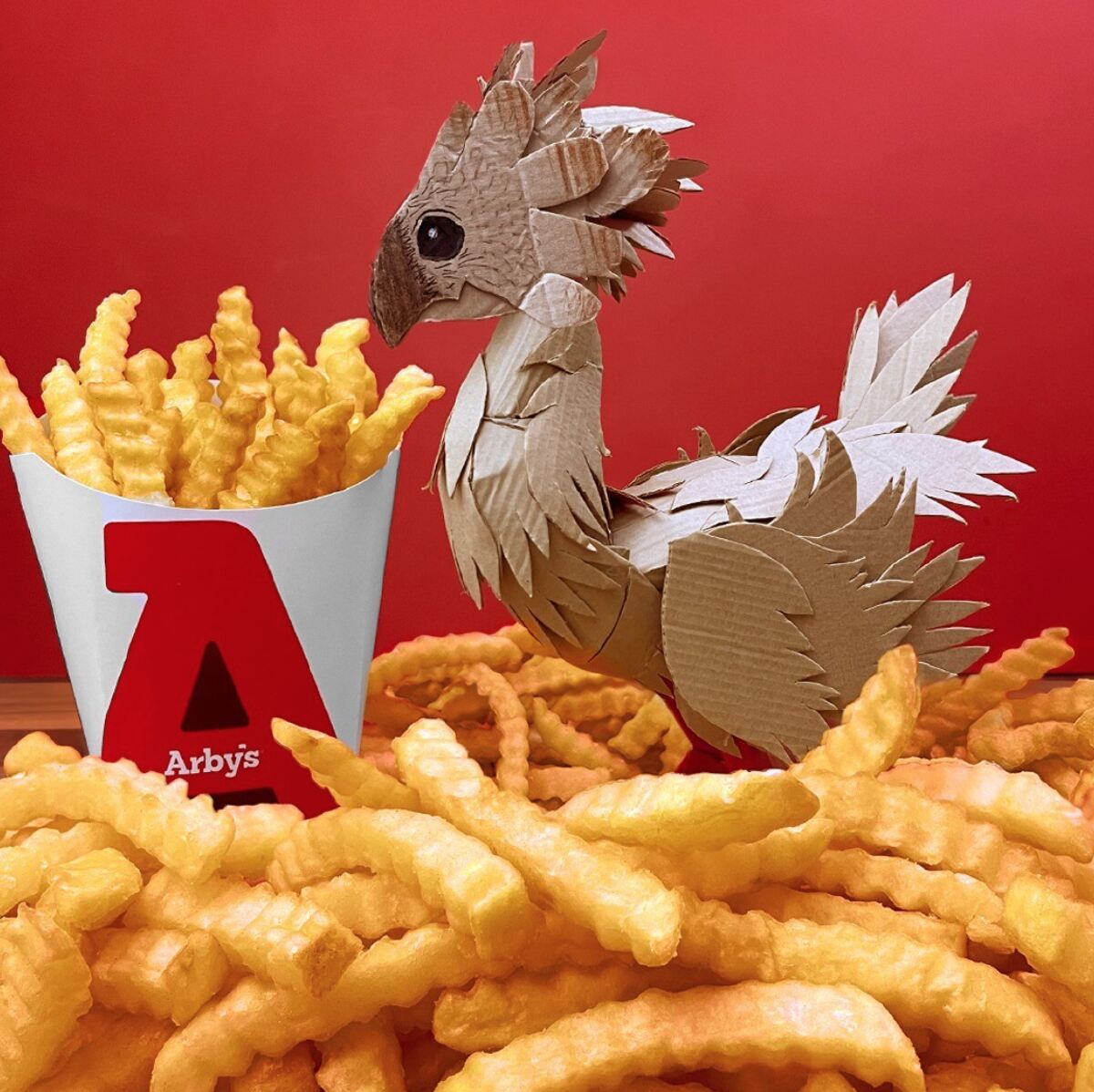 Arby's Sides:
One question we're asked often is, "Are Arby's curly fries vegan?" We're happy to say that they are. The crispy onions, on the other hand, are not. A mix of all three fry shapes may be the way to go.
Crinkle Fries
Curly Fries
Homestyle Fries (where available)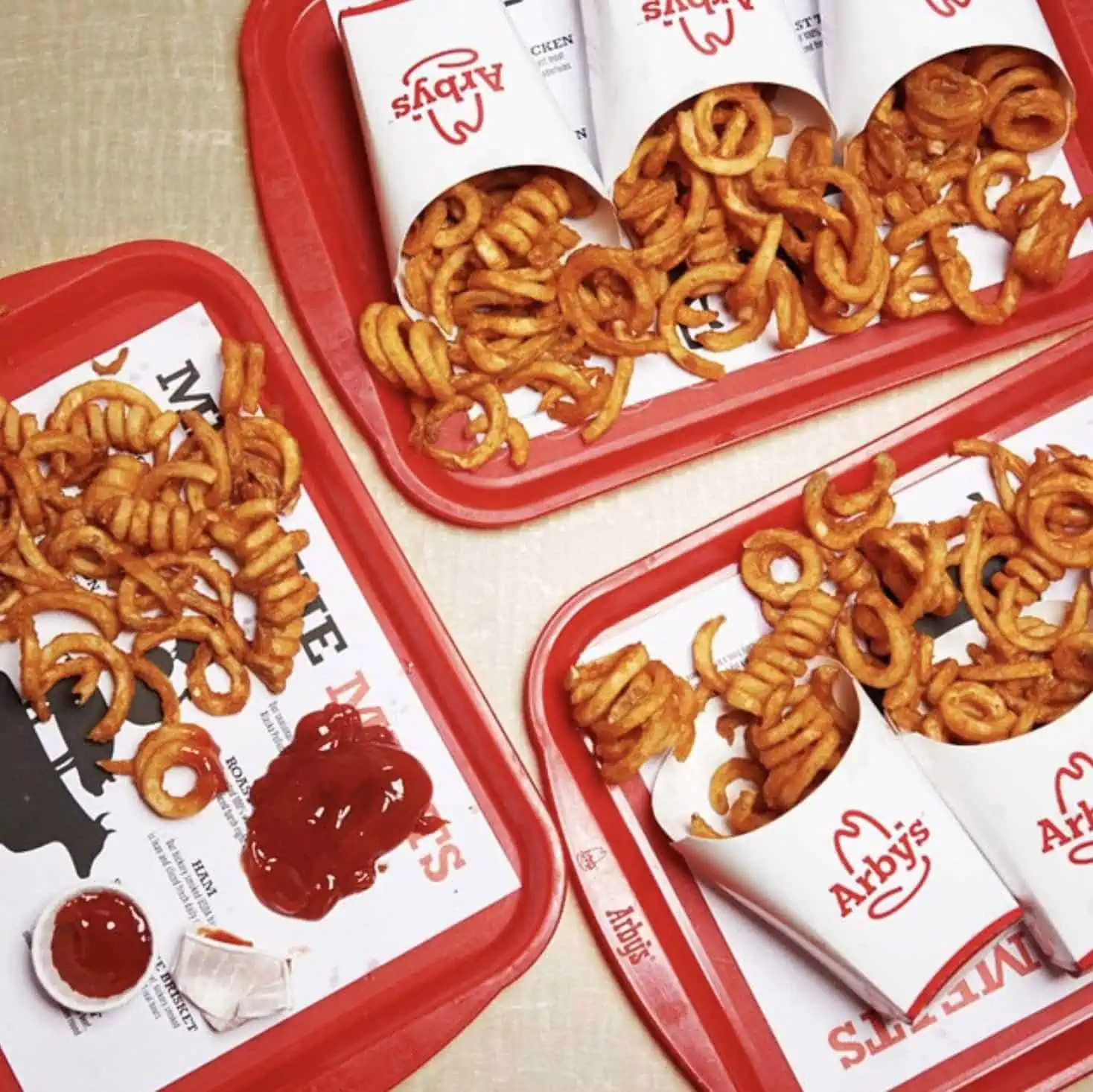 Arby's Sauce & Dressing Options:
It's nice to see a variety of different flavors. We only wish there was a burger or sandwich to add them to! All of the sauces below are not only vegan-friendly, but also gluten-free. Wheee!
Arby's Original Sauce
Balsamic Vinaigrette
Bronco Berry
Gyro Seasoning
Ketchup
Light Italian
Marinara (not the Robust Marinara)
Red Ranch
Smoky Q Barbecue
Spicy 3 Pepper Sauce
Tangy Barbecue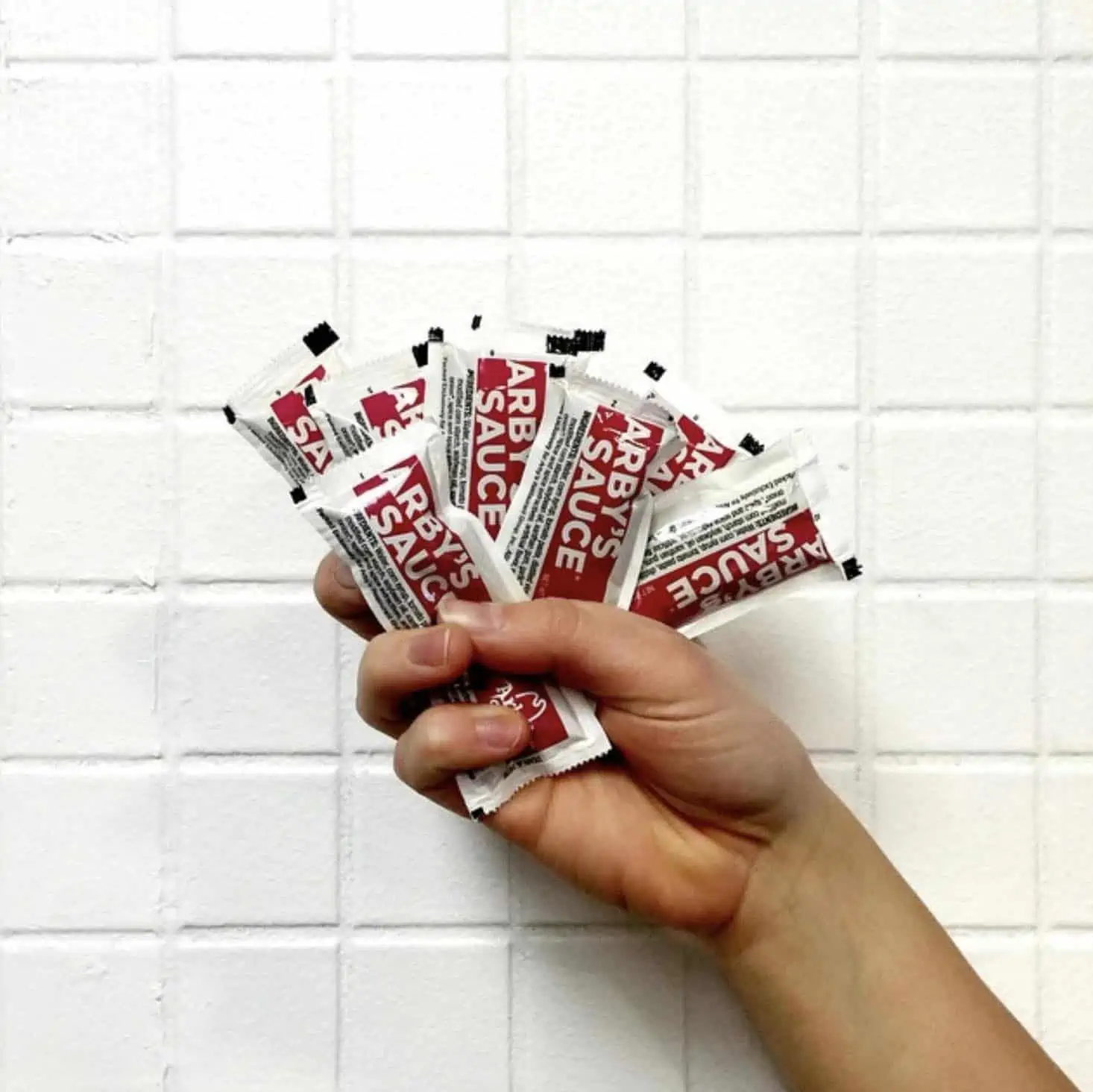 Vegetable Toppings:
We've heard that Arby's is pretty stingy when serving up the vegetables, but don't be intimidated by that. We always follow the rule that friendliness comes first and it usually works! Ask respectfully, but firmly for a variety of extra veggies.
Banana Peppers
Jalapenos
Lettuce (Leaf or Iceburg)
Sauerkraut
Sweet Garlic & Dill Pickles
Tomatoes
Red Onion
Desserts:
It's kind of exciting to come across a fast food restaurant that offers an option for a sweet, after-meal (we use the term loosely here) snack. You have two flavors of accidentally vegan turnovers to choose from and one apple option, which actually all sound pretty darn delish!
Applesauce (kids' menu)
Apple Turnover
Cherry Turnover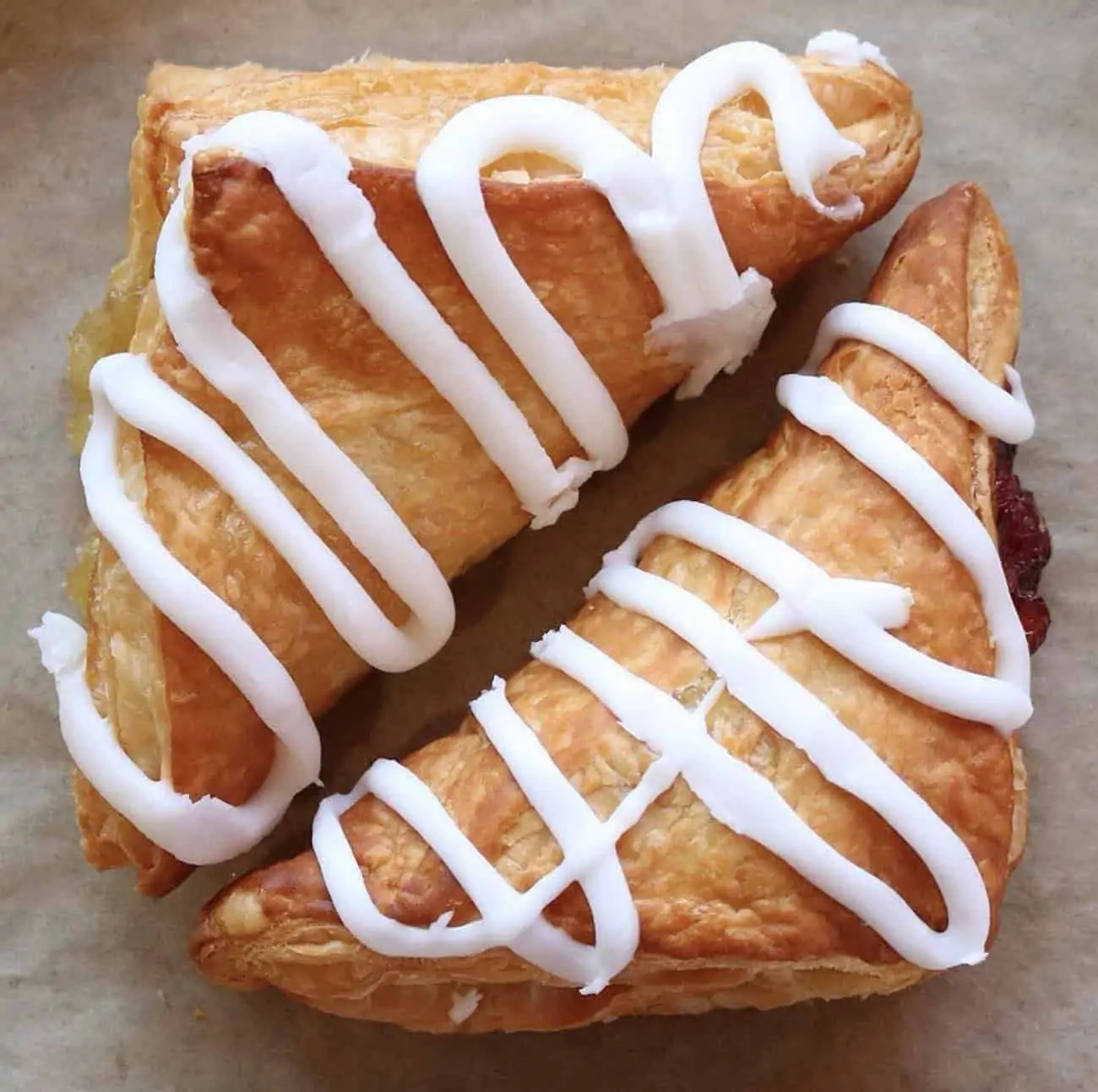 Drinks:
The usual line up is listed here. It's nice to see a few fun flavors of lemonade and juice for a change. One day, they may offer delicious dairy-free shakes, too. Cross your fingers, friends!
Bottled Water
Coca-Cola products
Honest Apple Juice
Iced Tea (unsweetened)
Market Fresh Lemonade (classic, strawberry, peach)
Powerade
Simply Orange Orange Juice
Additional Arby's Vegan Options
Depending on your location (especially based on the country you live in), there are several more smaller menu items to choose from. Not much to make out of them, but we wanted to share them, just in case. They include:
Marble Rye Bread
Hearty Grain Wrap
Sauerkraut
Sourdough Breakfast Bread
Spicy Three Pepper Sauce
Split Top Bun
Star Cut Bun
Does Arby's Have a Kids Meal With Vegan Options?
They do have kids' meals, but they're not at all accessible to vegan kids. No plant-based burgers or nuggets here. Little ones will be very disappointed with only fries, applesauce, and a beverage. A small snack if you're on-the-go and duly desperate, but not a good reason to visit otherwise.
Vegan and Gluten-Free At Arby's
Thankfully, Arby's has a specific gluten-free menu for anyone sensitive to wheat, barley, rye, or oats. It's disappointing to see the list is so short, but at least we know what's what. Vegan-friendly, gluten-free options that are safe to order include:
Beverages: Brewed Iced Tea, Apple Juice, Coffee, Coca-Cola Products, Minute Maid Lemonade, Orange Juice, and Powerade
Salads and Dressings: Side Salad (no cheese), Light Italian, Balsamic Vinaigrette
Sauces: Arby's, Bronco Berry, Ketchup, Marinara, Red Ranch, Sauerkraut, and Smoky Q
Sides and Snacks: Crinkle Fries and Applesauce
What's Vegan at Arby's?
Are Arby's fries vegan?
They are! Although they do list wheat as an ingredient (so they are not gluten-free), they are vegan-friendly. Keep in mind that Arby's cooks their fries in the same oil as other animal-based foods. It's a personal choice whether or not you feel comfortable with that.
Are Arby's curly fries vegetarian and vegan friendly?
Yes! Arby's curly fries are made with vegan ingredients and they are not fried in any animal fat. But they are cooked in the same oil as other animal products, which is a concern for some vegetarians and vegans.
Does Arby's have salads?
Yes, they do offer a small side salad on the menu, but make sure to order it without cheese and choose a non-dairy dressing to go with it. The Light Italian or Balsamic Vinaigrette are good options.
What are Arby's vegetarian options?
There are usually always more Arby's vegetarian options compared to vegan options at Arby's. Menu items that contain dairy (such as cheese and milk) are open to vegetarians.
Check out the Arby's Allergen Menu and Nutrition Information page to make sure that you are purchasing a vegan-friendly item. The menu items offered at Arby's don't seem to change very often, but you may want to double check before you visit.
If ordering Arby's online or through a delivery service, make sure you clearly specify any substitutions you would like. If you're worried that your request may not be honored (or seen by the server at Arby's), it might be a better idea to go there directly to order.
Be careful when new and exciting seasonal products are offered at Arby's. Double-check the allergens and ingredients to make sure the item is vegan before purchasing.
NOT Vegan at Arby's
Besides the used animal-based burgers, sandwiches filled with suffering, and noxious nuggets, here is a list of more food items that are not on the vegan menu. Boo!
Crispy Onions – This topping contains both eggs and milk.
Desserts – Except for the apple and cherry turnover (which are vegan-friendly––yay!), all of the other dessert options are not vegan.
Jalapeno Bites – These spicy appetizers sadly contain milk.
Robust Marinara – This slider sauce has milk in the ingredients.
Sauces and Dressings – The buffalo dipping sauce contains milk, honey mustard sauce contains eggs and honey, horsey sauce contains eggs, and the ranch dressing contains milk and eggs.
Shakes – All of the shakes are made with dairy milk, with no plant-based milk options.
Make Your Own At-Home Vegan Burger and Fries
If you're not able to bear any burger-and-fries franchises in your neighborhood, take time to grill up a few glorious vegan burgers in your very own kitchen. These recipes are not only quick to make, but they're quite tasty, too! Find the best veggie burger and fantastic fries recipes here:
Don't forget the salads! If you're stuck for scrumptious salad ideas, no worries! Our go-to guide for making the best vegan salad is here for you. Chock full of both sweet and savory salad suggestions and several delicious dressing recipes to boot. Give them a try!
Historic Vegan Moments in Arby's History
Nothing. Nada. Should we give up hope? No way!
Fascinating Facts About Arby's
Arby's was the first fast food chain to ban indoor smoking inside all of their restaurants. Way to go!
There is no person named Arby. The restaurant was created by brothers Leroy and Forrest Raffell and used the 'R' of their last name and 'B' from brothers to use as a basis for the name.
In February 2013, a North Carolina patron found the world's longest curly fry on her plate. It was 38 inches long!
Rhode Island and Vermont are currently the only states without an Arby's location.
Ohio has the most Arby's locations of any state––268!
Creating a Kinder and More Accessible Vegan Arby's Experience
Although Arby's has not yet included any plant-based burger or protein options to their menu, we can still hope that our heartfelt vegan requests will be heard. Since there are more and more vegan-friendly burger on the fast food front, we have high hopes that Arby's will soon come up with at least one savory sandwich choice and scrumptious dairy-free shakes to devour. Wouldn't it be amazing if they agreed to have a fully vegan area on their menu? In the meantime, we can always write to, call, or contact the managers of any location to make our requests.
Share your preferred plant-based burger and bountiful breakfast wishlist for a vegan Arbys menu. Let us know on Facebook, Twitter, and Instagram!
Have you found any other vegan options at Arby's? Did you find something amazing that we missed? Let us know by tagging #worldofvegan and sharing your favorite vegan-at-arbys creations with all of us!
How To Order Vegan Burgers and Fries at Other Fast Food Chains
This article is not sponsored and we are in no way affiliated with Arby's. At the time of this article, the menu items mentioned above are vegan. Since restaurants constantly update their menus and add or take away items, please keep this in mind when ordering your food. There may be new Arbys vegan options that are not listed or items listed here as vegan, which are no longer vegan. Take care to double-check.