Autumn has arrived, bringing with it the anticipation and activity of apple picking season! I love the comfortingly familiar fall weather with its magical moments of flaming red and orange foliage, subtle golden sunshine, and cool, crisp winds. You can almost feel the fantastic softness of flannel against your skin and the slightly sweet, smokey scent of a woodland fire.
This autumn, instead of apple pie, try these mini apple walnut pastry purses to celebrate the bounty of fall. These delightful desserts have the appearance of pulled purses, bursting with apple walnut goodness and sweet cinnamon character!
They're made with a dairy-free and eggless puff pastry (we recommend Aussie Bakery brand, but Pepperidge Farm sheets or other brands would also work). You'll pinch the dough together to create these perky little purses packed with a mixture of chopped apples, crunchy walnuts, punchy pomegranate juice, silky cinnamon, and agave nectar.
Puff pastry is super versatile and incredibly easy to use and it always looks good no matter what you do with it. If you thaw it ahead of time, you can have these fruit-filled pockets ready within 30 minutes. Each pastry sheet makes 6 puffs, so you get a full dozen warm and tasty treats from one package of puff pastry. Test out your baking brilliance by forming into other sensational shapes as well!
The Amazingly Appealing Apple
Apples—the most heavenly of all fruit! Did you know that the very first apple tree originated in Central Asia in the misty mountains of Kazakhstan? Remarkably, its ancestor, the Malus Sieversii, can still be found there today. It's even possible that the apple was available to prehistoric people over 10-20 million years ago. It's hard to imagine, isn't it? That's a remarkably long amount of time for this adorable little fruit to be satisfying the stomachs of hungry humans.
Apples are not only an unbelievable nugget of nutrition (high in fiber, vitamin C, potassium, vitamin K, and polyphenols), but there is almost an infinite number of varieties around the world (though, more accurately 7,500 grown throughout the world). From fantastically firm and thrillingly tart Macintosh apples to sweet and slightly soft Fujis, this fabulous fruit is a common favorite among most people.
Because of its outstanding versatility in snacking—either raw, baked, broiled, fried, steamed, sauced, or dried—it's unusually easy to find a way to love them in some form. High in soluble fiber, amazing antioxidants and flavonoids, the humble apple boasts impressive health claims that include aiding in lowering blood pressure, cholesterol, and risk of diabetes. An apple a day keeps the doctor away, right? No wonder why apples are so well-loved!
Here are some fun facts about apples that you might not know:
The apple is a member of the Rose family.
The science of apple growing is called "pomology."
Apple trees take 4-5 years to begin producing fruit.
In colonial times, apples were called "winter bananas" or "melt-in-the-mouth."
It takes approximately 36 apples to create a single gallon of apple cider.
Archaeologists have found evidence of apple consumption since at least 6500 B.C.!
Two-thirds of all apple nutrients and fiber are found in the apple skin.
Apples are on the "Dirty Dozen" list of produce that is most heavily sprayed with pesticides, so buy organic when possible, otherwise, just wash your apples well!
Star Ingredients
Puffed Pastry – A staple for decadent baking! This light, delicate, and flaky pastry is mainly made up of many, many layers of beautiful baking dough. Puffed pastry possesses only three ingredients—flour, butter, and salt. You can create the most delightful desserts with this ingredient with very little effort and a LOT of pizzazz! It's fairly easy to find plant-based puffed pastry, as many brands use vegetable oils and are "accidentally" vegan!
Red Apples – Sweet, slightly soft, and the single most important ingredient of the bunch. If you have the opportunity to pick your own apples from an orchard, these pretty purses will have loads more flavor! It's up to you whether to keep the apple peel on or not, but consider that the peel holds the most nutrients. Don't have red apples? Not to worry. You can use any variety of apple you'd like!
Walnuts – Also called the "brainy" nut, walnuts are rich in antioxidants and omega 3s. Powerfully packed with copper, folate, phosphorus, vitamin B6, manganese and vitamin E, the wonderful walnut not only adds a great deal of nutrition to the dish, but also a slightly bitter, but buttery flavor and crucial crunchy texture to balance out the softness of the sweet apples. Eating a small serving of walnuts each day has been linked in helping with heart health, brainpower, and cancer prevention.
Pomegranate Juice – A slightly sour, slightly sweet sensation for the mouth! Pomegranate juice adds a beautiful jewel-like hue to this delectable dessert and also a distinctive note that pairs perfectly with the apples. The pleasantly piquant pomegranate is also full of vitamin C, vitamin E, folate, potassium, and vitamin K.
Cinnamon – The most warming and wonderful of all spices! The addition of cinnamon, though not sweet in itself, creates a sensation of sweetness in the mouth because of its lack of tartness. Slightly woody and aromatic, this spice has always been the perfect complement to the fresh flavor of apples. This lingering and lovely spice (which is actually the bark of a tree) is also high in calcium, magnesium, iron, phosphorus, potassium, and vitamin A.
Lemon Juice – A fresh and zesty compliment to the luscious fruit filling. Before enjoying, add a squeeze of lemon to the top of the pastry purse, which will brighten and enhance the flavors in this dessert.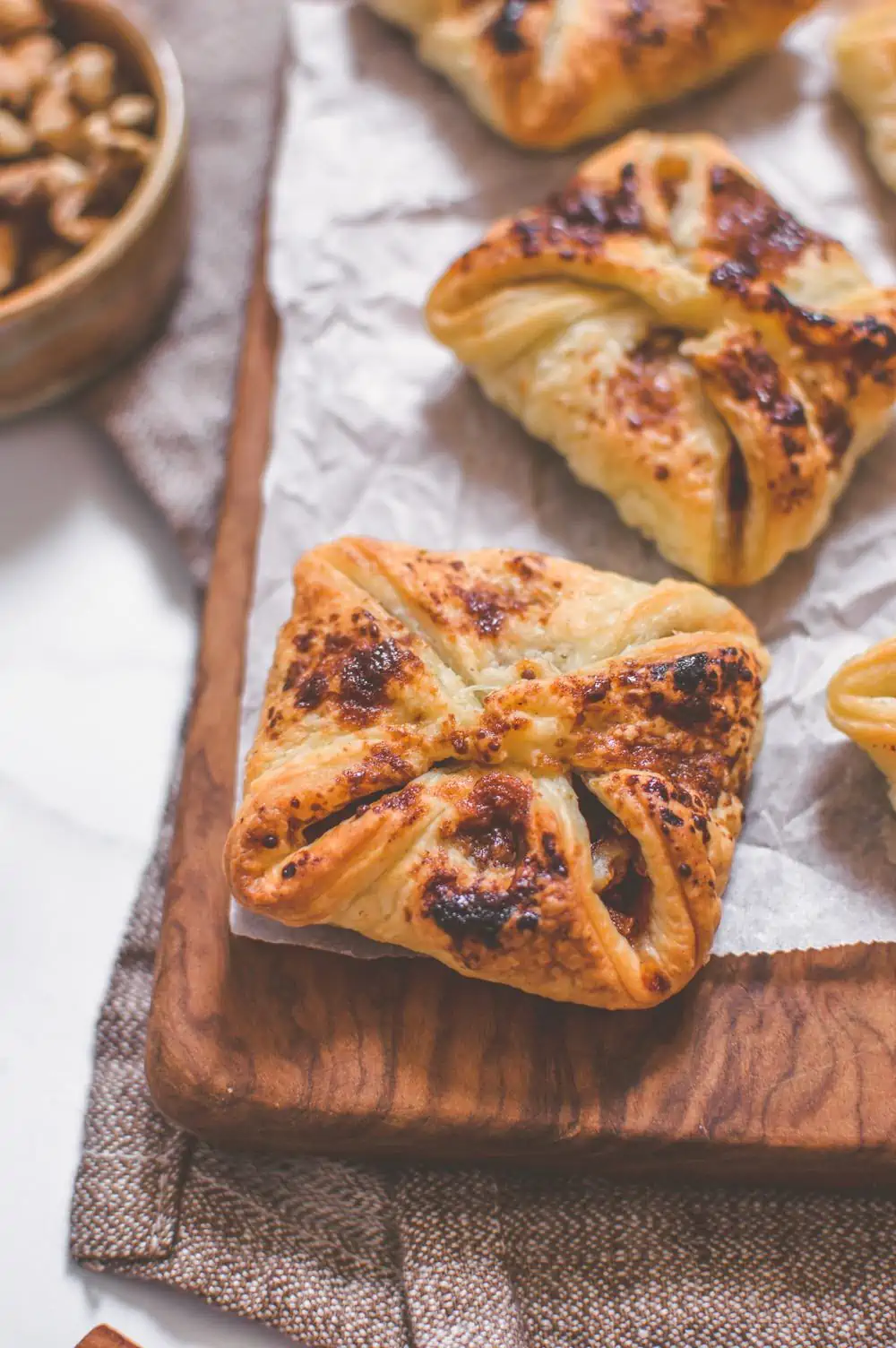 How to Serve it Up
Start with a super generous scoop of your favorite non-dairy ice cream and then add tantalizing and tasty toppings such as shredded chocolate, a tablespoon of finely chopped toasted nuts, or even a delicious dollop of creamy coconut whipped cream.
You can even serve these appealing apple walnut pastry purses right out of the fridge along with slices of creamy cheddar cheese and a few savory, salty olives. Miyokos and Violife make some perfect, plant-based cheddars. Yum!
Create your own homemade Apple Walnut Purse "nice" cream by substituting leftover, chopped up apple pastry pieces for the add-ins at the end. My mouth is watering just thinking about it!
Concoct a comforting "faux" bread pudding by adding one leftover purse to a bowl and slowly pour in warm, rich oat (or soy) milk over the top. Sprinkle with extra cinnamon, additional nuts (crushed pistachios, slivered almonds, or rich macadamias), and even some dense dried fruit, like delectable dates, flavorful figs, or cheerful chewy raisins.
If you try these Apple Walnut Pastry Purses, let us know what you think by leaving a comment and rating below! Be sure to follow along on Pinterest, Instagram and Facebook for even more vegan recipe inspiration.
1 package puff pastry, dairy and egg-free
2 red apples, any variety, finely chopped
½ cup walnuts, chopped
¼ cup pomegranate juice, apple juice will work too
1 teaspoon ground cinnamon
1 tablespoon agave syrup
2 tablespoons non-dairy butter
a mix of cinnamon and sugar for sprinkling
oil or oil spray for baking
Thaw puff pastry for about 45 minutes. Roll out and cut each sheet into 6 squares.

Preheat the oven to 400 degrees.

Combine the apples, walnuts, juice, cinnamon, and agave in a bowl.

Place a heaping spoonful of the apple mixture in the center of each pastry square. Gather the sides and pinch together in a "purse."

Brush with the melted butter and sprinkle with cinnamon sugar.

Place on a cookie sheet with cooking spray and bake for about 10 minutes until golden brown.
Serving: 6g | Calories: 596kcal | Carbohydrates: 51g | Protein: 8g | Fat: 41g | Saturated Fat: 9g | Polyunsaturated Fat: 10g | Monounsaturated Fat: 20g | Trans Fat: 1g | Sodium: 236mg | Potassium: 182mg | Fiber: 4g | Sugar: 11g | Vitamin A: 37IU | Vitamin C: 4mg | Calcium: 26mg | Iron: 2mg
Simple Storing
Any pastry purses that are not promptly devoured can be stored in a sealed glass container in the refrigerator for a few days. When ready to be eaten, these amazing apple walnut pastry purses can be placed on a parchment-lined baking sheet and reheated at 400 degrees for a few minutes. Just keep a careful eye on them so that they gently bubble, but do not burn.
More Wonderfully Warm Vegan Dessert Recipes to Try:
We want to thank our amazing recipe testers Anne Sparks & Nicole Benson for helping us perfect this recipe!
Vegan Apple Walnut Pastry Purses recipe by Stephanie Dreyer, and photos by Zhoro Apostolov for World of Vegan. Copyright of World of Vegan™, all rights reserved. Article edited by Amanda Meth. Please note that this article may contain affiliate links that support our work at World of Vegan.