What's vegan at Five Guys? Do they offer a plant-based burger or vegan-friendly fries for the animal-free eaters that are on the rise? It may come as no surprise that they have a pretty scanty selections of vegetarian and vegan menu options for vegans.
So, what can you get at this family-owned, fast food grill? Are there any safe options in sight? Do you need to arrive with your hunger already assuaged? Fear not, vegan friends, this guide is here to fill in the facts.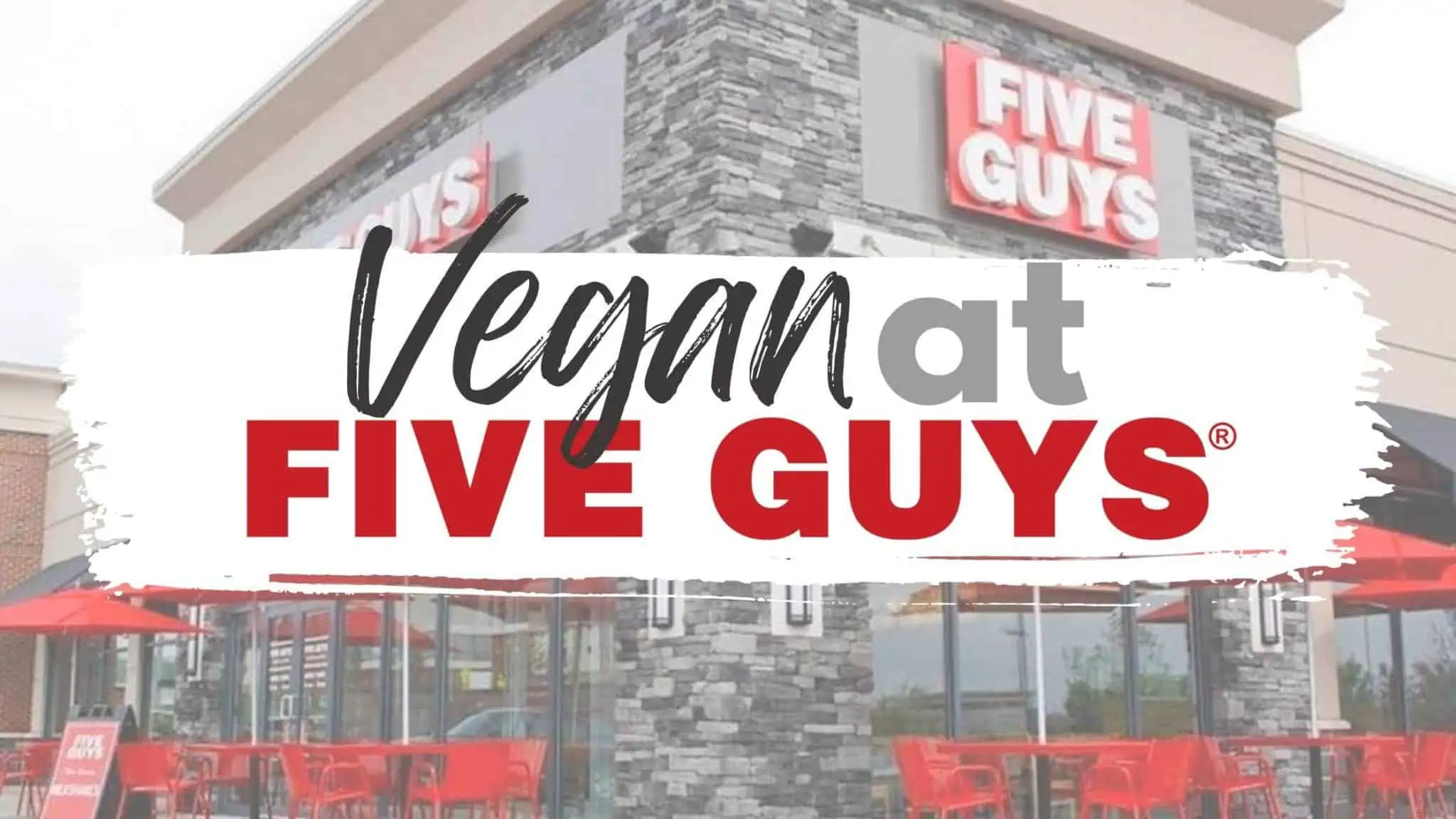 It Sucks, But Your Only Real Options Are Fries, Peanuts, and Soda.
We hope you like fries, because there's not much else on the menu for vegans.
We'll take you step-by-step through any and all menu items offered at Five Guys Burger and Fries. If you've always wondered what you could nosh or nibble on at this rowdy restaurant, keep reading. It's up to you to decide if it's a 'yay,' 'nay,' or may-be-worth-trying.
Are Five Guys Fries Vegan?
Both flavors of Five Guys fries are made with 100% peanut oil. You can choose from the Five Guys Style or Cajun Style fries. Both are vegan-friendly. Yay!
Here's what the company says about their fries: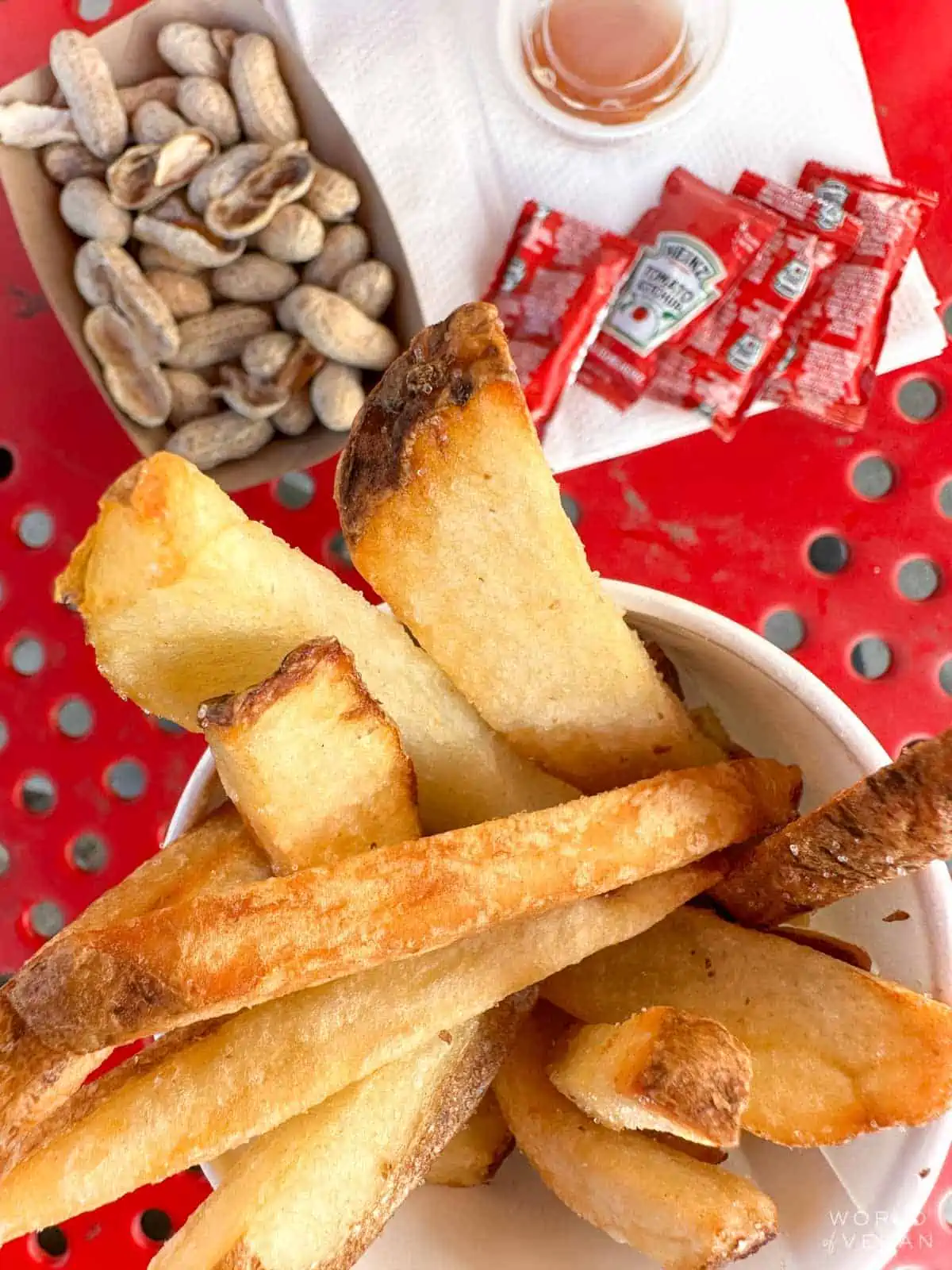 Lucky (or unlucky!) for us, the menu at Five Guys is pretty straightforward. They offer burgers, hot dogs, grilled cheese, fries, and milkshakes. Because there is only one main menu item that is vegan-friendly, there isn't much to consider.
Here's what we suggest:
Appetizer – Grab a pile of peanuts and enjoy while you wait.
Main Meal – Not sure if you can call it a meal, but order as many veggies as you wish (see below for details) and have them use lettuce as the "container." Add all the condiments and sauces you find favorable.
Salty Side – All the fries! Although not the healthiest option, these tantalizing taters are hard to resist.
NOTE: If you know that you'll be visiting Five Guys ahead of time, you can also bring your own plant-based bun (for the veggies) and your own vegan dessert, like a homemade vegan cookie or super fudgy brownie.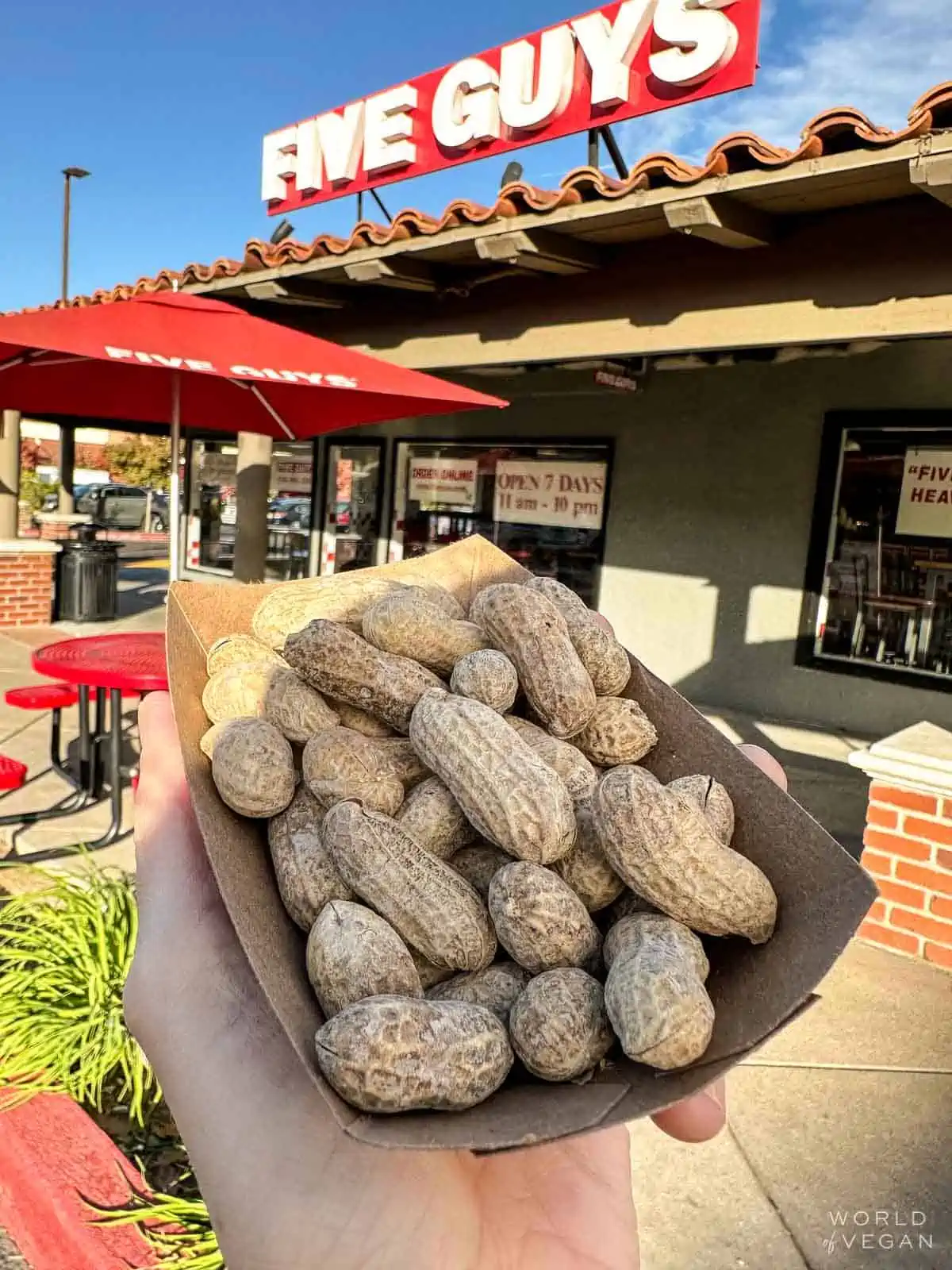 Does Five Guys Offer Any Vegetables?
They do, but all of the cooked vegetables are grilled on the same cooktop as the burgers and hot dogs. The cooks wipe off the grill after each order, but they don't have a separate non-meat grilling area. So, it's a personal decision and totally up to you.
Bell Peppers
Mushrooms
Onions
Another option would be to add fresh veggies to a lettuce "bun". Not too exciting, but it might be a tad more filling (and more nutritious) than just a side of fries.
Jalapeño Peppers
Lettuce
Onions
Pickles
Tomatoes
Is the Veggie Burger Vegan at Five Guys?
Nope. The Five Guys veggie sandwich (not burger), is basically a bun filled with grilled vegetables.
Since we already know that the grilled veggies are cooked alongside animal foods, that might be out of the question for some of you already. But, the bun itself is not even vegan, only vegetarian. Sadly, the Five Guys regular bun has both eggs and dairy in the ingredients, so it's a no-go.
Vegan Dipping Sauces and Condiments
It's really sad that there are multiple options for sauces and condiments at Five Guys, but no vegan burger to add them to! What's up with that, Five Guys? We're keeping our hopes up for a Beyond Meat or Impossible Burger option!
A1 Sauce
Bar-B-Que Sauce
Hot Sauce
Ketchup
Mustard
Relish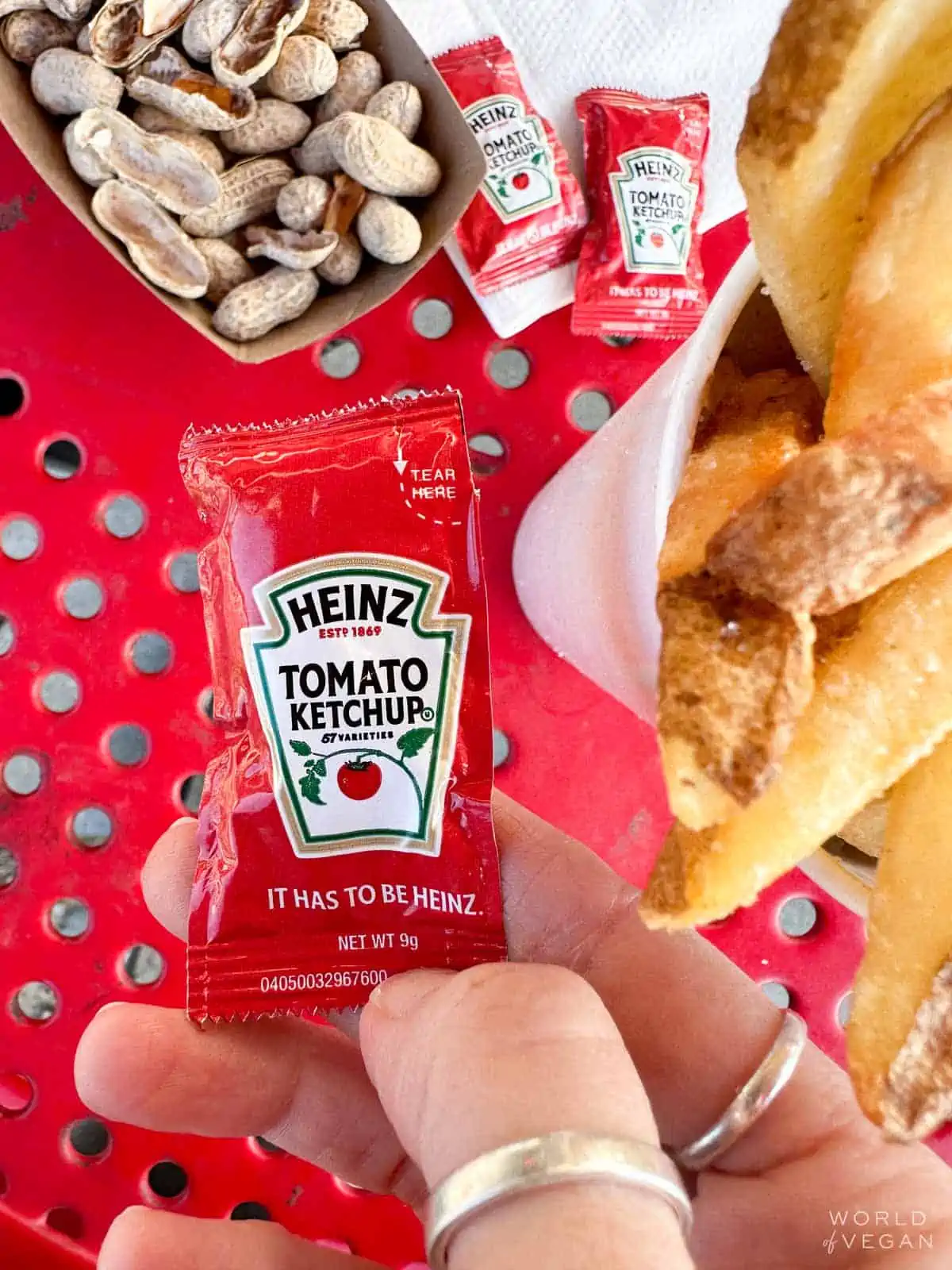 What Other Vegan Options Are There at Five Guys?
Peanuts! As long as you don't have a peanut allergy, this high-fiber, whole-food appetizer is incredibly appealing. They're not on the menu, but anyone coming into the restaurant can take a cardboard carton and fill it up.
It's actually pretty fun shelling them yourself. At least there's one food you can feast upon other than french fries.
Beverages
Whats about drinks? Five Guys offers Coca-Cola products at all of their locations.
NOT Vegan at Five Guys
Besides the very obvious animal-based burgers and hot dogs, there a couple of things that you might think could be plant-based.
Bun – At this time, the bun is made with both milk and eggs and is not vegan-friendly.
Milkshakes – All of their milkshakes are made with dairy milk. Wouldn't it be awesome if they offered a plant-based version? Maybe, if many people ask, Five Guys will bring on an oat milk or almond milk option.
NOTE: If you are a vegetarian eating at Five Guys, there are a number of menu items for you to choose from such as the grilled cheese, the veggie sandwich, and the cheese veggie sandwich.
Helpful Hints When Ordering Vegan at Five Guys
Browse the Five Guys menu before ordering.
If ordering Five Guys online or through a delivery service, make sure you clearly specify any substitutions you would like. If you're worried that your request may not be honored (or seen by the server at Five Guys), it might be a better idea to go there directly to order.
Check out their Nutritional Information page to make sure that you are purchasing a vegan-friendly item. The menu items offered at Five Guys don't seem to change very often, but you may want to double check before you visit.
Be careful when new and exciting seasonal products are offered at Five Guys. Double check the allergens and ingredients to make sure the item is vegan before purchasing.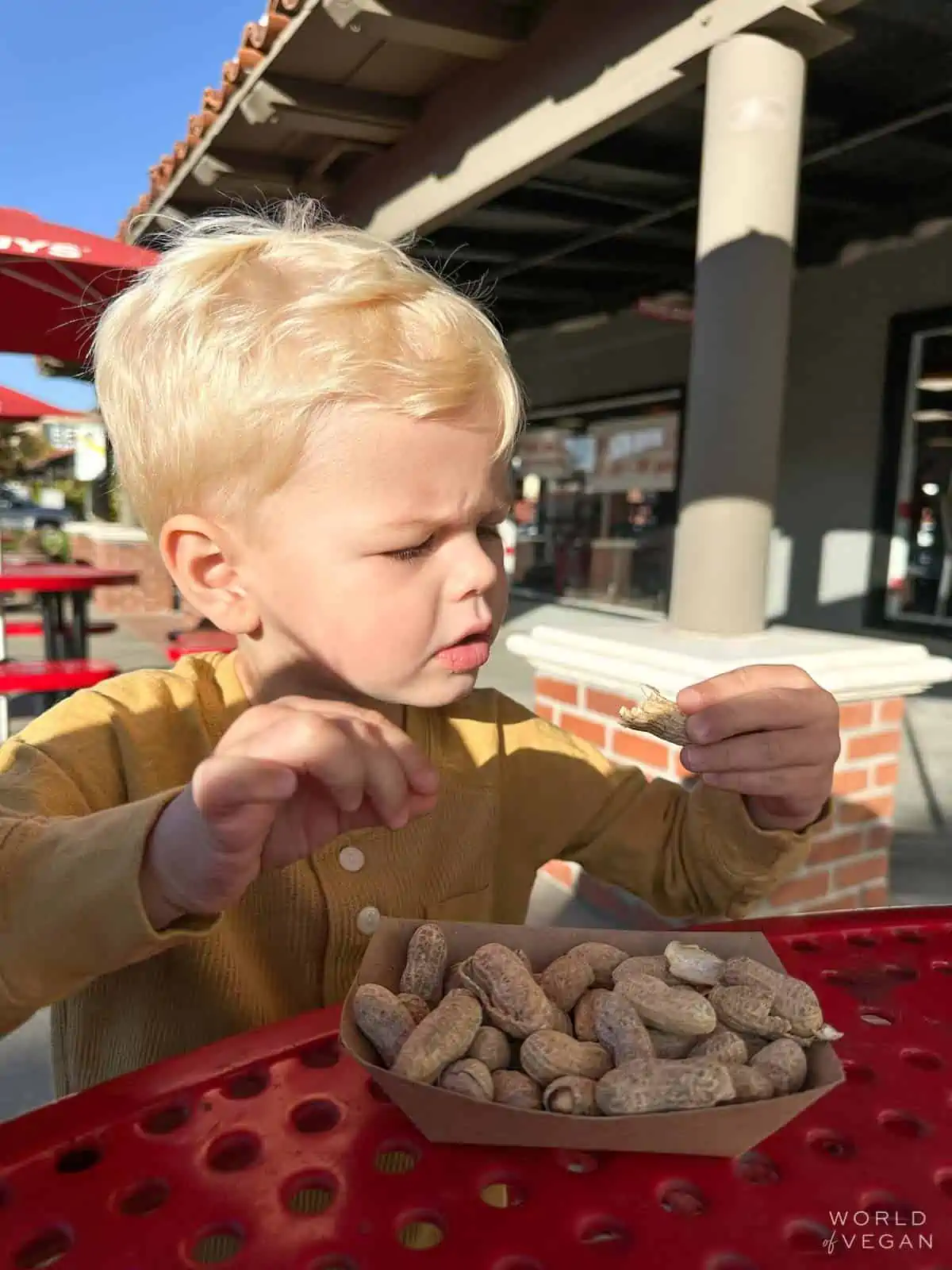 Historic Moments in Five Guys History
Since 1986, there is nothing of note to vegans, but we'll keep you updated!
Fascinating Facts about Five Guys
All their food is free of trans fats (woo!)
There are no freezers at Five Guys restaurants.
They are a family-owned business that began in Arlington, VA around 1986.
The company doesn't advertise at all.
Five Guys buys around 140 million pounds of potatoes directly from Idaho every single year.
Creating a Kinder and More Accessible Five Guys Vegan Experience
Although it may be a miracle for Five Guys to offer a plant-based burger or vegan grilled cheese, but if Burger King gave it a go, anything is possible! There's nothing stopping this popular fry franchise from featuring a veggie option to for us to feast upon. In the meantime, we can always write to, call, or contact the managers of any location to make our requests.
What are your favorite items on the Five Guys Burger and Fries vegan menu? Let us know on Facebook, Twitter, and Instagram!
How to Order Vegan at Other Fast Food Chains
We have a ton of super helpful vegan restaurant guides and vegan fast food guides to help you find the best eat-in or take-out options at each location. If you're in need of a quick vegan meal on a road, give our guides a gander. There's everything from pizza to pasta and burgers to burritos, plus other favorites to fall back on.
Have you found any other options to be veganizable? Did you find something amazing that we missed? Let us know by tagging #worldofvegan and sharing your favorite vegan-at-Five-Guys creations with all of us!
This article is not sponsored and we are in no way affiliated with Five Guys. At the time of this article, the foods mentioned above are vegan. Since restaurants constantly update their menus and add or take away items, please keep this in mind when ordering your food. There may be new items that are vegan at Five Guys and not listed or items listed here as vegan, which are no longer vegan. Take care to double-check.