When you think of juicy burgers and crispy fries, do McDonald's and Burger King automatically come to mind? If so, you might be missing out on a hugely popular hamburger chain called Carl's Jr. Ordering vegan at Carl's Jr. is a little more satisfying and a whole lot less frustrating than the others with not only more options, but also better taste.
On January 2, 2019, Carl's Jr. became the very first national fast food chain restaurant in the U.S. to offer a vegan burger. For that fact alone, we have to give the company major kudos and a lot of credit for getting the ball rolling in feeding the vegan community. Keep it up, Carl's Jr.! And now, just a few years later, almost every fast food restaurant (except McDonald's!) has rolled our their own spin on veggie burgers. Exciting times.
Beyond Star Vegetarian Burger: My First Fast Food Burger in 25 Years!
25 years. That's how long it's been since I've eaten a burger from a fast food chain…until now. Carl's Jr. announced their new "Beyond Famous Star" burger made with the popular vegan Beyond Burger, and when ordered without cheese and mayo, it's fully vegan! So you better believe I hopped in the car with my hubby (who has been vegan for 10 years) and raced over to our nearest Carl's Jr., which happened to be just a couple of miles away. 
The vegan burger at Carl's Jr. comes with a charbroiled Beyond Burger patty, iceberg lettuce, yellow onion, tomato, dill pickles, and special sauce (which does happen to be vegan), all on a pillowy sesame seed bun. And it was dang good. Take a look!
For a while on Carl's Jr. website the 100% plant-based Beyond Burger was smack-dab in the middle of the front page. When you walk into the restaurant or head through the drive-through, you won't have to look hard to notice the big "Beyond Famous Star Burger" signs. Carl's Jr. not only brought this option to their menu, but they're shouting it from the rooftops, loud-and-proud!
And I have to say, my first fast food burger in two-and-a-half decades was a nostalgic delight to enjoy. My hubby loved it so much he wanted to go back the next day. Now, don't get me wrong, I won't be making fast-food a habit. It may be vegan, but it's still a burger—it's certainly not a health food, especially when ordered with a side of fries. Plus, it's rather expensive as well compared to healthy home cooking.
But if I'm ever on a cross-country road trip and dying for a comfort food meal, I'm so glad that there will be something to choose from besides a soggy Subway sandwich.
I'm so glad that this burger at Carl's Jr. became a huge, whopping, headline-garnering success. A success so big that every other fast food chain is looking at what Carl's Jr. has done and kicking themselves for not being the first one to do it. Mc Donald's…I'm lookin' at you!
It's only a matter of time, because veganism is on the rise big time.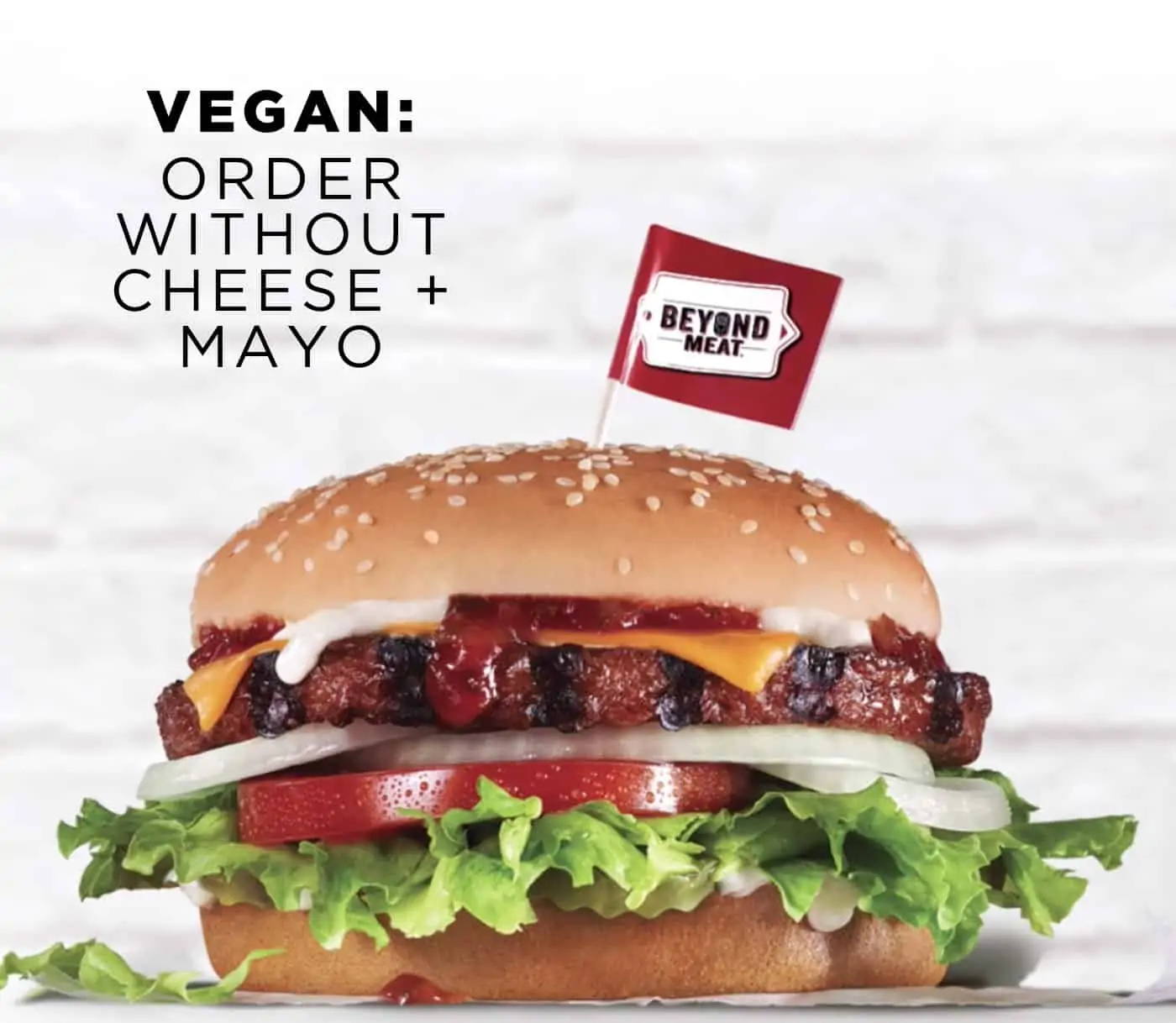 But…Is The Carl's Jr. Burger REALLY Vegan?
You may have heard from the Vegan Police that the Carl's Jr. burger isn't really vegan. Let's take a moment. to clear this up.
The ingredients in the Beyond Famous Star burger and fixings are indeed fully vegan (when ordered without cheese and mayo). However, they don't guarantee the vegan status of the final burger because there could be cross-contamination with other foods served at Carl's Jr.
While this thought may totally gross you out and send you running in the opposite direction, note that not everyone feels that way. Yes, I realize that eating food that was prepared in the same area as animal products may be off-putting, but microscopic cross-contamination won't cause additional harm to animals, our planet or our bodies (unless you have a severe allergy).
If you're someone who struggles with the idea of being a "perfect vegan," I encourage you to check out this piece about how there's no such thing as a perfect vegan. To strive for total purity is not only wasteful but can also be counterproductive.
So…Where Can I Get One?
Carl's Jr. has close to 1,500 locations across the United States, so if you live in America, there's a good chance you'll be able to find a "Carl's Jr. near me." All locations should have the Beyond burgers available! But hey, I wouldn't be sad if they sold so many that they ran out! You can also use our "vegan food near me" guide to help find the best vegan options wherever you go.
What's Vegan at Carl's Jr.? Here is everything you can order that's vegan on the menu. For an extra-satisfying burger, feel free to bring your own dairy-free cheese and vegan mayo!
Carl's Jr. Veggie Burger
The Beyond Famous Star Burger (ask for no mayo, meat, egg, or cheese.)
Vegan Breads and Buns:
Corn Tacos
Flour Tortilla
Plain Burger Bun
Sesame Seed Burger Bun
Sauces:
Barbecue
Chili Pequin Sauce
Hot Sauce
Ketchup
Mustard
Special Sauce
Spicy Buffalo Sauce
Vegan Sides:
Cilantro Lime Rice
Crisscut Fries (aka waffle fries)
Guacamole
Hash Rounds
Natural Cut Fries
Pico de Gallo
Pinto Beans
Unfortunately you won't find much vegan on the Carl's Jr. breakfast menu. Go for the options above instead.
Veganize These Items for More Options:
For the items below, ask for no mayo, meat, egg, or cheese. Add extra lettuce, tomato, sliced onions, pickles and/or jalapenos. More information about Beyond Burgers can be found on their Beyond Meat FAQ page.
Beyond Famous Star
Beyond Fiery Famous Star (ask for no Fiery sauce, which is not vegan)
Burrito with Beyond Sausage (availability varies)
Side Salad
Tortilla Chips
Vegan-Friendly Beverages:
Dasani Bottled Water
Fountain Drinks
Hot Coffee (reg and decaf)
Simply Orange
NOT Vegan at Carl's Jr:
All of these options contain milk or an animal-based broth, so they are not vegan-friendly.
Biscuits
Cotija
Crema
Fried Zucchini
Green Sauce
Onion Rings
Make Your Meal More Satisfying
Ordering vegan at Carl's Jr. is easy because you only have a few options (though you can mix and match them to make many different meals) and the fries are a go. If they start offering vegan cheese, we'll have even more flavor to add to our burgers and burritos and also be able to nosh on some nachos! If you're searching to personalize your plant-based meal, here are a few suggestions:
Pile on the Plant-Based Burgers – Carl's Jr. offers single, double, and triple decker options, so you can fill your belly with as many burgers as you wish! Yum!
Choose Your Own Cheese – If you just can't bear eating a burger without cheese, bring your favorite vegan cheese along with you. Super simple to slip a slice or two between the buns.
Build a Bountiful Burrito – Ask for this fantastic, foldable feast: flour tortilla, pinto beans, guacamole, tomato, onion, pico de gallo, lettuce, and cilantro lime rice. Add as much or as many different hot sauces as you like. You can even request for the burrito to be grilled for extra flavor and texture.
Power Up With Potatoes – Because all of the potato products (hash rounds and both kinds of fries) are vegan-friendly, add a few to your Beyond Sausage breakfast burrito or even for topping your side salad. An easy and delicious way to add some bulk to your meal when out and about!
Helpful Hints When Ordering Vegan at Carl's Jr.
Browse the Carl's Jr. online menu before ordering.
If ordering Carl's Jr. through a delivery service, make sure you clearly specify any substitutions you would like. Especially concerning cheese and meats. If you're worried that your request may not be honored (or seen by the server at Carl's Jr.), it might be a better idea to go there directly to order.
Download the Nutrition and Allergen PDF to make sure that you are purchasing a vegan-friendly item. The products offered at Carl's Jr. do change and the PDFs seem to be updated regularly.
From past experience, it seems that most (if not all) seasonal drinks or foods are not vegan because of added dairy milk or milk derivatives. Be careful when new and exciting seasonal products are offered at Carl's Jr. Double check the allergens and ingredients PDF to make sure that the item is vegan before purchasing.
Cool Facts About Carl's Jr.
Did you know that this daring drive-thru chain originally started as a hot dog stand in Los Angeles in 1941? Carl Karcher and his wife Margaret invested their life savings ($15!) and took out a loan against their car to start up their new venture. Even though they had many children and a son named Carl, the "Jr." in the restaurant's name actually refers to the smaller or "mini" express version of the first, larger location.
Because their burger business was successfully thriving, Carl's Jr. acquired Hardee's in 1997 and merged the Southwestern style menu items in with their own. Hardee's got a fresh new logo and branding, which matches their parent company. More recently, in 2004, the company also added a food truck to the mix (which wasn't as trendy then as it is now) and now travels the country visiting sports stadiums, fundraisers, important events, and street fairs.
Creating a Kinder and More Accessible Carl's Jr.
It's only a matter of time before more vegan options land on the menu. That's the direction all the big fast food chains are heading, and Carl's Jr. knows that they can add a few more items that are vegan-friendly, such as vegan cheese. But meanwhile, we can always write to, call, or contact the managers of any location to make our requests.
How to Order Vegan at Other Chains:
Plus, don't miss our comprehensive Vegan Fast Food Guide to help you navigate the fast food space as a whole!
Have you found any other options to be veganizable? Did you find something amazing that we missed? Let us know by tagging #worldofvegan and sharing your favorite vegan-at-Carls-Jr. creations with all of us!
This article is not sponsored and we are in no way affiliated with Carls Jr. At the time of this article (updated in 2022), the foods mentioned above are vegan. Since restaurants constantly update their menus and add or take away items, please keep this in mind when ordering your food. There may be new items that are vegan at Carl's Jr. and not listed or items listed here as vegan, which are no longer vegan. Take care to double-check.