Sushi cupcakes? Yes, you read that right! These vegan sushi cupcakes from the Bish Bash Bosh! cookbook are a fun spin on traditional sushi. They're sure to be a big hit at your next get together or family dinner.
Bur first, I need to clear out the air here and say that these are not actual cupcakes, so don't go serving them for dessert. Rather, they are deconstructed sushi rolls in the shape of cupcakes. A bit like mini sushi cakes! They're delicious, super easy to make, and so cute!
Excited? Let's get to it!
How To Make Perfect Sticky Sushi Rice?
Sushi rice is what makes sushi so unique! It's sweet and tangy, moist and sticky. That sweetness comes from the rice vinegar and sugar combined and its complemented by the saltiness of the soy sauce. This combo is so yummy! And once you add to it the smokiness of the nori (seaweed) sheets and the nuttiness of black sesame seeds, it's simply heaven!
The cooking process to get perfect sushi rice is simple. The key part is getting the dressing right so that it doesn't end up too sweet or too tangy.
Measure your amount of rice and rinse it thoroughly (but gently), so the rice doesn't break and releases more starch. Rinse it a few times until the water is almost clear.
Put rice in a pot according to the measure that for every 100 grams of rice, you add 120 ml of cold water. Cook it on the stove on medium heat for 9 minutes. Leave the lid on and increase the heat to a maximum for 4 minutes.
Turn the heat off and leave to rest (with the lid on) for 15 minutes.
Let it cool down and dress with the vinegar mix.
Cooking sushi rice is one of those things that after you do it once it'll be easy peasy the next time you give it a go.
Have you tried making homemade sushi before? If you haven't, then we highly recommend it! It's so good, and you can add your favorite fillings and experiment with new ingredients.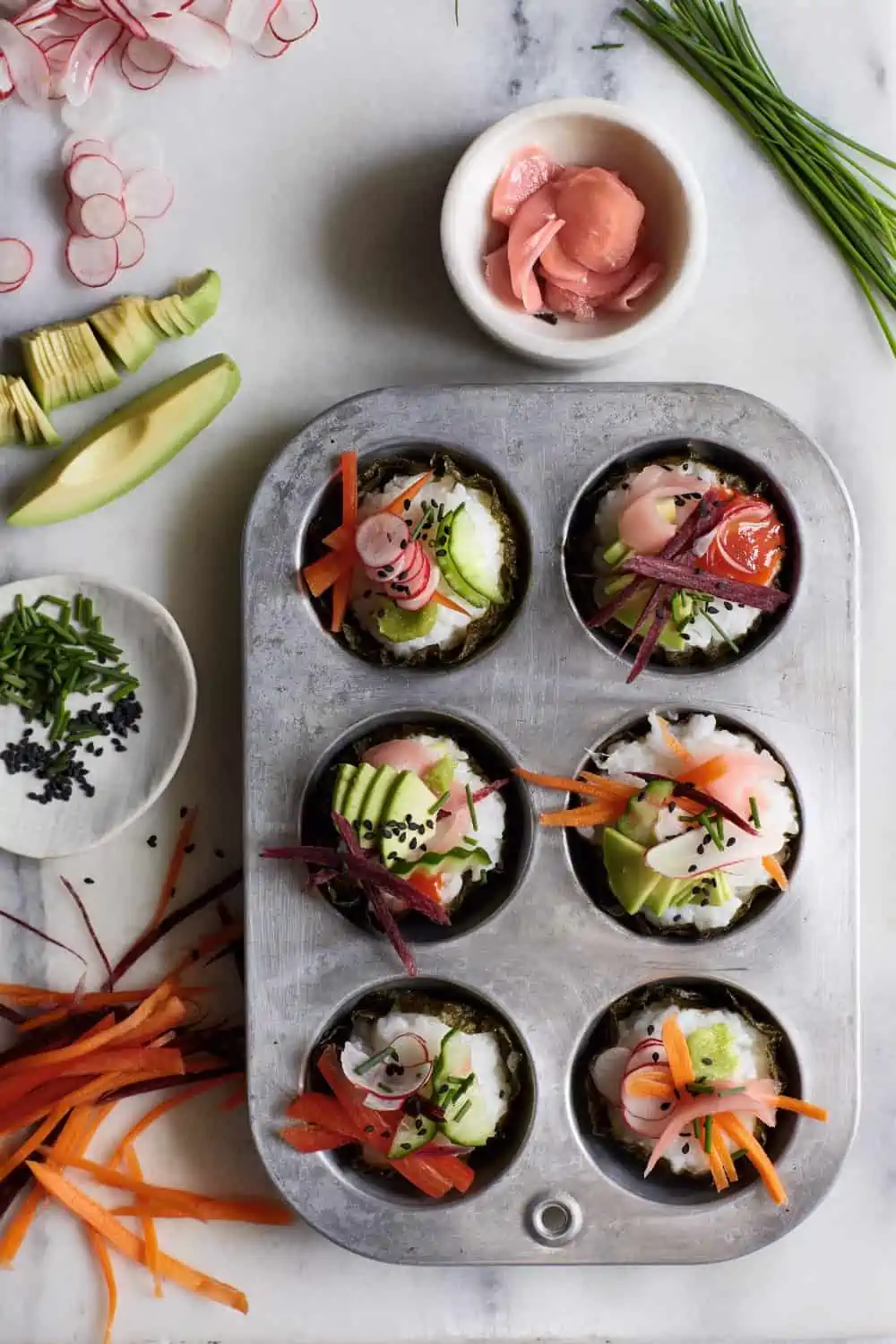 Have A Sushi Cupcakes Party!
We love inviting friends over to make sushi. You can have the rice ready and then fill and roll together while you enjoy each others company. Each friend can bring one or a couple of the ingredients as a fun way to share the cost and work (making it even more fun!).
You can even make some sushi cupcakes and traditional sushi to have more variety. Just make sure one of your friends brings some vegan-friendly sake!
Specialty Ingredient: Hoisin Sauce!
Hoisin sauce is a traditional Chinese sauce used to glaze stir-fries or as a dipping sauce. It's dark and somewhat thick with a salty and sweet taste. It's made of soybeans, fennel seeds, garlic, red chilies and, sometimes with the addition of vinegar, sugar and five spice. Its particular flavor comes from the fermented soybeans paste.
If this sauce sounds or taste like a bit too much for you just go ahead and leave it out! You can use any sauce you like or none at all since the sushi will be tasty enough with all its amazing fresh ingredients. If you can't find it then you could try and make your own with this recipe by Vegan Richa!
Keep Adding Those Veggies!
These cute mini vegan sushi cakes are a great way to add a large variety of vegetables into your day! And it's the best way to play around with vegetables that you wouldn't normally eat.
Radishes, for example! They are great as a snack, but there aren't many recipes to include them in your diet. Same goes for chives. They go great in dips and fresh sauces but there something about the mix of chives and sushi that makes it taste extra special.
One great piece of advice is to prep your veggies ahead of time. Buy them on Sunday and wash and cut them on the same day! Store them in glass containers or eco-friendly silicone bags (like these!).
14 ounces cooked sushi rice
2 tablespoons rice vinegar
2 tablespoons powdered sugar
½ teaspoon salt
12 nori sheets
6 teaspoons hoisin sauce
black sesame seeds, for sprinkling
pickled ginger, to serve
soy sauce, to serve
wasabi, to serve, optional
For the vegetable toppings:
1 red pepper
1 carrot
¼ cucumber
1 small avocado
10 fresh chives
5 radishes
You'll need:
Small saucepan
14 cm saucer
Ruler, optional
12- hole muffin tin
Instructions:
Grease a baking tray with flavorless oil (such as vegetable or sunflower.)

Cook the sushi rice following the instructions on the package, ensuring that it is dry and sticky when cooked.

Put the saucepan on medium heat. Pour in the rice vinegar, sugar and salt and heat until the sugar has dissolved. Let cool to room temperature, then pour over the cooked rice, gently stirring until all the liquid is absorbed.

Spread the rice over the greased baking tray and let cool to room temperature, when it should be dry but sticky.

Stack the nori sheets and lay the saucer on top. Cut around it to make nori circles. Find the center of the nori stack and cut a neat, straight slit from the center to the outer edges. Take one circle and fashion a cone that is roughly 8cm wide at the base. Wet your finger and lightly brush along the slit to stick it in place. Put the cone in one of the muffin holes. Repeat to fill all the muffin holes.

Wet your hands and roll a golf ball-sized ball of rice. Poke a hole in the center and pour in ½ teaspoon hoisin sauce. Pack more rice over the hole to seal in the sauce. Smooth the outside and place in one of the nori muffin cases. Repeat to fill all the cases.

Get all your toppings ready. Cut the pepper in half, cut out the stems and seeds and thinly slice. Peel the carrot and cut into matchsticks, thin rounds or ribbons. Cut the cucumber in the same way. Halve and carefully stone the avocado by tapping the stone firmly with the heel of a knife so that it lodges in the stone, then twist and remove, then finely slice. Chop the chives. Trim and thinly slice the radishes.

Make a quick dipping sauce by stirring sriracha into the vegan mayonnaise to taste | Finely chop the pickled ginger. 

Decorate your sushi cupcakes with the prepared vegetables and sprinkle them with black sesame seeds | Serve with soy sauce, wasabi, if using, pickled ginger and the dipping sauce on the side.
Calories: 71kcal | Carbohydrates: 12g | Protein: 1g | Fat: 3g | Saturated Fat: 0.4g | Polyunsaturated Fat: 0.4g | Monounsaturated Fat: 2g | Sodium: 138mg | Potassium: 148mg | Fiber: 2g | Sugar: 1g | Vitamin A: 1355IU | Vitamin C: 17mg | Calcium: 10mg | Iron: 0.3mg
The BOSH Cookbook Authors
If you haven't heard about Bosh TV, then you have been missing out! Henry Firth and Ian Theasby have taken social media by storm through their easy to follow vegan recipe videos. Their Instagram account has countless delicious vegan recipes to inspire all of those plant curious people who are still a bit skeptical about how appealing vegan cuisine is. Are you ready to drool and scroll at the same time?
Their second book—Bish Bash Bosh—is as good as their first one! With recipes like "Aubergine Katsu," "Cheeseburger dough balls," and "Chocolate Mousse cake," these two brit cooks give many different takes on classic dishes with a twist.
This cookbook would be an excellent present for a new vegan or someone interested in transitioning! I've given a few of them away to friends and family already, but I obviously kept one beloved copy for myself! Grab yours here!
More Vegan Asian-Inspired Recipes
This recipe for easy vegan sushi cupcakes was excerpted with permission from the BISH BASH BOSH! cookbook by Henry Firth and Ian Theasby (HQ, HarperCollins). Photographs by Lizzie Mayson. Please note that this article contains affiliate links that help support our work at World of Vegan!