This edible peanut butter cookie dough needs to become a staple in your life!
There is no food experience that more easily transports me back to childhood than eating raw cookie dough. Suddenly, I'm three years old again, standing on a chair to see over the tiled kitchen counter while my mom prepares cookies. Stretching to reach the very edge of the beater, I surreptitiously swipe tiny morsels of soft batter, one after another, letting the flavors explode across my palate and slowly dissipate before going in for another bit.
Each stolen taste was just enough to flood my senses with the slightly grainy texture of undissolved sugar and flour, subtly balanced salted edge, and deeply satisfying richness. Stealthy, I was not, but my mom charitably humored my advances, pretending to be engaged with very complicated oven calibration every now and then while I made my moves. 
If you're looking for a fantastic multi-purpose vegan dessert, this is your recipe.
Edible Cookie Dough Perfection!
Now, you don't need to sneak bites away from a watchful parent, but create a treat specifically meant to be enjoyed as is! This edible peanut butter cookie dough is the stuff of nostalgic dreams, full of flavor that both kids and kids at heart will love.
You can eat it as-is, straight from the bowl, bake it into these Peanut Butter Chocolate Chip Cookies, or take it to the next level to make Peanut Butter Bon Bons coated in a rich layer of dark chocolate like a fancy gourmet truffle. For sudden sweet tooth cravings, this kind of instant gratification can't be beat.
This is a recipe from my very first e-book that I wrote with Toni Okamoto—a pre-curser to The Friendly Vegan Cookbook—and it still has a place in our hearts and homes.
Cookie Dough 3-Ways—Dough, Cookies, & BonBons Galore!
So…what are these three ways you can use this cookie dough? Read on…
Straight-Up Edible Cookie Dough 
Mix it into ice cream, or grab a spoonful!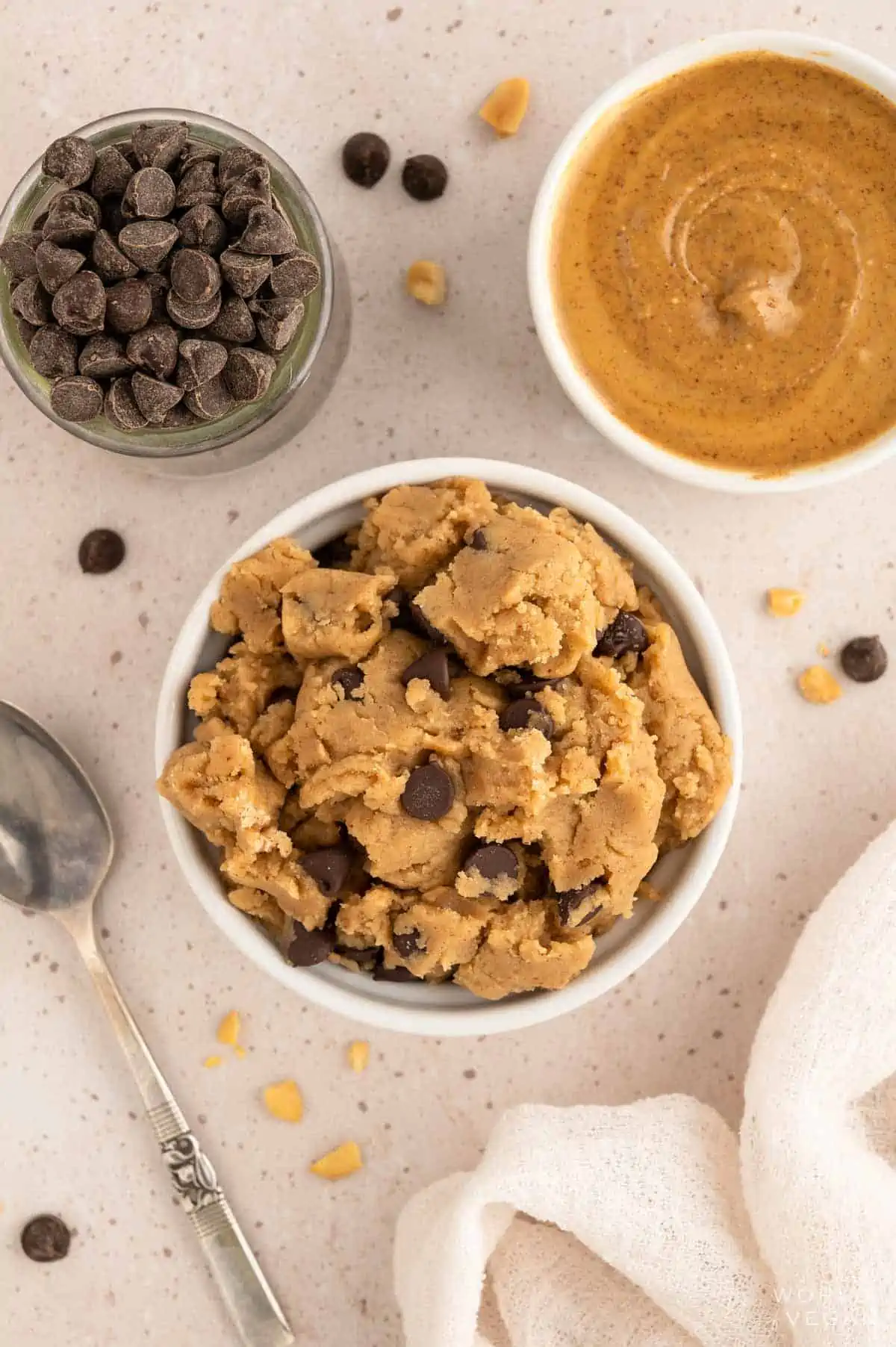 Fresh-Baked Peanut Butter Cookies
Add some chocolate chips and bake for 10 minutes and you've got these perfect vegan peanut butter chocolate chip cookies! And your house will smell like Christmas.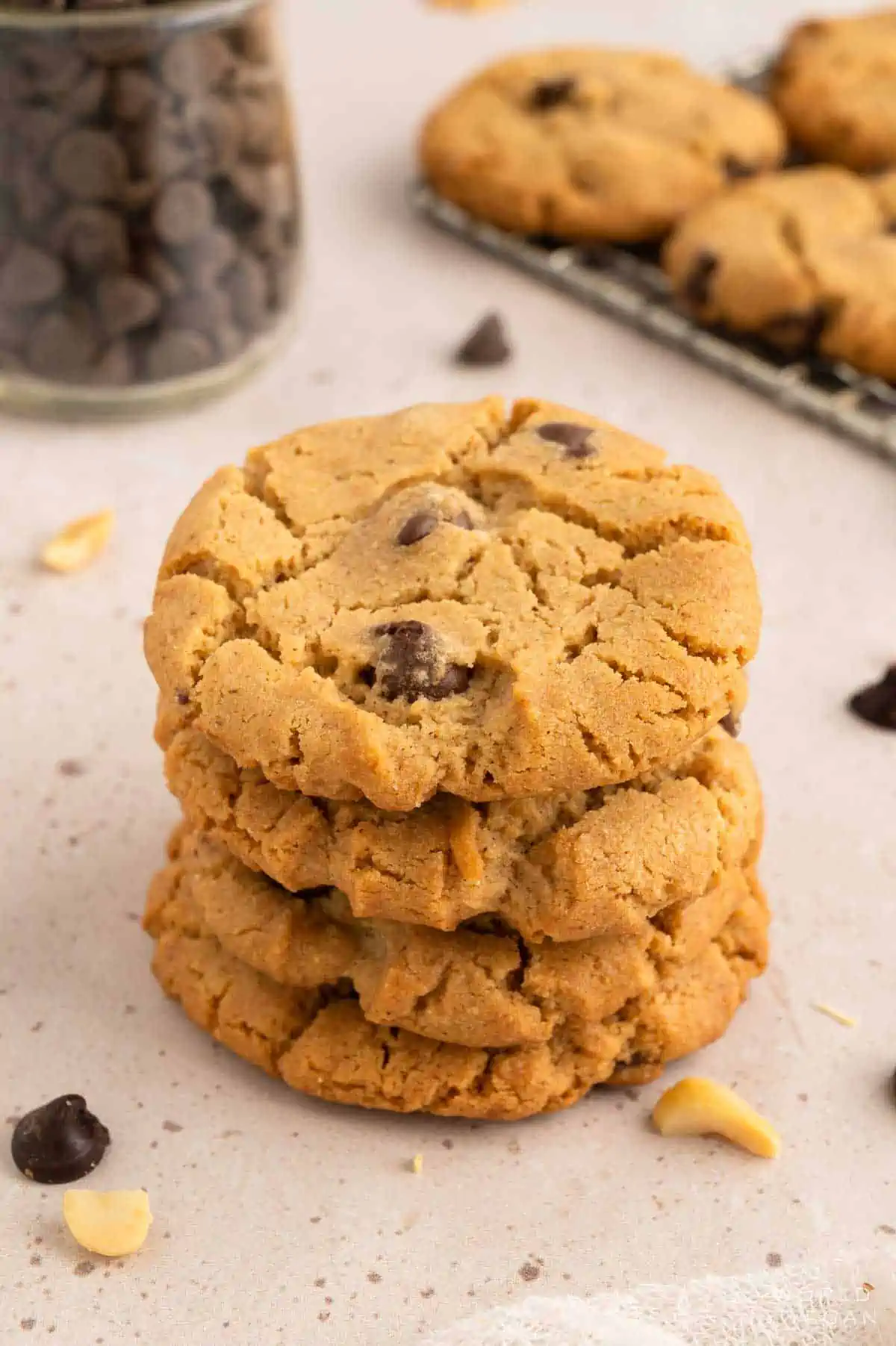 Chocolate-Covered Cookie Dough BonBons (perfect for parties) 
Roll up the dough into balls, dip them in melted dairy-free chocolate, and pop them in the fridge or freezer to cool. These bonbons will be a hit at any holiday party or gathering!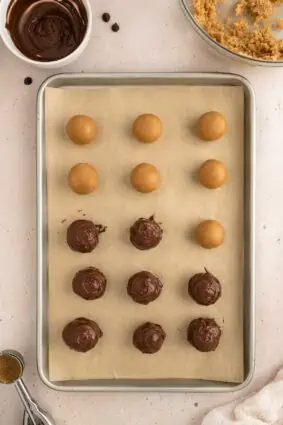 Why Is This Edible Peanut Butter Cookie Dough So Awesome?
The attraction to cookie dough needs no explanation, but there's many more reason why this will be your new go-to recipe for all occasions.
Eggless – That's right, there's no raw egg involved, which is a constant food safety concern. That makes it 100% vegan and of course, vegetarian, too.
Accessible, Affordable Ingredients – Check your pantry; you probably already have everything you need to whip up a batch right now. No need for fancy specialty goods to create an unforgettable treat.
Perfect for Potlucks – Easily churn out dozens of sweet little bites for a crowd! You could even double the recipe if you wanted to throw a huge shindig.
Always in Season – Peanut butter simply never goes out of style, and I can't think of a better complementary flavor than chocolate. This combo is a guaranteed crowd-pleaser.
Key Edible Cookie Dough Ingredients
Before you run out to the grocery store, check your pantry for these essential staples! There's a good chance you're already fully equipped to get into the kitchen and start mixing.
Look for solid stick-based options here, not anything spreadable from a tub. The consistency is different and won't give your batter the same texture, baked or not.
Sugar
Both brown sugar and plain granulated sugar are used for just a touch of warm, molasses-like flavor and that satisfying yet subtle granular bite. You can choose a vegan-certified sugar if you'd like, but I consider all sugar vegan. If you're unsure where you fall on the sugar spectrum, check out our "Is Sugar Vegan?" article for some perspective. 
Applesauce
Look ma, no eggs! Applesauce is the not-so-secret ingredient that acts as a binder, negating the need for the conventional addition of eggs. Be sure to opt for an unsweetened, unflavored variety to act as a neutral base. Applesauce is an excellent egg replacer that you can use in baking recipes. Why cook without eggs? Take a peek at our "What's Wrong With Eggs?" article. 
Peanut Butter
Our star ingredient, smooth, creamy peanut butter lends richness, flavor, and substance to this mix. If you wanted a crunchier bite, feel free to switch it up with a chunky spread. And if you're new to vegan living and wondering, "Is peanut butter vegan?" They answer is almost always yes.
Flour
Regular old all-purpose flour is the gold standard for all baking recipes. Even when it's not going into the oven, the reliable staple won't let you down. Be sure to read the notes below about how to make raw all-purpose flour edible.
Want to use a gluten-free flour? It should work—if you give it a try please do let us know (and share what type you used) in the comments below!
Vegan Chocolate Chips
Dark chocolate, semi-sweet, or bittersweet chocolate are your best bets, to better contrast with the sweet dough. 2 cups of chocolate chips weight 12 ounces, which is generally the size of 1 standard bag.
How to Make Raw Flour Safe to Eat
Unfortunately, simply removing the eggs from the equation doesn't necessarily make raw cookie dough safe to eat. The most common source of salmonella in the situation is actually the flour. Luckily, there's a quick and easy solution to ensure that you can indulge without fear. Raw flour needs to be heated at least 165 degrees Fahrenheit (74 degrees Celsius) to kill any potential pathogens. You can do this in a variety of ways:
Microwave Instructions: Place the flour in a large microwave-safe bowl and heat at full power for 1 1⁄2 minutes. Pause at 30 second intervals to stir thoroughly.
Oven Instructions: Preheat your oven at 300 degrees Fahrenheit (150 degrees Celsius). Spread the flour out evenly on a baking sheet lined with parchment paper or a reusable silicone baking mat. Bake for 5 minutes, stirring thoroughly halfway through.
Stovetop Instructions: Set a large skillet over medium heat and add the flour, stirring constantly for 5 minutes.
No matter what approach you take, make sure the flour is completely cool before proceeding with the recipe.
How to Spice Up This Peanut Butter Cookie Dough
When you want a flavorful change of pace, there are plenty of tasty additions to consider. Chose one or two of these extras to add along with the dry ingredients:
¼ cup cocoa powder
¼ cup finely ground pretzels
¼ cup graham cracker crumbs
1 teaspoon instant coffee powder
½ – 1 teaspoon ground cinnamon
½ teaspoon ground ginger
Or mix any of the following directly into the cookie dough batter:
Or…Bake It Into Cookies!
If you'll be making cookies, head directly to the cookie recipe for the baking directions. Enjoy!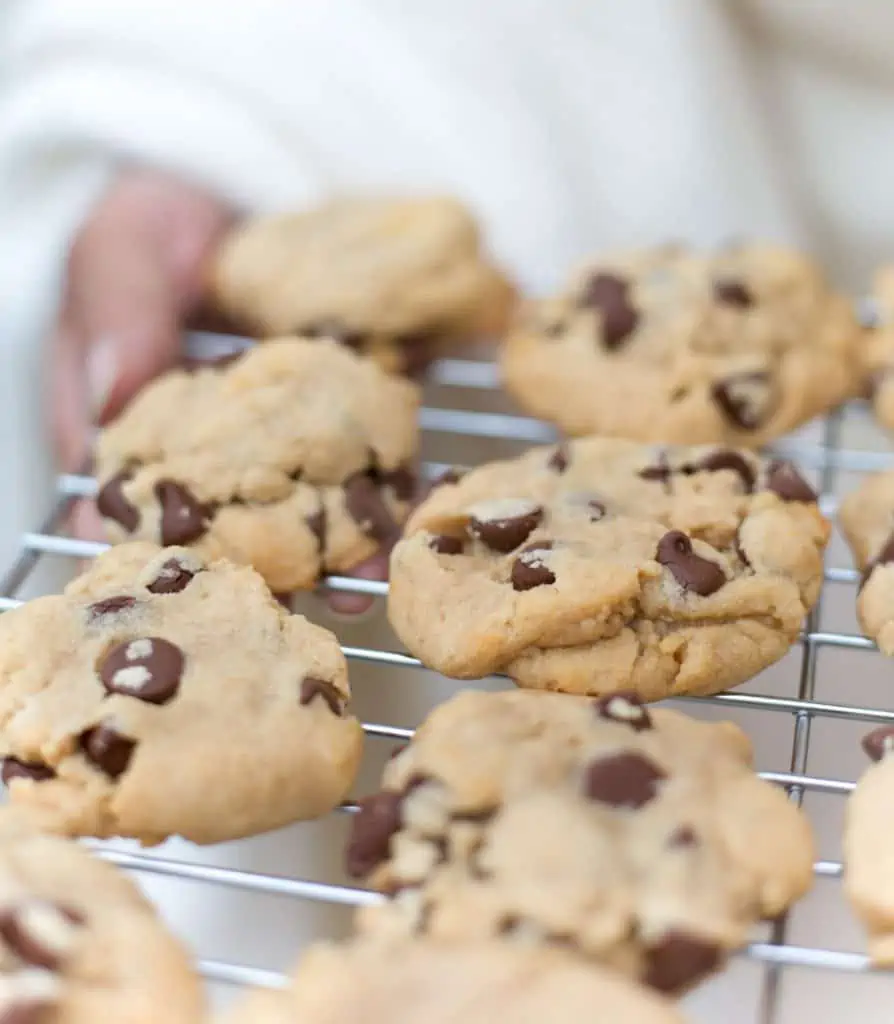 1 cup plant-based butter, at room temperature
1 cup granulated sugar
1 cup packed brown sugar, light if you have it otherwise dark will work
¼ cup applesauce, plain
¾ cup peanut butter
2 teaspoons vanilla extract
½ teaspoon salt
1 teaspoon baking soda
2 teaspoons hot water
3 cups all-purpose flour
2 cups vegan chocolate chips
In a large bowl, cream together the butter, granulated sugar, and brown sugar until smooth.

Beat in the applesauce, peanut butter, vanilla, and salt.

Dissolve the baking soda in hot water and then add it to the batter.

Stir in the flour and mix until a dough forms.
To Make Cookie Dough BonBons:
Shape cookie dough into 1-inch balls and place on a parchment paper-lined baking sheet. Place in freezer.

Melt the chocolate using a double boiler or microwave. Remove peanut butter cookie dough balls from freezer and using two forks, dip each into the chocolate and spin to coat. Work fast because the chocolate hardens.

Place on a sheet and freeze until the chocolate hardens completely and they are ready to serve.
To Make Cookies:
Preheat oven to 350 degrees.

Scoop dough in large spoonfuls onto a greased cookie sheet.

Bake for 10 minutes or until edges are lightly browned.
Calories: 476kcal | Carbohydrates: 61g | Protein: 7g | Fat: 25g | Saturated Fat: 8g | Polyunsaturated Fat: 5g | Monounsaturated Fat: 9g | Sodium: 331mg | Potassium: 121mg | Fiber: 3g | Sugar: 38g | Vitamin A: 509IU | Vitamin C: 0.1mg | Calcium: 55mg | Iron: 3mg
Frequently Asked Questions
Can I make this cookie dough gluten-free? Absolutely! Just use your favorite gluten-free flour blend that measures 1 for 1 like traditional all-purpose flour. Please note that these have not be tested so the results may vary. If you give a gluten-free version a try, let us know what you think in the comments below!
Can I make this peanut butter cookie dough nut-free? Whether you have allergies or just don't love peanut butter, you can easily swap it out for sunflower butter, soynut butter, or even tahini (sesame butter.)
How long will the cookie dough keep? Stored in an airtight container in a cool place, these treats should last for 1 – 2 weeks… If you can stay away from them that long.
Can I bake the dough to make regular cookies? Heck yeah! That's the point. If you're not into such a half-baked idea, you're in luck! The very same dough can be used to make soft and chewy Peanut Butter Chocolate Chip Cookies, too.
More No-Bake Vegan Sweets and Candies You'll Love
More Vegan Cookie Recipes
This vegan edible peanut butter cookie dough recipe comes from an early e-book version of The Friendly Vegan Cookbook. Photos by Michelle Cehn. Article written with support from Hannah Kaminsky and edited by Amanda Meth.