With the explosion of vegan cookbooks and vegan blogs sprouting up over the past decade, it's never been easier to follow a plant-based diet. Whether you want simple, no-nonsense recipes or sumptuous desserts and meals that you can just toss in your Instant Pot, there's a vegan cookbook for everyone and everything. But what's the best vegan cookbook out there?
As a new vegan, it's easy to become overwhelmed by the sheer number of cookbook options available. With well over a decade of vegan cookbook exploration under our belts, we figured that now would be a good time to share our favorite new and old vegan cookbooks for those of you who want to move in a plant-based direction—or diversify your vegan recipe repertoire.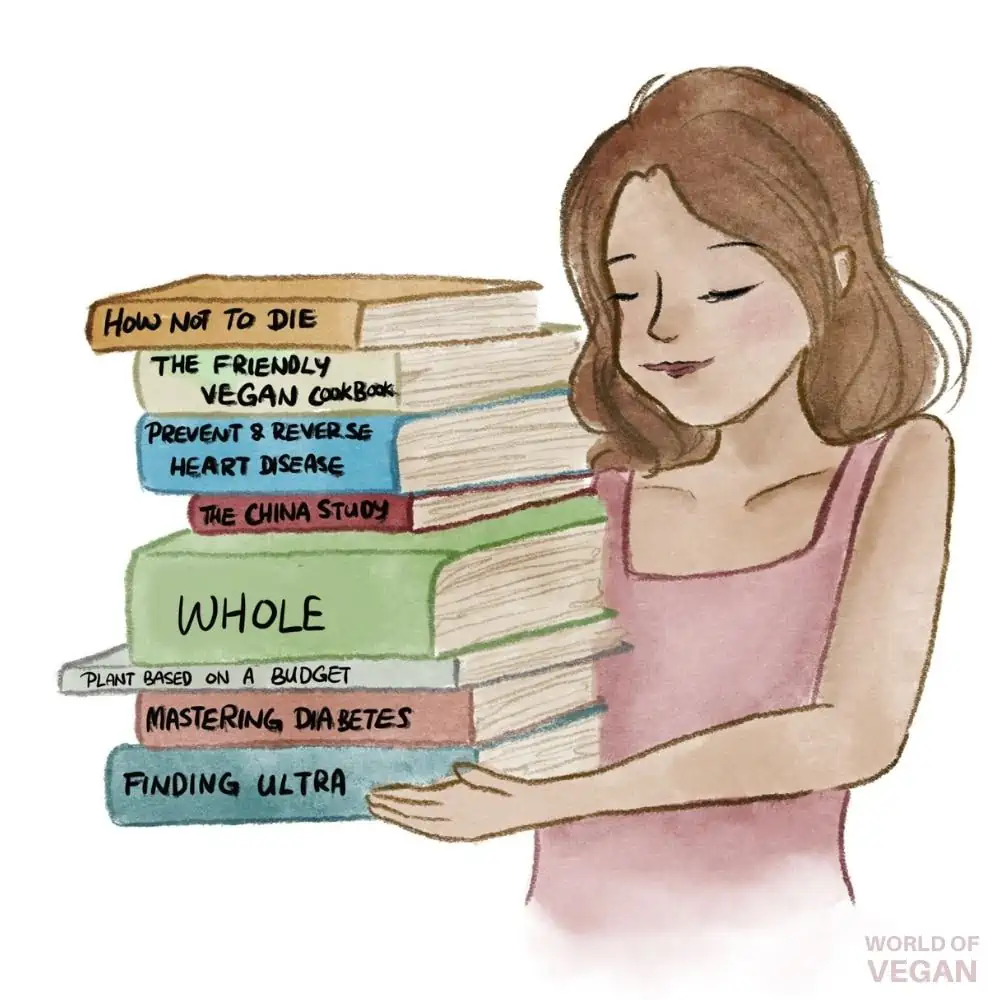 Enjoy our round-up of the Top 10 Vegan Cookbooks that every herbivore needs!
Why We Love It: Vegan cookbooks tend to suffer from one major flaw: They aren't accessible to a broad audience, especially new vegans.
They either don't have many food photographs but hundreds of recipes, or require kitchen tools only a chef would have, or use ingredients that are hard to find anywhere but a specialty store. And that's exactly why World of Vegan founder Michelle Cehn and Plant-Based on a Budget founder Toni Okamoto embarked on a mission to create the ultimate vegan cookbook.
The Friendly Vegan Cookbook is for vegans who want a more intimate collection of straightforward, familiar recipes that you can make with everyday cooking tools. And most importantly, each recipe is good enough to share with even your most skeptical meat-loving friends and family.
The Friendly Vegan Cookbook contains vibrant food photography with every single recipe to get your mouth watering, plus tons of tips for cooking as a vegan, and BFFs Michelle and Toni infusing friendliness into every page eager to be your pals in the kitchen.
Why You Need It:
Want foolproof recipes good enough to share
Want a single cookbook that covers all your main bases—breakfast, lunch, dinner, and key holiday recipes.
Want affordable recipes for virtually all skill levels
Our Favorite Recipe: We've gotta give it up for the Fettuccini Alfredo. We've made it dozens of time for dinner and for gatherings, and everyone who tries this dish loves it.
Why We Love It: Chloe's Kitchen is one of our favorite cookbooks of all time.
Between the gorgeous full-color food photography, you'll find simple but delicious recipes for virtually any food category available, from fancier fare for parties and special events to weekday dinners and potlucks. Every recipe in the book was tested and re-tested until Chloe perfected each and every one, and that effort shows through. Her recipes are practically fool-proof, and every single one we made (and we worked our way through much of the cookbook) was phenomenal.
With over 125 recipes, there's something for every vegan (and the non-vegans in their lives!) to savor and enjoy.
Why You Need It:
Want vegan recipes using everyday ingredients
Want vegan recipes that are simple and easy to make
Want vegan recipes for different palates and regional cuisines
Want recipes that even non-vegans would drool over
Our Favorite Recipe: The spinach artichoke dip is to die for—and it's actually healthy so you can dive in guilt-free!
Why We Love It: Colleen Patrick-Goudreau, author of The Joy of Vegan Baking, taught us that it's entirely possible to indulge our baking habit while still whipping up vegan, ethical, and cruelty-free treats.
With 150 cakes, puddings, pastries, cookies, and other baked goods to choose from, The Joy of Vegan Baking is the perfect go-to resource for baked treats for virtually any and all occasions—or even when you just want to satisfy your sweet tooth. This is one of the first, and most widely loved, vegan baking books that came out more than a decade ago. This is the 10-year anniversary edition.
Why You Need It:
Don't want to give up your baking habit when you go vegan
Want vegan desserts that taste like their non-vegan originals
Should be a staple in every vegan kitchen
Our Favorite Recipe: Her staple vegan chocolate chip cookies
Why We Love It: Toni Okamoto's Plant-Based on a Budget cookbook is by far the best book for budgeting on a plant-based lifestyle. This cookbook is chock full of the most versatile vegan recipes and are shared in a simple and straightforward way.
Toni knows what you need to go plant based without spending a fortune and she shares all of her hard-earned knowledge with you. Her recipes are not only visually appealing in every way, but they're so super-delicious that you won't believe how inexpensive and simple they really are. If you're ready to go one step further into your vegan journey, this is a MUST have for your collection. It will become your most reliable resource and trusted cooking companion.
Why You Need It:
The tone of the book is so friendly and familiar—it's like reading a letter from a friend who's encouraging you in your cooking with a frank and loving manner.
The layout is fantastic with beautiful photos, smiling faces, bright open pages and easy to read text with all of the steps and ingredients listed in order.
Toni's Tips and Tester's Tips—these sections are a favorite because both the author and the recipe testers added great ideas and insights on how to tweak the recipe to make it your own. She even adds a section for your own tips! So perfect.
Just the introduction itself is worth the price of this book! The sections on "How to Save Money" and "How to Save Time" on a plant based diet are phenomenal! And the "Back to Basics" section at the back of the book is invaluable for simple, everyday pantry staples.
Our Favorite Recipe: It's a serious tie between the Sweet Potato Tacos and the Peanut Butter Ramen Stir Fry. We could literally eat both of these every day and never get sick of them!
Why We Love It: Minimalist Baker's Everyday Cooking is a boon for vegans who are pressed for time or simply want uncomplicated but wholesome recipes.
Each of Minimalist Baker's recipes must meet one of three criteria:
Contain 10 ingredients or less
Be made in 30 minutes or less
Use only one pot or bowl
With 101 recipes, you'll have ample time to experiment in the kitchen—and even more time to savor your creations!
Why You Need It:
Want recipes that are great for people who love to eat but don't have much time to spend in the kitchen
Want recipes that you can make with 10 ingredients or less
Want recipes that you can make in 30 minutes or less
Want recipes that use only one pot or bowl
Our Favorite Recipe: Pizza burgers (and you can sample this recipe that's featured on the cover right here).
Why We Love It: We don't reach for Hot for Food when we want something overtly healthy.
We reach for Hot for Food when we're feeling nostalgic, want to cuddle up with our favorite comfort foods, or simply want to indulge our cravings. Fortunately for us, YouTube sensation Lauren Toyota has put together an awesome collection of sinfully delicious meals that also happen to be vegan.
From crispy crabless crabcakes to green pea pesto linguine, Hot for Food is the perfect go-to when you're looking for a vegan version of your favorite non-vegan meals—or to discover new ones.
Why You Need It:
Don't want to give up your favorite comfort foods as you go vegan
Want a variety of meals to choose from as you transition to a vegan diet
Want recipes that are indulgent but easy to make
Our Favorite Recipe: Philly cheese steak sandwich
Why We Love It: The Oh She Glows Cookbook by Angela Liddon is the perfect cookbook to transition your family to a whole food plant-based lifestyle. The recipes are off-the-charts fantastic and guaranteed to tempt your tastebuds.
This classic cookbook has a super cozy style and offers recipes that are not only beautiful, but delicious and truly satisfying. Oh She Glows is a book you want to cook from but also to savor, even outside of the kitchen. I love reading the darling descriptions before each recipe—so interesting and engaging!
Why You Need It:
Completely covers all categories of the foods we love—including breakfast, smoothies, appetizers, salads, soups, entrees, sides, snacks and desserts.
Detailed explanations and super helpful suggestions for creating a natural foods pantry and kitchen set up that will make your transition to being plant based much smoother.
Gorgeous, full color photographs with a close up view of each completed recipe.
Specifically lists which recipes are gluten-free, raw, oil-free, sugar-free or soy-free.
Our Favorite Recipe: The Soul-Soothing African Peanut Stew is a recipe you'll want to make again and again. We've made it for family and friends (who aren't vegan) and they always ask for this recipe afterwards. It's an incredibly comforting and creamy stew that just melts in your mouth. The combination of the soft sweet potato, rich peanut sauce and slightly chewy chickpeas will have you begging for seconds (or thirds!).
Why We Love it: Whoever said that to be a vegan you have to subsist on hummus and nooch? If you're like most other vegans out there, you want simple comfort foods that are bursting with flavor and nutrition—and that's where Fuss-Free Vegan comes in.
Fuss-Free Vegan offers creative but palate-pleasing recipes that are, above all else, accessible to a wide audience and "fuss-free." If you're a new vegan or someone who's unsure of how to ramp up your vegan eating, Fuss-Free Vegan includes tons of creative tips and detailed directions to make your vegan dining a success.
Why You Need It:
It's a fun read with tons of food and lifestyle photos
Want recipes that are simple without too many ingredients
Want recipes with ingredients you can find in an average supermarket
Our Favorite Recipe: Puff pastry-wrapped lentil loaf
Why We Love It: The Superfun Times Vegan Holiday Cookbook by popular vegan chef Isa Chandra Moskowitz delivers the most delicious recipes in the most delightful way! What could be better than a huge collection of holiday inspired recipes? As always, the amazing Isa lets her celebratory spirit shine through every rapturous recipe and playful photo.
While the cover of this book catches your attention with its super-fun style, the glossy photos of fantastic vegan food and tips on how to create the most enviable entertainment ever make it a practical addition to any kitchen. Who can resist such an appealing adventure?
Why You Need It:
How many times can we say FUN? But, seriously, this book is filled with everything that vegan food-lovers could wish for in terms of variety for your plant based parties. The full color photos alone will inspire you to initiate a festive function for all of your family and friends!
Beginning on New Year's Day and finishing at Hanukkah and Christmas, this comprehensive collection doesn't miss any of the major holidays. She even includes the Superbowl, Chinese New Year and Mardi Gras! You'll have a mouthwatering menu for any party plan.
Her section, "Hosting Tips for the Hopeless", is hilarious, as well as helpful. If you've always dreamed of hosting a holiday party, but just don't have the heart to try, no fear! Isa will walk you through every step of the way, including meal planning, timing and even setting the table!
Isa's tips sections share additional substitutions or additions you can make to her recipes to make them sparkle and shine. We also find her introductory "flavor" paragraphs to be amusing and highly enjoyable!
Our Favorite Recipe: The Buffalo Chickpea Pitas are a definite favorite, though the Smokin' Hot Dates are a close second.
Why We Love It: We love (vegan) cheese, and Artisan Vegan Cheese gives us ample inspiration and guidelines for making our own vegan cheeses.
Designed by the founder of Miyoko's, Artisan Vegan Cheese offers recipes for cheeses ranging from simple cooking cheeses like ricotta and mozzarella to more elegant cheese-board quality cheeses like brie and chevre. While the book's main focus is on making the cheeses themselves, this cookbook also includes several recipes towards the end where you can make your cheese creations shine.
Why You Need It:
You don't want to eliminate cheese from your diet
You want to know how to make a variety of simple and gourmet-quality vegan cheeses
You enjoy getting creative in the kitchen, especially around the holidays
Our Favorite Recipe: Vegan smoked provolone
While we had to exclude a lot of awesome vegan cookbooks from this list, we hope that these top 10 vegan cookbooks have inspired you to get cooking! Also, check out our list of favorite Plant-Based Diet Books! What are your favorites? We'd love to hear over on Instagram or Twitter!
Many thanks to the multiple contributors to this article, including Gina House, Taylor Barbieri, and Michelle Cehn. This article contains affiliate links, and shopping through these links supports World of Vegan. This article is not sponsored, and we only share products and companies we sincerely adore!