Move over, Starbucks! You can be your own barista with some basic ingredients. I'm excited to bring you this delicious vegan peppermint mocha recipe that will teach you how.
This recipe is for those days when it's chilly outside and all you want to do is hide out and cozy up with a warm beverage. It's beyond easy to make your own delicious café-style beverages without needing to go out and brave the cold.
Unfortunately, many coffee shops and cafés can't make their holiday drinks vegan because the syrups and ingredients they use usually contain dairy products. With this recipe, you can have the confidence that your drink is fully vegan and you know exactly what is going into it.
This drink is creamy, sweet, chocolaty, and refreshingly minty with just a hint of coffee flavor. Let's dive right in!
For this vegan peppermint mocha, all you need to do is blend or whisk all of the ingredients together until smooth, and then heat it up and enjoy. I like to use a blender because it makes it nice and frothy, but you can absolutely just use a whisk if you don't have a blender.
This recipe has just a few simple ingredients including non-dairy milk, coffee, cocoa powder, maple syrup (or your preferred sweetener), and peppermint oil (aka peppermint extract or peppermint flavor). That's it!
You can use either raw cacao or cocoa powder for baking as either will work perfectly. I used unsweetened almond milk for mine, but you can use any unsweetened non-dairy beverage that you like. You can even go one step further and use rich coconut milk to get an extra creamy result.
If you avoid coffee, or you want to serve this recipe to kids, you can absolutely leave out the coffee and just adjust the sweetness to your taste. Also, if you do love coffee, feel free to add as much as you like, to taste! I added a moderate amount, but you can totally add more.
And as a side note, after I made this recipe I wanted to experiment, so I added a shot of vegan Bailey's Almande, which is a delicious and light tasting spirit made with almond milk and vanilla. It was so good! Obviously this is completely optional but it's a wonderful tip and recipe idea, especially during the holiday season. 
The Magic Ingredient: Peppermint Oil!
For this vegan peppermint mocha, make sure to use only pure peppermint oil that is meant for culinary purposes. Do not use peppermint essential oil! They are two completely different substances and most essential oils are not meant for internal consumption.
Peppermint oil or peppermint extract for cooking is the same idea as vanilla extract for cooking. Don't worry, this isn't a strange ingredient and you can easily find this in the baking aisle of your grocery store and even at your local health food store.
It's very concentrated and you only need to use very small amounts, so go easy on it when using it in recipes. It will last you a long time and you can use it for other recipes too. I love to use it in foods such as smoothies, peppermint cookies, peppermint patties, and so much more.
Make It Festive With Vegan Whipped Cream!
If you want to be fancy and make this treat extra special, I highly recommend adding a dollop of whipped cream on top, and even some shaved chocolate like I did, or crushed candy cane pieces. It makes it extra rich and delicious!
For a homemade whipped cream, you can try out our recipe for delicious from-scratch coconut whipped cream which only has 3 ingredients. I love coconut whipped cream because it tastes just like the real thing and it's so easy to make. If you want to get really fancy, you can make aquafaba whip out of chickpea brine from a can of garbanzo beans!
If you don't want to make your own though, not a problem. You can totally use a store bought heavy cream or vegan whipped cream.
I absolutely love the So Delicious Coco Whip which you can actually freeze which is awesome for those (like me) who can't eat a whole tub of whipped cream before it goes bad. You can just thaw it again a few hours before serving it, so it'll last you a very long time! Other great vegan brands to try include Reddi-wip coconut or almond whipped creams, Trader Joe's Coconut Whipped Topping, Soyatoo SoyWhip, and Truwhip vegan whipped cream. There are many more as well, so check your local health food shops!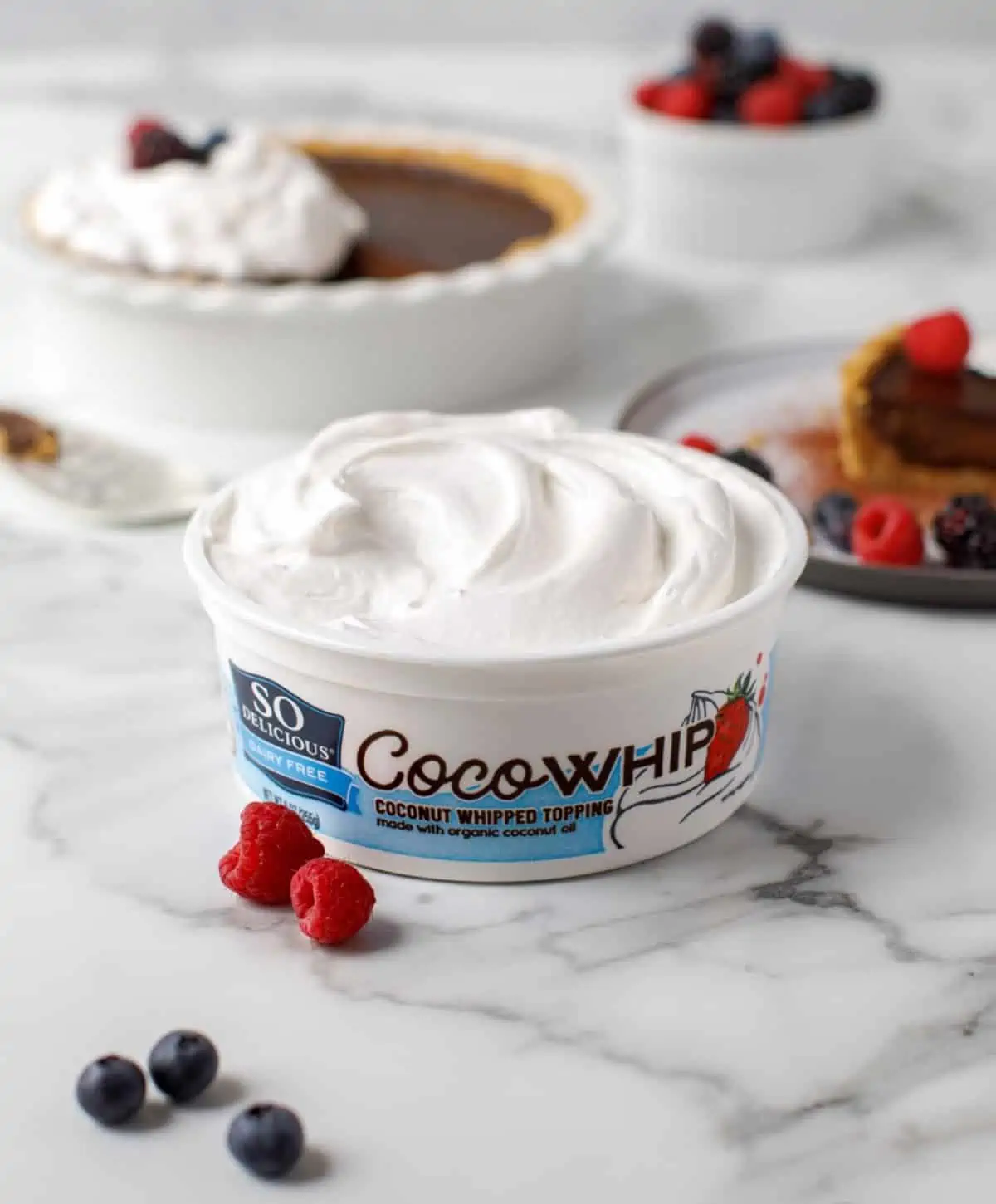 Let's Talk Vegan Chocolate!
Curious to know why chocolate is so satisfying to us?
Cocoa may be far more nutritious than most people think. Chocolate sometimes gets a bad reputation, but real cocoa contains nutrients like magnesium, iron, potassium, calcium, and more. It also increases serotonin levels (one of your happy hormones) in the body, which is why chocolate just makes you feel so darn good!
3.5 ounces (100g) of cocoa contains around 77% of your daily iron requirement and a whopping 125% of your magnesium! Magnesium is excellent for promoting relaxation and calm. It also has a surprisingly high amount of protein. For the healthiest version, I suggest using pure cocoa or even better, raw cacao.
I like to buy organic and fair trade cocoa powder whenever possible, and I always make sure that the only ingredient in my cocoa powder is cocoa! Because who needs added sugar and artificial ingredients these days? The more natural the cocoa, the better the flavor and the healthier the product.
This recipe serves one, but it's easy to double it or multiply to serve several people. If you're having a holiday party you could keep this recipe in a crock pot to keep it warm and serve it for your loved ones! They will LOVE you for it. Sometimes it's hard to wake up on a cold, dark winter morning, but a recipe like this just makes it so much easier. Have a hard time getting your kids out of bed and ready for school? This just might do the trick!
More Wonderful Winter Chocolate Recipes:
1 cup non-dairy milk, unsweetened
¼-⅓ cup brewed coffee, to taste
1 tablespoon + 2 teaspoons maple syrup
1 tablespoon + 1 teaspoon cocoa powder
just less than ¼ teaspoon peppermint oil
vegan whipped cream, for topping, optional
Blend all of the ingredients (except for the whipped cream) in a blender for a few seconds until smooth. If you don't have a blender, you can just whisk the ingredients well.

Pour the peppermint mocha into a small sauce pot and heat until warm, being careful not to over-boil.

Pour into a mug and serve with a dollop of vegan whipped cream if desired.
Serving: 1g | Calories: 101kcal | Carbohydrates: 17g | Protein: 2g | Fat: 4g | Saturated Fat: 0.4g | Polyunsaturated Fat: 2g | Monounsaturated Fat: 2g | Sodium: 329mg | Potassium: 150mg | Fiber: 3g | Sugar: 12g | Calcium: 329mg | Iron: 1mg
Vegan Peppermint Mocha recipe and photos by Kathy Chrzaszcz for WorldofVegan.com. All content copyright of World of Vegan™, all rights reserved.