Have you ever been invited to a dinner party or pot luck and waited until the very last minute to prepare a dish to bring? This recipe for vegan no-bake cookies is dedicated to you—my fellow procrastinators, workaholics, busy moms, and bachelors who just can't be bothered to cook.
You can whip up this vegan cookie recipe in 5 minutes flat—no baking necessary—and they are deeelicious. Unless you stumble into a party of chocolate-haters, these will be a hit!
These magical cow-patty cookies may not look like much but the flavor is guaranteed to blow you away! I sincerely hope you love these cookies as much as I do, and that they revolutionize your party-prepping experience for decades to come!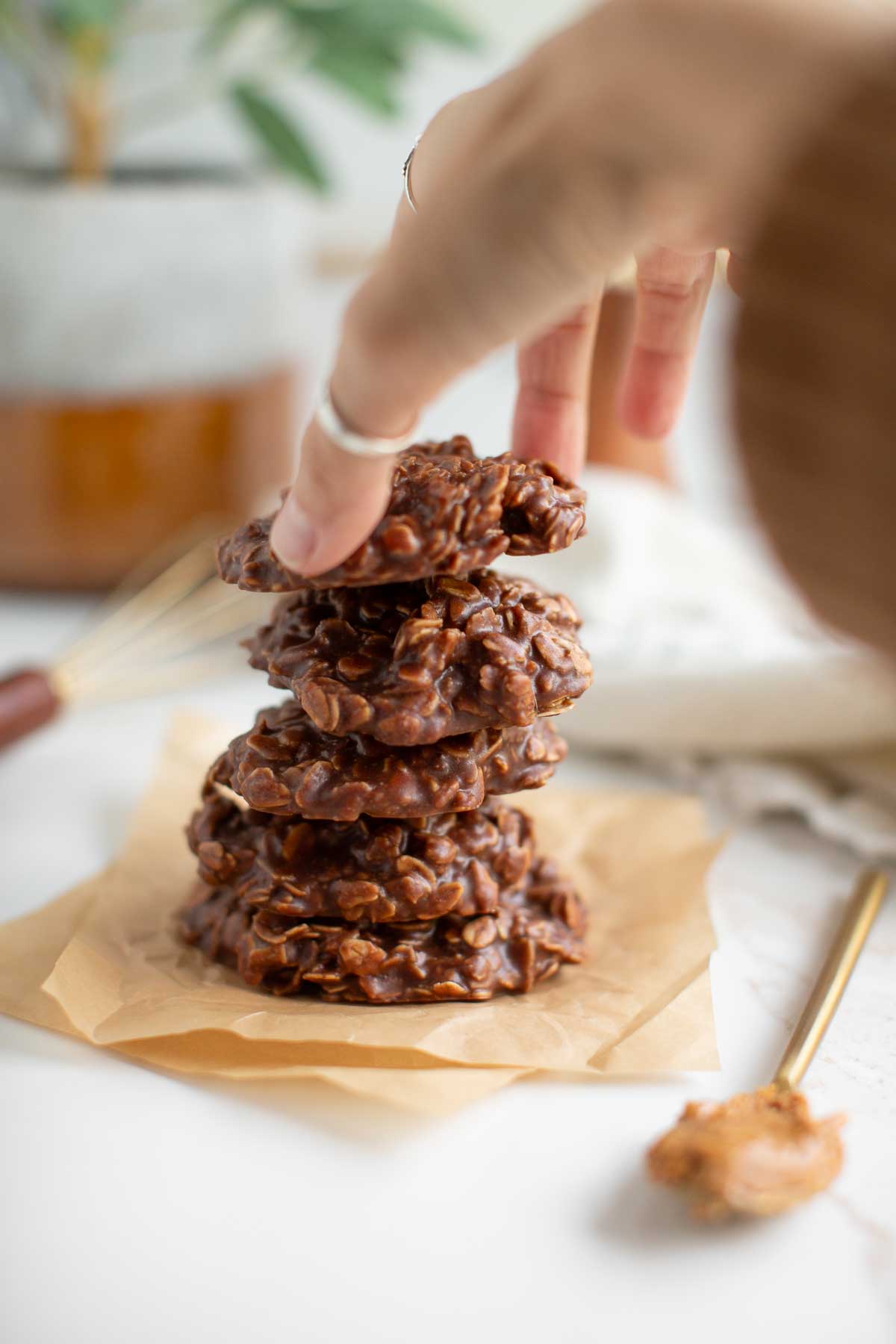 Why You'll Love These Vegan No-Bake Cookies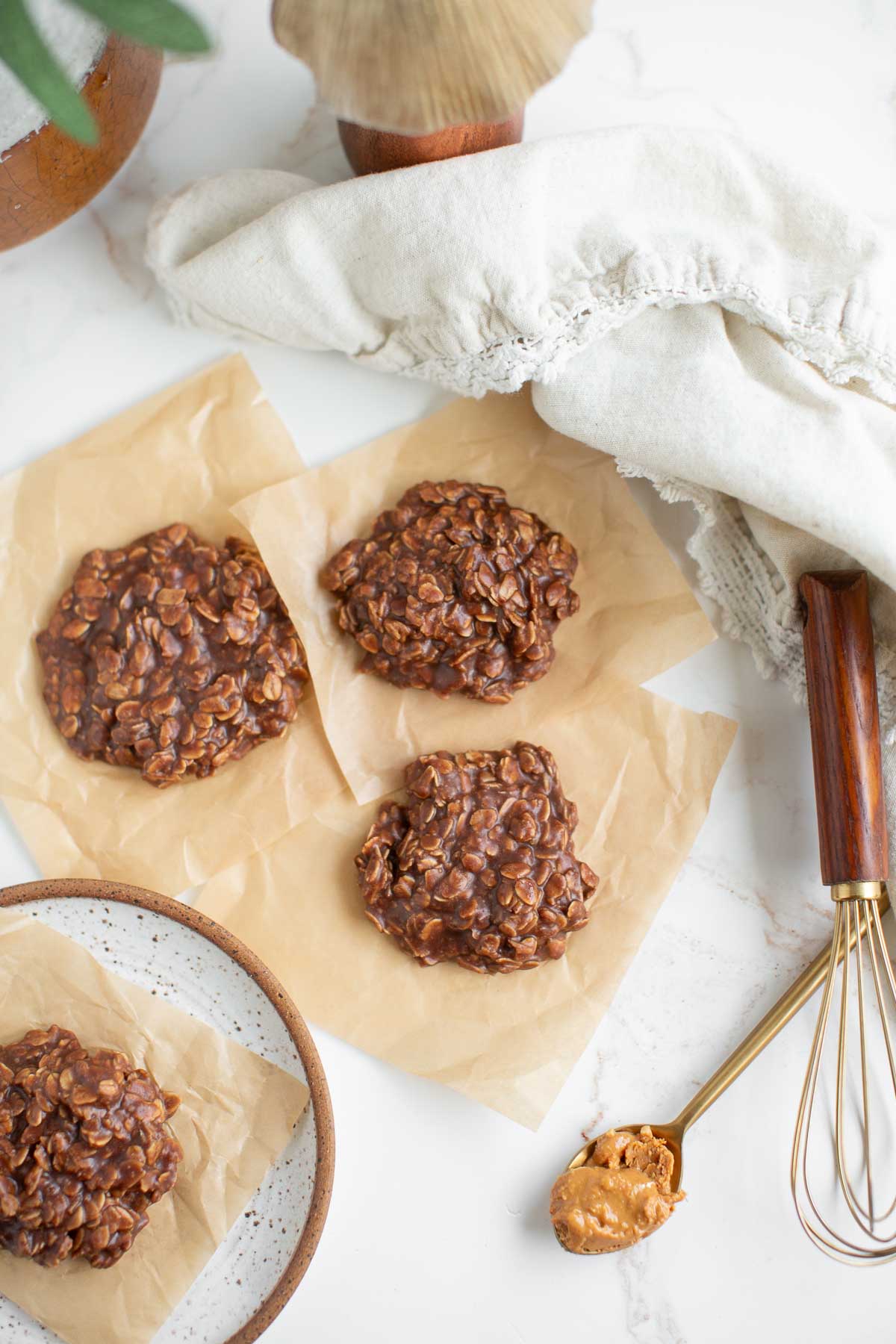 Key Ingredients
Soy Milk: Opt for unsweetened soy milk to control the sweetness of the cookies. You can use other non-dairy milk alternatives like almond milk or oat milk if preferred.
Vegan Butter: Choose your preferred brand of vegan butter. This recipe does call for a pinch of salt, so if you prefer less sodium, choose an unsalted vegan butter.
Refined Coconut Oil: Refined coconut oil has a neutral flavor and doesn't impart a coconut taste to the cookies. It helps bind the ingredients and gives the cookies a desirable texture.
Granulated Sugar: While the recipe calls for granulated sugar, you can explore using alternative sweeteners like maple syrup, agave nectar, or coconut sugar for a different flavor profile.
Cacao or Cocoa Powder: Both cacao and cocoa powder work well, but cacao powder is considered less processed and may offer a richer chocolate flavor. Use your preference or what's readily available.
Peanut Butter: Opt for natural peanut butter with no added sugars or oils for a purer, nuttier taste. If you have allergies or prefer a different flavor, almond butter or sunflower seed butter can be substituted.
Old-Fashioned Oats: Ensure you use old-fashioned rolled oats, as they provide the best texture. Quick oats or steel-cut oats won't yield the same results.
Vanilla Extract: Pure vanilla extract adds depth to the flavor. You can also experiment with other extracts like almond or hazelnut for unique variations!
How To Make These Vegan No-Bake Cookies
Making these vegan no-bake cookies is a breeze! Follow these simple steps and be on your way to vegan cookie heaven!
Blend And Boil Your Ingredients
In a saucepan, blend the plant-based milk, vegan butter, coconut oil, sugar and cacao powder. Allow it to come to a small boil and stir for 1 minute. Remove the pan from the stovetop and add the peanut butter, oats, vanilla extract, and salt.
Spoon The Mixture And Allow It To Cool
Once your ingredients are all combined, now comes the fun part! Spoon the mixture onto wax paper or greased foil (we like to use a little coconut oil). You can make them any size you like! The cookies will harden after they cool completely. This takes at least 30 minutes.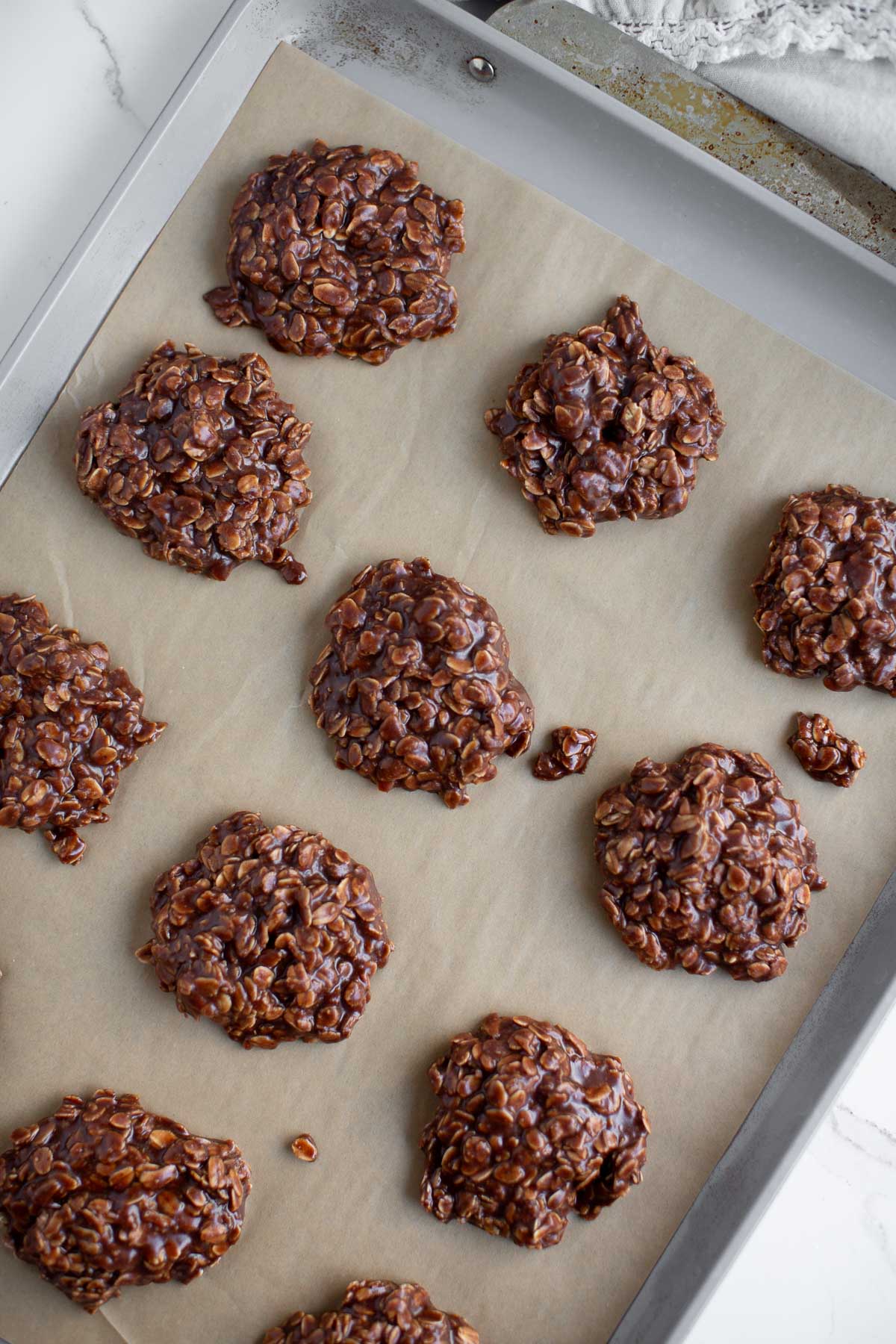 No Bake Cookie Benefits
Chocolate and peanut butter are a classic and tasty combination. Creamy peanut butter elevates the sweetness of the chocolate and makes for a heavenly, decadent dessert with very little effort. Add in some oats and you've got some awesome cookie texture! What's more, is that you're getting a great dose of protein and fiber with these treats: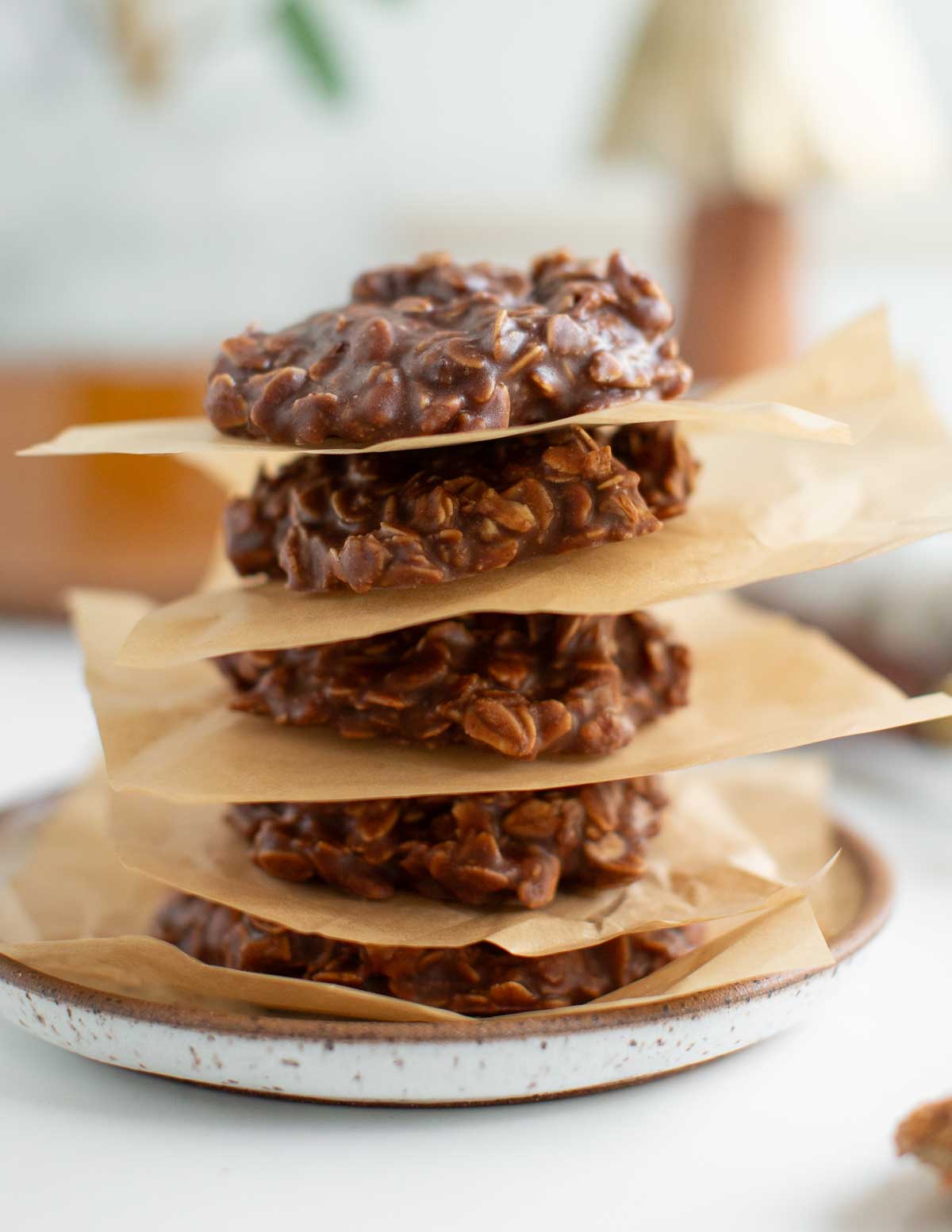 Storing Your Vegan No-Bake Cookies
Find yourself with more cookies than you can handle? No worries! These cookies will stay fresh for up to three days out on the counter.
We'd recommended keeping them in an airtight container or resealable bag to keep them from getting stale. Keep 'em in the fridge or freezer and they'll last for up to three weeks!
Optional Add-Ins
Customize your vegan no-bake cookies with these easy add-ins:
Experiment with these optional add-ins to create your unique flavor combinations! These cookies offer endless possibilities to make them truly your own!
More Tasty Treats to Try
½ cup soy milk
¼ cup vegan butter
¼ cup refined coconut oil
2 cups granulated sugar
4 tablespoons cacao powder or cocoa powder
½ cup peanut butter
3 cups old-fashioned oats
1 teaspoon vanilla extract
1 pinch salt
Add the soy milk, vegan butter, coconut oil, sugar, and cacao powder to a saucepan. Bring to a boil, stirring frequently.

After boiling for 1 minute, remove from heat and mix in the peanut butter followed by all remaining ingredients.

Spoon onto wax paper or foil that has been greased with coconut oil, and allow to cool for at least 30 minutes. You can make the cookies as big or as little as you'd like.
Refined coconut oil does not have any coconut flavor or scent, so if you're not into coconut, don't worry. If you are a die-hard coconut lover, you can use virgin coconut instead, and that flavor will come through in your cookies!
Calories: 348kcal | Carbohydrates: 51g | Protein: 6g | Fat: 15g | Saturated Fat: 6g | Polyunsaturated Fat: 3g | Monounsaturated Fat: 5g | Trans Fat: 1g | Sodium: 85mg | Potassium: 175mg | Fiber: 3g | Sugar: 35g | Vitamin A: 39IU | Vitamin C: 1mg | Calcium: 32mg | Iron: 1mg
Vegan No-Bake Cookies recipe and photos by Michelle Cehn, copyright of World of Vegan™, all rights reserved.