Craving some chewy, vegan jerky to snack on or take along for a nature stroll? This vegan jerky guide has all your plant-based jerky needs covered. From to mushroom jerky to soy curls to coconut jerky, there's a little something for everyone!
Whether you're going camping, taking a hike, or just want to nosh, vegan jerky can be a fun and satisfying snack. Why not swap that artery-clogging, cholesterol-raising beef jerky for some healthier vegetarian jerky made from ingredients like soy, wheat, coconut, eggplant, or even mushrooms! It's easier than ever to find vegetarian jerky options these days and we're so excited to share some fun facts, favorite recipes, and vegan jerky brands with you!
What Is Vegan Jerky Made From?
Vegan jerky can be made from a lot of different ingredients, so if you're sensitive to certain ingredients such as soy or gluten, there's very likely an option out there for you! Common ingredients in vegetarian jerky include:
Soy – Soy curls are commonly used to make homemade vegan jerky and many vegan brands use a variation of soy protein.
Mushrooms – Portobello, shiitake, and oyster mushrooms all make great choices for gluten-free vegan jerky.
Wheat – Seitan jerky is made from vital wheat gluten and makes for a super meat-like vegetarian jerky!
Jackfruit – Jackfruit jerky is a tasty way to enjoy meatless jerky and is great for those who are soy-free or gluten-free!
Kelp – Plant-based jerky made from kelp? You bet! This salty sea treat makes for an excellent meat-free jerky.
Coconut – Did you know that raw vegetarian jerky can be made from coconut? Well, it's true!
Vegan Jerky Brands
With flavors such as Buffalo Dill, Maple Bacon, and of course Smoky Carolina BBQ, it's hard to beat the variety of flavors available from Louisville Jerky Co. Made from soy protein and a variety of flavors, this plant-based jerky is beyond tasty.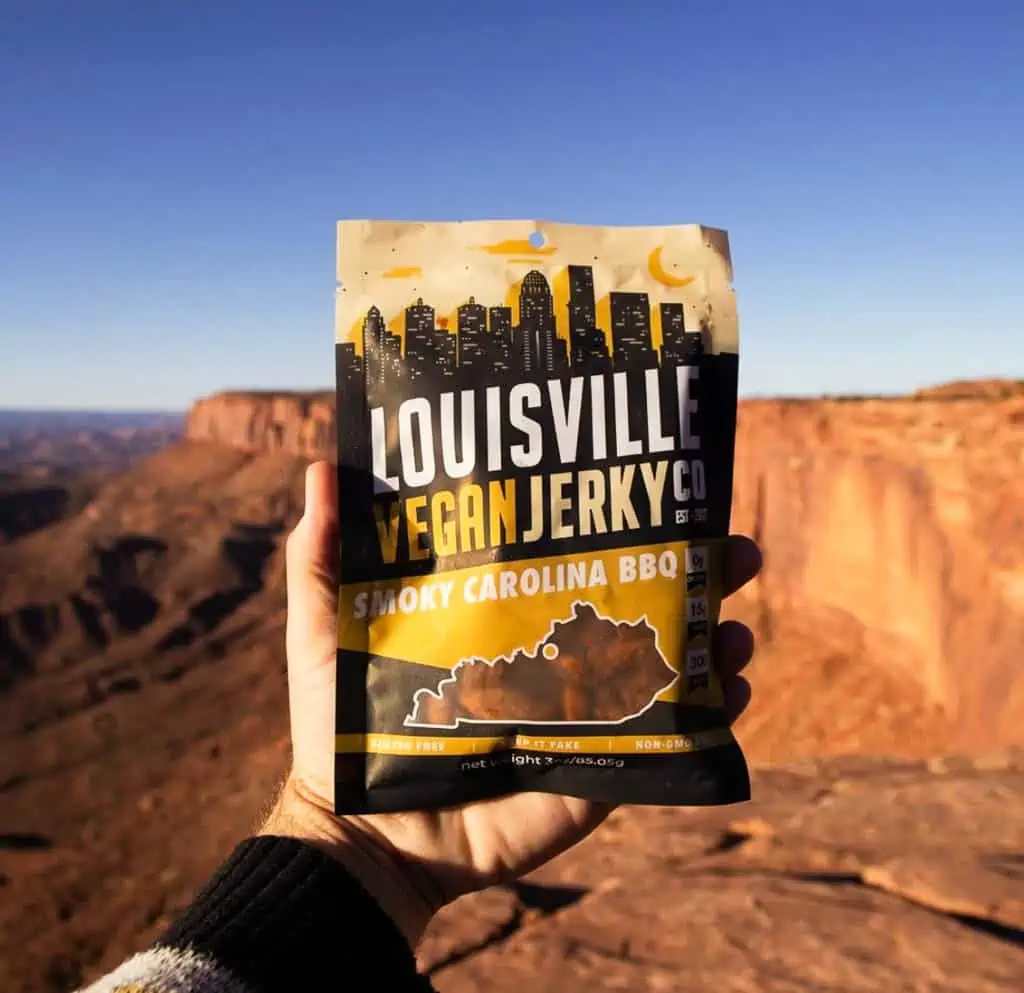 Super meaty yet soy-free and gluten-free, Beyond Meat's vegan jerky comes in three flavors and packs tons of protein and flavor. Choose from Original, Teriyaki, or Hot & Spicy!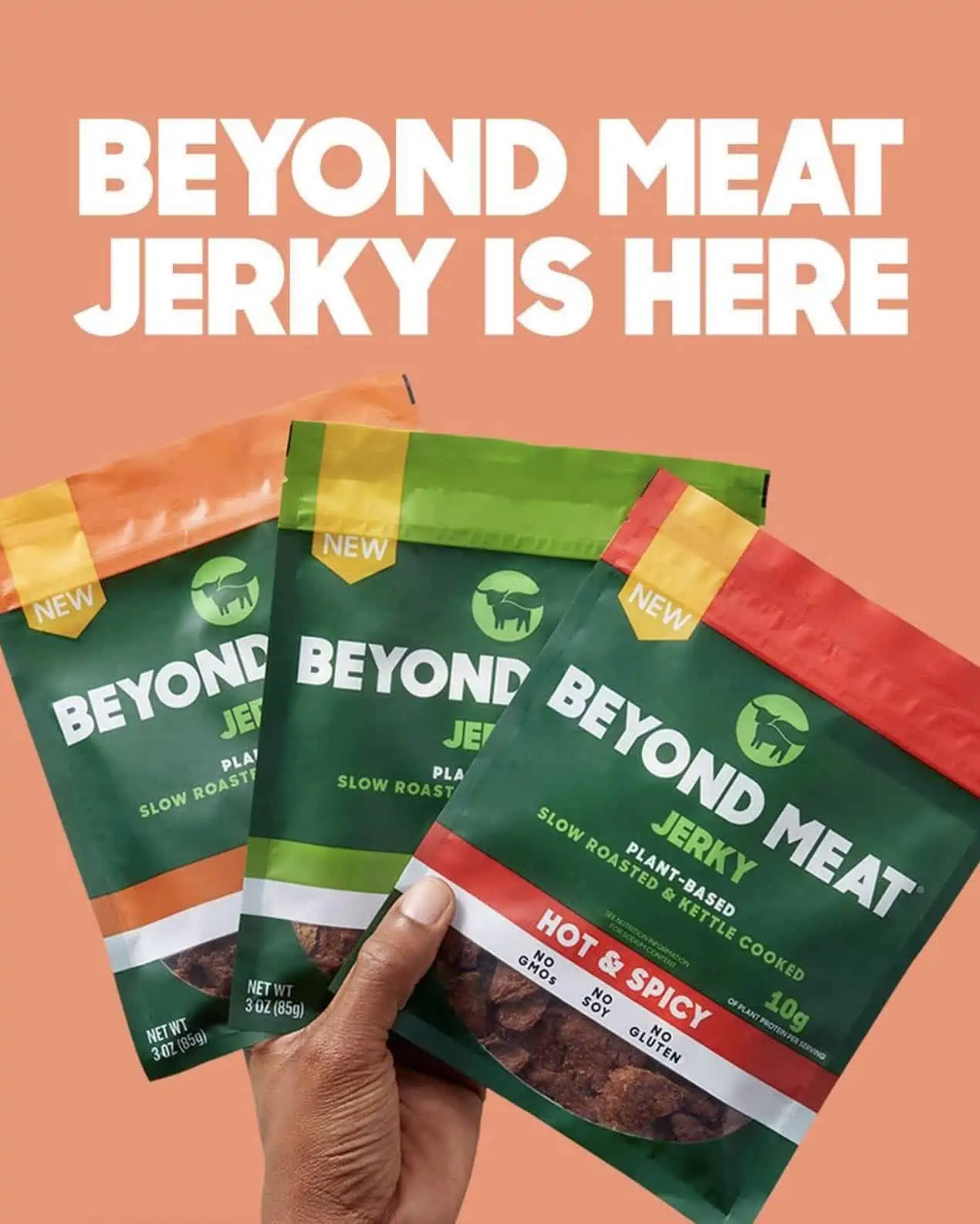 Craving some gluten-free mushroom jerky? Then you've got to try all the tasty flavors from Savory Wild! Choose from sweeter flavors such as Sweet Balsamic & Golden Fig or savory flavors like Smokehouse Bacon. Whichever way, you'll love how tasty this mushroom jerky can be!
Looking for a good vegetarian jerky option free from gluten and soy? This coconut jerky from Foreal Foods is tasty, chewy, and free from any gluten or soy products!
Made from a hefty combination of gluten-free ingredients such as kelp, shiitake mushrooms, chickpea flour, and pea protein, this kelp jerky is full of deep flavor and fun texture! Choose from four fun flavors.
Made from non-GMO soy protein, this vegan jerky is chewy, tasty, and perfect for bringing along on a hike or outing! BBQ seems to be the only available flavor but it's quite a good one.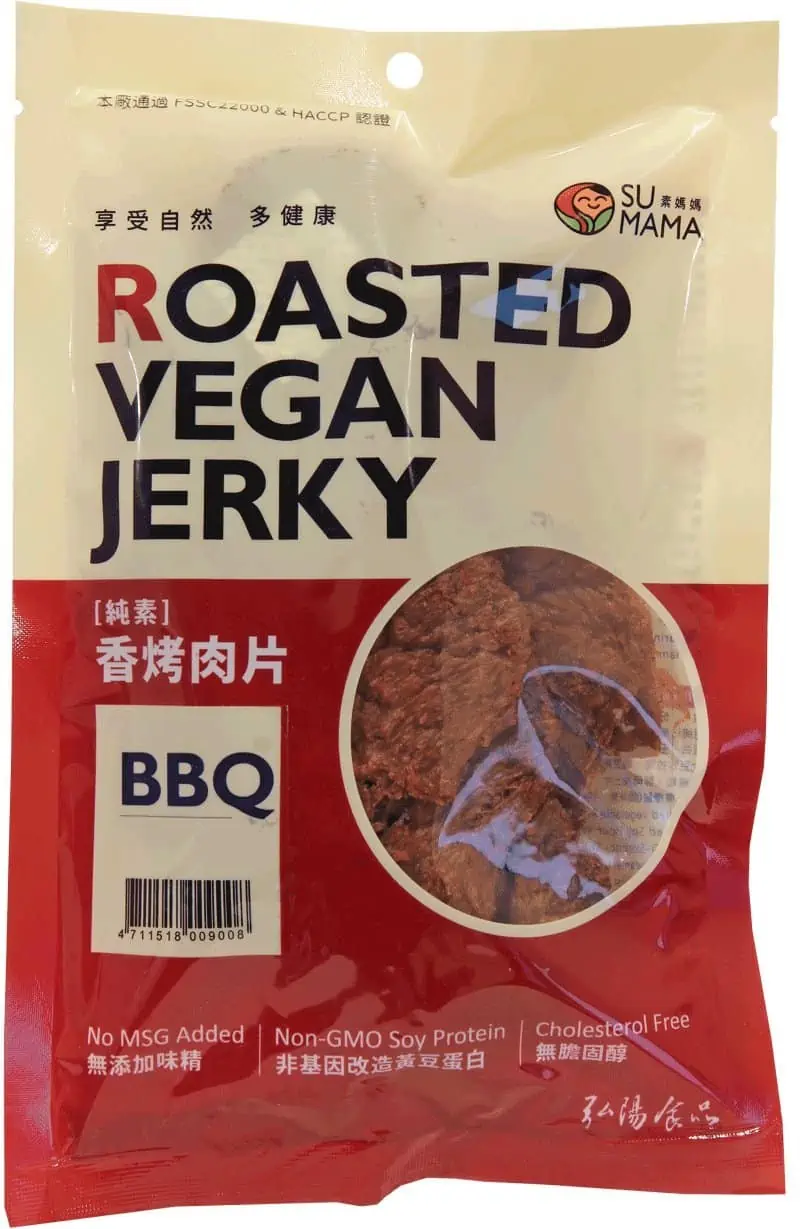 With packaging that induces a particular kind of nostalgia, this tasty meatless jerky comes in a wide variety of exciting flavors. Choose from flavors like Tandoori "Chicken," Hot "Pastrami," and Original Mild. Do be aware that the BBQ "Beef" flavor contains honey! All flavors appear to be gluten-free as well.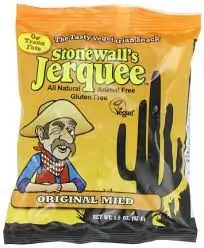 They're chewy, they're tasty, and they're perfect for getting in touch with your primal side. This meat-free jerky comes in some super fun flavors and is great for packing along with your lunch or handing off to your loved one for a day at work or school.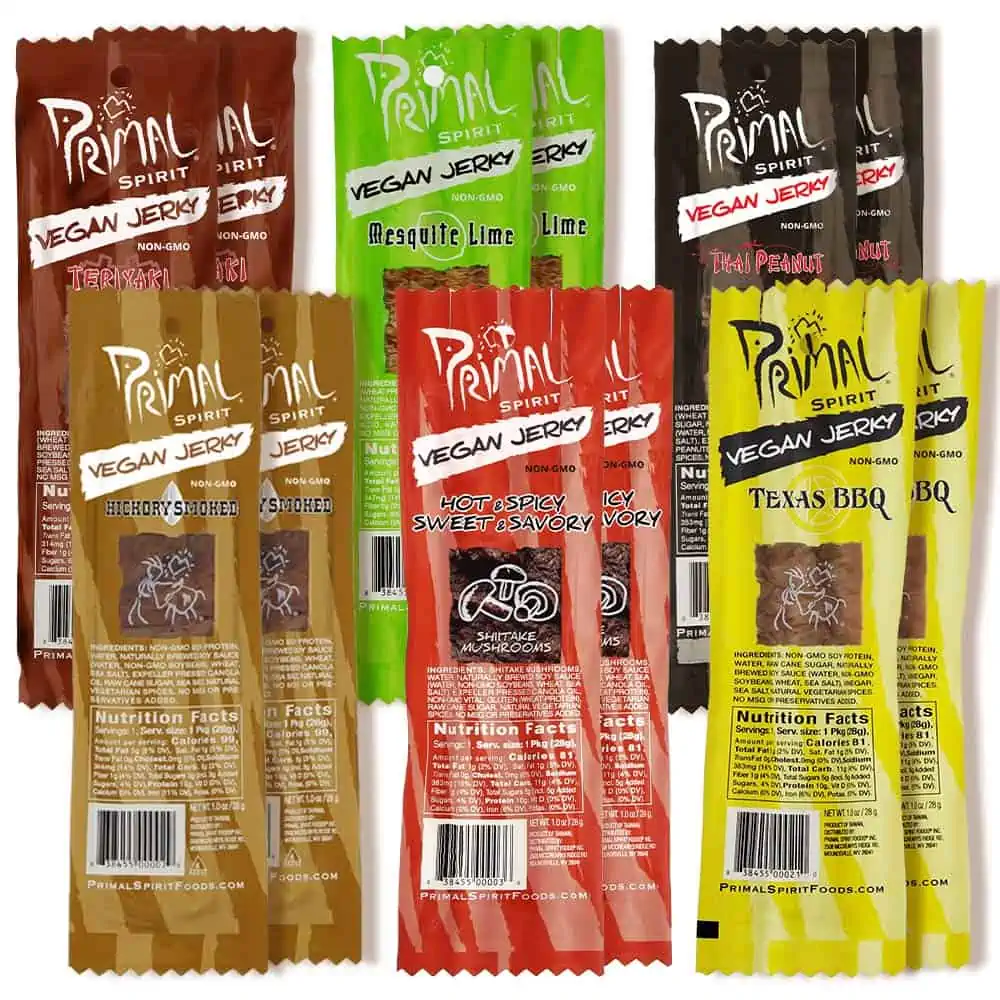 Made from Butler soy curls, this plant-based jerky packs a ton of savory flavor! Enjoy on the trail or on the couch.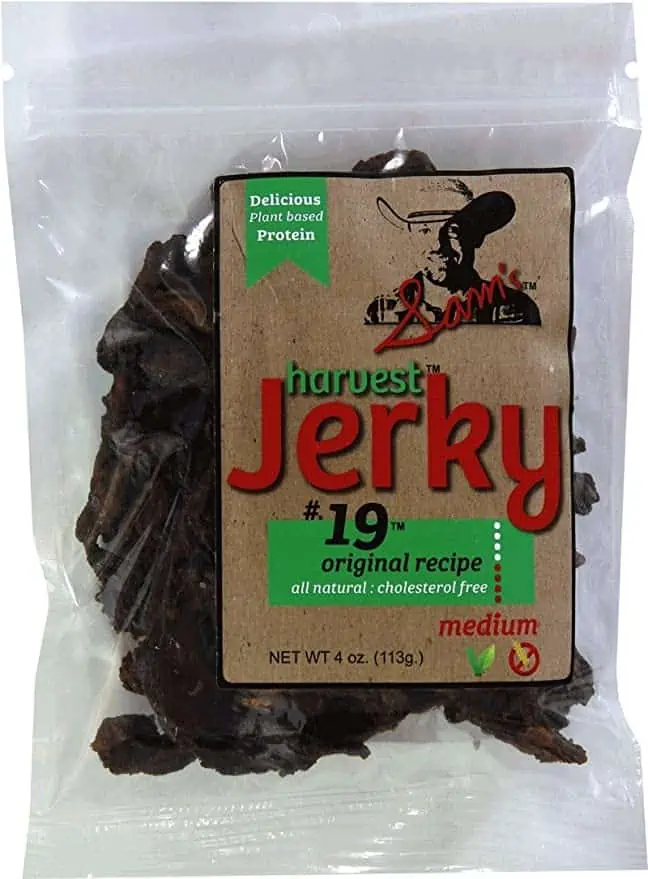 Coming in flavors such as Teriyaki, Cowgirl, and Hot Chili Pepper, this meat-free jerky is available in sampler packs so you can try various flavors at once! Soy and gluten are two of the main ingredients in this vegan jerky.
Vegan Jerky Recipes
Want to try making your own meat-free jerky? We've got you covered!
From our friends at Sweet Simple Vegan comes this super flavorful vegan jerky made from soy curls and adobo seasonings! It takes a few hours to come together and is well worth the effort to enjoy a delicious homemade plant-based jerky.
Vegan jerky has come such a long way over the past few years! We're so excited for the rapid growth and innovation happening in the vegan jerky space and will keep this article updated as new products come out. Whether you're gluten-free, soy-free, or just want a delicious plant-based jerky option, there are plenty of choices out there for you.
Have a favorite brand of meat-free jerky? Feel free to shout it out in the comments below!
Hungry for more vegan videos? Be sure to subscribe to our YouTube channel where we publish new videos every week!
More Vegan Food Guides
This vegan jerky article was written by Michelle Cehn and edited by Amanda Meth. Please note that this article contains affiliate links which help us keep the lights on at World of Vegan. This post is not sponsored, and we only share products and companies we sincerely adore!